These chorizo spiced chickpeas are pantry friendly and take under 10 minutes to make! Add these to salads, bowls, burritos, and more for an added protein and flavor boost!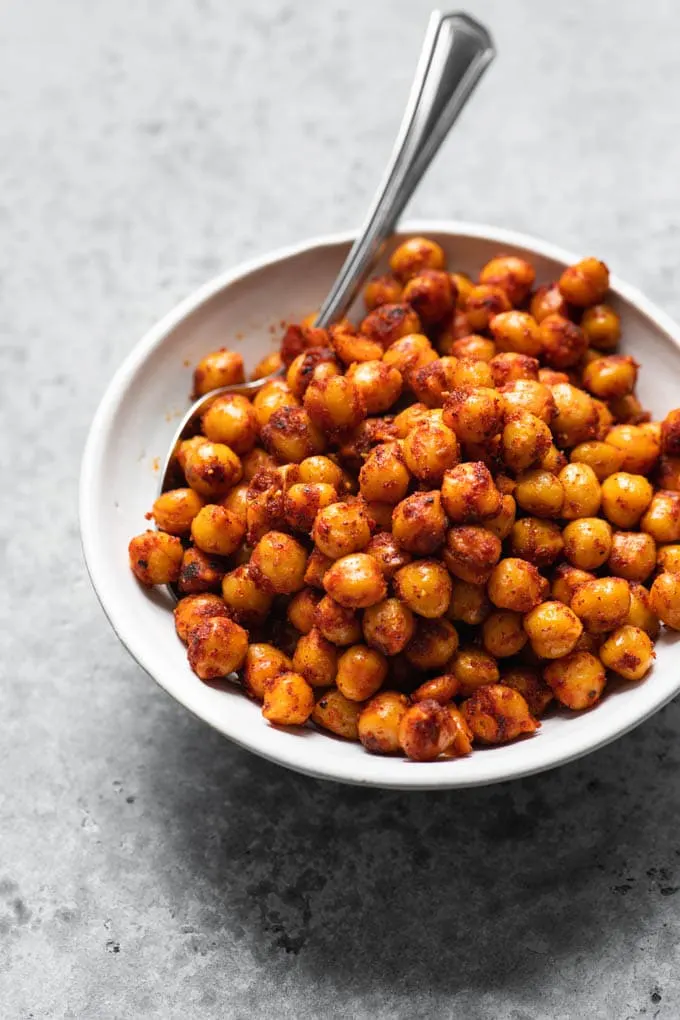 I love chickpeas (so much I named my website after them). They're delicious on their own but so versatile too. They're nutritious, full of protein and fiber, and found in so many cuisines!
They are the base of my favorite vegan meatball and toothsome vegan burgers. I love them in Indian curries, salads, and roasted for sheet pan dinners.
The flour can be used to make vegan quiches and vegan eggs for breakfast sandwiches. It makes better seitan, and perfect vegan crepes!
You can even use the liquid that they cook in! It makes fantastic buttercream, perfect fresh pasta, and soft breads (doughnuts perhaps).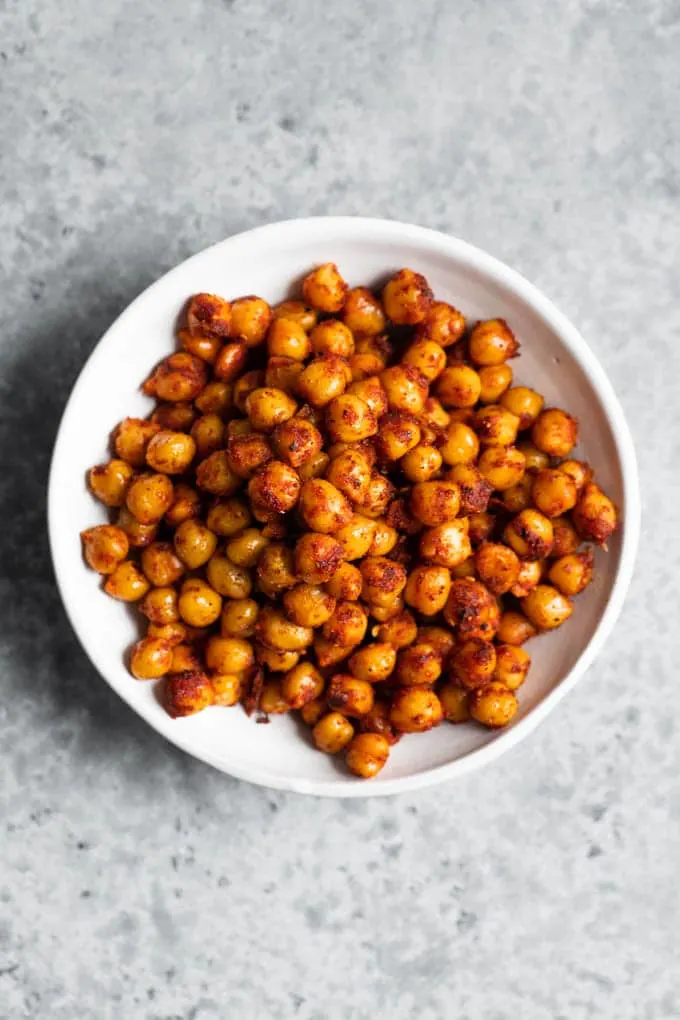 When it comes to chickpeas there's basically nothing they can't do!
But for all the amazing uses of the humble chickpea, sometimes you just want to highlight them! And with these chorizo chickpeas, they'll be the star of any meal.
Chorizo seasoning:
If you're going to make a vegan chorizo substitute, you'll need to focus on the spices. Because let's face it, what makes food fantastic always comes down to the spices!
Chorizo is a kind of spiced sausage, and the exact spices depend on if we're talking about Spanish chorizo or Mexican chorizo.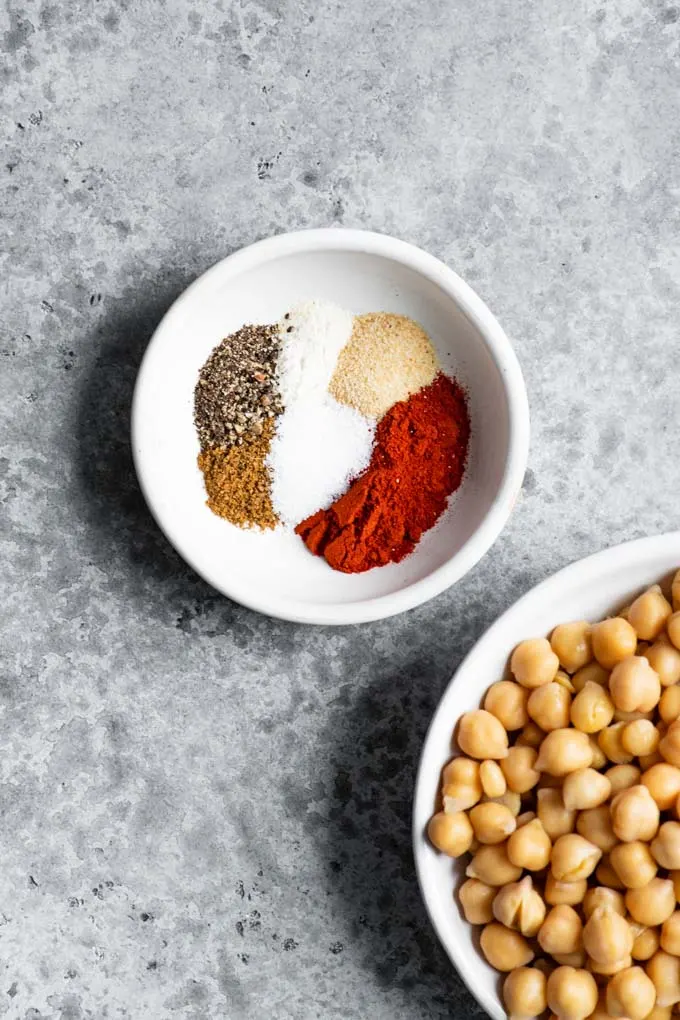 Spanish chorizo has strong flavors of smoked paprika (Spanish pimentón) and garlic and is the inspiration of my chorizo chickpeas, while Mexican chorizo is made with chiles and vinegar.
I focused on Spanish chorizo for this recipe because I really wanted the smoky flavor to stand out.
The spices you need for this recipe are 1) smoked paprika. This is the most important spice and the main flavor for our chorizo spiced chickpeas! You can use a hot or mild smoked paprika, but I totally have a soft spot for the hot when it comes to this recipe!
2) Cumin, an earthy spice that adds just the right amount of savory to the chickpeas. 3) garlic powder and 4) onion powder because our sausage flavored chickpeas need to be garlicky and the onion powder adds some sweetness along with its oniony taste.
5 & 6) Salt and black pepper finish the seasoning blend are are key to making delicious spiced chickpeas!
Pan frying the chickpeas:
Once you've gotten together and measured out all the spices, grab your chickpeas and a skillet and get to cooking!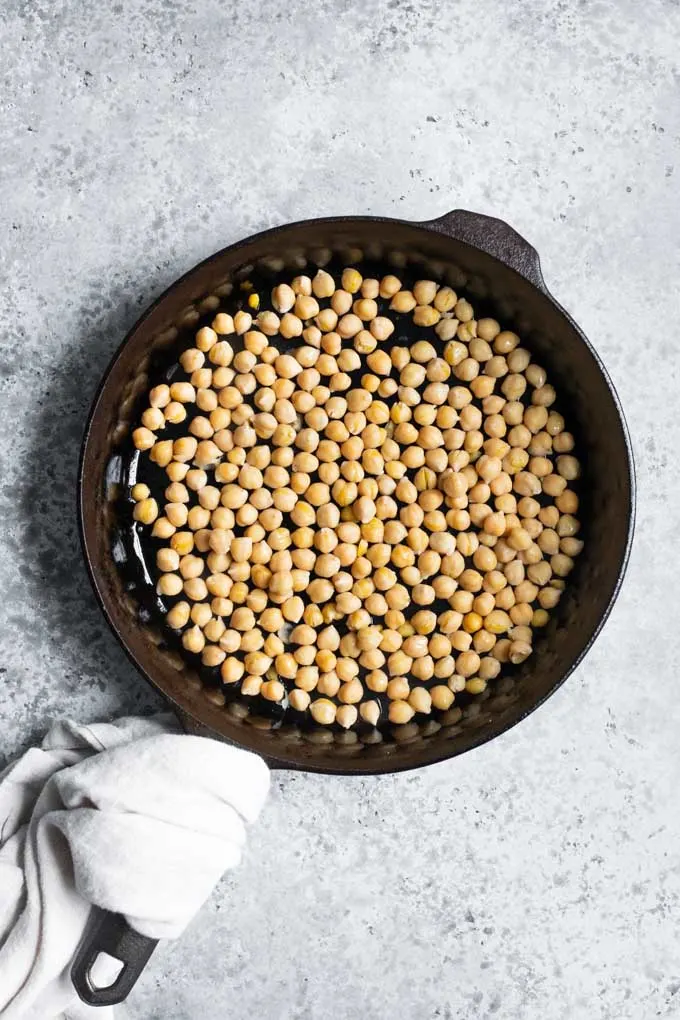 First, heat up a large skillet (I'm team cast iron but you can always cook in nonstick) and add some oil. The oil adds richness that you expect from sausage flavored things, but if you want to cut back you can use less.
Fry the chickpeas until they get a few spots of color on them, just a shade darker only–we're not trying to dry them out!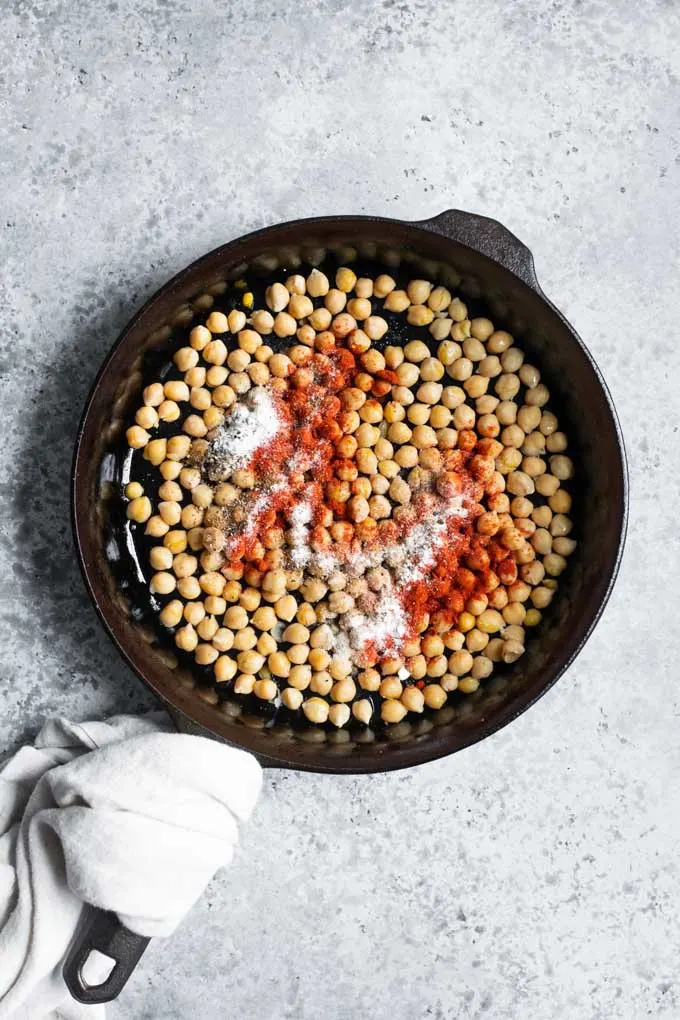 Next add the spices and stir it in to coat them. Let the chickpeas cook another couple of minutes to toast the spices and get a bit more color to the chickpea.
Taste them, and add any more salt or spices that you want to make your perfect chorizo chickpeas, then remove them from the heat!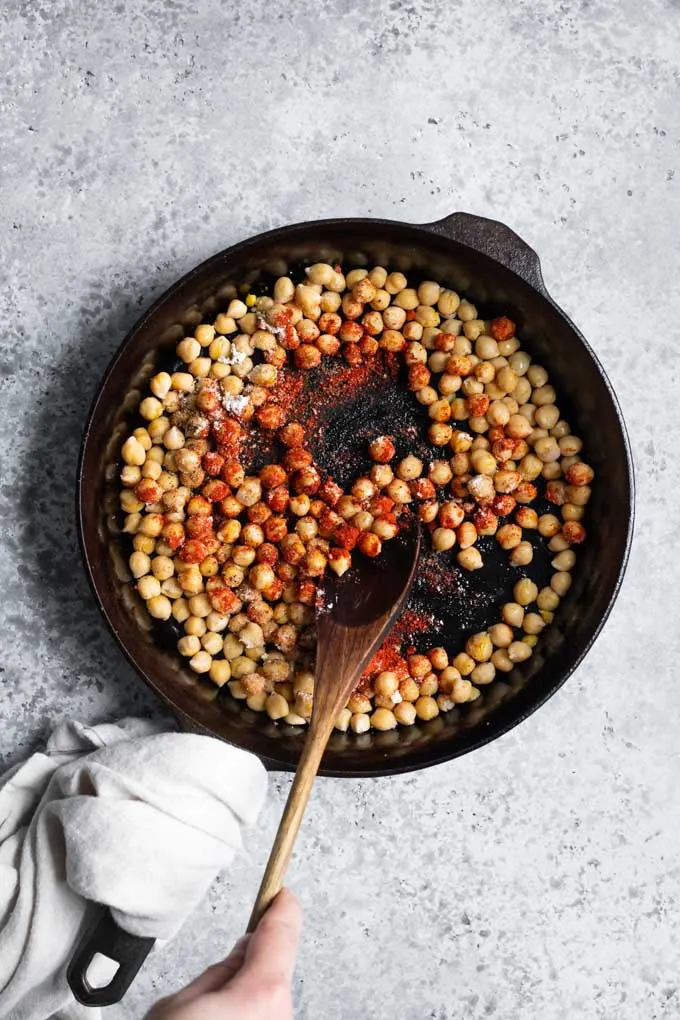 How to use chorizo spiced chickpeas?
Some ideas on how to use these chickpeas: in a salad, on pizza, in sandwiches or wraps, breakfast plates, add to tofu scrambles or breakfast hash.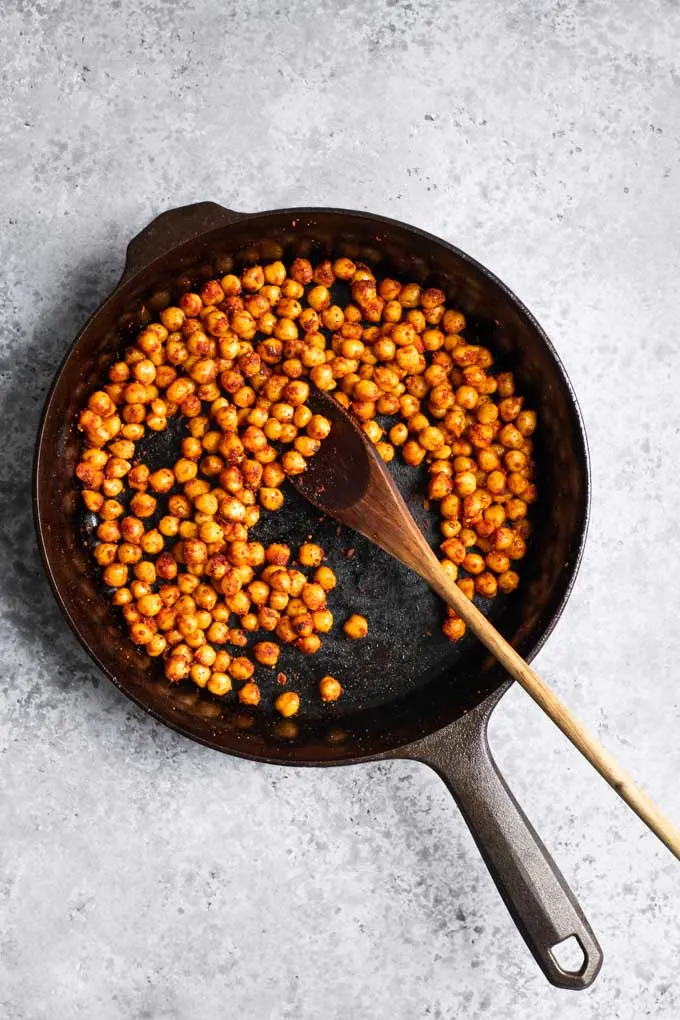 Use as a garnish for soups, snack on them straight, top pastas, enjoy with rice, make tacos or burritos (sure we made a Spanish chorizo, but is anyone really going to complain about that when downing mouth watering tacos? nope!).
There are so many ways to use these chickpeas! Don't let my list limit you!
Can I make these with other beans?
White beans are a great alternative to chickpeas. They might not hold their shape as well when lightly pan fried, but you can still use them to make tasty flavored beans!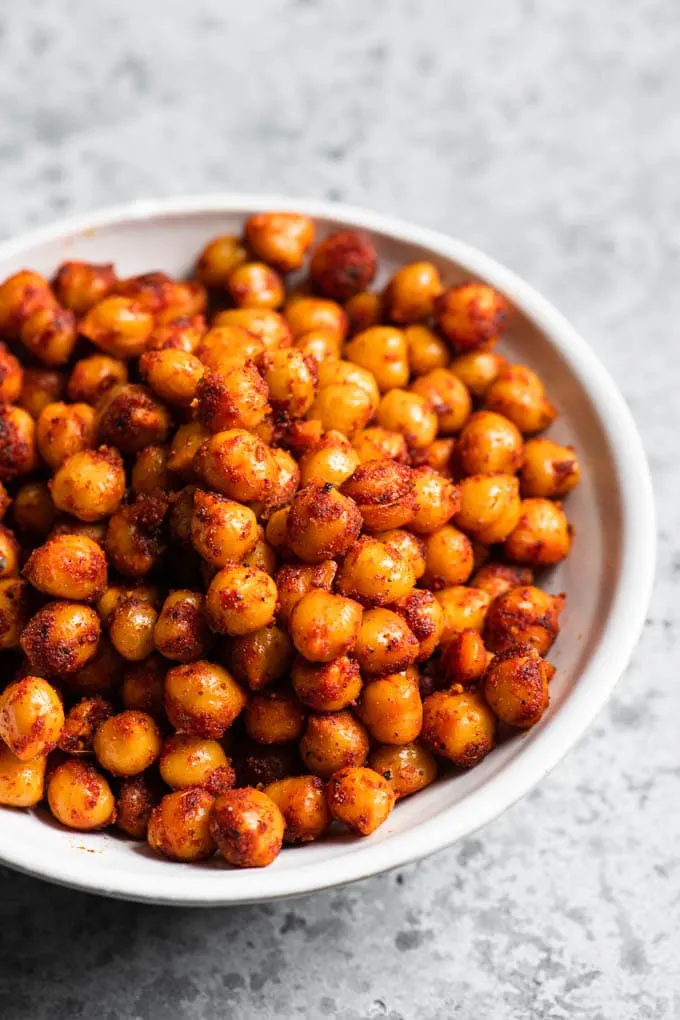 If you make these chorizo chickpeas, leave a comment below and rate the recipe on the recipe card. And please share your photos with me on Instagram, tag @thecuriouschickpea and #thecuriouschickpea. I love seeing your recreations!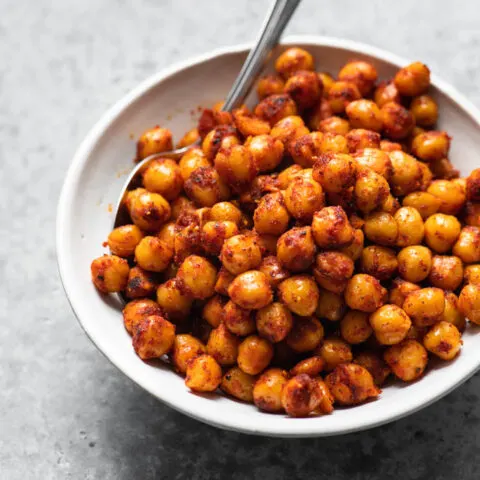 Chorizo Chickpeas
These chorizo spiced chickpeas are so quick and easy to make! They are perfect for topping pasta, salads, adding to sandwiches, using in tacos or using in place of chorizo sausage.
Ingredients
15 oz can chickpeas (2 cups cooked), drained and rinsed
2 tsp oil
2 tsp smoked paprika
1/2 tsp ground cumin
1/2 tsp garlic powder
1/2 tsp onion powder
1/2 tsp salt, or to taste
black pepper to taste
Instructions
Heat a skillet over medium heat. Add the oil and chickpeas.
Fry the chickpeas for 2-3 minutes, or until they get a bit of color.
Add the spices, salt, and pepper and stir to coat. Cook another 2-3 minutes to toast the spices and brown the chickpeas slightly.
Nutrition Information:
Yield:

4
Serving Size:

1
Amount Per Serving:
Calories:

162
Total Fat:

5g
Sodium:

298mg
Carbohydrates:

24g
Fiber:

7g
Sugar:

4g
Protein:

8g
Nutrition is calculated automatically so should be used as an estimate.