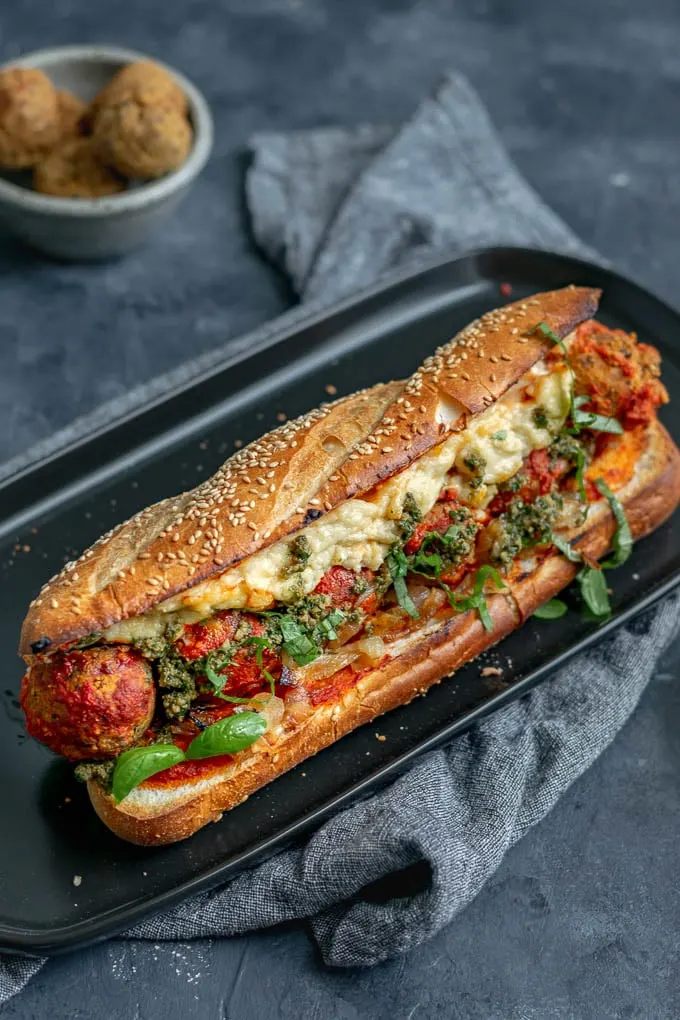 These vegan chickpea meatball subs are not your average sandwich. Sure, we have the basics, chickpea-based meatballs, plenty of marinara, and a long roll.
But I guess I'm a bit fancy, because I like my vegan meatball subs cheesy, pesto stuffed, and topped with caramelized onions. I mean, you want that too now, right??
This sub is what vegan comfort food dreams are made of. It's warm and toasty, gooey and crisp, and all levels of savory with just a hint of caramelized onion sweet.
This sandwich revisits one of my all time favorite recipes–chickpea meatballs. They make 2 other appearances on the site, once on this vegan meatball pizza (guess I'm a little pesto obsessed too), and again in this spaghetti with sun dried tomato cream sauce.
I've made slight adaptations to the chickpea meatball recipe each time, and it seems like no matter what I do, I'm completely obsessed with them! If they're in a recipe, it's guaranteed to be a favorite dish.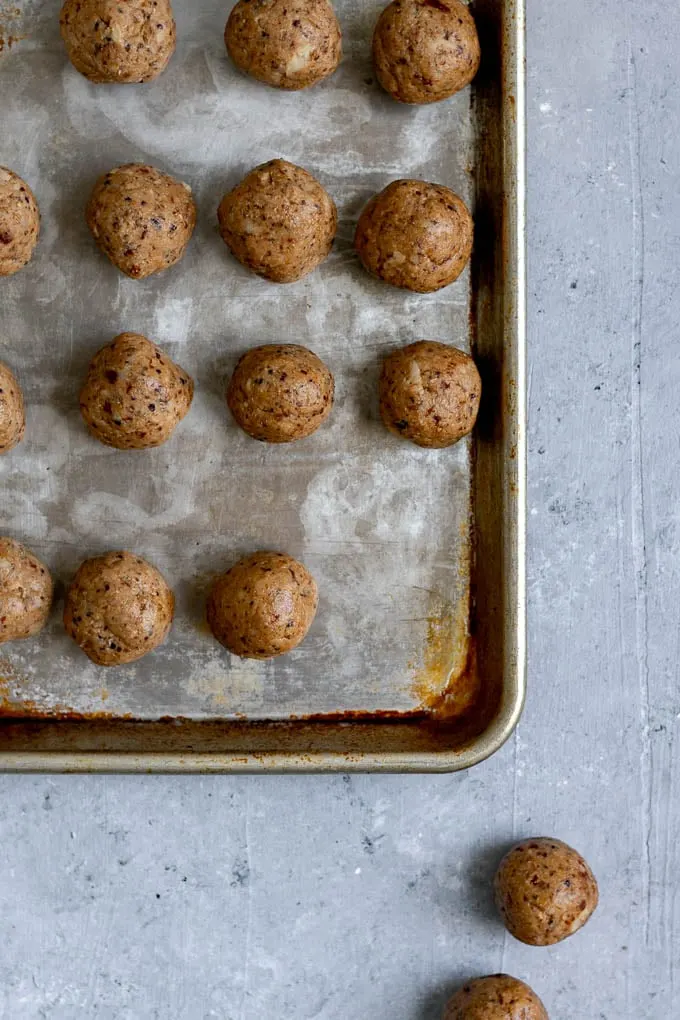 Chickpea meatballs are pretty simple to make, mix the ingredients together in a food processor, shape, then bake. You can make them in advance as they reheat well, or just enjoy them hot from the pan.
They're made with pantry friendly ingredients. Chickpeas, nuts, and a leftover grain. I've made them with brown rice, quinoa, and bulgur–it really just depends on what I have hanging out in my fridge! Or, if that's nothing, then whatever I can make quickly. They'd also be great with farro, wheat berries, freekah, really whatever grain you'd like to use!
The nuts are there because they add a nice meaty texture when ground up. Pecans are especially great for their flavor and texture.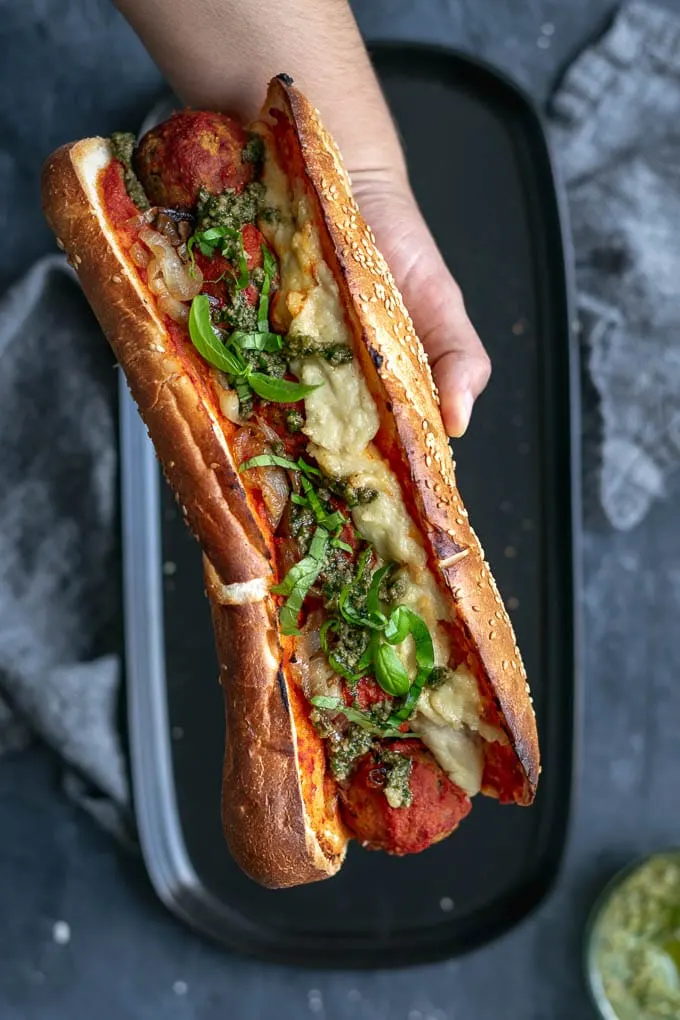 Sun dried tomatoes, nutritional yeast (a vegan parm works here too!), garlic, and dried herbs are added for flavor. A sprinkling of bread crumbs helps bind the meat-free balls together. Bake them up, and you'll find savory perfection. I'm just like 1000% obsessed with these chickpea meatballs.
While the meatballs are baking, I caramelize the onions and make some homemade mozzarella (and let's be honest, also make the marinara because I'm me, haha).
You'll find this cheesy recipe in my baked gnocchi with arrabbiata, but here we have the extra step of cooking up the sauce on the stove to activate the starches in the cheese so it becomes nice and thick before scooping it into the sandwich.
This mozzarella doesn't set to a sliceable texture like my same day vegan mozzarella cheese but it will firm up in the fridge to a very thick but spreadable consistency. Of course, you can always substitute your favorite store bought vegan mozzarella for an easy shortcut.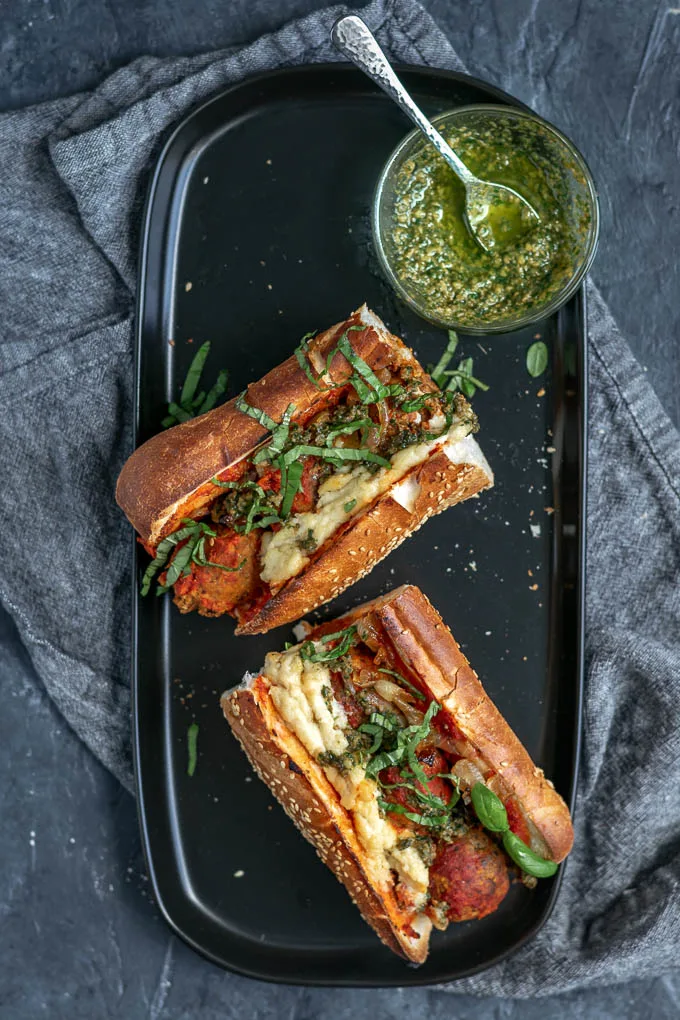 The last things we need are pesto, marinara, and a long crusty roll! Baguettes, hoagie style rolls, or homemade sandwich rolls, would all be perfect for this sandwich.
Slice the bread in half, stopping about 3/4 of the way through so it remains attached in the back. Then spoon a generous amount of marinara on each side before stuffing with marinara dipped chickpea meatballs.
Add the homemade vegan mozzarella, the pesto, and plenty of caramelized onions and stick that sandwich on a baking tray.
Crank up the oven to 450 ºF and bake the vegan meatball sub for about 10 minutes until the bread is crispy and the cheese is gooey.
Though, if you've made all the components in advance and they're cold from the fridge you may need to bake up to 20 minutes to heat through, or you can heat them up a bit before sticking in the oven.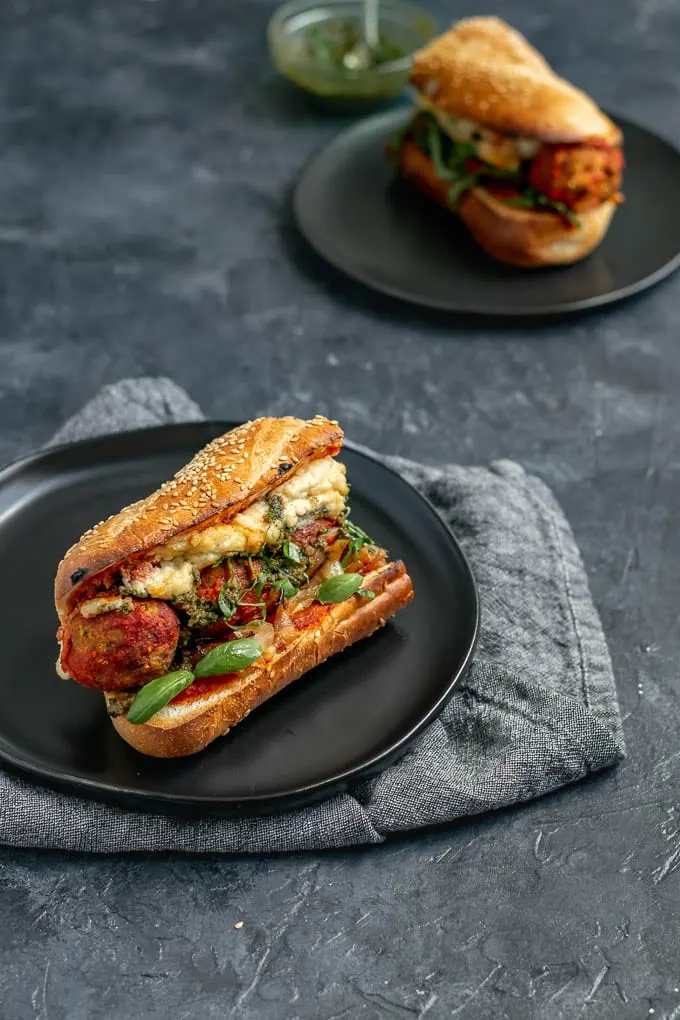 This sandwich is so good. I can't wait for you to try it! Serve it with a side salad, or some roasted veggies (I mean, the oven is on anyway, right?) and you have yourself a delicious and complete vegan meal. I'm getting too hungry thinking about it!
If you make this vegan chickpea meatball sub, leave a comment and rate the recipe below! And tag your recreations @thecuriouschickpea and #thecuriouschickpea on Instagram, I absolutely love seeing your photos!

Notes:
Use a homemade marinara sauce or store bought. For this recipe I used the marinara from my Vegan Pepperoni Pan Pizza recipe.
You can use any pesto recipe you'd like, I have several pesto recipes on the blog you can choose from! Store bought pesto works too, just keep an eye out for cheese in the ingredients.
If this is your first time caramelizing onions, follow this Bon Appetit article out on how to caramelize onions but use olive oil, vegan butter, or some other vegetable oil to cook. Patience and slowness is key to making the perfect onions!
For a shortcut, use a store bought vegan cheese instead of the homemade.
If you'd like to make your own sandwich rolls, I happen to have The Ultimate Sandwich Rolls ;-). Any baguette or hoagie/sub roll works as well.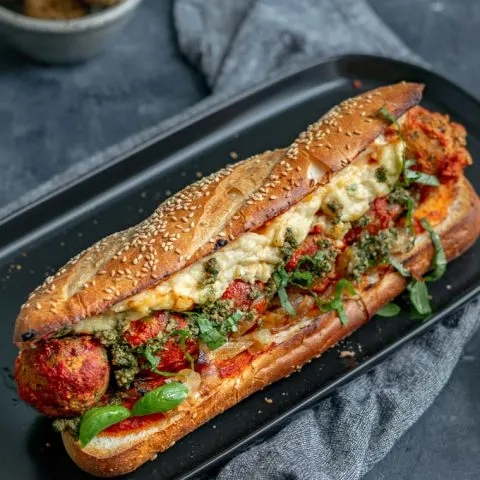 Vegan Chickpea Meatball Subs with Homemade Mozzarella
Additional Time:
40 minutes
These mouth watering meatball subs are completely vegan! Stuffed with easy chickpea meatballs, marinara, pesto, and homemade vegan mozzarella and baked until hot and toasty.
Ingredients
Chickpea Meatballs
1 cup cooked grain (brown rice, quinoa, bulgur, etc.)
1/2 cup pecans
2 cloves garlic, peeled
15 oz can chickpeas, drained and rinsed
1/4 cup nutritional yeast or vegan parmesan
2 tbsp sun dried tomatoes, roughly chopped
1 tbsp olive oil
1 tsp dried oregano
1 tsp dried basil
1 tsp salt
freshly ground black pepper
1/4 cup bread crumbs
Vegan Mozzarella
1 cup cashews, soaked if not using a high powered blender
1 cup water
½ cup refined coconut oil, melted
1 tsp apple cider vinegar
1 clove garlic
2 tbsp tapioca starch or arrowroot starch
1 tbsp nutritional yeast
1 tsp salt
Everything else
Marinara Sauce
Pesto
Caramelized Onions
Baguette
Instructions
Make the Chickpea Meatballs
In a food processor add the cooked grain, pecans, and garlic and pulse until finely ground. Add most of the chickpeas (reserve ~1/2 cup), nutritional yeast, sun dried tomatoes, olive oil, oregano, basil, salt, black pepper, and bread crumbs. Process until ground into a thick mixture. Add the rest of the chickpeas and pulse until they are coarsely chopped.
Preheat the oven to 375 ºF, and shape the mixture into balls using about 1 1/2-2 tbsp per ball. A cookie scoop makes quick work of this.
Pour a little oil into a small baking tray and spread to coat. Place the balls on the greased tray and roll them around to coat in oil. Bake for 15 minutes, flip, then bake another 10-15 minutes until golden.
Make the Vegan Mozzarella
Add all the ingredients to a blender and blend until smooth and creamy. Pour the mixture into a pot and heat over medium low until its thick and glossy. It will thicken even more as it cools. Transfer to a container and keep in the fridge if making in advance.
Assemble the sandwiches
Preheat the oven to 450 ºF.
Cut a baguette or sandwich roll in half leaving it connected in the back. Spread a thick layer of marinara on both sides of the bread. Roll the chickpea meatballs in the tomato sauce before tucking into the sandwich. Top with caramelized onions and pesto and tuck in the vegan mozzarella.
Bake the sandwich for 8-10 minutes if the ingredients are warm, or if they've been prepared in advance and refrigerated bake 15-20 minutes to heat through. The vegan mozzarella will be melty and start to brown and the sandwich bread will get toasty when done. Enjoy hot, garnish with fresh basil if desired.