Make this easy recipe for garlic urad dal fry! It's a delicious Indian lentil dish that is stick to your ribs filling and oh so good for you. It's naturally vegan and gluten free, and is enjoyed alike by everyone!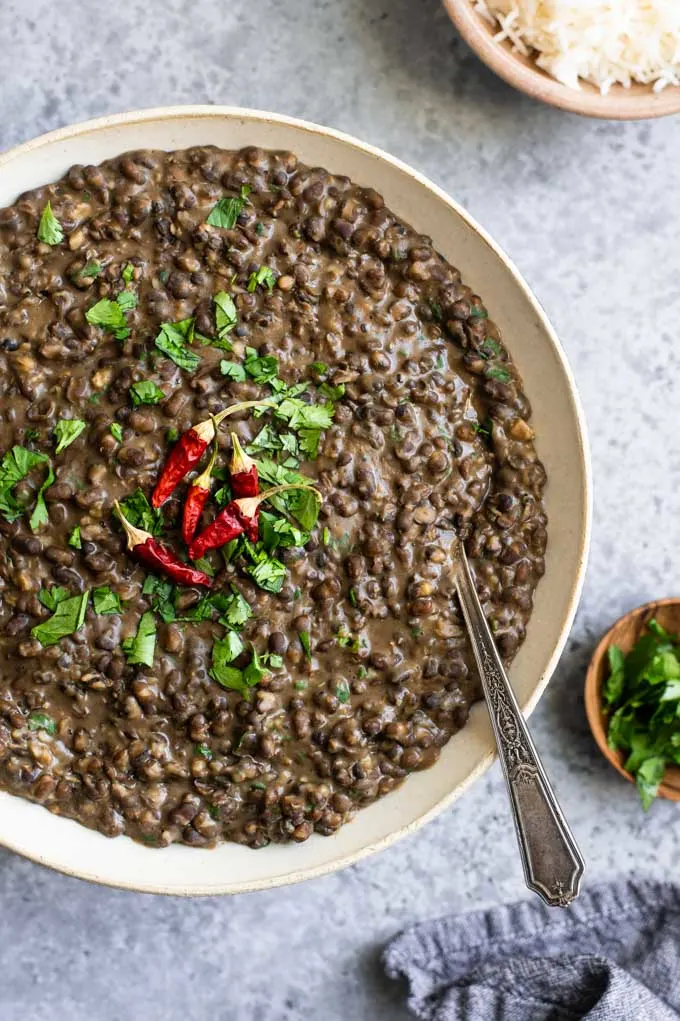 It doesn't get more delicious than this garlic dal fry. Urad dal is possibly my favorite dal with its silky, luscious texture and earthy flavor that pairs so well with Indian spices!
This is one of the easiest dal preparations, and with the active cooking and prep time about 15 minutes! By using a pressure cooker the whole recipe can be ready from start to finish in an hour, with most of that time being very hands off.
This dal is so good, you may find yourself having to stop ordering Indian take out!
What is urad dal?
Urad dal is an Indian lentil that has a black skin and creamy white interior. Their English common name is black gram, and they are also known as mungo bean, matpe beans, and Indian black lentils–not to be confused with actual black lentils (aka beluga lentils).
Dal (also commonly spelled daal or dahl) is the word for lentils and pulses and also refers to the stews and soups cooked dishes using them.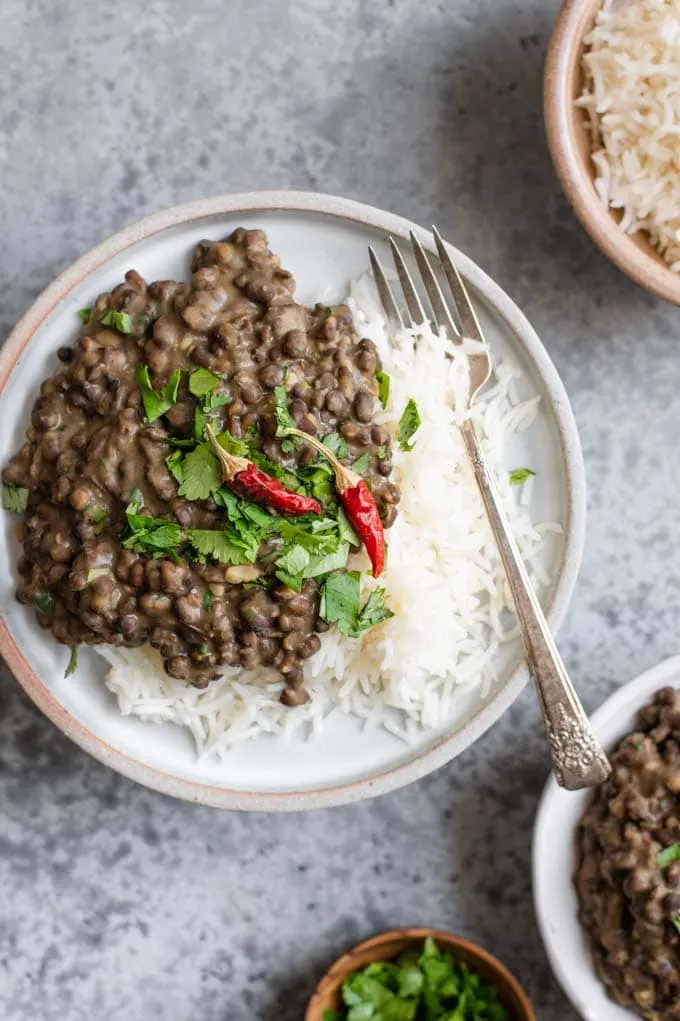 You can buy whole urad bean, split (unpeeled) urad beans, and split urad beans. My favorite is the whole urad bean and that's the one used in this recipe.
Urad dal requires a relatively long cooking time and is a lentil that benefits from soaking before cooking. A pressure cooker solves this problem–no soaking required–but otherwise you'll want to plan enough in advance to do a long soak in cold water or a quick soak in boiling water.
The most stand out feature of urad dal is the texture when it cooks. The bean turn soft and buttery and are prone to breaking apart, and have an ultra creamy and somewhat sticky texture.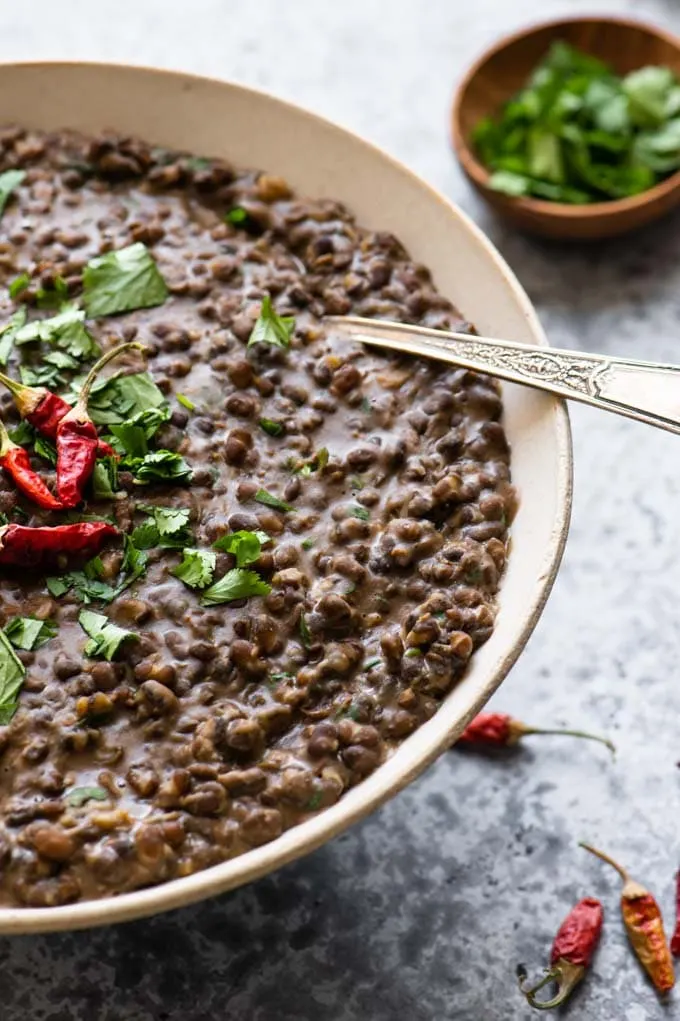 This means you can have a creamy textured dal with no added milk or cream!
You might be most familiar with urad dal in dal makhani, which is a popular Punjabi dish that's common in Indian restaurants throughout the world.
Nutrition benefits of urad dal:
It's no secret that lentils and beans are ridiculously good for us. For starters they are awesome sources of fiber, which we should all be eating more of–this recipe has about 10 grams of fiber per serving from the urad dal alone!
Lentils are also good sources of protein, iron, potassium, calcium, and other important vitamins and minerals while being very low in fat.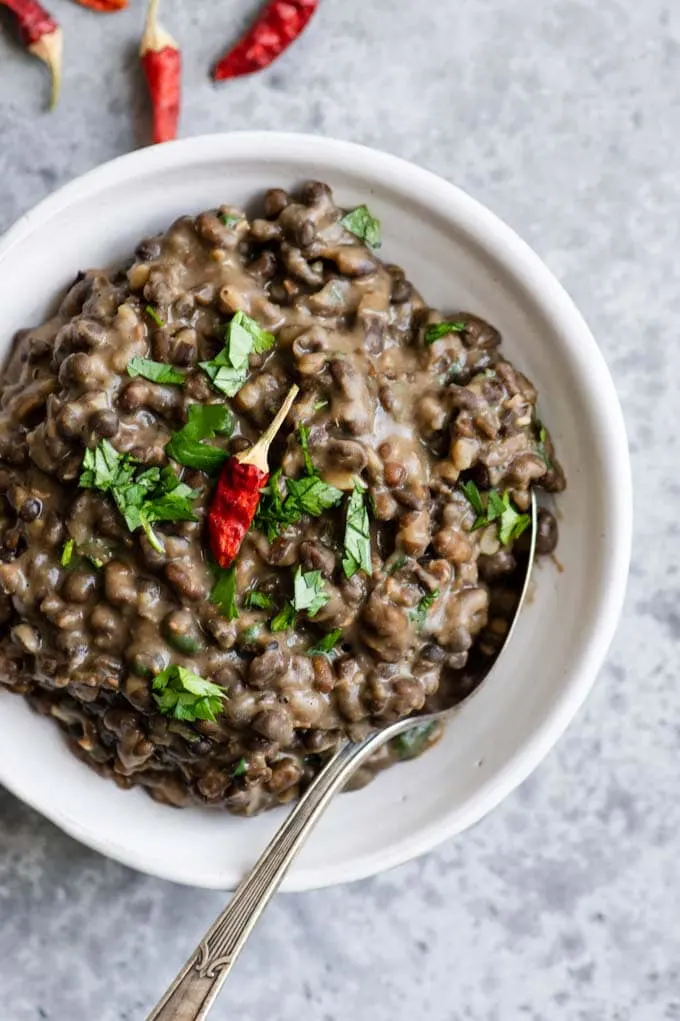 What is a garlic dal fry?
Now that we've established what urad dal is and why we should be eating it, let's get into how to make this easy recipe!
A fry, also known as a tempering, tadka, or tarka, is a popular Indian cooking method of adding seasoning to a dish.
You separately cook whole spices and aromatics in fats to release their flavor before combining them with the rest of the recipe.
As you may have guessed, a garlic dal fry is a garlicky flavored Indian lentil stew!
How to make garlic urad dal fry:
First, cook the urad dal.
You have two choices: 1) cook the beans using a regular pot on the stove or 2) using a pressure cooker, either a stove top one or an Instant pot.
In the past I've cooked my urad dal by soaking the dried bean for several hours or overnight, then cooking it on the stove in fresh water. It's how I made this coconut urad dal (one of the first recipes on my site!) and my dal makhani.
Now I have an Instant Pot and will never turn back! The lentils cook up in 25 minutes, completely hands off! I finally understand all the craze.
While cooking the urad dal we add some coriander, turmeric, and salt to season. This helps the flavors of the curry penetrate into the beans for the most delicious dal.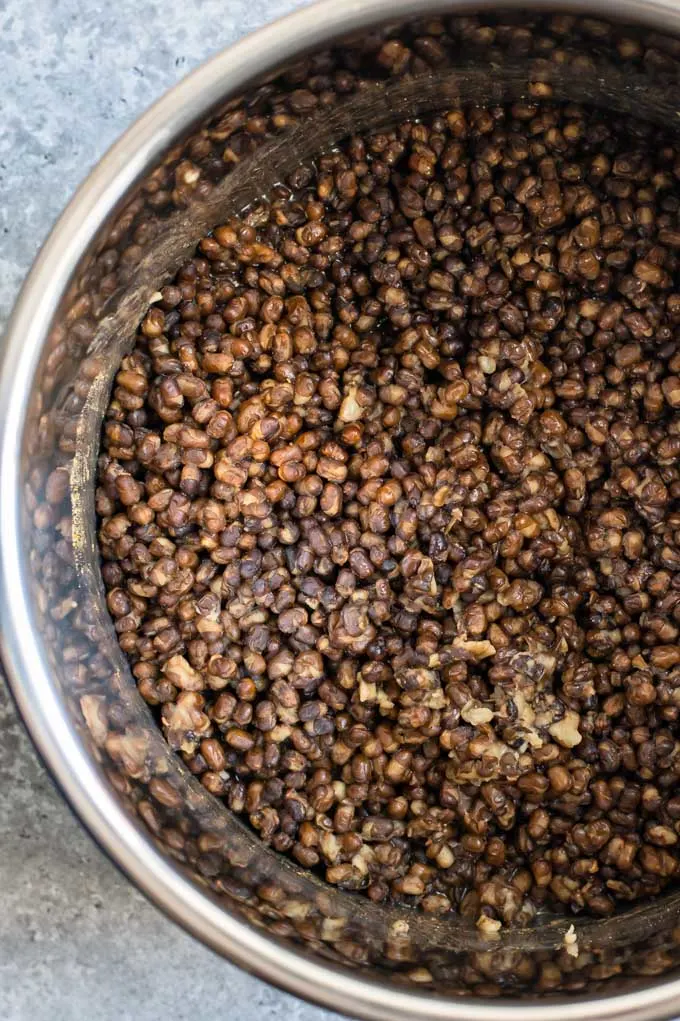 Once the beans have cooked, and the pressure has naturally released from the pressure cooker and the beans have cooled slightly (the beans can be cooked in advance if you prefer) you can start the garlic fry.
How to make the garlic tadka:
Because we want big flavor in this dal, we're going to infuse oil with garlic and spices.
The garlic needs to be chopped roughly into larger pieces for this recipe to ensure the garlic can cook without burning. Don't mince it or press it! If you prefer you can thinly slice the garlic.
Heat a generous amount of oil in a skillet or pan large enough to accommodate the dal. Add whole cumin seed and let it sizzle for about 15-30 seconds until it starts to smell fragrant, then add the ginger and garlic.
Cook over a medium low heat until the garlic starts to turn golden in spots, but not all over–we don't want to burn the garlic, just mellow it slightly as it starts to caramelize! How long this takes depends on how you cut your garlic and how hot the oil is.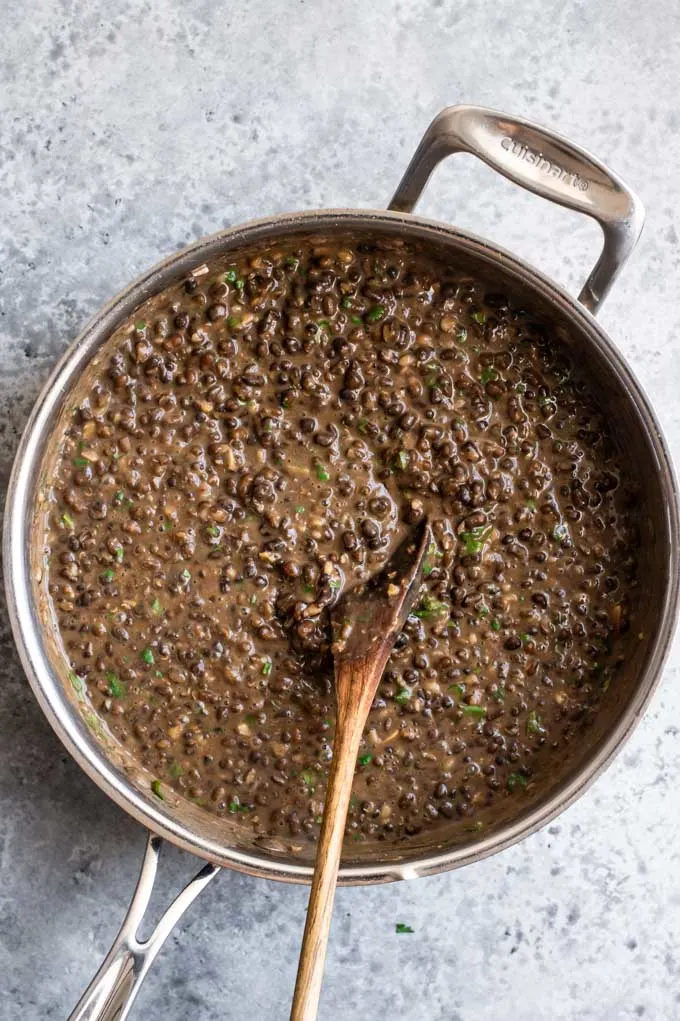 Now we add the powdered spices. Garam masala, amchoor powder, and cayenne or ground chili powder for some heat. Garam masala is a popular Indian spice blend including cumin, coriander, cardamom, cinnamon, clove, nutmeg, black pepper, and sometimes other spices as well (it varies by brand).
Make it spicy! As written this dal is on the mild side. You can add more cayenne pepper to the dish, or you can add fresh or dried chiles to the mix! If using fresh or dried peppers, add these with the ginger and garlic. You can also cook the urad dal with whole dried red chiles or break them in half to get even more heat!
Amchoor (or amchur) powder is powdered dried green mango. It brings a fruity and citrusy tartness to the recipe. If you like cooking Indian food it's an important spice to have, but if you don't have it you can substitute some lemon juice in this dish. A spoonful of tamarind paste can also be a good substitute!
Add the cooked urad dal along with all the cooking water left in the pot. Stir it in and add more water as needed. Bring the dal to a simmer and taste a spoonful. At this point you can add salt or other spices to taste.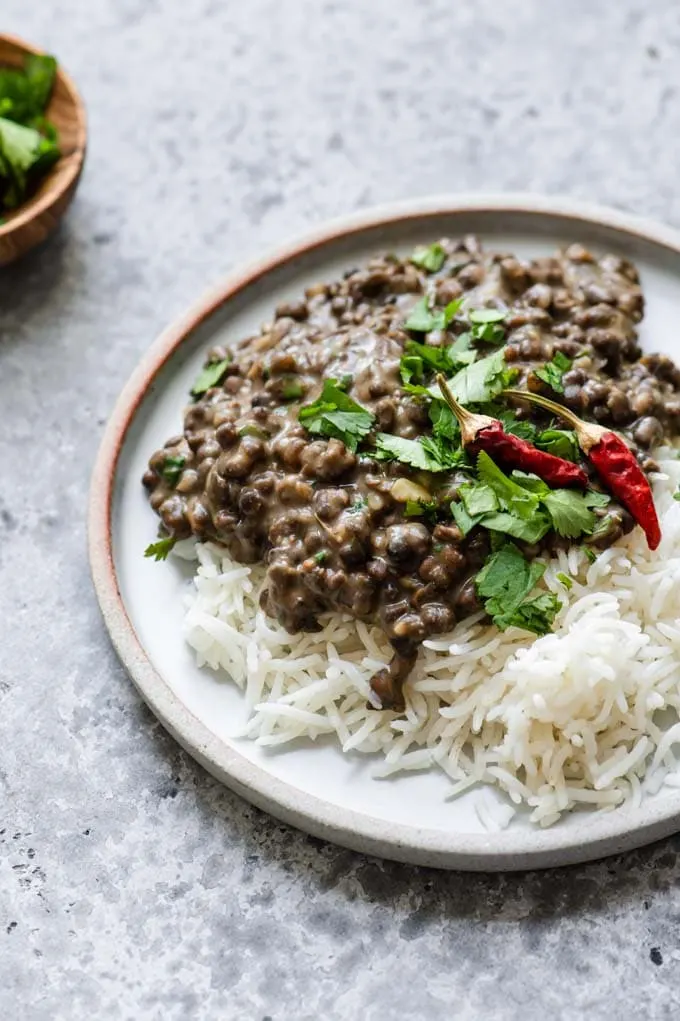 If the flavors fall flat try adding more salt! Indian food benefits from a lot of salt. A squeeze of lemon juice or more amchoor powder can also make the flavors pop!
Let the dal cook for 5-10 minutes to meld the flavors, then add cilantro. Letting some cilantro wilt into the dish adds more lemony freshness and brightens the garlicky urad dal!
Can I make this with another lentil?
Sure, you can use these same methods with other dal. My first choice would be to use split or peeled urad dal as you'll get that same lovely texture that is unique to the urad bean.
That being said, you can make any lentil instead! Chana dal, masoor, moong bean, to name a few, or even regular black beluga lentils or brown lentils!
Other lentils may not require soaking and may cook in less time, so you'll need to look that up before making the switch! They also may absorb more or less water, so if cooking in a pressure cooker it's a good idea to check on that as well–otherwise you can keep an eye on a pot on the stove and add more water as needed.
I hope you enjoy this garlic urad dal fry! It's such an easy recipe and so incredibly flavorful! If you enjoy this you may also enjoy my masoor dal tadka.
Need other ideas to round out your Indian feast? Check out my roundup of delicious Indian recipes!
If you make this garlic dal, leave a comment below and rate the recipe on the recipe card. And please share your photos with me on Instagram, tag @thecuriouschickpea and #thecuriouschickpea. I love seeing your recreations!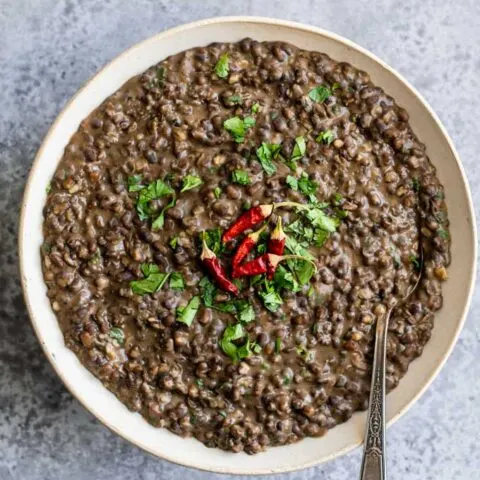 Garlic Urad Dal Fry
Inactive Cooking Time:
40 minutes
This delicious Indian dal is so easy to make! It's full of flavor and a perfect part of any Indian meal!
Ingredients
2 cups (414g) dried urad dal, sorted and debris removed then rinsed
5 cups water
1 tsp coriander powder
1/2 tsp turmeric powder
1/2 tsp salt
2 tbsp vegetable oil or coconut oil
2 tsp whole cumin seed
5-6 cloves garlic, peeled and roughly chopped
1 tbsp minced ginger
1 tsp garam masala
1/2 tsp amchoor powder (or substitute 2 tbsp lemon juice)
1/2 tsp cayenne pepper (more or less to taste)
salt to taste, start with 1 tsp
1/4 cup minced fresh cilantro, more for garnish
Instructions
In a pressure cooker combine the sorted and rinsed urad dal with the 5 cups of water, coriander powder, turmeric, and salt. Cook on high pressure for 25 minutes and allow the pressure to release naturally for at least 15 minutes.
When the urad dal is ready, heat the oil over medium low heat in a skillet or pot large enough to accommodate the cooked dal. Add the cumin seed and let fry until fragrant, about 30 seconds.
Add the garlic and ginger and cook until the garlic is starting to turn golden in places, about 1 1/2-2 minutes, depending on size of garlic. Be careful not to burn.
Stir in the garam masala, amchoor powder, and cayenne pepper and add the cooked urad dal and any remaining cooking water. Bring the dal to a simmer and add salt to taste, adjust any other spices to taste as well. Let the dal simmer for 5-10 minutes to meld the flavors, add water as needed to thin to your desired consistency.
Turn off the heat and stir in the 1/4 cup cilantro. Serve garnished with additional cilantro. Other optional garnishes include fresh minced chiles and minced red onion.
Notes
For a spicy dal, add dried red pepper when cooking the urad dal or along with the garlic and ginger. Break the chiles in half for even more heat. Fresh peppers are great too!
To cook urad dal without a pressure cooker: soak the beans in cold water for 6-8 hours, then drain and rinse. Combine the soaked beans, water, and spices (same as for instant pot) in a pot and bring to a boil, then lower the heat to a simmer and cook covered for 30 minutes or until tender, add more water if needed as it cooks). Cook the garlic fry in a smaller skillet and add it to the cooked lentils.
Recommended Products
As an Amazon Associate and member of other affiliate programs, I earn from qualifying purchases.
Nutrition Information:
Yield:

8
Serving Size:

1
Amount Per Serving:
Calories:

206
Total Fat:

7g
Sodium:

768mg
Carbohydrates:

27g
Fiber:

10g
Sugar:

4g
Protein:

11g
Nutrition is calculated automatically so should be used as an estimate.