Enjoy these easy vegan crepes for a fancy feeling breakfast or brunch. They're great savory or sweet, and as good as the traditional egg- and dairy-laden versions.
I love crepes. I find the whole experience enjoyable, from making them to eating them!
I love the mediative process of spreading the batter into a thin pancake over a warm pan. Then folding them up and getting those layers of crepe stuffed with tasty filling.
That I can have them sweet or savory depending on my mood. I love that you can melt fillings right into them, whether it's chocolate, jam, vegan butter, or vegan cheese.
I used to love ordering crepes from street carts and eating them wrapped in baking paper on the street. I think eating with your hands is the best and what's better than a meal (or dessert!) on the go!?
I love it when they're made extra decadent with loads of filling and sauces or creams on top so you need a knife and fork to devour them.
Crepes are a nostalgic food for me, bringing back fond memories of time spent in France as a kid. They were one of the few eggy dishes I would actively seek out (I've always hated the taste of eggs). So it'll come as no surprise that I love vegan crepes even more!
How do you make vegan crepes?
You may be under the impression that crepes are difficult to make. I mean, they're traditionally made with flour, eggs, and milk and sometimes cooked with butter.
Of those ingredients only flour is vegan and so it's understandable that you would think making vegan crepes is tricky. And then there's the fact that vegan crepes are still hard to find at food carts and restaurants.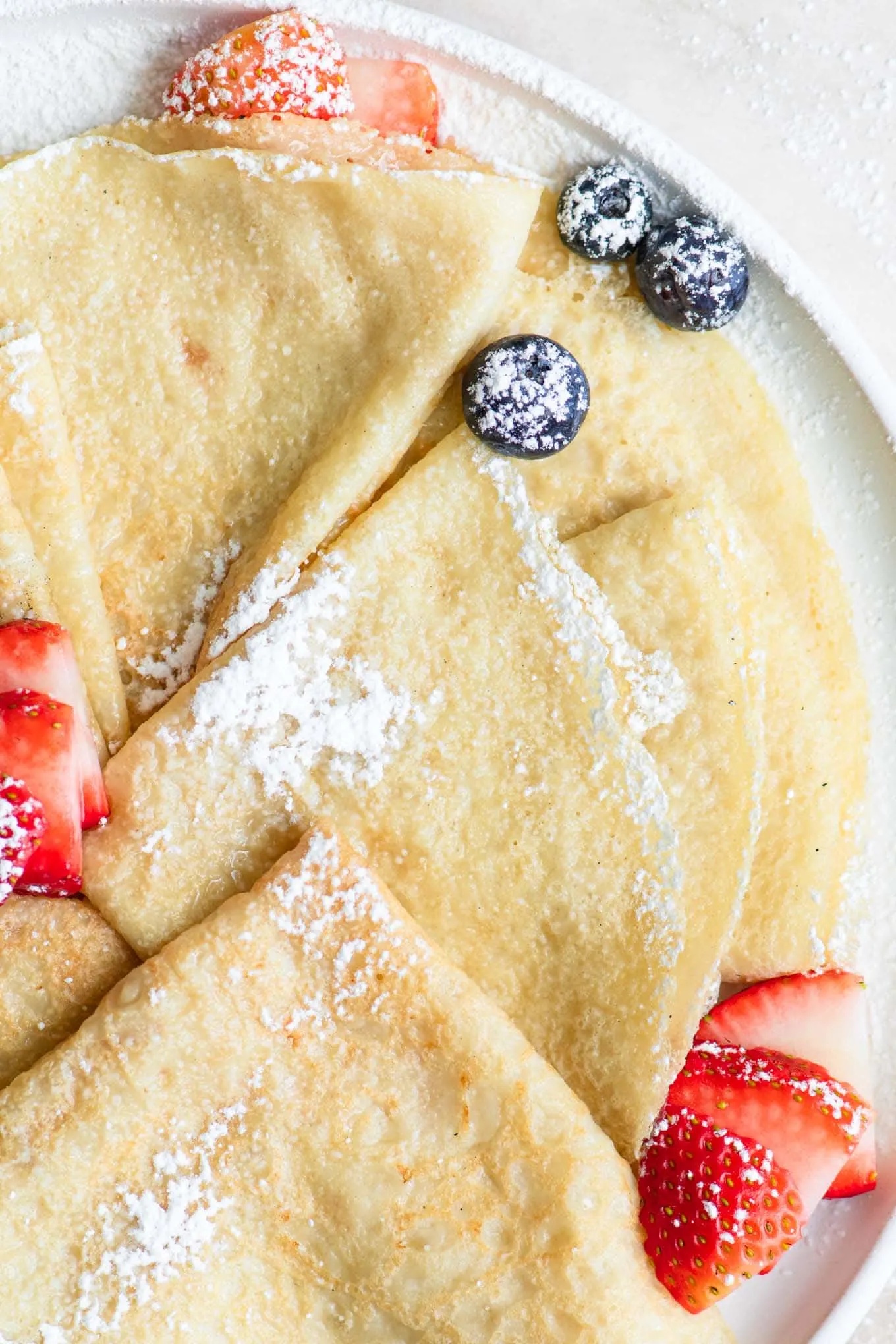 Of those ingredients only flour is vegan and so it's understandable that you would think making vegan crepes is tricky. And then there's the fact that vegan crepes are still hard to find at food carts and restaurants.
But it's just not true. Vegan crepes are simple to make and no fussier than their traditional counterparts. You just need a bit of practice to get the hang of cooking them, but the same is true of egg-based versions!
My vegan crepes have only 6 ingredients, plus the oil you need to grease the pan between pours. And the instructions couldn't be simpler! You combine all the ingredients and blend (or vigorously whisk if you don't have a blender) them together.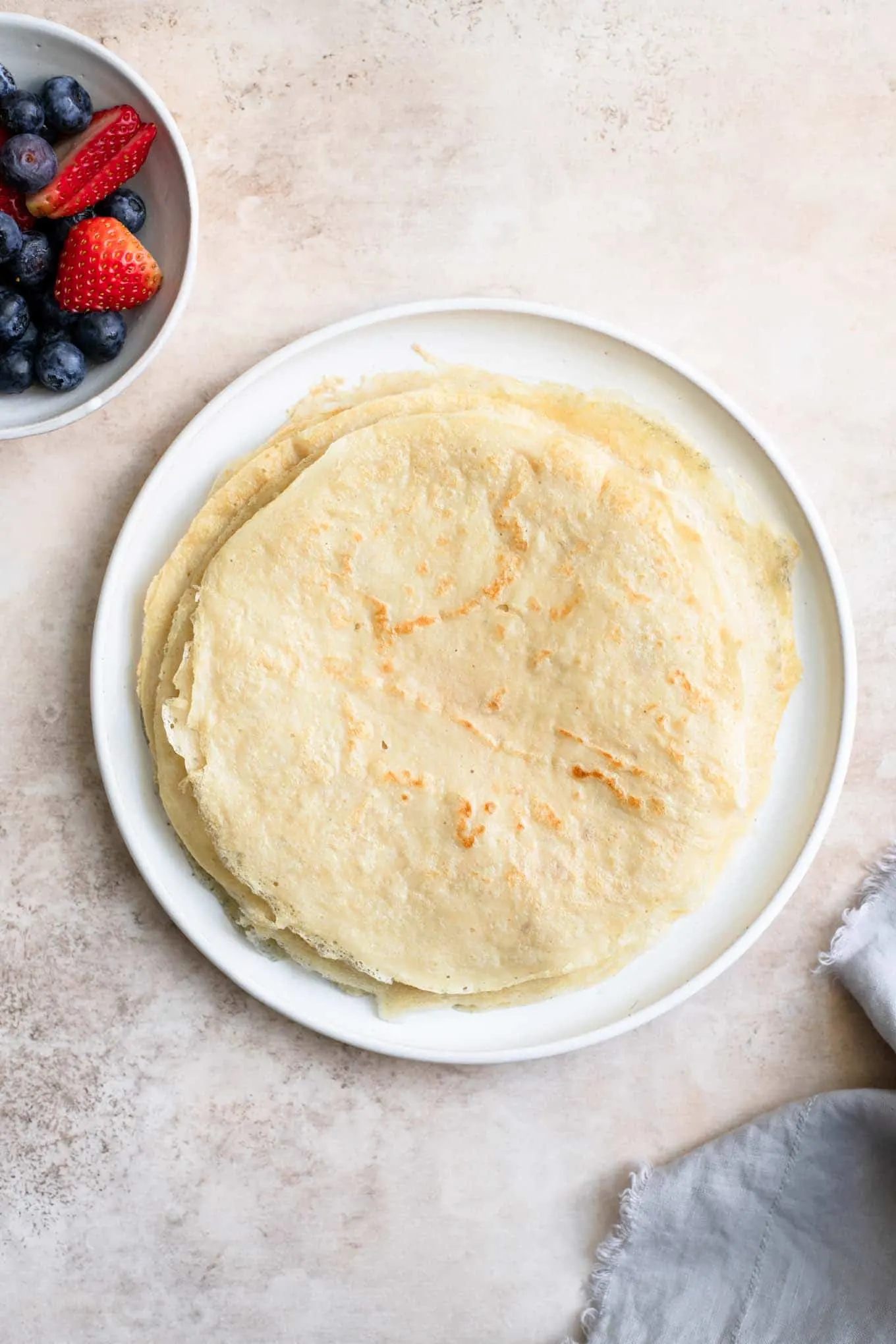 Blending aerates the batter for a lighter crepe, and it also develops the gluten which will help the crepes hold together. You really don't need eggs for that!
The batter then needs to rest so 1) the flour can fully hydrate, and 2) the gluten can relax after all that activation. You can let it rest at room temperature for 30 minutes, or stick it in the fridge for an hour or up to a day.
Yes, this means you can make your crepe batter the night before and then voila! Whip up freshly cooked crepes first thing after rolling out of bed the next morning!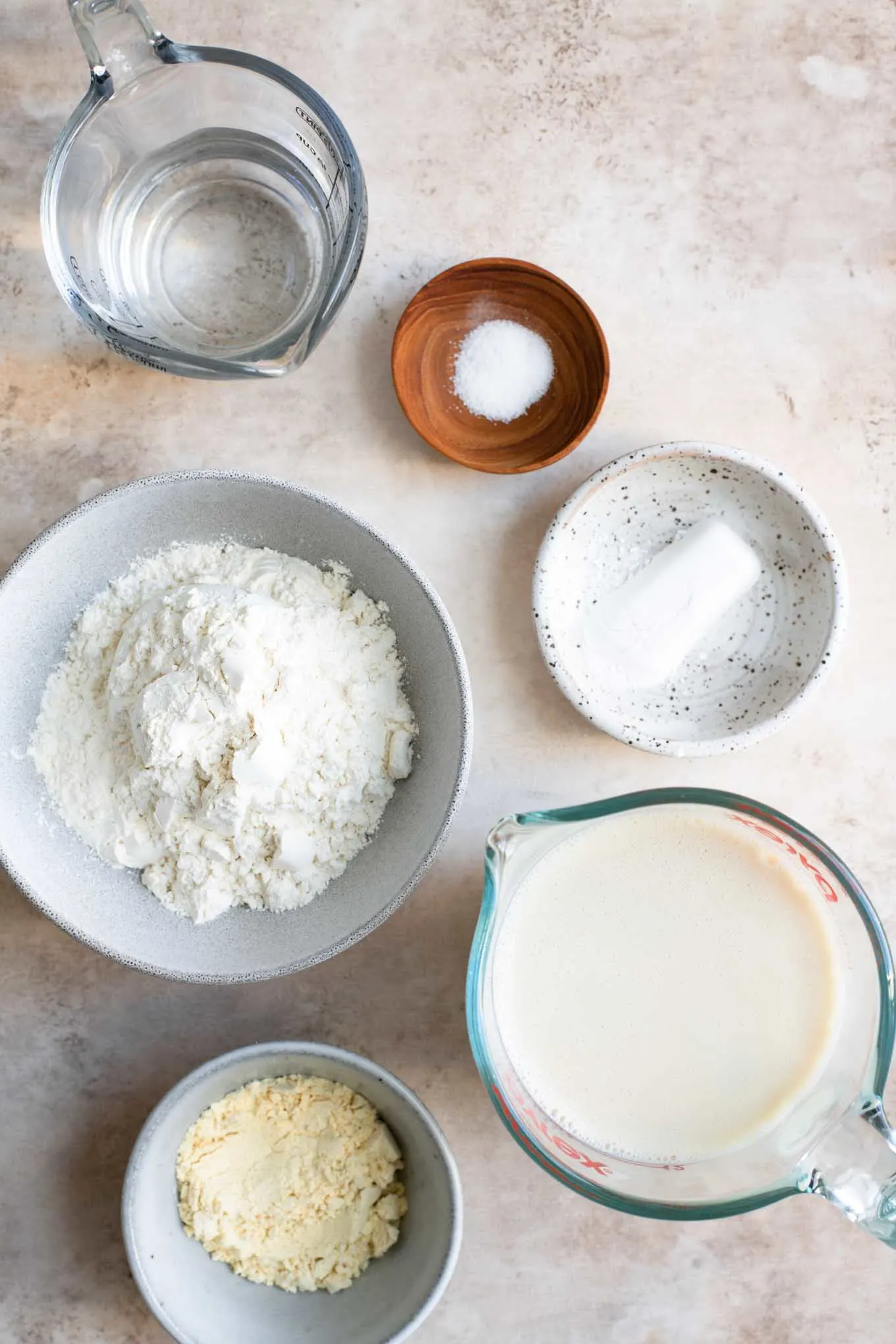 The ingredients for my easy vegan crepes:
So I mentioned the recipe is simple and it is! I use two types of flour to get the texture of my crepes: all purpose flour and chickpea flour (aka besan).
All purpose flour has gluten (the protein molecule in wheat) which helps provide structure to the batter and make them easier to handle without tearing. This is especially important when you take the eggs out.
The chickpea flour works wonders to give a little eggy taste and consistency. Too much chickpea flour and the batter turns a bit bready, but just a little and you have crepe perfection.
To help with additional binding I also add some starch to the crepes. I like arrowroot powder for this recipe, but you can substitute tapioca starch (aka tapioca flour) or cornstarch. This acts as an egg replacer.
The starches gelatinize a bit when hydrated and lend some stability and structure to the batter, as well as thicken it a bit.
Lastly you need to swap out the dairy milk for plant-based milk! I like soy milk or oat milk, but your favorite non-dairy milk will work! I also add some water to thin out the batter.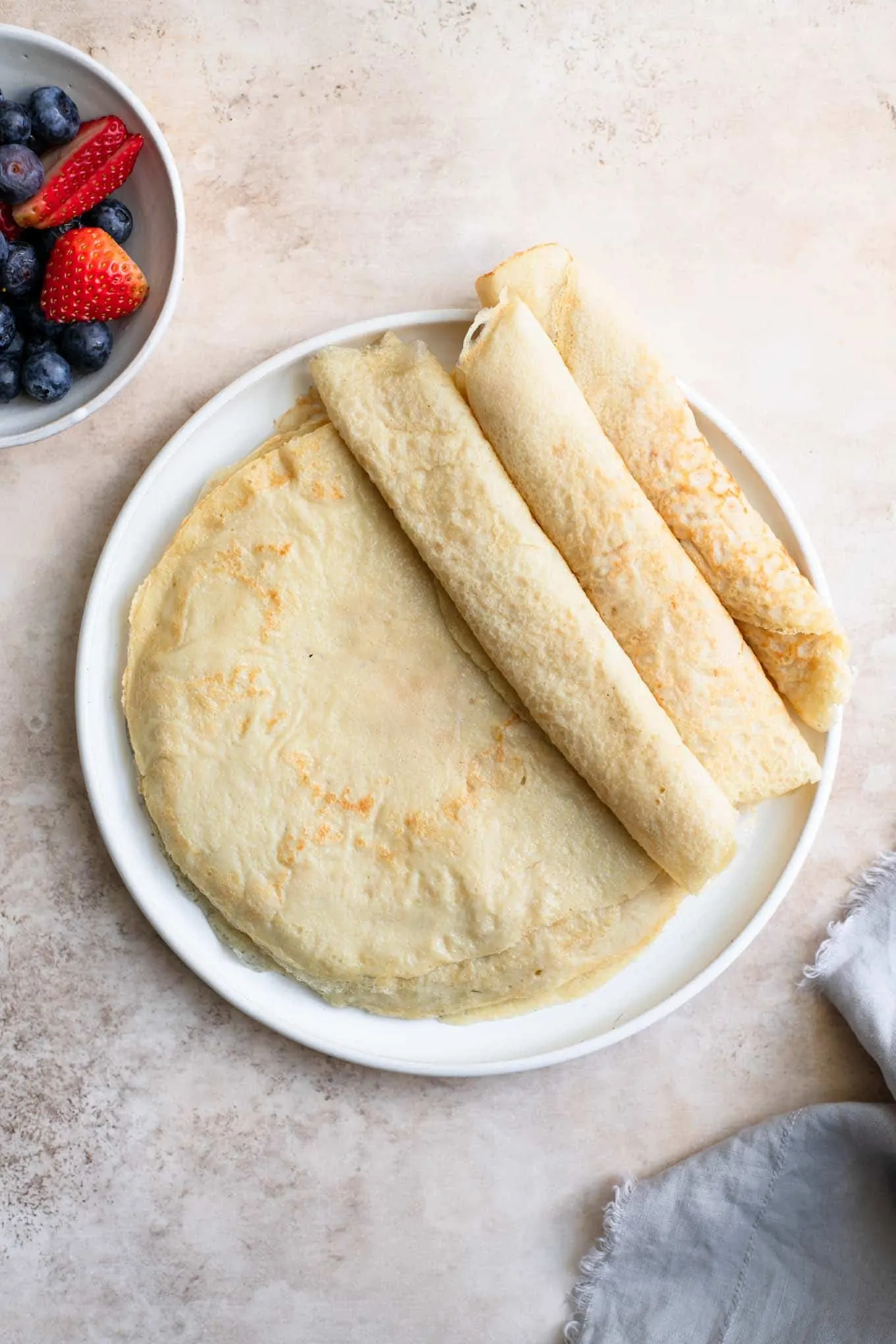 Can you make it without chickpea flour?
Yes. You can either substitute additional all purpose flour for the chickpea flour, or if you have it use soy flour instead.
Can I make the crepes sweet?
I make my crepes savory, because the batter then works for sweet or savory applications. This is my personal preference.
However, if you're someone who likes the crepe itself to have a bit of sweetness, then you can add some sweetener directly to the batter. I recommend adding 2 tablespoons of sugar or maple syrup. And if you're going the sweet route go ahead and add some vanilla extract as well, 1/2 teaspoon will do the trick!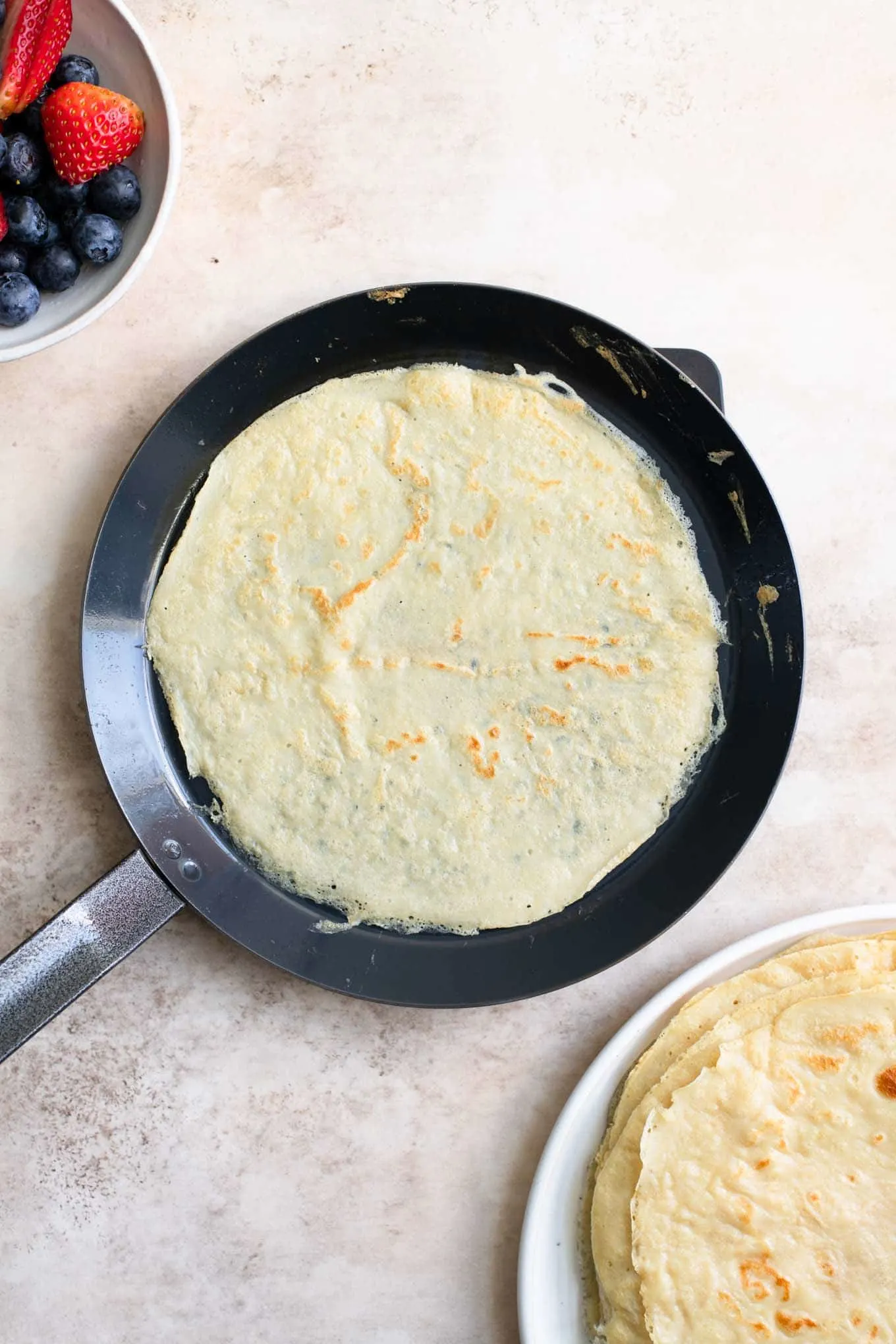 Shaping the crepes:
You make vegan crepes the same way you make non vegan ones. Strictly speaking all you need to make them is a non-stick pan. You don't need those fancy tools to spread the batter or flip the crepes. But I'll be honest with you, they do make your crepe making a lot easier and turn out consistent and superior crepes.
Without the spreading tool you need to lift the pan and rotate it slowly around so the batter can spread evenly across the bottom. If you're using a heavy cast iron pan this ends up being quite the wrist work out!
If you enjoy crepes I recommend getting a skillet with a low rim, or a specialty crepe pan. I have a cast iron skillet and a carbon steel pan that both turn out great crepes.
Picking up a set of inexpensive wooden tools for crepes is also a good idea (but optional). A crepe spreader and spatula will make your crepe making extra easy breezy!
I hope this recipe helps demystify vegan crepes a bit and inspires you to get into thin-pancake making! I love them so much, they're just too much fun to eat and look so impressive to serve.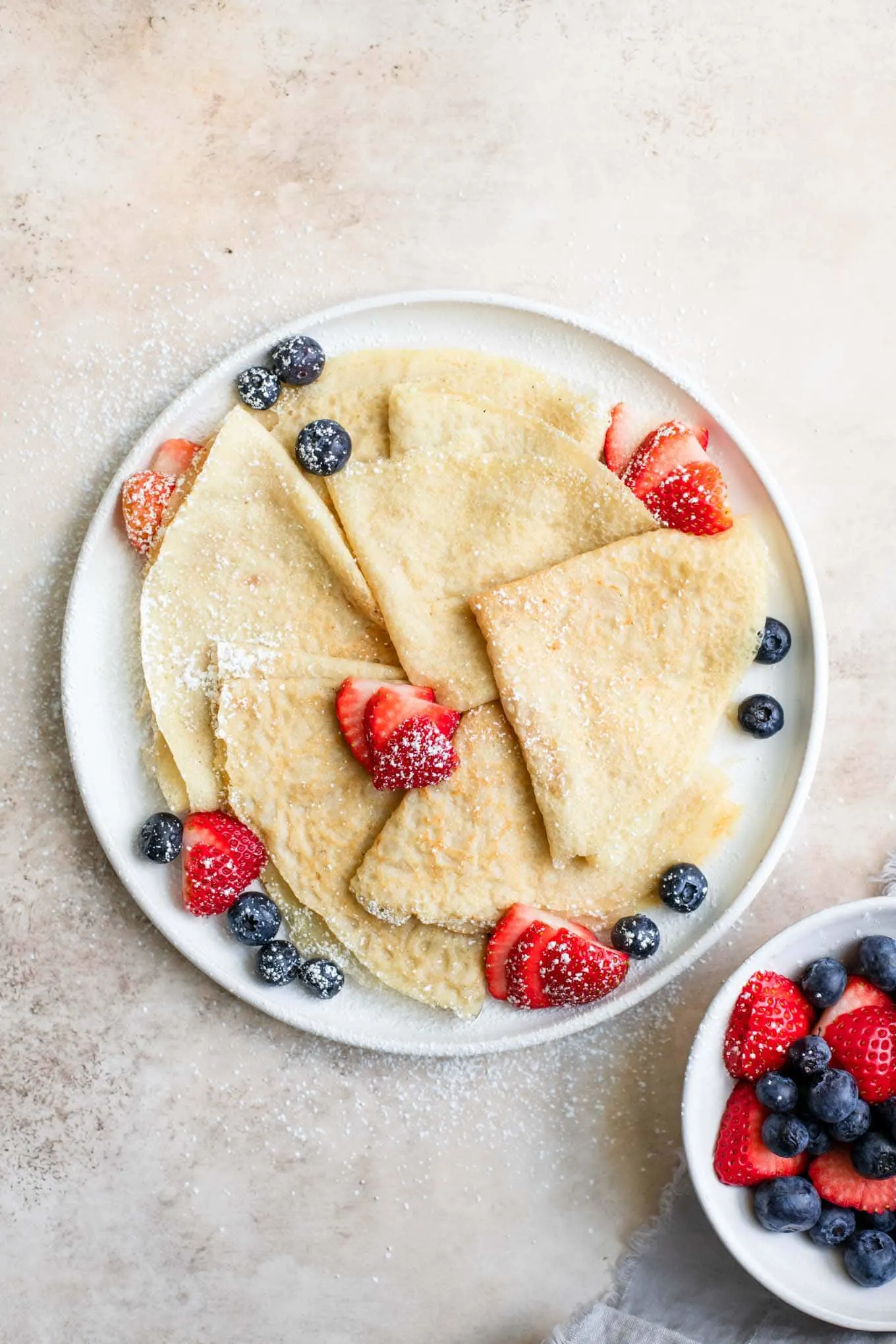 Filling ideas for vegan crepes:
Growing up my favorite way to enjoy crepes was crêpe au sucre, where you add a dab of butter and sprinkle some sugar overtop to melt down to sweet simple goodness. A Nutella crepe was a close second choice.
These days I'm a bit more sophisticated. Don't get me wrong, I still love a chocolate hazelnut spread (not Nutella as it's not vegan)!
If you want your filling to melt, then add it as soon as you've flipped the crepe to cook the second side. Try adding chocolate chips, chocolate hazelnut spreads, vegan cheeses, etc. Let the heat work for a minute before spreading it out with an offset spatula or backside of a spoon.
For savory crepes I recommend you give my vegan savory crepes a go, filled with a homemade almond cheese, sautéed spinach, and topped with vegan hollandaise sauce.
Or take a peek at my americanized savory crepes with melted vegan cheddar cheese, seitan bacon, and yep, more vegan hollandaise!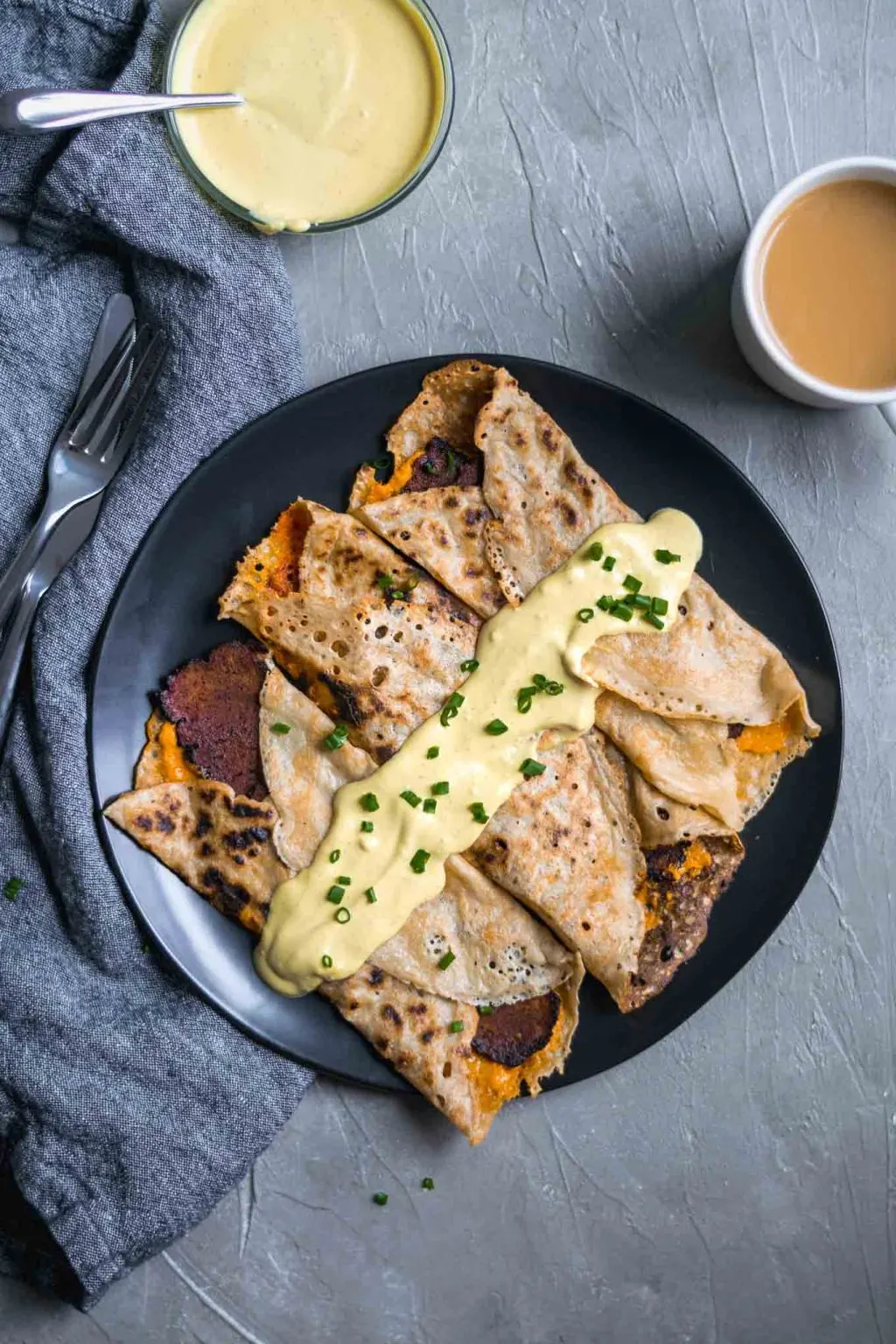 I also love a good fruit compote, or even a fruit jam! However you enjoyed non-vegan crepes, you can make a vegan version!
If you make these easy vegan crepes, leave a comment below and rate the recipe on the recipe card. And please share your photos with me on Instagram, tag @thecuriouschickpea and #thecuriouschickpea. I love seeing your recreations!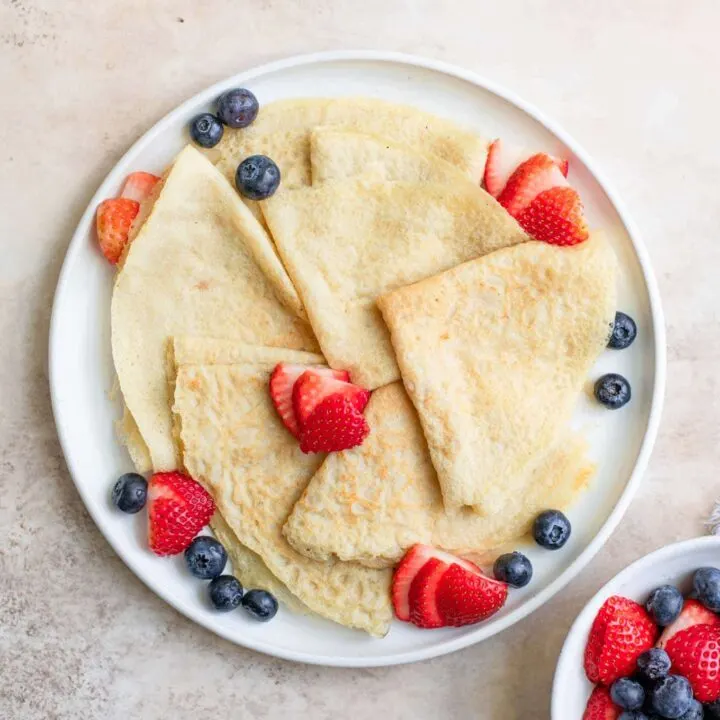 Easy Vegan Crepes
Total Time:
1 hour
30 minutes
These egg-free, vegan crepes are delicious for sweet and savory breakfasts. They're easy to make, thin and flexible, perfect for rolling up or folding over and filling with your favorite things!
Ingredients
2 cups (470g) plant milk
1/2 cup (118g) water
1 1/4 cups (150g) all purpose flour
1/4 cup (30g) chickpea flour
1 tbsp (8g) arrowroot powder, substitute cornstarch or tapioca starch
1/2 tsp (2g) salt
oil to cook with
Instructions
Put all ingredients into a blender and blend until well combined, about 30 seconds.
Transfer the batter to a sealed container and place in the fridge to chill for 1 hour, or up to 24 hours before. Stir before using. If you're in a hurry you can rest the batter at room temperature for 30 minutes.
When ready to make crepes, heat a 9 - 10" non-stick skillet or specialized crepe pan over medium-low heat. Lightly spray with oil and pour 1/3 cup of batter in the center of the pan. Use a crepe spreader to easily spread the batter in a circle until you have a thin pancake. Otherwise lift the pan and rotate it in a circular motion so the batter spreads to the outside of the pan to make a thin pancake.
If the batter dances around when it hits the pan and forms a lot of bubbles, the pan is too hot. Turn down the heat to go slower at a lower temperature.
Let the crepe cook until the batter no longer looks wet and the edges are starting to curl up. The side touching the pan will be a lightt golden color. This will take about 2-3 minutes. Loosen the edges of the crepe first by running the spatula under to release, then slide the spatula under the crepe and gently lift and flip the crepe.
Cook an additional 1 1/2 - 2 minutes, or until the bottom side is cooked and lightly golden. When you flip, this is when you can add any fillings that you want to melt such as: butter, chocolate hazelnut spread, chocolate chips, vegan cheese, etc.
Repeat with the remaining batter, spraying the pan with oil between each crepe.
Store leftover crepes in a sealed container and reheat on a dry warm pan.
Nutrition Information:
Yield:

10
Serving Size:

1
Amount Per Serving:
Calories:

163
Total Fat:

3g
Sodium:

145mg
Carbohydrates:

30g
Fiber:

1g
Sugar:

0g
Protein:

4g
This recipe was originally published on March 13, 2018.