A peppercorn and sun dried tomato homemade seitan deli meat, perfect for making thin slices for sandwiches and cheese plates, or can be chopped or shredded and cooked for any recipe!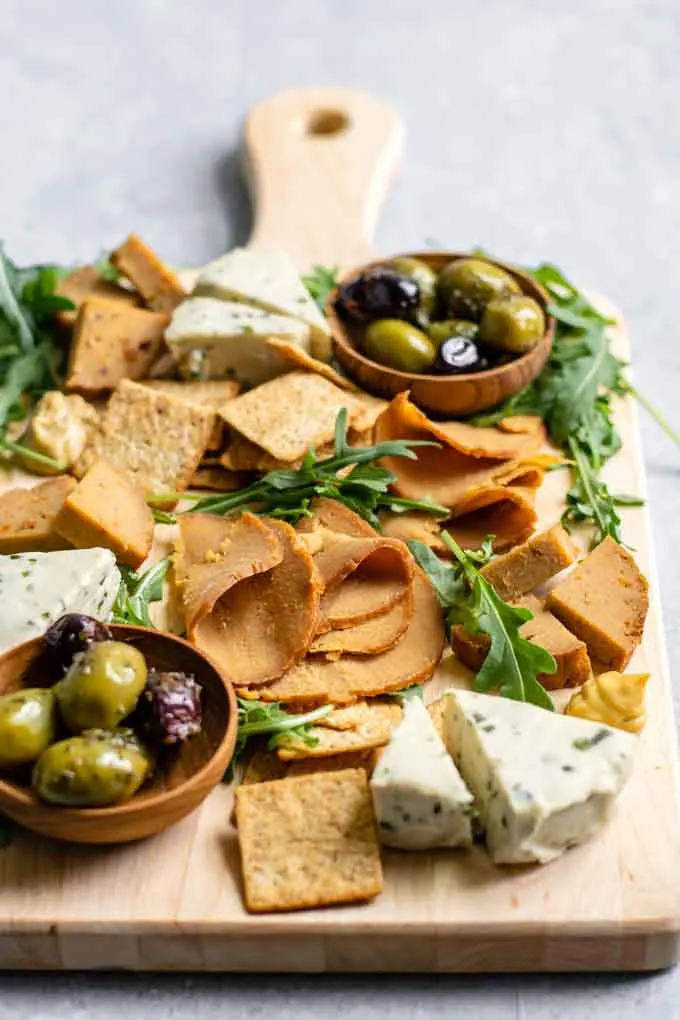 This homemade seitan deli meat is so tasty and tender. It's infused with sun dried tomatoes and peppercorn, with hints of rosemary for a delicious savory flavor and peppery finish.
Seitan is a wonderful source of protein and this vegan "deli meat" is no different. Just a little goes a long way in filling you up and keeping you satiated!
Homemade seitan is inexpensive, surprisingly easy to make, and adaptable to your own tastes. It just takes a bit of time and some patience, it's not a last minute recipe. But it makes about 3x the amount as a store bought package of vegan deli meat slices and the recipe can be doubled, or extra can be frozen as needed.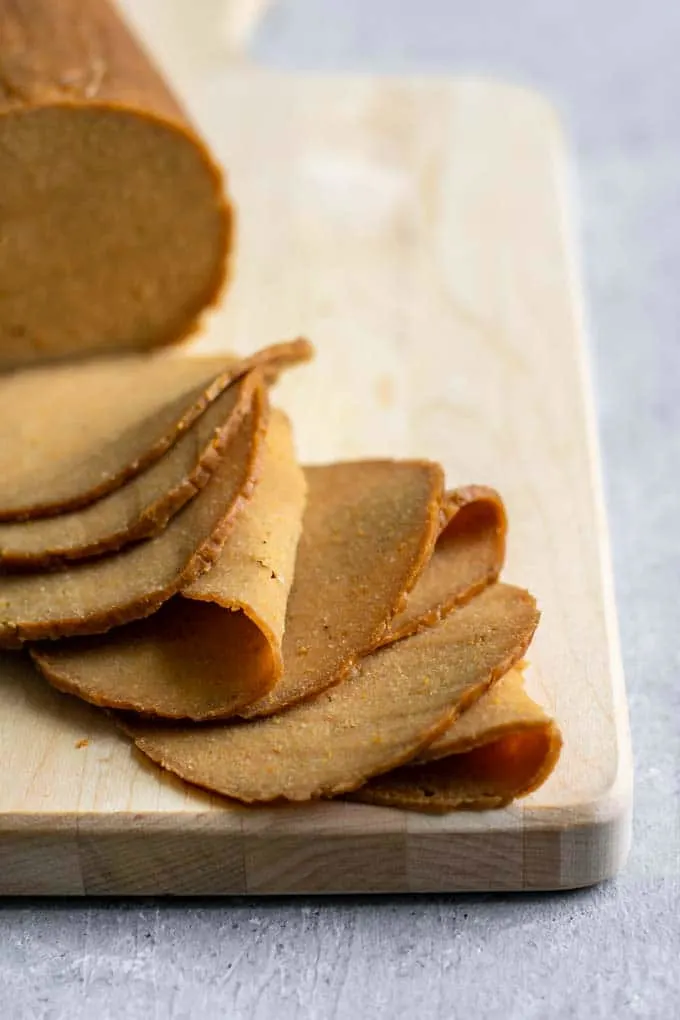 What is seitan?
So at this point, if you've never encountered seitan (also sometimes called wheat gluten) or just not known what it is, let me tell you! It's a vegan protein that's often fashioned as a meat substitute, but has been around for centuries and used in Buddhist cuisine in ancient China and Japan.
Seitan can be prepared for a myriad of different recipes. Fry it, use it in soups, on pizza, in pasta sauces, stir fries, sandwiches, and more. It soaks up flavor beautifully, has a great chewy texture, and is just generally a really cool and versatile vegan protein.
Quite simply, it is made from the protein of the wheat grain (gluten). Early seitan was made by washing the starches from a simple flour + water dough and then cooking chewy protein left behind.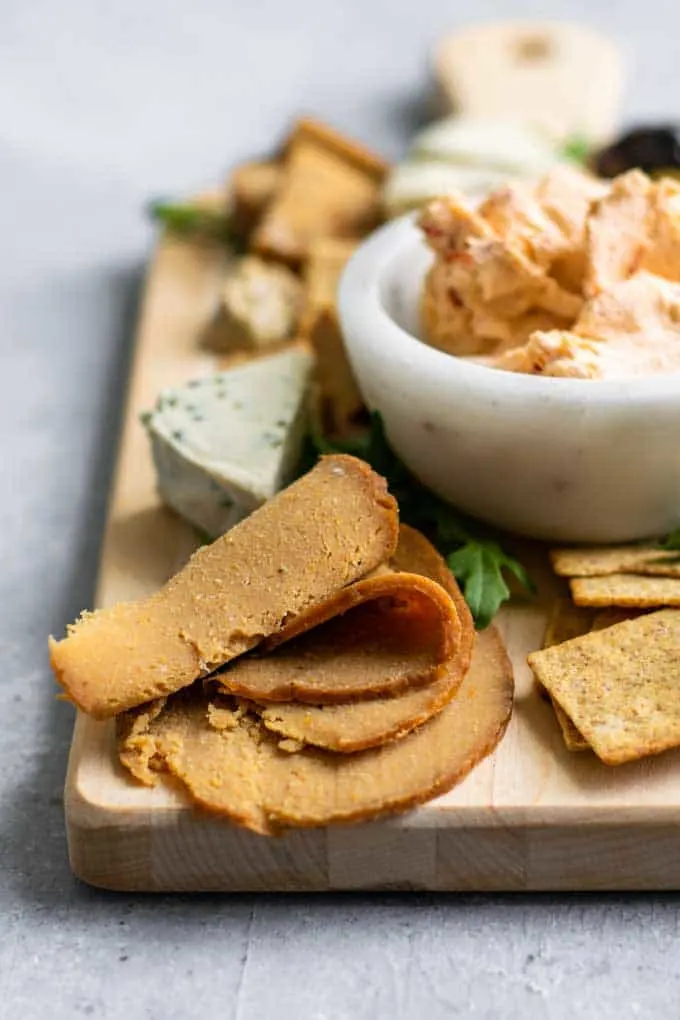 These days life is a lot easier because you can purchase the isolated wheat protein, called wheat gluten or vital wheat gluten. And you can use vital wheat gluten to make seitan as simply as just adding water and cooking.
Of course, if you're just using vital wheat gluten and water, it won't taste great! Instead we add spices for flavor and can adapt the texture as desired by adding oil and/or beans, tofu, cutting the gluten with some chickpea flour, or even added starch.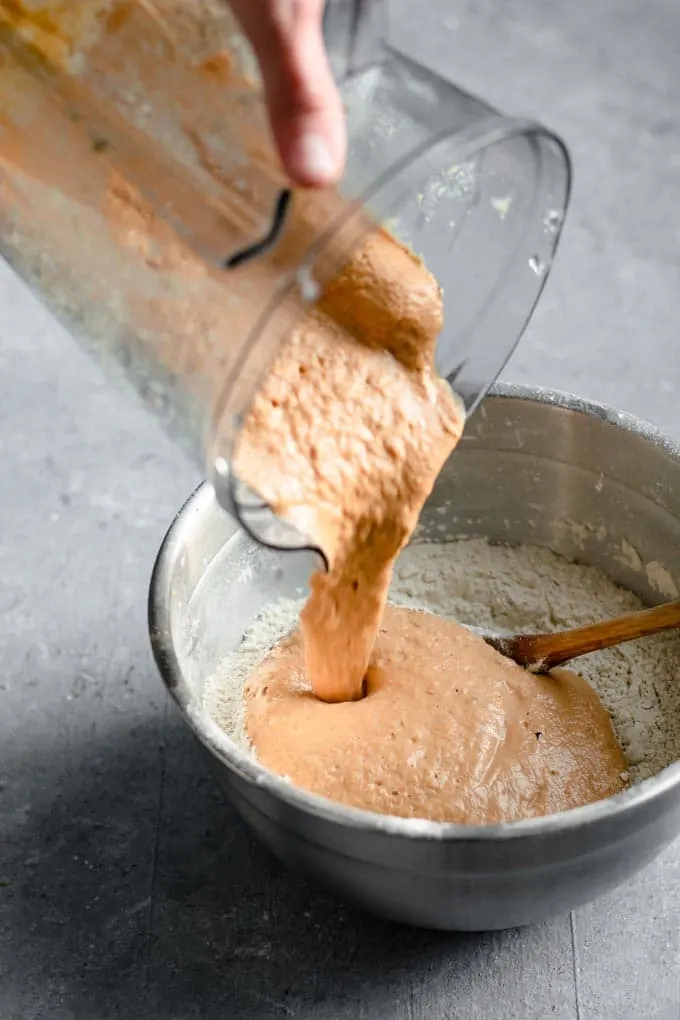 To cook seitan there are a bunch of methods. You can simmer it, and this is typically done in a flavorful broth so that the seitan can absorb some of that flavor. You can also steam it, which is a really fool proof method and results in a great final texture in my opinion. And lastly you can bake it.
There are additional methods to cook seitan that stem from those 3 main methods: such as baking it in a flavorful broth, or a stove top combo fry/steam or simmer method.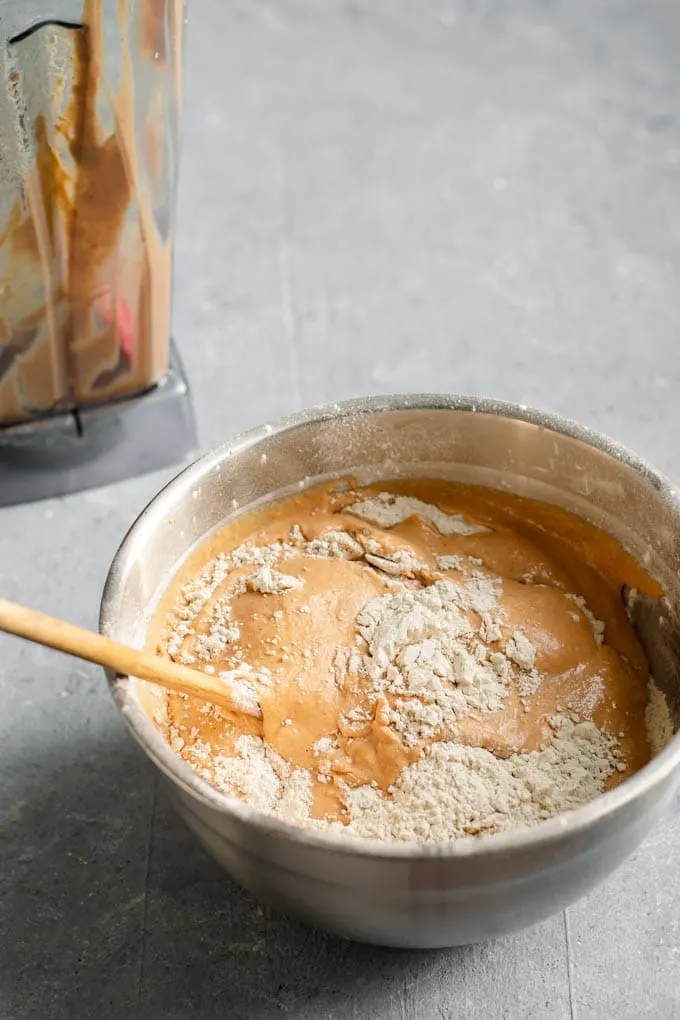 Making the homemade seitan deli meat:
The method for this seitan deli meat is straightforward and easy. We create a wet mixture and dry, add the wet to the dry and bring it together, kneading for just a couple of minutes. Then tightly wrap up seitan dough and steam it to cook. Once steamed, transfer to the oven where it will take on a denser texture (perfect for those thin 'deli meat' slices) and develop a chewy skin.
For the wet mixture we have a somewhat unusual addition of tofu. Tofu changes the texture of seitan to something I really enjoy. It keeps it softer and juicier, and it's perfect for the seitan deli meat. Choose a spongey (versus silken) tofu of the firm variety. If extra firm is all you can find go ahead and use that, but avoid anything that tips into the realm of super firm.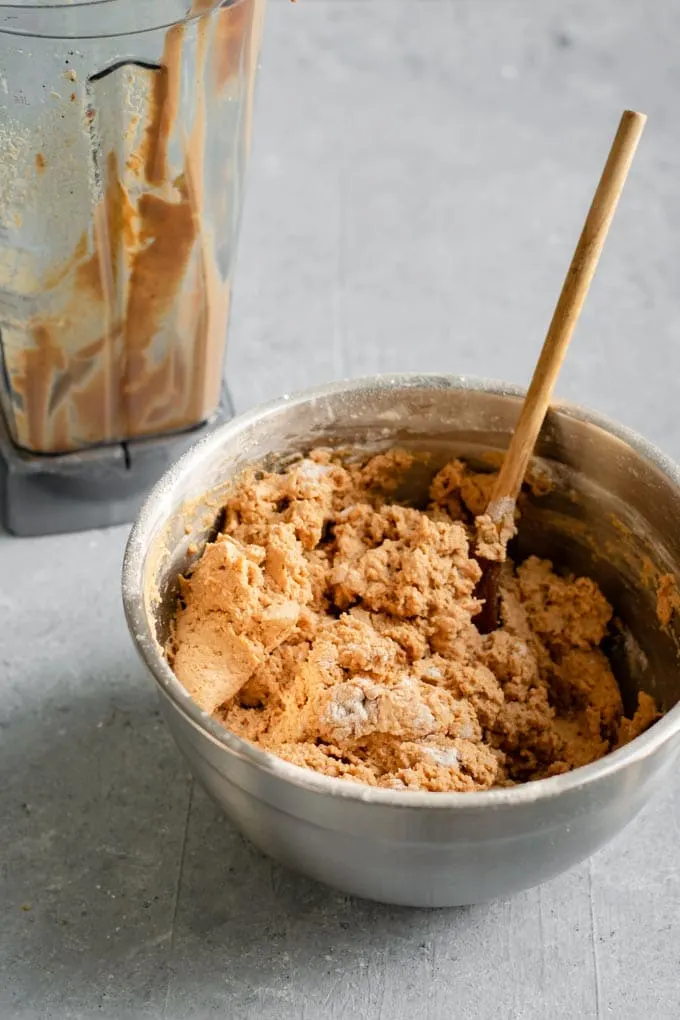 With tofu we add sun dried tomatoes, these add some delicious tomatoey undertones to the seitan and help give it that Italian-leaning savory flavor. I used soft and pliable dry-packed sun dried tomatoes, but oil packed would work as well. If your sun dried tomatoes are dried out, soak them in hot water for a bit to soften them. Also, if you're using a high speed blender you can pop them in whole but otherwise you might want to chop a bit to help your blender out.
A bit of oil tenderizes the seitan and use vegetable broth instead of water to infuse the seitan loaf with flavor. Lemon juice brightens the flavor and the acidity helps keep the seitan from tasting too bready.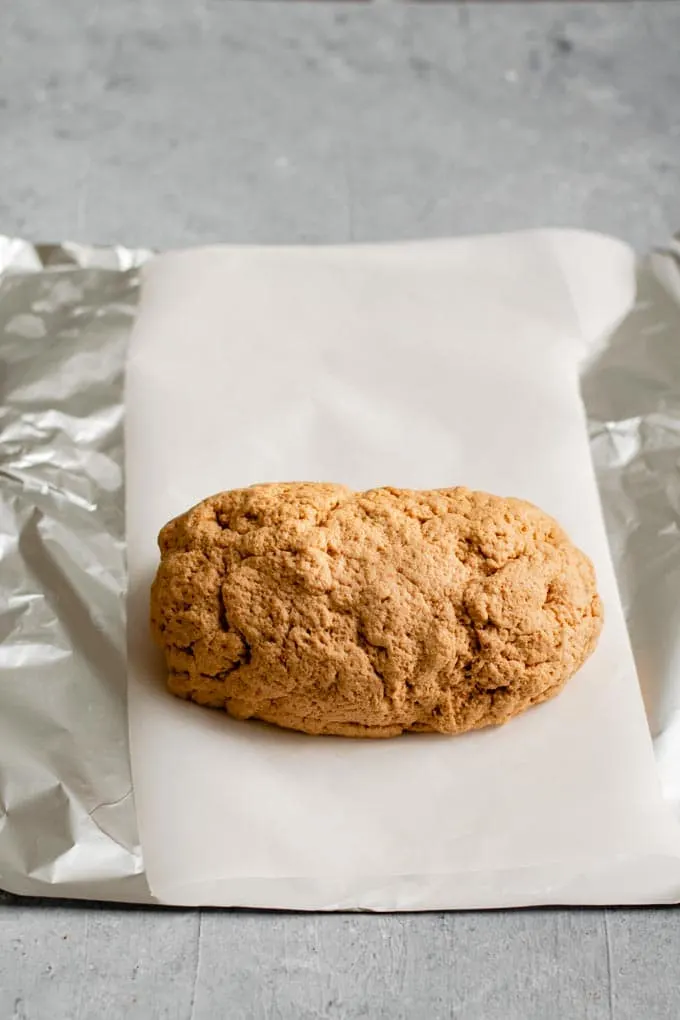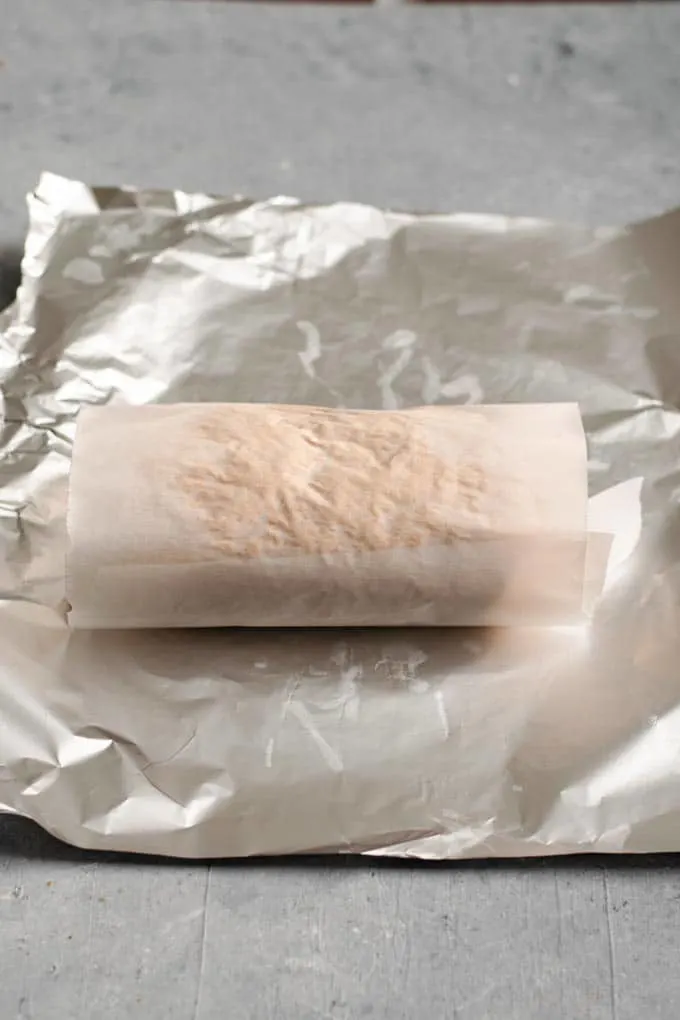 Add soy sauce and garlic, a sprinkling of salt and a generous amount of black pepper. For spices add onion powder and dried rosemary. Add all of these ingredients to a blender and blend until smooth, though a few small pieces of sun dried tomato here and there are fine, and will just show up as texture in the final seitan loaf.
Whisk together the dry ingredeints: vital wheat gluten, chickpea flour (besan), and corn starch. Add the wet to the dry and knead to form a soft and stringy dough. The stringiness is the gluten developing.
This dough gets formed into a short and fat log shape and wrapped tightly in parchment paper and foil to seal up and cook.
Seitan should be fully cooled before using, as it gets firmer as it cools and will be easier to slice as well as have a better texture.

How to use the vegan deli meats:
Well, you can use them any way you might have used the non-vegan stuff. Sandwiches come to mind of course, but so do cheese plates! These are so good sliced up and eaten with a dab of cashew cheese and some spicy dijon mustard on a cracker.
You can also chop up the seitan into a different shape, as seen in the cheese plate here I cut half sized logs (see recipe notes for directions on how to make 2 smaller seitan loaves) of the seitan into wedges.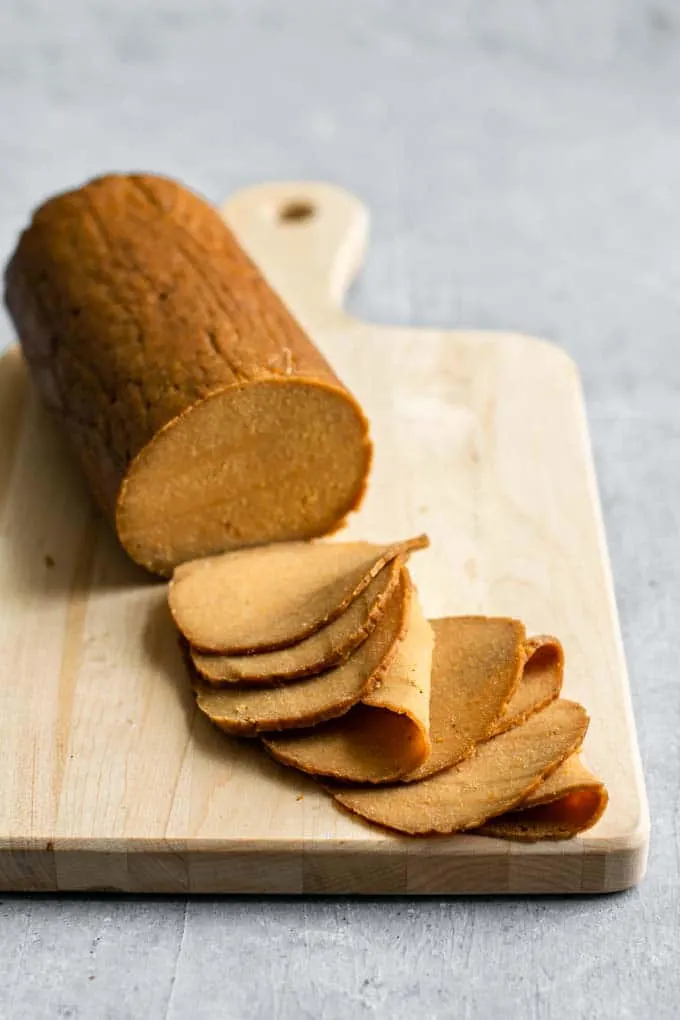 Fry them up, bread them, bake them, add them to soups–whatever you want really! The seitan doesn't need further cooking, so any additional frying or simmering is fully optional and should be done based on the recipe.
I imagine this seitan would be delicious in my vegan baked ziti recipe, or dipped into my vegan cheese fondue. I also would love it on this kale, roasted tomato, and seitan white pizza!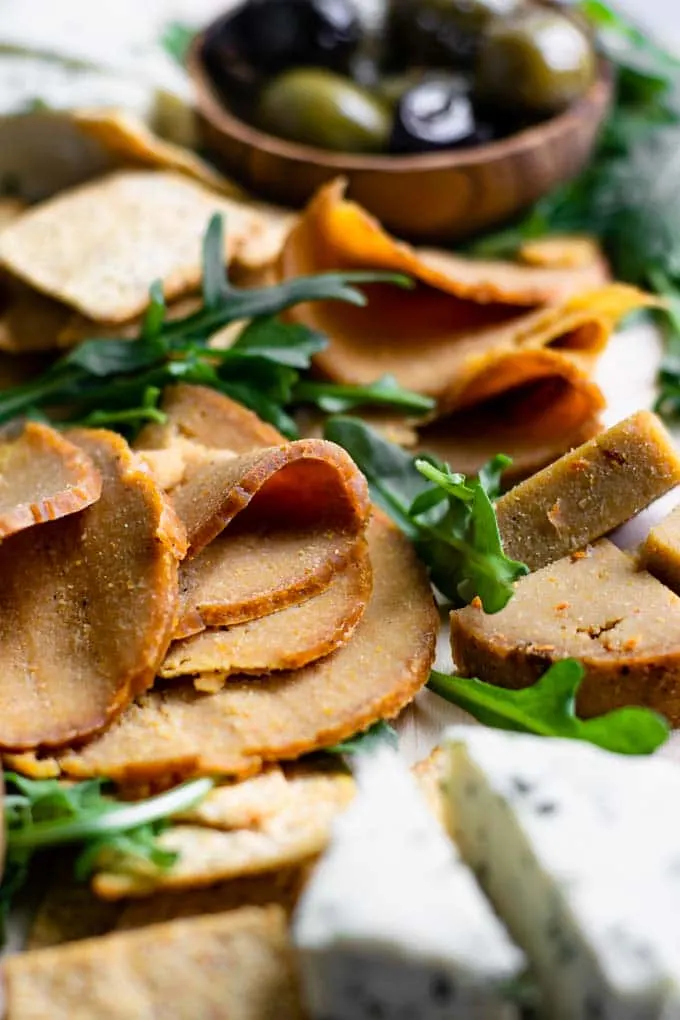 ---
If you make this peppercorn and sun dried tomato homemade seitan deli meat, leave a comment below and rate the recipe on the recipe card. And please share your photos with me on Instagram, tag @thecuriouschickpea and #thecuriouschickpea, I would love to see and hear how you use it!
WANT MORE DELICIOUS VEGAN RECIPES? FOLLOW ME ON INSTAGRAM, FACEBOOK, AND PINTEREST!
---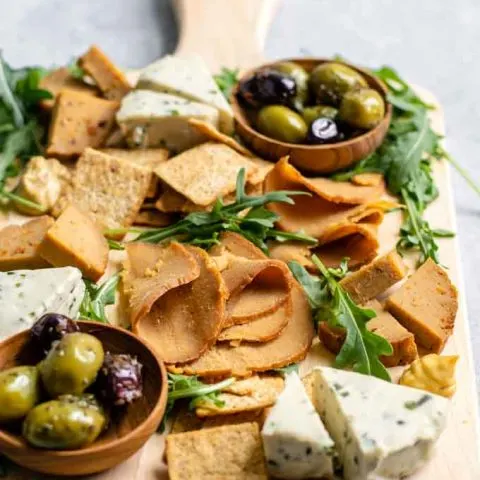 Homemade Seitan Deli Meat Slices
Cook Time:
1 hour
45 minutes
Total Time:
1 hour
55 minutes
A peppercorn and sun dried tomato homemade seitan deli meat, perfect for making thin slices for sandwiches and cheese plates, or can be chopped or shredded and cooked for any recipe!
Ingredients
1/2 block (~7oz/200g) firm tofu
1/2 cup (40g) sun dried tomatoes, coarsely chopped if not using a high speed blender
1 1/2 cups (355g) vegetable broth (chick'n style if available)
2 tbsp (21g) oil
2 tbsp (30g) lemon juice
1 tbsp (15g) soy sauce
2 garlic cloves, peeled
1 1/2 tsp onion powder
1 tsp freshly ground black pepper
3/4 tsp salt
1/2 tsp dried rosemary
2 cups (275g) vital wheat gluten
1/4 cup (25g) chickpea flour
2 tbsp (18g) corn starch
Instructions
Set up a large steamer pot on the stove and bring water to a boil, turning down the heat to maintain a steamy simmer.
To a blender add tofu, sun dried tomatoes, vegetable broth, oil, lemon juice, soy sauce, garlic cloves, onion powder, black pepper, salt, and rosemary. Blend until fairy smooth, small bits of sun dried tomato are ok.
In a mixing bowl whisk together the vital wheat gluten, chickpea flour, and corn starch. Pour the wet ingredients into the dry and stir to bring together with a wooden spoon. Then knead by hand for 1-3 minutes to thoroughly mix together and slightly develop the gluten.
Prepare a large piece of foil, about 10" long. Place a piece of parchment paper, about 6" long in the center of the foil (see photos in post). Place the seitan dough about 1/3 of the way up from the edge of the parchment paper and form into about a 6" log. Wrap the parchment paper around the seitan, then place it towards the bottom of the foil and wrap the foil around it and twist the ends like a candy wrapper to tightly seal the foil package.
Place in the steamer basket and let steam for 1 hour. In the last 15 minutes, preheat the oven to 350 ºF. After an hour of steaming, transfer the seitan loaf (still in the foil) to a baking tray and bake for 45 minutes. Remove from oven and let cool completely, unsealing the foil to speed the process once it's cool enough to touch.
Once room temperature, seal in a container or plastic bag and store in the fridge, it will continue to firm up over the next several hours. Thinly slice, chop, shred, or prepare however you like. For longer storage it keeps well in the freezer, but remove foil before freezing.
Notes
You can make two smaller loaves of seitan instead of one large one, just divide the dough in half, and shape it into two rolls in two pieces of parchment/foil, keeping them about 5-6" long, and follow the same directions for cooking.
You can skip the baking step and increase the steaming time to 1 hour and 15 minutes to cook, but baking after steaming gives it the chewy outside skin around the seitan loaf and creates a slightly denser texture to the seitan.
Recipe method adapted from Vegan Dad.
Recommended Products
As an Amazon Associate and member of other affiliate programs, I earn from qualifying purchases.
Nutrition Information:
Yield:

12
Serving Size:

1
Amount Per Serving:
Calories:

198
Total Fat:

4g
Sodium:

318mg
Carbohydrates:

10g
Fiber:

1g
Sugar:

1g
Protein:

31g