These delicious vegan chocolate-glazed doughnuts are a classic yeasted doughnut to rival those in your favorite traditional doughnut shops! *wins award for using the word doughnut 3x in one sentence*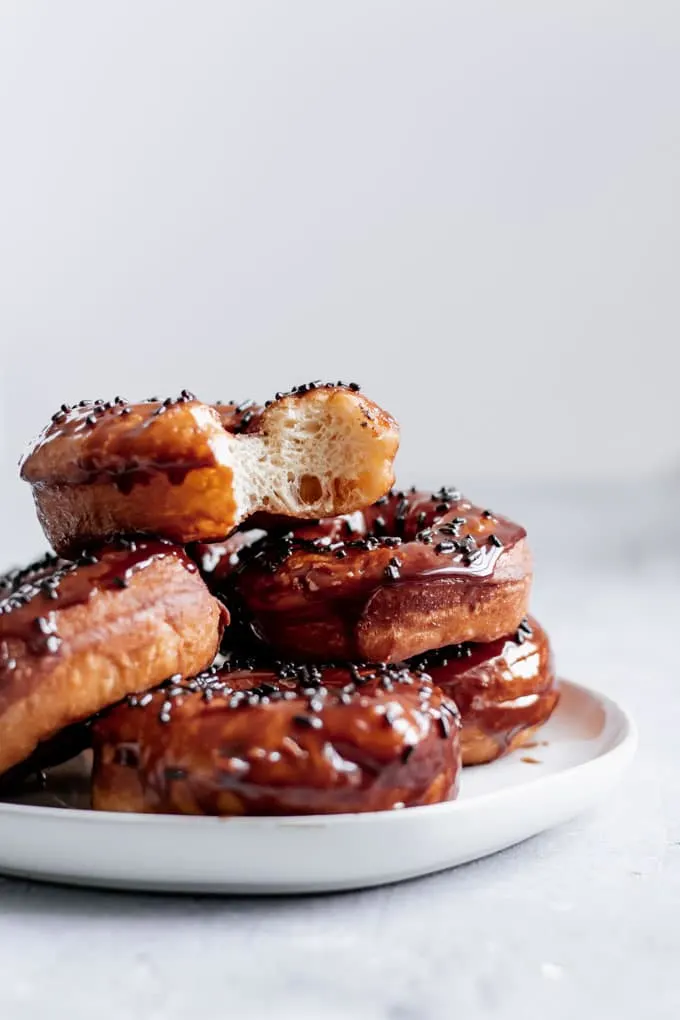 I'm all about a classic doughnut. There's something irresistible about that fluffy, chewy, fried dough. They're not too sweet, but for the glaze on top. For me, cake doughnuts and especially baked doughnuts will never replace a traditionally made yeasted doughnut. And so I present, my vegan chocolate glazed doughnuts, non-fussy and seriously satisfying.
Until the day that vegan doughnuts take over the world (or at least the doughnut shops), you will find me making homemade doughnuts once (maybe twice?) a year. Luckily, they're super easy to make and can be thrown together in the period of one morning or afternoon–or evening, you get the point!
About yeasted doughnuts:
Doughnuts are made with an enriched dough. Traditionally this means that there is butter, milk, sugar, and sometimes eggs in the dough. To make it vegan, we use vegan butter (refined coconut oil works as well), a plant based milk, and aquafaba as an egg replacement.
Aquafaba is the gloopy liquid that comes out of a can of beans, I prefer to use that of chickpeas or white beans for their mild taste and extra thick consistency. It works really well in dough as an egg replacer, giving a bit of added tenderness to dough.
The other ingredients in the dough are flour, yeast, and salt. I like to use instant yeast because there's no need to proof it, and it can be added straight to the flour with the rest of the dry ingredients. You can use active dry yeast instead, but will want to add the yeast to the warm milk along with the sugar and let that sit for about 10 minutes until the yeast is foamy.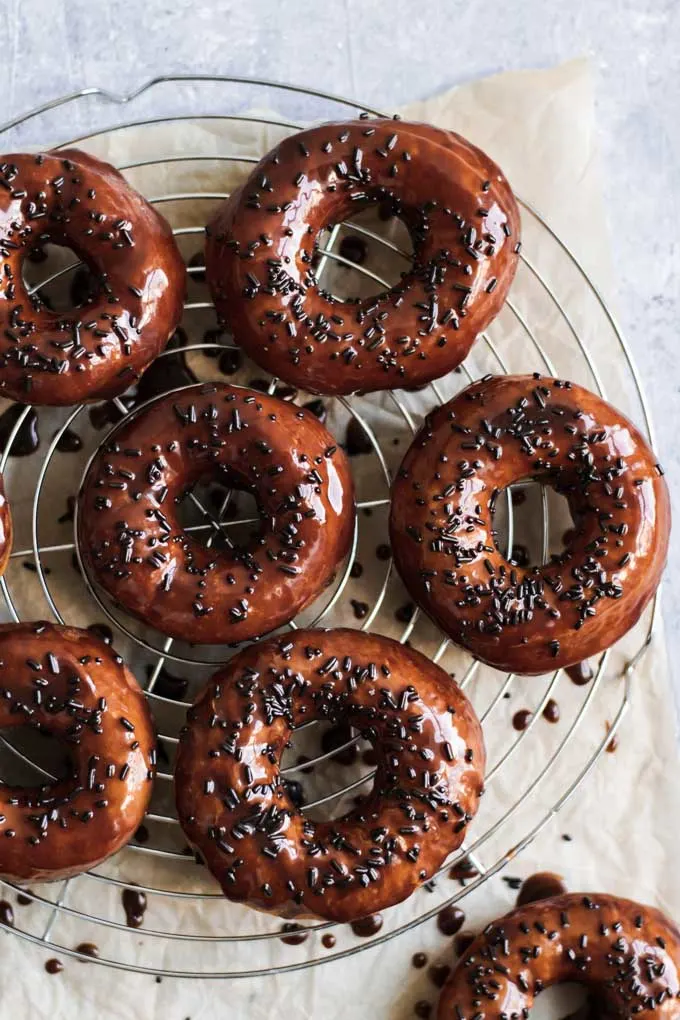 How to make the classic yeasted doughnuts:
Making the dough is super straight forward. Whisk together your flour, sugar, salt, and yeast in a large mixing bowl (or bowl of a stand mixer). In a second mixing bowl combine the warm plant milk, aquafaba, and melted vegan butter (or oil). Add the wet ingredients to the dry and mix to form a shaggy dough.
Kneading is simple, you can take advantage of a stand mixer with the dough hook, or do it by hand. I like to do a pattern of kneading my doughs for 3 minutes, letting them rest 5, and then kneading another 3 minutes. This isn't just to give my hands a break but the rest helps the gluten relax into place, so you can get the same result with less effort.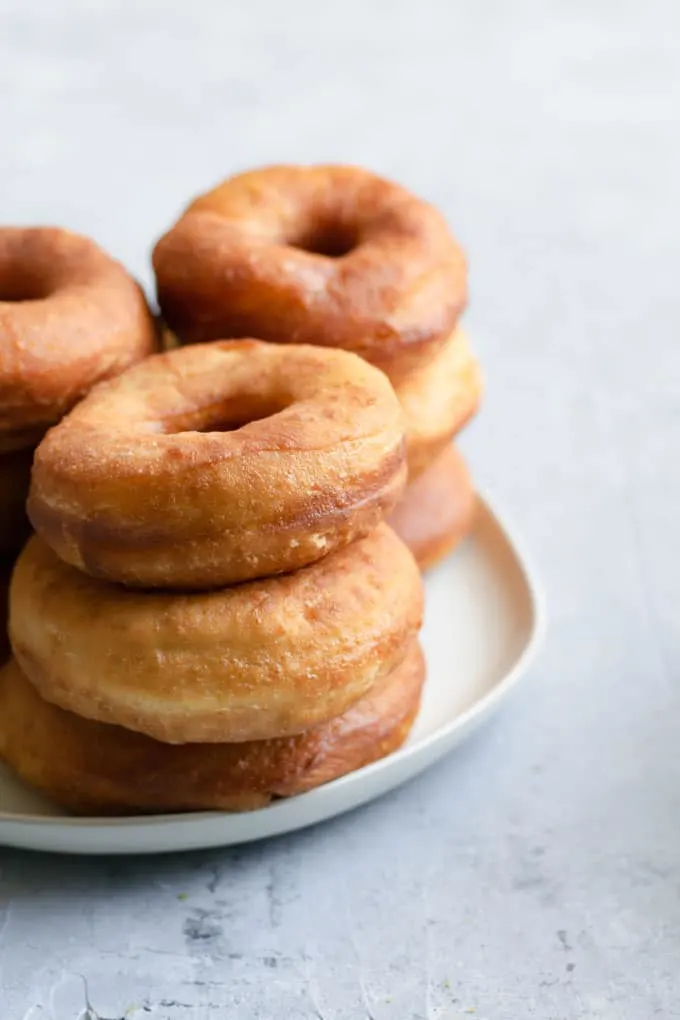 You might need to add a bit of flour to the dough as it kneads to form a tacky (as in a little sticky but not difficult to handle) and supple dough. If kneading in a stand mixer, I'll spend one minute at the end kneading by hand on the counter to adjust the flour.
Let the dough rise for an hour to two hours until the dough is double in size. It usually takes my dough about 90 minutes. Then punch the dough down slightly and turn out onto a lightly floured counter. If the dough is a bit sticky you can add flour to the top of the dough as well. Then roll out the dough and cut it into that classic O-doughnut shape-I use two different sizes of biscuit cutters, but a typically a drinking glass and shot glass work pretty well too.
Collect the scraps (including doughnut holes) and re roll and cut until you've used up all the dough. Then, cover the shaped dough and let it relax for about 20 minutes. Towards the end of that time heat up your oil in a large pot, a wok, or deep fryer if you have one. I like to use a wok (as I don't have a deep fryer) because the curved shape allows me to use less oil.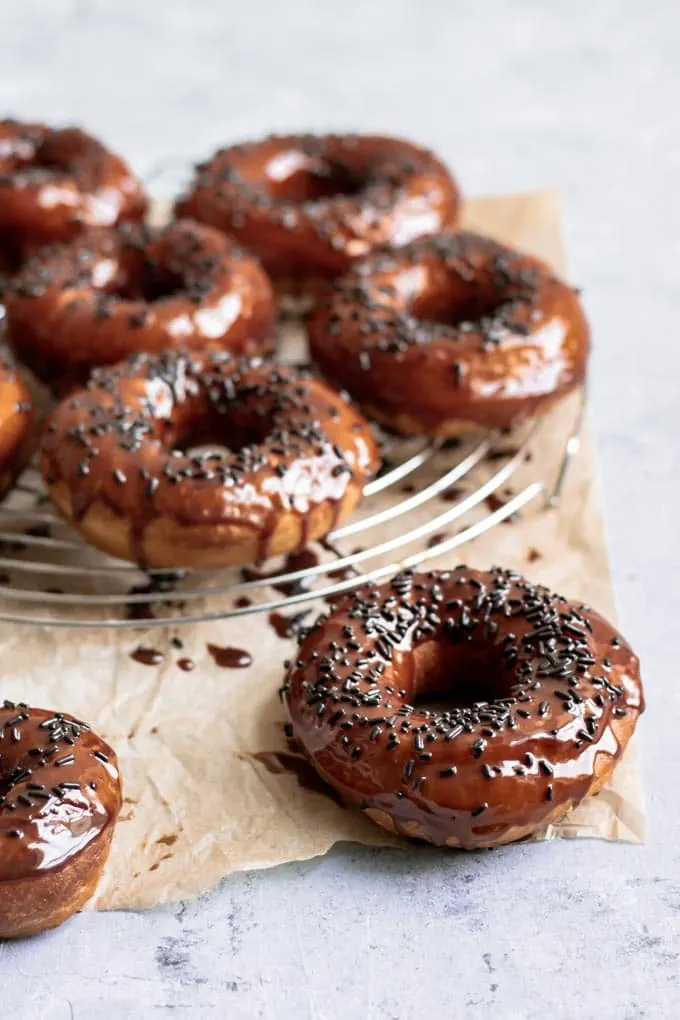 You'll need a cooking thermometer or some smart deep frying senses to get the oil temperature at the target 350 ºF. If you don't have a thermometer, drop a scrap piece of dough in to test. It should float to the top and have a gentle boil of oil around it. If it boils too vigorously the oil is too hot. If it doesn't boil around the dough the oil isn't hot enough.
I like to keep my gas stove on a medium-low flame and let the oil heat slowly. About 2-3 is the sweet spot for keeping the oil around 350 ºF. On my old electric flat top burner stove it was more of a medium heat that kept the oil an appropriate temperature.
Add two to three doughnuts at a time to your pot/wok, or as many as fit without over crowding the pan. Adding the dough also lowers the temperature of the oil temporarily so that's another reason to not overcrowd. Fry the doughnuts about 1 minute each side, until they're a rich golden color. Then with a slotted spoon or spider strainer transfer the cooked doughnuts to a cooling rack set over a baking tray or some paper towels. Repeat with the remaining doughnuts.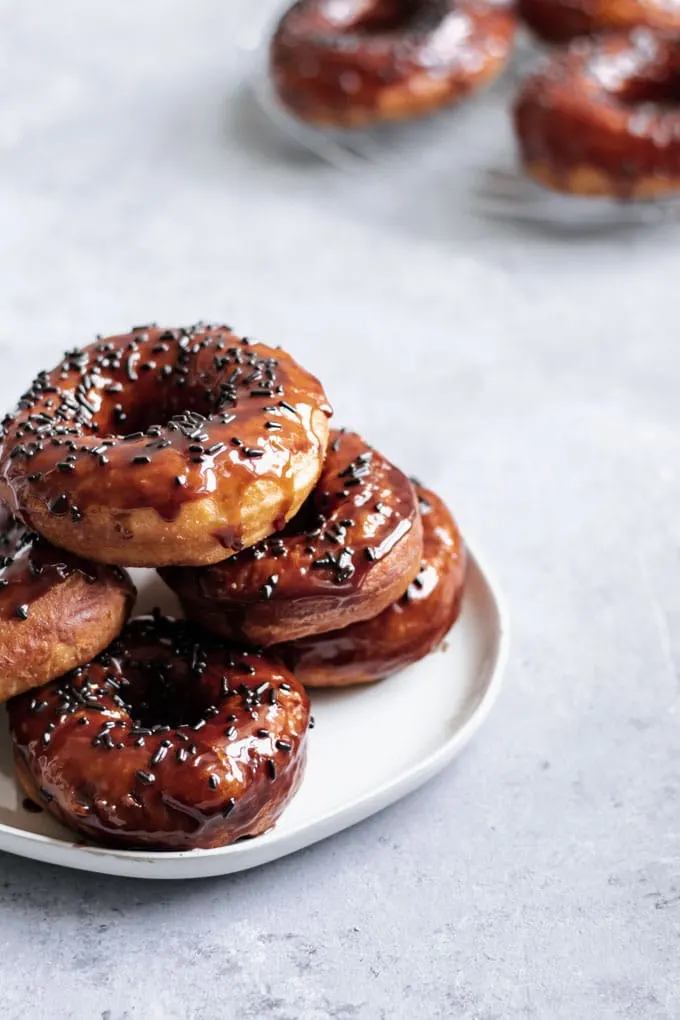 Prepare the glaze:
While the doughnuts are cooling down you can prepare the chocolate glaze. Heat the plant milk, vegan butter, vanilla extract, and corn syrup in a small pot. When the butter melts and the liquid is hot (no need to simmer) add the chocolate chips, turn the heat down to low and whisk until the chocolate is melted.
Turn off the heat and whisk in the powdered sugar. Be sure to sieve the powdered sugar (aka confectioners sugar) before adding, as it has a tendency to clump.
Dip the doughnuts in the glaze, if it's too thin at first let it cool a bit before dipping. After dipping, sprinkle on the sprinkles (if using) and let it set for about 30 minutes before eating.I'll also note I added a bit more liquid to the glaze seen in these photos, but found it to be a bit on the thin side so adjusted the recipe to make a bit thicker of a glaze than shown.
In case you're stressing about using corn syrup, don't. It's just 1 teaspoon and it's regular corn syrup, not high fructose corn syrup. It adds a nice shine to the final glaze and helps get that sticky texture. If you really don't want to use it, just leave it out.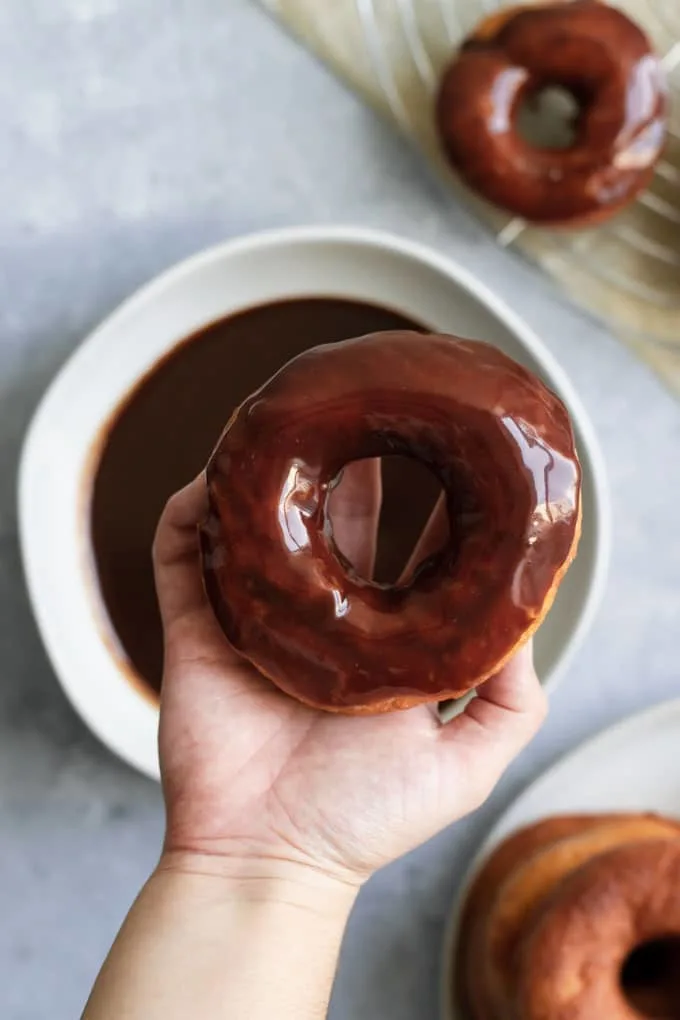 Last notes:
I suggest enjoying the doughnuts as soon as possible after frying them (like, within a few hours or so). There is nothing like eating a doughnut while it's still warm, but anytime that first day when they're super fresh is just extra special. Leftovers do get a bit stale, but they're still quite good on the second day.
You can always cut the recipe in half if there's just two of you, or share with friends/neighbors/coworkers! You'll be everyones best friend. 😉
On an unrelated note, when it comes to choosing the oil to fry the doughnuts in, I actually prefer to use vegetable shortening. This has the benefit of leaving a less greasy feeling doughnut at the end, as it is solid at room temperature. It also has a high smoke point, usually about 450 ºF, which is perfect for deep frying.
Regularly I'll do a mixture of shortening and safflower oil (which is another oil with a high smoke point). Whichever oil or shortening you choose, just be certain that it is appropriate for high heat, and has a smoke point over 400 ºF.
Also, if you're someone who writes donut instead of doughnut, you'll have to forgive me! I guess I'm team doughnut, even if it is a bigger pain to type, haha.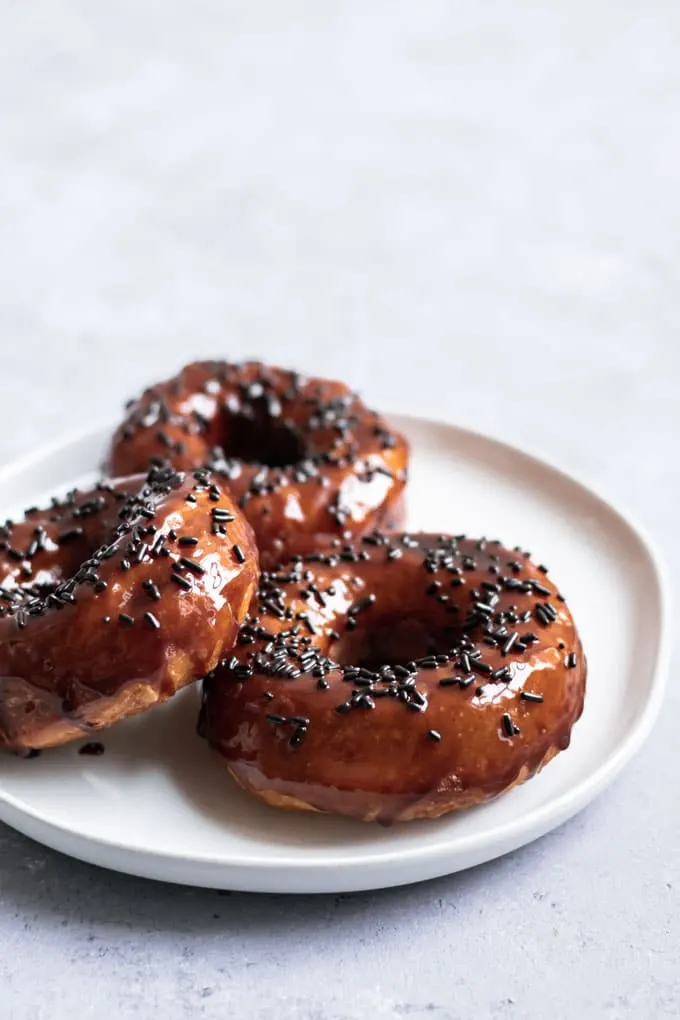 I hope you enjoy these classic yeasted chocolate-glazed doughnuts! They are one of my favorite treats. If you make them, leave a comment below and rate the recipe on the recipe card. And please share your photos with me on Instagram, tag @thecuriouschickpea and #thecuriouschickpea, I love seeing your recreations!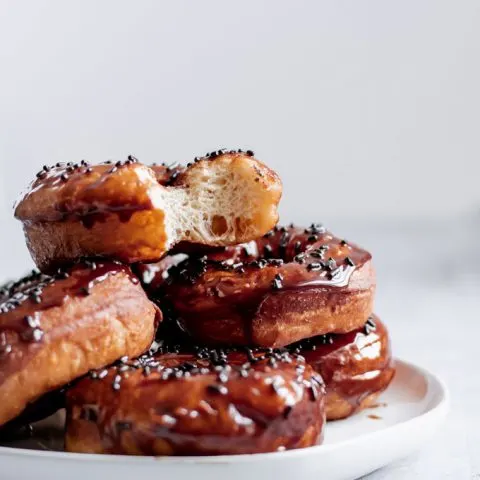 Vegan Chocolate Glazed Doughnuts
Total Time:
2 hours
25 minutes
These delicious classic yeasted chocolate glazed doughnuts are made vegan and covered with sprinkles and rival those in your favorite traditional doughnut shops!
Ingredients
Doughnuts
3 cups (376g) all purpose flour
3 tbsp (45g) sugar
2 tsp (7g) instant yeast
1/2 tsp (4g) salt
1 cup (240g) warm plant milk, 95-105 ºF
3 tbsp (45g) aquafaba*
3 tbsp (42g) melted vegan butter or refined coconut oil
oil or shortening for frying
Chocolate Glaze
3 tbsp plant milk
4 tbsp melted vegan butter or refined coconut oil
1 tsp corn syrup (not high fructose)
1/2 tsp vanilla extract
1/4 cup chocolate chips
1 cup powdered sugar, sifted
sprinkles, optional
Instructions
Make the doughnuts:
Whisk together the flour, sugar, yeast and salt in a large mixing bowl or the bowl of your stand mixer. In a separate bowl combine the warm plant milk, aquafaba, and melted (not hot) vegan butter. Add to the dry ingredients and stir to combine with a wooden spoon until shaggy.
Knead the dough in the stand mixer using the dough hook on low speed or on a lightly floured counter. Knead for 3 minutes, let the dough rest for 5 minutes, then knead an additional 3 minutes. Add flour as needed to form a tacky and supple dough. If kneading with the stand mixer, turn the dough onto the counter at the end and knead for 1 minute making any necessary adjustments at that time.
Coat the bowl with a bit of oil and turn to coat the dough in the oil. Cover with plastic wrap or a damp tea towel and let rise until doubled in size, about 1-2 hours.
Lightly punch down the dough and turn onto clean, lightly floured counter. Roll out to 1/2" thick and cut using a doughnut cutter or a ~3 1/2" round cutter, using a ~1 1/2" cutter to make the center hole. Collect the scraps of dough and doughnut holes and lightly knead back together. Reroll and cut the dough into doughnuts, repeating until all the dough is cut. Place the prepared doughnuts onto a lightly floured piece of parchment paper, cover, and let the dough rest for about 20 minutes.
At the end of that time, heat a large pot or wok with oil to 350 ºF. If not using a thermometer test with a piece of scrap dough. When dropped in it will float and boil around the dough. Too vigorous a boil and the oil is too hot, and if it doesn't boil it's too low in temperature. Fry the doughnuts in batches about 1 minute on each side, until a deep golden color. Remove with a spider strainer to a cooling rack placed over a baking tray or paper towel to cool.
Prepare the chocolate glaze:
In a small pot add the plant milk, vegan butter, corn syrup, and vanilla extract. Heat over medium to melt the butter, then turn the heat to low and add the chocolate chips. Whisk until the chocolate has melted, then turn off the heat and whisk in the sifted powdered sugar.
Finish the doughnuts:
Place the glaze in a bowl and dip the doughnuts in the glaze. Let it cool down a little so it doesn't run straight off the doughnuts. Place doughnuts back on the rack and top with sprinkles if using. Let the glaze set for about 30 minutes before eating!
Notes
*aquafaba is the liquid from a can of chickpeas (white beans can be used as well). Shake the can before opening to loosen starches from the bottom of the can, then strain out the beans reserving the liquid (aquafaba). The aquafaba should be used right away or refrigerated for 2-3 days. For longer storage keep in freezer.
Adapted from my Coconut Ginger Custard Filled Doughnuts.
Whole Foods 365 brand has vegan chocolate sprinkles. Otherwise you can order fun vegan friendly sprinkles online from shops like Sweetapolia Sprinkles or Baking Time Club.
Recommended Products
As an Amazon Associate and member of other affiliate programs, I earn from qualifying purchases.