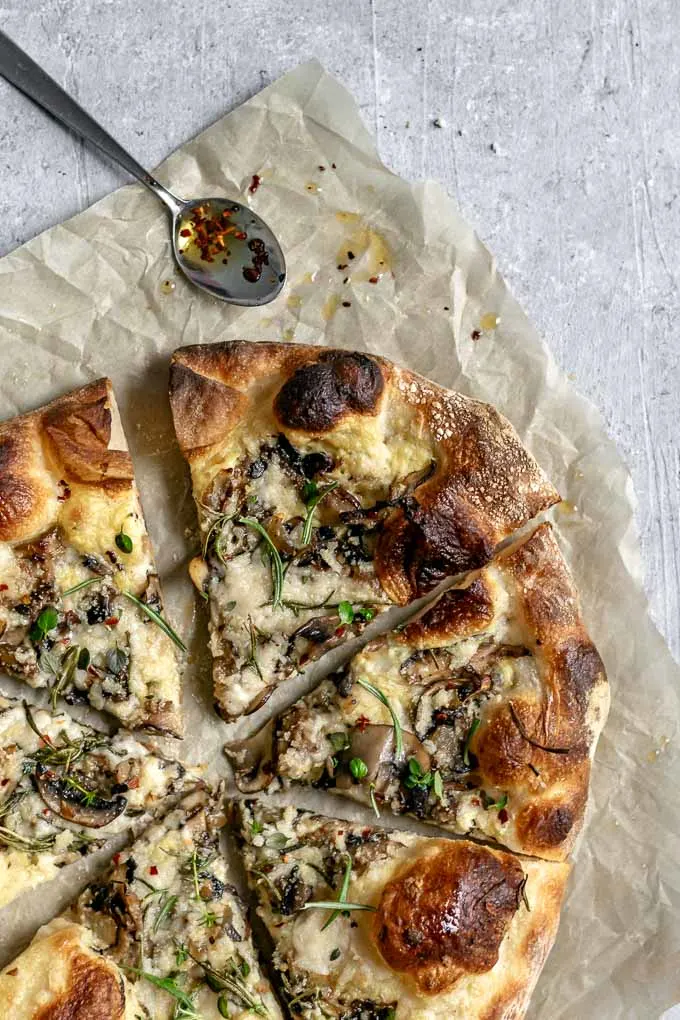 This vegan caramelized mushroom pizza is to die for. And I say that as someone who doesn't actually like the texture of mushrooms. But when they're caramelized alongside onion and garlic, thrown atop the perfect pillowy pizza dough with a thick layer of garlic white sauce and topped with mozzarella and fresh rosemary? Well we've reached pizza nirvana, and you guys, it just so happens to be vegan there.
I'm a firm believer that all good pizzas must start with a good pizza crust. Personally I like to take the time to make a slow rising dough a day to three days before it's pizza making time! Feeding the dough with just a small sprinkling of yeast and letting it ferment slowly in the fridge makes for a much more complex tasting dough that is also easier to digest.
If you're not going to make your own pizza dough, then buying some dough from the refrigerated or frozen section of your grocery store or from your local pizzeria is the second best thing. But even if you just want to top some bagels or english muffins with the mushrooms and white sauce, you're in for quite the vegan pizza treat!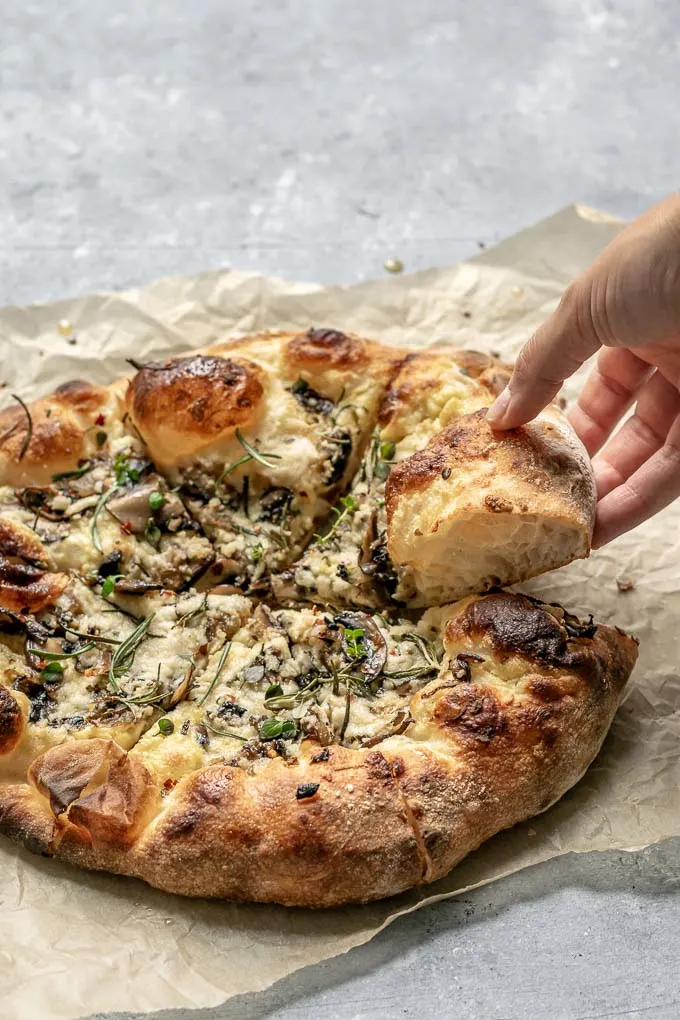 Once you have your dough or pizza base down, it's time to make the pizza toppings. First, the vegan garlic white sauce. It's a creamy, garlicky roux-based sauce that's equally delicious on pizza as it is on pasta. In fact, these days I find myself whipping up white sauce pizzas as often as red!
Next we have the caramelized mushrooms, onions, and garlic. I like to cut my mushrooms crazy thin, because this helps them melt into near nothingness, so they're packed with flavor but no bite of mushroom is overwhelming. Mushroom lovers might not need to go to the extreme I do, but I have to admit it's pretty great with the thinly sliced mushrooms.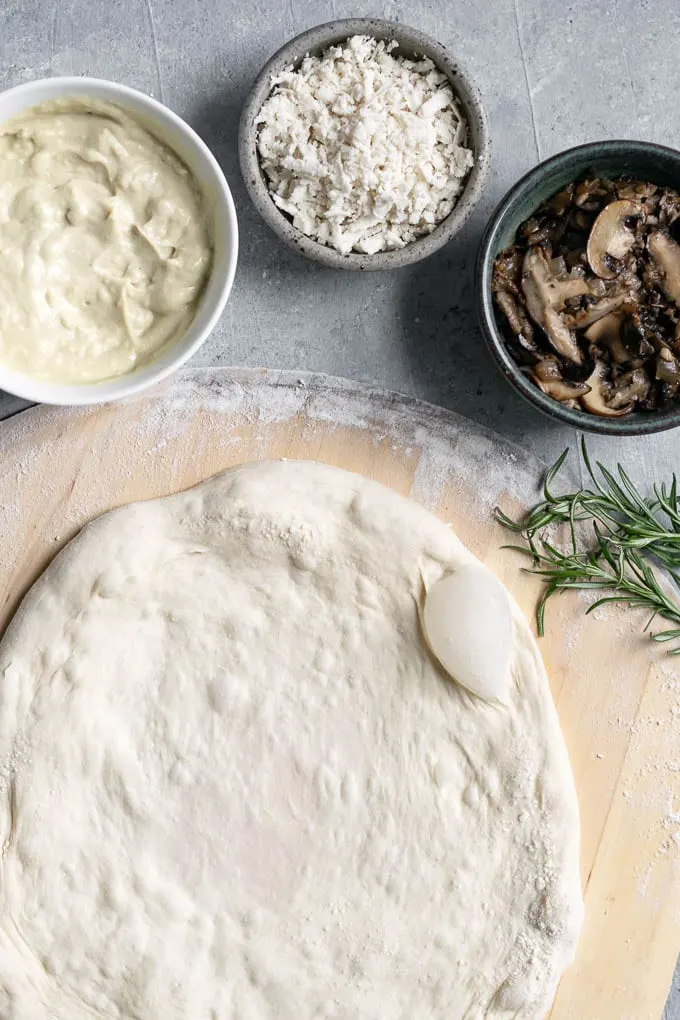 The mushrooms, onion, and garlic get sautéed in olive oil together. You want to use a nice large skillet, so that the mushrooms are able to cook off their water without drowning in it. You can expect the mushrooms to release a lot of water in the first few minutes, but don't rush the process as we don't want soggy mushrooms.
Once the water has mostly cooked off, then sprinkle on the salt. Salt will draw out more moisture from the mixture so we don't want to add it until the water from the mushrooms has cooked off. Once the salt has been added, let the mushroom mixture cook until bits start to stick to the pan and the onions and deliciously soft and golden, just a couple more minutes.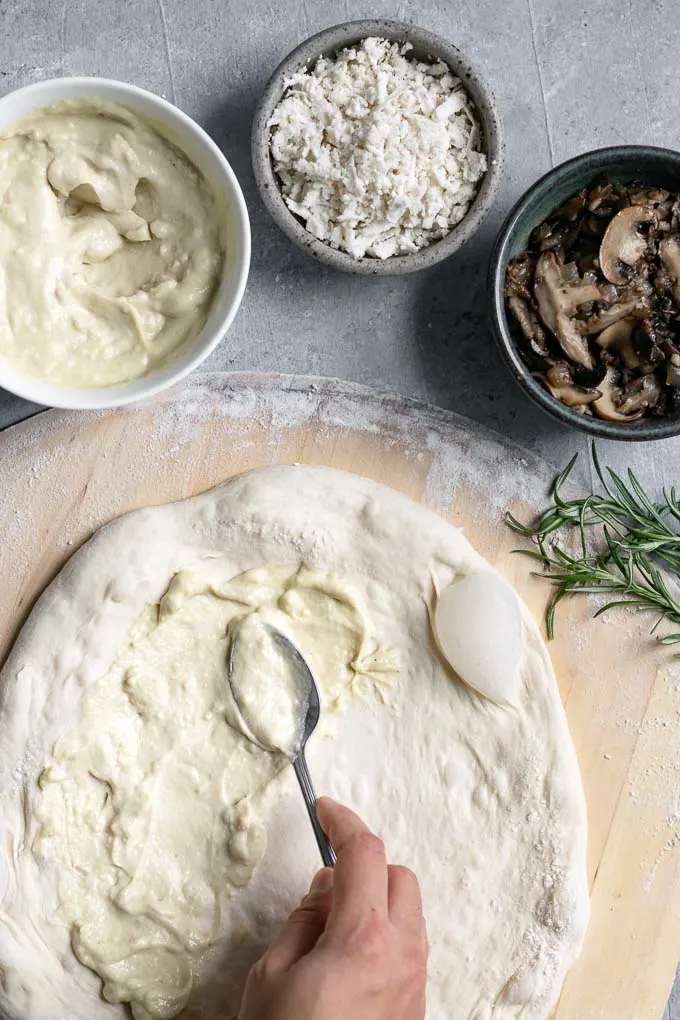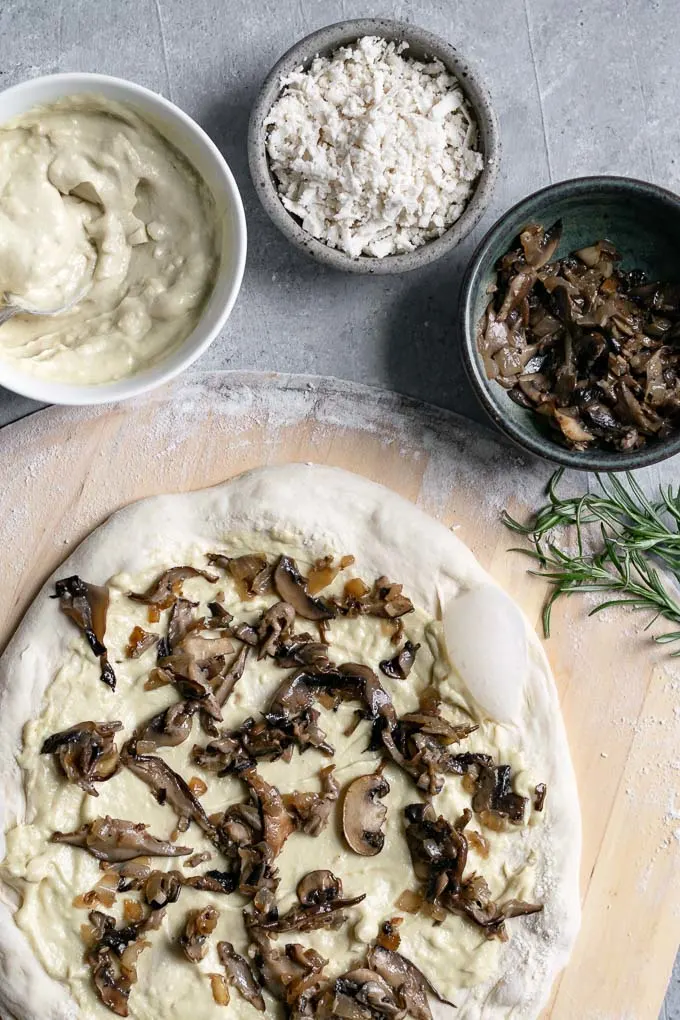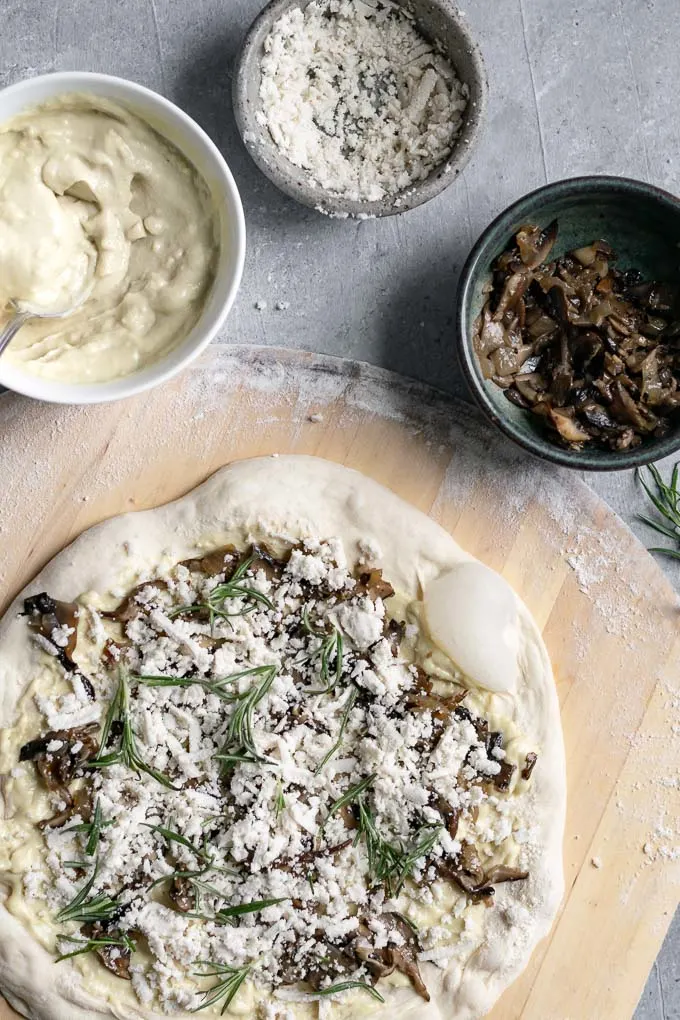 Now we're ready to bake the pizza! For a full run down on tips for shaping and baking pizzas, I recommend you read through my easy overnight pizza dough post.
Pizzas are best cooked at high temperatures, but don't worry, your home oven can make great pizza! The key is to saturate the oven with as much heat as it can manage. In most ovens that is 500 or 550 ºF.
A pizza steel or pizza stone is also super helpful to transfer heat very quickly to the pizza. I like to place the rack with my pizza steel about 1/3 of the way down from the top of the oven so that the overhead heating element is close and can really heat it up. With this set up, my infrared thermometer shows the steel to heat up well above 550 ºF.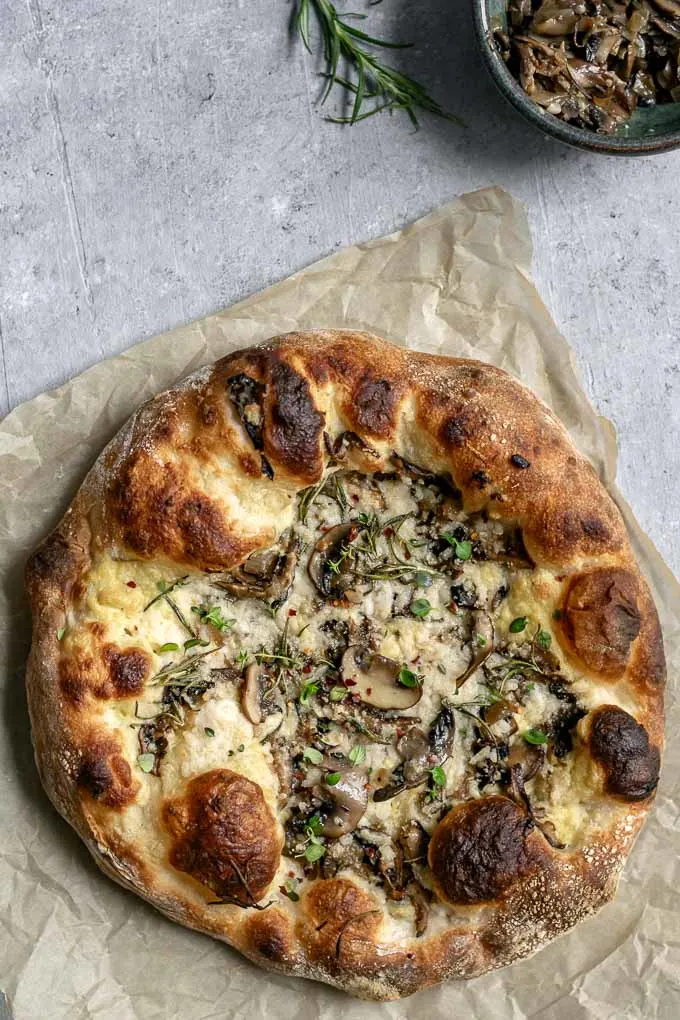 To assemble the pizzas: shape your dough, slather on a layer of garlic white sauce, top with the caramelized mushroom mixture, sprinkle on a light layer of vegan mozzarella, and then add the fresh rosemary.
Bake your pizza until the cheese has melted and the crust is a beautiful golden brown, with some extra dark, crispy spots. Wait a couple of minutes for the pizza cool then slice in and enjoy!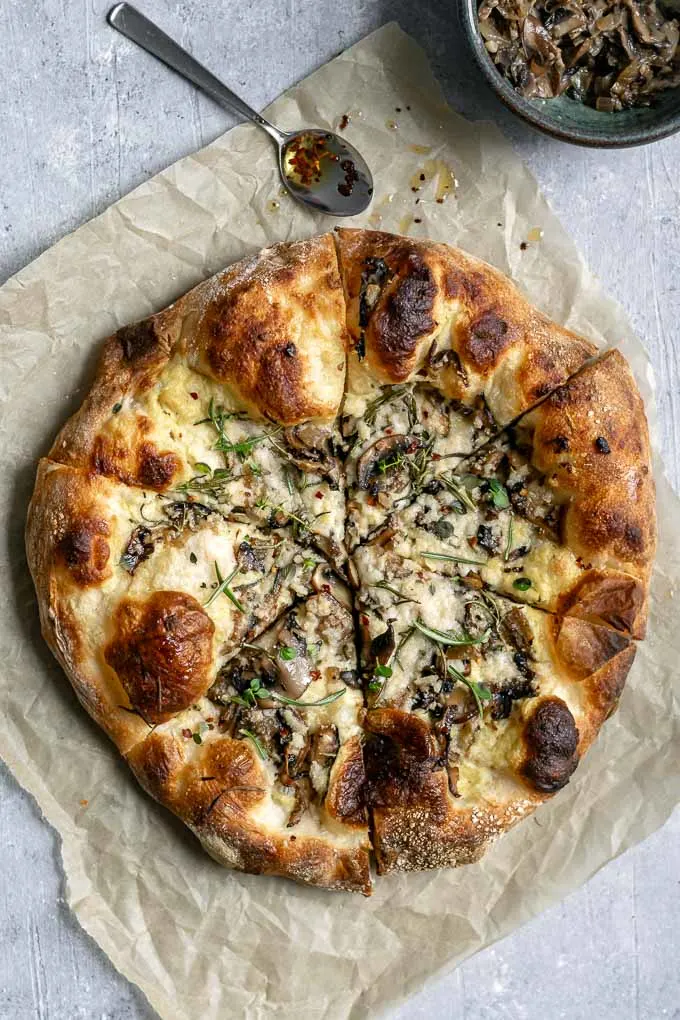 This pizza is a must make for any mushroom lovers and mushroom curious! It's one of those vegan pizzas that will win over vegan pizza skeptics. There's so much flavor, so many creamy and perfect textures. It's definitely one we'll be making again and again!
If you make this vegan caramelized mushroom pizza, please give the recipe a rating and leave a review below! Also don't forget to share your creations with me on Instagram, tag @thecuriouschickpea and #thecuriouschickpea, I absolutely love seeing your photos!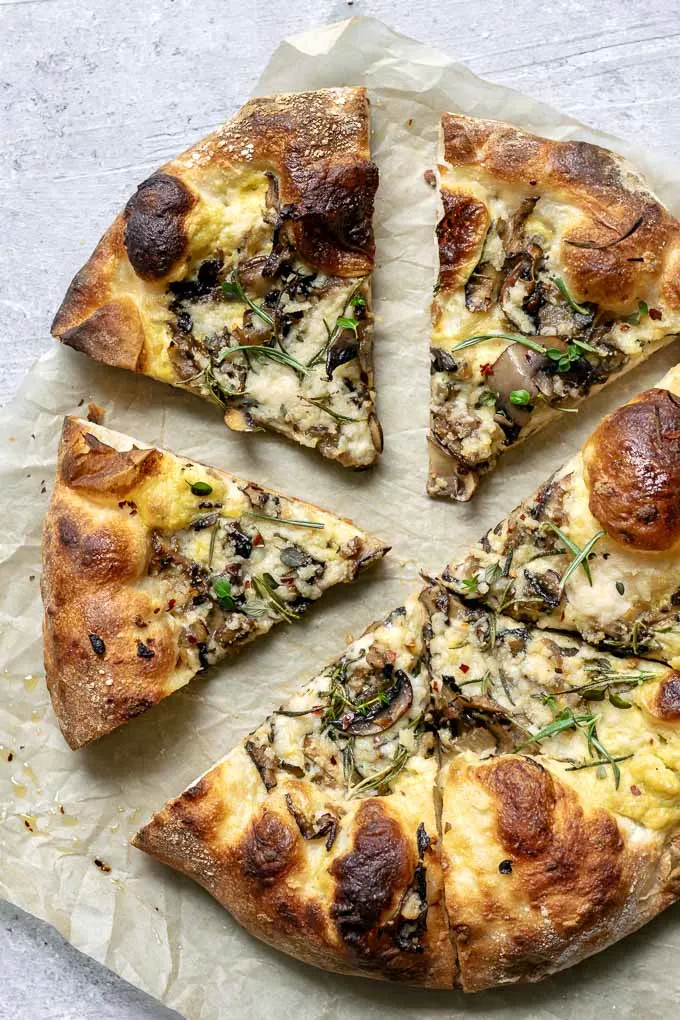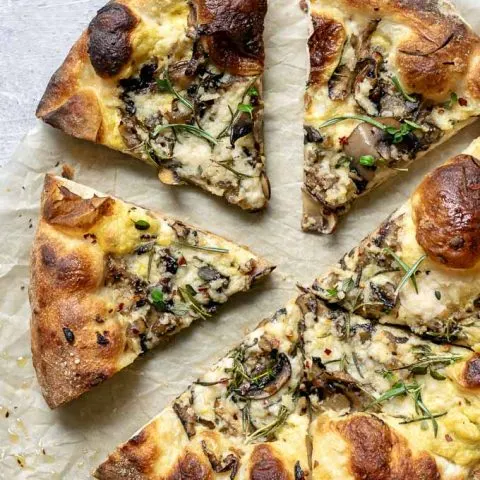 Vegan Caramelized Mushroom Pizza
Total Time:
1 hour
30 minutes
This vegan white sauce pizza is topped with garlicky caramelized mushrooms and onion
Ingredients
Caramelized Mushrooms & Onion
2 tbsp olive oil
4oz shiitake mushrooms, stems trimmed and thinly sliced
8oz cremini mushrooms, stems trimmed and thinly sliced
1/2 large sweet onion, diced
4 cloves garlic, minced
1/2 tsp salt, more to taste
freshly ground black pepper to taste
Everything Else
Vegan mozzarella
Fresh rosemary
Instructions
Make the Mushrooms:
Heat the oil in a large skillet over medium heat. Add the mushrooms, onion, and garlic. Sauté until all the water has evaporated, about 7-10 minutes.
Add the salt and cook another 2-4 minutes, or until all the liquid has cooked off and the mushrooms start sticking to the pan. Turn off heat and set aside until ready to assemble pizzas
Make the Pizzas:
One hour before you're ready to bake, preheat your oven to 550 ºF, or as hot as it will go. Place a rack one third of the way down from the top of the oven, and place a baking steel or baking stone on that rack. You want the oven to saturate with heat for 1 hour before baking pizza for best results.
At this time also remove the pizza dough from the fridge so it can come to room temperature and the gluten can relax.
When the oven is nice and hot, prepare your pizzas one at a time. Stretch (don't roll!) your dough to around 10-12" diameter and place on a lightly floured pizza peel. Spread the garlic white sauce over the dough then top with the caramelized mushroom mixture, vegan mozzarella, and the fresh rosemary.
Transfer the pizza onto the baking steel or pizza stone and bake for about 8 minutes. If needed, turn the heat to broil for another 1-2 minutes to brown the top. Alternatively, bake on a baking sheet: assemble the pizza straight on the pan and place directly in the oven to bake.
Repeat the pizza assembly and baking with the remaining dough.
Let the pizza cool for a couple minutes before cutting and serve with crushed red pepper. Enjoy while hot!
Recommended Products
As an Amazon Associate and member of other affiliate programs, I earn from qualifying purchases.