This easy, simple, and nutritious vegan sheet pan dinner is perfect for lazy weeknights and slow Sundays. It's got cabbage, potatoes, and chickpeas, tossed in a mustard vinaigrette and dressed up with a creamy tarragon gravy. Serve with some rice or bread and you've got a dreamy and nourishing meal!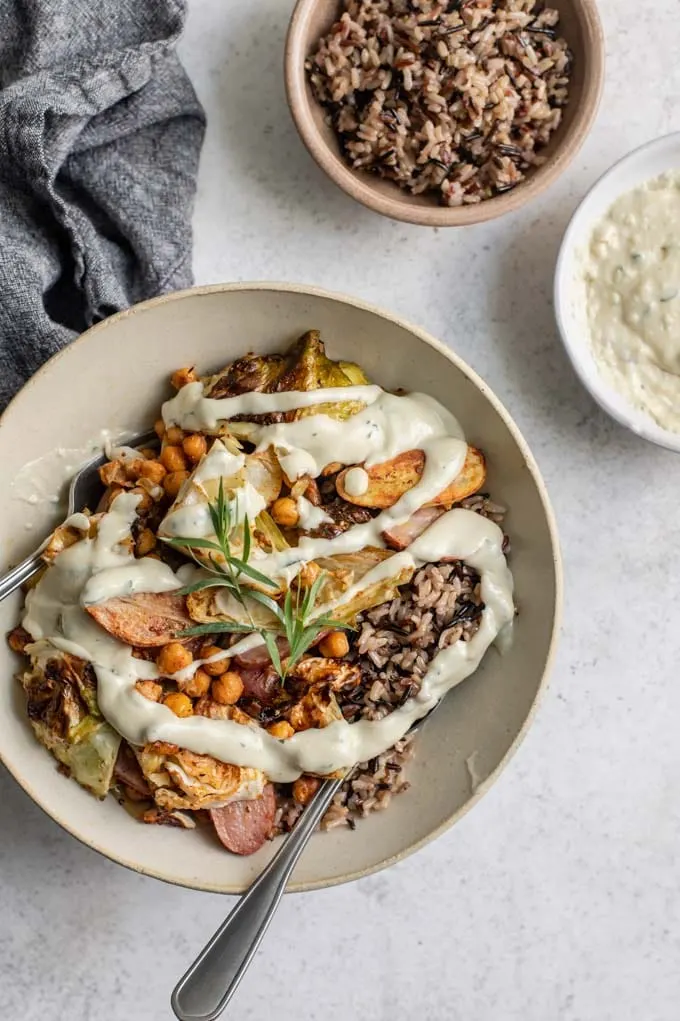 I feel very trendy right now (but like a couple years behind the trend because that's the type of person I am) sharing a sheet pan recipe.
I first made this recipe as a clean out the fridge deal. Threw a bunch of aging produce onto a sheet pan, dressed it with a quick vinaigrette, and baked it until everything was tender, toasty, and well caramelized. Added a creamy sauce + freshly baked biscuits and man… I was blown out of the water!
It was so simple to make, chop some veggies, throw things together, and wait. And in this waiting time the kitchen can be cleaned, grains can be cooked, gravies can be simmered, games of tug of war with the dog can be lost.
It was easy to see what the fuss about sheet pan dinners is. If they're that good as a throw together meal, can you imagine how much better as an actually planned out meal!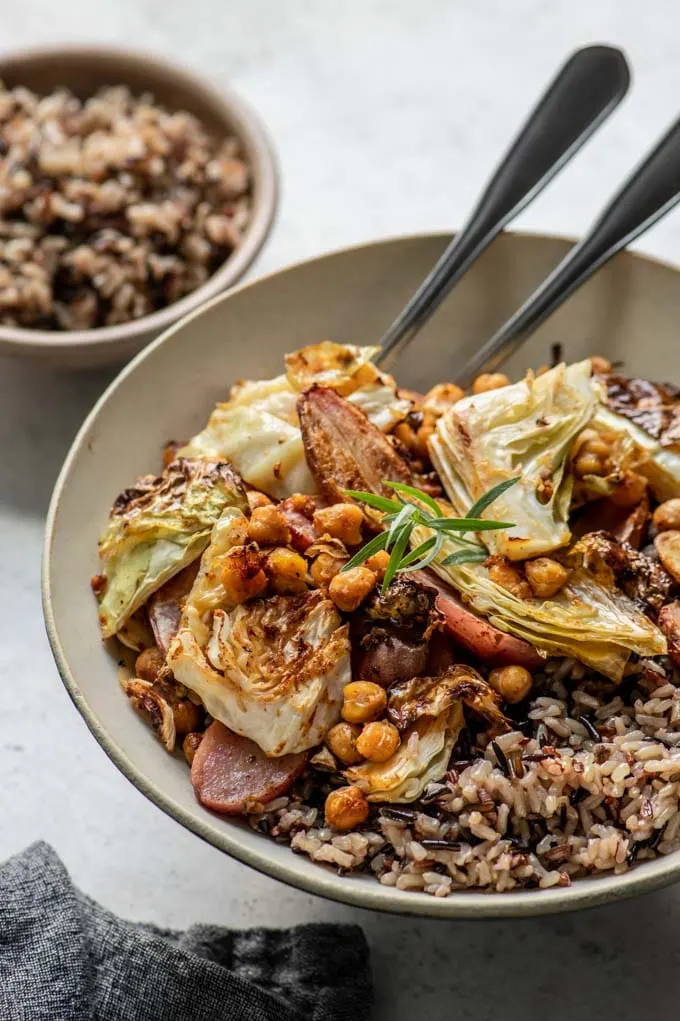 The real star to this meal isn't the gravy, nor even the potato. It's the roasted head of cabbage! If you've never had roasted cabbage before you're in for a treat.
There's nothing as delicious as cabbage roasted until tender and caramelized, with crispy almost-burnt edges and soft melt in your mouth centers. Paired with a mustardy vinaigrette and drowned in a tarragon cream and you've made it. Well made dinner anyway!
Ok, so let's get down to the nitty gritty (probably a terrible choice of words to describe cooking)!
The sheet pan:
There are only three main ingredients going onto our sheet pan: cabbage, potatoes, and chickpeas. I'll get to the dressing in a moment.
Choose a small head* of cabbage and cut it into 1/2-inch slices, then cut these into wedges. While you're at it, cut out the core. Because while it's pretty to look at and does hold the leaves together, it makes for rather unpleasantly toothsome and fibrous eating.
*If all you can find is a ginormous head of cabbage, that's fine, you can use half or 2/3 or whatever amount of it you need to fill your pan!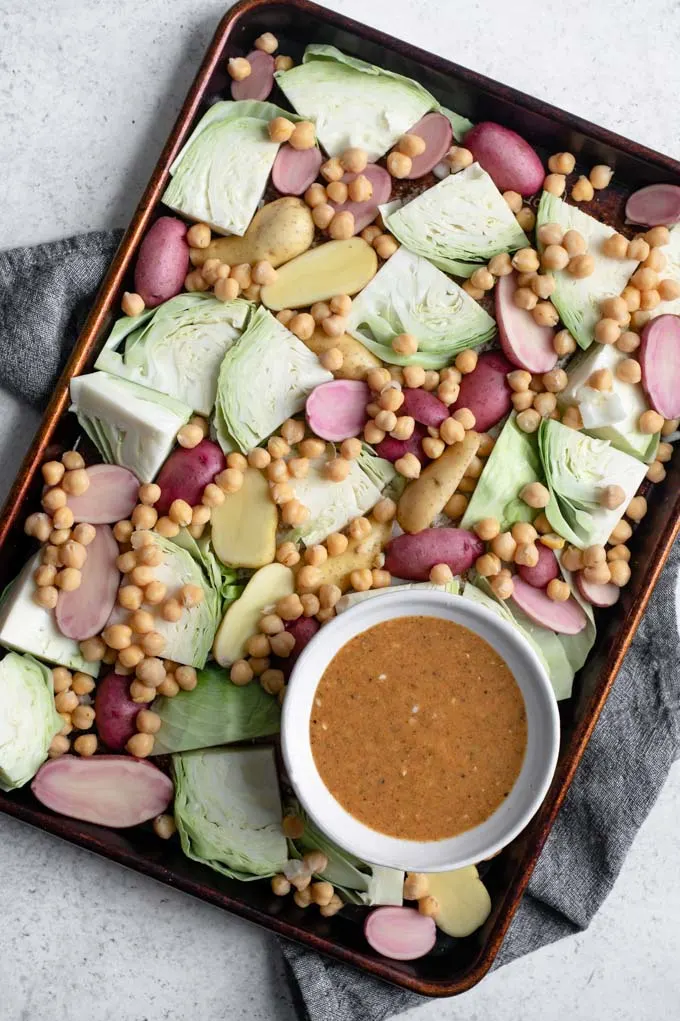 Next up we have our potatoes! Use fingerling potatoes, red skinned potatoes, or buttery yukon gold potatoes. Cut fingerling potatoes into halves or quarters or larger potatoes into 1/2″ to 3/4″ dice. We want the potatoes to turn soft and even a bit crispy in the time it takes the cabbage to cook.
Last we have the chickpeas! Give the cooked beans a rinse and you're good to go.
Spread all of the veggies and chickpeas out onto a half-sheet pan.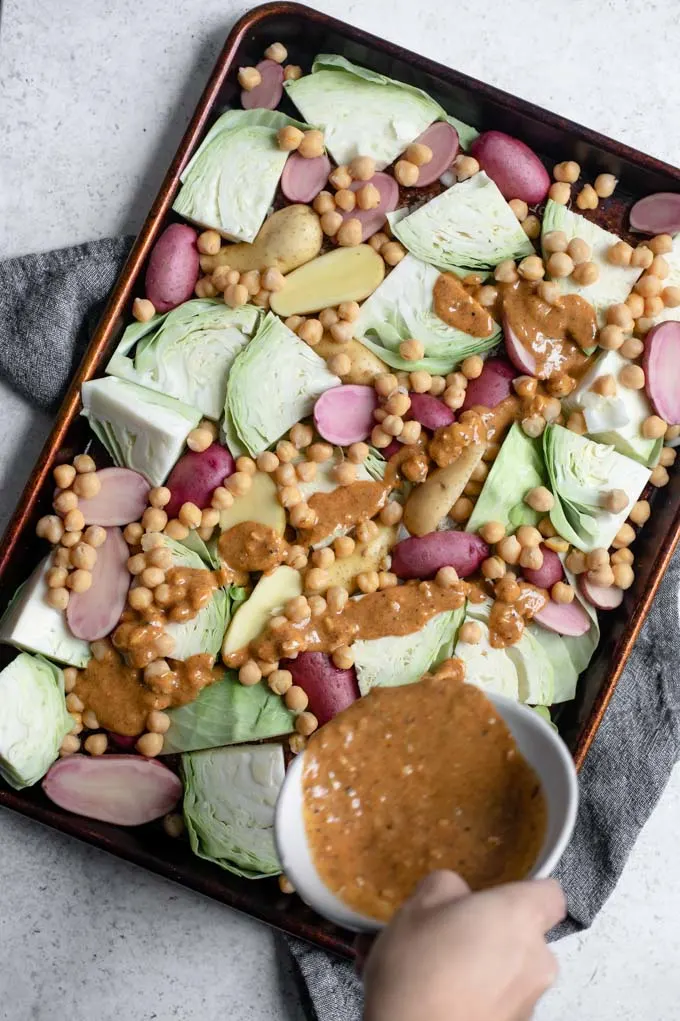 The dressing:
To encourage browning and caramelization of the veggies and chickpeas, we need to add oil. But even better than just adding oil is to infuse everything with seasoning, making the sheet pan delicious enough to eat plain!
Mustard pairs so wonderfully with all things brassica, being of that family itself (Mustard Roasted Cauliflower, anyone?). Choose a flavorful mustard like dijon or a zippy whole grain one. A spicy brown mustard would be delicious as well.
My simple vinaigrette is made with olive oil, red wine vinegar (which could be substituted for another mild vinegar you have on hand), a spicy mustard, garlic, smoked paprika, oregano, and salt and pepper.
Smoked paprika and oregano add a bit of a smoky sausage-y vibe to our dish, seasoning the chickpeas and layering flavor.
Whisk all the ingredients of the dressing together and watch it turn creamy, easily emulsifying thanks to the mustard.
Pour the dressing over the ingredients in the sheet pan and use your hands to toss it all together to coat, then arrange in a single layer once more.
If you end up spilling over the sheet pan you can break out a second pan to keep the single layer and easy cooking.
Bake your sheet pan dinner for about 40-50 minutes, stirring halfway through. You want your potatoes to be beautifully tender and the cabbage to be soft with crispy bits.
While the sheet pan bakes, make the tarragon gravy:
This is an easy, creamy gravy that takes this recipe to the next level.
Blend cashews and broth together to make a savory cream. If you have a high-power blender this takes next to no time. If you have a regular blender you'll want to quickly soften your cashews by boiling in water for 10-15 minutes. You can also soak them in cold hour for a couple of hours to soften.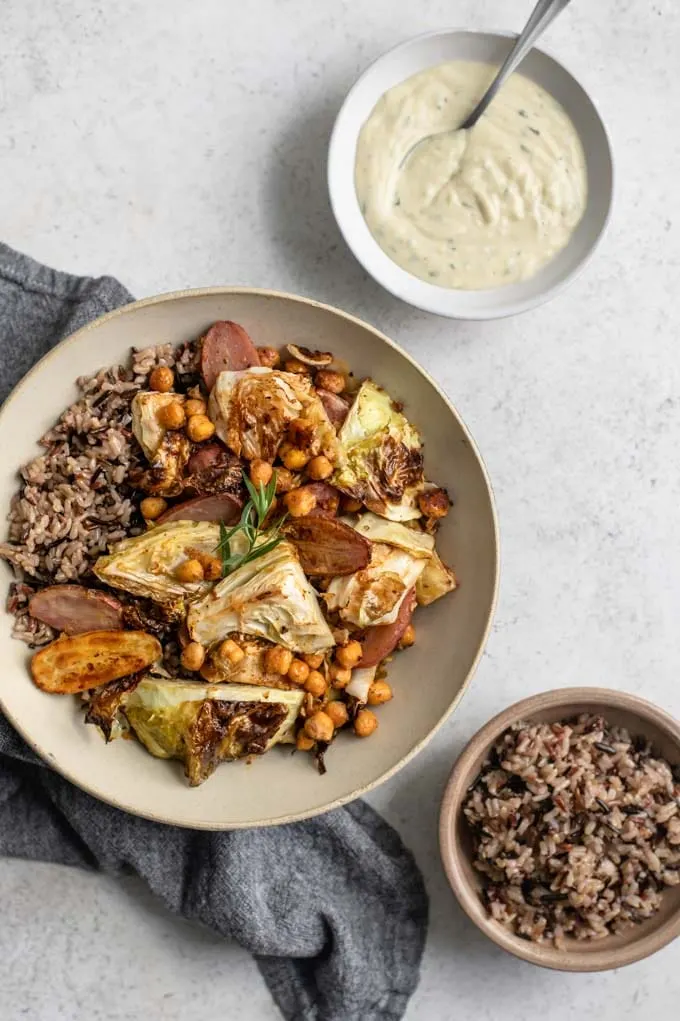 Now we're going to thicken the gravy with a roux, or a cooked flour and oil/butter mixture. Heat some vegan butter or olive oil in a pot and add the flour (use a gluten free all purpose flour or a starch like arrowroot to keep gluten free). Cook a few minutes until it smells a bit toasty, though this won't happen as much with starches as it does with wheat flour.
Slowly stream in the cream while whisking so that the gravy stays smooth, and once it's all added let it come to a simmer and watch it thicken. Add salt, pepper, thyme, and tarragon to season it. If the gravy gets too thick, thin it with water or a splash of broth.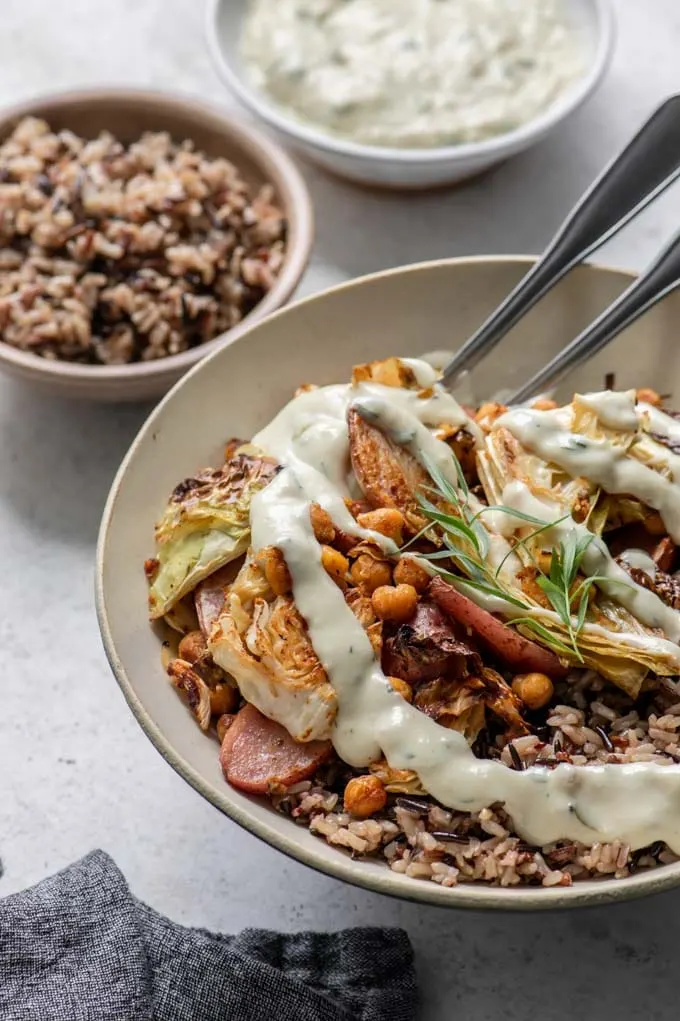 Serve with a grain or bread:
The first time I made this sheet pan dinner I served it with some quick homemade biscuits. This pairs so well with the gravy and makes for a delectable dinner.
This time I served it with a brown rice and wild rice blend, and the nutty flavor chewiness of the whole grains went so well with the buttery potatoes, tender cabbage, chewy chickpeas and creamy gravy.
This would also go well with a quinoa, couscous or orzo, grains like farro or freekah. I'd also pair it with crusty sourdough or a baguette. Or forgo the side completely and serve as is!
Keep in mind if you're going for a gluten free meal that you'll want to keep the side gluten free.
I hope you guys enjoy this easy sheet pan dinner! I can't wait to play with more variations on this easy dinner theme!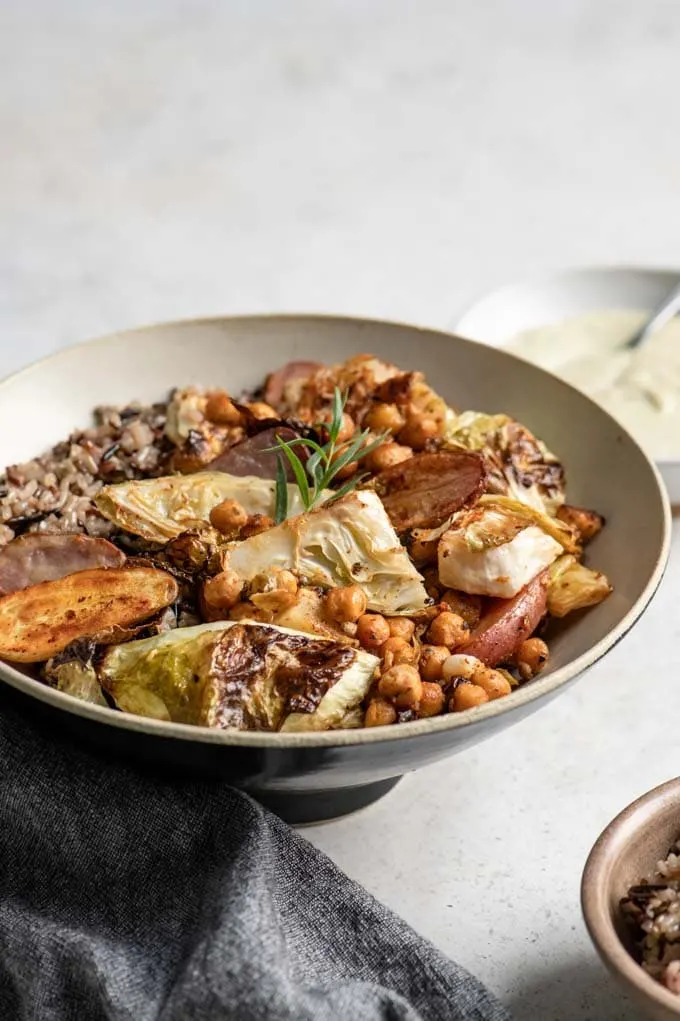 ---
If you make these vegan cabbage, potato, and chickpea sheet pan dinner, leave a comment below and rate the recipe on the recipe card. And please share your photos with me on Instagram, tag @thecuriouschickpea and #thecuriouschickpea. I love seeing your recreations!
---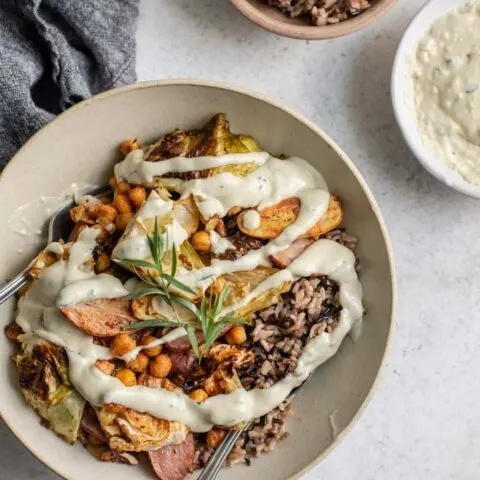 Vegan Cabbage, Potato, and Chickpea Sheet Pan Dinner
An easy and nourishing vegan sheet pan dinner made with cabbage, potatoes, and chickpeas and served with a tarragon cream gravy.
Ingredients
1 small head cabbage (~1 1/2 - 2 lbs)
1 lb potatoes, fingerling, red, or yukon gold
2 cups cooked chickpeas (15oz can), drained and rinsed
Mustard Vinaigrette
1/4 cup olive oil
2 tbsp red wine vinegar
2 tbsp dijon mustard
2-4 cloves garlic, minced
1/2 tsp smoked paprika
1/2 tsp dried oregano
1/2 tsp salt
black pepper to taste
Tarragon Cream Gravy
1 cup cashews
2 1/2 cups vegetable broth
2 tbsp flour (gluten free or all purpose)
2 tbsp vegan butter or olive oil
1/2 tsp salt, or to taste
black pepper to taste
1 1/2 tbsp fresh tarragon, chopped
1 tsp fresh thyme (or 1/2 tsp dried)
Instructions
Preheat the oven to 425 ºF.
Cut your cabbage into 1/2" thick slices, then cut into wedges and remove the core. Cut your potatoes into half or quarters if using fingerling, or cubed to about 1/2 to 3/4-inch pieces if red skinned or yukon gold. No need to peel. Arrange cabbage, potatoes, and chickpeas on a half sheet pan.
In a bowl or liquid measuring cup whisk together all of the mustard vinaigrette ingredients. Pour over the sheet pan and toss to coat. Arrange in a single layer on the sheet pan. Bake for 35-50 minutes, stirring after 20 minutes, or until the potatoes are tender and the cabbage is tender and starting to crisp around the edges.
Make the gravy: if not using a high powered blender, boil the cashews in water for 10-15 minutes to soften. Drain before using. If using a powerful blender skip this step. Blend the cashews and vegetable broth together until creamy and smooth.
In a pot heat the vegan butter or olive oil over medium low and add the flour. Cook for a few minutes, stirring frequently, until the flour is a bit toasty smelling and a shade darker (if using a starch or gluten free blend it may not change color). Slowly pour in the cashew cream while whisking to make a smooth gravy.
Turn the heat up to medium and bring to a simmer. Add the salt, pepper, tarragon, and thyme. Simmer until the gravy has thickened. Cover and set aside.
Serve the sheet pan dinner hot from the oven over your choice of grain or bread. Drizzle over the gravy and garnish with fresh herbs. Enjoy!
Recommended Products
As an Amazon Associate and member of other affiliate programs, I earn from qualifying purchases.
Nutrition Information:
Yield:

6
Serving Size:

1
Amount Per Serving:
Calories:

471
Total Fat:

26g
Sodium:

972mg
Carbohydrates:

52g
Fiber:

10g
Sugar:

9g
Protein:

13g
Nutrition is calculated automatically so should be used as an estimate.