These vegan chickpea meatballs in roasted red pepper sauce make a fantastic meal. The savory vegan meatballs are cooked in a creamy red pepper sauce for a recipe that is easy to make, and even more delicious to eat! The recipe is easily made gluten free.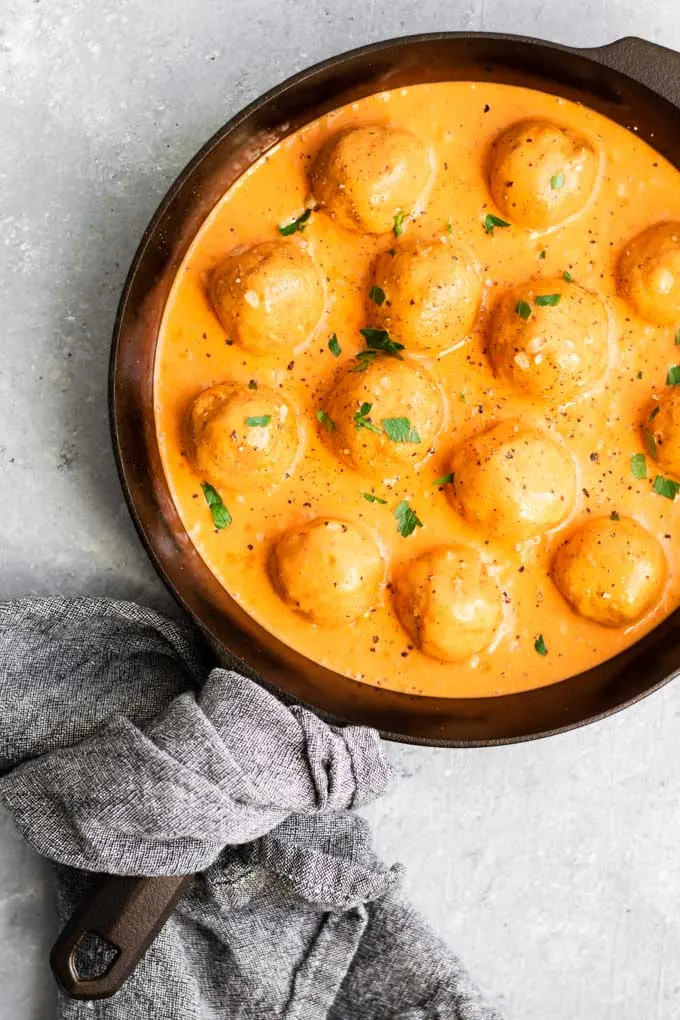 If you're looking for a boldly flavored, stick to your ribs, cosy comfort food meal, you can stop right here. Savory and filling chickpea meatballs, drenched in a roasted red pepper cream sauce.
Whether you devour it straight from the pan, alongside toasted Italian bread, or over pasta it makes a fantastic meal!
Growing up we were more likely to find beans in our pasta dishes than veggie meatballs. Stores didn't sell the array of vegan meats they do today, and homemade vegan meatballs were just not big on my parents radar.
So it wasn't until recently that I even realized that sometimes people ate meatballs (or vegan meatballs) without pasta.
It seems rather sacrilegious, my Italian vegan meatballs go with marinara go with spaghetti. But, take pasta out of the equation and a world of possibilities opens up!
You don't need marinara, heck, you don't even need a tomato based sauce! Smother your chickpea meatballs in a roasted red pepper sauce and your tastebuds will dance and sing.
And, I mean, if you want to serve this over pasta, I'm not going to stop you. You know that's how this pasta addict (me!) ate it.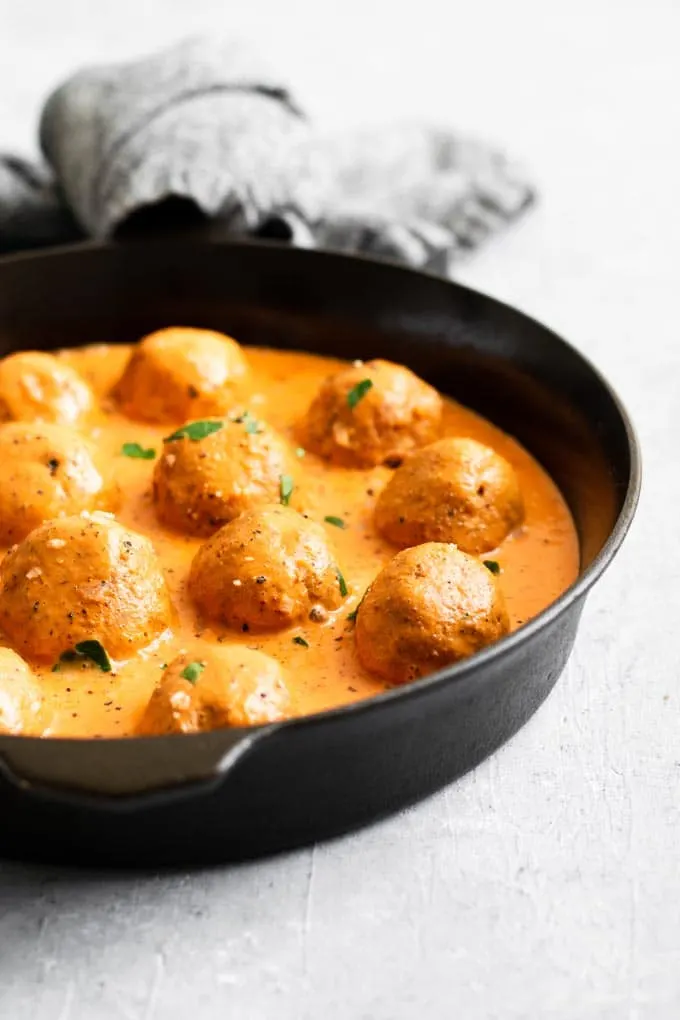 The idea for this recipe started with a couple of red bell peppers getting wrinkly in my fridge. I always buy produce with the best of intentions, but sometimes I get ahead of myself, or I'll get sudden sparks of inspiration for other dishes and find myself cooking nothing to plan. It happens to the best of us!
Roasting old peppers gives them new life. All of a sudden it doesn't matter that the pepper is no longer crisp, you've purposefully turned it soft and tender while concentrating and sweetening its flavor.
So I roasted my peppers and then stuck them back in the fridge figuring I had another day or so to deal with them. For the rest of the night I couldn't get the pairing of chickpeas, roasted red pepper, and garlic out of my head and next thing you know, this yummy recipe was born! Explaining how that came about would require me to understand how my brain works, which, I mean, good luck with that.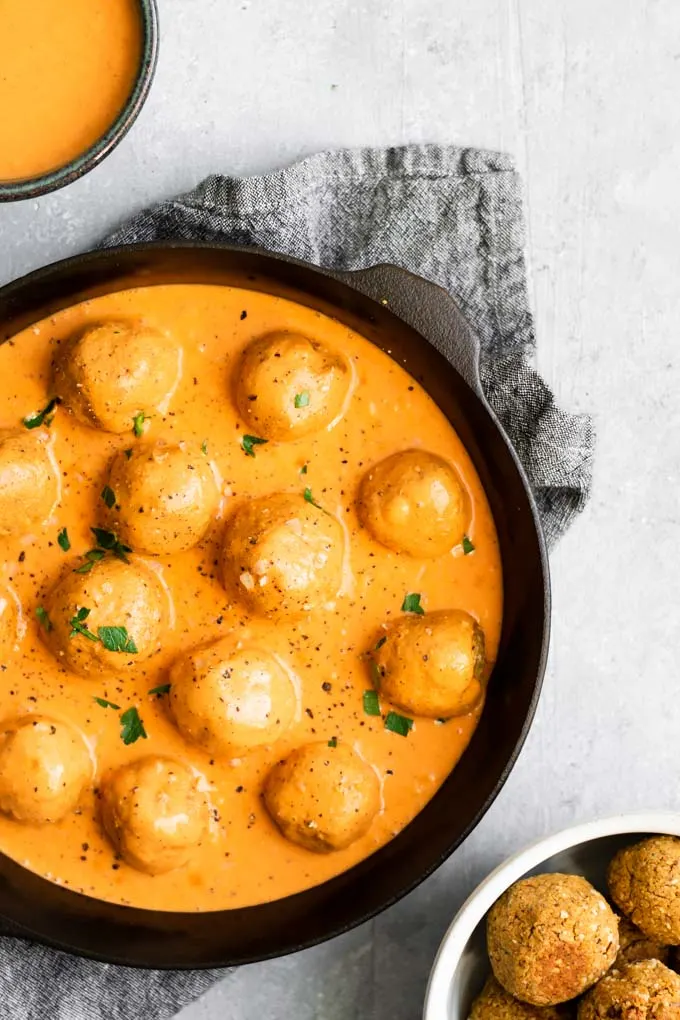 The roasted red pepper sauce:
I wanted a creamy sauce that really let the roasted pepper flavor shine. Few ingredients, little effort, and no fancy equipment would be even better!
Usually my inspiration for roasted red pepper sauces comes from muhammara or romesco. I even have a Catalan salbitxata inspired sauce! All of these sauces have a key nut component, usually almonds, or walnuts.
But today's sauce doesn't use nuts for creaminess, instead coconut milk adds creamy lusciousness. Not only does it not get easier than opening up a can of coconut milk, but the coconut flavor complements the roasted red pepper flavor beautifully.
To make the sauce, all you do is combine the roasted peppers, garlic, some olive oil, and spices in a blender and whizz it smooth. Because there are no nuts, this is easy to do even without a fancy blender.
That's it. 10 ingredients into the blender to make a smooth sauce, then you just warm it up on the stove!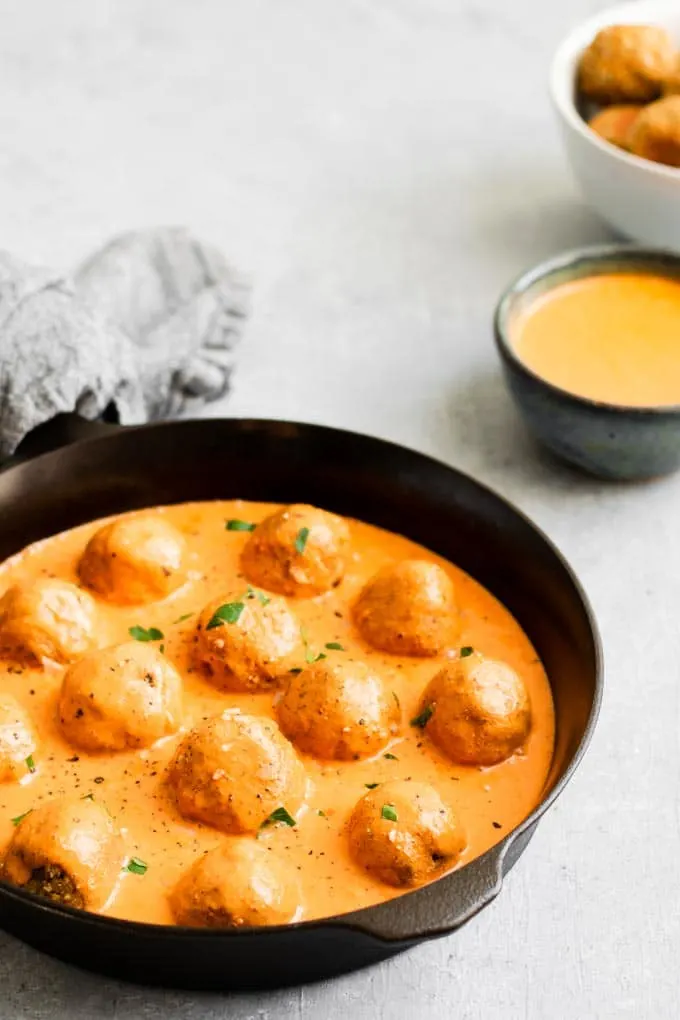 The chickpea meatballs:
My chickpea meatballs are a personal favorite recipe. Versions of them appear throughout my site, in my vegan meatball subs, served with spaghetti in sun dried tomato cream sauce, and on a meatball pesto pizza. I can't get enough of them!
I made a few tweaks to the recipe for todays vegan meatballs. With so much flavor coming from the sauce, I didn't want to compete with it, and instead highlight the Italian herbs and garlicky flavors of the sauce.
These chickpea meatballs couldn't be simpler to make. The base is made of any leftover grain (my personal favorite is brown rice, but I've used different ones over the years and they all work), pecans, and chickpeas.
These three ingredients provide texture–with a sticky grain, meaty bean, and buttery nut. The pecans add a nutty, slightly bitter flavor, but you can substitute any nut or use sunflower seeds or pepitas for a nut free version.
In your food processor combine the nuts, grain, and garlic and pulse to finely grind them. Add the chickpeas, reserving some for texture, nutritional yeast, tomato paste, olive oil, and spices. Process them until the mixture holds together when shaped.
If the mixture is soft add the breadcrumbs and process to incorporate. If gluten free, use GF breadcrumbs or use some starch for binding. Then pulse in the remaining chickpeas for texture.
Shape the mixture into large balls, using ~2 – 2 1/2 tablespoons per meatball. Lightly grease the chickpea meatballs and then bake until the outsides are golden and crispy.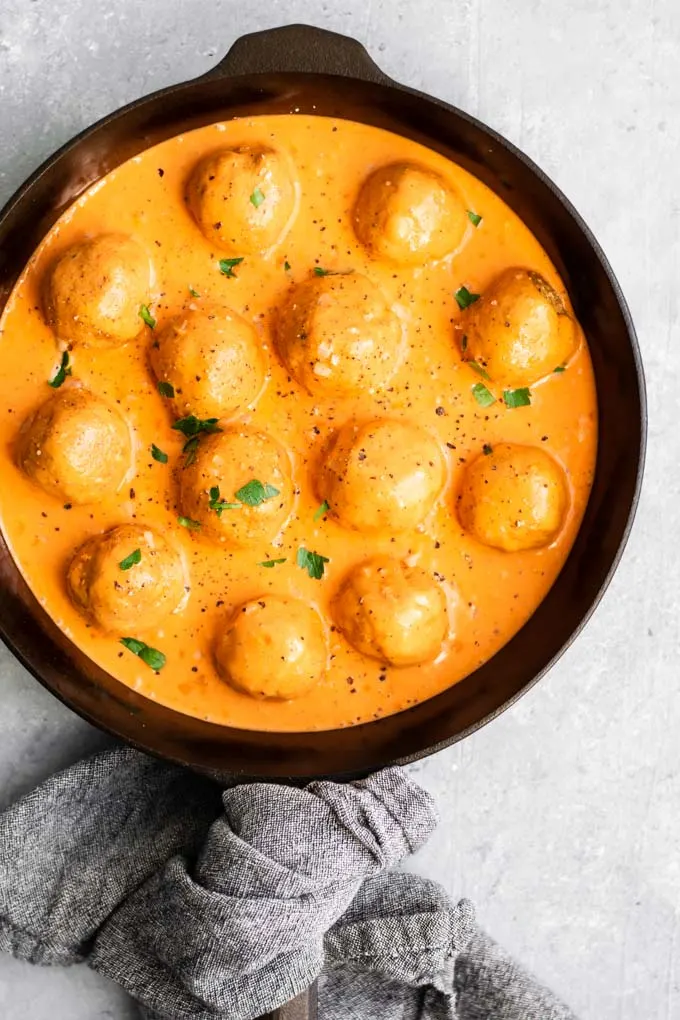 Putting the chickpea meatballs in roasted red pepper sauce:
Both the sauce and chickpea meatballs can be made in advance. Keep them stored separately in the fridge so the vegan meatballs do not get soggy. There's no need to cook the sauce until this point either, move it straight from blender to fridge.
When it's time to eat, cook the roasted red pepper sauce, bringing it to a simmer and then add the chickpea meatballs. Cook until the meatballs are heated through, turning them in sauce to coat.
Serve the meatballs in sauce with toast, pasta, or a side salad. Maybe even all 3! Garnish the recipe with some fresh herbs (parsley or basil), extra black pepper, and some vegan parmesan. No matter how you eat it, this recipe is absolutely delightful!
I know I can't get enough.
If you make this vegan chickpea meatballs in roasted red pepper sauce, leave a comment below and rate the recipe on the recipe card. And please share your photos with me on Instagram, tag @thecuriouschickpea and #thecuriouschickpea. I love seeing your recreations!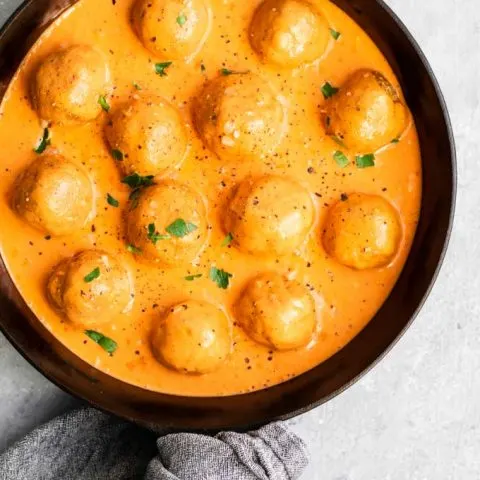 Vegan Chickpea Meatballs in Roasted Red Pepper Sauce
Meatball Baking Time:
30 minutes
For a fantastic comfort food meal, enjoy these chickpea meatballs smothered in a creamy roasted red pepper sauce. It's easy, vegan, and can be made gluten free!
Ingredients
Chickpea Meatballs (makes 24 large meatballs)
2 cups cooked brown rice or other grain, cold or room temperature
1 cup pecans
4 cloves garlic, peeled
30oz can chickpeas, drained and rinsed (3 cups cooked)
1/2 cup nutritional yeast
2 tbsp tomato paste
2 tbsp olive oil
2 tsp dried basil
2 tsp salt
freshly ground black pepper
1/4 cup bread crumbs (can substitute gluten free), if needed
Roasted Red Pepper Sauce
2 roasted red peppers (~1 1/2 cups)
15oz can coconut milk
2-3 cloves garlic, peeled
2 tbsp olive oil
1 tsp salt
lots of freshly ground black pepper
1 tsp dried basil
1 tsp dried oregano
1/2 tsp dried thyme
pinch of crushed red pepper
basil or parsley to garnish
Instructions
In a food processor add the cooked brown rice, pecans, and garlic and pulse until finely ground. Add most of the chickpeas (reserve ~1/2 cup), nutritional yeast, tomato paste, olive oil, basil, salt, and black pepper. Process until ground into a thick mixture that holds can be pressed into a meatball and hold its shape. Add the breadcrumbs if the mixture is soft and needs help holding together. Add the rest of the chickpeas and pulse until they are coarsely chopped.
Preheat the oven to 375 ºF, and shape the mixture into balls using about 2 to 2 1/2 tbsp per ball. A cookie scoop makes quick work of this. Press the mixture together as you roll them to help them hold together.
Grease a baking tray and place the meatballs on the tray. Spray or drizzle with oil. Bake for 25-30 minutes, flipping halfway through for more even baking. Let cool slightly before using, or make in advance and refrigerate.
In a blender combine all of the ingredients for the roasted red pepper sauce. Blend until smooth.
Heat the sauce over medium heat and bring to a simmer. Add the chickpea meatballs and cook until heated through, about 5 minutes (~10 minutes if cold from the refrigerator). Garnish with fresh herbs, black pepper, and some vegan parmesan (optional) and serve warm.
Notes
If you have a smaller food processor or the mixture gets too thick for your food processor to handle, remove the nut and rice mixture before blending up the chickpeas, then mix them together by hand, with a fork, or a potato masher.
Recommended Products
As an Amazon Associate and member of other affiliate programs, I earn from qualifying purchases.