Spicy, delicious, and indulgent-tasting these crispy baked buffalo tofu wings make the perfect appetizer for your next party, game day snack, or as a protein for a vegan meal. They're also excellent on a salad!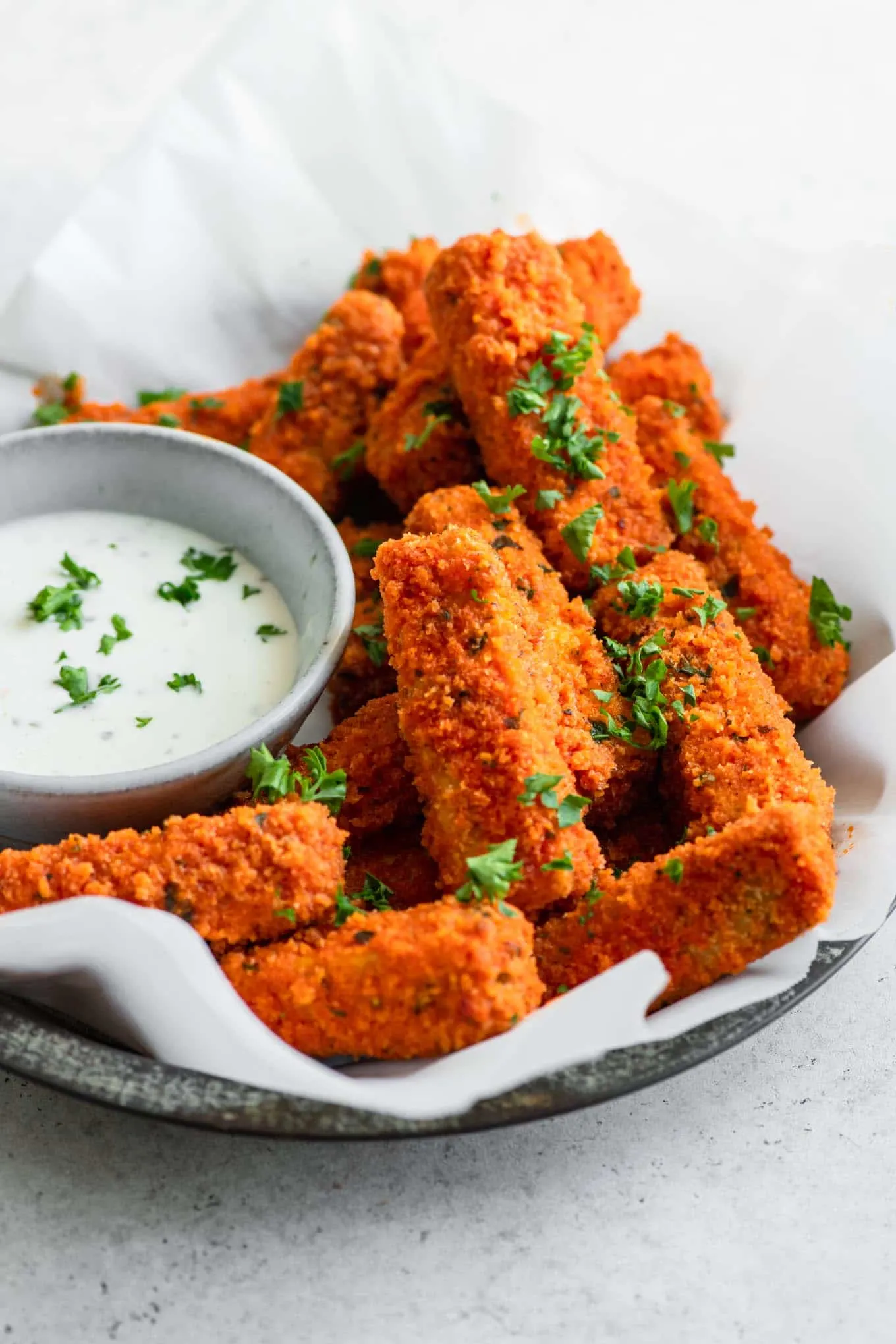 Satisfy all your cravings for buffalo wings with this mouth watering vegan option. These buffalo tofu "wings" are breaded and baked to crispy perfection then doused in a tangy, spicy, buttery buffalo sauce.
Dip them into vegan ranch or bleu cheese dressing and it's the perfect finger food. If a bit saucy and messy–just the way i should be!
My first introduction to buffalo tofu was in college. It was one of the vegetarian options at the dorm dining halls and any time we spied it on one of the menus my best friend and I would seek it out. Traipsing across campus if necessary for the saucy bites of tofu.
And if I'm being honest, that buffalo tofu wasn't even anything to write home about. Except, of course, that it inspired me to make my own version. Which you should definitely write home about. Or just utilize that share button generously. You know, whatever's easier!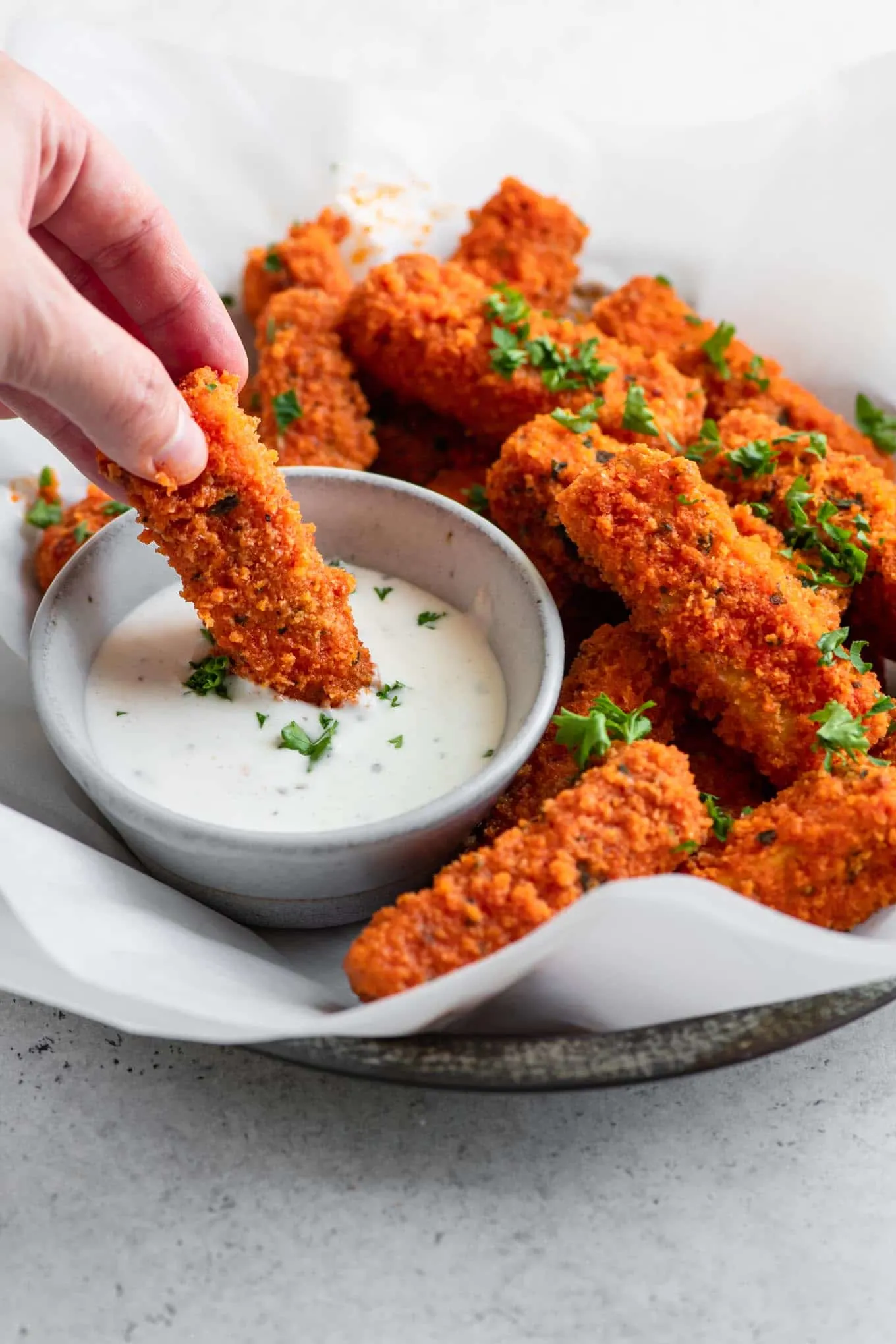 It's a dish that's easy to throw together with a bare fridge, providing you always keep tofu and Frank's RedHot Sauce (or similar hot sauce) around! Which, if you don't, I recommend you start doing.
Enjoy these vegan buffalo wings on game days, or any day, as an appetizer or snack. Or they're a delicious plant based protein to plump up any meal.
And one of my favorite ways to enjoy them is in a big salad! With crisp lettuce (or baby greens), vegan ranch dressing or vegan bleu cheese dressing, and your choice of other salad suspects (croutons, sweet peppers, cherry tomatoes, avocado, etc.).
If you put your buffalo tofu wings on a salad, it becomes the healthiest meal of your life, right? I could eat this meal non-stop, so that sure would be a nice perk!
The secret to crispy buffalo tofu wings:
So what's the key to getting the perfect vegan tofu wings? The first step is choosing your tofu.
You want to choose either extra firm or super firm tofu for your wings. These textures of tofu have most of the water pressed out so are less delicate and will be chewier when cooked.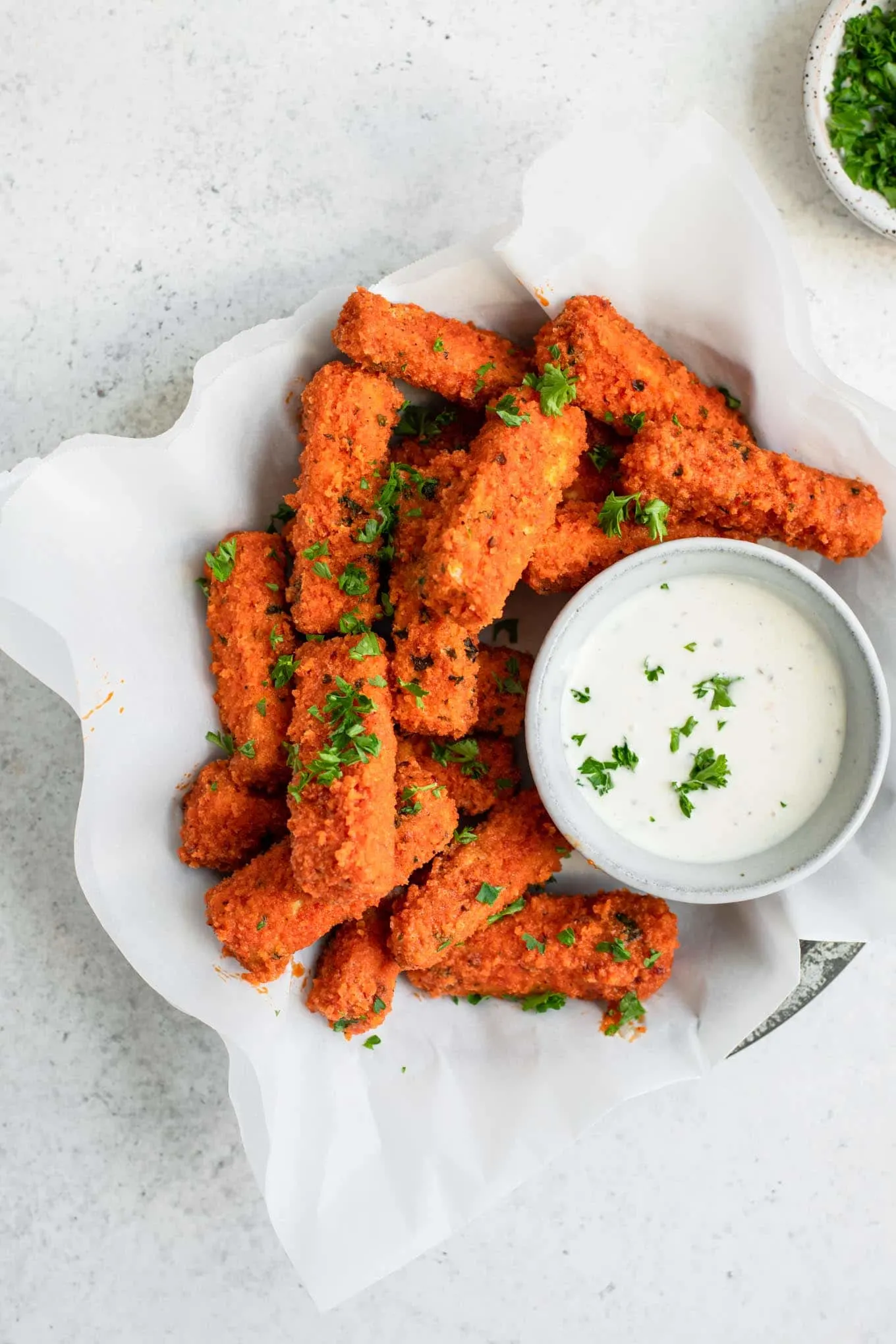 If you use extra firm tofu, which is more widely available, you will need to press extra water out of the tofu to achieve the best texture.
To press the tofu:
Cut the block of tofu into 6 slices and wrap them in an absorbent lint-free towel or in paper towels. Place a heavy weight (like a cast iron skillet or some cookbooks over a baking sheet) ontop and let it sit for 20-30 minutes.
After pressing, cut each slice of tofu into thirds long-ways to get the 'wings.'
If you use super firm tofu, you can skip this step and cut the tofu to shape and use it immediately.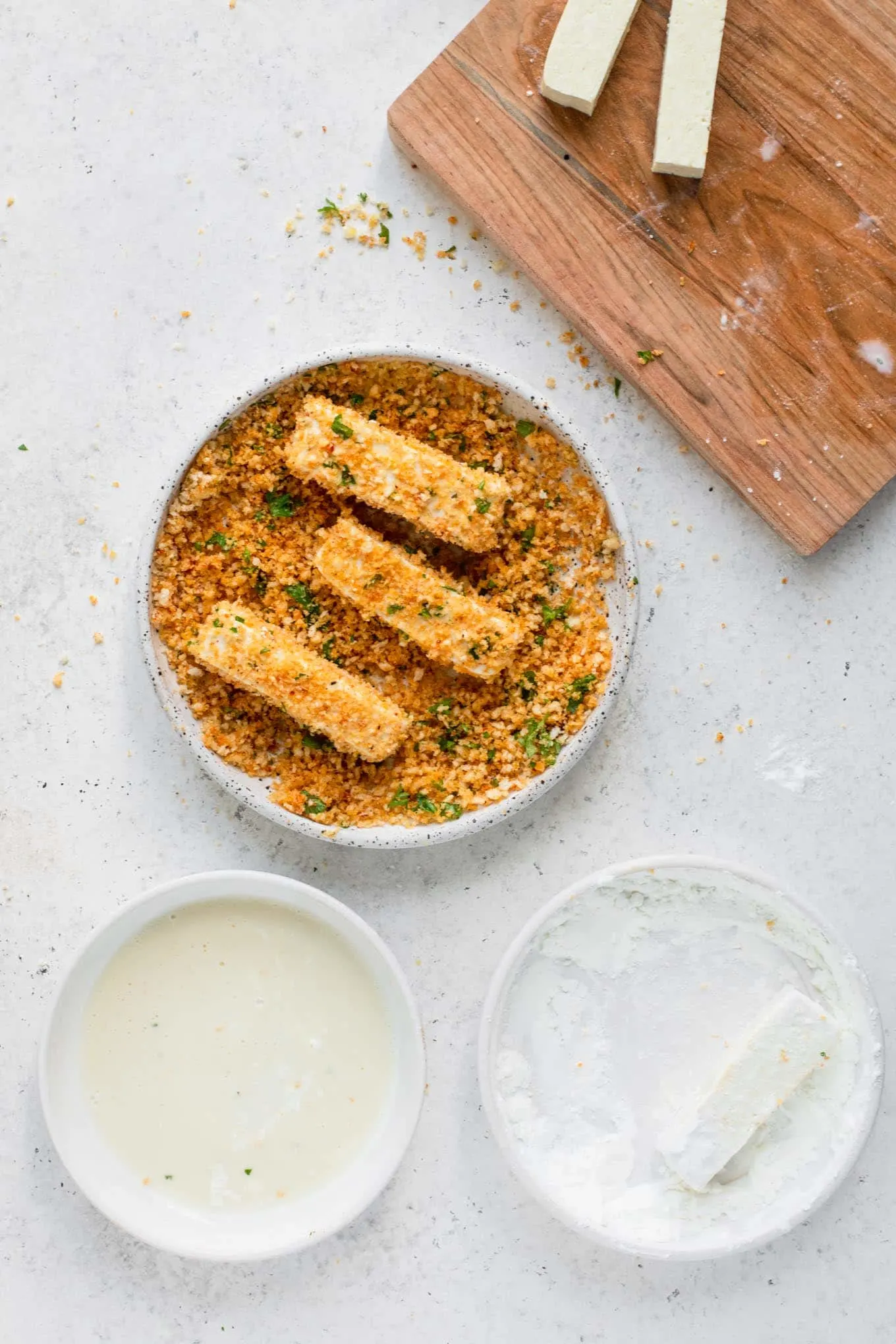 The breading method:
Each piece of tofu gets first dipped in starch, then a plant milk, and finally bread crumbs.
The starch will stick to the damp surface of the tofu. The plant milk will absorb into the starch and create a sticky surface for the breadcrumbs to adhere to.
You can use any plant milk you like, but use plain or plain and unsweetened milk for best results. I prefer to use soy milk, with oat milk as my second choice.
The breadcrumb mixture is made of panko style breadcrumbs and seasoned with paprika (I love smoked paprika here if you have it), salt, black pepper, minced parsley, and a drizzle of olive oil.
The oil adds a richness to the breading, which makes for extra tasty 'wings' when baked! Remember that wings are usually fried not baked so your tongue will expect some richness!
The breaded tofu is baked on a lightly oiled pan until nice and crispy, and then tossed in a spicy buffalo sauce.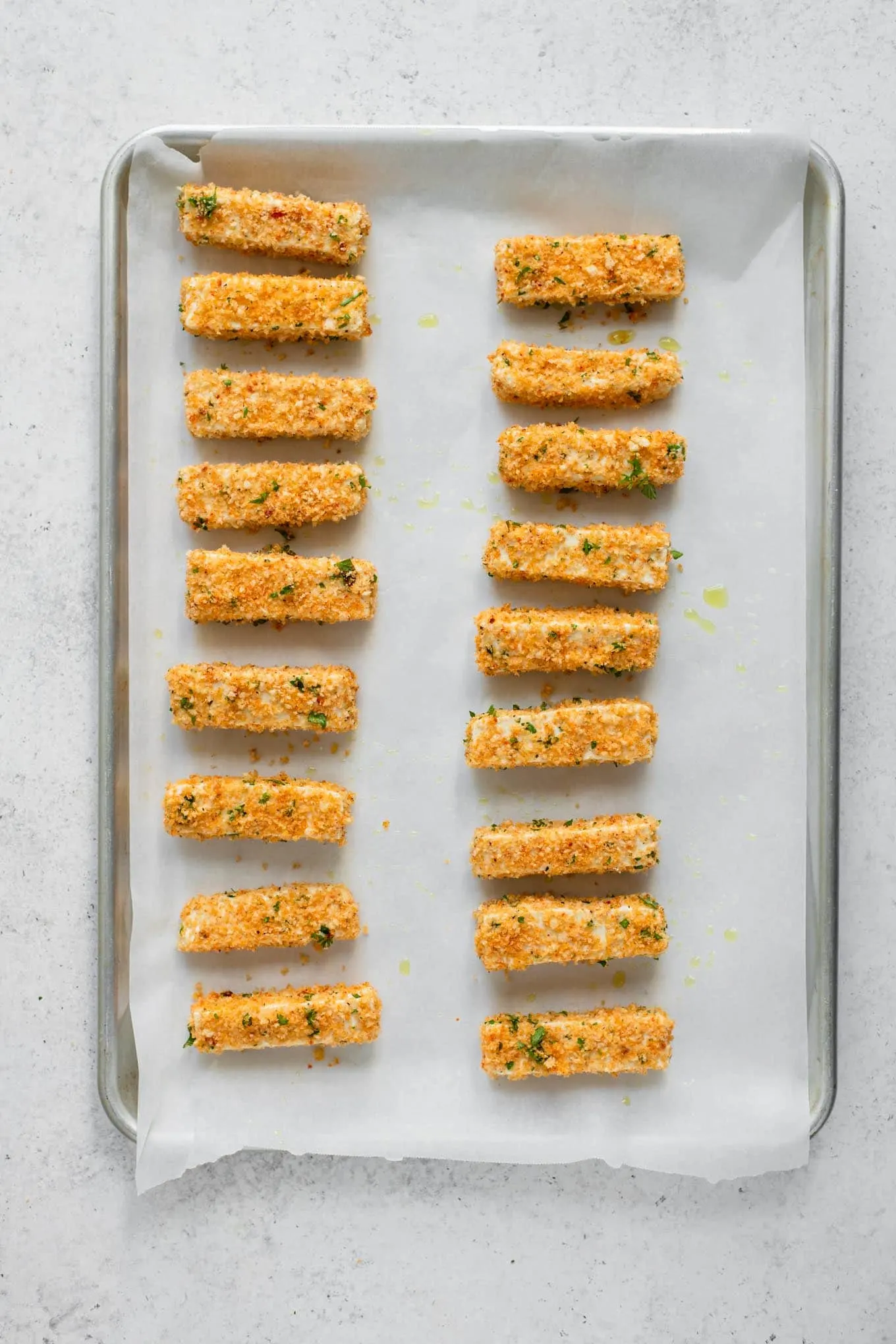 The buffalo sauce:
Buffalo sauce is made of hot sauce, and melted vegan butter, a bit of garlic powder, and a pinch of salt.
If you want to substitute the vegan butter for oil you can. Use refined coconut oil for a mouthfeel most similar to butter. If you use oil instead of butter you will need to add more salt to taste.
The hot sauce you choose for buffalo sauce is very important. You want a red cayenne pepper-style hot sauce, as these tend to be not too spicy (by my standards). I use Franks RedHot, some people prefer Crystal Hot Sauce and others like Louisiana Hot Sauce.
If you don't have an opinion on which hot sauce to use then you better make this recipe three times with each of those hot sauce brands (and/or maybe a less mainstream one?). Then rank them and come up with a super strong opinion stat! J/k, though it would be worth eating these crispy baked buffalo tofu wings that many times in a row.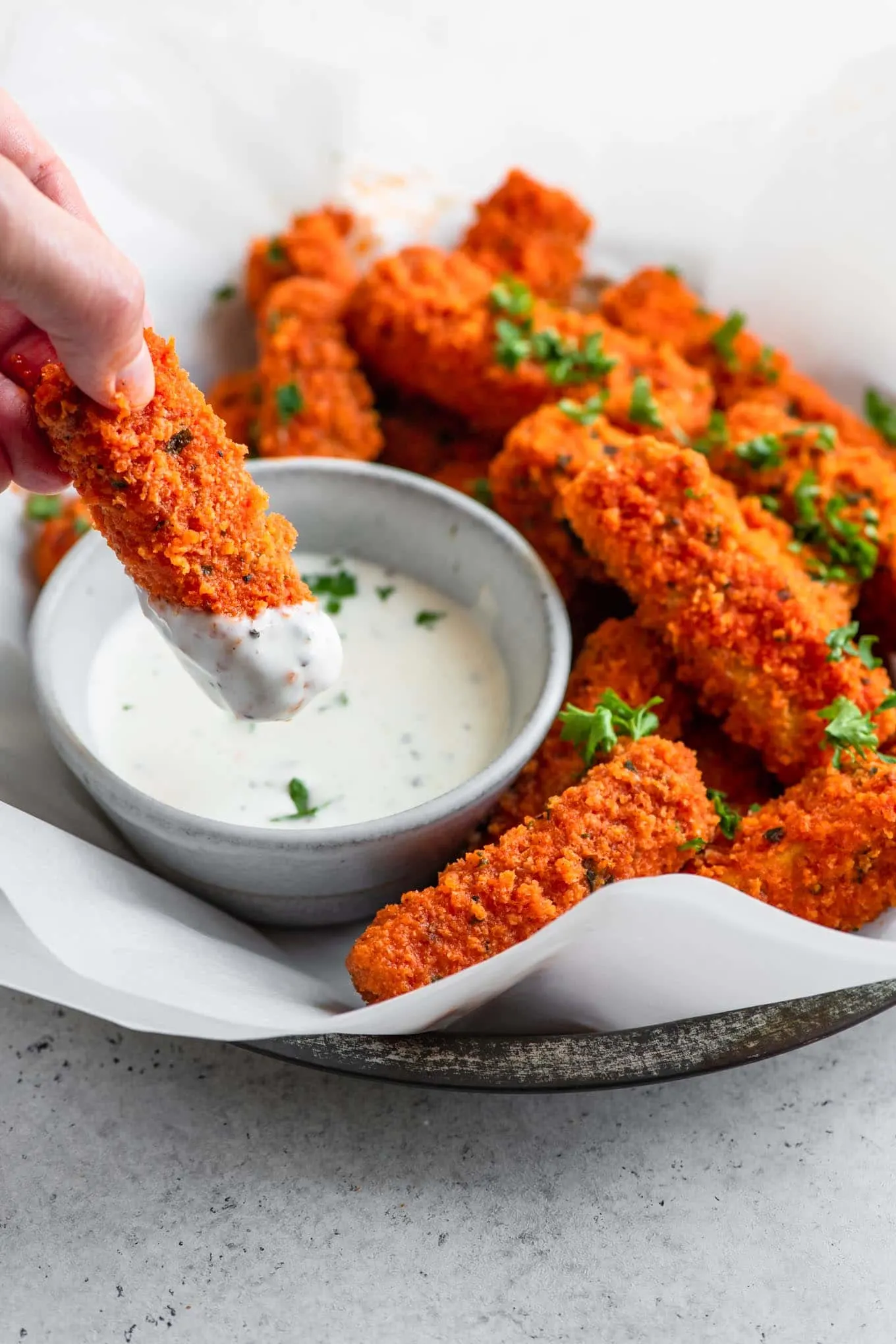 To make buffalo sauce more or less spicy:
The way you control the heat level when making buffalo sauce is by adding more or less [vegan] butter to the hot sauce. If you want a milder sauce, add more butter! If you want it spicier, add more hot sauce or less butter. Easy peasy.
Tips on keeping the buffalo tofu wings crispy:
The second you add the buffalo sauce to the crisp just-baked wings they start to get soggy.
To minimize any sogginess, make sure they are very well crisped before adding the hot sauce! Also eat them immediately, don't let them sit around in sauce.
You can stick them back into the oven to re-crisp a bit after saucing. But they'll soak up the sauce and lose some of that sauciness if you do so.
On that note, enjoy the buffalo tofu wings hot out of the oven with some creamy sauce for dipping. For store bought options my favorite dressings are made by Follow Your Heart, and if you want to go the homemade route, try my cashew ranch dressing which I think is perfection!
These vegan buffalo wings are a perfect for a party appetizer, and great for a munchies style dinner. They also make for the most epic vegan mac and cheese!
And don't forget you can always make it into a yummy salad!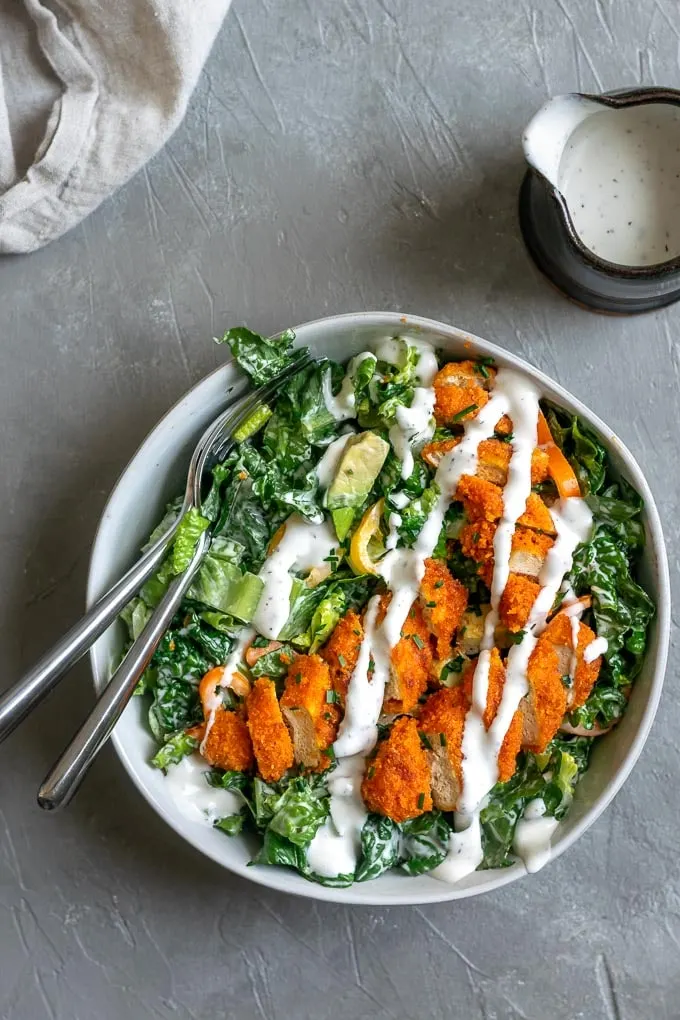 Can I make this gluten free?
Sure thing! Use gluten free breadcrumbs, panko-style if you can find it. You can also crush up corn cereal or puffed rice cereal to make gluten free breadcrumbs.
If you make these vegan buffalo tofu wings, leave a comment below and rate the recipe on the recipe card. And please share your photos with me on Instagram, tag @thecuriouschickpea and #thecuriouschickpea. I love seeing your recreations!
Like these buffalo tofu wings? Try them in my vegan buffalo wing mac and cheese!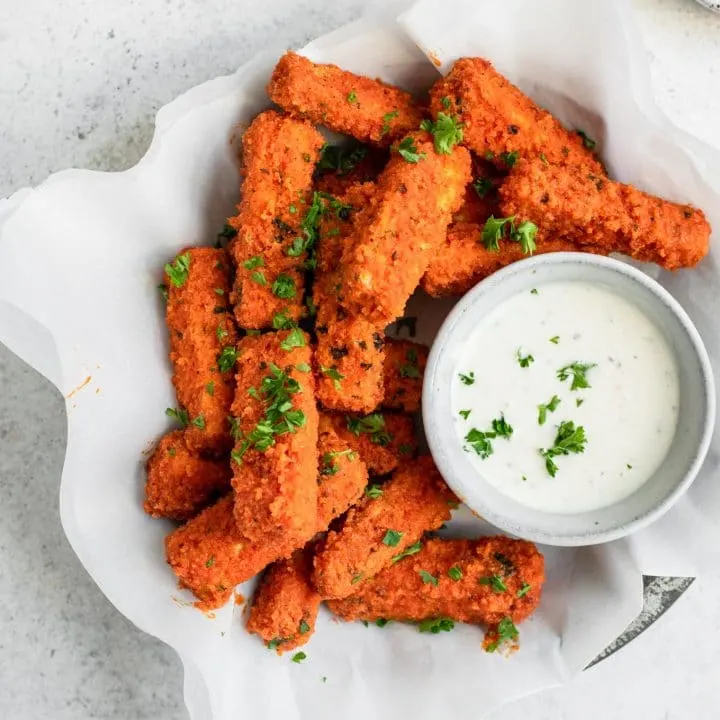 Crispy Baked Buffalo Tofu Wings
Spicy, delicious, and indulgent-tasting these crispy baked buffalo tofu wings make the perfect appetizer or finger food for your next party or nibbly dinner and are excellent on top of a salad!
Ingredients
1 lb extra firm or super firm tofu
6 tbsp cornstarch, arrowroot, or tapioca starch
1/4 cup plant milk
Bread Crumb Mixture
1 cup panko style bread crumbs
2 tbsp olive oil
1/2 tsp paprika
1/2 tsp salt
freshly ground black pepper
1 tbsp fresh minced parsley
Buffalo Sauce
6 tbsp (90g) red cayenne pepper hot sauce, ideally Franks RedHot
3 tbsp (35g) vegan butter
1/8 tsp granulated garlic
1/8 tsp salt
To serve
Vegan bleu cheese or ranch style dressing
Instructions
Preheat the oven to 425 ºF and lightly grease a large rimmed baking sheet.
If using extra-firm tofu press out the extra water: Slice your tofu into 6 width-wise slabs and wrap in a lint-free towel or paper towel. Place some weights over the wrapped tofu, like a heavy cast iron skillet or books atop a baking sheet. Let drain for about 20-30 minutes before continuing.
Cut your tofu into 18 'wings' or ~1/2" sticks. Cut the block of tofu into 6 slices width-wise if you haven't already for pressing, then slice each of those slabs into 3 slices lengthwise.
Put the cornstarch (or arrowroot or tapioca starch) in one bowl, the plant milk in a second bowl, and mix together the bread crumb mixture in a third bowl. Pour some of the bread crumb mixture onto a plate.
Dip each tofu 'wing' into the starch, followed by the milk, then roll in the breadcrumbs on the plate. Place the wing onto the prepared baking sheet and repeat with the remaining 'wings.' Use one hand for the starch and bread crumbs and your other for the milk to keep breading from clumping on your fingers. Add more of the breadcrumb mixture to the plate as needed.
Bake the prepared tofu at 425 ºF for 25 minutes, flip, then bake an additional 10-15 minutes until the tofu wings are nice and crispy.
While they're baking, make the buffalo sauce. Melt the vegan butter and stir in the hot sauce, granulated garlic, and salt.
Put the tofu wings in a large mixing bowl and toss with the buffalo sauce to coat. Serve immediately.
Leftover buffalo tofu wings can be re-crisped in the oven.
Notes
If you have a convection bake setting, use it and bake for about 30-35 minutes flipping halfway through.
Recommended Products
As an Amazon Associate and member of other affiliate programs, I earn from qualifying purchases.
Nutrition Information:
Yield:

6
Serving Size:

3
Amount Per Serving:
Calories:

329
Total Fat:

17g
Sodium:

521mg
Carbohydrates:

36g
Fiber:

4g
Sugar:

3g
Protein:

13g
This recipe was originally posted on July 17, 2018.