Spicy, delicious, and indulgent-tasting these crispy baked buffalo tofu wings make the perfect appetizer for your next party and are excellent on a salad!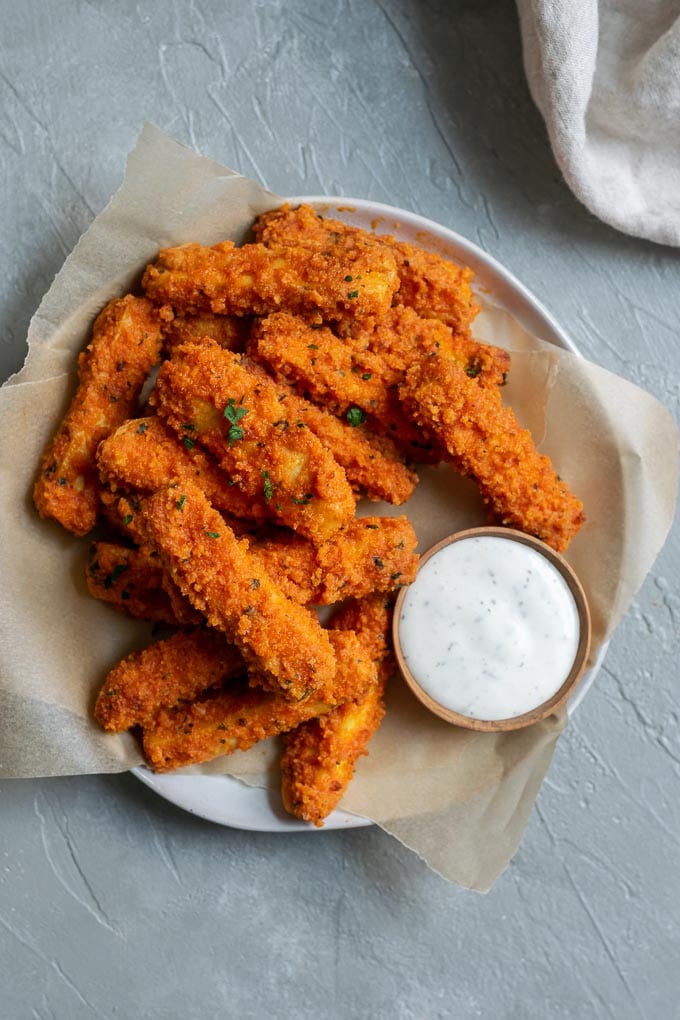 If you put your buffalo tofu wings on a salad, does that make it the healthiest meal of your life or what? As I could eat this meal non-stop (and have had it a half dozen times this month already!), that sure would be a nice perk.
Tofu, breaded and baked until crispy then doused in a buffalo sauce. When dipped into some vegan ranch or bleu cheese dressing it makes the best finger food. Sliced on a bias and set atop a crunchy salad you have a colorful, easy, delicious, and nutritious meal!
I first had buffalo tofu in college. It was one of the veg options at the dorm dining halls, and would rotate across the menus on campus. My best friend and I would always seek it out, regularly choosing to traipse across campus just to get our buffalo on! Snow, rain, nothing could hold us back from that salty, spicy tofu.
To be honest, my college's recipe for buffalo tofu was nothing to write home about. I mean, I'd still happily dig in or walk 20 minutes to eat it (but also, that's not that far) but it wouldn't hold a candle to this recipe for buffalo tofu! But, even so, this recipe gives me all the nostalgia feels.
I threw together some buffalo tofu for a quick weeknight meal a few weeks ago when the fridge was particularly stark, and it came out so well I knew I would have to recreate it for you guys!
So I made it again, but real talk, I wasn't completely satisfied the photos I took. And on top of that, I had forgotten to add the croutons to the salad, so, oops!
Croutons really take the salad to the next level! Plus you know how I feel about all things carbs (digest version: I love carbs).
Fast forward a couple of weeks and I remake the buffalo wings once more to reshoot, and lo and behold I forgot the croutons in the photos again! Gah! But you can be assured that I added them to eat.
So what's the key to getting nice, crispy buffalo tofu wings? First step is choosing your tofu. You want a very firm tofu for your wings. One that has had most of water pressed out of it, so an extra firm or super firm tofu is ideal.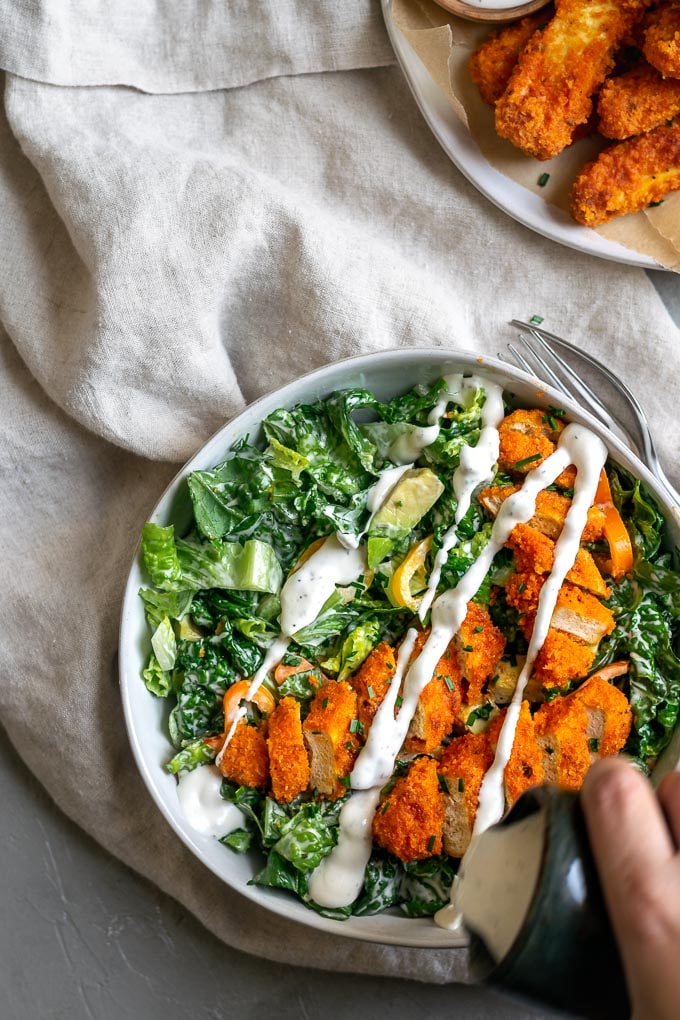 If using an extra firm tofu, you'll want to press some extra water out of the tofu for best texture. Cut your block of tofu into slices (I cut mine into 6 slices widthwise) and wrap in an absorbent lint-free towel or paper towels and place a weight, like a heavy pan, overtop. Let that sit for 20-30 minutes then slice into the 'wings' and move on to breading the tofu.
I like to use a double breading technique for the optimal crispy tofu wings. First, dip the cut tofu into some starch, it'll stick to the damp tofu.
Next, dip into a little bit of plant milk which will create a nice sticky surface when absorbed into the starch. Then lastly, dip them into a prepared bread crumb mixture and place on an oiled pan.
The bread crumb mixture is made of panko style breadcrumbs and a bit of paprika, salt, black pepper, fresh minced parsley, and a drizzle of olive oil. The oil adds a richness to the breading, which makes for extra tasty 'wings' when baked.
The breaded tofu wings are baked until nice and crispy, then tossed in a spicy buffalo sauce. Buffalo sauce is made of hot sauce, melted vegan butter (you can always substitute oil–and I'd suggest refined coconut oil– but you'll want to add more salt if you do), a bit of garlic, and a pinch of salt.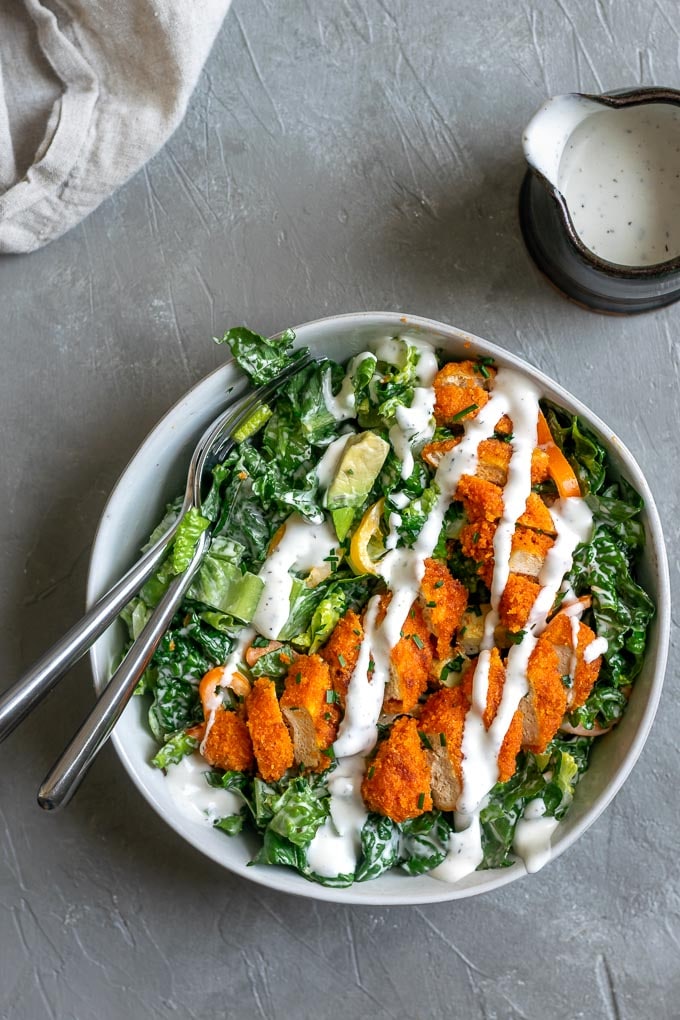 The hot sauce you choose for buffalo sauce is very important. You want a red cayenne pepper-style hot sauce, as these tend to be not too spicy (by my standards). I use Franks RedHot, some people prefer Crystal Hot Sauce and others like Louisiana Hot Sauce.
If you don't have an opinion on which hot sauce to use then you better make this recipe three times with each of those hot sauce brands (or maybe a less mainstream one?) and come up with a super strong opinion stat! J/k, though it would be worth eating these crispy baked buffalo tofu wings that many times.
The way you control the heat level when making buffalo sauce is by adding more or less [vegan] butter to the hot sauce. If you want a milder sauce, add more butter! If you want it spicier, add more hot sauce or less butter. Easy peasy.
If you don't bake the tofu wings long enough, they'll end up a bit soggy when tossed with the buffalo sauce. So give them as long as needed to make an extra crispy breading before adding the hot sauce!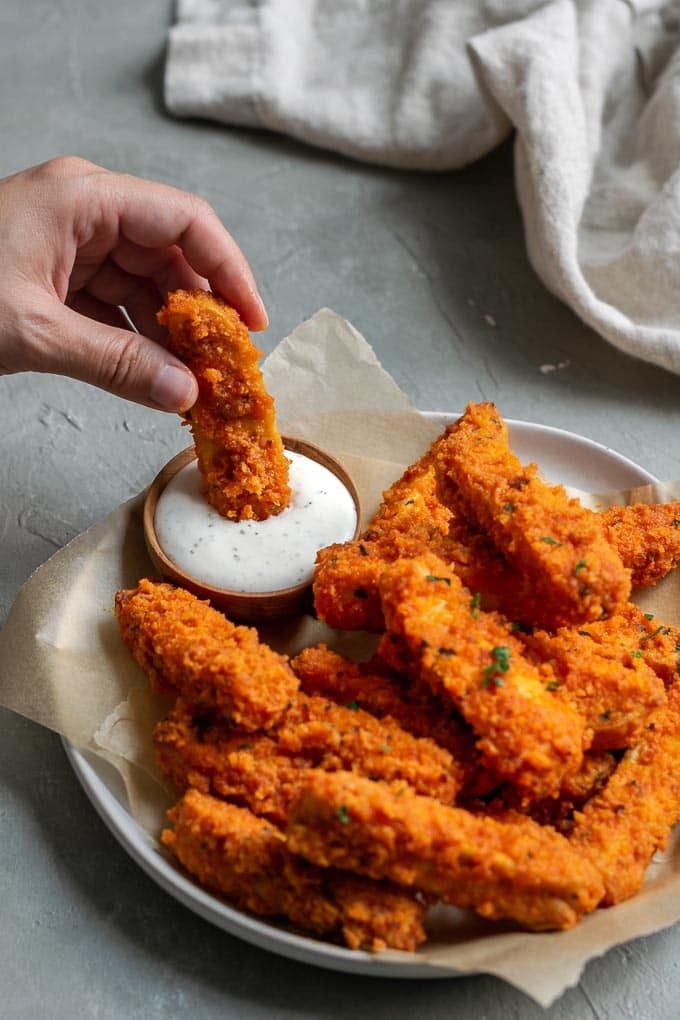 Enjoy the buffalo tofu wings hot out of the oven with some creamy sauce for dipping. They're perfect for a party appetizer, or for a munchies style dinner. They also make for the most epic vegan mac and cheese!
But I went a little crazy over this salad pairing. To make the salad I chopped up romaine hearts, thinly sliced sweet peppers, cubed some avocado, and tossed it all together with croutons (check the ingredients on these as most are not vegan) and some creamy vegan bleu cheese style dressing.
And atop that I added some the crispy baked buffalo tofu wings. It is probably my most favorite salad ever! I don't often choose to eat salad for dinner (especially not over mac and cheese), but boy oh boy I have a soft spot for this one!
So I hope you guys enjoy these crispy baked buffalo tofu wings, and I'd love to know how you serve them up if you make them!
Don't forget to leave a comment and rate the recipe below, and tag your recreations @thecuriouschickpea and #thecuriouschickpea on Instagram! I love seeing your photos!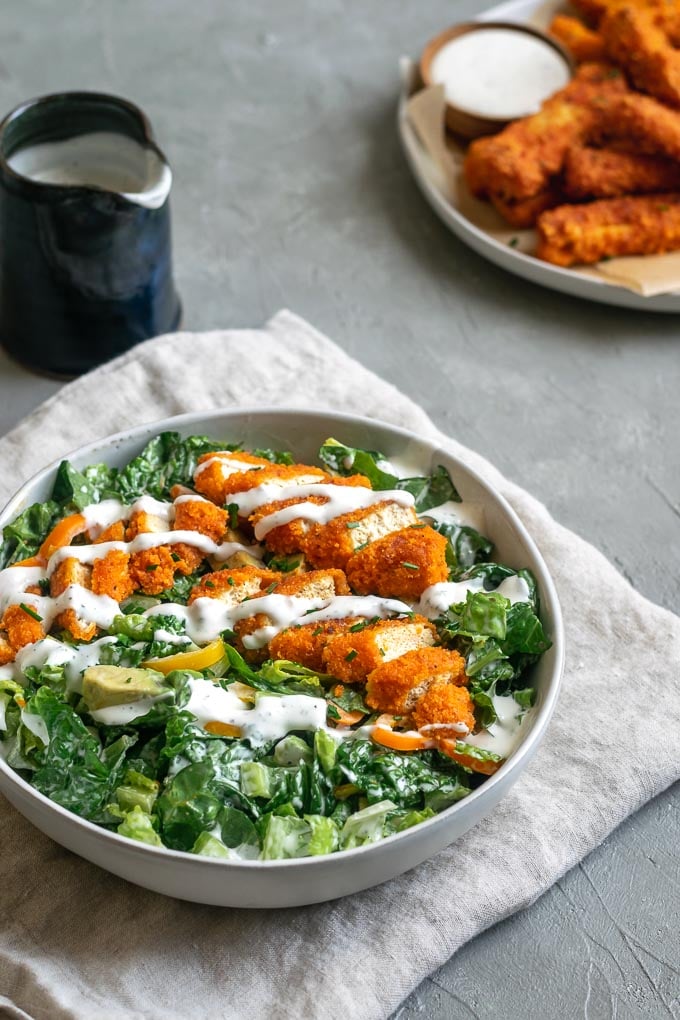 Like what you see? Follow along on Instagram, Facebook, and Pinterest!
Notes:
For a store bought dressing, I like Follow Your Heart Ranch and Bleu Cheese Dressings. Or make your own ranch! My ranch recipe can be found in my recipe for buffalo soy curl pizza.
For a gluten free tofu wing, use gluten free and vegan panko style bread crumbs. And for a gluten free salad, skip the croutons or make some of your own with gluten free bread!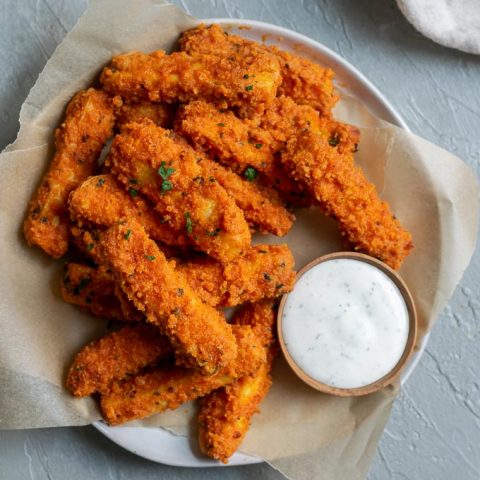 Crispy Baked Buffalo Tofu Wings
Spicy, delicious, and indulgent-tasting these crispy baked buffalo tofu wings make the perfect appetizer or finger food for your next party or nibbly dinner and are excellent on top of a salad!
Ingredients
1 lb extra firm or super firm tofu
6 tbsp cornstarch, arrowroot, or tapioca starch
1/4 cup plant milk
Bread Crumb Mixture
1 cup panko style bread crumbs
2 tbsp olive oil
1/2 tsp paprika
1/2 tsp salt
freshly ground black pepper
1 tbsp fresh minced parsley
Buffalo Sauce
6 tbsp (90g) red cayenne pepper hot sauce, ideally Franks RedHot
3 tbsp (35g) vegan butter
1/8 tsp granulated garlic
1/8 tsp salt
To serve
Vegan bleu cheese or ranch style dressing
romaine, sweet peppers, croutons, avocado for salad
Instructions
Preheat the oven to 425 ºF and lightly grease a large rimmed baking sheet.
If using extra-firm tofu press out the extra water: Slice your tofu into 6 width-wise slabs and wrap in a lint-free towel or paper towel. Place some weights over the wrapped tofu, like a heavy cast iron skillet or books atop a baking sheet. Let drain for about 20-30 minutes before continuing.
Cut your tofu into 18 'wings' or ~1/2" sticks. Cut the block of tofu into 6 slices width-wise if you haven't already for pressing, then slice each of those slabs into 3 slices lengthwise.
Put the cornstarch (/arrowroot or tapioca starch) in one bowl, the plant milk in a second bowl, and mix together the bread crumb mixture in a third bowl. Pour some of the bread crumb mixture onto a plate.
Dip each tofu 'wing' into the starch, followed by the milk, then roll in the breadcrumbs on the plate. Place the wing onto the prepared baking sheet and repeat with the remaining 'wings.' Use one hand for the starch and bread crumbs and your other for the milk to keep breading from clumping on your fingers. Add more of the breadcrumb mixture to the plate as needed.
Bake the prepared tofu at 425 ºF for 25 minutes, flip, then bake an additional 10-15 minutes until the tofu wings are nice and crispy.
While they're baking, make the buffalo sauce. Melt the vegan butter and stir in the hot sauce, granulated garlic, and salt.
Put the tofu wings in a large mixing bowl and toss with the buffalo sauce to coat. Serve immediately.
Leftover buffalo tofu wings can be re-crisped in the oven.
Recommended Products
As an Amazon Associate and member of other affiliate programs, I earn from qualifying purchases.
Nutrition Information:
Yield:

6
Serving Size:

3 tofu wings
Amount Per Serving:
Calories:

329
Total Fat:

17g
Sodium:

521mg
Carbohydrates:

36g
Fiber:

4g
Sugar:

3g
Protein:

13g
Like these buffalo tofu wings? Try them with this easy and ultra creamy vegan mac and cheese!