These herbed chickpea burgers are a delicious vegan and gluten free veggie burger. They're super easy to make and packed with fresh herbs. Load them up with your favorite toppings and enjoy!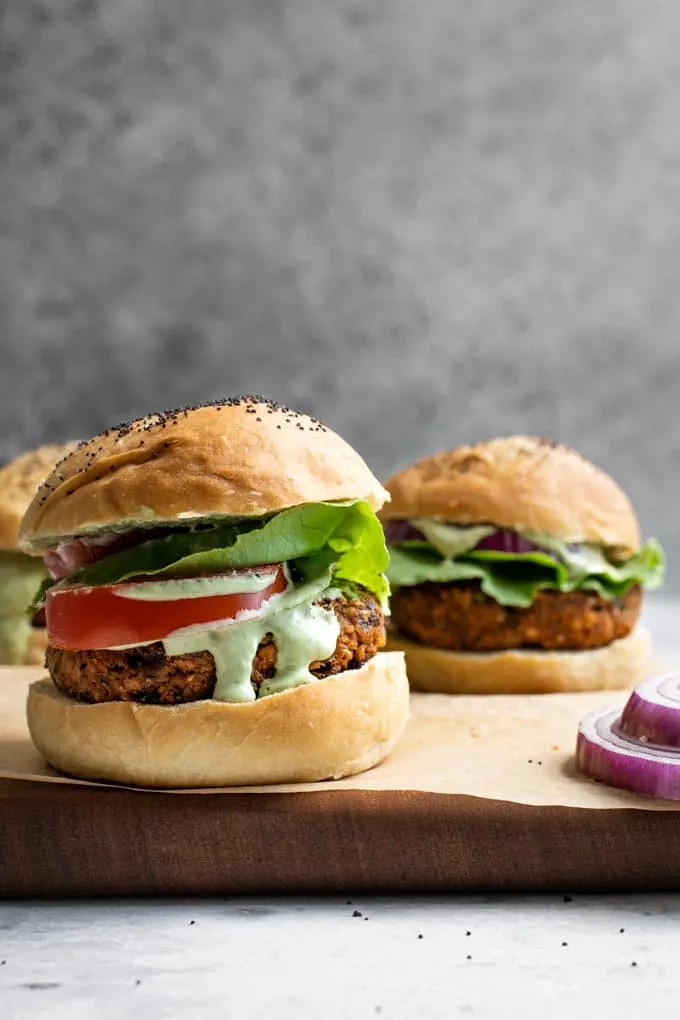 These herbed chickpea burgers are so perfect for grilling season!
They're super easy to make, not fussy, noting too fancy, but sooo delicious! Just a good old fashioned veggie burger to sink your teeth into. All I want really!
They're also vegan (duh) and happen to be gluten free! I mean, until you stuff them into a wheat-filled burger bun like these vegan milk bread buns… so obviously use gluten free bread if that's the case!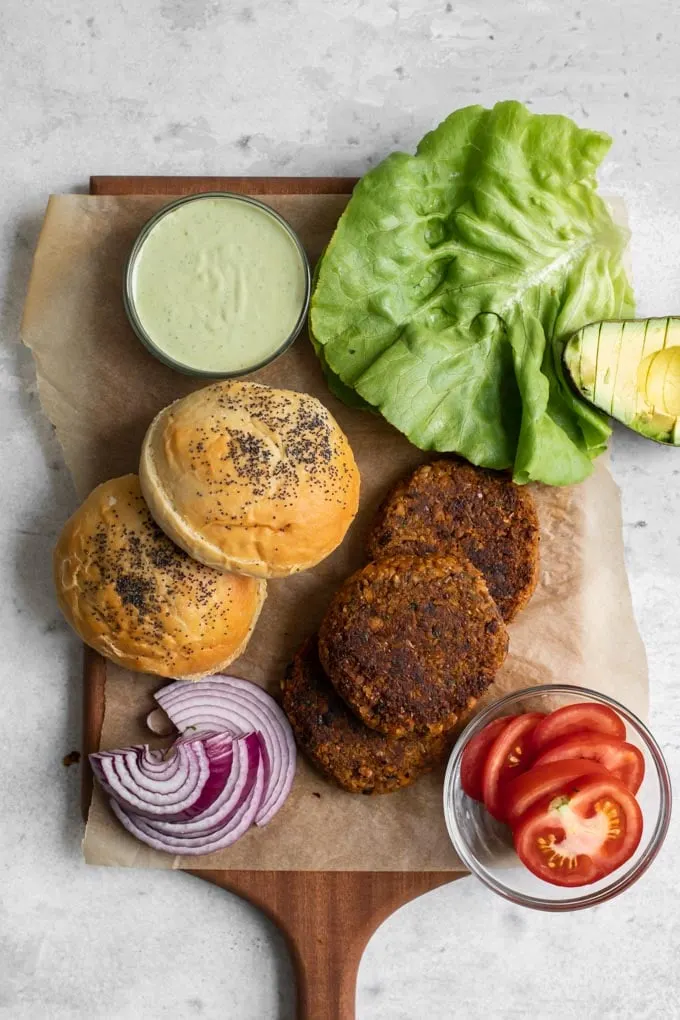 I love making my own veggie burgers. You can really load them up with flavor, adapt them to your mood, make them gluten free or gluten full (vital wheat gluten has to be the best binder out there for vegan burgers)!
The possibilities are endless, and you just can't beat a good veggie burger for flavor!
These veggie burgers have a nutritious chickpea and brown rice base, and are stuffed full of fresh herbs for flavor. This makes them extra perfect for summer time!
And they couldn't be easier to make!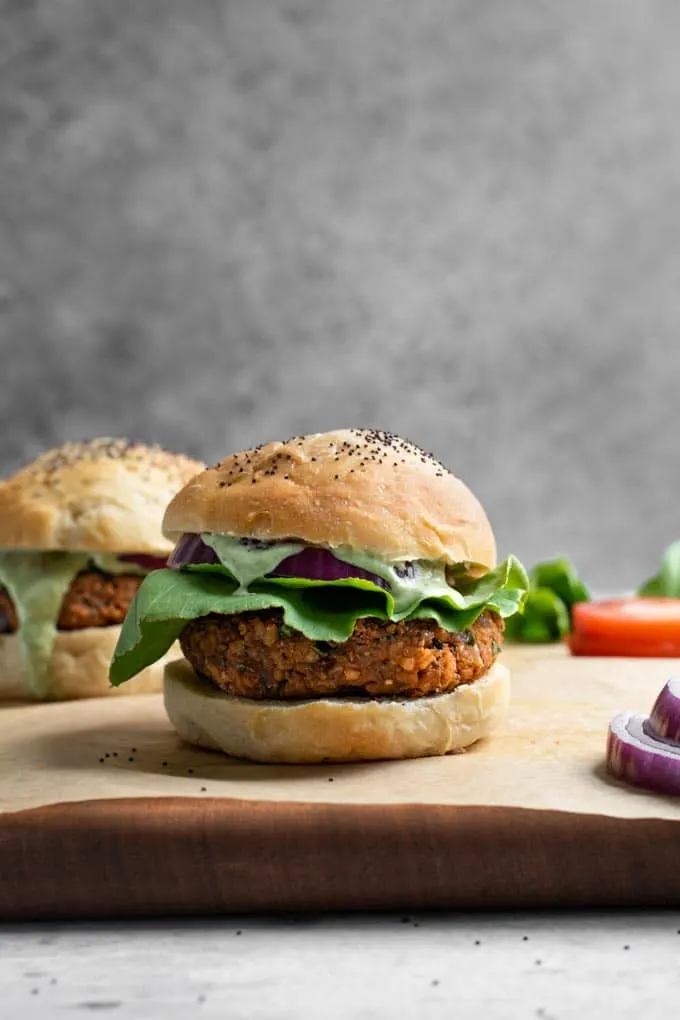 To make them, first fry up the onion.
When it's soft, then add the garlic and let that cook for a quick minute. Then, add the chickpeas, salt, and red pepper flakes.
We cook the chickpeas for a few minutes to dry them out. The last thing that anyone wants is a mushy veggie burger!
Once they're a bit dry and turning crumbly, add the brown rice and tomato paste and do your best to stir it around to distribute. Let them cook for a couple minutes then turn off the heat and let cool for a couple minutes before adding the fresh herbs.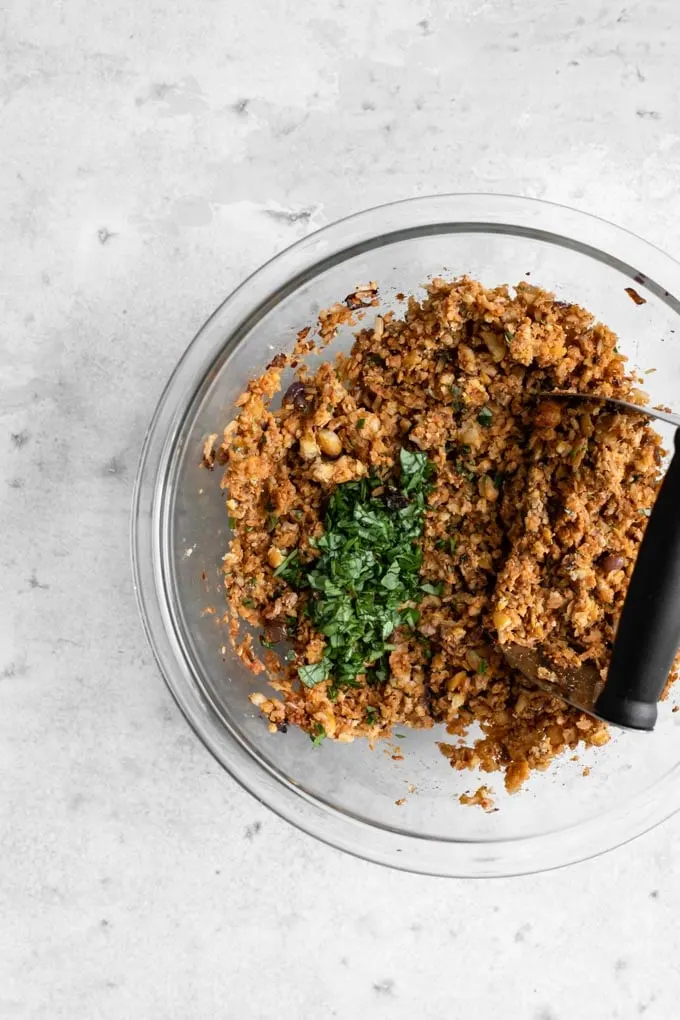 I used a combination of fresh basil, thyme (specifically lemon thyme from my garden), oregano, and rosemary. I also tested these burgers with dried herbs and they were excellent that way, so you can always use dried or a combo based on what you have!
You can mash up the burger mixture by hand, with a pastry cutter or potato masher, or with a food processor.
If mashing the mixture by hand, let the chickpeas and rice cool down so you don't burn yourself, then get right in there and squeeze everything until it starts to come together.
If using a pastry cutter, just keep going until the chickpeas mash up enough to hold the mixture together. You can always test as you go, forming patties and seeing if they stick together.
If using a food processor, then you want to be careful not to over process the mixture! If all the chickpeas get blended up, you lose some of the texture in your final burgers and all the binding in the world can't save a little bit of squishiness.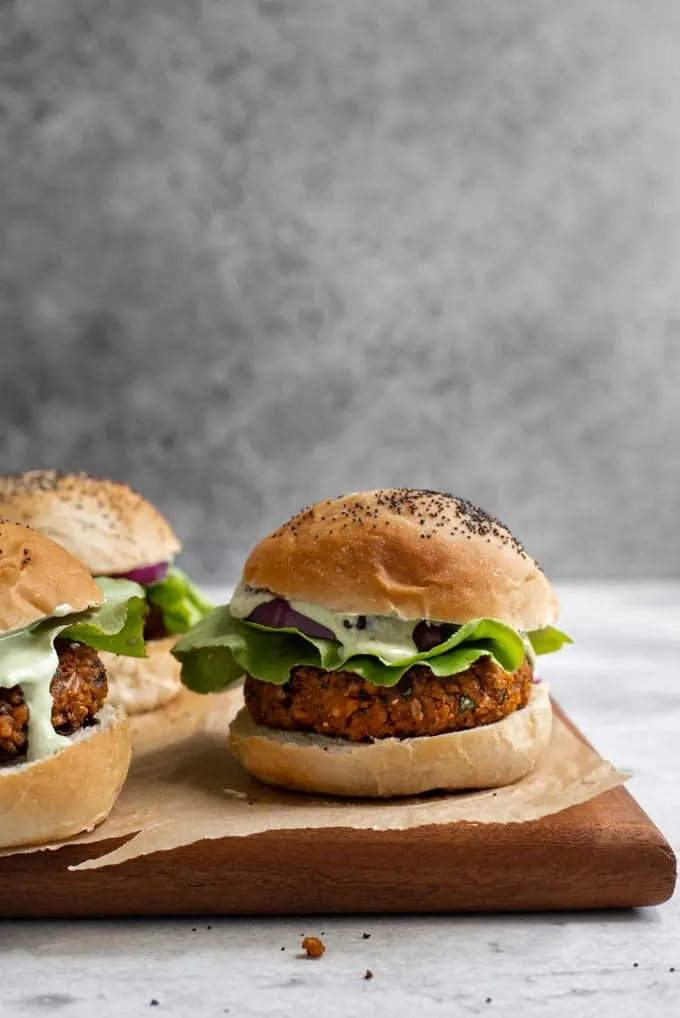 Now, add in a vegan egg replacer or potato flour as a binder.
The most important part of veggie burgers is finding something to hold them together so they don't just fall apart as you bite in to them!
If making a burger with wheat gluten, this is nice and easy. But if making one gluten free you'll need to work a bit harder at it.
Starches work really well as veggie burger binders. They're able to soak up any extra moisture and firm up the patties. The favorite binder I tested for this recipe was Ener-G Egg Replacer.
The main ingredient of the egg replacer is potato flour and I tested the patties with that as well and they turned out equally well. So whichever you have on hand will work beautifully for these burgers!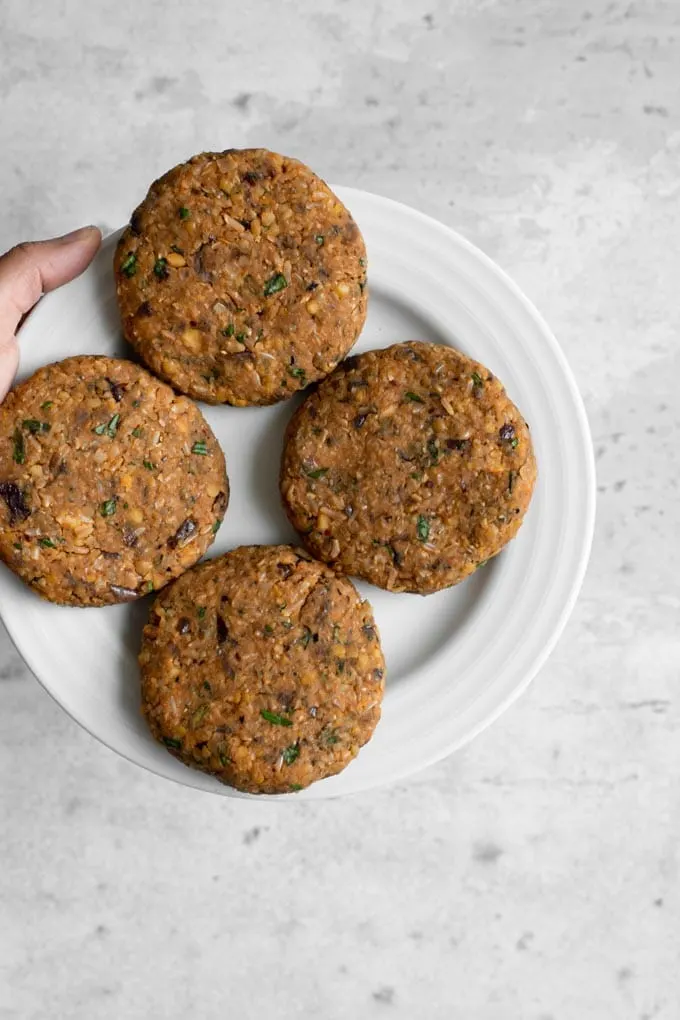 Potato flour has the special ability to turn a bit gluey when activated with hot water, so makes for a perfect binder for these burgers! They remain nice and juicy, but hold together well and shouldn't crumble apart as you eat them! whoop!
Whisk the potato flour/egg replacer in hot water, then mix it into the mashed veggie burger mixture.
Divide up the mixture into 4 pieces and then form them into patties.
If they are a bit sticky you can either wet your hand to keep the mixture from sticking to you. Alternatively you can dip the balls into some flour before shaping. Use either gluten free all purpose, regular all purpose, or even some potato flour.
For smaller burgers you can also divide the mixture to make 5 or even 6 patties.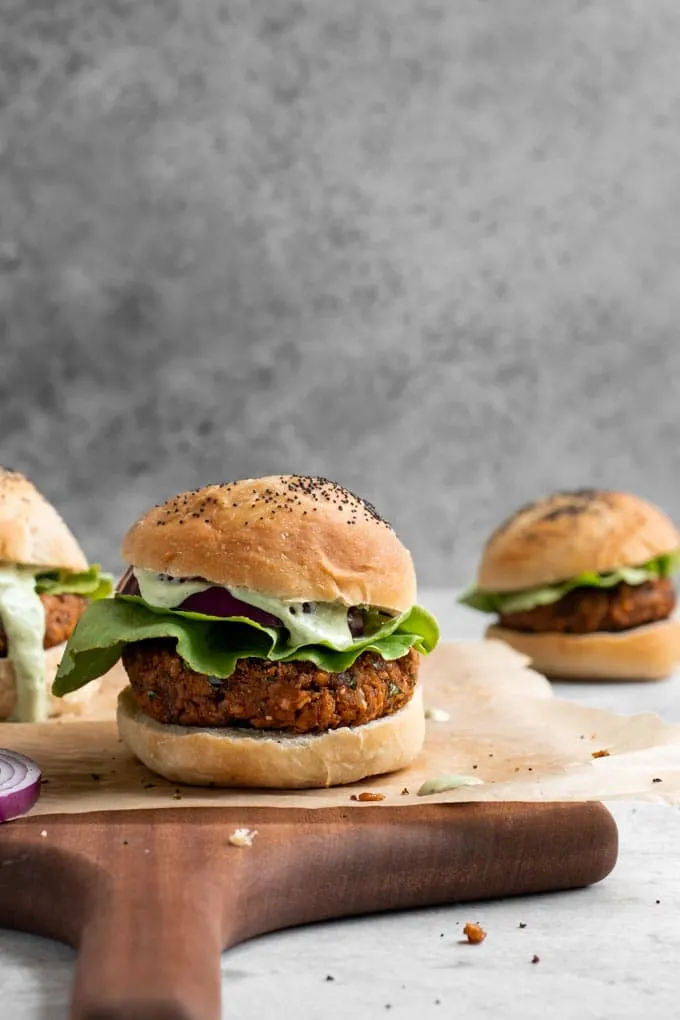 Once formed, you can go ahead and refrigerate them until ready to eat (they're excellent for making ahead), or let them rest for at least 10 minutes before cooking so the potato flour/egg replacer has a chance to set.
Then, just fry the burgers for several minutes on each side, add a slice of vegan cheese on the second side if you'd like!
To serve, I used my vegan milk bread buns, though store bought buns are of course fine as well! I loaded them up with some lettuce, tomato, red onion, and then smothered them with a homemade pesto cashew aioli.
They're also great with avocado, because, duh, avocado makes everything better!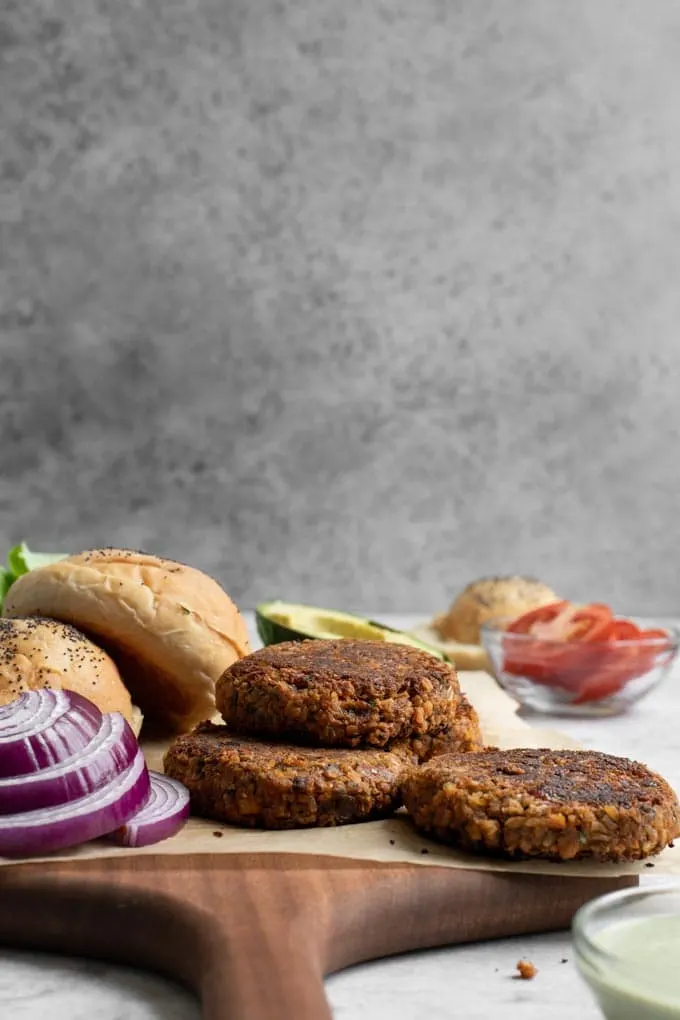 If you make these herbed chickpea burgers, leave a comment below and rate the recipe on the recipe card. And please share your photos with me on Instagram, tag @thecuriouschickpea and #thecuriouschickpea. I love seeing your recreations!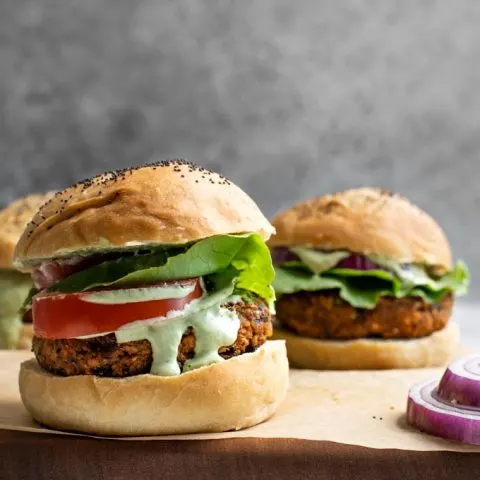 Herbed Chickpea Burgers
Additional Time:
10 minutes
These herbed chickpea burgers are easy to make and perfect for grilling season! They're absolutely delicious as well as vegan and gluten free!
Ingredients
1 tsp oil
2 shallots or 1/2 red onion, finely diced
3-4 cloves garlic, minced
1 15oz can (1 1/2 cups cooked) chickpeas, drained and rinsed
1/2 tsp salt, more to taste
1/4-1 tsp red pepper flakes, to taste
1 cup cooked brown rice
1 1/2 tbsp tomato paste
2 tbsp fresh herbs* or 1 tbsp dried (combination of basil, rosemary, oregano, and thyme)
1 tbsp Ener-G Egg Replacer or Potato Flour/Starch
1/4 cup hot water
Instructions
Heat a large skillet over medium heat, when hot add the oil and onion. Cook for 2-3 minutes until soft, then add the garlic and let it cook for 30-60 seconds.
Add the chickpeas, 1/2 teaspoon of salt, and the red pepper flakes and sauté for about 5 minutes until the chickpeas are dry and starting to fall apart.
Add the brown rice and tomato paste and cook for about 2 minutes, stirring to distribute the tomato paste. Turn off the heat and let the mixture cool slightly.
Transfer the mixture to a large bowl and add the fresh herbs. Mash the mixture by hand or using a pastry cutter or potato masher. If using your hands let it cool until you can safely mash it. Once the mixture can hold together, but still has some texture, you can stop. Alternatively, you can use a food processor, but be careful not to over process, we want some texture in the final burgers!
Whisk together very hot water and the Ener-g Egg Replacer (or potato starch/flour) until combined, thickened, and gloopy. Add the egg replacer to the burgers and mix to combine.
Divide the mixture into 4 pieces (or more to make smaller burgers) and form into patties. Wet your hands to prevent sticking or coat the mixture with extra flour/starch (gluten free ok). Let the patties rest for 10 minutes, or refrigerate until ready to use.
Cook the burgers on medium-low heat with some oil for 5-6 minutes on each side. If they start to blacken before the time is up, then lower the heat.
Notes
*I used 1 tbsp fresh basil, 1 tsp fresh thyme, 1 tsp fresh oregano, and 1 tsp fresh rosemary. For dried I used 1 tsp dried basil, 1 tsp dried oregano, 1/2 tsp dried thyme, and 1/2 tsp dried rosemary.
Recommended Products
As an Amazon Associate and member of other affiliate programs, I earn from qualifying purchases.
Nutrition Information:
Yield:

4
Serving Size:

1
Amount Per Serving:
Calories:

140
Total Fat:

2g
Sodium:

387mg
Carbohydrates:

27g
Fiber:

4g
Sugar:

4g
Protein:

4g