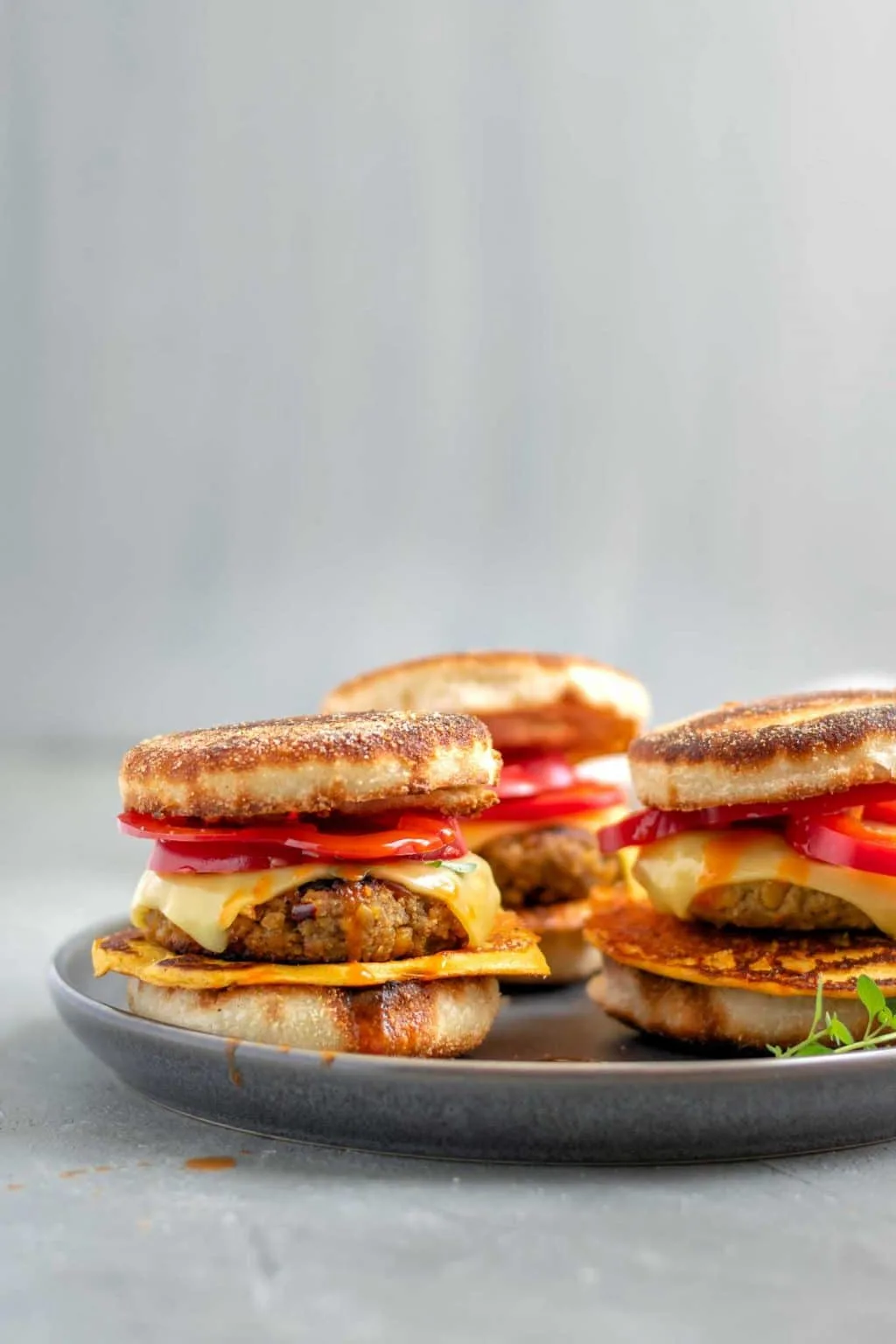 I love a good sandwich. Delicious fillings + delicious bread?! Sign me up! Now usually sandwiches are a lunch or dinner item for me, and something that happens on the heels of pulling a freshly baked loaf of sourdough from the oven.
I was raised vegetarian, so breakfast sandwiches just weren't on my radar. While they existed, veggie sausage patties weren't something I was acquainted with until late high school and I've always hated eggs. So why would I try to make a savory breakfast muffin sandwich??
But as it happens with so many things I avoided pregan (pre-vegan), I LOVE the veganized version. That's not to say those of you who loved the meat, egg, and dairy filled versions of your past can't love this vegan egg and sausage sandwich. I think anyone would really love these!
This breakfast sandwich began as most of my sandwiches do, with a desire to bake some bread. This time it was making English muffins that inspired the whole recipe! Definitely something I'll be making again, I mean… just look at em!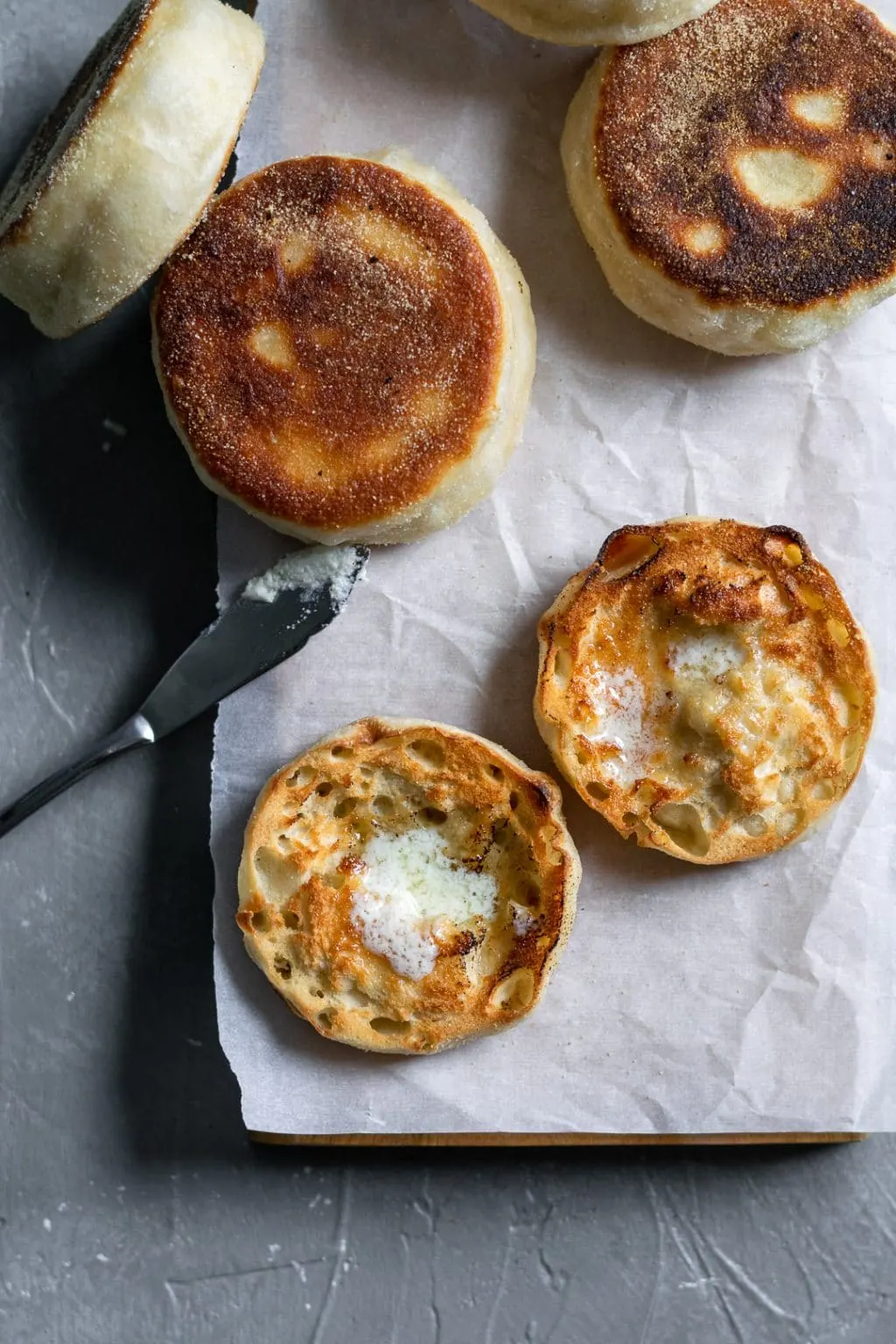 If you've never made English muffins before, you should know that they're a great bread to make in the summer as you don't turn on your oven! All the cooking is done on the stovetop, keeping your kitchen cool(er). I veganized this Legendary English Muffin Recipe by Baking Steel if you want to fully follow along with me 🙂 . Just swap vegan butter in the dough and use an oil with a high smoke point like sunflower, canola, or avocado oil.
As delicious as the muffins were on their own, with a dab of vegan butter melting on top, I started to crave something a bit more, dream a little bigger. It's been known to happen 😛 . And so these vegan breakfast egg and sausage muffins were born!
First, I whipped up a batch of tempeh maple breakfast sausage patties. Toothsome with a hint of maple and a little peppery kick (I just can't help myself), these patties are perfect for all your breakfast sandwich needs. They're also quite easy to make, which is one of my favorite things about them.
Next I wanted a something a little eggy (in texture if not in taste). Instead of the commonly seen fried tofu, I made a vegan egg patty.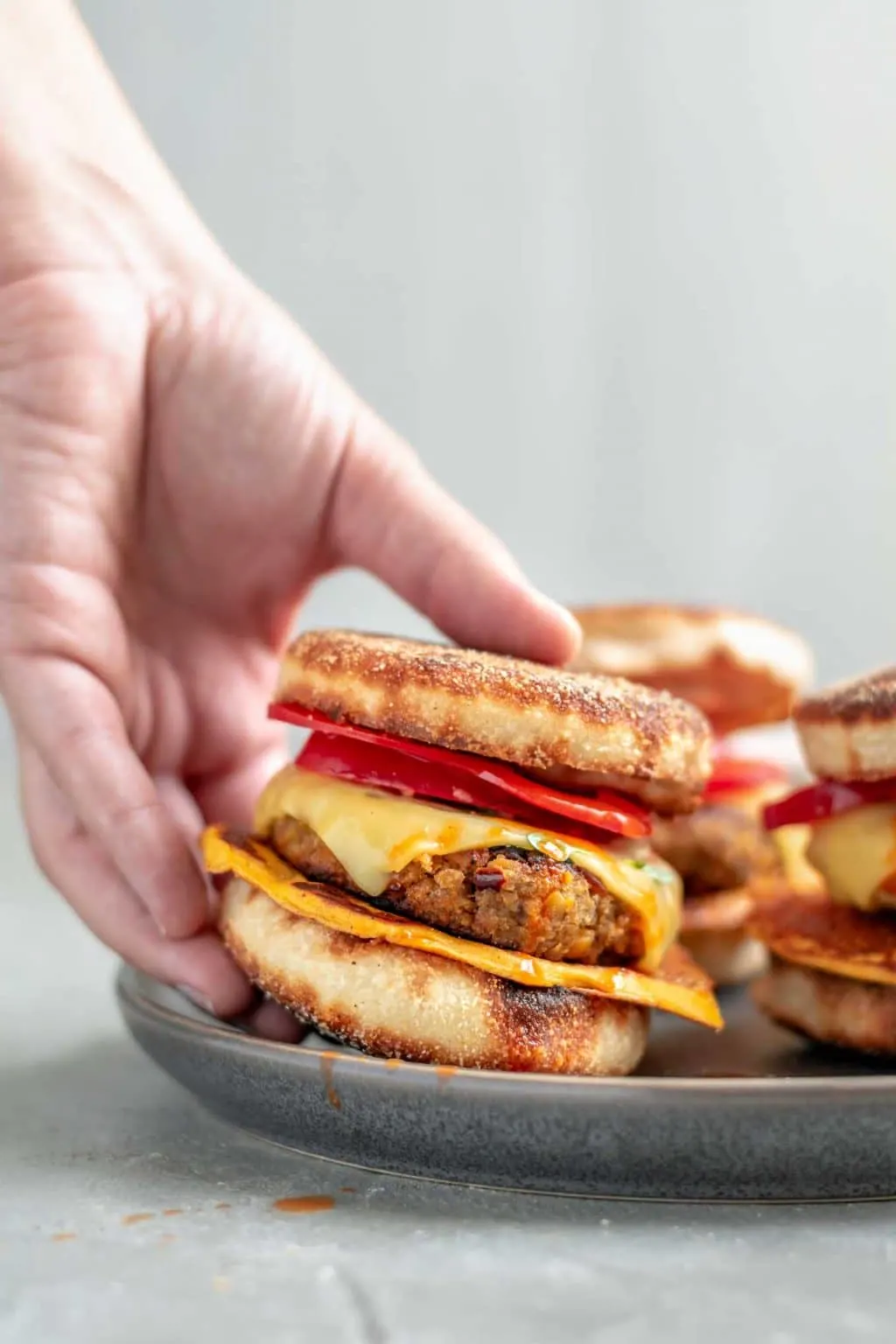 They are a mixture of chickpea flour and tofu, blended together with non-dairy milk and spices and cook up with a soft and silky, somewhat eggy texture. They're real good. It might not fool you for an egg (which, ya know, is a good thing in my book), but it fills the same role and is oh so delicious.
The ingredients are quite simple. They're spiced with smoked paprika for a delicious sweet and smokey flavor, onion powder for some subtle oniony-sweetness, and turmeric for color. A splash of apple cider vinegar adds the slightest tang and rounds out the flavor. If you want an eggy taste, simply use some kala namak to replace some of the table or sea salt.
Kala namak, or black salt (note: when finely ground it's not actually black in color) is a sulfurous rock salt from India (or the Himalayas specifically) that gives an eggy taste. Again, I am not a fan of eggs so I usually avoid the stuff, but most people feel differently and love adding kala namak to their vegan eggy dishes! You can find it at Indian grocery stores, or on Amazon.
The chickpea-tofu egg patties cook a lot like pancakes. The consistency of the batter should be similar to that of a pancake, though you can make it thinner or thicker with more or less milk depending on how fat of a vegan egg you want.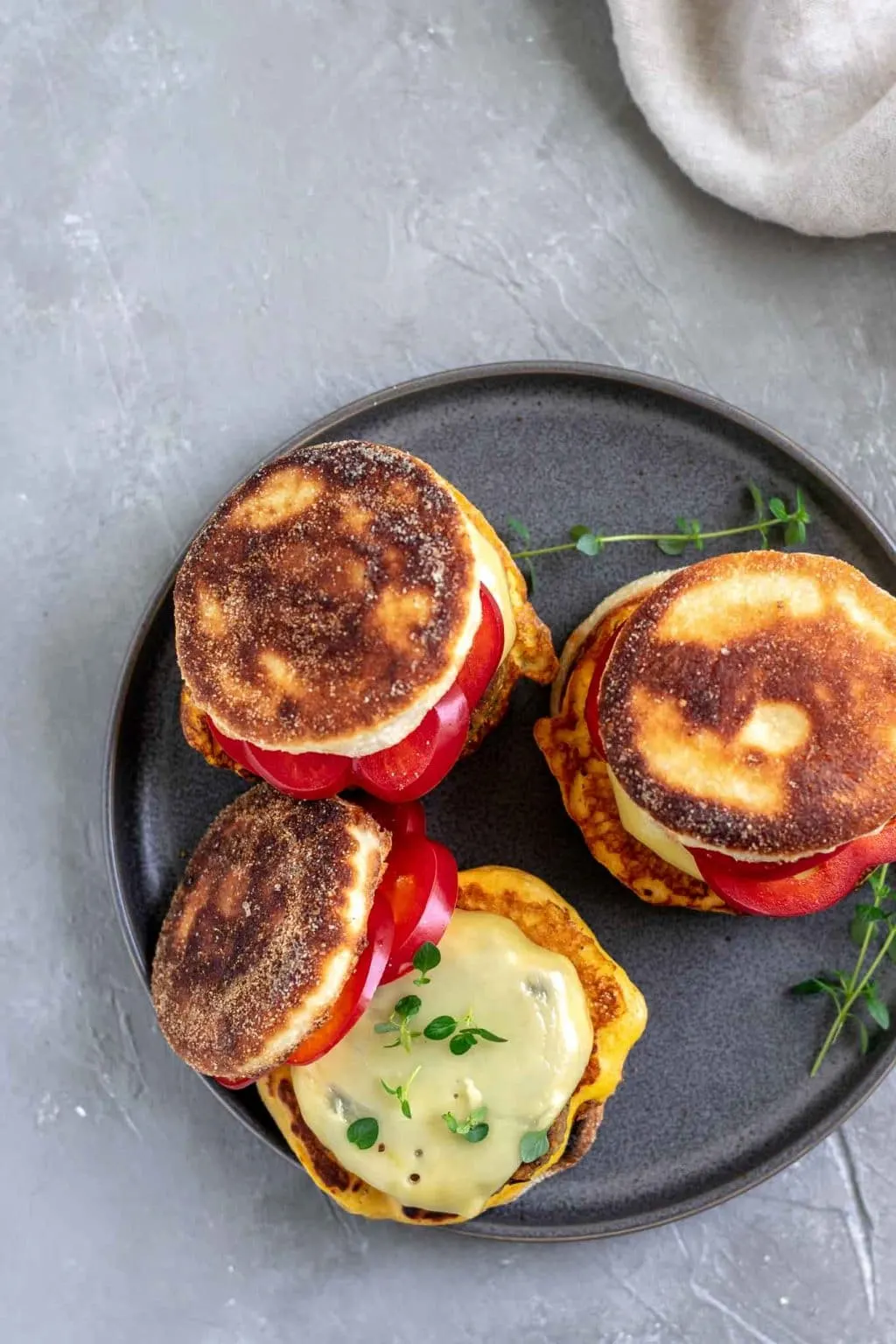 So that's it. Get your hands on some english muffins (homemade is great, but store bought is cool too, we can still be friends 😉 ), make some vegan breakfast sausage patties, whiz up some vegan egg patty thingamabobers (idk guys, naming this was hard).
To finish it up, I like to melt a slice of vegan cheese on top of the breakfast sausage, add a couple slices of sweet bell pepper (tomatoes would work too), and some fresh herbs. I used lemon thyme from my garden, but chives would be great too! And we can't forget the hot sauce, drool.
Pro-tip: Hungry monsters might want to use two egg patties in their sandwiches. Also, those can be made in advance and reheated super easily on the skillet or in the microwave! As can the breakfast sausage patties. Yay convenience!
I don't know about you, but I'm ready to dig in!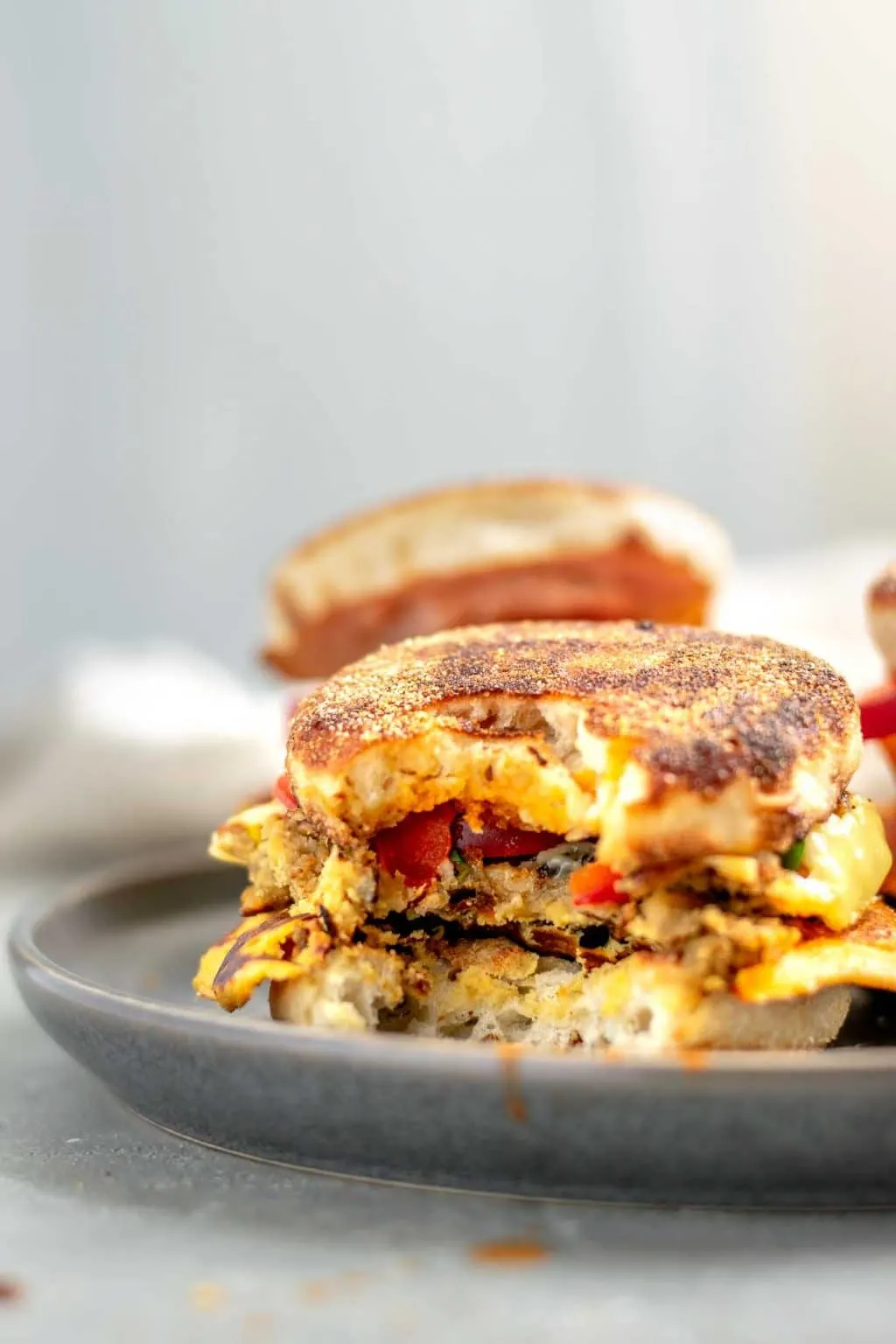 I hope you guys enjoy the recipe, let me know how it goes if you make it! And don't forget to tag your recreations @thecuriouschickpea and #thecuriouschickpea on Instagram! I love seeing your photos!
Like what you see? Follow along on Instagram, Facebook, and Pinterest!
Notes:
I used Follow Your Heart Smoked Gouda slices on these muffins and they went perfectly. To get them to melt really easily, after placing the cheese on the patty splash some water into the hot pan and cover with a lid or an overturned *stainless steel* (pyrex or ceramics could shatter, plastic would melt) bowl. The cheese will melt quickly and easily in the hot steamy environment.
If you don't like or don't want to use vegan cheese, why don't you try my vegan hollandaise sauce?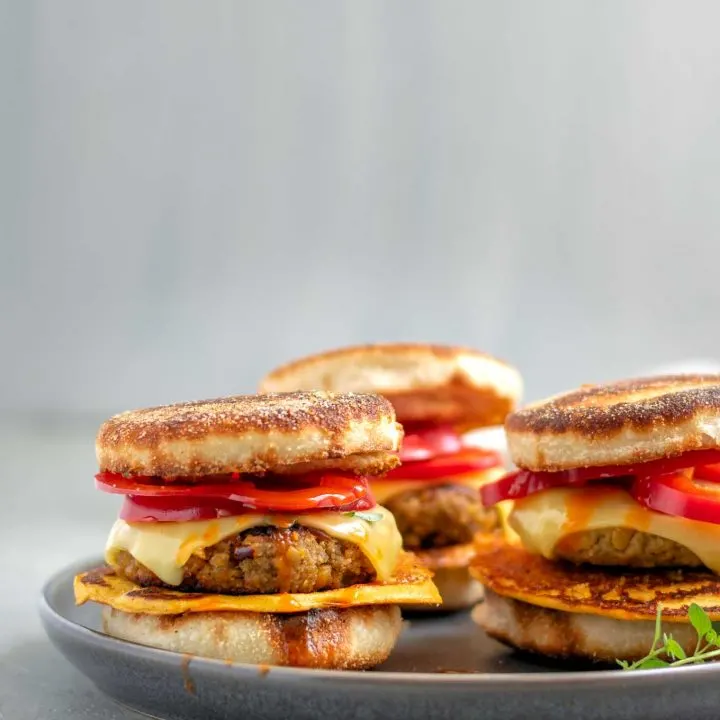 Vegan Breakfast Egg and Sausage Muffins
A delicious and hearty vegan breakfast sandwich with homemade tempeh maple breakfast sausages and easy homemade eggy fried tofu-patties.
Ingredients
Tofu Egg
7oz/200g extra firm tofu
1 cup plant milk
2 tbsp oil
1/2 cup chickpea flour
1 tbsp apple cider vinegar
1 tsp salt
1 tsp smoked paprika
1 tsp onion powder
1/4 tsp turmeric
Everything else
Oil for cooking
English muffins
vegan cheese slices
fresh thyme or chives
red bell pepper sliced into rings
hot sauce to serve, optional
Instructions
Combine all the tofu egg ingredients in a blender and blend until smooth. The consistency should be pourable and similar to pancake batter, add more plant milk or water to thin if needed. The thinner the batter the thinner the eggy patties will be.
Heat a skillet or griddle over medium heat. Add a little oil, then pour about 1/4 cup portions of the eggy batter onto the skillet. Cook about 2-3 minutes until the top starts to look a little dry, then gently flip and cook another 1-2 minutes. Repeat with remaining batter, adjusting the consistency if necessary.
To assemble the sandwiches, fry the sausage patties in a little oil to heat them up. When flipping to the second side put your vegan cheese slices on top of the patties if using and cover to help the cheese melt.
Toast your english muffins, then top one half with an vegan egg (or two) and sausage patty. Add some fresh herbs, sliced bell pepper, and hot sauce if using. Place the other half of the english muffin on top and enjoy!