This egg-free vegan hollandaise comes together in minutes and is perfect every time! Enjoy it at breakfast, as a dip, or in place of mayo. It can be made either soy free or nut free, and is always gluten free!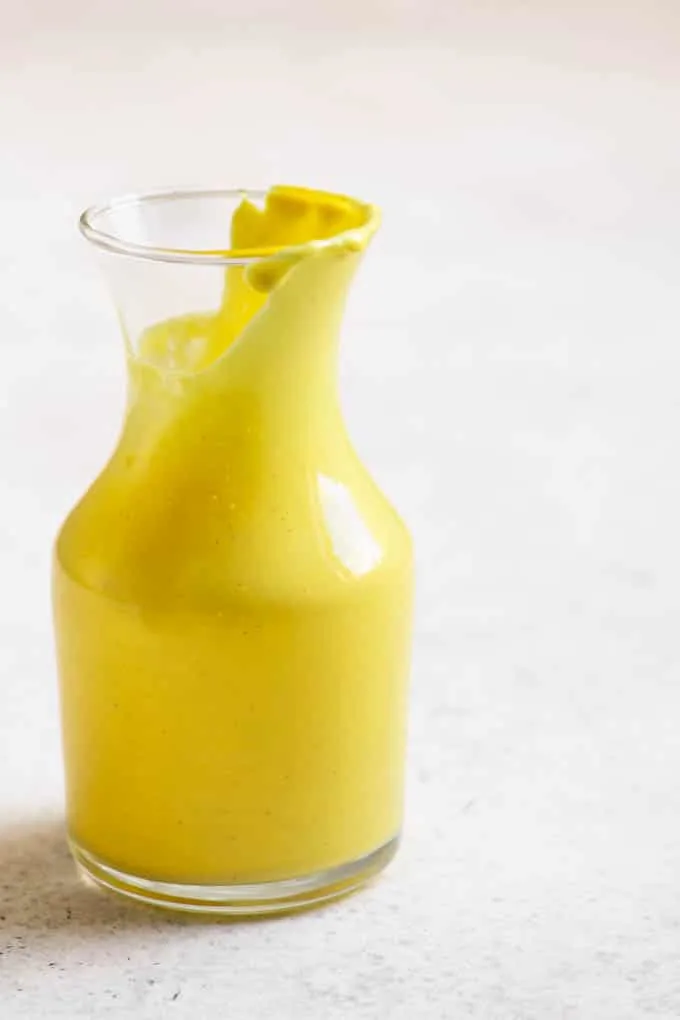 Hollandaise is a sauce traditionally made of egg yolks and butter with a squeeze of lemon juice and a dash of cayenne or black pepper.
It's notoriously tricky to make as you have to emulsify the egg yolks with the rest of the ingredients (which are mainly butter) over heat without scrambling them. Luckily, the vegan version is not only much heart healthier, but it's one of the easiest things to make!
You can use hollandaise anywhere you'd use mayo–so as a spread or dip. But it also is traditionally served at breakfast and brunch in dishes such as eggs benedict and other breakfast sandwiches, breakfast hash and other potato dishes. I like mine on savory crepes!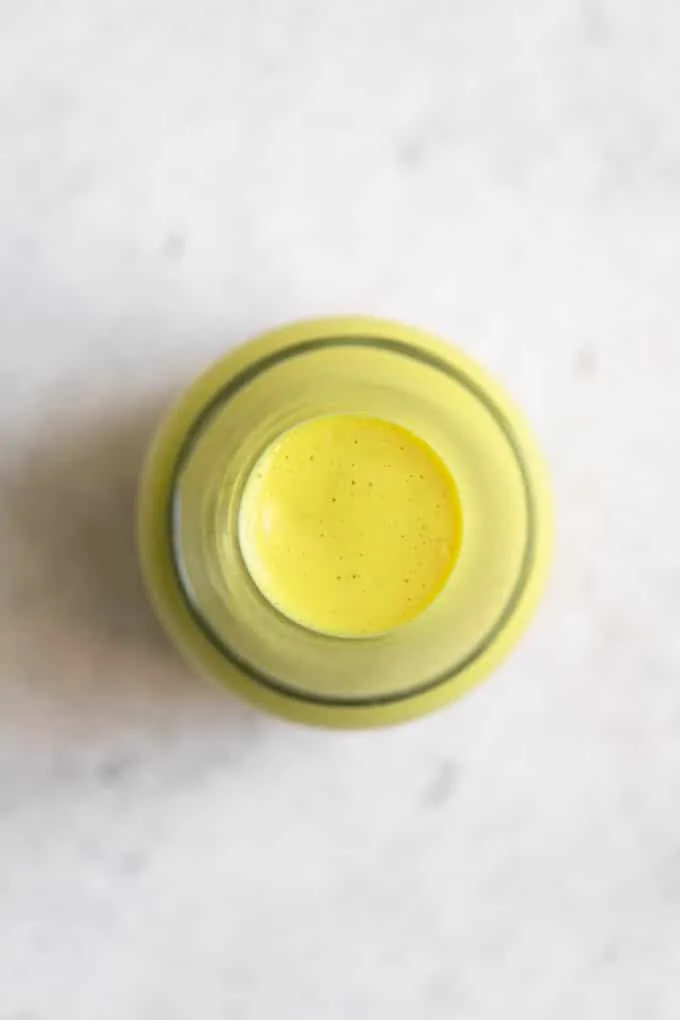 How to make vegan hollandaise:
For a sauce that's mainly eggs and butter, it's surprisingly easy to make vegan. It may not be 100% exactly the same (which in my mind is a good thing because I never liked the taste of eggs), but its an amazing sauce and I think you'll really enjoy it!
I have two ways that I make hollandaise: 1) with silken tofu (for my nut-free version) and 2) with cashews (for my soy free version).
Which one I make depends on whats in my fridge and which dish I'm making.
If i'm making a tofu scramble I typically make my cashew hollandaise to complement it. If I'm making my almond cheese stuffed crepes, I might make my tofu hollandaise instead. That being said, people put egg-based hollandaise on eggs, so don't let tofu on tofu stop you!
Cashews and tofu both blend up to make a creamy base. With tofu, you can blend it easily even without a powerful blender! Cashews might take a bit more power to blend but it's so worth it when you get that luscious cream.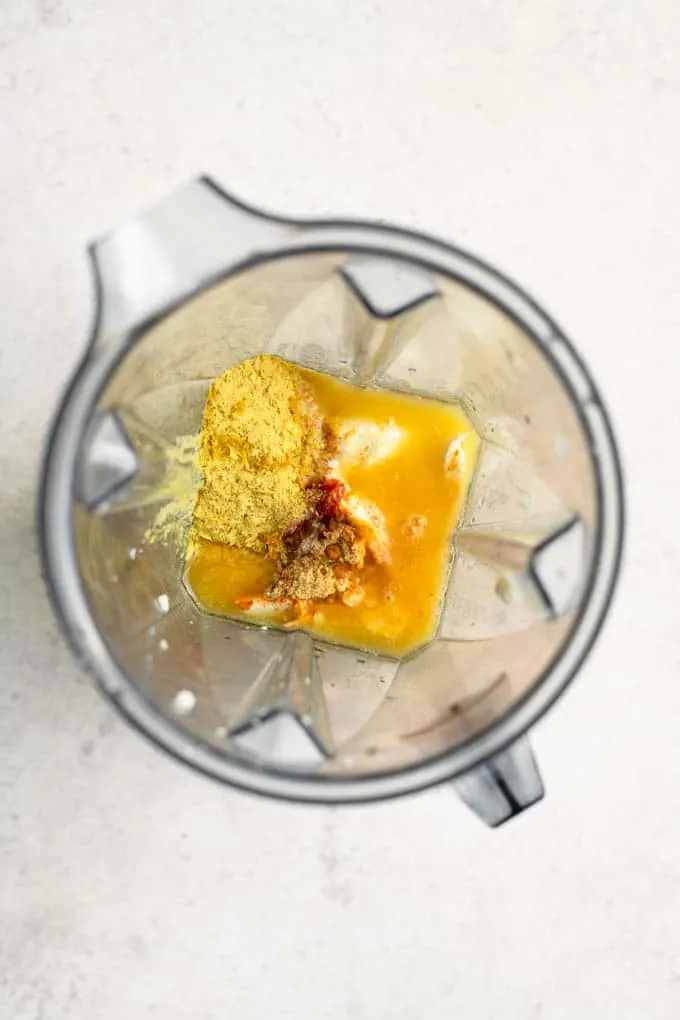 For the butter, I like to use vegan butter instead. I've also made it with refined coconut oil (refined is odorless so you don't get a coconut flavored hollandaise) and that's always an option if you prefer.
If using refined coconut oil you may want to add a bit of salt to the final sauce.
The other ingredients:
Nutritional yeast adds a little depth of flavor to the hollandaise, as well as a bit of yellow color. If you've never used nutritional yeast it's one of my favorite vegan pantry ingredients! It's a bit cheesy and nutty in flavor and adds savoriness to any recipe.
When it comes to the spices my vegan version of hollandaise doesn't stray from the original–ground mustard seed for flavor and a hint of a bite. White pepper and cayenne for a peppery kick.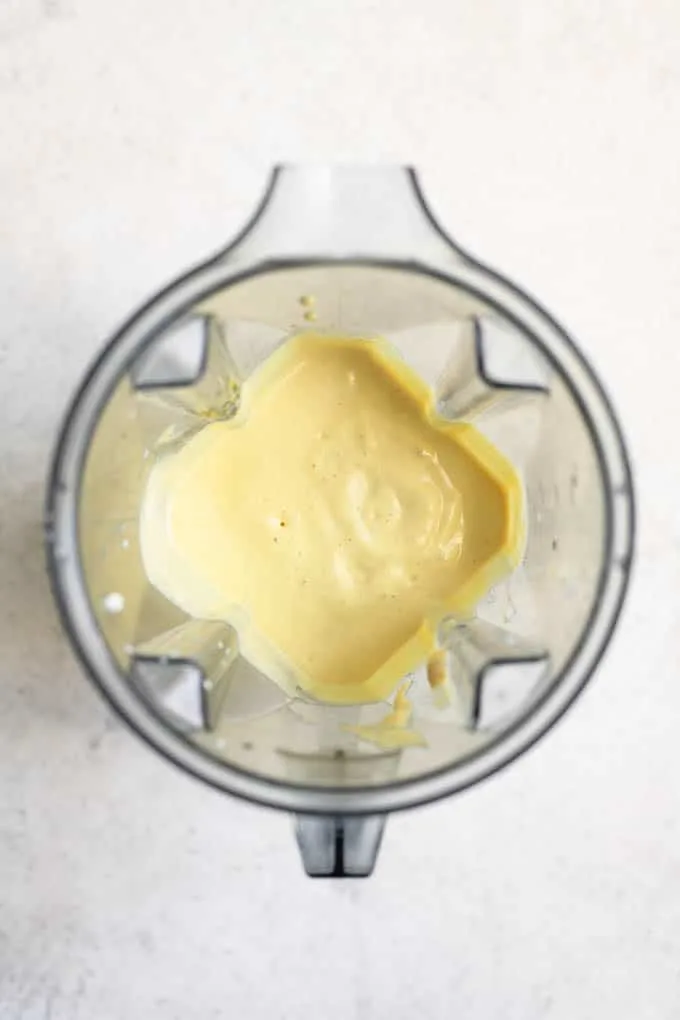 You could choose either white pepper or cayenne but I like to add both! White pepper adds peppery heat without much flavor, while cayenne adds some belly warmth and the barest hint of a kick.
Note: black pepper works just as well, but it'll leave some speckles in the sauce. White pepper keeps it speckle free!
A pinch of turmeric turns the sauce a beautiful pale yellow. I give a range of amounts to use, and you can use less for a pale yellow color or more for a bolder color. Note that the color isn't fully activated until heated, so wait to add more until you've warmed the hollandaise.
If you are heavy handed with the spice you'll start to pick up on hints of that earthy turmeric flavor. Whether this is a plus or a minus depends on your preferences!
Last, I add a healthy amount of fresh squeezed lemon juice. The acidity helps cut through the sauce and brightens all the flavors. It's bright and cheerful and non-negotiable!
Tofu hollandaise or cashew hollandaise?
Well it's really up to you! I like both, with maybe the slightest preference for the cashew version but I reallllly love my cashew sauces.
Silken tofu has a mild flavor that doesn't over power the dish you add the tofu hollandaise to. It also stays runnier and won't thicken as much as it cools. This makes it a great candidate for sauce applications!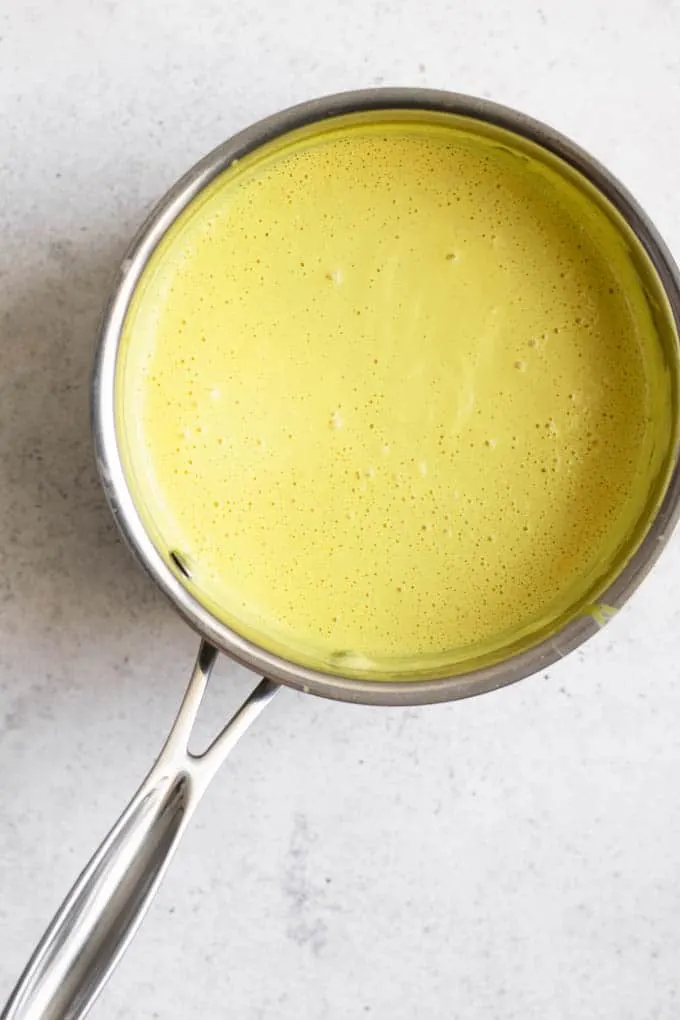 If you're not sure how you'll feel about tofu hollandaise, make a half recipe to start. You can use the extra silken tofu in the box to make my chai spice cake, spinach artichoke dip (you'll be a little short but that's ok), rocky road brownies, or my spaghetti ai funghi.
Speaking of which, you can use either the vacuum packed aseptic tofu which comes in 12oz size or the refrigerated 16oz pack silken tofu. It doesn't matter but silken tofu (vs. the spongey kind) is what you want for this recipe!
The cashew version is perfect when you want a slightly thicker sauce, are not as focused on packing your meals with protein, have a powerful blender, or just want cashews!
You can't go wrong with either of my vegan hollandaise recipes!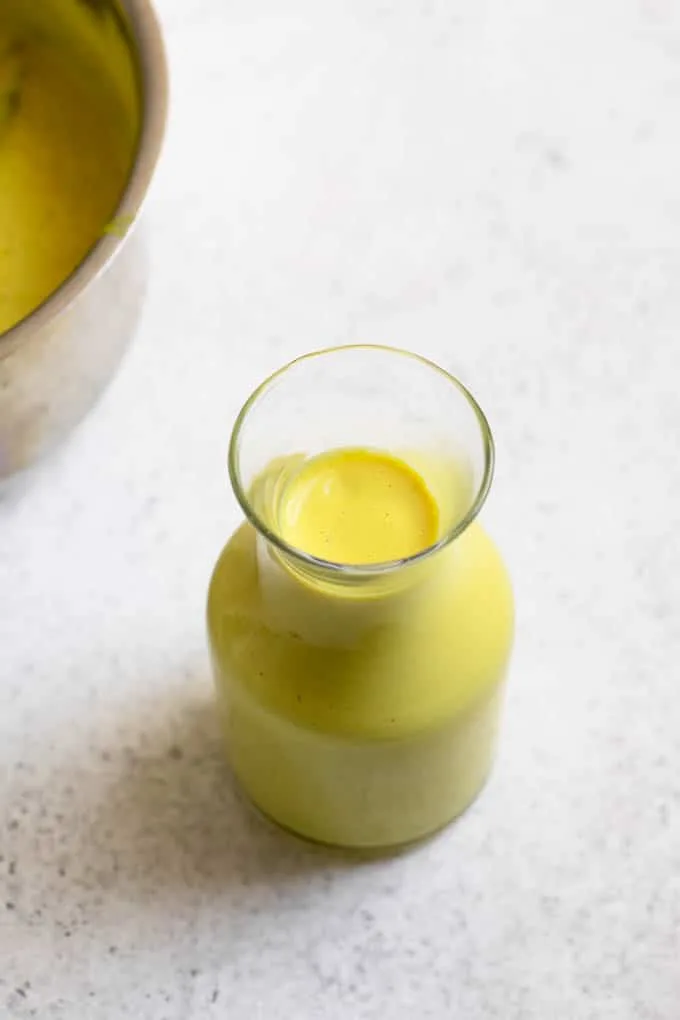 And if you make my vegan hollandaise, leave a comment below and rate the recipe on the recipe card. And please share your photos with me on Instagram, tag @thecuriouschickpea and #thecuriouschickpea. I love seeing your recreations!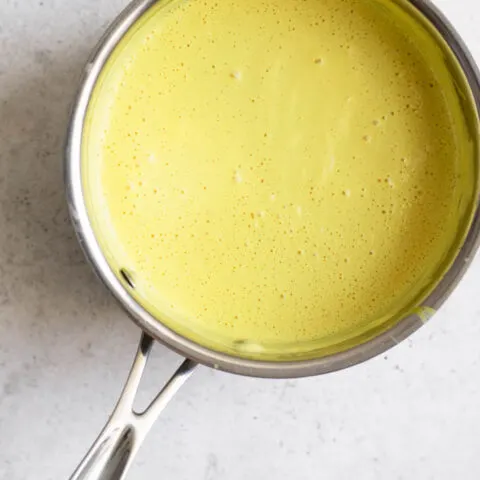 Vegan Hollandaise
Soaking Time (for cashews):
30 minutes
This easy vegan hollandaise sauce is perfect every time! Enjoy it as a sauce, dip, or spread. Can be made either soy free or nut free.
Ingredients
Cashew Hollandaise
3/4 cup cashews
1 1/2 cup plant milk or water
1/4 cup freshly squeezed lemon juice
1/4 cup melted vegan butter or refined coconut oil
1/4 cup nutritional yeast
1 tsp ground mustard seed
1/2 tsp white pepper
1/4-1/2 tsp ground turmeric (use 1/2 tsp for more yellow color)
Pinch of ground cayenne
Tofu Hollandaise
16oz (2 cups) silken tofu
1/4 cup freshly squeezed lemon juice
1/4 cup melted vegan butter or refined coconut oil
1/4 cup nutritional yeast
1 tsp ground mustard seed
1/2 tsp white pepper
1/4-1/2 tsp ground turmeric (use 1/2 tsp for more yellow color)
Pinch of ground cayenne
Instructions
For either the cashew hollandaise or tofu hollandaise: combine all ingredients in a blender and blend until smooth. Transfer to a small pot and warm over low-medium heat until warm and thickened. Add water to thin if necessary. Enjoy immediately or save for later, reheating to serve.
Notes
If using cashews and you do not have a high power blender, soak the cashews in water to soften them before use. For a quick soak boil the cashews for 10 minutes, then drain and use or cover cashews in boiling hot water and soak for 30 minutes. For a slow soak: cover the cashews in cold water and let soak for 2 hours before draining to use. You can store soaked and drained cashews in the fridge for 1 day. If using a high powered blender you do not need to soak.
Nutrition estimate for cashew version.
Recommended Products
As an Amazon Associate and member of other affiliate programs, I earn from qualifying purchases.
Nutrition Information:
Yield:

12
Serving Size:

1
Amount Per Serving:
Calories:

114
Total Fat:

9g
Cholesterol:

0mg
Sodium:

73mg
Carbohydrates:

5g
Fiber:

1g
Sugar:

1g
Protein:

4g
Nutrition is calculated automatically so should be used as an estimate.