Start your day with this mouthwatering vegan breakfast hash. It's loaded up with kale for an extra nutritional boost and is packed with flavor! Seconds are both okay and recommended when it comes to this dish!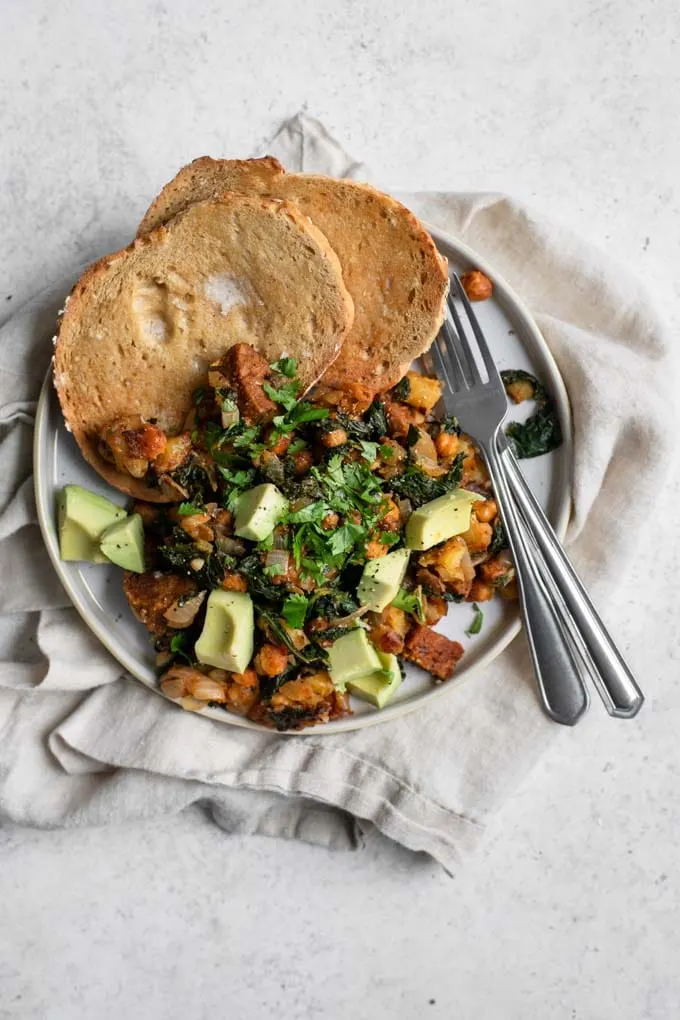 This recipe was sponsored by Nature's Greens.
---
In my house breakfast hash is a go to for weekend brunch. This simple recipe makes a delicious and satisfying meal that will fill you up for hours!
I've been making versions of this recipe for years, and it's one I make both for my family to enjoy as well as to impress guests. It's hard to go wrong with such a tasty potato dish!
It might be called breakfast hash, but I'll let you in on a little secret–this makes a pretty great meal prep recipe and it might be my favorite thing to make as a breakfast-for-dinner situation!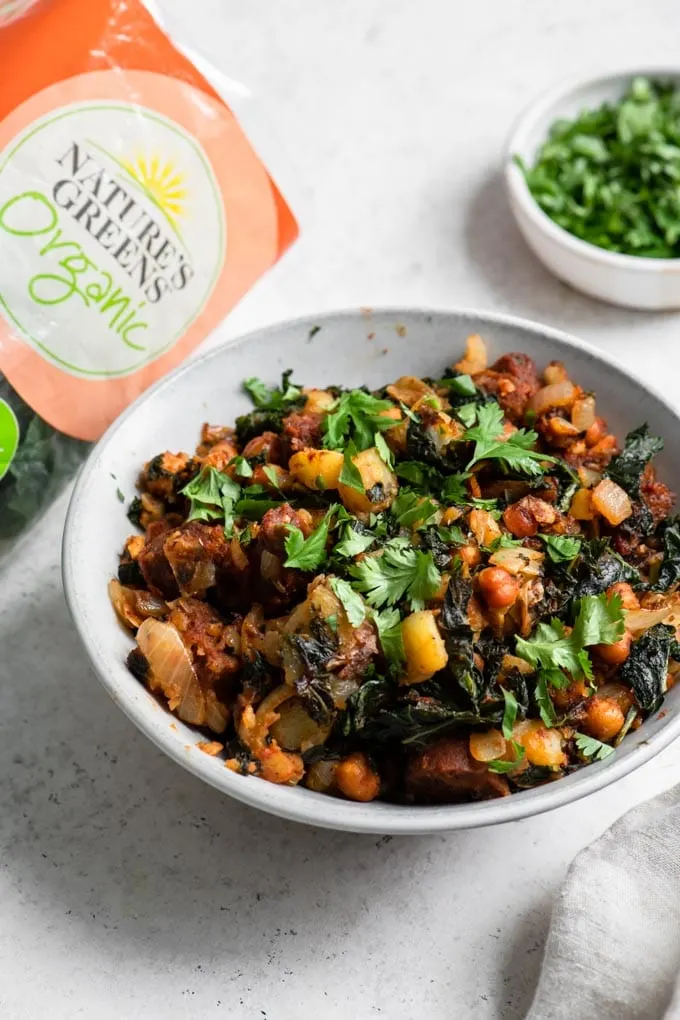 One of my goals is to eat more veggies, and lately I've been adding greens into recipes that otherwise wouldn't typically have them.
Adding kale to your breakfast hash not only helps you pack in some extra fiber and nutrition, but it also helps you get your greens without any additional dishes!
What is a hash?
At its most basic, a hash is a dish with small cut potatoes and meat fried up with onion. It can also include other vegetables, and is often made using leftovers.
It's a casual dish with humble origins, but that describes all of the best meals, doesn't it!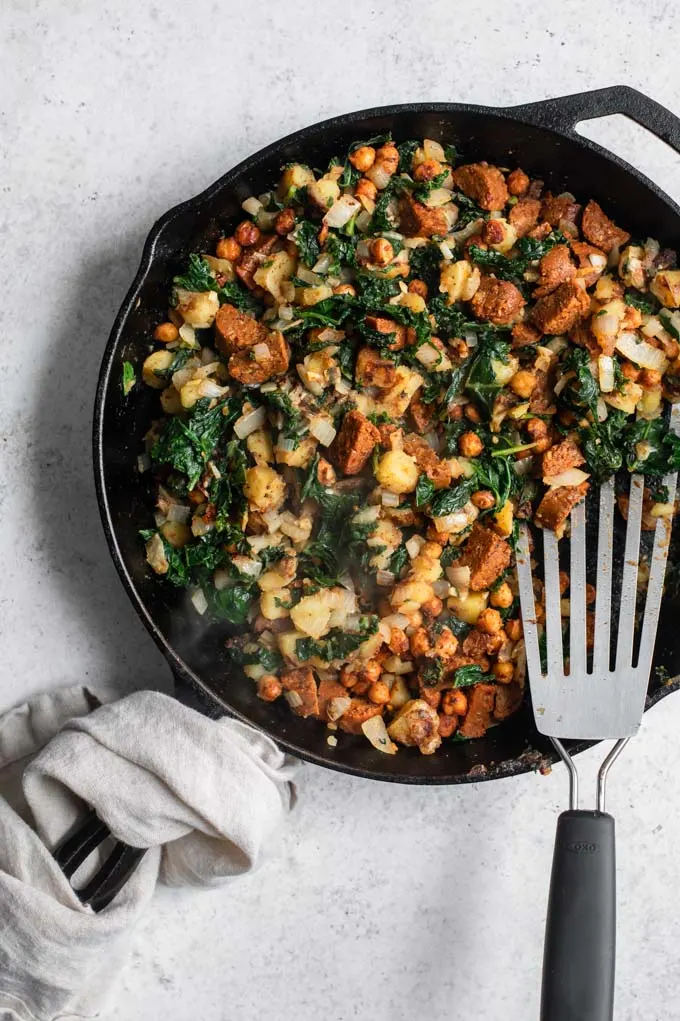 Hash can be eaten on it's own, but I think it's best enjoyed with a side of toast, a warm biscuit, or wrapped in soft corn tortillas (which makes an awesome gluten free option). Pile it up with avocado and drown it in [vegan] hollandaise and you've found breakfast hash nirvana!
How do you make a vegan hash?
So this is pretty much your typical chorizo hash with a couple of twists. The chorizo flavor comes from chorizo spiced chickpeas and some smoked paprika and cumin in the recipe. Vegan sausage loads up the savory flavor.
You can make hash vegan without giving up on your familiar flavors and textures. Simply swap out the meat for vegan versions!
There are a lot of vegan sausages on the market these days, some seitan-based sausages and others legume based and gluten free. Any of these can be used to make a fantastic hash!
You can also skip the vegan sausage if you'd like and focus on whole foods, and just use the chorizo chickpeas. They're fried up with the savory smoky flavors used in chorizo and so delicious!
Tip: cook the chickpeas first in the same pan, it takes just 5-6 minutes, then you can use the pan to cook the potatoes and the rest of the hash! No need to clean up an extra dish.
I like to add both the chorizo chickpeas and the vegan sausage, but this recipe is adaptable to fit your needs and your preferences!
Does adding leafy green vegetables to your hash make it more vegan? I don't know, you tell me ?.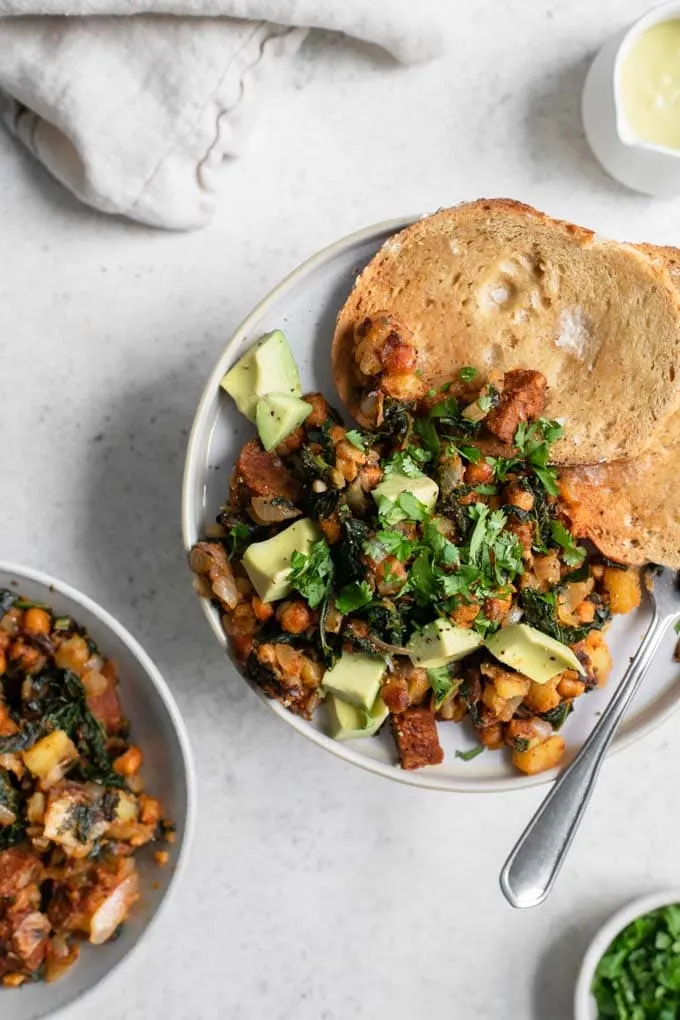 How to make the best breakfast hash:
When making hash, you need to cut your ingredients small and uniform in size. This is especially important of the potatoes!
Potatoes can be slow to cook, and so making sure that they're all about 1/2″ cubes ensures that they will cook evenly and in a timely fashion. Also there is no need to peel the potatoes!
The potatoes get cooked first in enough oil to keep them from sticking. Cover the pan as they cook so that steam can work to cook the insides of the potatoes before the outside dries out.
Once the potatoes are just shy of cooked–as in, they should be edible but still have a slight crunch to them–add the onion, garlic, and kale (or collard greens).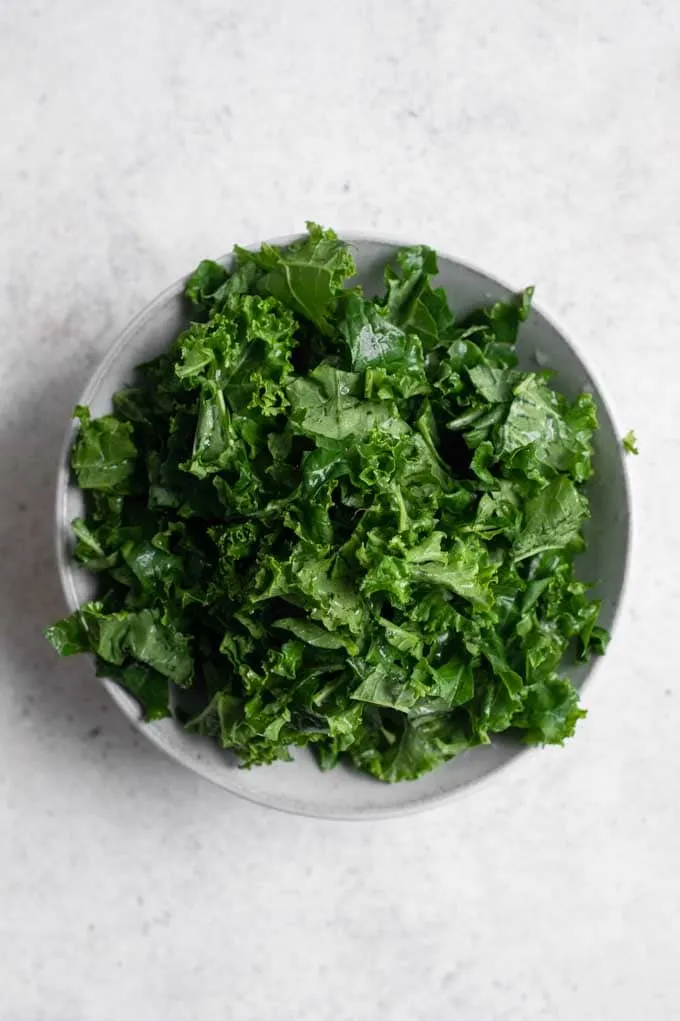 Adding greens to your hash:
Why should you add leafy greens to your hash?
It's easy
It's delicious
You barely even notice them!
I like to add either Nature's Greens kale or collard greens to our breakfast hash. Nature's Greens makes it easy to get your daily servings of greens by giving us options! You can use bagged greens that are pre-washed and chopped or buy bunches of fresh greens and prep them yourself.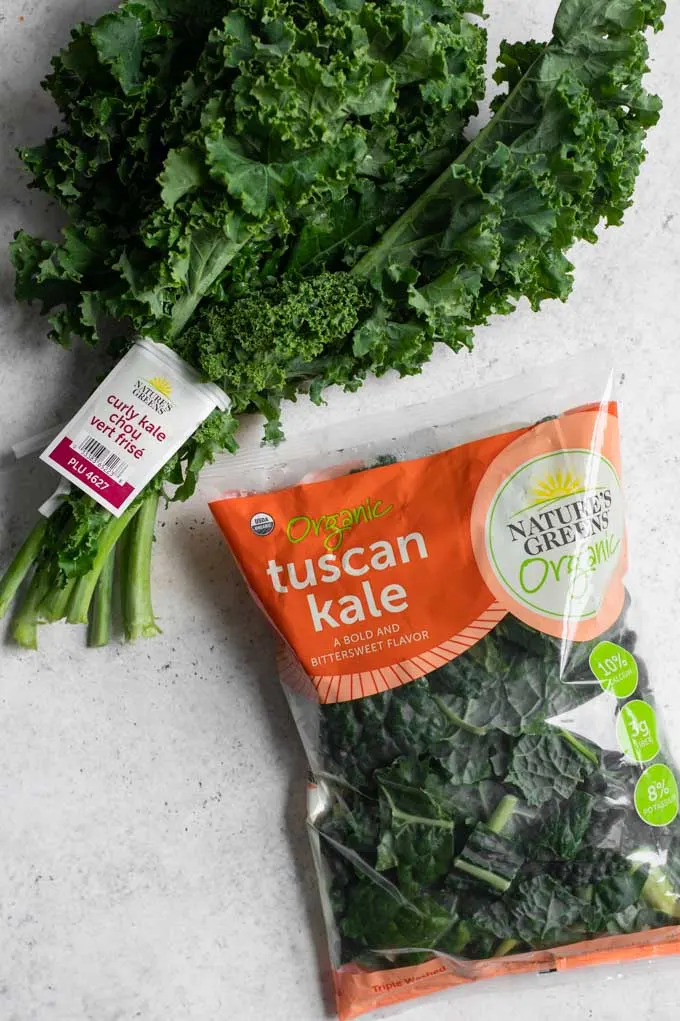 Either way, make sure the greens are chopped into smaller bite sized pieces so that they distribute evenly in the hash!
When you first dump the kale into the pan it might be overflowing, but the kale wilts quickly and cooks down to almost nothing!
Finishing the dish:
Once the kale has wilted and the onions are soft and translucent, it's time to add the protein!
Add your choice of chorizo chickpeas, vegan sausage, or both and let it cook into the hash for a few minutes to warm up, lightly brown the sausage and make sure the potatoes are finished perfectly.
How to serve your breakfast hash:
Hash is typically served with either fried egg or an eggy sauce, and I like to make my vegan hollandaise to drizzle liberally overtop!
I like to enjoy hash with either [vegan] buttered toast or an english muffin or have it with warmed corn tortillas. It also pairs so well with biscuits!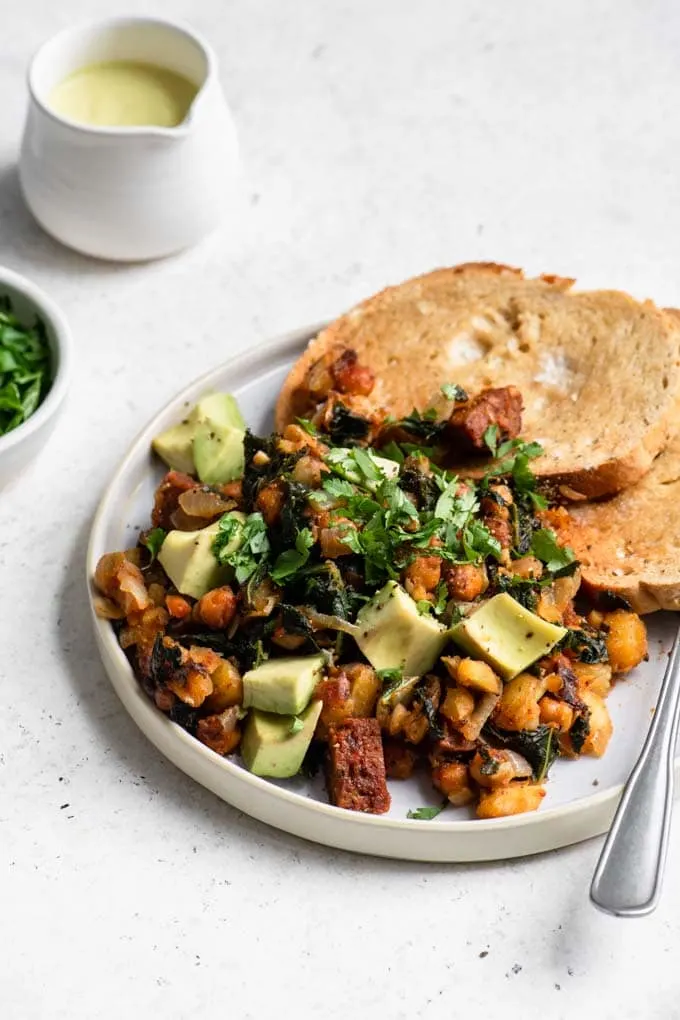 Avocado makes everything better when it comes to, well, most things, and this chorizo hash is no different!
A little chopped fresh herb garnish finishes it off and you have what is possibly the perfect breakfast!
If you make this vegan breakfast hash, leave a comment below and rate the recipe on the recipe card. And please share your photos with me on Instagram, tag @thecuriouschickpea and #thecuriouschickpea. I love seeing your recreations!
Thanks to Nature's Greens for sponsoring this family favorite recipe!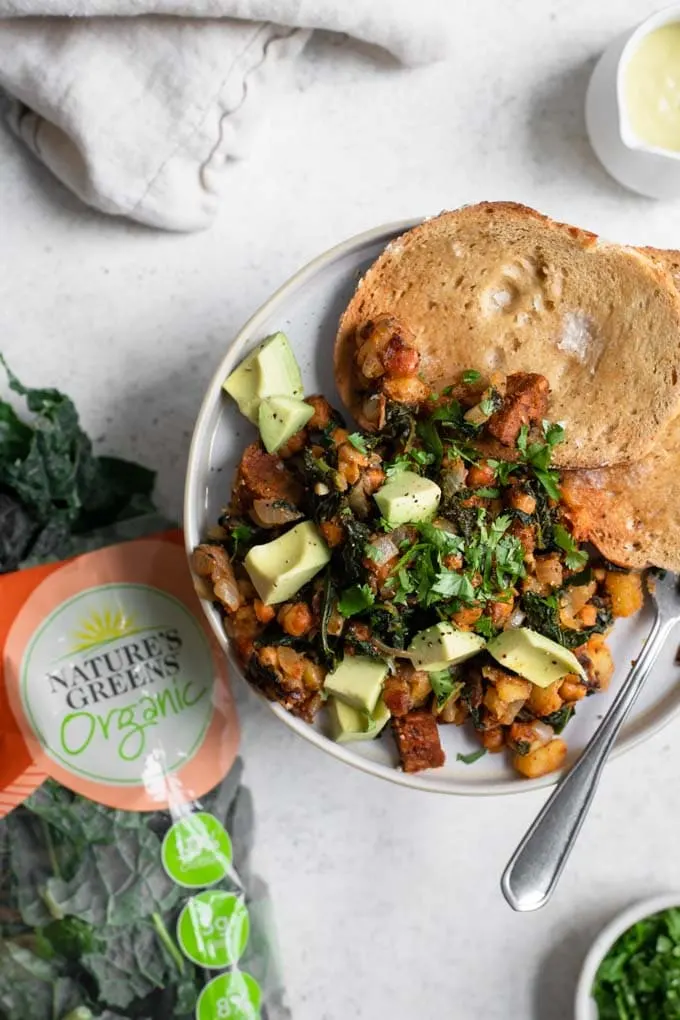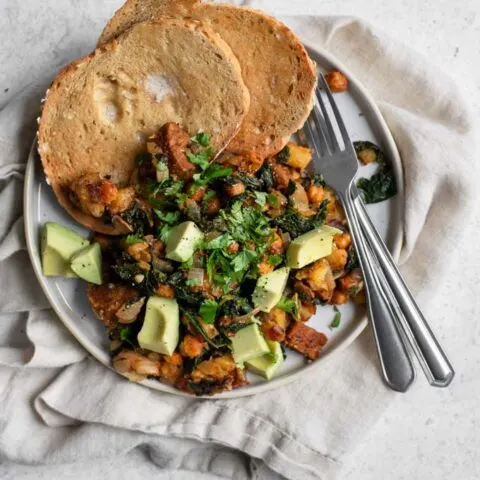 Vegan Breakfast Hash
This breakfast hash is full of potatoes, chorizo spiced chickpeas, vegan sausage, and greens for a mouth watering and filling dish! It's perfect for a weekend brunch, makes a great meal plan recipe and is delicious as a breakfast for dinner meal. You can either make this recipe with only the chorizo chickpeas, only the vegan sausage, or use both as written! If gluten free, either skip the sausage or use a gluten free one.
Ingredients
2 tbsp oil
1 lb yukon gold potatoes, cut into 1/2" dice
1/2 tsp salt, more to taste
1 yellow onion, finely diced
2 cloves garlic, minced
1 bunch kale, stems removed and chopped or 12oz bag of Nature's Greens Kale
1 recipe chorizo chickpeas (below)
2 vegan sausages, cut into 1/2" pieces
1 tsp smoked paprika
1/2 tsp ground cumin
black pepper to taste
2 tbsp freshly squeezed lemon juice
cilantro for garnish
Instructions
Heat a large skillet over medium heat and add 1 tablespoon of oil, the potatoes, and 1/2 teaspoon of salt. Cover the pan and let the potatoes cook until they are just barely tender, stirring every couple of minutes. This should take about 10 minutes, depending on size of cut potato.
Remove the lid and add 1 tablespoon of oil followed by the onion, garlic, and chopped kale. Cook uncovered, until the kale is wilted and the onion is softened, about 5 minutes.
Add the chickpeas and sausages (if using), smoked paprika, cumin, and some pepper to taste. Sauté for 2-3 minutes or until the sausages are lightly browned and the potatoes are very tender.
Turn off heat and add lemon juice, taste and adjust salt and seasonings. Garnish with cilantro.
Notes
You can substitute the kale for Nature's greens collard greens, turnip greens, or mustard greens!
Serve with avocado, toast or warmed corn tortillas (perfect for gluten free), and some vegan hollandaise!
Nutrition Information:
Yield:

6
Serving Size:

1
Amount Per Serving:
Calories:

255
Total Fat:

7g
Cholesterol:

0mg
Sodium:

410mg
Carbohydrates:

36g
Fiber:

7g
Sugar:

5g
Protein:

15g
Nutrition is calculated automatically so should be used as an estimate.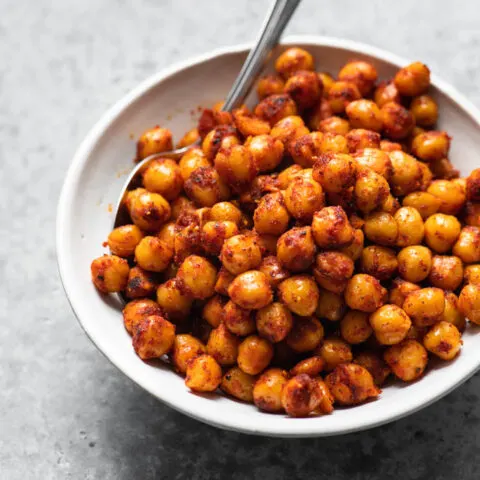 Chorizo Chickpeas
These chorizo spiced chickpeas are so quick and easy to make! They are perfect for topping pasta, salads, adding to sandwiches, using in tacos or using in place of chorizo sausage.
Ingredients
15 oz can chickpeas (2 cups cooked), drained and rinsed
2 tsp oil
2 tsp smoked paprika
1/2 tsp ground cumin
1/2 tsp garlic powder
1/2 tsp onion powder
1/2 tsp salt, or to taste
black pepper to taste
Instructions
Heat a skillet over medium heat. Add the oil and chickpeas.
Fry the chickpeas for 2-3 minutes, or until they get a bit of color.
Add the spices, salt, and pepper and stir to coat. Cook another 2-3 minutes to toast the spices and brown the chickpeas slightly.
Nutrition Information:
Yield:

4
Serving Size:

1
Amount Per Serving:
Calories:

162
Total Fat:

5g
Sodium:

298mg
Carbohydrates:

24g
Fiber:

7g
Sugar:

4g
Protein:

8g
Nutrition is calculated automatically so should be used as an estimate.