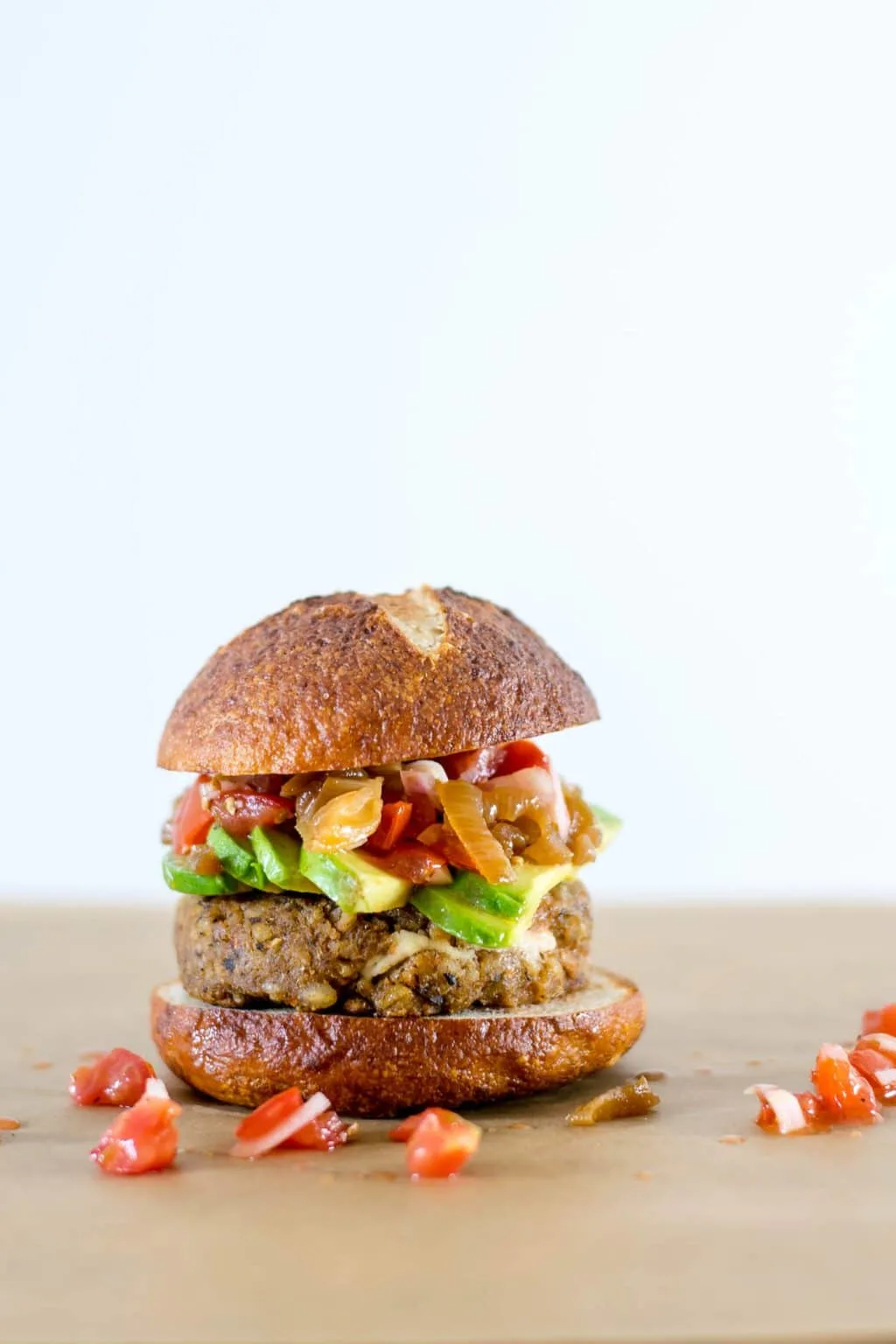 I'm sitting here trying to think if my summer eating and cooking is actually any different than my wintertime eating. I know some people avoid the stove as much as possible, but hey even when it hits 90 ºF I'll still turn on the oven (apparently). I probably make less casseroles, but like, they're as convenient in the summer as they are in the winter! I will say that I get 1000% more inspired by summer produce and eat about 12x as much fruit (like the time I got 22 mangoes and ate approximately 90% of them by myself–though making these mango lassi's definitely helped). Ok, so I love taking advantage of seasonal produce, and you see that with my recipes! Rhubarb took center stage for awhile and I made my almond rhubarb bundt cake, corn has made a small appearance in my sweet corn velouté, but it's still early in the season, asparagus took over my produce drawer for awhile and it was delicious on this asparagus pizza.
But beyond the produce, I'm not sure how different my styles are. We live in an apartment, and I don't currently have an outdoor space for a grill. I'm not that into raw foods, though I do find salads more varied and interesting with summer produce. But one thing I definitely don't think to make when it's cold out is veggie burgers! Even if I didn't grow up with barbecue filled summers, I definitely associate summer with foods that are regularly cooked on a grill. And that means that I like to make burgers! Bean burgers and seitan burgers. Burgers filled with veggies and grain or packed with protein. I really love them all and I love how creative you can get with them. Though, the classics are great too!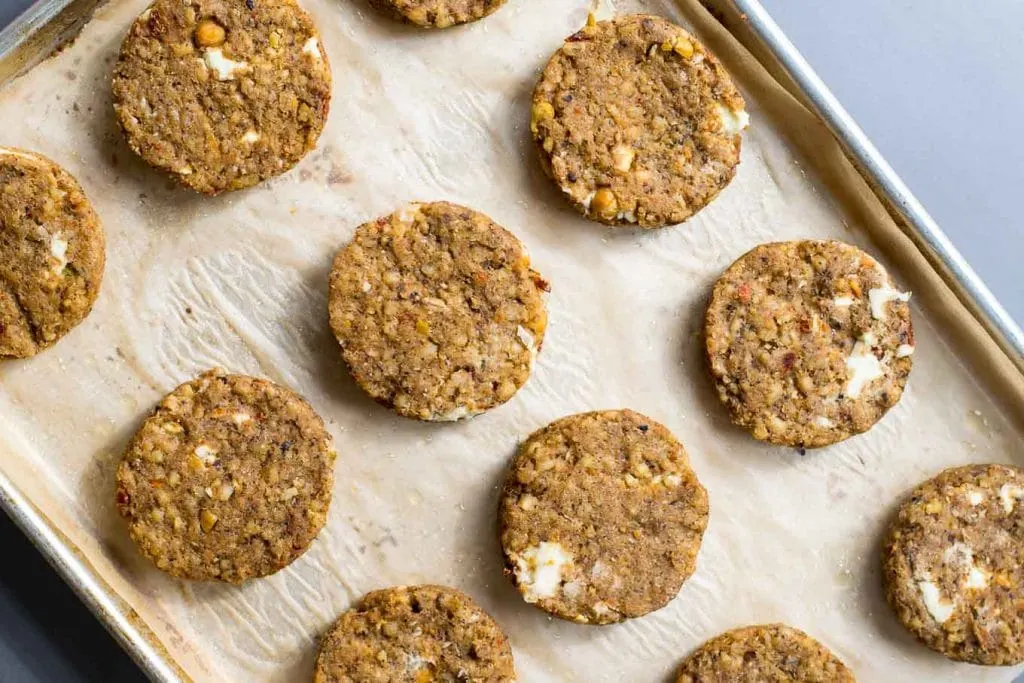 So last weekend when I realized the Fourth of July was coming up and I hadn't made burgers in over a year (because I was out of the country for most of the summer), and I had to rectify it! I made two kinds of veggie burgers for a small burger party–I mean, 4th of July party–with my friends. The first ones were delicious southwestern black bean beet burgers, spicy, juicy, and a beautiful pink color from the beets, they were very well received. The other burgers I made were these mediterranean spiced veggie burgers, stuffed with my delicious, creamy, homemade almond cheese and topped with fresh from the farmer's market, garlicky, marinated summer tomatoes. Equally well received! Honestly I spent the rest of the week eating the leftover burgers, taking turns between the two, and could not make up my mind as to which was my favorite.
These burgers were SO GOOD! They are nice and chewy from a base of mushrooms, barley, and chickpeas. None of that all too common soft or mushy veggie burger nonsense here. They're held together beautifully with roasted eggplant and vital wheat gluten not only binds the burgers but also lends a wonderful chewy texture once baked. Deliciously flavored with umami-rich ingredients such as mushrooms and sun dried tomatoes, the caramelized flavor of onion and plenty of sharp garlic, as well as the aromatic herbs: thyme and oregano. That creamy cheese-stuffed interior isn't bad either ;).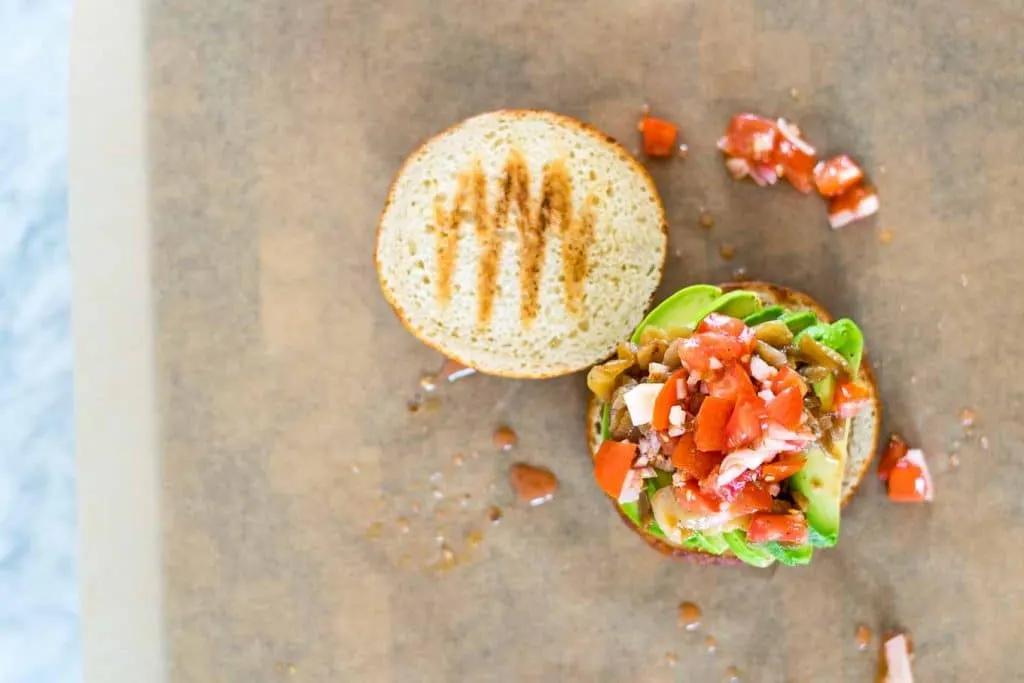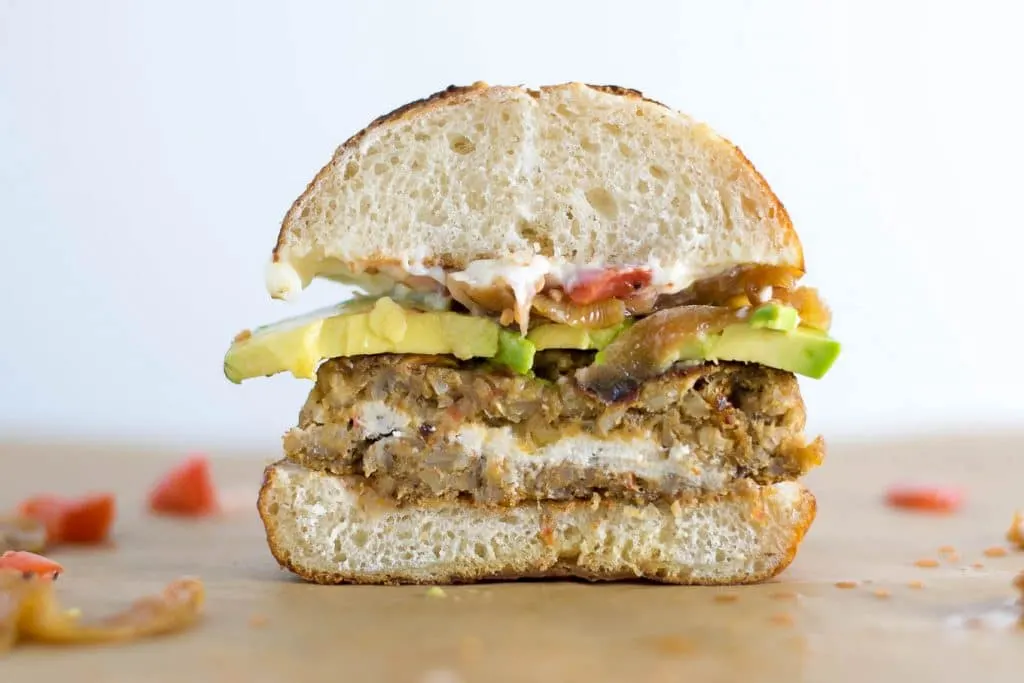 I really loved eating these stuffed mediterranean veggie burgers and I love that the recipe makes *15* of them. That's plenty for a party or for having lots of leftovers (maybe even both)! They're best when baked a day in advance, allowing the gluten time to relax for the optimal texture. After which, a quick pan fry or turn on the grill makes them ready to serve in minutes! See? Perfect party food.
They're wonderful topped with the marinated tomatoes, though those also make a tasty side dish! These burgers seriously bring me back to visiting Greece with all that fresh flavor. We also topped the burgers with some sliced avocado and caramelized onion. I'm positive my husband Omar also added jalapeños to his. And we ate them with freshly baked homemade pretzel buns! Serious burger heaven.
Let me know if you make these veggie burgers! I love seeing & hearing about it when you guys make my recipes! Leave a comment and/or rate the recipe below, tag me on Instagram (or #thecuriouschickpea), share with me on Facebook!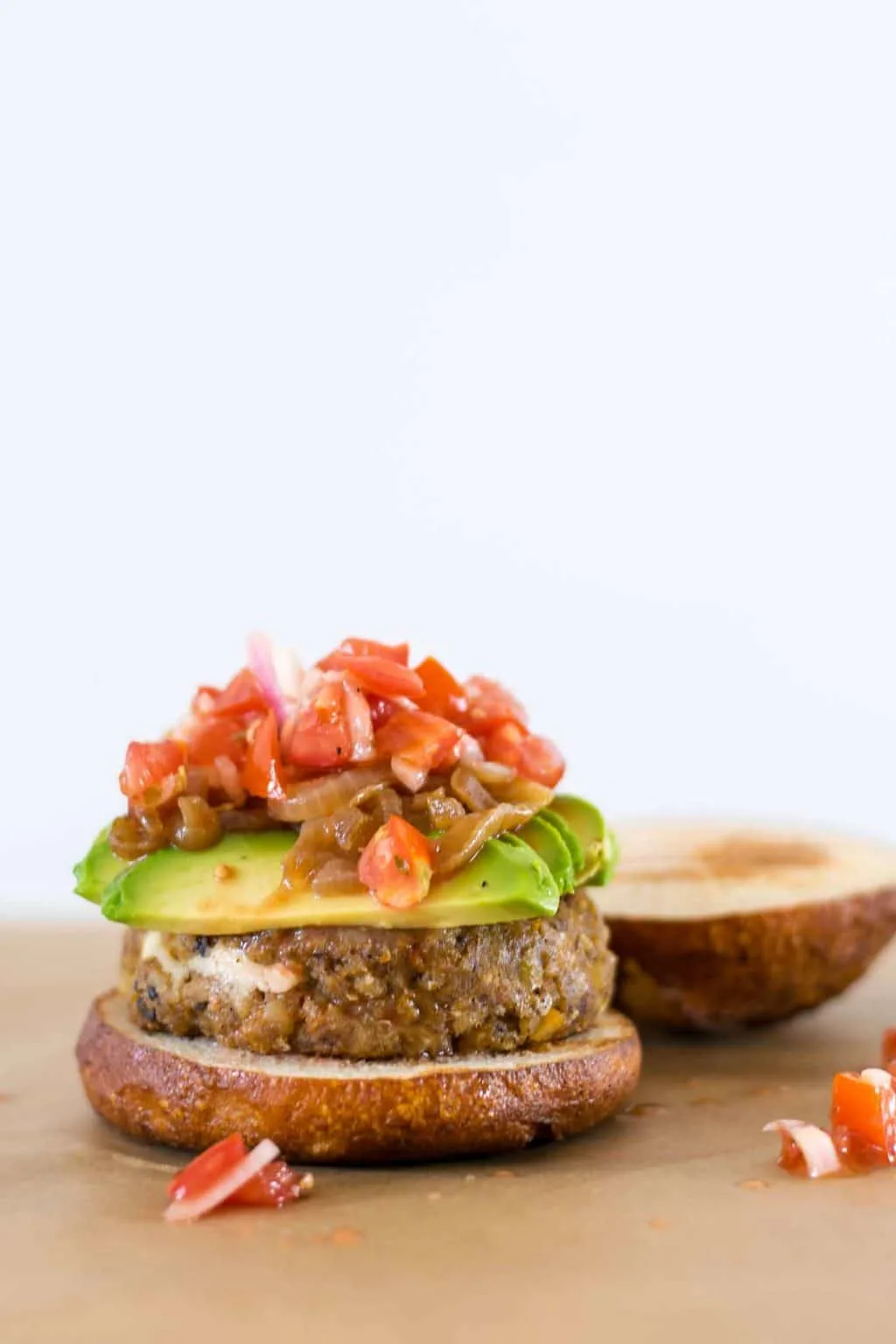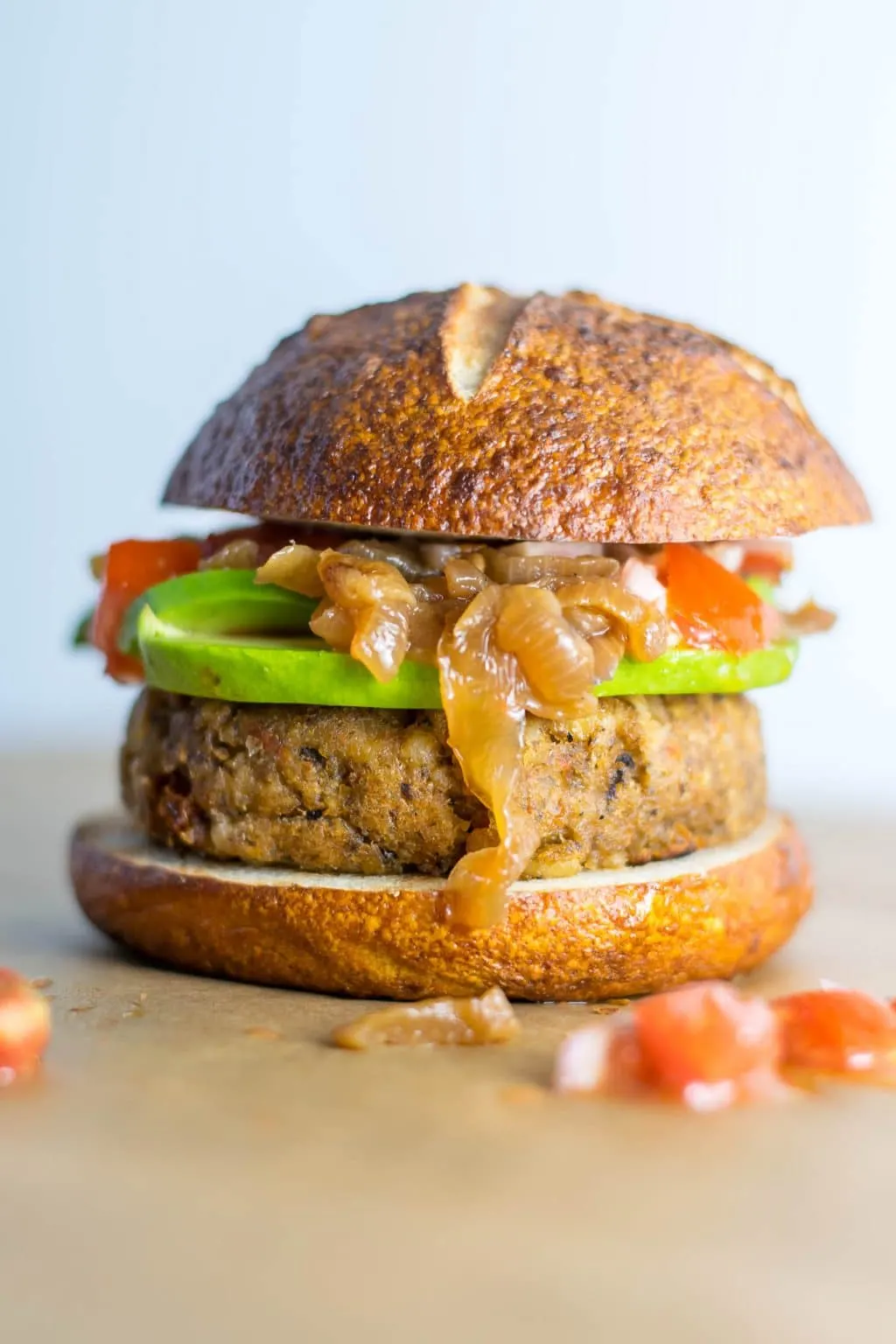 Notes:
While I did not try this, if you want to save some prep time, you could probably substitute store bought baba ganoush for the roasted eggplant, just use 1/2 cup as called for in the recipe.
The burgers can be baked in advance and stored in the fridge or freezer (defrost before reheating), and then grilled or pan fried to serve.
Want to try and make them gluten free? I haven't tested this, but I would substitute chickpea flour or gluten free bread crumbs for the wheat gluten, and you'll also need to switch out barley for a gluten-free grain such as brown rice.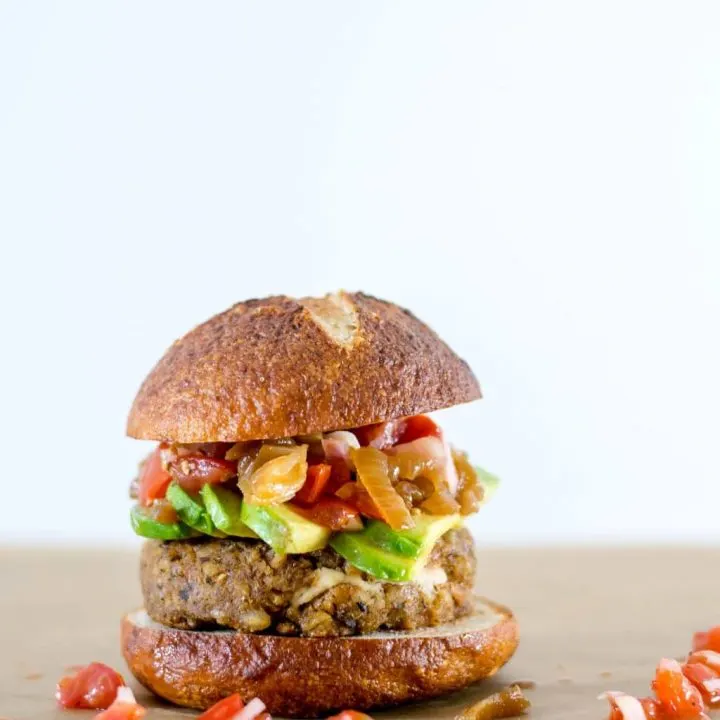 Stuffed Mediterranean Veggie Burgers with Greek Marinated Tomatoes
Prep Time:
1 hour
15 minutes
Total Time:
1 hour
45 minutes
These chewy, juicy vegan chickpea burgers are packed with mediterranean flavor, stuffed with almond cheese, and served with greek marinated tomatoes
Ingredients
Stuffed Mediterranean Burgers
1 small eggplant*
1 cup pearled barley
1/2 tsp salt
1 tsp oil
3/4 cup (1/4 lb) shallots, diced
8 oz baby bella mushrooms, washed and sliced
1 tbsp red wine vinegar
2 tsp fresh thyme (or 1 tsp dried)
2 tsp fresh oregano (or 1 tsp dried)
2 1/2 cups (25 oz can*) chickpeas, drained and rinsed
1/2 cup dry packed sun dried tomatoes, rehydrated with boiling water for 30 minutes, then drained and roughly chopped
4 cloves garlic
1 tsp salt
1 cup vital wheat gluten
Marinated Tomatoes
12 oz ripe tomatoes, diced
1-2 small shallots, minced
1-2 cloves garlic, minced
3 tbsp olive oil
2 tbsp red wine vinegar
1/4-1/2 tsp of salt, to taste
lots of freshly ground black pepper
Instructions
To make the stuffed mediterranean burgers:
Cook the eggplant: Preheat the oven to 350 ºF. Prick the eggplant all over with a knife so that steam can vent. Roast the eggplant for ~1 hour, rotating about every 20 minutes, until the eggplant is soft and no resistance is met when pricked with a knife. Set aside to cool, cutting in half will speed the process.
While the eggplant is roasting, cook the barley. Combine the barley and 1/2 tsp of salt in a pot and cover with plenty of water. Bring to a boil, then lower the heat to a simmer and cook for 20 minutes until the barley is chewy but cooked through. When done, drain and set aside.
Warm a large skillet over medium heat. Add the oil and shallots, and cook until softened and golden, ~3-5 minutes. Add mushrooms and a pinch of salt and lower heat to medium-low. Cook until golden and caramelized, ~6-9 minutes. Add the thyme and oregano and cook for 1 minute. Then deglaze the plan by adding the red wine vinegar to loosen the caramelized bits stuck to the bottom of the pan. Immediately transfer to a food processor.
Add the chickpeas (reserving ~1/2 cup of them), 1/2 cup of the roasted eggplant (use the rest for another purpose), the cooked barley, chopped sun dried tomato, garlic, and 1 tsp of salt to the food processor and pulse to combine. When the mixture is mashed and clumping together, taste and adjust seasoning if desired. Then add the remaining 1/2 cup of chickpeas and the vital wheat gluten and pulse to combine. Due to the gluten, the mixture will probably form one large clump.
Preheat the oven to 375 ºF to precook the burgers.
To assemble the burgers, take 1/3 cup of mixture and form a bowl with it in your hands, add a teaspoon of cheese into the center of the bowl and gently fold the burger mixture to cover. Pat into a 3 - 3 1/2" round (use a ring mold or cookie cutter for a clean edge). Don't stress if cheese pokes through the sides.
Place assembled burgers onto a parchment lined, oiled baking sheet and bake at 375 ºF for 10-12 minutes on each side. At this point you can eat them, but they're even better the next day, grilling or frying on a skillet to warm and brown!
To make the marinated tomatoes:
Combine tomatoes, shallots, and garlic into a small bowl. Add the olive oil, red wine vinegar, 1/4 tsp of salt, and plenty of freshly ground black pepper and gently stir to combine. Taste and add more salt if desired. Allow to marinate in the refrigerator for at least a couple of hours before using.
To serve:
Serve the burgers with the marinated tomatoes and your choice of burger toppings, such as: avocado, mayo, vegan cheese, lettuce, or caramelized onion. Enjoy!
Notes
*My eggplant was ~3/4 lbs, and I ended up using half of it in this recipe (1/2 cup)
*It should be okay to use a 28 or 30oz can as well