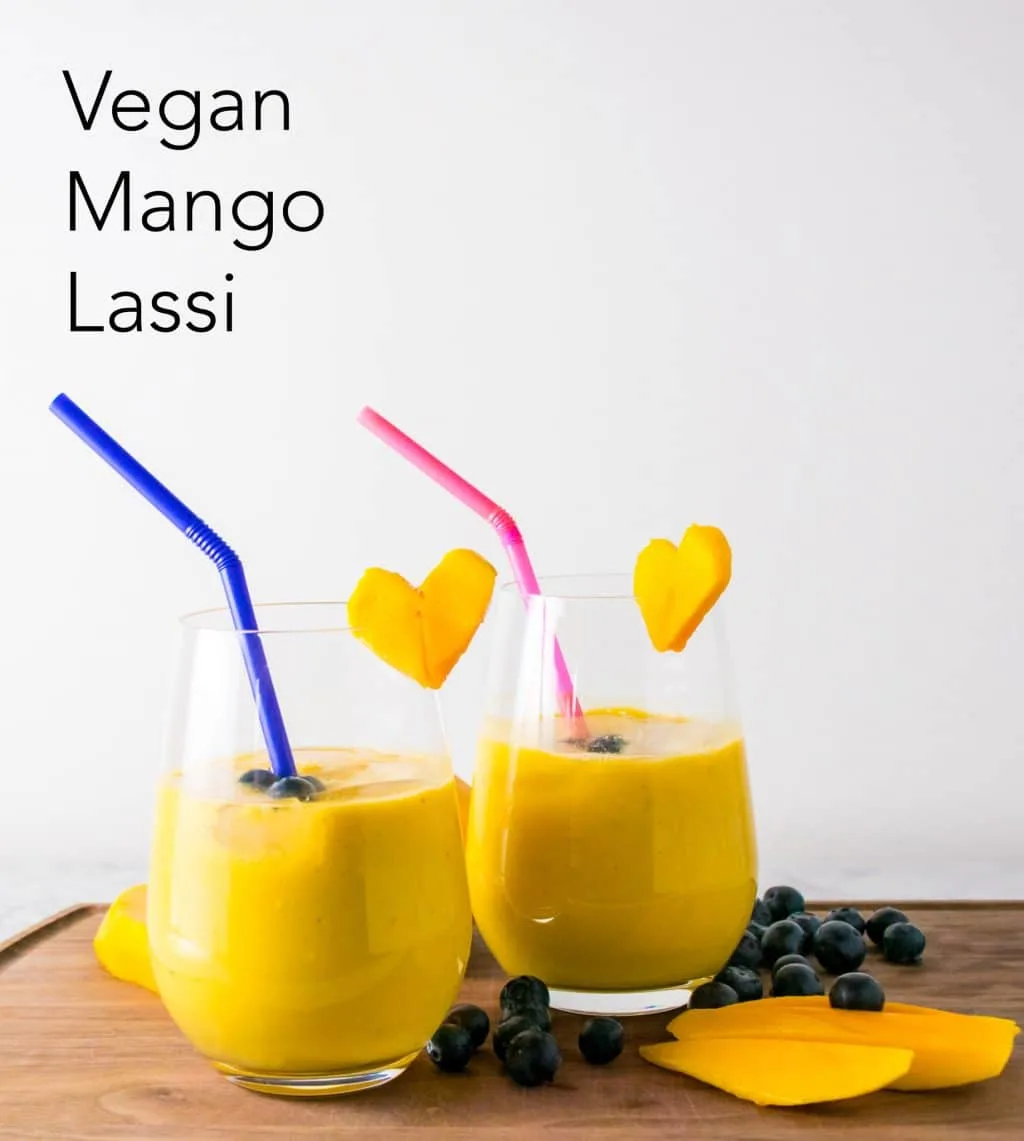 Mangoes and refreshing beverages, two of my favorite things on a hot summers day. They were practically made for each other, and it's like mango lassis were invented just for me. Except everyone seems to really enjoy them too. It's almost like drinking a milkshake, only way better for you. Filled with fruit and an unsweetened yogurt, I mean, you're basically doing yourself a favor for having one. I see them on menus at Indian restaurants, and they taunt me, don't they know I would so order one every time, if they just made them without the dairy??? Luckily for you, and me, they're really very easy to make at home!
And right now, the sun is steaming up the city and mangoes are overflowing the shelves of grocery stores (at least in the US), not to mention, they're at the best price of the year, it's the best time to make yourself a lassi. Making a vegan mango lassi is easy, just use vegan yogurt! The mildly tangy nondairy yogurts work perfectly in a lassi. Some nondairy milk thins out the beverage until it's a nice thick sipping consistency. Don't skip the cardamom if you can. It's aromatic, lightly floral, and just rounds out the flavor of the mango lassi perfectly. A pinch of salt enhances the natural sweetness of the mangoes.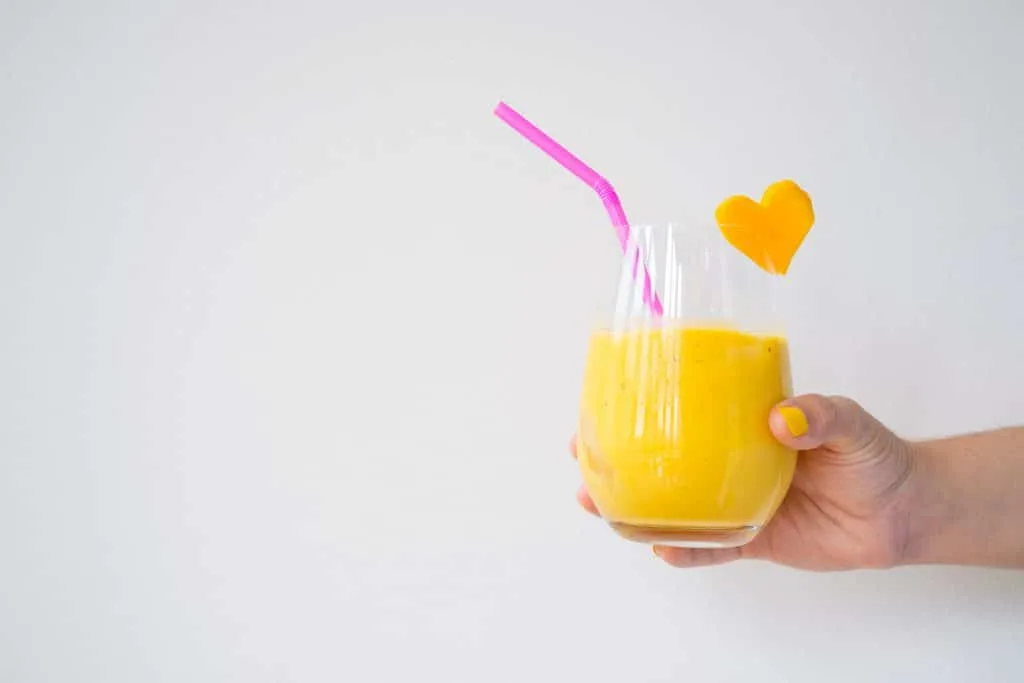 To cut the mango:
Stand the mango up so the stem is facing you, and it's resting on it's small bottom point. Now you will see that there is one thin side and one fat side of the mango. The thin side is where the seed, or pit, aligns with. Cut along the thin side, close to the center, but leaving room for the seed, to cut each side off the mango. Now cut a cross hatch into each half, being careful not to cut through the skin on the other side, and use a spoon to scoop out the pieces of mango. Then peel the skin around the center seed, and cut away any extra flesh around it to use.
So while mango season is still in session, you should get some and enjoy a vegan mango lassi! They are so easy to make and super duper delicious. The recipe easily serves 2, but can be doubled or halved as necessary.
If you make this recipe, leave a comment, rate it if you'd like, and/or tag me on Instagram!

Notes:
Depending on the mangoes you use, you may or may not need sweetener. Whip up the recipe first without any sweetener, and add some if desired.
I like it best not too sweet and with an unsweetened nondairy yogurt. Your preferences might vary.
If you only have whole cardamom, smash a couple pods and separate out the seeds. Crush the seeds until you have a powder, then use that in your lassi.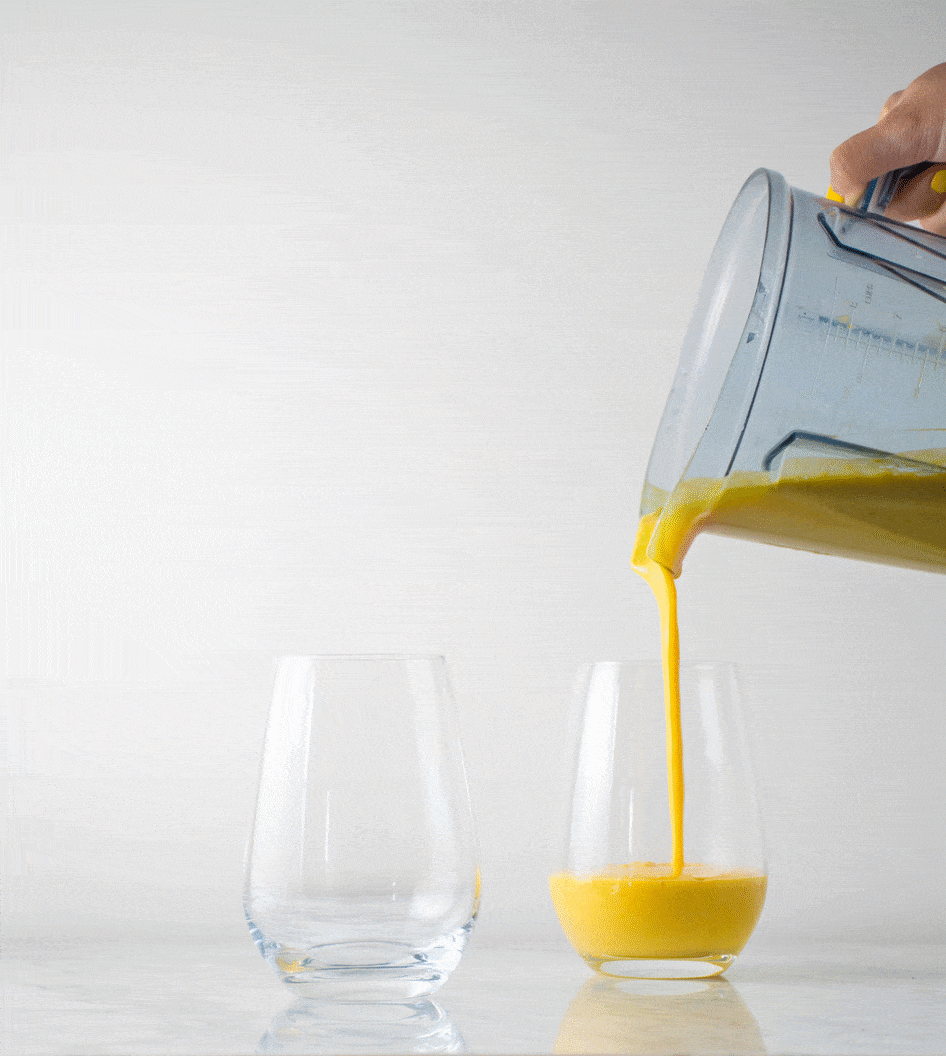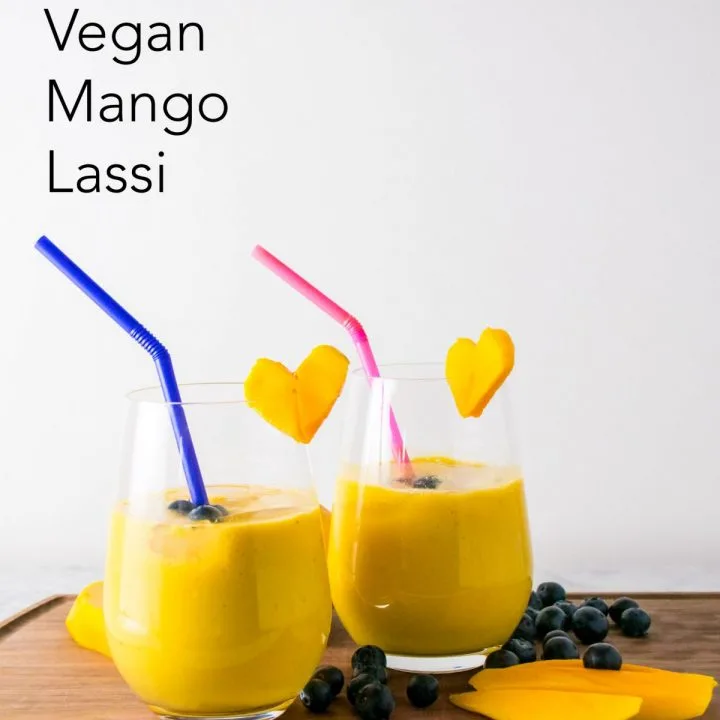 Vegan Mango Lassi
Smooth and creamy, sweet and lightly sour, mango lassi is a delicious and refreshing summertime beverage.
Ingredients
2 cups (375g) cut mango (~3 medium mangoes)
1 cup (225g) plain unsweetened nondairy yogurt*
1/2 cup (120g) nondairy milk, or more
scant 1/8 tsp ground cardamom
pinch of salt
1-2 tbsp maple syrup or agave (optional, not always necessary)
Instructions
Place cut mango into a blender along with the yogurt, milk, cardamom, and salt. Blend until smooth and creamy. Taste, and add sweetener if it needs it. Also add more milk if you find it too thick.
Serve chilled, with ice if desired.
It should keep for a day in the refrigerator, but is best enjoyed right away.
Notes
*you can use plain or plain unsweetened yogurt. You can also use vanilla yogurt if that's all you can find.