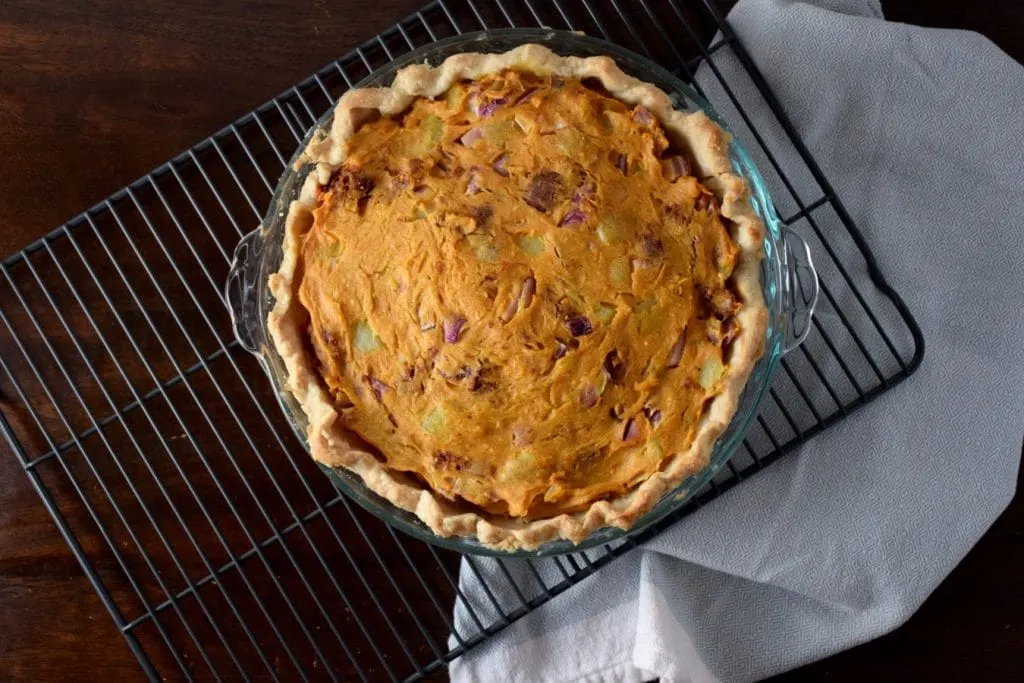 2016 was a big year for me. I got married to the best person, quit my job, went on a month long honeymoon-adventure road tripping across South Africa and Namibia (clocking in around 4,000 miles), came back, sold our home in Chicago, packed up and downsized our things (because, omg, the rent here), put our dog and cat and a few changes of clothes in our cars and moved to Washington, DC, putting in an extra 700 miles of driving.
We moved for my husband's work, and I took the opportunity to have an early life career crisis, or rather, continue the one I'd been having internally for the past couple of years. Taking advantage of my newly found free time, I have found myself focusing in on my love and passion for food. I want my cooking to take a more purposeful and serious role in my life and I want to share it with others.
So, I'm starting a food blog. It feels so 2010, if only because I had one then. I was in graduate school at the time, and still bright eyed and bushy tailed about it. I had fun blogging, it was a big source of happiness for me, at a time that my excitement for what I was doing in school was quickly sinking. At the time I had friends urging me to do something with food for a living, but no–I'm a scientist doing science and that's who I am and what I do and what I'd worked really hard towards for years, and besides, how does someone jump career-ship anyway from chemistry to cooking anyway????? Well, fast forward a few years and here I am. I want baking and cooking to be what I do, and right now, at least, that means experimenting in the kitchen and sharing recipes here.
Anyway, I digressed a bit (ok, a lot). This quiche was created because we had just moved to DC and I was super lazy after a summer of traveling and almost exclusively eating in restaurants. We had almost no fresh food in the house. Just pantry items. A random potato, an old onion, some seitan in the fridge… My style of lazy girl cooks typically means that I can't possibly leave home to cross the street to go to the grocery store (literally on my block, guys), but I can scrounge through the pantry and make pie dough. And so, this savory tart was born. Inspired by burmese tofu, I cooked up a mixture of chickpea flour and broth and stirred in my paltry pantry offerings. Somehow my "I guess I have to cook something so we don't starve" turned into a family favorite (though to be honest, I don't think the cat is that into it). Spicy sausage tempered by cubes of potato. Crispy bits of sharp red onion. Smokey paprika. Yum. Enough said. Here's the recipe.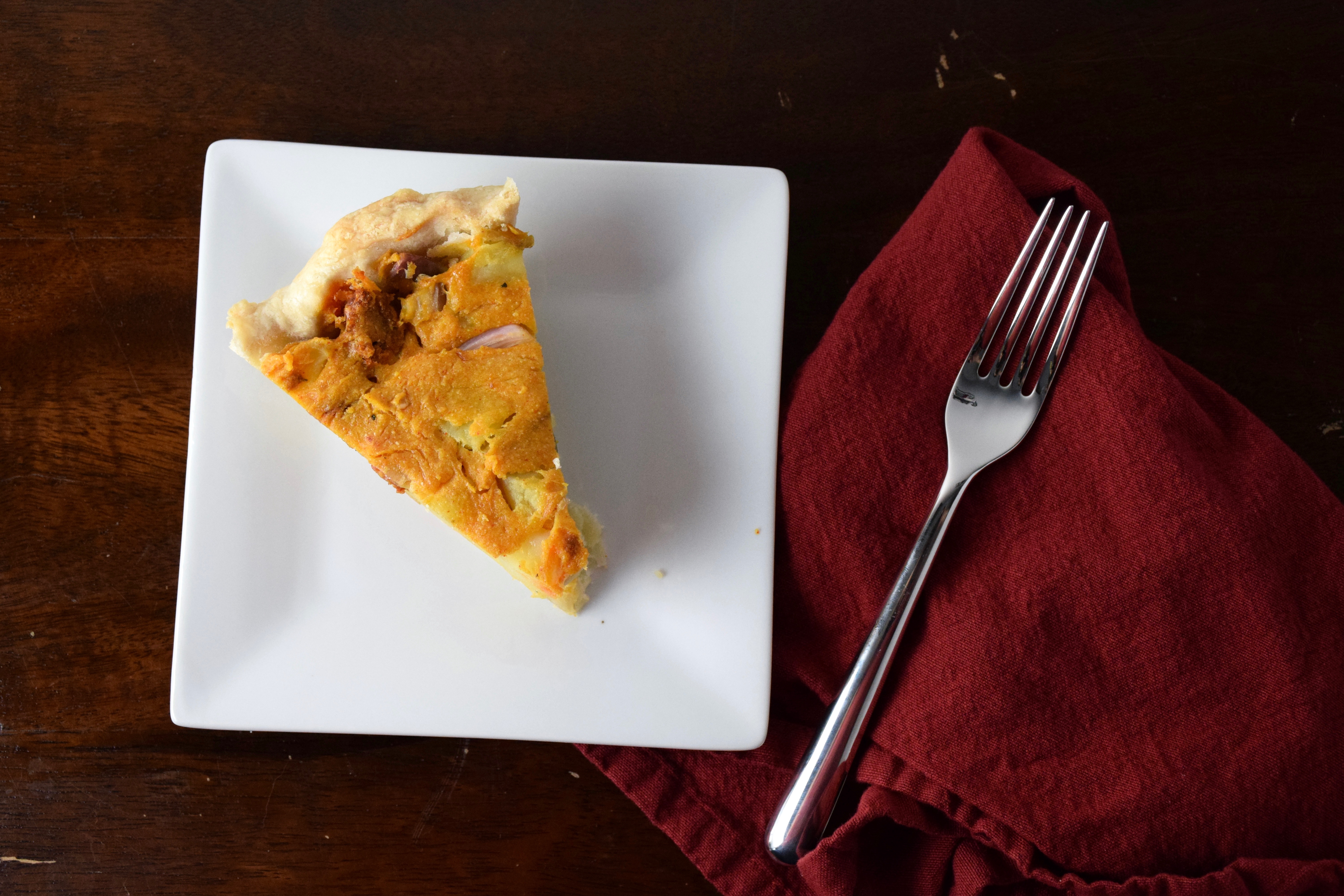 Notes:
If you want to learn more about blind baking your pie crust, check out this article from The Kitchn
Use your favorite crust recipe or buy a prepared crust. If you need a recipe, try this one from Serious Eats. Just halve the recipe, and leave out the sugar.
This recipe can be prepared crustless–simply ignore the pie dough instructions and put filling directly into a lightly oiled pie pan or 8 or 9″ cast iron skillet. It will still bake for 25 minutes.
I used Field Roast Mexican Chipotle sausage for this quiche, but you can use any preferred spicy sausage. Use about 6 oz of sausage, or ~1 1/2 cups crumbled.
Most of the prep time is inactive, and make sure to leave enough time to cool before eating. It's very important for the final texture! It's a great dish to make ahead, and can be re-heated when serving.
This recipe is super versatile. Experiment with other spices, different mix-ins, whatever makes you happy. But maybe try it my way first.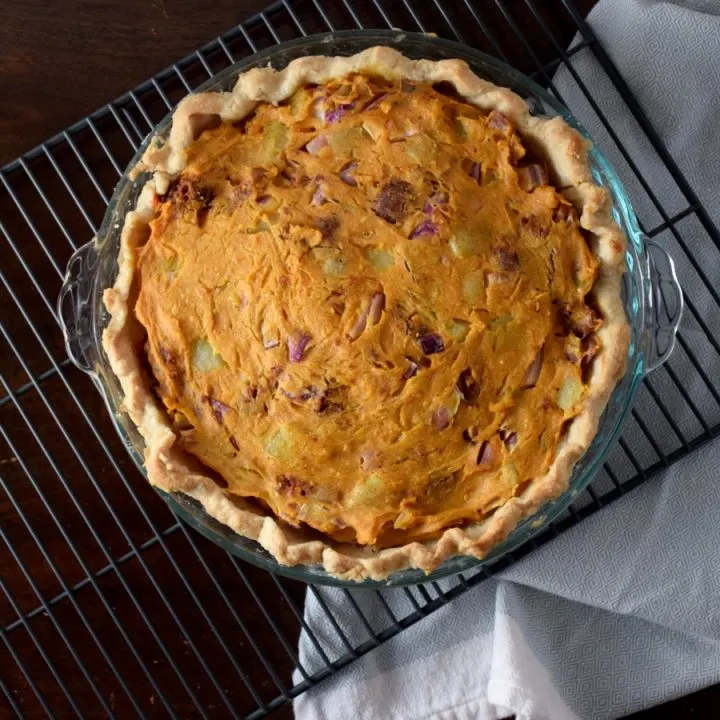 Vegan Potato and Spicy Sausage Quiche
Inactive Time:
30 minutes
Total Time:
1 hour
25 minutes
Easy vegan quiche made of chickpea flour, with delicious sausage and potato filling.
Ingredients
1 single recipe pie dough
1/2 pound yukon gold potatoes (~1 large)
1/2 red onion, diced
1 1/2 cups (6oz) vegan chipotle or chorizo style sausage
FILLING
2 1/4 cups vegetable broth, ideally no-chicken style, divided
1/2 teaspoon salt
1/4 teaspoon turmeric
1 teaspoon smoked paprika
2 tablespoons nutritional yeast
3 tablespoons cornstarch
1 cup chickpea flour
1 tablespoon olive oil
Instructions
Pre-heat oven to 400 ºF
Prepare the crust
Roll pie dough out and fit into a pie dish. Place in the freezer for 30 minutes while oven preheats. This helps prevent the dough from shrinking when blind baked.
When oven is preheated, prepare the pie dough for blind baking. Place a sheet of parchment paper over the pie dough, then a piece of aluminum foil, and pour in pie weights or dried beans to fill. Bake for 20 minutes.
Remove from oven and take away the weights. Replace in oven and bake an additional 5 minutes.
Reduce oven to 375 ºF.
Prepare the Potatoes
While the pie dough is blind baking, steam the potatoes. Bring a pot of water to a boil, and place the potatoes in a steamer basket over the water and allow to steam for 10-12 minutes or until easily pierced with a fork. Set aside and allow to cool.
PREPARE THE FILLING
In a medium bowl, measure the chickpea flour, cornstarch, nutritional yeast, spices, and salt. Whisk together.
Pour in 1 cup of broth and whisk until smooth.
In a large pot bring the remaining 1 1/4 cups of broth to a boil. Stream in the chickpea mixture while whisking, and lower the temperature to medium-low. Whisk constantly for about two minutes until the mixture begins to thicken and look glossy. Turn off heat.
Stir in the sausage, onion, and potato until evenly distributed. Pour into the prepared pie shell. Brush the top with olive oil.
Bake at 375 ºF for 25 minutes, or until filling is firm to the touch. Remove from oven and allow to cool fully before serving. If desired, re-heat to serve.