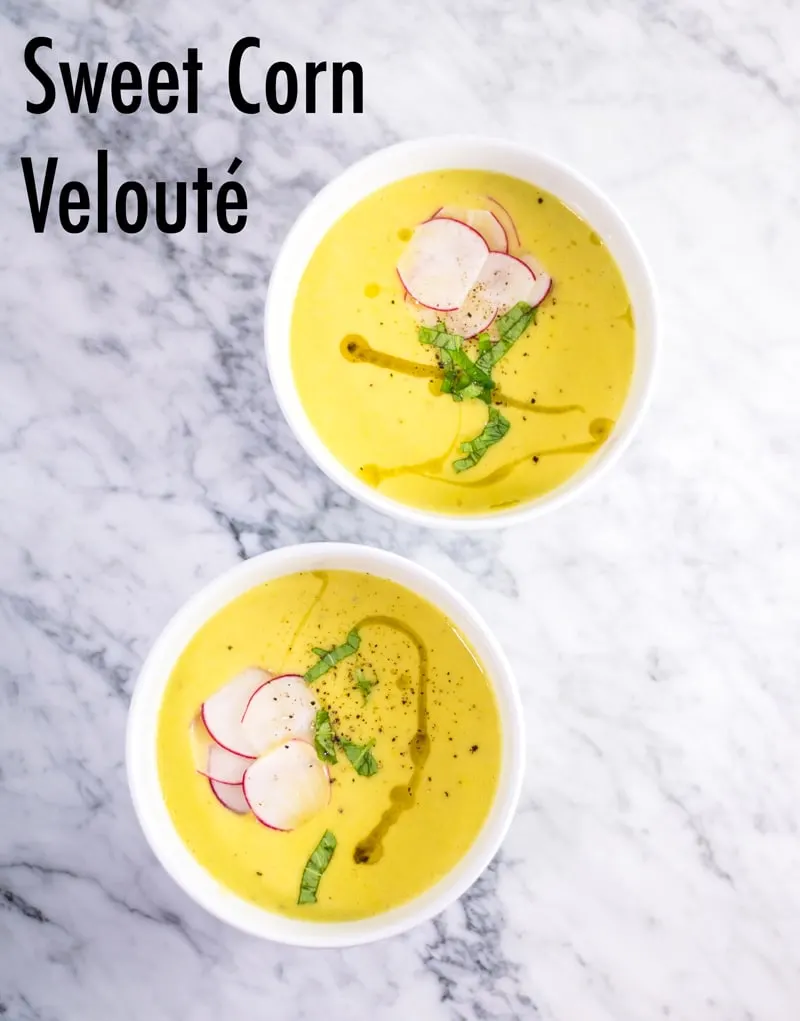 Monday was a very exciting day over here, as it marked 1 year of marriage. And to celebrate our anniversary, I made a mini-feast for dinner inspired by the food at our wedding. We got married last summer at the Sofitel in downtown Chicago, and the menu had a French Mediterranean theme, was 100% vegan, and 100% amazing. Honestly, we had so many people compliment the food! We especially heard a lot about how much people loved the soup served with the first course: corn velouté. It was dish I had never heard of before our menu tasting, but enjoyed it so much I knew I had to recreate it!
Velouté is apparently not usually a soup, but one of the five mother sauces of France. Traditionally it is made with as broth and roux based gravy then blended into a emulsion with unmelted butter. However, corn velouté appears to be a slightly different beast, with the corn itself supplying the body to the sauce. It is delicately flavored, so the pure sweet corn flavor shines through, and pureed in a blender before being poured through a fine mesh strainer to separate out any solids for the smoothest, richest texture.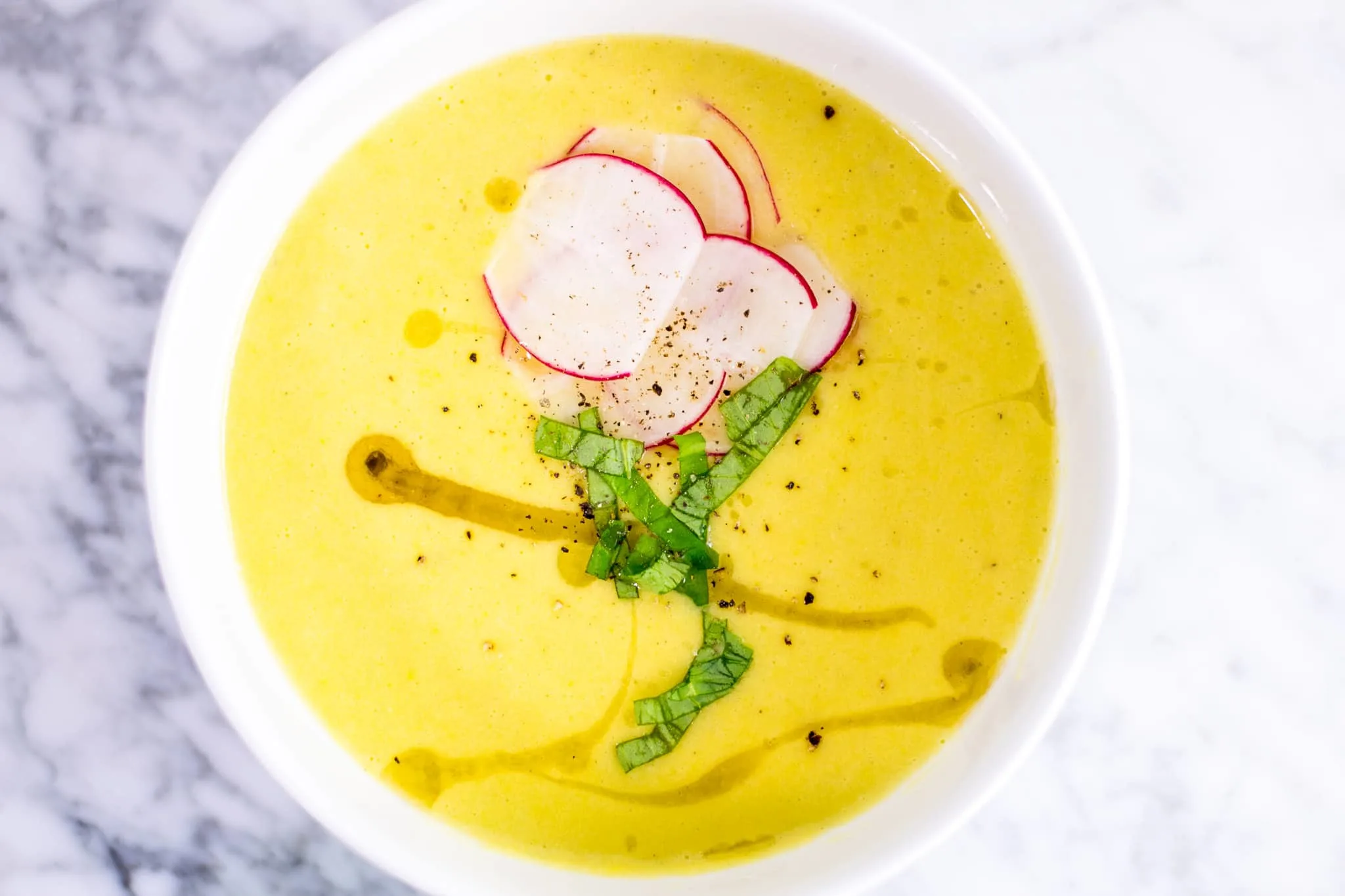 I took a few steps away from the traditional preparation of a velouté, because I wasn't about to add a stick or more of [vegan] butter to my soup. Instead I used olive oil, and a lot less of it (you're welcome). Even with this less rich preparation, the end result is the most velvety, luscious, creamy textured soup I have ever eaten. It's amazing.
To build up the depth of flavor with the soup I begin the recipe by making a corn cob broth. Corn cobs steeped alongside crushed garlic and fresh thyme makes for an aromatic broth and infuses the velouté with a mild and subtle undertone of garlic as well as extra sweet corn flavor. With this broth, the soup is easily and quickly made.
Shallots are lightly fried for a delicate and sweet onion flavor. Toss couple sprigs of fresh thyme into the oil for a quick toasting to release their aromatic flavor. Fresh cut corn is added and allowed to sweat for a few minutes before pouring in the corn cob broth. The soup is simmered for an easy 15 minutes before being transferred to a blender along with the olive oil. Whizzed away until smooth and frothy, the velouté is passed through a fine mesh strainer before being returned to the pot. Yes, even with a Vitamix I strained the soup! At this point you have an almost perfect soup, but adding the smallest bit of salt makes the flavor *pop* along with plenty of freshly ground pepper.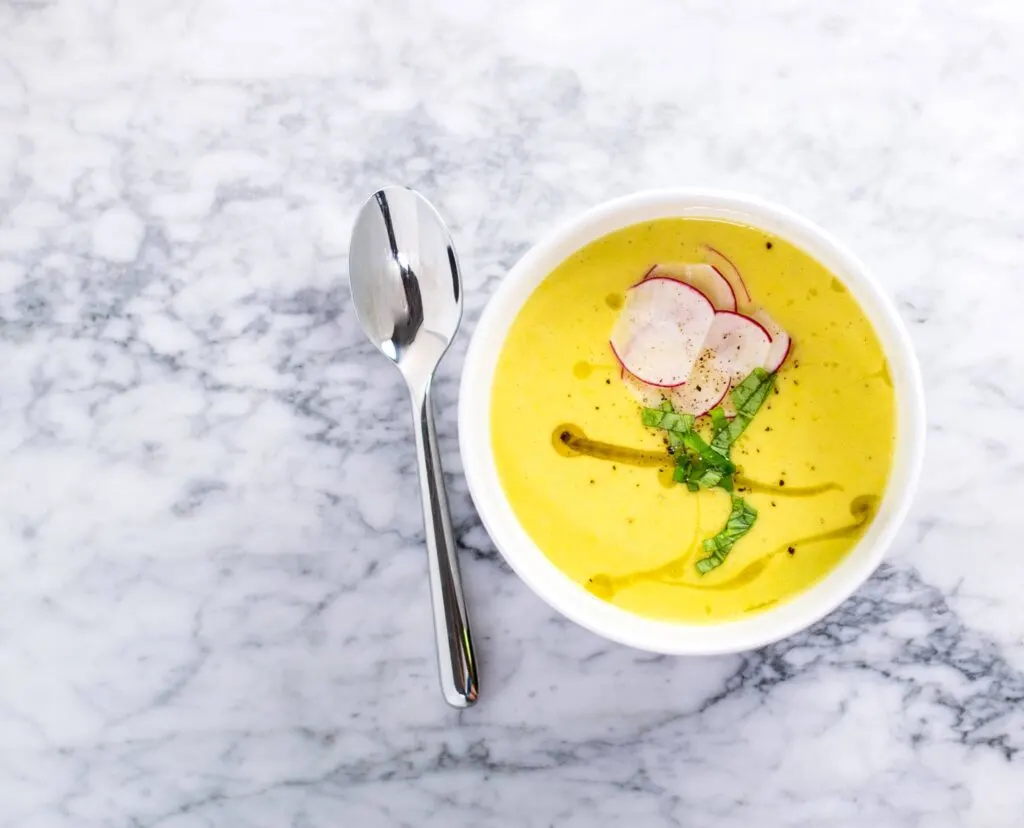 To serve, I like to balance the sweet flavor out with a homemade hot chili oil. It's the easiest thing to make, and can be made in advance. Heat a some dried chiles and oil over low heat until well warmed, then allow it to cool all the way to room temperature. I like to do this step while the broth is simmering. Drizzle some hot chili oil over the soup, top with some thinly sliced radishes for a contrasting sharp bite, and garnish with some sliced basil for a complete fresh summery soup.
And, if you're wondering what else our dinner included, the second course was homemade gnocchi baked in my sun dried tomato cream sauce (because I couldn't get it out of my head!). And for dessert, a copy cat of our wedding cake: vanilla cake with toffee buttercream! And the best part is, my husband was able to check out of work early and he helped me finish up the last bits of dinner, and did all the dishes. Working together is my favorite thing, so it made our anniversary dinner extra special! <3
And because I can't leave you without at least a couple wedding photos, so here we go! And, if anyone needs a phenomenal family or wedding photographer in Chicago, you should really check out Becca Heuer, we loved working with her! You can of course, jump straight down to the recipe 🙂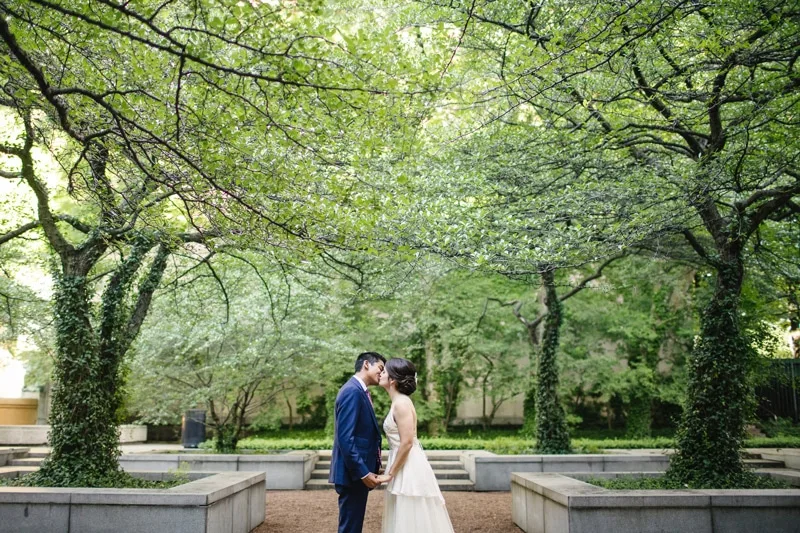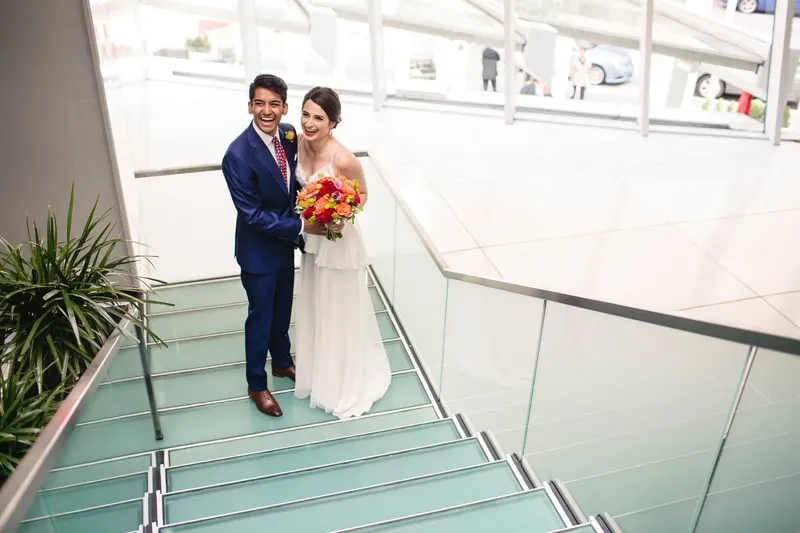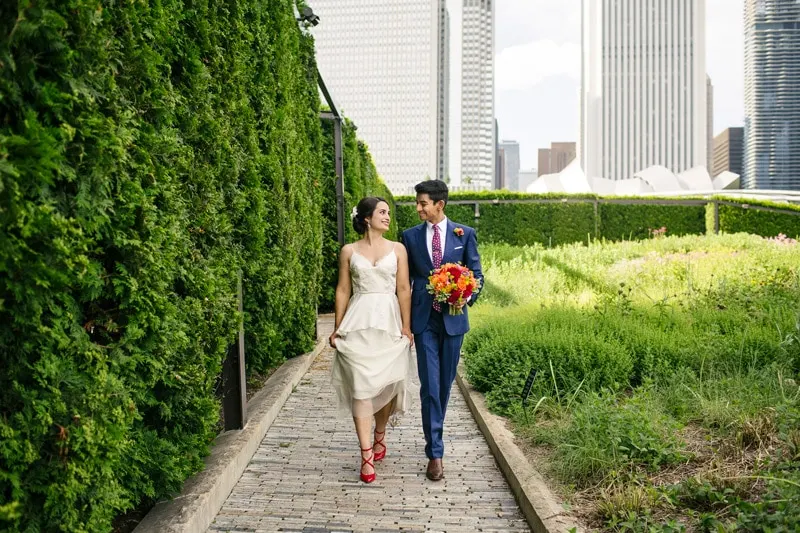 Let me know if you make the recipe, I love seeing & hearing about it when you guys make my recipes! Leave a comment and/or rate the recipe below, tag me on Instagram (#thecuriouschickpea), or share with me know on Facebook!
Notes:
The broth as well as the chili oil can be made ahead of time.
You will have extra broth, use it in other soups or savory dishes instead of water or to replace traditional vegetable broth!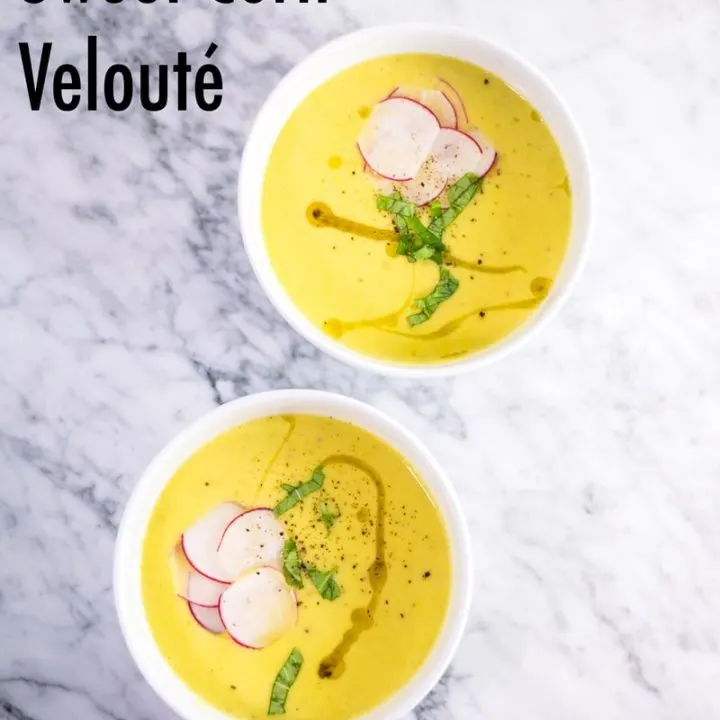 Vegan Sweet Corn Velouté
Total Time:
1 hour
25 minutes
Sweet corn velouté is made vegan! Lightened up from the traditional rich velouté this makes the perfect creamy summertime soup!
Ingredients
Corn Cob Broth
6 ears of corn
10 cups water
2 cloves garlic, skins on and smashed
3 sprigs thyme
1 tsp salt
Sweet Corn Velouté
1 tbsp olive oil
3/4 cup (~3 small) shallots, diced
2 sprigs fresh thyme
4 cups corn cob broth
corn kernels and juice (from above)
1/4 cup olive oil
1/2 tsp salt, or to taste
freshly ground black pepper, to taste
fresh basil, for garnish
radishes (optional), for garnish
Hot Chili Oil
3 dried chiles
1/2 cup olive oil
Instructions
To make the corn cob broth:
Cut the corn off the cob and use the back of the knife to scrape off the juices. Do this over a baking dish or large bowl to catch the kernels. Set the cut corn kernels aside for the velouté.
Fill a large pot with the water. Break the cobs in half and add to the water along with the garlic and thyme. Bring to a boil, then reduce heat and simmer for around 45 minutes.
Strain over a large bowl to remove the cobs, thyme, and garlic. Add the salt to the broth.
To make the sweet corn velouté:
Heat a large pot over medium-low heat. Add the tablespoon of oil and shallots and sauté for 3-5 minutes until the shallots are softened. Add the thyme and cook for 30 seconds, then add the corn and sauté 5 minutes. Add broth and simmer 15-20 minutes, then turn off the heat. Remove sprigs of thyme.
Transfer soup to a blender and add the 1/4 cup of olive oil. Blend until smooth, venting the steam as you go for safety.
Pour the soup back into the pot through a mesh strainer to separate any remaining solids for the creamiest, most luscious soup. Add salt and freshly ground pepper, then taste and adjust seasoning if desired.
To make the hot chili oil:
Heat oil and chiles in a small pot over low heat. Keep warm for ~5 minutes then turn off heat and let cool completely. Watch carefully to keep the chiles from burning. Strain to separate oil when cool.
To serve:
The soup can be served warm or cold, topped with some thinly sliced radishes, basil chiffonade, and a drizzle of chili oil.