The softest almond cake is studded with fresh rhubarb and finished with a strawberry rhubarb glaze in this beautiful vegan dessert. It's so delicious and perfect seasonal treat!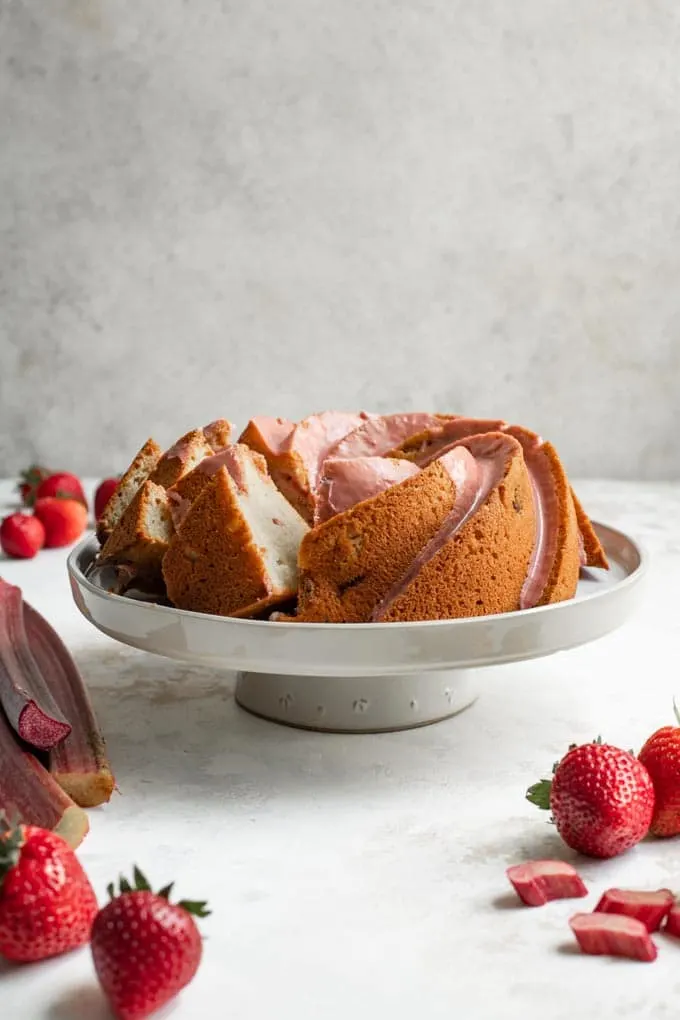 Rhubarb is a favorite springtime plant of mine. The gorgeous red-hued stalks have such a mouthwatering lemony-tart flavor. In my experience, starting in early spring you can find them at the farmers markets, and by late spring they're popping up in well stocked grocery stores.
I typically bake pie with them because strawberry rhubarb pie is *the best* pie flavor. But when you're looking for something a little different, and a perhaps bit more sophisticated than a pie, this cake is it.
It has the softest, most fluffy almond cake base studded with ruby bites of rhubarb. Just the right amount of tart to balance the sweetness of the almond.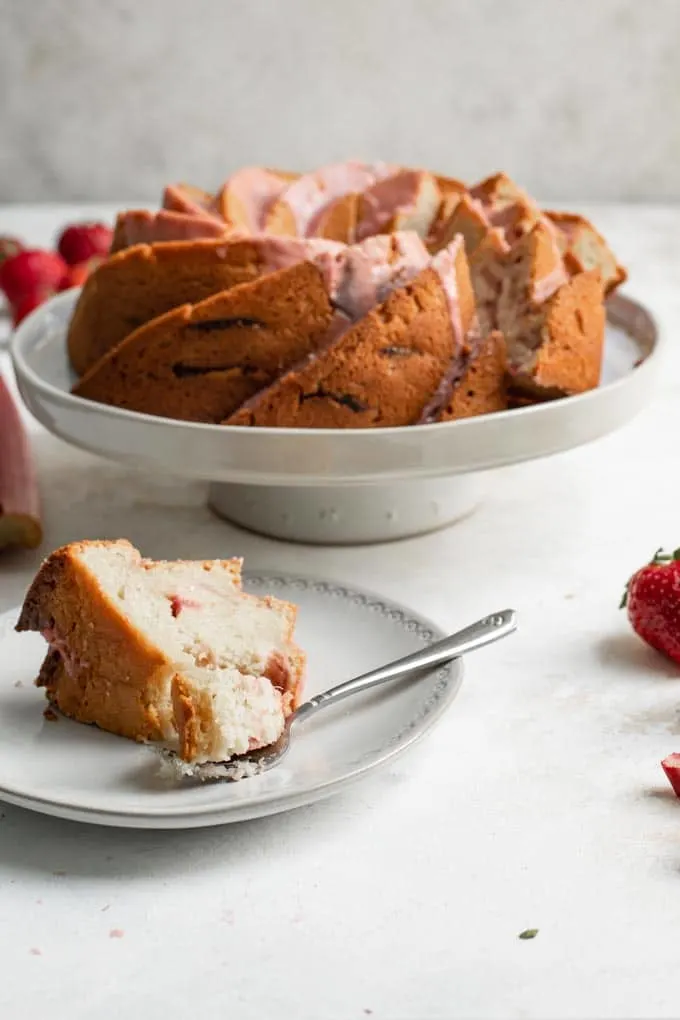 Finished with a humble but beautiful glossy strawberry rhubarb glaze, because I can't get enough of that combo!
Rhubarb has such a lovely tart fruity flavor to it, making it perfect to pair with creamy sweet flavors. It's why strawberry rhubarb pie is best served with a scoop of vanilla ice cream or whipped coconut cream (anyone else hungry?). And it's why rhubarb pairs so wonderfully with almond.
Desserts flavored with almond always have such a delicate sweet taste. Almond flavored desserts also happen to be my husband's favorite.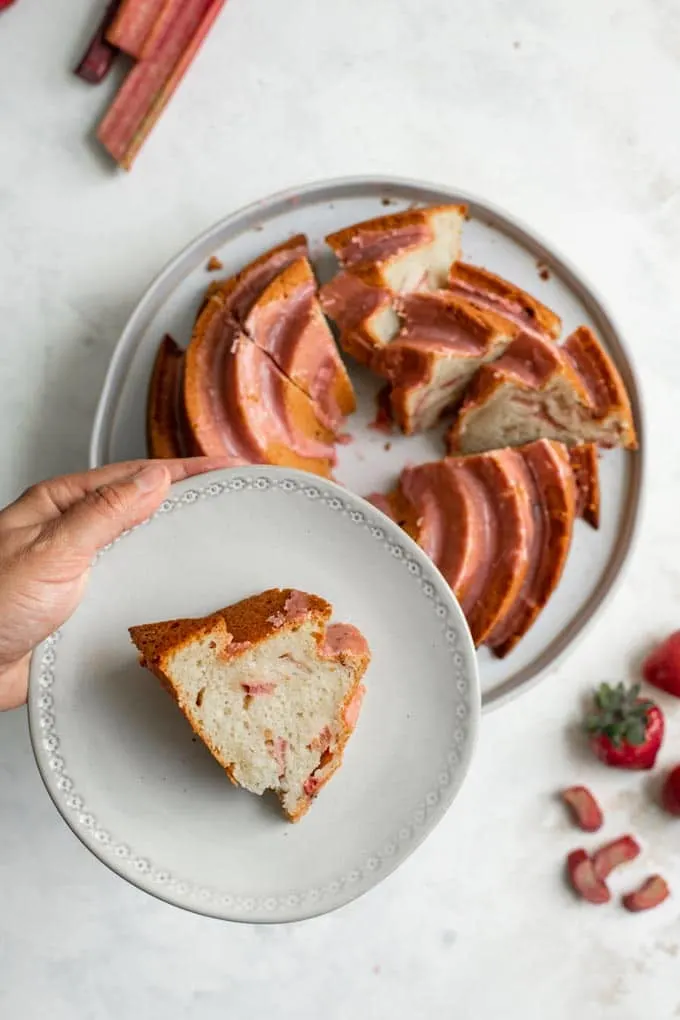 In this cake you get a double dose of almond: almond flour for a delicate and tender crumb and almond extract for that concentrated almond flavor. It's the actual best!
This cake is simple yet beautiful. It's perfect for pairing with some tea or coffee for a mid-morning breakfast or afternoon snack. It also makes a fantastic dessert!
Bundt pans are an effortless way to make stunning desserts. It's the best lazy girl (or guy!) cake ever!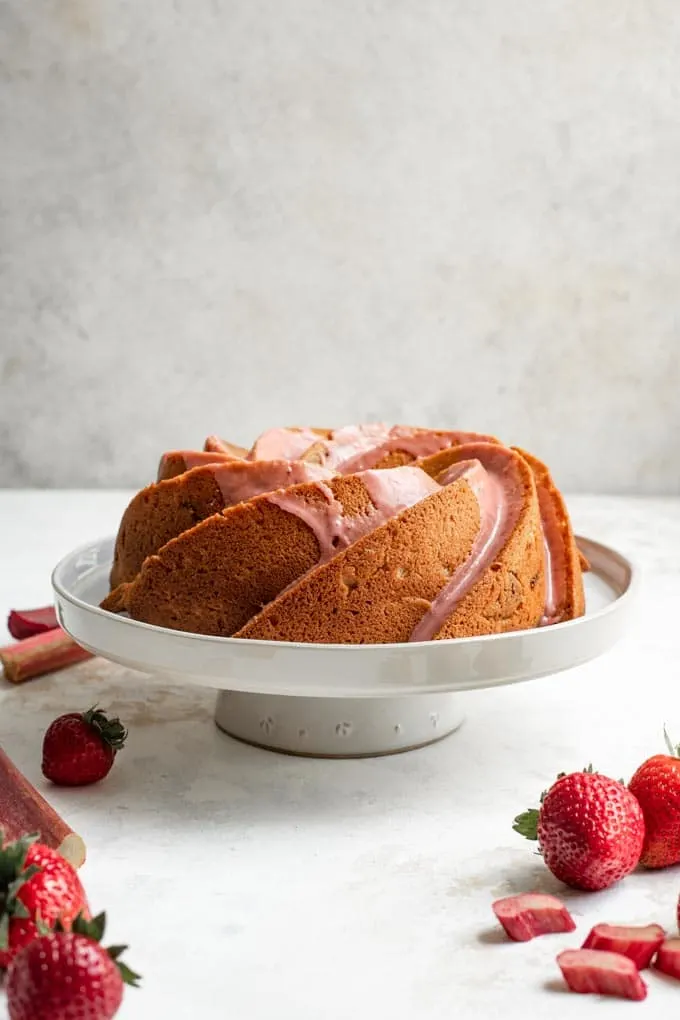 Making the bundt cake:
Before starting the cake, preheat the oven and prepare the pan its going to bake in by spraying with some oil. In this cake that's a 12-cup bundt pan, in the shape of your choice!
Then, combine the rhubarb and a bit of sugar and set aside. This softens the rhubarb and turns it nice and juicy for the cake. It also will keep it from releasing all of its water at once in the cake and interfering with the bake.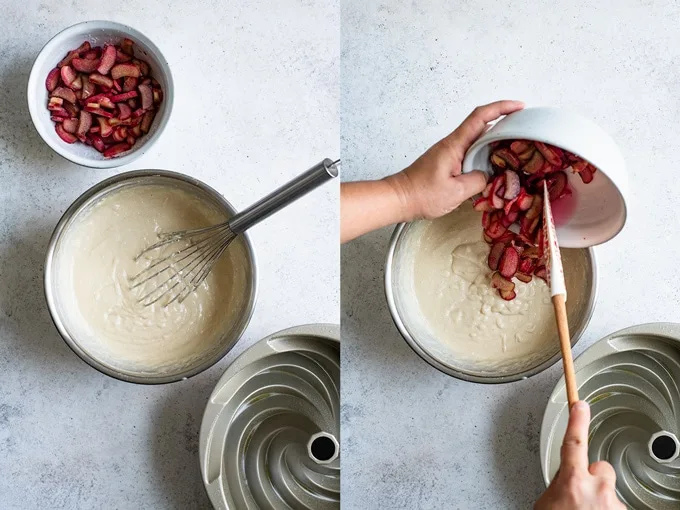 Now we start the cake batter! In one large mixing bowl whisk together all the wet ingredients. That's plant milk*, oil, vegan yogurt (though I've subbed vegan sour cream and it works well too!), lemon juice, vanilla extract, and almond extract.
*I like soy or oat milk, but almond would be great (duh) and any should work! Avoid watery milks like rice milk for this cake.
The lemon juice adds a nice acidity and brightness to the flavor of the cake, and also works to react with the leaveners (e.g. baking soda).
In a second bowl sift together the dry ingredients: all purpose flour, almond flour (this is not the same thing as almond meal), sugar, cornstarch, baking powder, baking soda, and salt. Sifting is important because almond flour can be a bit clumpy.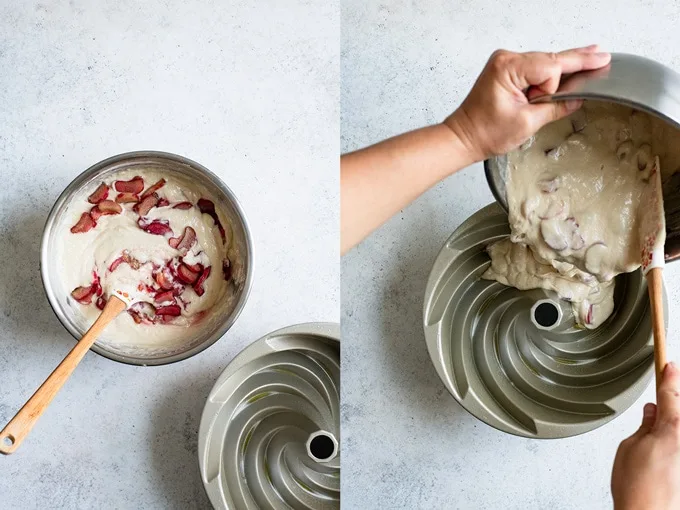 At this point the oven should be preheated. If not, twiddle your thumbs until it is.
Add the dry ingredients to the wet, and whisk until the batter is fairly smooth. Add those macerating rhubarb slices and fold them into the batter.
Pour your batter into the pan and set it in the oven to bake per recipe instructions.
Meanwhile, we can work on the compote for the glaze!
The strawberry rhubarb compote is as simple as it gets: some strawberries (frozen works as well as fresh for a compote), some rhubarb, a bit of sugar, a splash of water, and a squeeze of lemon juice.
Then simmer it until it the strawberries and rhubarb have cooked and broken down. The rhubarb in particular practically melts away and the only evidence left behind (beyond the taste) is little fibers of the stalk.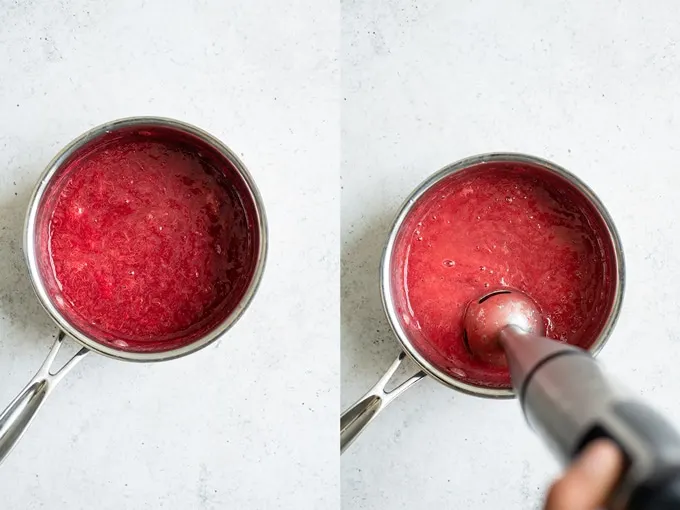 Now this compote would be delicious as is, but since we want to use it to make smooth glaze, just hit the compote with a food processor or immersion blender. It takes very little effort to make this compote smooth.
We only need a few tablespoons of the compote for the glaze, so there will be plenty of leftover compote. And it's up to you if this means that you'll need to make extra cake(s), smother some pancakes in it, or top a bowl of oats or chia pudding.
Like, you could make a half recipe of the compote. But then you'd miss out on putting the compote on everything! So, what's the sense in that!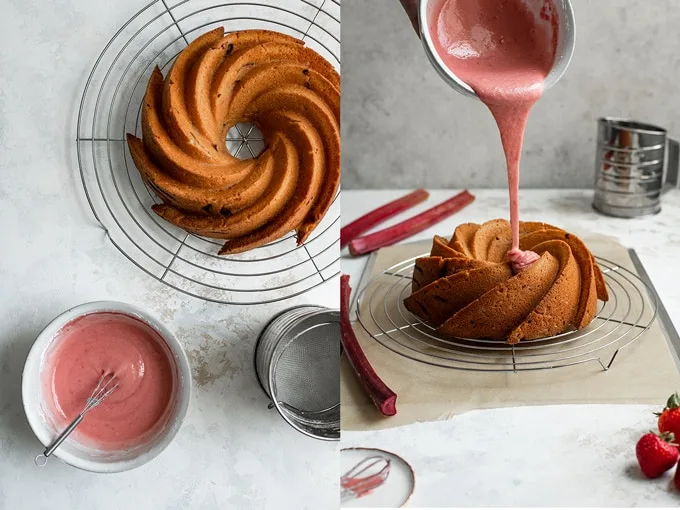 Wait until the cake is completely cooled to glaze.
In fact, if you're not going to serve the cake for a day, wrap it up well and store in the fridge or on the counter and wait to glaze it until a couple of hours before you serve.
The reason for this is the glaze will tend to absorb into the cake somewhat as it sits, particularly if it's wrapped up in plastic or sealed in a container. And you need to seal it up if its sitting out for a few hours or the cake will start to dry out on the edges!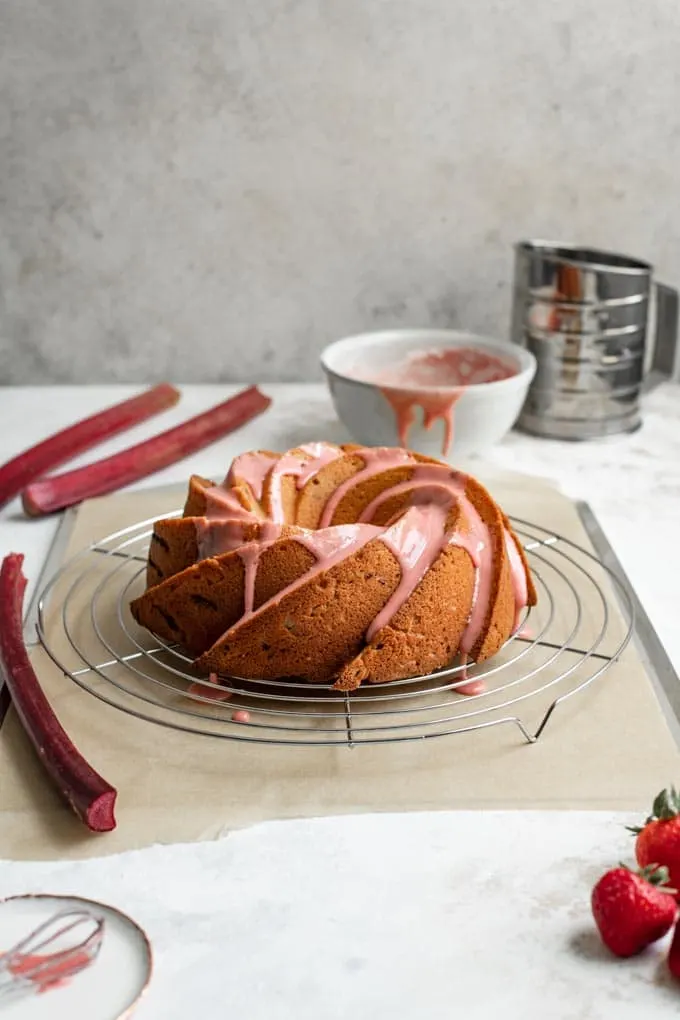 When you are ready to glaze the cake, take your compote (which should be fine in the fridge for a few days thanks to the sugar content, a natural preservative) and sifted powdered sugar and stir together to make a thick glaze.
Set the cake on a wire rack over a baking tray (feel free to line with parchment for easy clean up) and pour the glaze over top. Let the glaze set until it's dry to the touch before cutting into the cake! This shouldn't take long, especially if the cake is chilled.
Alternatively, you can always dust the cake in some powdered sugar for a simpler but also pretty presentation. Because the cake is so moist, wait to dust with powdered sugar until immediately before serving, as the powdered sugar will dissolve as it sits.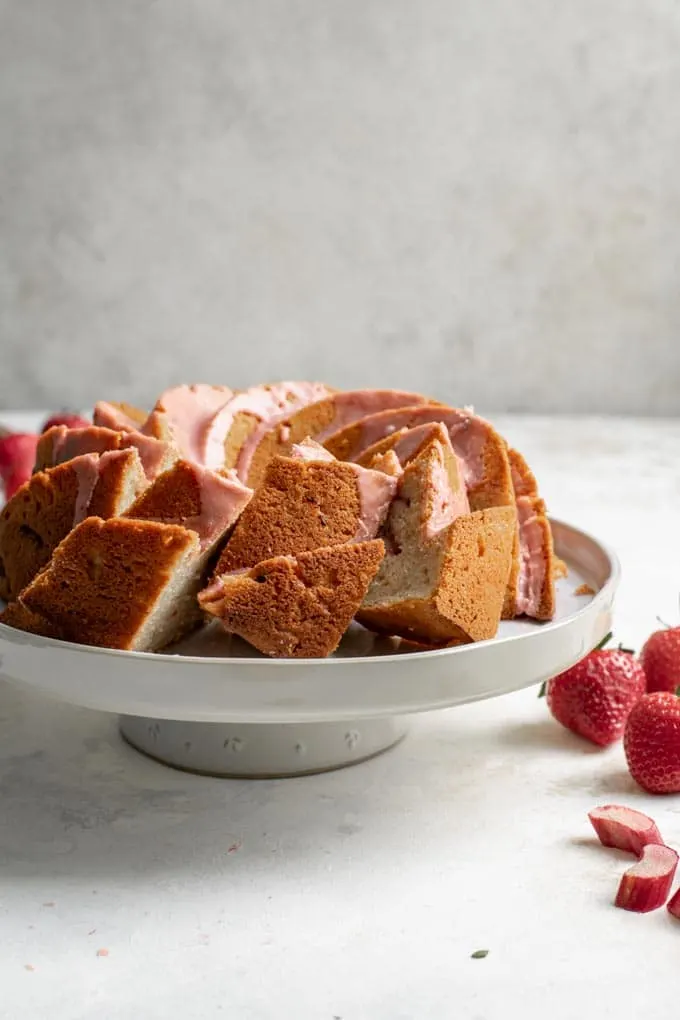 If you make this vegan almond rhubarb bundt cake, leave a comment below and rate the recipe on the recipe card. And please share your photos with me on Instagram, tag @thecuriouschickpea and #thecuriouschickpea. I love seeing your recreations!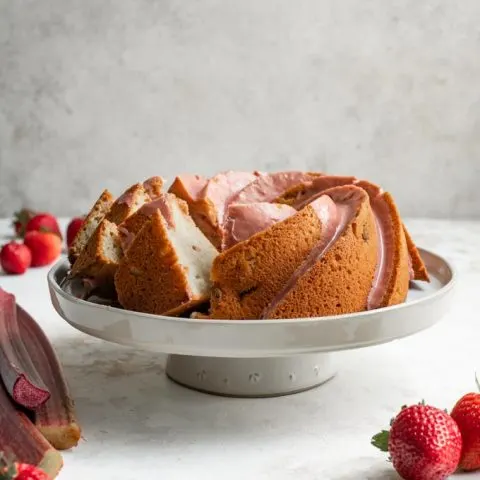 Vegan Almond Rhubarb Bundt Cake
Total Time:
1 hour
5 minutes
The softest almond cake is studded with fresh rhubarb and finished with an easy strawberry rhubarb glaze in this beautiful vegan dessert. It's so delicious and perfect for spring and summer!
Ingredients
Vegan Almond Rhubarb Bundt Cake
1 1/2 cups (175g) rhubarb, thinly sliced
1/4 cup (50g) sugar
1 1/4 cups (300g) non dairy milk
1/3 cup (64g) canola oil
1/3 cup (70g) plain or unsweetened nondairy yogurt
1/4 cup (45g) freshly squeezed lemon juice (~1 lemon)
2 tsp vanilla extract
1 tsp almond extract
2 cups (280g) all purpose flour
2/3 cup (74g) almond flour*
3/4 cup (150g) sugar
1 tbsp (9g) cornstarch
1 tsp baking powder
1/2 tsp baking soda
1/2 tsp salt
Strawberry Rhubarb Compote and Glaze
1 1/2 (175g) cups rhubarb, sliced
1/2 cup (75g) strawberries, cut in half
1/4 cup (50g) sugar
1/4 cup (60g) water
1 tbsp freshly squeezed lemon juice
1 cup powdered sugar
Instructions
To make the almond rhubarb bundt cake
Preheat your oven to 375 ºF with a rack placed in the center and grease a 12-cup bundt pan.
Toss together the rhubarb and 1/4 cup sugar in a small bowl. Set aside.
In a large mixing bowl combine and mix the nondairy milk, oil, yogurt, lemon juice, vanilla extract, and almond extract.
In a medium mixing bowl sift together the all purpose flour, almond flour, sugar, cornstarch, baking powder, baking soda, salt. Whisk to combine the dry ingredients.
Add the dry ingredients to the wet, and whisk to combine until fairly smooth. A couple small lumps are okay. Fold in the rhubarb.
Pour the batter into the prepared bundt pan and shake a little to level out the top.
Bake for 48-52 minutes, until a tester comes out clean. Let cool for 10 minutes, then remove cake from pan and set on a wire rack to cool completely.
Glaze or dust with powdered sugar when completely cool and before serving.
To make the strawberry rhubarb glaze
First make a strawberry rhubarb compote: Combine the rhubarb, strawberries, sugar, water, and lemon juice in a small pot. Heat to a boil, then lower heat and simmer for around 15 minutes, stirring occasionally, until the fruit has broken down and it's the consistency of applesauce. Puree until smooth with an immersion blender, or use a regular blender.
To make the glaze:
Combine 3 tablespoons of the puree with 1 cup of powdered sugar. Mix together, and check the consistency. You want it to be thick but flowing and pourable. Add an additional tablespoon of puree if needed. Pour over cake as desired!
Notes
Make sure you use almond flour, it is not the same as almond meal.
Recommended Products
As an Amazon Associate and member of other affiliate programs, I earn from qualifying purchases.
Nutrition Information:
Yield:

12
Serving Size:

1
Amount Per Serving:
Calories:

299
Total Fat:

10g
Sodium:

222mg
Carbohydrates:

47g
Fiber:

2g
Sugar:

28g
Protein:

6g
Nutrition is calculated automatically so should be used as an estimate.
This recipe was updated from the original post on June 27, 2019.