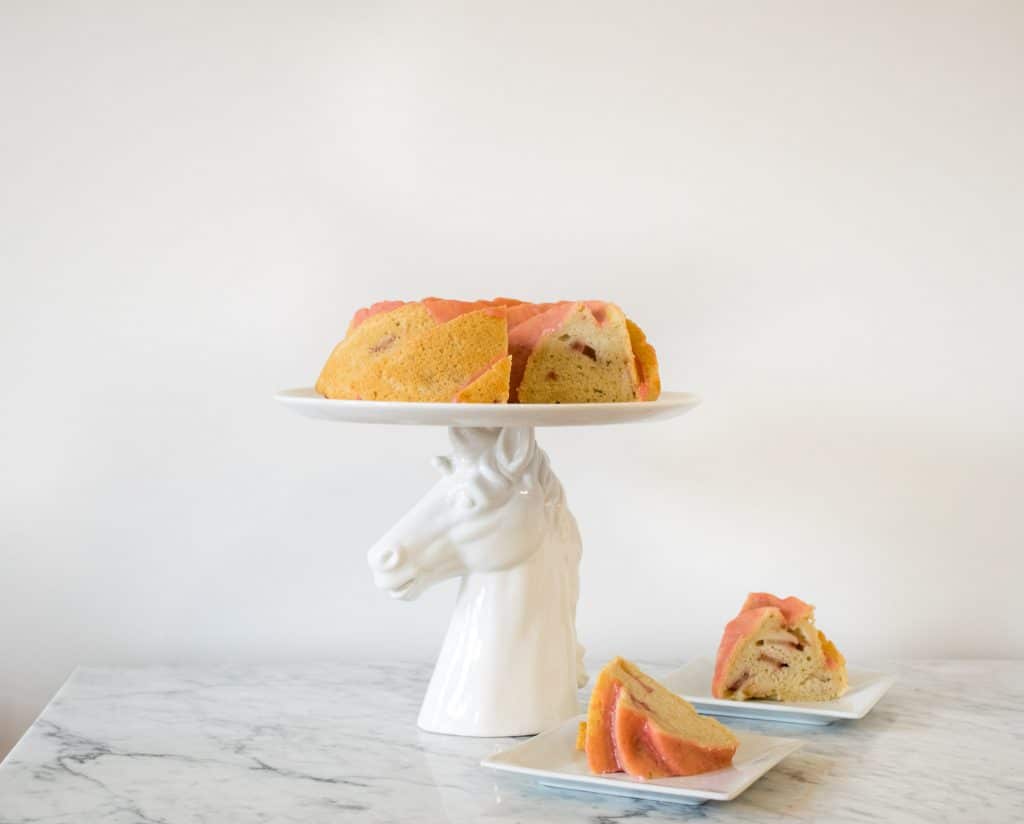 Rhubarb is a favorite springtime plant of mine. The gorgeous red-hued stalks have such a mouthwatering lemony-tart flavor. In my experience, starting in early spring you can find them at the farmers markets, and by late spring they're popping up in well stocked grocery stores. I typically bake pie with them, as I did a couple weeks ago with fresh rhubarb and early season strawberries from my local farmers market. But when I picked up another handful soon after finishing that pie I wanted to try something different. And so, this almond rhubarb bundt cake was born.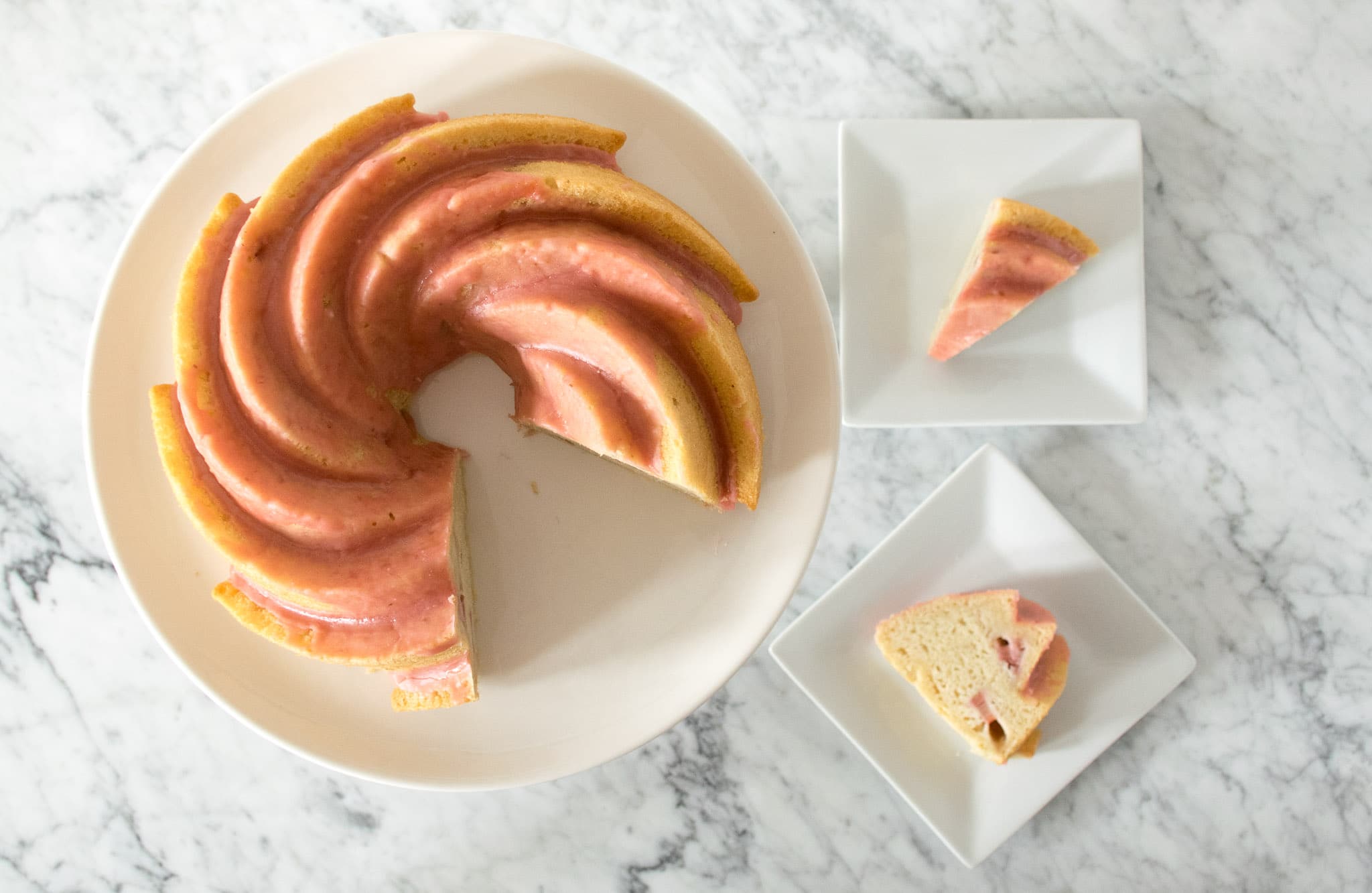 Rhubarb has such a tart fruity flavor to it, making it perfect to pair with creamy sweet flavors. It's why strawberry rhubarb pie is best served with a scoop of vanilla ice cream or whipped coconut cream. And it's why rhubarb pairs so wonderfully with almond. Desserts flavored with almond always have such a delicate sweet taste. Almond flavored desserts also happen to be my husband's favorite. In this cake you get a double dose, almond flour for a delicate and tender crumb and almond extract for that concentrated almond flavor.
This almond rhubarb bundt cake makes for a simple yet beautiful dessert. Paired with a pink strawberry rhubarb glaze or simply dusted with powdered sugar this cake is deliciously paired with some tea or coffee for a mid-morning breakfast or an afternoon snack. And I wouldn't hesitate to serve it for dessert. The best part is, no matter what shape your bundt pan may be, they always turn out the prettiest desserts with no real effort on your part, making for the best lazy-girl (or guy!) cake ever.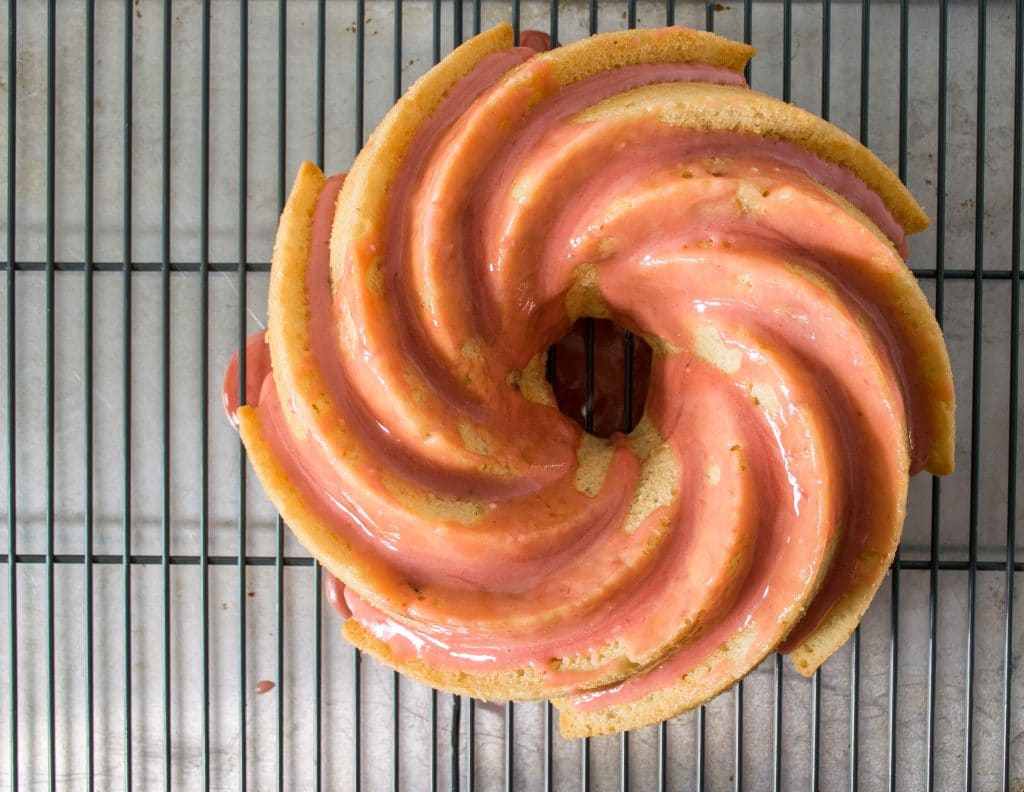 So, I'm a little late to the rhubarb game with this recipe, but it is too good to not share. I hope you can find some rhubarb to bake with ASAP, or forgive me for being such a food tease.
And if you do make it, please let me know! Leave a comment and/or rate the recipe below, tag me on Instagram, or let me know on Facebook! I love seeing & hearing about it when you guys make my recipes!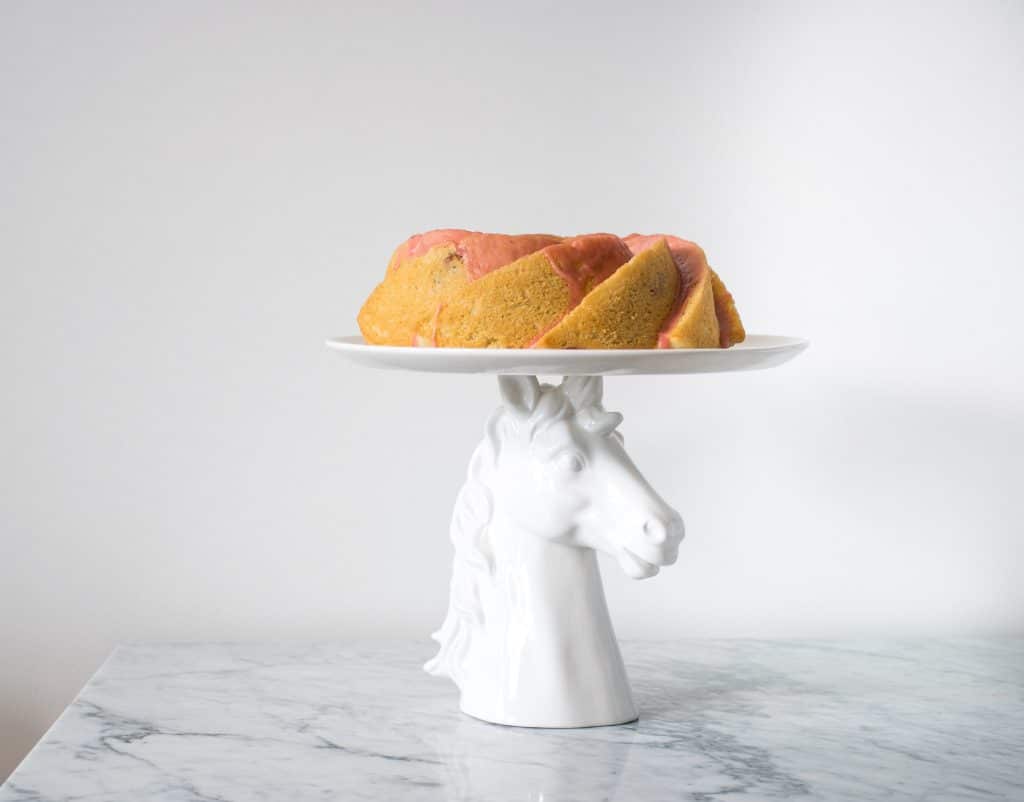 Notes:
Wait to glaze the cake, or dust with powdered sugar, until a bit before serving. The glaze will absorb somewhat into the cake if wrapped and stored overnight, making for a bit of a stickier glaze and cake. If using powdered sugar, it will also dissolve into the top of the cake overnight.
The glaze recipe does make a lot of extra strawberry rhubarb compote, but this allows you to have lots of delicious saucy compote on your pancakes, biscuits, toast, whatever! I also have served it with the cake, because it ups that rhubarb flavor SO PERFECTLY. If you don't want as much left over you can certainly half the recipe. Or simply dust the cake with powdered sugar!
Vegan Almond Rhubarb Bundt Cake
A perfect seasonal dessert
Ingredients
Vegan Almond Rhubarb Bundt Cake
1½ cups (175g) rhubarb, thinly sliced
¼ cup (50g) sugar
1¼ cups (300g) non dairy milk
⅓ cup (64g) canola oil
⅓ cup (70g) plain or unsweetened nondairy yogurt
¼ cup (45g) freshly squeezed lemon juice (~1 lemon)
2 tsp vanilla extract
1 tsp almond extract
2 cups (280g) all purpose flour
⅔ cup (28g) almond flour*
¾ cup (150g) sugar
1 tbsp cornstarch
1 tsp baking powder
½ tsp baking soda
½ tsp salt
Strawberry Rhubarb Compote and Glaze
1½ (175g) cups rhubarb, sliced
½ cup (75g) strawberries, cut in half
¼ cup (50g) sugar
¼ cup (60g) water
1 tbsp freshly squeezed lemon juice
1 cup powdered sugar
Directions
To make the almond rhubarb bundt cake
Preheat your oven to 375 ºF with a rack placed in the center and grease a 12-cup bundt pan.
Toss together the rhubarb and ¼ cup sugar in a small bowl. Set aside.
In a large mixing bowl combine and mix the nondairy milk, oil, yogurt, lemon juice, vanilla extract, and almond extract.
In a medium mixing bowl sift together the all purpose flour, almond flour, sugar, cornstarch, baking powder, baking soda, salt. Almond flour can get particularly clumpy so make sure that is well sifted. Whisk to combine the dry ingredients.
Add the dry ingredients to the wet, and whisk to combine until fairly smooth. A couple small lumps are okay. Fold in the rhubarb.
Pour the batter into the prepared bundt pan and shake a little to level out the top.
Bake for 48-52 minutes, until a tester comes out clean. Let cool for 10 minutes, then remove cake from pan and set on a wire rack to cool completely.
Glaze or dust with powdered sugar when completely cool and before serving.


To make the strawberry rhubarb glaze
First make a strawberry rhubarb compote: Combine the rhubarb, strawberries, sugar, water, and lemon juice in a small pot. Heat to a boil, then lower heat and simmer for around 15 minutes, stirring occasionally, until the fruit has broken down and it's the consistency of applesauce. Puree until smooth with an immersion blender, or use a regular blender.
To make the glaze:
Combine 3 tablespoons of the puree with 1 cup of powdered sugar. Mix together, and check the consistency. You want it to be thick but flowing and pourable. Add an additional tablespoon of puree if needed. Pour over cake as desired!
Notes
*Make sure you use almond flour, it is not the same as almond meal