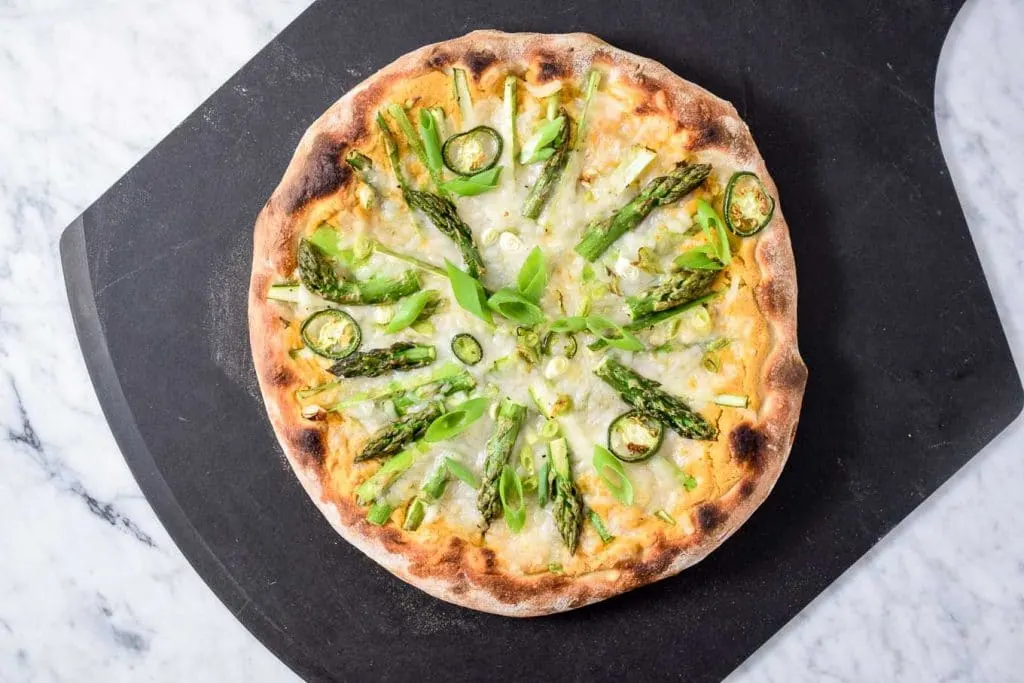 Spring is in the air! At least, it is in the lower latitudes of the Northern Hemisphere. But whether you are still dealing with near freezing temperatures, or, like me, overheating in a t-shirt while walking your dog in the afternoon, asparagus is finding its way into your grocery store. It's certainly the best, and some could argue, the only, time of year to be eating the vegetable. Tender and juicy stalks have replaced the sad, stringy stand-ins on the shelves. This vegan asparagus pizza with a spicy chickpea sauce is my nudge to get them into your bag and onto your menu.
Asparagus on pizza is a fun and tasty way to celebrate spring. The crisp, juicy vegetable is cut into matchsticks and tossed in some olive oil, salt, and pepper before being arranged on a bed of creamy homemade chickpea sauce. Made with a generous sprinkle of crushed red pepper, and some hot smoked paprika (or cayenne pepper), the chickpea sauce brings some subtle heat to your slice. It's a nice change of pace from a tomato sauce or olive oil, and is much healthier for you than a cream based sauce. So, even if you live somewhere that asparagus is not currently in season, I still recommend you make this asap, just with different toppings!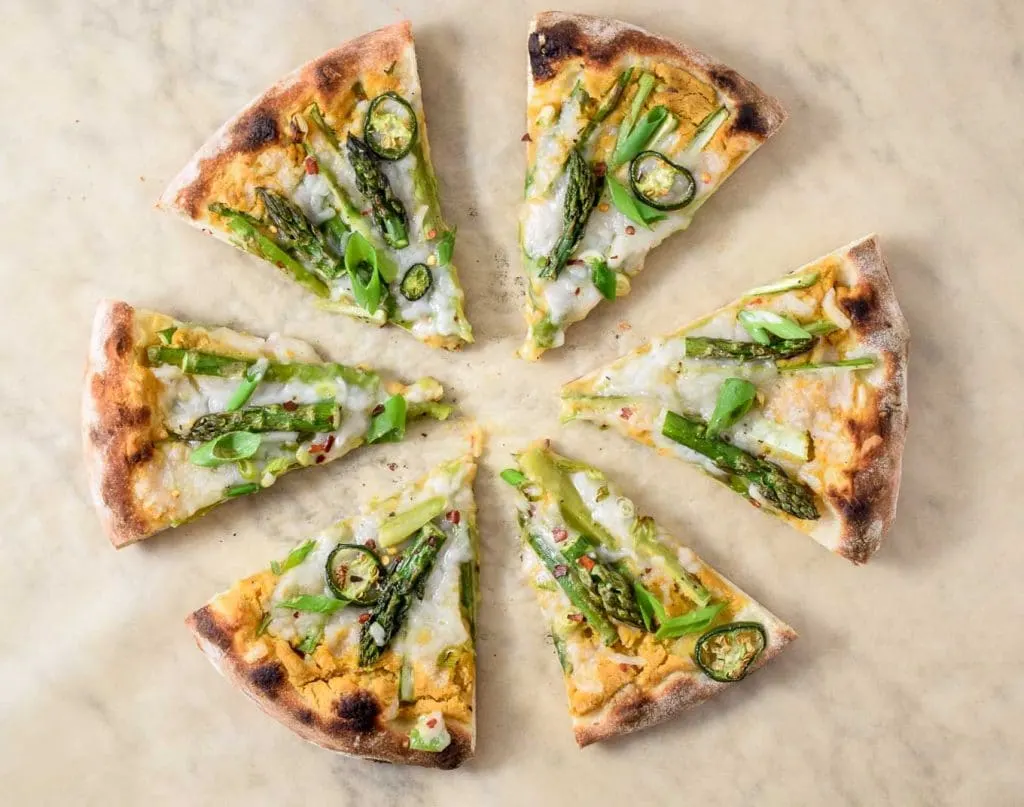 Finished with your vegan mozzarella style cheese of choice (I tried and enjoyed the new Parmela Creamery meltable shredded aged cashew cheese on this pizza), some sliced jalapeño for extra spice, and with an array of asparagus tips on top to make it extra pretty. After pulling the pizza out of the oven, sprinkle on some sliced scallions for a nice oniony bite.
Let me know in the comments if you make this dish, or tag me on Instagram! And if you're looking for more pizza inspiration check out my other pizzas!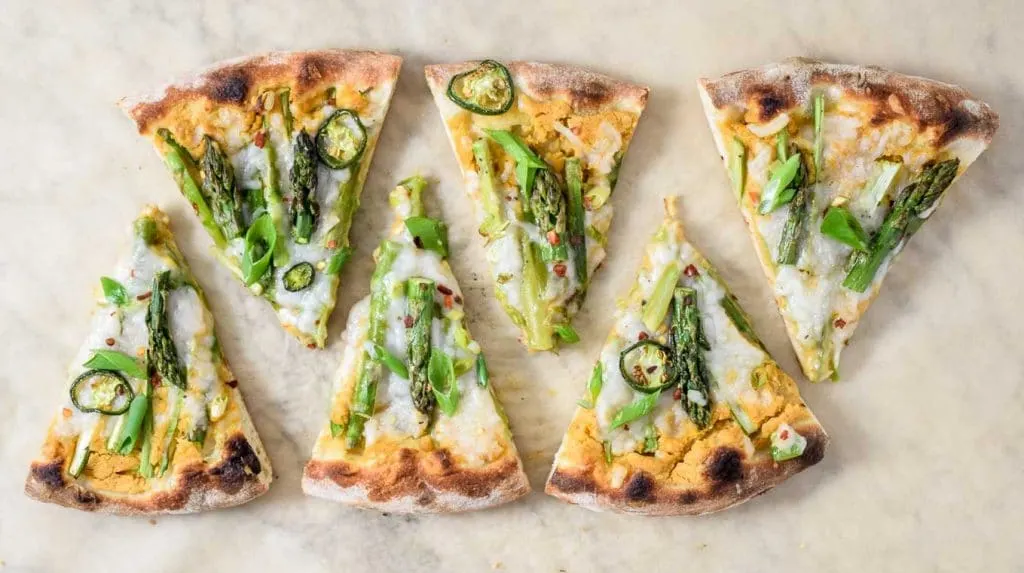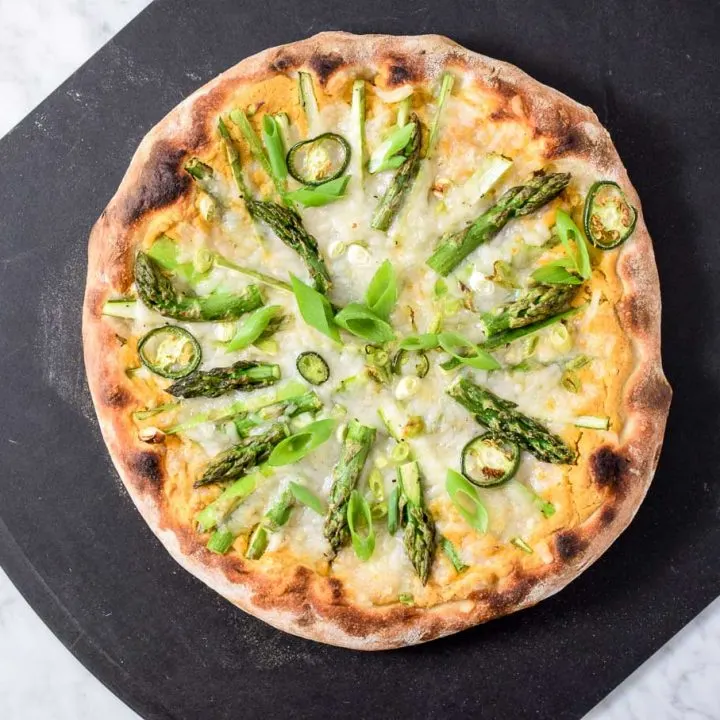 Asparagus Pizza with a Spicy Chickpea Sauce
Oven Preheat Time:
1 hour
Total Time:
1 hour
40 minutes
A spicy chickpea sauce is the base for this mouth-watering springtime themed vegan pizza topped with asparagus, jalapeño, and green onions.
Ingredients
Spicy Chickpea Sauce (yield: 1 1/2 cups, enough for 3 10-12" pizzas)
1 15 oz can chickpeas (1 1/2 cups), rinsed
1 tsp crushed red pepper (more if you like spicy)
2 cloves garlic
1 tsp dried oregano
1/2 tsp smoked hot paprika (add 1/4 tsp cayenne if using sweet)
1/2 cup vegetable broth, ideally no chicken style
1/2 tsp salt
1 tbsp olive oil
Asparagus
1 bunch asparagus*
salt
pepper
olive oil
To Assemble
Pizza dough, store bought or homemade (~10oz per pizza)
vegan cheese of choice
jalapeño pepper, sliced
scallions, sliced
Instructions
To make the spicy chickpea sauce
Place all ingredients in a blender or food processor. Process until smooth. If needed add a little more broth or water by the tablespoon.
To prepare the asparagus
Remove the tough ends of the asparagus. Then cut off the tips, and set aside. Cut the rest of the asparagus spears into matchsticks, halved for skinny asparagus or quartered for thick asparagus.
In a bowl, toss the asparagus spears with salt, pepper and a little drizzle of olive oil. Do the same with the tips.
To prepare the pizza
Preheat oven to 550 ºF (or as hot as your oven goes) or a full hour to fully saturate the oven with heat. If using a pizza stone, make sure that's in the oven as it preheats.
Stretch out the pizza, 10 oz of dough makes one ~12" pizza.
Place dough on baking sheet if using, or pizza peel if baking on a stone.
Spread the around 1/2 cup of spicy chickpea sauce on the dough. Arrange the asparagus matchsticks over the sauce, fanning radially outwards. Then, sprinkle on the vegan cheese. Place the asparagus tips on top of the cheese, and sprinkle on some scallions and sliced jalapeño.
Bake for 8-10 minutes, keeping a close eye on it at the end.* Repeat with remaining pizzas (if making more than one).
Notes
*1 bunch of asparagus is enough for 2-3 pizzas
*longer baking time maybe necessary if using more pizza dough, or if oven temperature is lower.
Recommended Products
As an Amazon Associate and member of other affiliate programs, I earn from qualifying purchases.