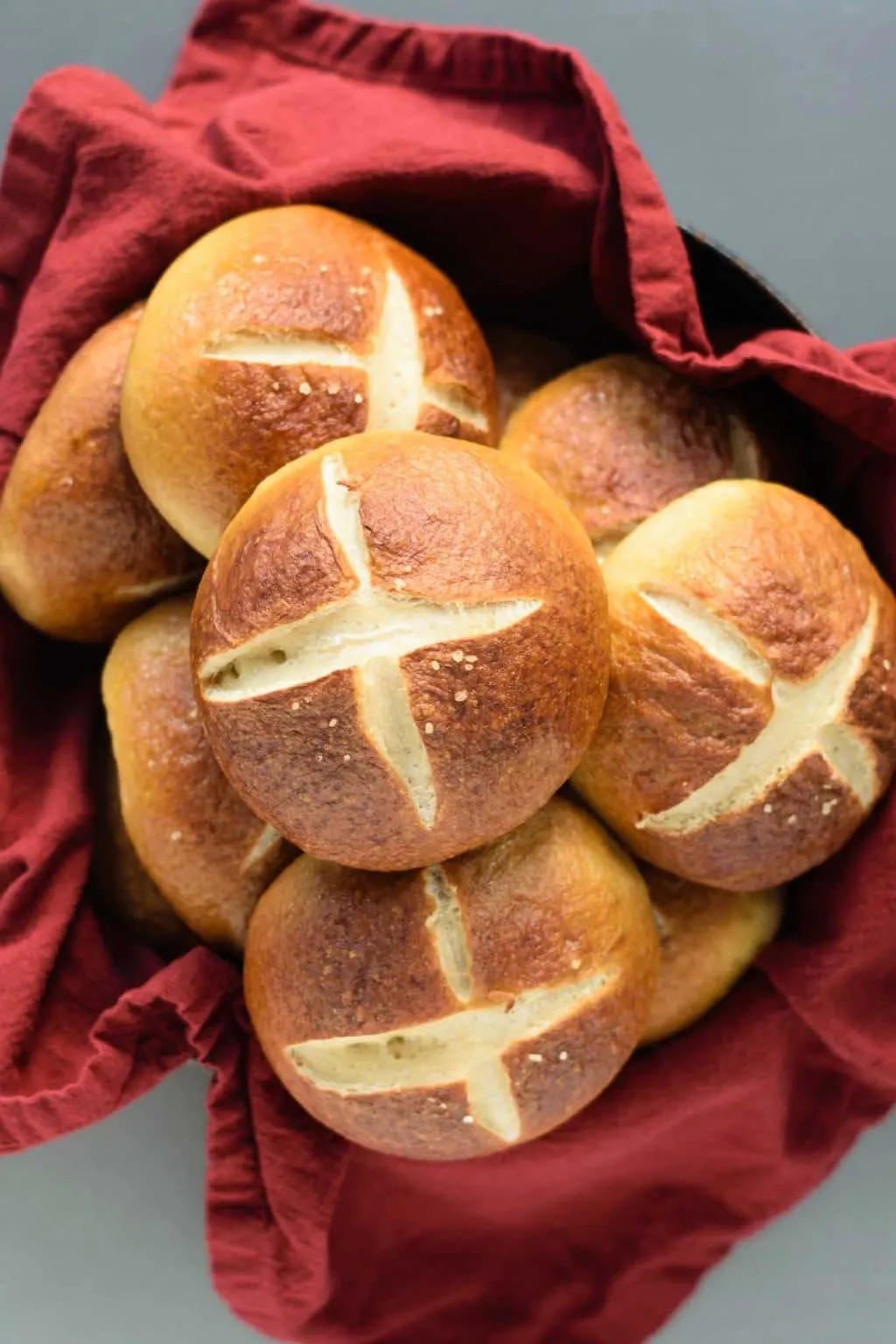 There's nothing quite like freshly baked bread. And when it comes from your own hands and your own oven it's even better and more satisfying. I love bread and encourage everyone else who feels the same way to try their hand at it too!
I've always enjoyed the process of making bread. It's methodical and relaxing, and I always feel proud of the end result. Plus when your friends come over for veggie burger parties they'll ask, "did you really make this all from scratch?" I know this because that's what my friends do.
So anyway freshly baked homemade bread is great, yeah, we know (unless of course you don't eat gluten, and then, I'm sorry, this post isn't for you). Pretzel buns are certainly no exception! Chewy and doughy-soft, with that delicious pretzel flavor, they are the perfect accompaniment to your veggie burgers.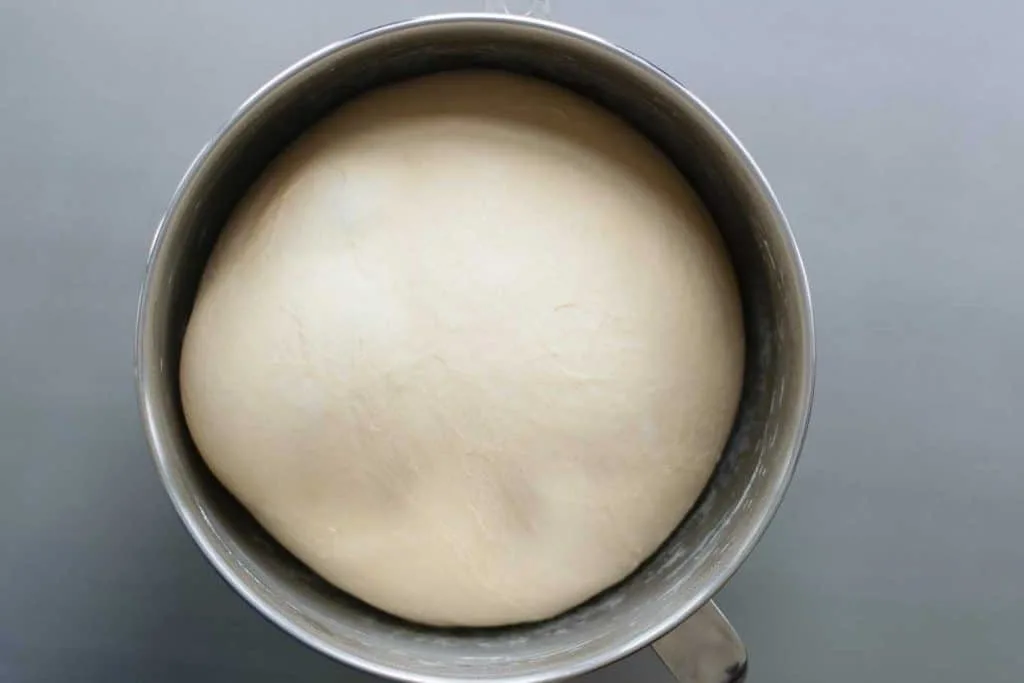 Pretzels are traditionally made with a lye bath, and it's this ultra caustic environment that allows the dough to brown to that rich color, and also gives it the characteristic pretzel flavor. Browning in cooking occurs via the Maillard Reaction, but how acidic or basic your food is affects how browned it gets (and by basic I don't mean this kind of basic, haha). The higher the pH (more basic), the better/darker your food will brown.
Now, this is all well and good, but most home cooks do not want to mess with lye. It's just probably not worth it. Lye is very basic and can cause bad chemical burns. I'm all for the occasional risk in the kitchen, but luckily for you, we can use baking soda to a similar effect and save lye for the professional kitchens.
Baking soda is a milder base than lye, so it won't produce as darkly browned of a product. To counter this, we make a relatively strong/concentrated baking soda water bath instead of a simple lye bath. For a smooth crusty finish I actually boil the baking soda, salt, and water solution and give the dough a quick 1 minute boil before baking.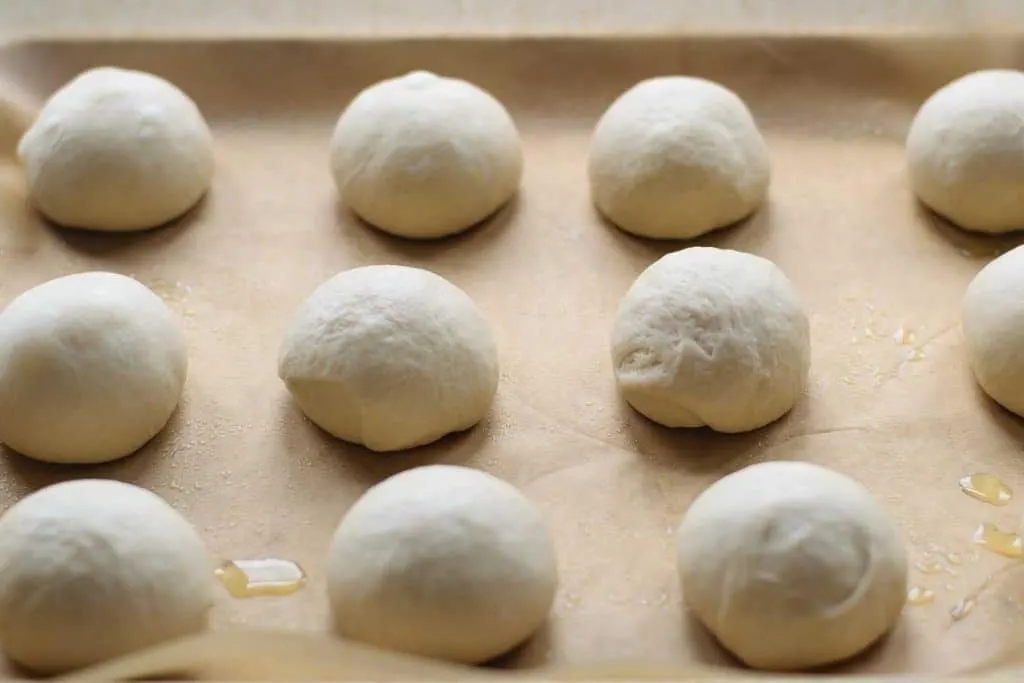 Boiling isn't necessary, and isn't traditional. You can just dip them in a hot water, salt, and baking soda bath, but I found that it produces a different finish that, as you can see, is a little more crackly (side note: those are my chickpea meatballs sandwiched in the pretzel roll, yum!). Whether you prefer dipped or boiled is up to you!
One other change I made from your typical pretzel bun recipe is that I used non-dairy milk instead of water. This produced a softer bread, which can be perfect for more delicate veggie burgers and fillings. However, if you prefer the more traditional version you can substitute water for the milk 1:1.
The end result with water has more pronounced chewy pretzel texture. If you're serving the buns with a burger like my stuffed mediterranean veggie burgers (plus enjoy seeing these pretzel buns in action!), it'll hold up together well enough for the chewier bread. So really it's up to you and what you'll be stuffing inside the bun. I like both versions equally!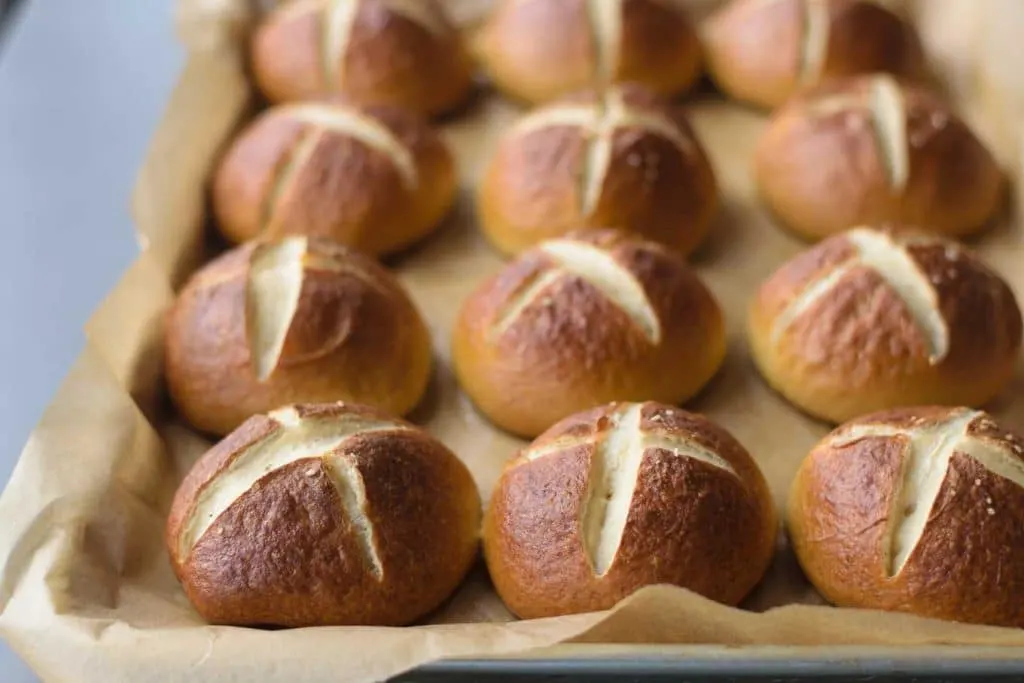 Ok, that's enough pretzel talk, let's move on to the recipe! As always, if you try this recipe let me know. I love seeing & hearing about it when you guys make my recipes! Leave a comment and/or rate the recipe below, tag me on Instagram (or #thecuriouschickpea), share with me on Facebook!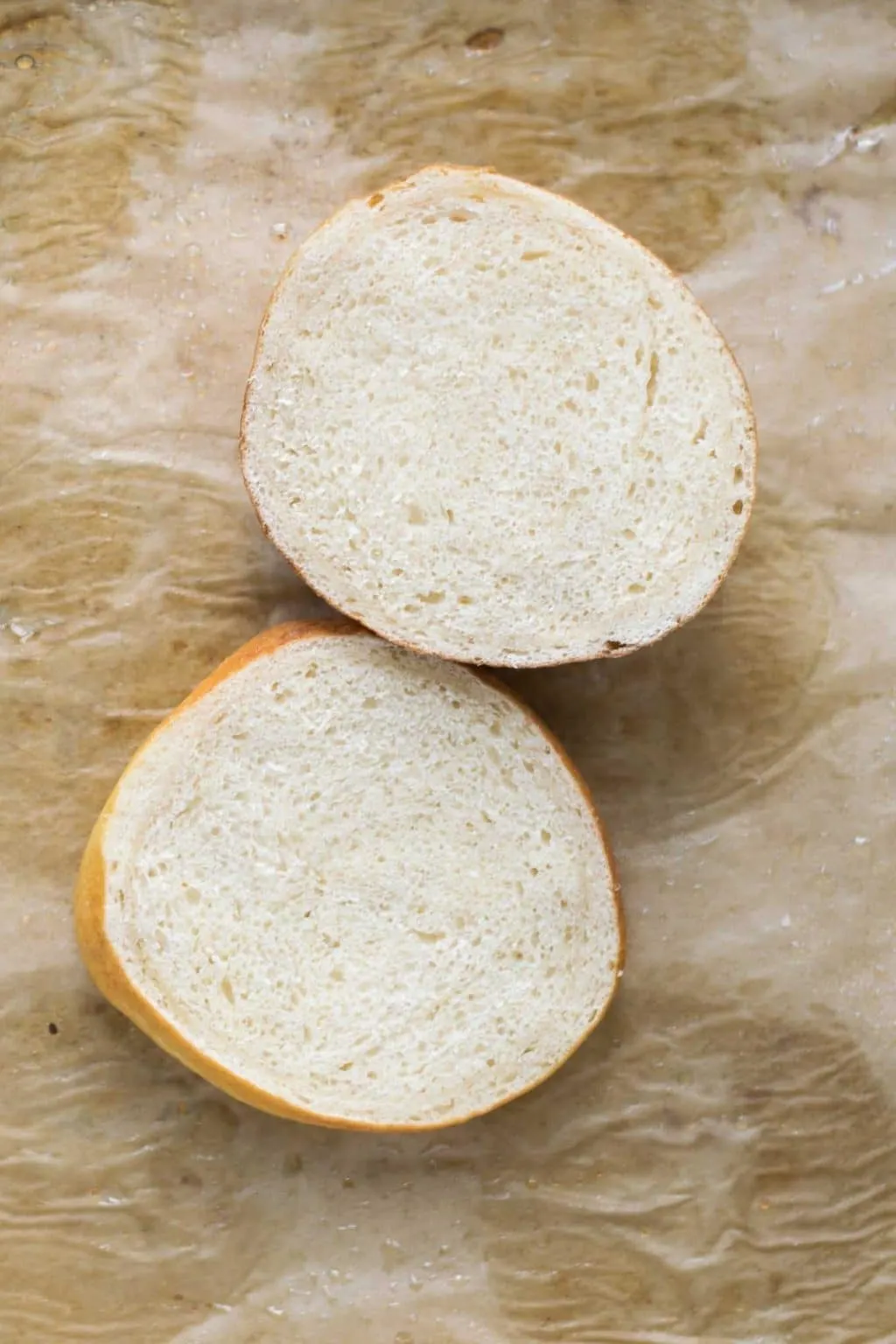 Notes:
You can substitute water for the non-dairy milk in the dough for a chewier texture.
For a traditional pretzel use hot tap water to dissolve the baking soda and salt and dip the buns in that before baking instead of boiling. The buns will look a bit different.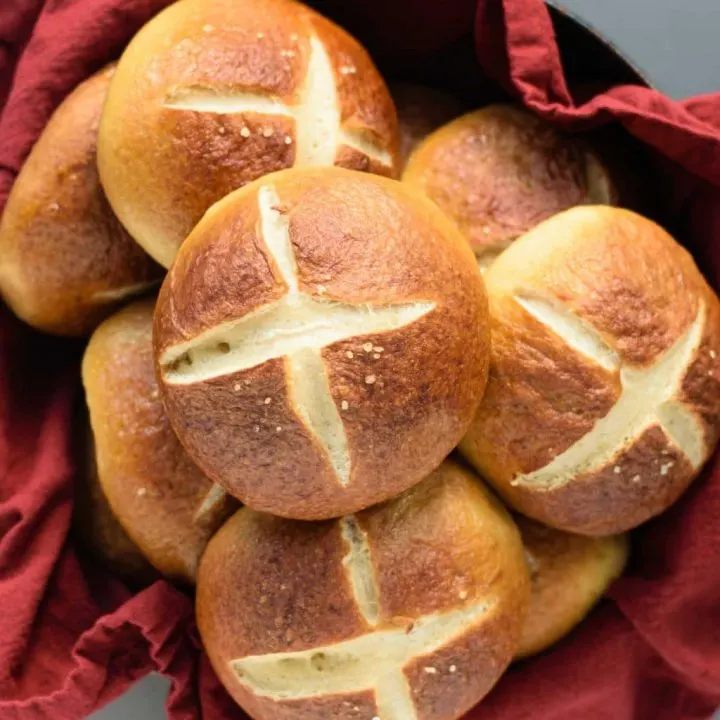 Vegan Homemade Pretzel Buns
Total Time:
13 hours
7 minutes
A soft and chewy pretzel bun that's perfect for all your veggie burger and sandwich needs!
Ingredients
Pretzel Dough
508g (2 1/4 cups) plain or unsweetened non dairy milk, 90-95 ºF
6g (2 tsp) instant yeast
38g (3 tbsp) neutral flavored vegetable oil
756g (6 cups) bread flour
15g (2 1/2 tsp) fine sea salt
28g (2 tbsp) brown sugar
Baking Soda Bath
8 cups (2 quarts) water
6 tbsp baking soda
1 tbsp kosher salt (2 tsp fine ground salt)
non-dairy milk, for brushing
Instructions
To make the pretzel dough
In a large mixing bowl add lukewarm water and yeast. Stir, then let hydrate for 1 minute. Add the oil, then flour, salt, and sugar. Mix by hand or with a wooden spoon until just combined into a shaggy dough, around 30 seconds.
To knead with a stand mixer: Using the dough hook, turn mixer to lowest speed and let knead for 3 minutes. Turn off mixer and let the dough rest for 5 minutes. Then turn back on low and let knead an additional 3 minutes. Turn the dough onto a clean, lightly floured surface and knead for 1 minute adding flour or water if necessary. The dough should be lightly tacky but not sticky, if too sticky add more flour and if not at all tacky wet your hands and knead the water into the dough.
To knead by hand: Knead dough by hand for three minutes, beginning in the bowl until it forms a nice uniform mass, then transferring to a clean, lightly floured surface. Let the dough rest for 5 minutes, then knead an additional 3-4 minutes. In the last minute of kneading add water or flour as necessary to create a lightly tacky but not sticky dough.
Place dough into a lightly oiled large mixing bowl and turn the dough ball, cover with plastic wrap and place in the refrigerator overnight, or up to 4 days. If you are going to bake in batches, divide before refrigerating and place each batch into a separate bowl.
On baking day
Divide the dough into 12 equal portions (~108g each), there is no need to flour the counter as it should not stick. Working gently to deflate as little as possible, form the dough into balls by forming a rough round shape. On a clean surface, with the seam side facing down, cup your hand over the ball of dough and make a small circular motion. This will pull the outside of the dough around and under and create a tight skin around the dough ball. There will be a seam at the bottom of the ball, if your dough is a bit dry the seam will not close (don't worry about it, just keep going with the process--it will turn out fine!), but if it's at the correct hydration the seam will mostly close up.
Place the formed balls of dough onto a lightly greased parchment lined baking sheet, seam side down. Spray the tops with oil and lightly cover with plastic wrap. Leave to rise for 1 - 1 1/2 hours until about doubled in size. To check that they are fully proofed and ready for their baking soda bath and baking, poke the dough with your finger to create an indentation (poke the side or bottom to not mar the top of your bun!). If fully proofed, it will only spring back ~25%. If it springs back almost all the way quickly the dough needs more time, and if it doesn't spring back at all you've over proofed and work as quickly as possible to get the dough in the oven. Pop the baking sheet into the fridge if you need to.
About 45 minutes before the dough is ready to bake, preheat your oven to 400 ºF and place a rack in the center of the oven.
When the buns are fully proofed, prepare the baking soda bath. Add the 2 quarts of water into a large stock pot and bring to a boil. When boiling add the baking soda and salt. Working with 3-4 buns at a time (don't over crowd the pot!), boil 30-60 seconds on each side. Remove with a slotted spoon and return to baking sheet. Repeat until all buns are boiled. If you would like to score the tops of the buns use a sharp knife and cut an X pattern into the top. This is optional.
For a little extra shine, brush the tops of the buns with a little non-dairy milk right before baking.
Bake the buns for 12 minutes, then rotate the baking sheet for even baking, and bake an additional 8-10 minutes. The buns are done when they are a deep golden color. Let cool at least 20 minutes before using.
If you don't finish them on the first day, slice open the buns then pop them into a freezer bag. Freeze until ready to use, just allow to defrost for ~30+ minutes on the counter then toast or grill.
Recommended Products
As an Amazon Associate and member of other affiliate programs, I earn from qualifying purchases.
Nutrition Information:
Yield:

12
Serving Size:

1
Amount Per Serving:
Calories:

276
Total Fat:

5g
Sodium:

36mg
Carbohydrates:

49g
Fiber:

2g
Sugar:

3g
Protein:

8g