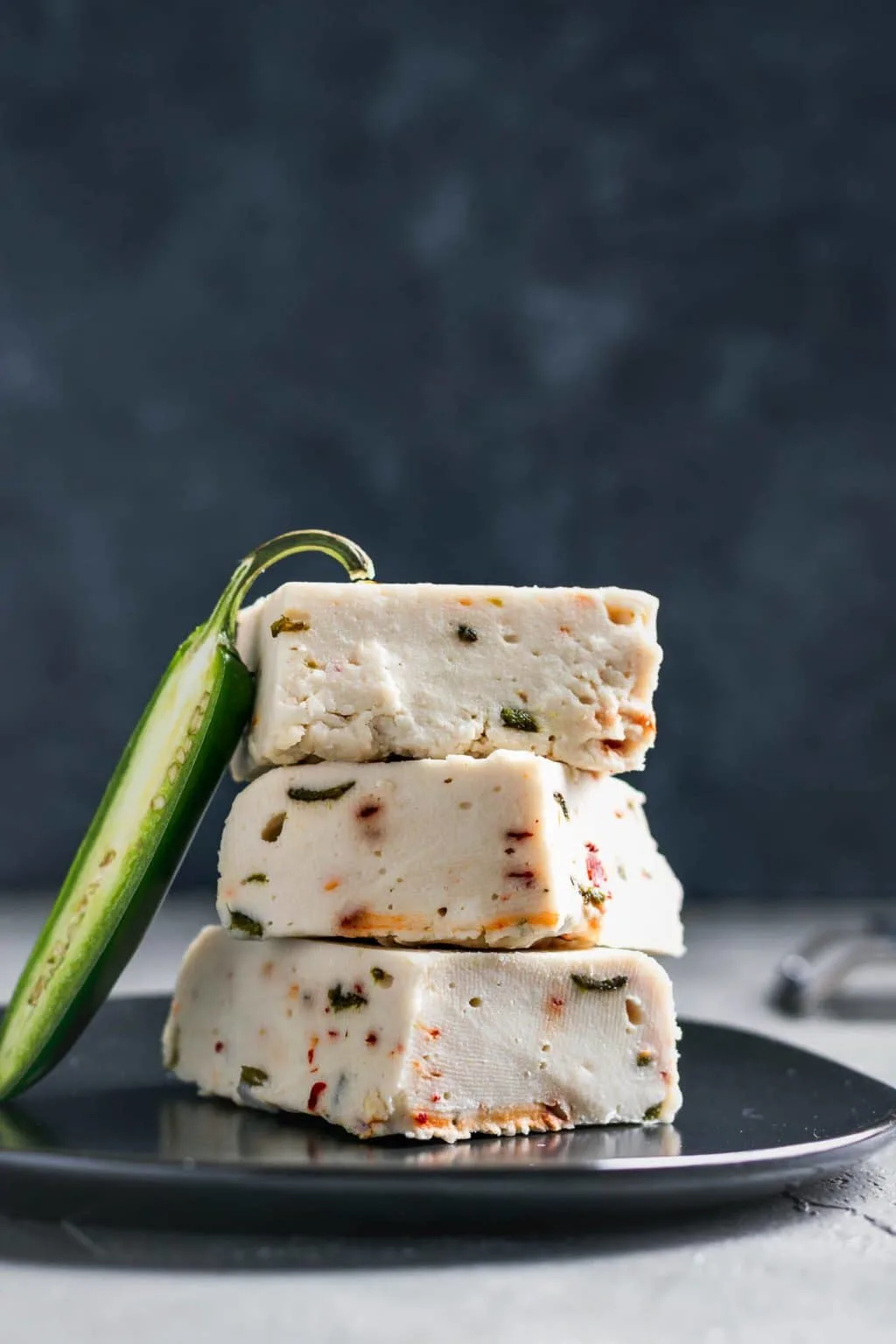 This vegan roasted jalapeño cheese is one of my go-to recipes. It packs in a ton of flavor and is so simple to make. It melts and stretches, and makes the best quesadillas. Before going vegan, I would regularly eat quesadillas for lunch or dinner, and would always make those with pepper jack cheese. When I cut cheese out of my life I thought I would never enjoy a quesadilla again. I mean of course I tried all the commercial brands, and while I'm fine with them in certain applications, I did not enjoy them in quesadillas, where the flavor and texture of the cheese is upfront. And then of course the cultured nut cheeses came onto the market, but they weren't the right fit for quesadillas either! Delicious, certainly, but they weren't trying to emulate gooey, melty cheeses.
I started making my own vegan cheeses back in 2012, when Miyoko Schinner published her groundbreaking book Artisan Vegan Cheese. It was before I had fully given up cheese, though I had cut back drastically. While most of the cheeses in that book are cultured (and I soooo appreciate cultured nut cheeses), this one is not. I did, however, heavily utilize the knowledge I gained from that book to create this roasted jalapeño cheese.
Not culturing this cheese means the recipe is super quick to make, and that it's rather foolproof. And to be honest, I don't miss the cultured flavor in this recipe in the slightest. There's so much going on that it's perfect as is. And seeing as I do culture cashew cream cheese and always keep it stocked in the fridge, if this recipe could be improved by culturing the cheese, you know I'd be doing it.
We build layers of flavor into this nut cheese, with the main one, of course, being roasted jalapeños (one of my favorite flavors). Raw garlic provides a bit of bite and funk, while the brine from jarred jalapeños adds some fermented depth. Refined coconut oil is what gives the recipe it's perfectly cheesy mouthfeel, and tapioca starch thickens the mixture and gives it some stretch when melted. Nutritional yeast is that vegan gold, with just a little bit adding a cheesy and nutty flavor to the recipe. Lastly, the cheese is gelled so that it firms up. This last step is not necessary if you're only using the cheese in it's melted capacity, but firming the cheese with either agar powder or carrageenan makes it sliceable while still allowing it to melt under heat.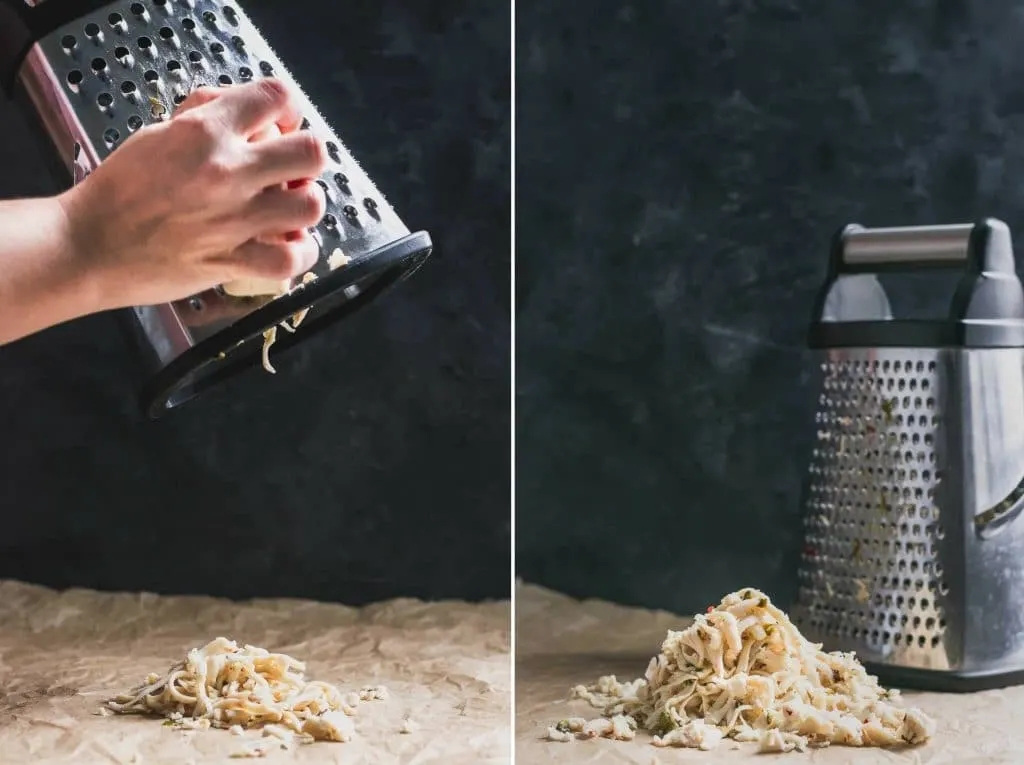 You can make this recipe with either agar powder or kappa carrageenan. Agar has less gelling power than carrageenan, so that means for the same amount, agar powder makes a softer cheese. Agar melts at a higher temperature, so I add just enough to set the cheese while still being easy to melt. At this amount of gelling the cheese is not firm enough for grating, though it can be sliced or crumbled. Agar is also a bit fussier to work with than carrageenan. You want to first bloom the agar (that is, hydrate it) in water so that the molecules swell before bringing the solution to a boil and dissolving the agar. If you skip this step you may not form a cohesive gel. Carrageenan on the other hand melts at a lower temperature and makes a firmer gel. It also is easier to use as it can be blended straight into the cheese mixture and then the whole thing can be heated at once. The cheese it makes is firm enough to grate and looks more like a dairy cheese in texture. It's also what's pictured at the top of this post and in the photos of the cheese being grated.
I can't say I have a big preference between the agar and carrageenan versions of the cheese. They certainly taste the same in the end! So it's really up to you and how you want to eat the cheese. Though, if you're like my sister and want to eat it straight cold and straight from the fridge, I think the carrageenan makes for a better texture in the unmelted cheese. While I think that the melt from the agar looks a little nicer (it doesn't keep it's individual shape as much). You can see the agar cheese melting in action in the photo of it baked onto bagels below (FYI, bagel recipe is here!).
This vegan roasted jalapeño cheese is so good and so versatile. While I talked a lot about bagels, it's really good in any application you may want a pepper jack style cheese or any flavorful, peppery, melty vegan cheese! I use it in grilled cheeses and on enchiladas. It's the cheese I like to stuff in my pupusas, makes an amazing topping for my Mexican pizzas, and let's not forget these TO DIE FOR cheesy biscuits.
Not only is this vegan cheese is super quick and easy to make, but it has been thoroughly enjoyed by vegans and non-vegans alike. If you try this recipe, please comment and rate the recipe. I'd love to know what you think! And don't forget to tag your recreations @thecuriouschickpea and #thecuriouschickpea on Instagram, or share with me on Facebook.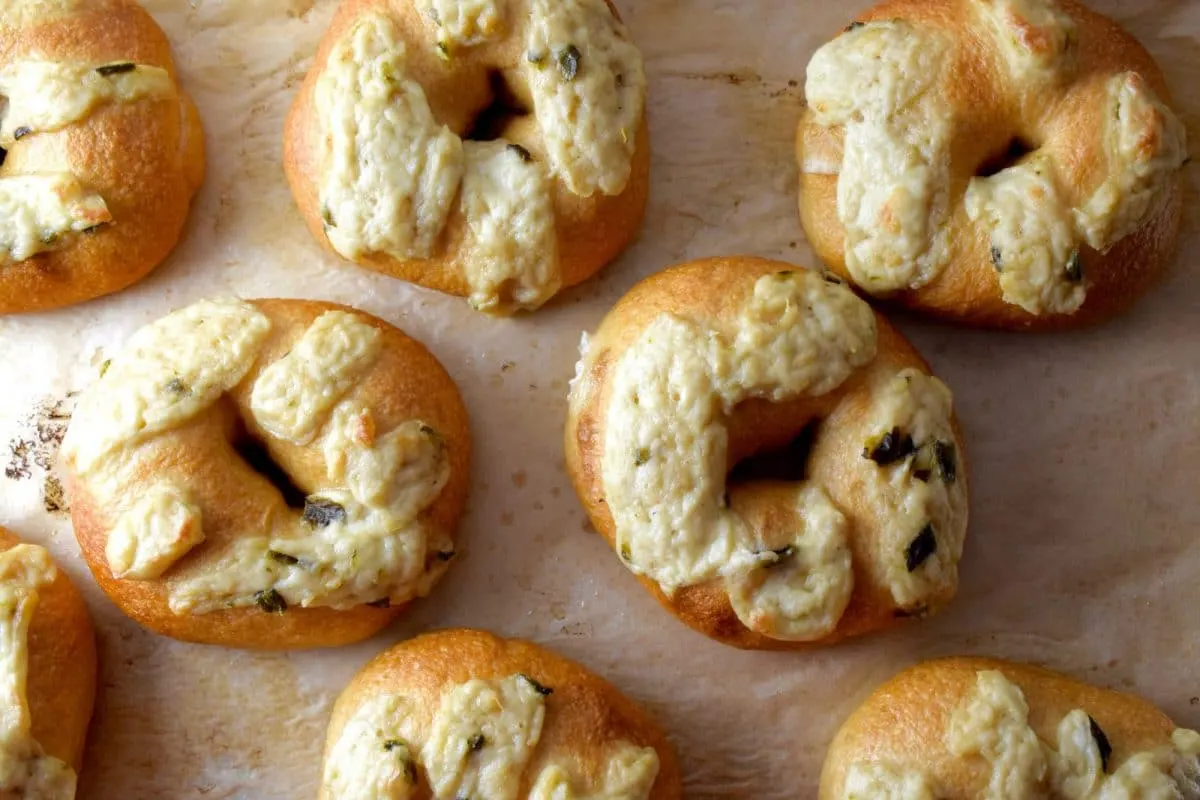 Notes
Don't like a lot of heat or feeling a bit lazier? Use jarred jalapeños (mild for less spice, hot for more) in the cheese instead of roasting your own.
Adding some red pepper flakes adds a bit of color to your cheese and a little extra heat if desired. It's not necessary but does look a little pretty!
Make sure to use refined coconut oil. Yes it doesn't have all the health benefits of unrefined coconut oil, but unless you want you cheese to taste a bit coconutty, this is what I recommend.
Do not try to substitute agar flakes for the powder, it is so much harder to melt the flakes and is a giant pain in the butt. You can get the powder occasionally at natural food stores, more easily at Asian grocery stores, or I often order mine on Amazon. As for kappa carrageenan, Modernist Pantry sells it, you can find it on Amazon or their website.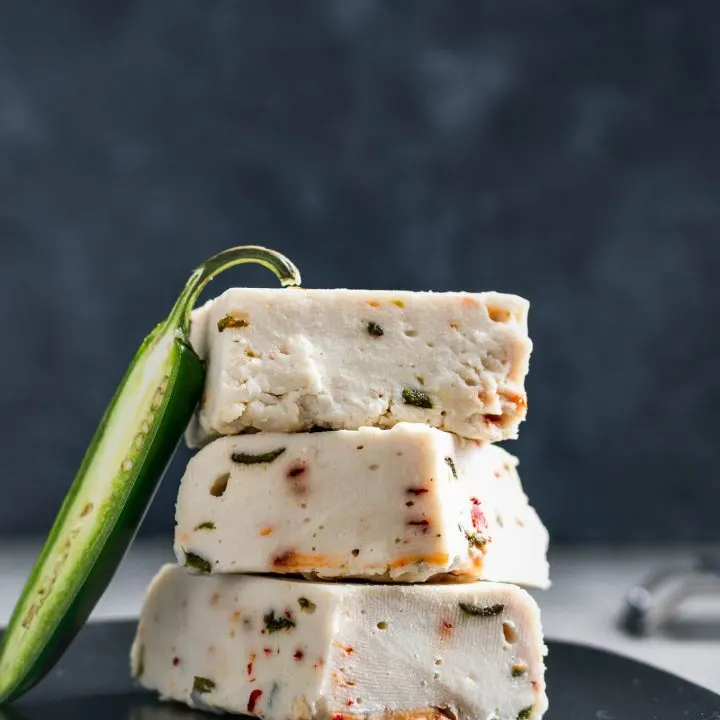 Vegan Roasted Jalapeño Cheese
A melty, rich, and creamy cashew based cheese packed with delicious peppery flavor.
Ingredients
2 jalapeños, or 2 tbsp diced jarred jalapeños
1 tbsp agar powder -OR- 1 tbsp kappa carrageenan
1/2 + 3/4 cups water, divided
1/2 cup cashews, soaked for 2+ hours, drained, and rinsed
2 tbsp jarred jalapeño brine
1/3 cup refined coconut oil
1 garlic clove
1 tsp salt
1 tbsp nutritional yeast
2 tbsp tapioca starch
1 tsp red pepper flakes, optional
Instructions
Roast the jalapeños
Set the broiler on high and a rack about 6" from the top burner. Place the washed jalapeños on a baking tray and under the broiler. Let them cook for about 7-10 minutes, turning every few minutes, until the skin is blackened.
Place the blackened jalapeños into a bowl and cover. This will loosen the skin. Once cool peel off the papery skin, seed and dice the roasted jalapeños. Set aside until ready to use.
If setting the cheese with agar:
In a medium pot, add the agar to the 1/2 cup of water, cover, and set aside to hydrate the agar for several minutes.
Meanwhile, in a high speed blender or food processor, add the soaked cashews, 3/4 cups water, jalapeño brine, coconut oil, garlic, salt, nutritional yeast, and tapioca starch. Process until smooth, scraping down the sides as necessary.
Heat the water and agar powder over medium heat until boiling. Stir, then quickly whisk in the cheese mixture.
Stir until well combined, and continue to stir while the mixture heats up to a boil. Let simmer for a couple minutes to ensure the agar is fully dissolved and starch is cooked. The mixture will be thick and glossy at this point. Agar melts at around 185 ºF, so you can check with a thermometer that it has reached this temperature. Water boils at 212 ºF, so if once it's simmering it should have reached that temperature. Stir in the jalapeños and red pepper flakes (if using).
Pour the cheese into a mold and set aside to cool fully to room temperature. Then refrigerate until ready to use. It will continue to firm up in the fridge.
If setting the cheese with carageenan:
In a high speed blender or food processor, add the soaked cashews, 1 1/4 cups water, jalapeño brine, coconut oil, garlic, salt, nutritional yeast, tapioca starch, AND carrageenan. Process until smooth, scraping down the sides as necessary.
Pour the mixture into a pot turn the heat to medium. and stir while the mixture heats up. The mixture will first turn a bit lumpy, then smooth out and become glossy and stretchy in texture. Kappa carrageenan should be heated to 175 ºF to fully melt. Add the diced roasted jalapeños and the red pepper flakes (if using).
Pour the cheese into a mold and set aside to cool fully to room temperature. Then refrigerate until ready to use. It will continue to firm up in the fridge.
Notes
*If you want to pack a little more flavor, use up to 4 tbsp jalapeño brine