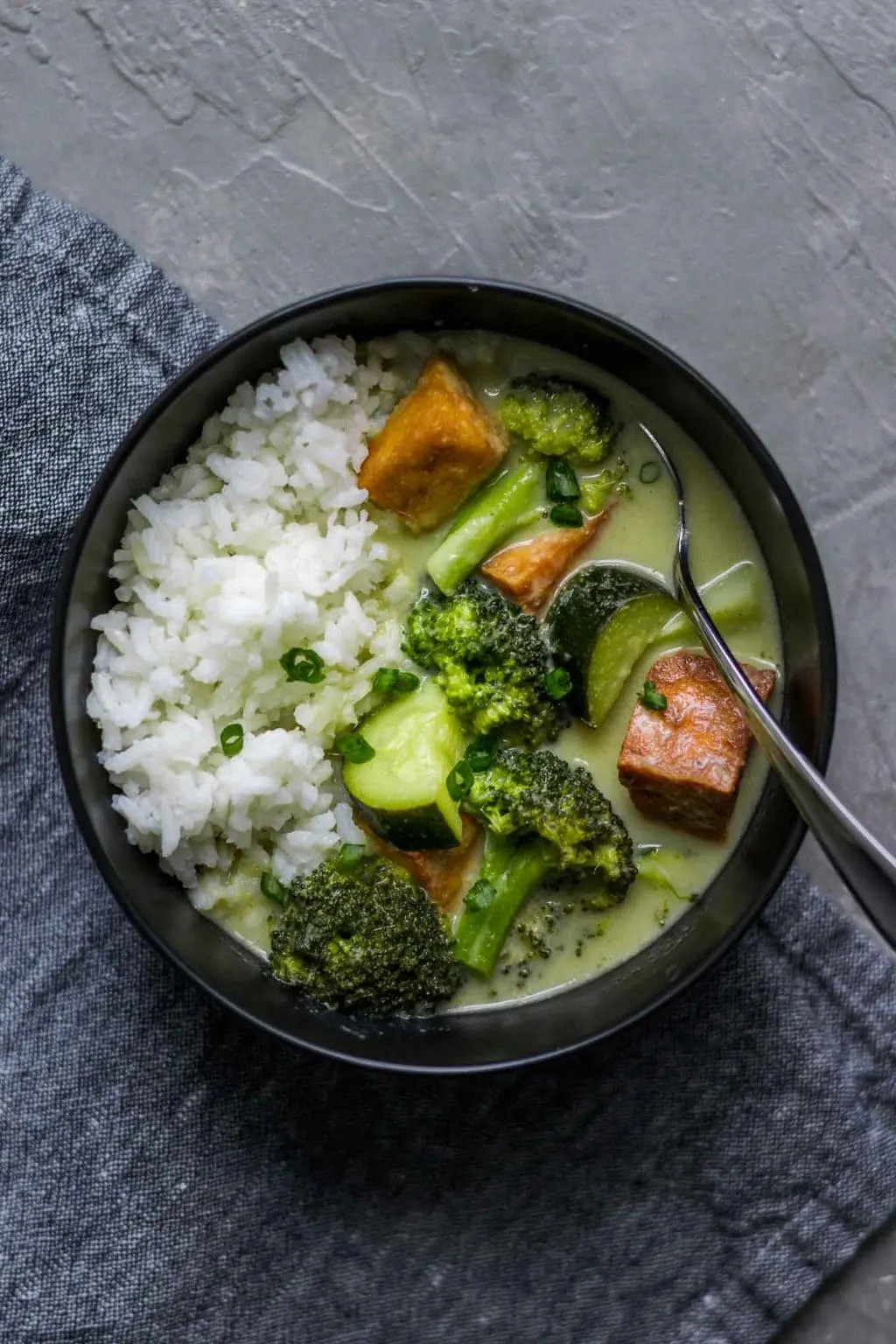 Meet my favorite green curry. It's vegan (duh), green (also, duh), stuffed full of green veggies (yum), and has fried tofu tucked throughout (yessss!). It's incredibly easy to make, ready in just over 30 minutes, less if you skip frying the tofu.
Throw a pot of jasmine rice on the back burner when you start, and by the time your curry is done you'll be all set to eat. It's filling, as it's full of all the important food groups: protein, vegetables, carbs, and healthy fats (some less healthy ones as well if you fry the tofu.. but, um, whatever).
And did I mention how incredibly flavorful and fresh tasting it is? Cause, yum. I think some of the magic comes from using my homemade curry paste, but don't worry store bought will also turn out some delicious curry (and let's face it, most Thai restaurants use prepared curry pastes).
I've been making curry pastes on and off for years (like, we're nearing a decade). At this point it shouldn't come as a surprise how great a curry tastes from a homemade curry paste versus a store bought, but somehow, it gets me every time.
There are some key techniques to making a delicious creamy curry no matter what curry paste you're using. First of all, you shouldn't be adding any oil to your curry. There's plenty of fat in the coconut milk to bring out those fat soluble flavors. And we want to fry the curry paste before adding all the liquid, because that will make the flavors pop.
So, what you do is a technique called cracking the coconut cream. Now, it doesn't always work with store bought coconut milk, because typically emulsifiers (e.g. guar gum) are added to prevent separation from happening. But, to give it a go, you should open the can without shaking it first so you don't disturb the creamy fat that collects at the top of the can.
In fact, before opening the can, you can shake it and listen for liquid, if you can hear it shaking then grab a different can. Scoop out some of the cream that's at the top of the can and add it to a hot wok (or skillet). Let the cream fry for a minute and then, whether or not it splits, add the curry paste. Continue to fry for a minute or so, to release all the flavor.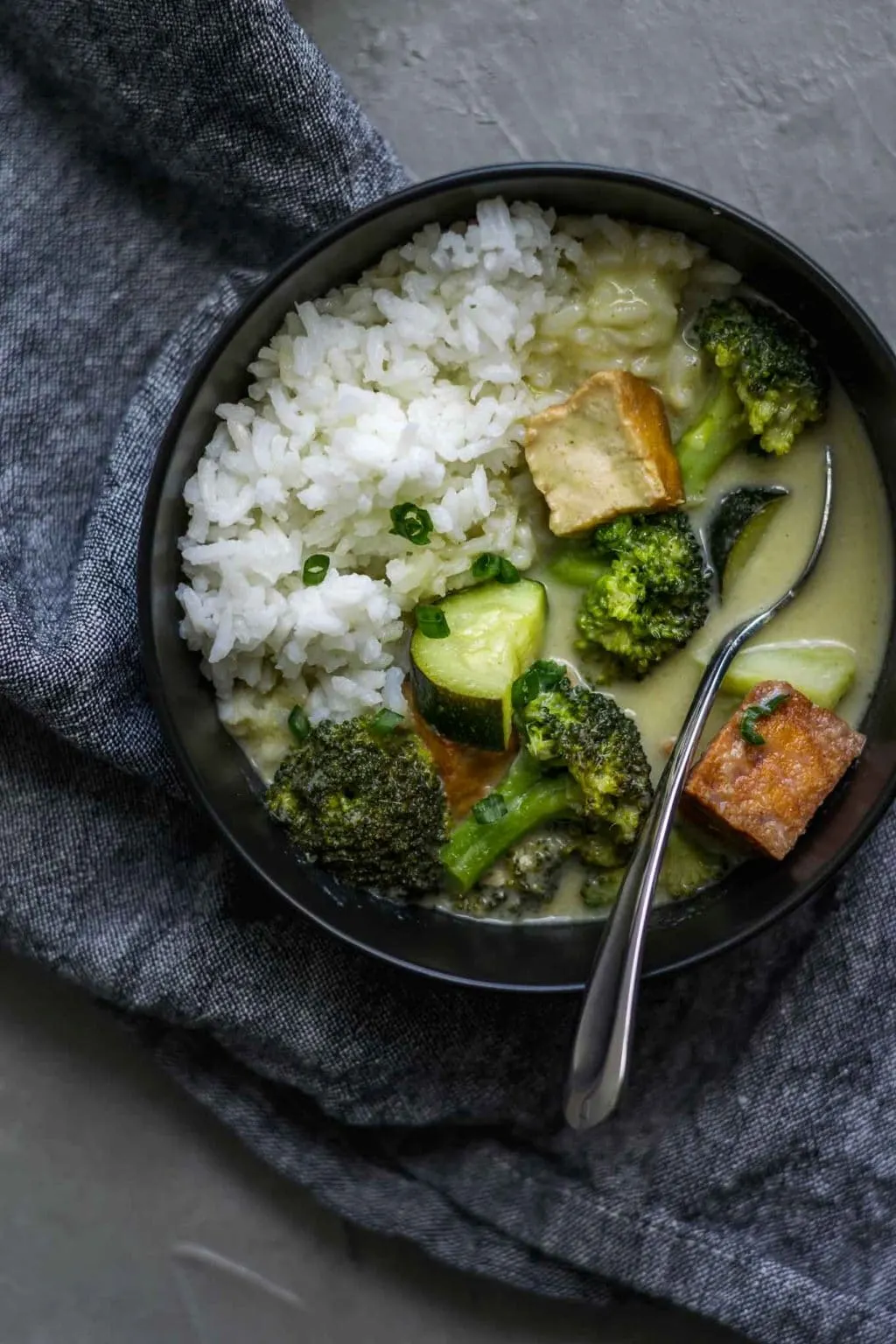 Another tip for relaxed and fool proof curry is to have all the ingredients prepped and measured and chopped and laid out before turning on the stove. Things move so quickly, that if you have to pause to open up a can of coconut milk, or chop the vegetables, you run the risk of burning or overcooking. This is true of all stir fries, but it's also a good way to cook in general.
I deep fried the tofu in this curry. It's quite easy to do, and gives your home cooking some of that restaurant quality. It's not necessary in the slightest, I love just tossing in small cubed plain tofu into the curry along with the vegetables as well, and that's probably a more common way for us to eat it.
But if you do want to fry your tofu, just keep in mind that if you do so in your wok (or skillet) you're going to make your curry in, you have to wait for the oil to cool down enough to transfer or dispose of and then clean out the wok of excess oil. This will slow down your dinner making process immensely.
Instead, I recommend dirtying a second pot for the frying so that as soon as the tofu is ready and all the ingredients prepped you can go ahead and quickly throw together your curry (we're talking under 15 minutes here dudes). If you're not a tofu lover, curries are wonderful with cubed tempeh, or fried seitan (pan frying works well for seitan), really any protein you enjoy.
Before you get to making your own curry, it would be remiss of me to not tell you how to give your curry a spicy kick. While for some, the amount of heat from the curry paste is all they want–and, I may sound like a broken record here, but homemade curry pastes are great because you can control the amount of spiciness, while store bought curry pastes tend to be on the spicier side–but, for others (like me, and especially Omar), you'll want to kick it up a notch.
My favorite and easy way to do this is to add some dried whole chiles along with the coconut milk and broth. And by whole chiles, I'm talking about these kind, which you can also buy from Indian grocery stores, or these Thai dried peppers, but Thai peppers are hot so use sparingly. By adding them whole, and simmering them in the curry, they'll release some more subtle heat into the curry, and then those that wish for extra can eat them in bites with their curry.
I hope you feel inspired to make some homemade Thai curry! It's so delicious, the perfect warming comfort food. It's really everything I dream of! If you try this recipe, please comment and rate the recipe. I'd love to know what you think! And don't forget to tag your recreations @thecuriouschickpea and #thecuriouschickpea on Instagram, or share with me on Facebook. Happy cooking!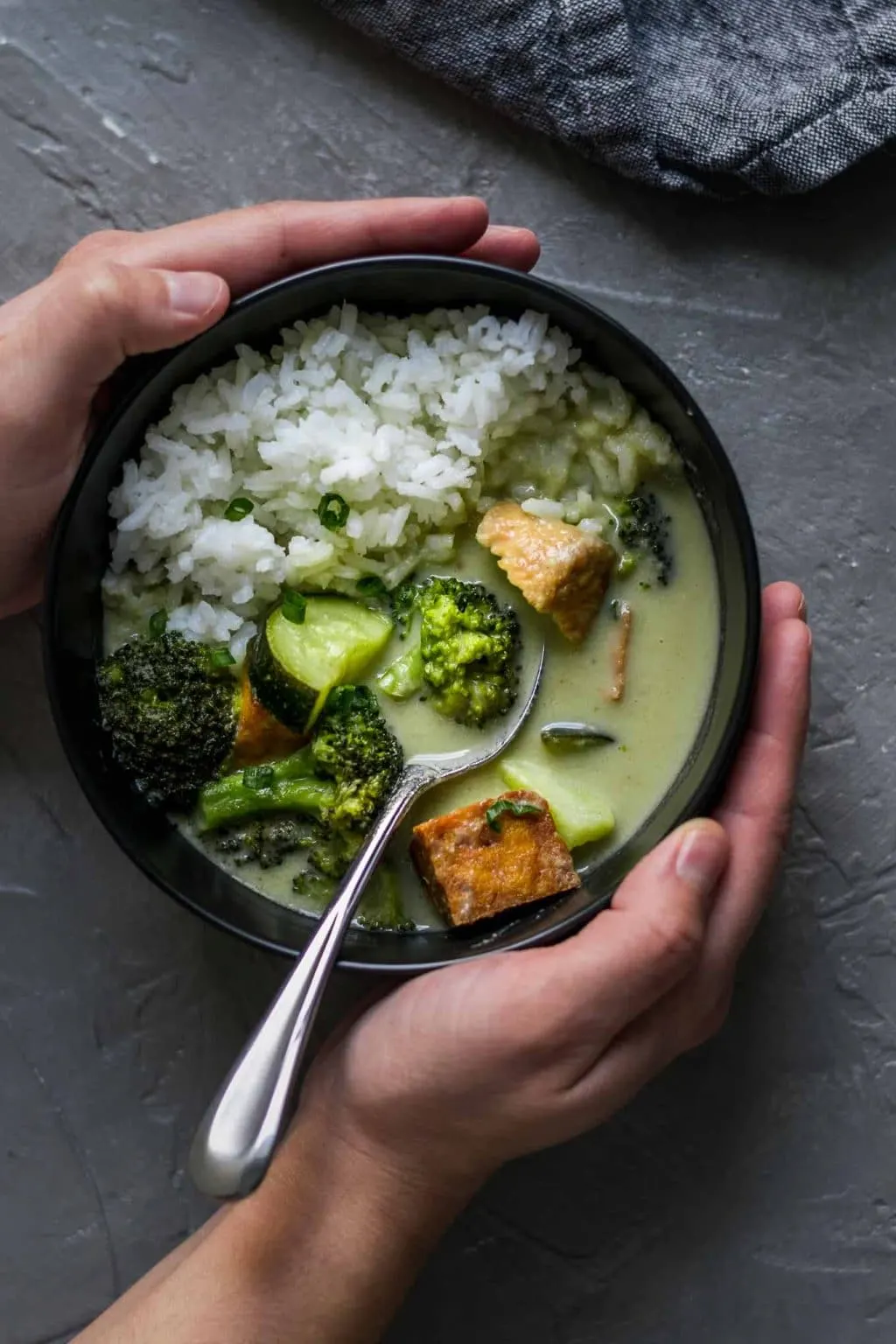 Notes:
Tofu can be deep fried or added plain straight to the curry. We like both versions! Deep fried is a treat and gives it a chewy exterior and soft interior. When added plain and uncooked, the tofu soaks up the flavors of the curry and is delicious.
For best results use a homemade curry paste. However, store bought can be substituted, just make sure to get a vegan one (no fish sauce or shrimp paste) and keep in mind they can be more spicy than homemade.
Substitute vegetables for what you have available in your pantry, and tempeh and seitan both are a nice substitute for the tofu.
If you want a spicier curry add the dried chiles, if you want a very mild curry don't add the chiles or add only 2-4 for a mild to medium spicy curry. Leaving them whole adds some heat without it being over powering.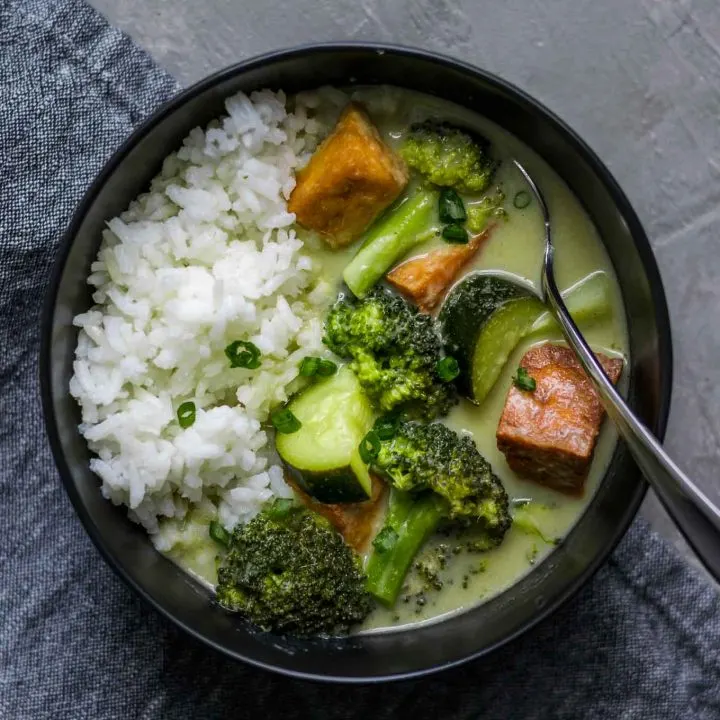 Vegan Thai Green Curry with Tofu
This flavorful green curry is made with a homemade Thai curry paste and is stuffed full of green vegetables and fried tofu. The result is a creamy and satisfying meal that goes perfectly with steamed Jasmine rice.
Ingredients
14 oz extra firm tofu, cut into 1" cubes for fried or 1/2" cubes for plain
oil for frying (refined for high heat), optional
2 15oz cans coconut milk
1 cup vegetable broth, ideally no chicken-style
2 double sided kaffir lime leaves*, optional
2-6 dried whole red chiles*, optional
1 tsp salt, or to taste
2 small (~2 cups) zucchini, cut into 1/2" thick half moons
2 small heads of broccoli (~4 cups), cut into florets and stems diced
2 tbsp lime juice, or more to taste
cilantro or scallions greens for garnish, optional
jasmine rice for serving
Instructions
If deep frying the tofu, heat a couple inches of oil in a wok or a deep, heavy bottomed pot. When the oil is around 375 ºF add half of the cubed tofu. You can test the heat with one piece of tofu, place it in the oil and it should bubble and boil around the tofu and float back to the surface fairy quickly. Fry the tofu in two batches for 5-6 minutes, or until the tofu is a deep golden brown. Transfer to a paper towel lined plate and let drain. Repeat with the second half of the tofu. If using the wok to fry, let the oil cool until about room temperature then transfer to a container (I'll typically reuse oil for frying a few times) and continue with the recipe.
Heat a wok or a large skillet over medium-high heat. Add about 6 tablespoons of coconut cream from the top of one of the cans of coconut. Cook for 1 minute, letting it sizzle. If it splits that it totally normal (usually emulsifiers are added to coconut milk so it often won't split). Add the green curry paste and stir to combine. Let it sizzle and cook for 1 minute.
Add the broth, the rest of the coconut milk from both cans, the kaffir lime leaves and the salt. If you want your curry to be spicy, add the whole dried chiles at this point (do not break them apart, you can choose to remove them at the end or eat them along with the curry as desired). Let the broth and coconut milk simmer over medium-high heat for about 5 minutes.
Add the tofu (plain or fried), broccoli, and zucchini and cook, stirring occasionally to evenly heat the vegetables, for about 5 minutes, or until the vegetables are almost as soft as you'd like. They will continue to soften after you turn off the heat.
Add the lime juice and taste the curry. Adjust salt and lime as desired.
Serve the curry hot alongside some Jasmine rice. Garnish with minced cilantro or scallion greens if desired.
Notes
*If you can't find kaffir lime leaves, simply leave them out and instead you can either add in a bit of lime peel (to remove before serving), or add a little extra lime juice at the end.
*more dried chiles = spicier, leave out for milder curry