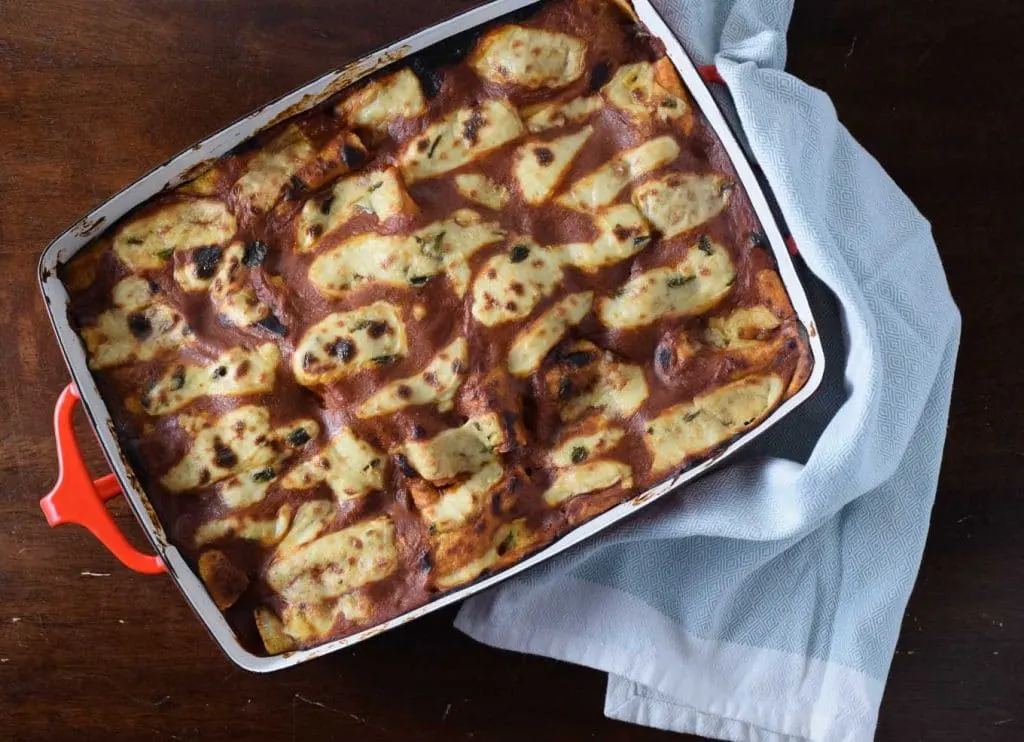 There's this idea that enchiladas are a complicated dish to make, but that really doesn't have to be the case! I certainly fell under this impression, and didn't try to make them for years after I moved into my post-college kitchen (… I mean, apartment).
The funny thing is, I would make smothered burritos, which are basically the same thing! Fill a tortilla, roll it up, pour sauce over it, bake it. With enchiladas you don't even have to do any of that fancy burrito-style rolling, you simply roll it around the filling into a tube shape. No biggie!
So, I'm here to encourage you to make some enchiladas! They are not complicated to make at all! They deliver so much mouthwatering, delicious flavor! And they are a crowd pleaser, to boot.
This recipe fills a large baking pan that will provide 4-6 servings, depending on how starving you are, which probably means leftovers! And if you are feeding a family or a larger crowd you can easily double everything.
Which I did with this recipe only a week after we eaten it for the first time, when I made it for a dinner of four and my husband begged me to make more because he wanted, no, needed, to guarantee having leftovers!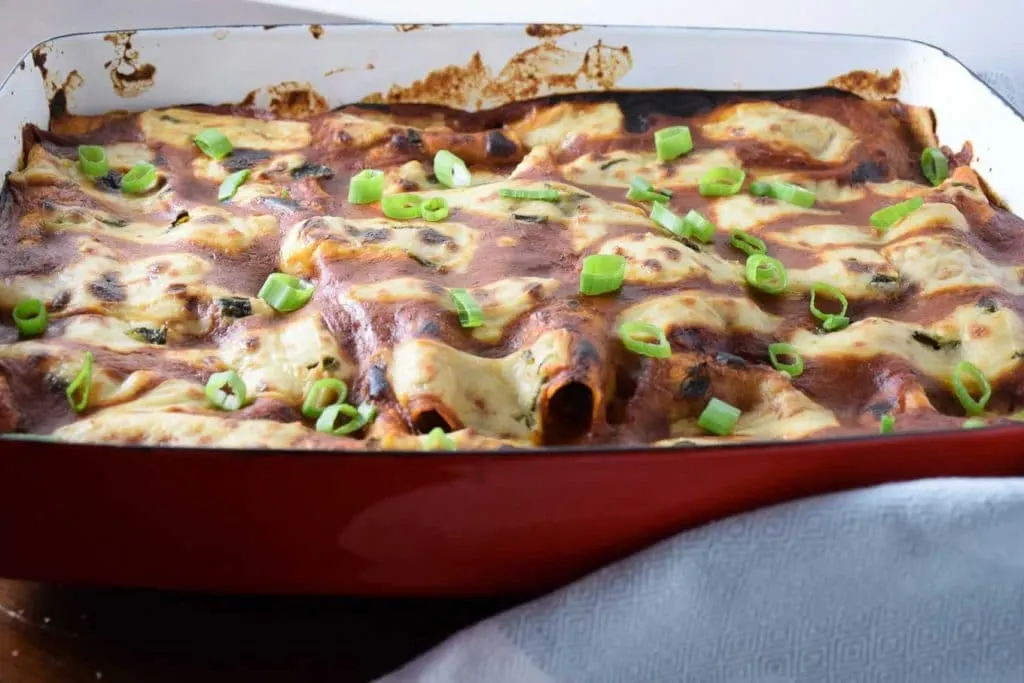 The enchilada filling combination of black beans and sweet potatoes keeps things simple without sacrificing any flavor. I used canned black beans, because they are pantry friendly and inexpensive.
Cooking them in a little broth with chipotle and garlic is all you need to infuse them with a lot of flavor and simultaneously save yourself from dry bean filling (the worst). Simmering for a handful of minutes helps the beans break down somewhat, thickening the sauce so you don't have soupy beans going into your enchiladas.
The sweet potatoes are diced nice and small and roasted with a little bit of ancho chili. It's all the flavor you need.
Roasting caramelizes the sweet potatoes, which adds layers of flavor to the root vegetable. It also brings out the best texture, delivering a perfect creamy interior. The slight sweetness of the sweet potatoes goes really well with the savory chipotle spiced black beans.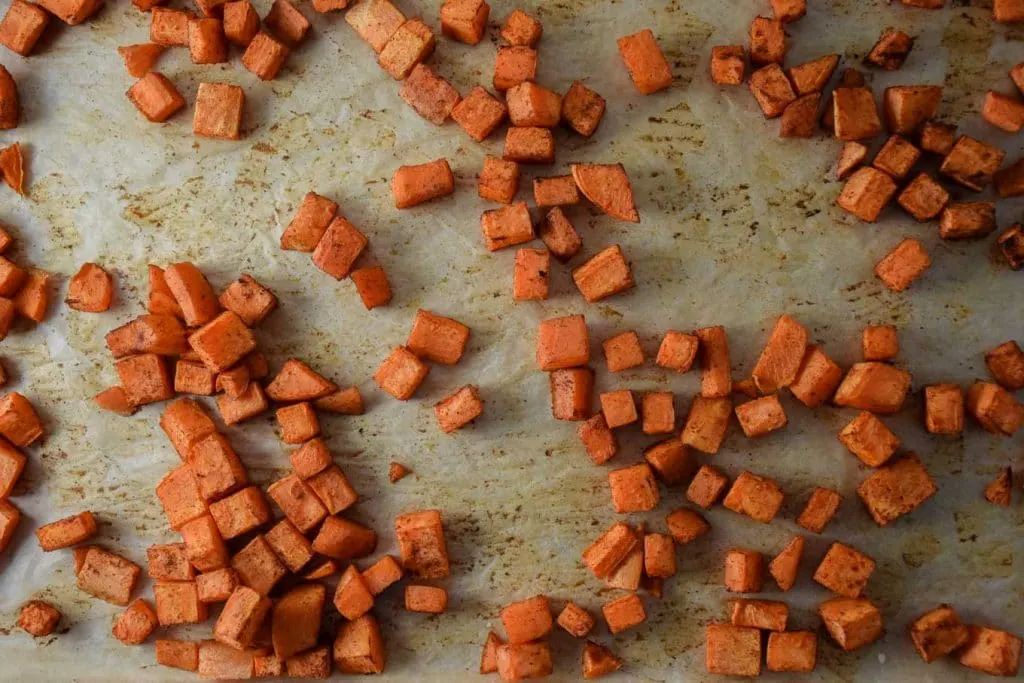 Making your own enchilada sauce is what really brings your enchilada game to the next level. It's a lot easier than you might think, and quite quick to make.
A deliciously spiced tomato and vegetable broth based sauce, thickened with a little flour (which can totally be gluten free!). Beware, the smell of this sauce simmering on the stove is known to trigger instant hunger, with potent aromatics like garlic and onion, cumin, chili powder, oregano, and cayenne.
Once you have all your components ready, set up your enchilada building assembly line. Beans, sweet potatoes, enchilada sauce, warmed tortillas, vegan cheese (such as my recipe for homemade jalapeño cheese), and your 9 x 13″ pan.
Put some sauce to coat the bottom of the pan, and then pour a little more sauce onto a plate. Taking one tortilla at a time, dip both sides in the sauce on the plate to coat. This soaks into the tortillas while the enchiladas bake, softening and flavoring them.
Spoon some of the sweet potatoes and black beans into the tortilla, roll it up and place into the pan. Continue with the rest of the tortillas until the pan is full.
Then you pour all of the remaining sauce over the enchiladas until they are practically swimming in sauce. Cover the top with cheese and they are ready to bake!
If you try it, leave a comment letting me know how you like it!
Notes:
It's a good idea to have a few extra tortillas, in case you have some extra filling, or if one tears in half. If there's one or two smaller splits don't stress, they won't matter once it's all baked.
If it's hard to source fresh and soft corn tortillas in your area, and your tortillas are cracking as you roll them, use steam to help make them pliable. Either wrap up in a damp paper towel and microwave, or heat on a skillet and cover with a damp cloth or in a tortilla warmer.
You can use a flour tortillas if you want, but I love these with corn tortillas.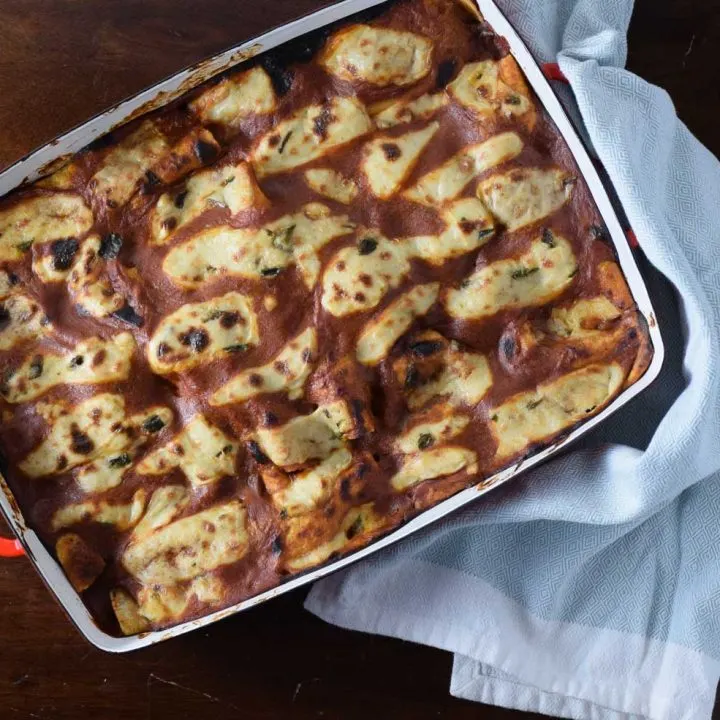 Chipotle Black Bean and Sweet Potato Enchiladas
Total Time:
1 hour
15 minutes
Ancho roasted sweet potato and spicy chipotle black bean stuffed enchiladas smothered with a mouthwatering homemade sauce.
Ingredients
Ancho Roasted Sweet Potatoes
1 large sweet potato (~1 lb), peeled and cut into 1/2" dice
1 tsp ancho chili (or substitute chipotle or chili powder)
1/2 tsp salt
1 tsp neutral flavored oil
Chipotle Black Beans
3 cups black beans (2 15 oz cans), rinsed
2 chipotles in adobo, seeded and minced
1 clove garlic, minced
1/2 cup vegetable broth
To assemble
Instructions
Roast the sweet potatoes
Preheat oven to 425 ºF and line a large rimmed baking sheet with parchment paper.
Toss diced sweet potato in the ancho chili powder, 1/2 teaspoon salt, and 1 teaspoon of oil. Spread in an even layer over the prepared baking sheet.
Bake for 10 minutes, stir, then replace in oven and bake an additional 10 minutes, or until easily pierced with a fork. Set aside.
Prepare black beans
Place black beans, chipotles, minced garlic, and the 1/2 cup of vegetable broth in a heavy bottomed pot.
Bring to a boil, then lower the heat. Keep the beans at an active simmer, stirring occasionally, for about 6 minutes, or until the mixture is thick and saucy and the beans have started to break down a little. Set aside.
Assemble and bake the enchiladas
Preheat the oven to 400 ºF and warm the enchilada sauce.
Prepare a 9 x 13 baking pan by spreading about 1/2 cup of enchilada sauce over the bottom of the pan.
Pour some enchilada sauce into a plate. Then taking one tortilla at a time, dip each side into the sauce. Add about 2 tablespoons of the chipotle beans and 2 tablespoons of sweet potato to each tortilla. Then roll the tortilla up and place seam side down in the pan. Repeat the process to fill the remaining tortillas, replacing the sauce in the plate as necessary.
Once the baking dish is full, pour the remaining sauce over the enchiladas and top with the cheese.
Cover with foil, and place in the oven for 20 minutes. Then remove foil and bake an additional 15 minutes. At this point if the cheese needs any additional melting or browning, turn the oven to broil. Watch carefully and remove from oven once you've reached your desired level of browning.
Sprinkle with scallion greens and let cool for about 10 minutes before serving.
Nutrition Information:
Yield:

12
Serving Size:

1
Amount Per Serving:
Calories:

130
Total Fat:

1g
Sodium:

187mg
Carbohydrates:

25g
Fiber:

6g
Sugar:

2g
Protein:

6g
Nutrition is calculated automatically so should be used as an estimate.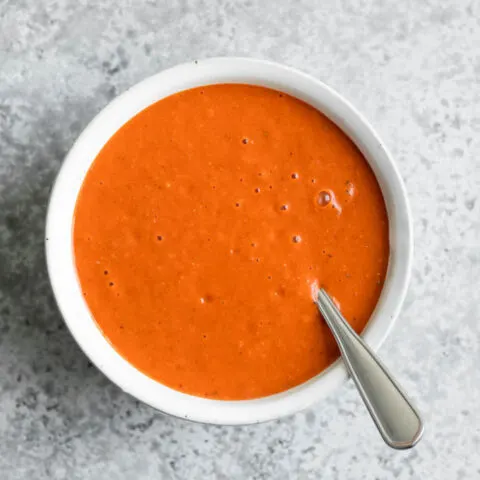 Homemade Enchilada Sauce
Making your own enchilada sauce is super easy and tastes better than any store bought version! It's vegan and can be made gluten free if desired. Make in advance, and store in the fridge for a week, or freeze for longer storage.
Ingredients
3 tbsp oil, divided
1/2 medium yellow onion, diced
2 cloves garlic, minced
1/2 tsp cumin seed
2 tsp chili powder
1/2 tsp dried oregano (Mexican oregano if possible)
1/4 tsp cayenne
1/2 tsp salt, or to taste
freshly ground black pepper, to taste
1/4 cup flour, can be gluten free if desired
2 cups vegetable broth, or water
15 oz can tomatoes
1 tbsp tomato paste
Instructions
Heat 1 tablespoon of oil in a large pot over medium-low heat. Add the onions and cook, stirring occasionally, for about 5 minutes until the onions have softened and lightly browned.
Move the onions to one side of the pot, then add the additional 2 tablespoons of oil in the empty space. Add the garlic and cumin seed to the oil and let fry for about 30 seconds.
Stir in the chili powder, oregano, cayenne, salt, and pepper, then add the flour and mix to coat. Cook for about 1 minute, then slowly pour in the broth while stirring.
Add the tomatoes and tomato paste, breaking apart the tomatoes if using whole. Turn heat up to bring to a simmer, then lower heat and cook , partially covered, about 10 minutes or until the tomatoes are breaking down and sauce is thickened.
Transfer the sauce to a blender or use an immersion blender in the pot and process until smooth. Be careful as sauce is very hot! Vent the heat as needed if using an upright blender.
Notes
For the chili powder use either ancho chili powder or a chili powder blend (labeled chili powder, contains mild ground chilis and spices). Use more or less cayenne pepper to taste. As is it's a mild sauce but not without any heat.
Nutrition Information:
Yield:

32
Serving Size:

1
Amount Per Serving:
Calories:

23
Total Fat:

1g
Sodium:

99mg
Carbohydrates:

2g
Sugar:

1g
Nutrition is calculated automatically so should be used as an estimate.