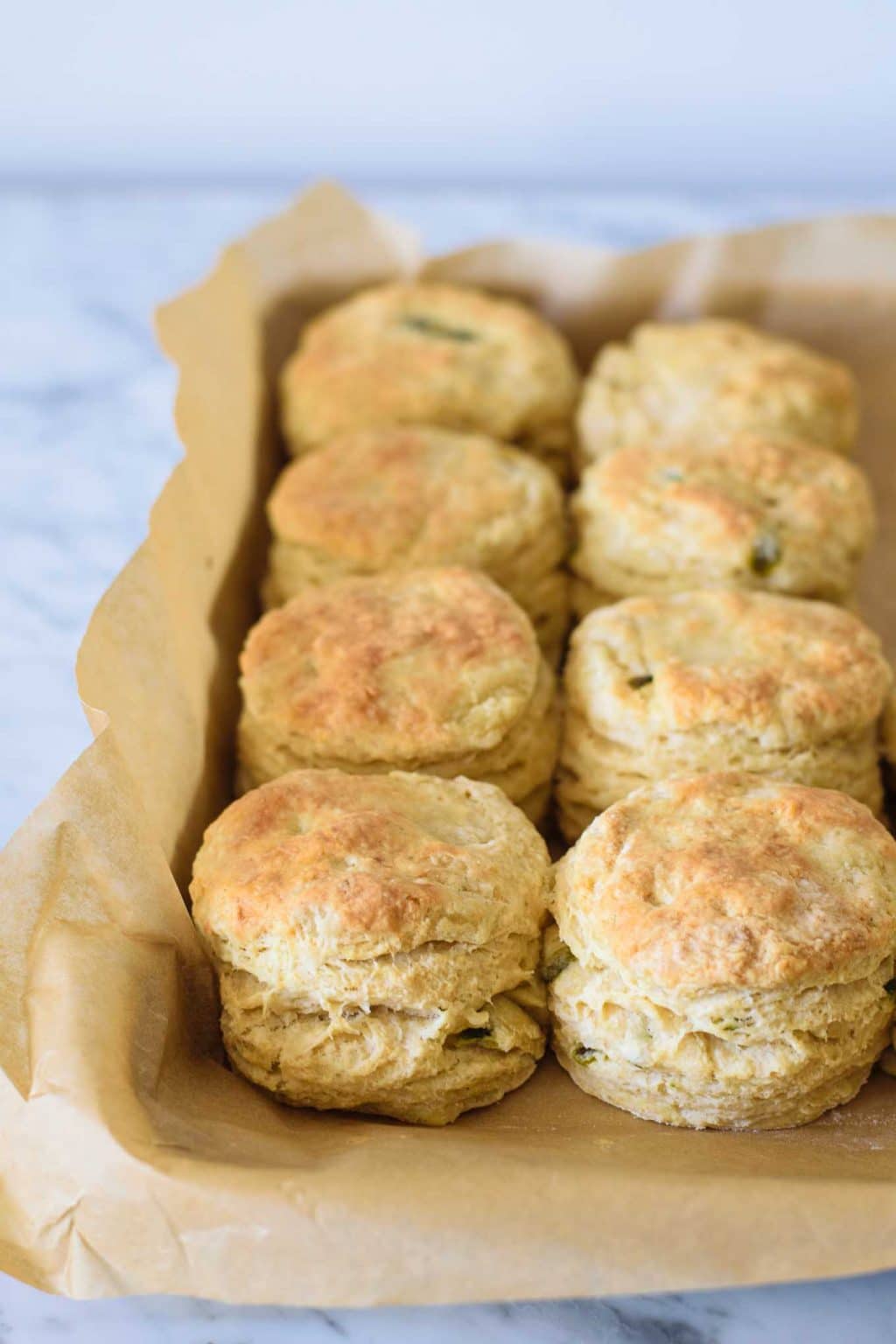 It's a good thing that biscuits are supposed to be consumed on the day that you bake them, and ideally while they're still warm out of the oven. It gives you an excuse to shovel the entire batch into your mouth within hours. I think the photographing these biscuits while they were still hot has been the hardest thing I've had to wait for to date. And I make and photograph a lot of pizzas. Like seriously, a lot. It was all I could do to keep myself from stealing bites between shots. And if I'm being 100% honest with you, my dog Selkie felt the same way, helping herself to the remaining few biscuits from our most recent batch when Omar and I stepped out of the house for a couple hours. Oops, guess we should have put them out of her reach.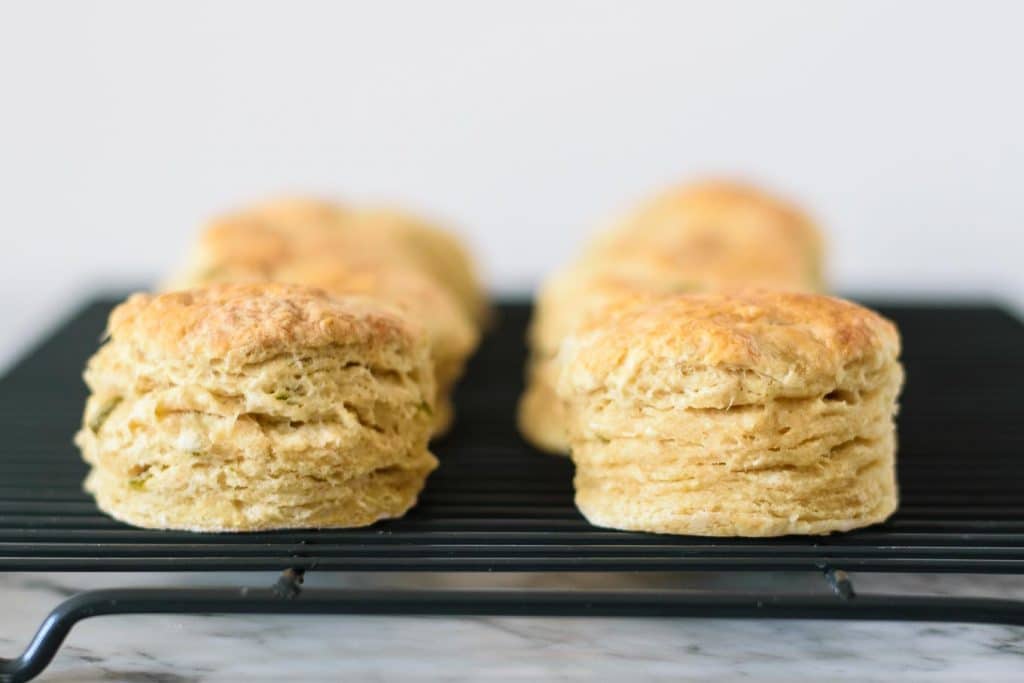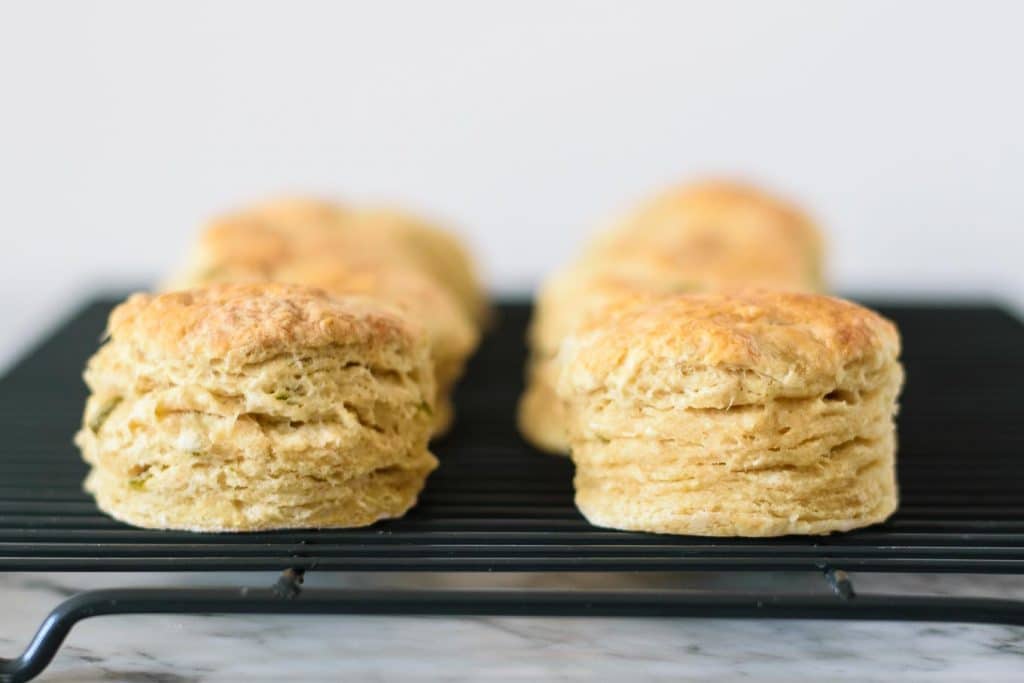 These biscuits are super tall and fluffy. I mean, look at those layers. And stuffed with roasted jalapeño cheese, I mean, COME ON. Cheesy, tender biscuits with a kick. What's not to love?
I think biscuits are one of those things that people find intimidating to make. Don't worry, this doesn't have to be you! I will give you all the important tips for making tall fluffy biscuits of your own.
Use COLD butter and non-dairy milk. Sometimes you'll see recipes mention cold flour, but I find that room temperature flour is just fine. And don't stress about the rest of the ingredients as they are used in small quantities.
Do not mix your wet ingredients into your dry until your oven is FULLY preheated. I have an oven thermometer that tells me my oven takes a full 10-20 minutes past the time it tells me it's ready to fully heat (depending on what temperature I'm heating it to). It's essential to have your oven hot enough before sticking the biscuits in to achieve full rise.
Handle the dough as little as possible with your hands as you don't want to melt the vegan butter from the heat of your hands. Use a rolling pin or work quickly. Sometimes I even use a bench scraper to just press the dough flat. You can use your hands, but work quickly. If the butter start to gets melty, get it into the oven ASAP, if you must, stick it in the fridge for a few minutes, but this will lessen the rise potential. The pockets of butter throughout the dough that melt when the biscuits hit the oven is what makes them super flakey and tender.
When cutting the dough into rounds for biscuits do NOT twist your cutter. This seals off the ends and will prevent them from full rise potential in the oven.
When placing the biscuits on the baking tray, set them to touch. They will help each other rise in the oven by providing the support to go up instead of out or sideways. This same same principle is what helps cake rise, as they climb up the sides of the cake pan.
With these few tips, you really have everything you need to make the most beautiful, best flakiest biscuits of your life!
Now to answer the burning question I know you're dying to ask at this point: YES, you can make some gravy and have vegan jalapeño cheese biscuits and gravy. It's delicious. Do it. Here's a photo of non-cheesy biscuits and gravy for inspiration. You're welcome.
Let me know if you try this recipe for jalapeño cheesy biscuits! I love hearing about when you guys make my recipes! Leave a comment and/or rate the recipe below, tag me on Instagram (or #thecuriouschickpea), or share with me on Facebook!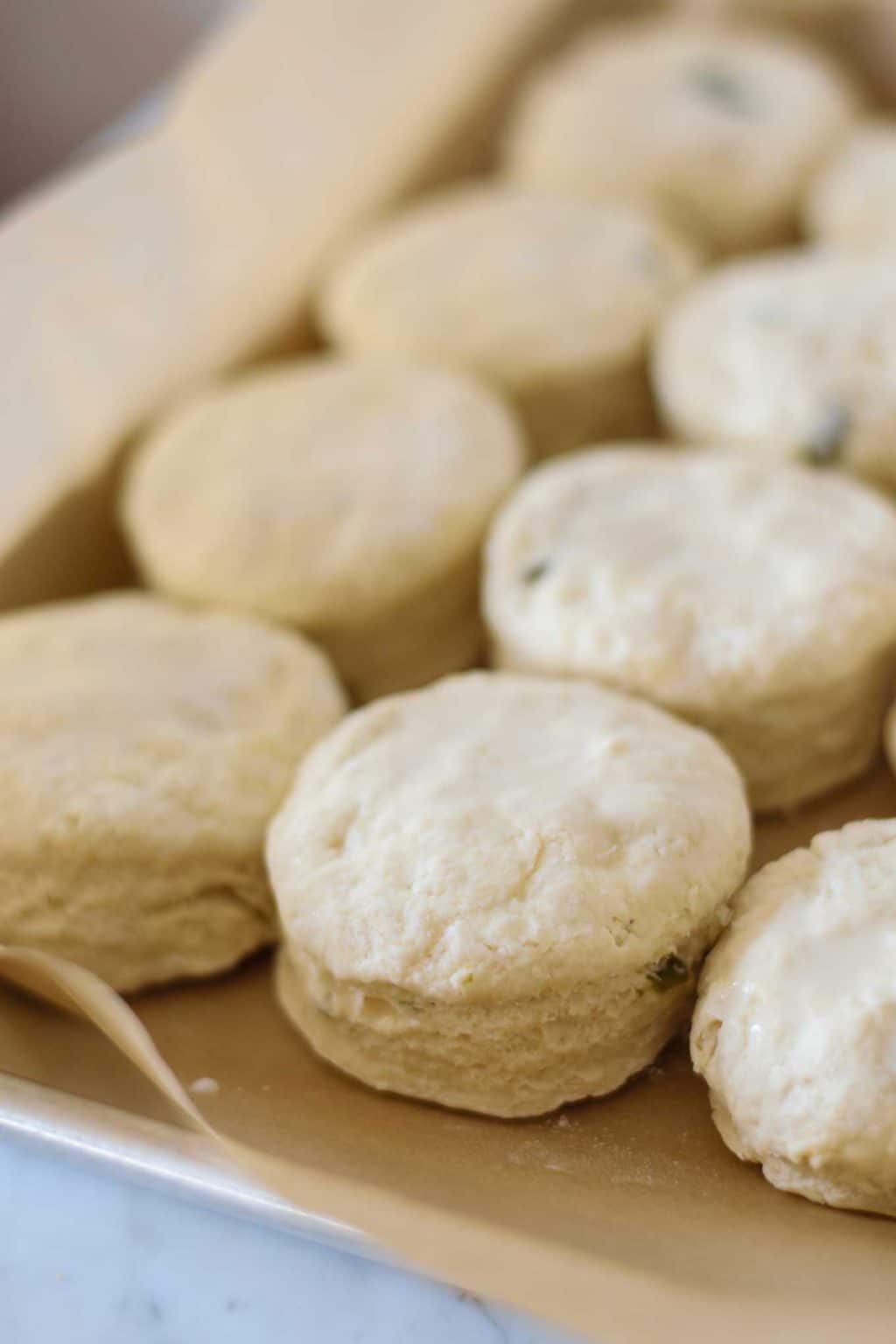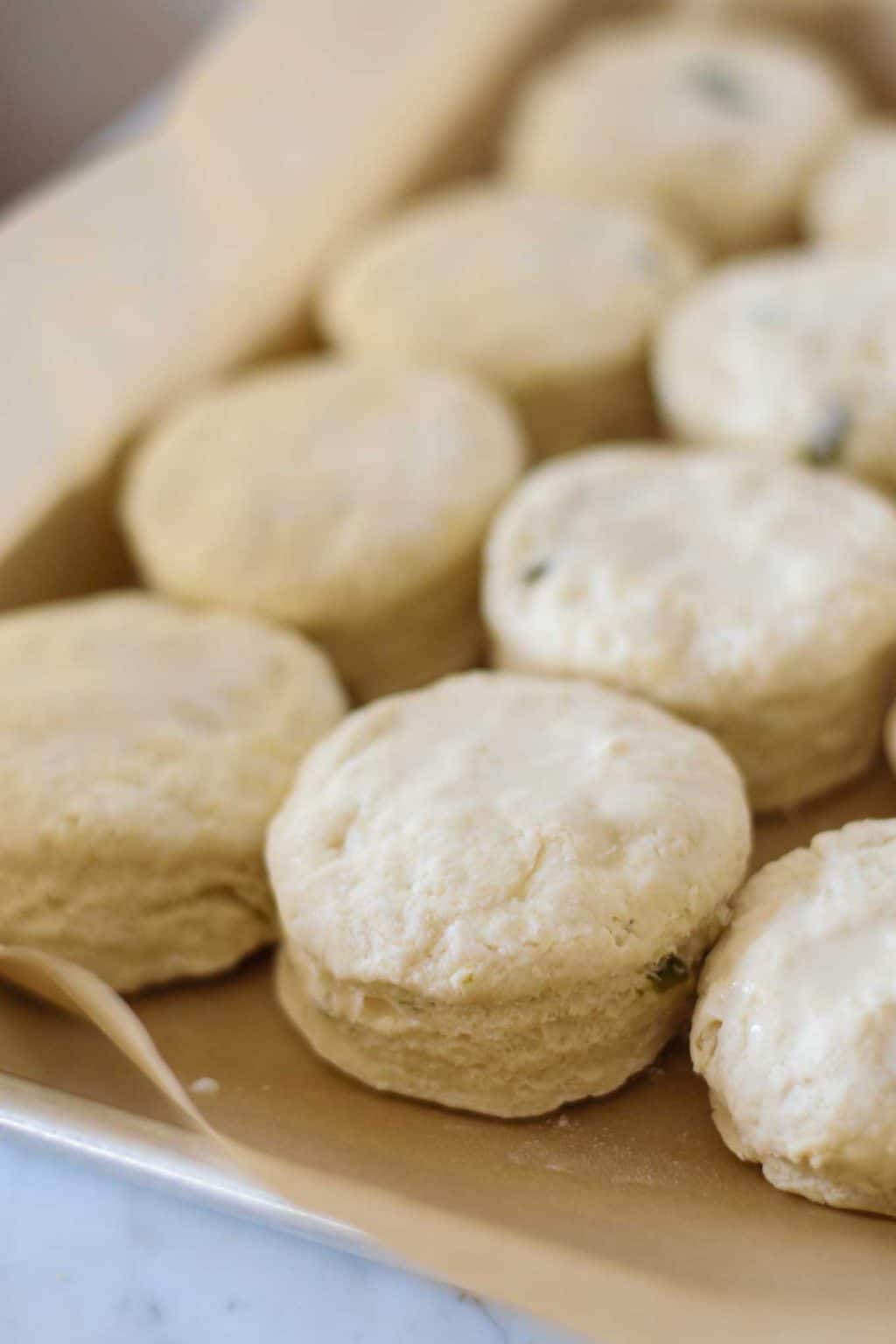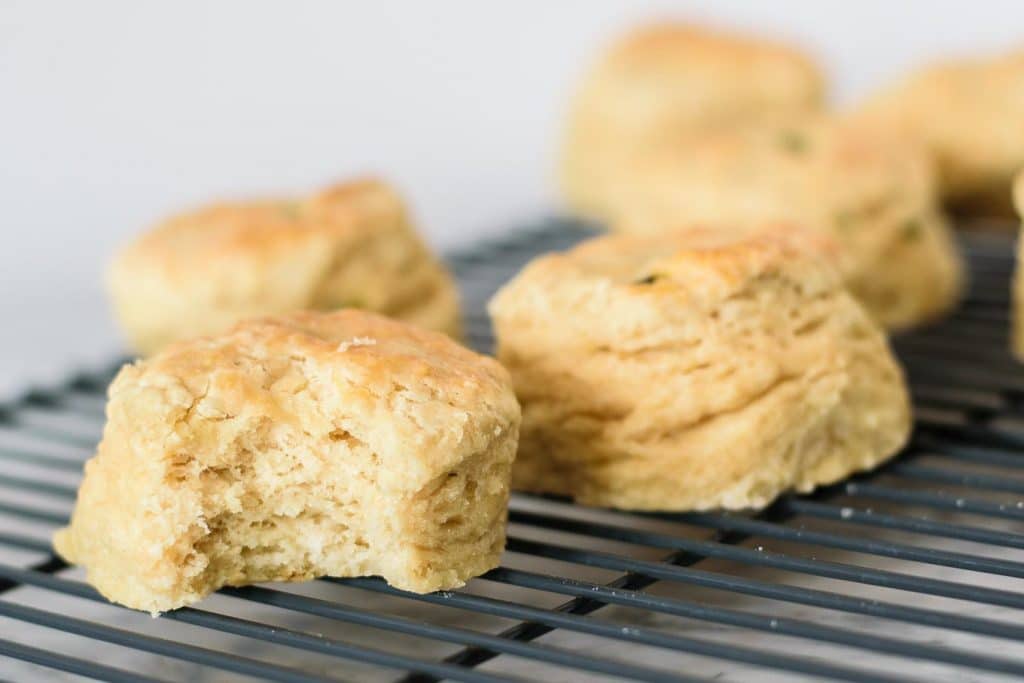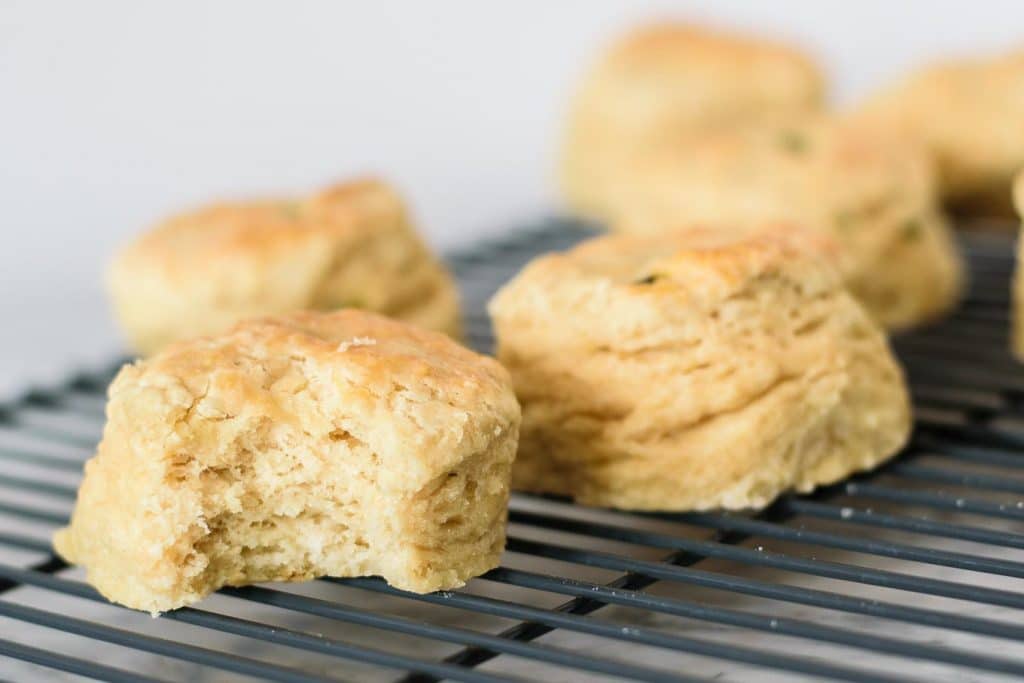 Notes:
Use a bench scraper to help fold the dough or bring it together if it's a bit sticky. You can also flour your hands to prevent sticking.
This recipe works really well with my homemade butter, which is a variation of Miyoko's vegan butter recipe. Try to use a high quality vegan butter, as the flavor is going to come through in the final biscuits! But the most important thing is that you don't use a tub-style spreadable butter. That will have too much water in it.
You can use whatever firm or semi-firm vegan cheese you'd like in the recipe, I of course used my homemade roasted jalapeño cheese, but you can buy some vegan pepper jack or cheddar at the store. Add some diced roasted or fresh jalapeños if you'd like. Of course, you can also just make plain biscuits using this recipe, just skip the cheese!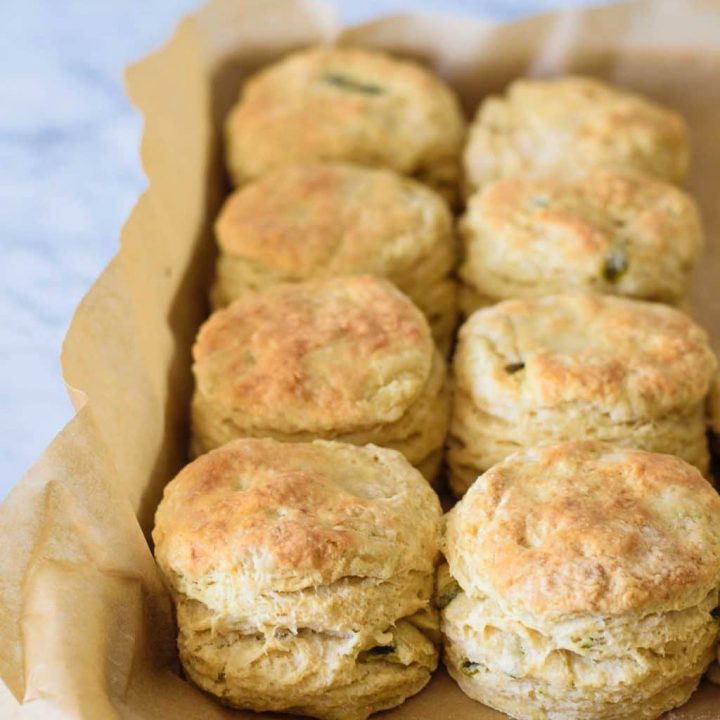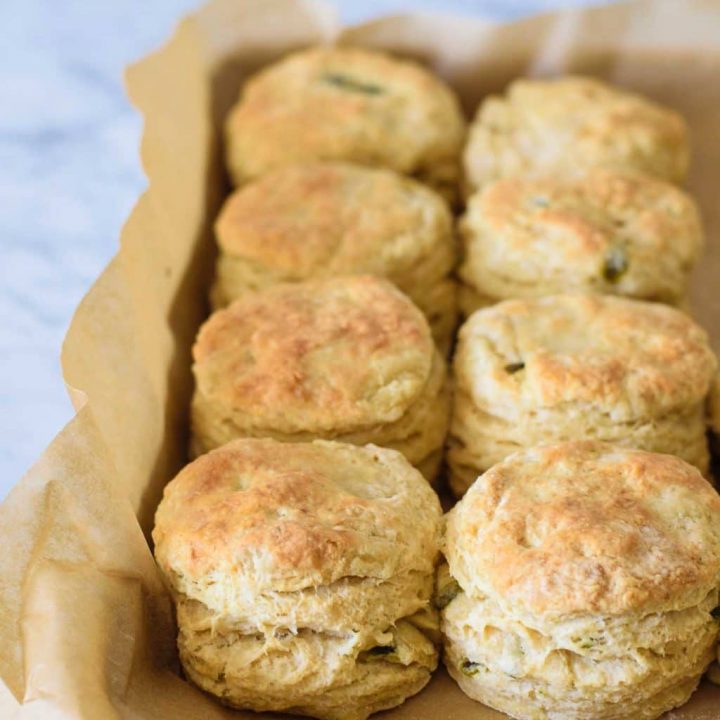 Vegan Jalapeño Cheese Biscuits
The best, flakiest, tallest, most beautifully layered biscuits you've ever seen. They're vegan and stuffed with homemade roasted jalapeño cheese.
Ingredients
1 cup non dairy milk, plus extra for brushing on biscuits*
2 tsp apple cider vinegar
2 1/2 cups (325 g) all purpose flour
4 tsp (22 g) baking powder
1 tsp (5 g) salt
1/2 tsp (3 g) baking soda
6 tbsp (85 g) vegan butter (not a soft & spreadable kind)
Instructions
Preheat your oven to 450 ºF with a rack positioned in the center.
In a small liquid measuring cup, combine the vinegar and nondairy milk and let sit for 5-10 minutes to make a buttermilk substitute.
In a large mixing bowl, whisk together the flour, baking powder, baking soda, and salt. Cut the butter into small pieces and add to the dry ingredients. Using a pastry cutter, or two butter knives in opposition, cut the butter into the dry ingredients until the mixture looks pebbly. Some larger pieces of butter should remain. Add the crumbled or shredded cheese and mix in with a wooden spoon.
When the oven is preheated (and ideally you'll have an oven thermometer to make sure), make a well in the center of the dry ingredients and pour in the clabbered milk. Mix with a wooden spoon until the mixture has just started to come together. Dry spots are okay.
Turn dough onto a clean and floured surface and press or roll into a large rectangle (~1/2" thick). It's not going to be perfectly formed dough at this point, the folding will help it come together. Reach under one side of the dough and fold it in half. Fold it again in the opposite direction. Press or roll the dough into a rectangle once more, and repeat the two folds. Press or roll the final folded dough into a 3/4-1" tall rectangle. *Make sure to handle the dough as little as possible during this process so the heat from your hands doesn't melt the butter.*
Using a 2 1/2 - 3" biscuit or round cutter, cut the dough into rounds, pressing down but DO NOT TWIST. Twisting will seal the edges and prevent the biscuits from reaching their full height potential. Once you've cut all you can from that rectangle, reform the dough into another rectangle and cut again. Repeat as necessary. The last biscuits probably will not be as beautiful, but they will be as tasty!
Place the biscuits on a nonstick or parchment lined baking tray so that they are touching each other. This will help them rise tall in the oven. Optional: brush the tops of the biscuits with some non-dairy milk to help brown the top.
Put the tray on the center rack of the oven and bake for 15-18 minutes, or until the tops are golden brown. Biscuits are best enjoyed fresh and hot out of the oven.
Notes
*to clabber non dairy milk to make a vegan buttermilk, you'll need to use a richer milk such as soy milk or almond milk. Rice milk will not perform the same way.
*can substitute any other vegan cheese, shredded or crumbled. If you want to keep the pepper flavor, just add some roasted or fresh jalapeños (~2 tbsp minced) along with the cheese.