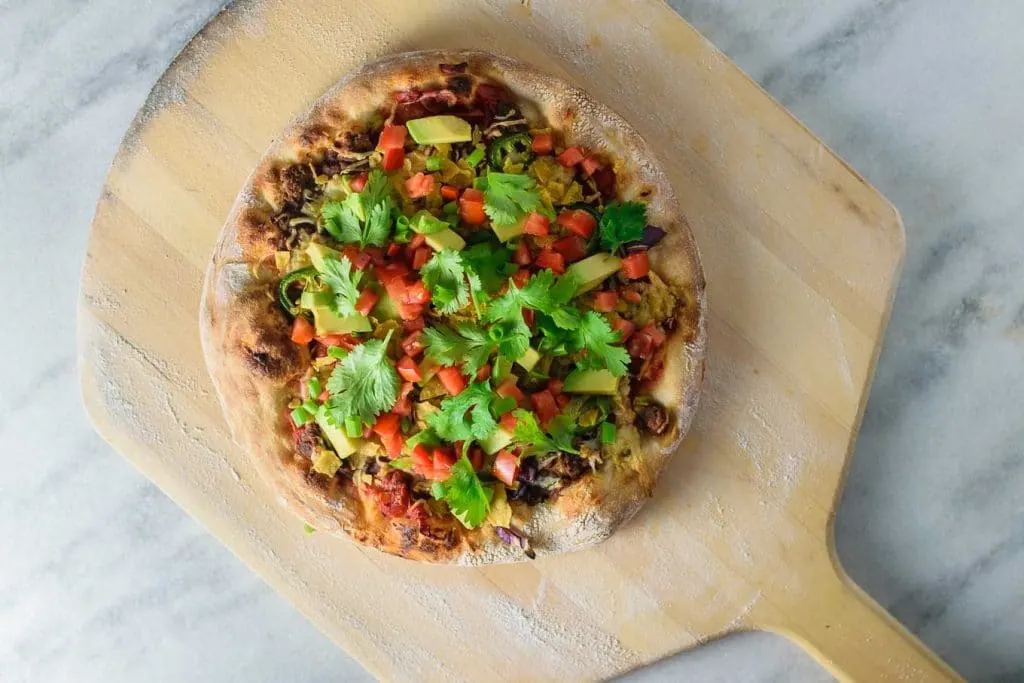 When I hear the term "Mexican pizza" I can't help but think of that version I'd order at Taco Bell — Mexican pizza, add beans and hold the meat. It's probably been almost 20 years since I've ordered that, and it's nothing like the recipe I'm sharing here today. Here there are no crunchy flat tortillas sandwiching any filling. Instead, the toppings are piled high over a perfectly doughy pizza.
My mom used to make a pizza similar to this, or, at least, some sort of pizza topped with refried beans and other Mexican-themed toppings. It would be layered over her homemade whole wheat pizza dough and toppings would include the rather sad soy cheese you'd find in the natural food stores at the time (not vegan, it was hard to find casein-free options back then). Thanks to lots of experimenting of many people over the years, our current plant-based cheese options on the market are infinitely superior. But I do one better, and use my homemade vegan roasted jalapeño cheese, which is perfect on this pizza. You could get some vegan pepper jack or cheddar or something, but if you can I seriously recommend you make that cheese. It's super easy to make, gets nice and melty, and tastes better than 90% of the products on the market. Plus, making it yourself is cost effective!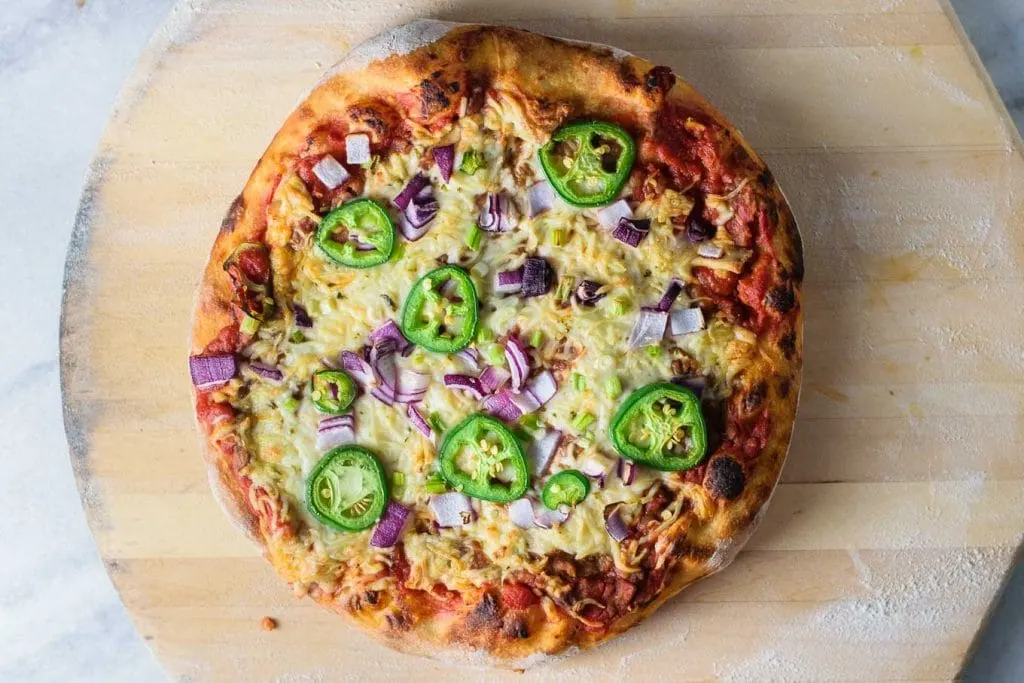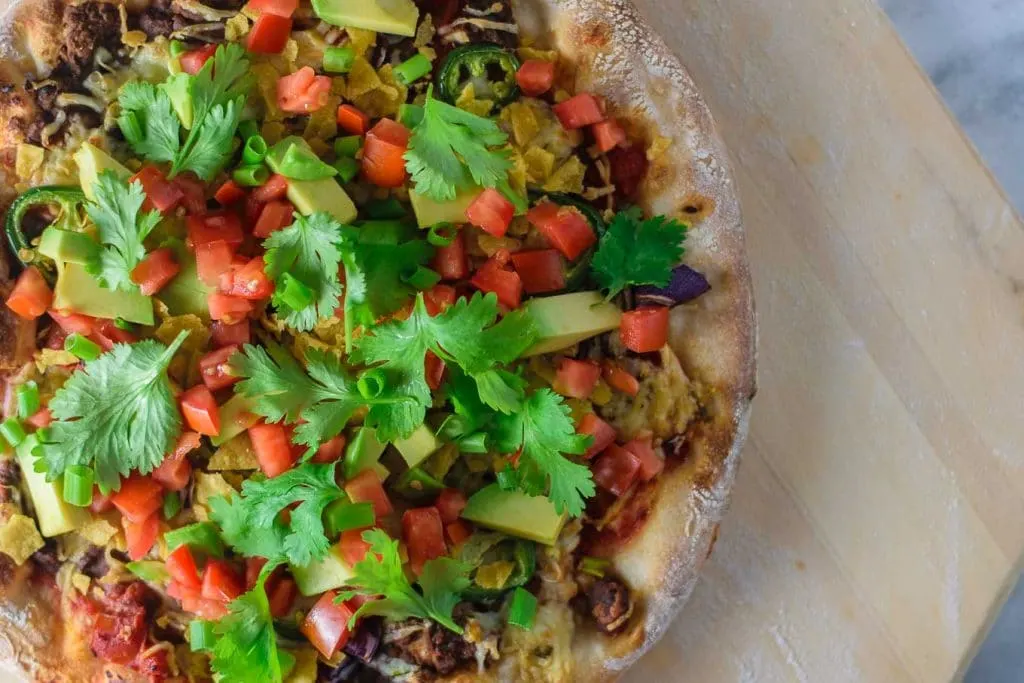 So that's the cheese. For the dough, I make homemade, which I need to get around to sharing a recipe for (I have shared a pan pizza dough which you could use, just divide by 3 for slightly smaller pizzas than described in the recipe). You can also easily use store bought dough, just look for it refrigerated or frozen at most grocery stores (you can also often buy just the dough from your local pizza joint). Whatever dough you use, top it with some crushed tomatoes (use fire roasted if you can, it's the best in this application!), refried beans (your choice of black or pinto), cheese, diced red onion and sliced scallions, and lastly jalapeños before being slid into a hot oven. I've probably it mentioned before, but I bake my pizzas straight on a baking steel. I used to use a pizza stone until it broke, but that works too. Both of those will make a great pizza, though I am partial to the steel for it's superior conductive properties.
Once the cheese is melted and the dough is perfectly golden, the pizza is ready to come out of the oven. Sprinkle your favorite taco-inspired toppings over it. Crushed tortilla chips for the crunch and that corn flavor, diced avocado because yum, diced tomatoes, scallion greens, and cilantro. Slice it up and transport heaven straight into your mouth. The creamy refried beans make such a great base for the pizza. This is one of the easier pizzas I've made, as everything besides the cheese is store bought and has little to no prep. I used canned tomatoes for the sauce, canned refried beans, and the veggies require only a few minutes of chopping! Great flavor and little clean up is a win-win as far as I'm concerned!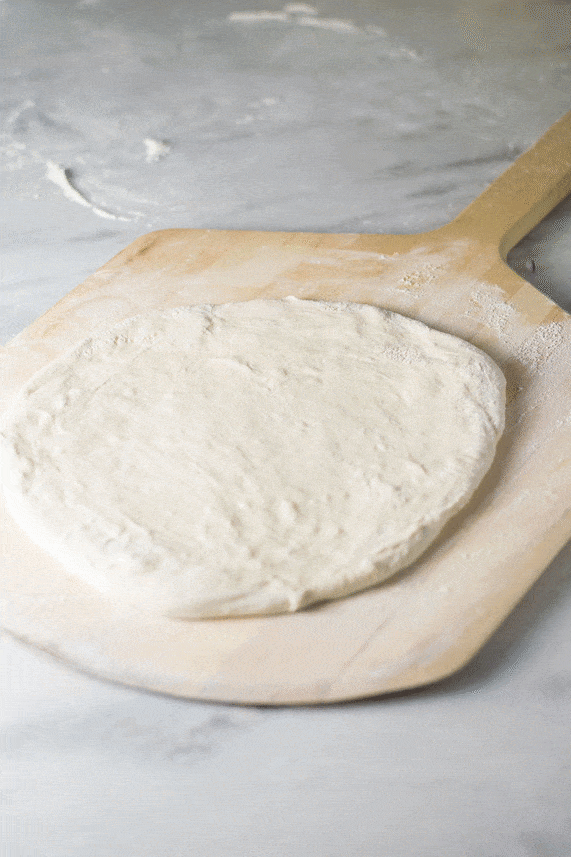 I hope you guys try this pizza! We've fallen in love with it, as we become even more enamored with that jalapeño cheese and the seemingly infinite ways to use it. If you do make it, let me know and tell me all about it! Leave a comment and/or rate the recipe below, tag me on Instagram (or #thecuriouschickpea), or share with me on Facebook! Happy eating!

Notes:
Use your favorite pizza dough recipe, or purchase some dough from the store. This recipe makes 3 pizzas using 350 grams of pizza dough per pizza. You can make smaller or larger pizzas and adjust toppings as necessary! (Note: changing the size will affect the bake time–which can vary oven to oven anyway)
I highly recommend you make my vegan roasted jalapeño cheese for this recipe! It's 110% worth it. In these photos I use the carrageenan version of the cheese, both that and the agar version will work nicely, but the carrageenan is shreddable (the agar version is softer and sliceable but difficult to shred). But, I understand the need to take short cuts. I'd try and find a vegan pepper jack style cheese to substitute if you want to just buy some.
Switch out toppings to suit your tastes, except I really think you should make it exactly the same as me ;)!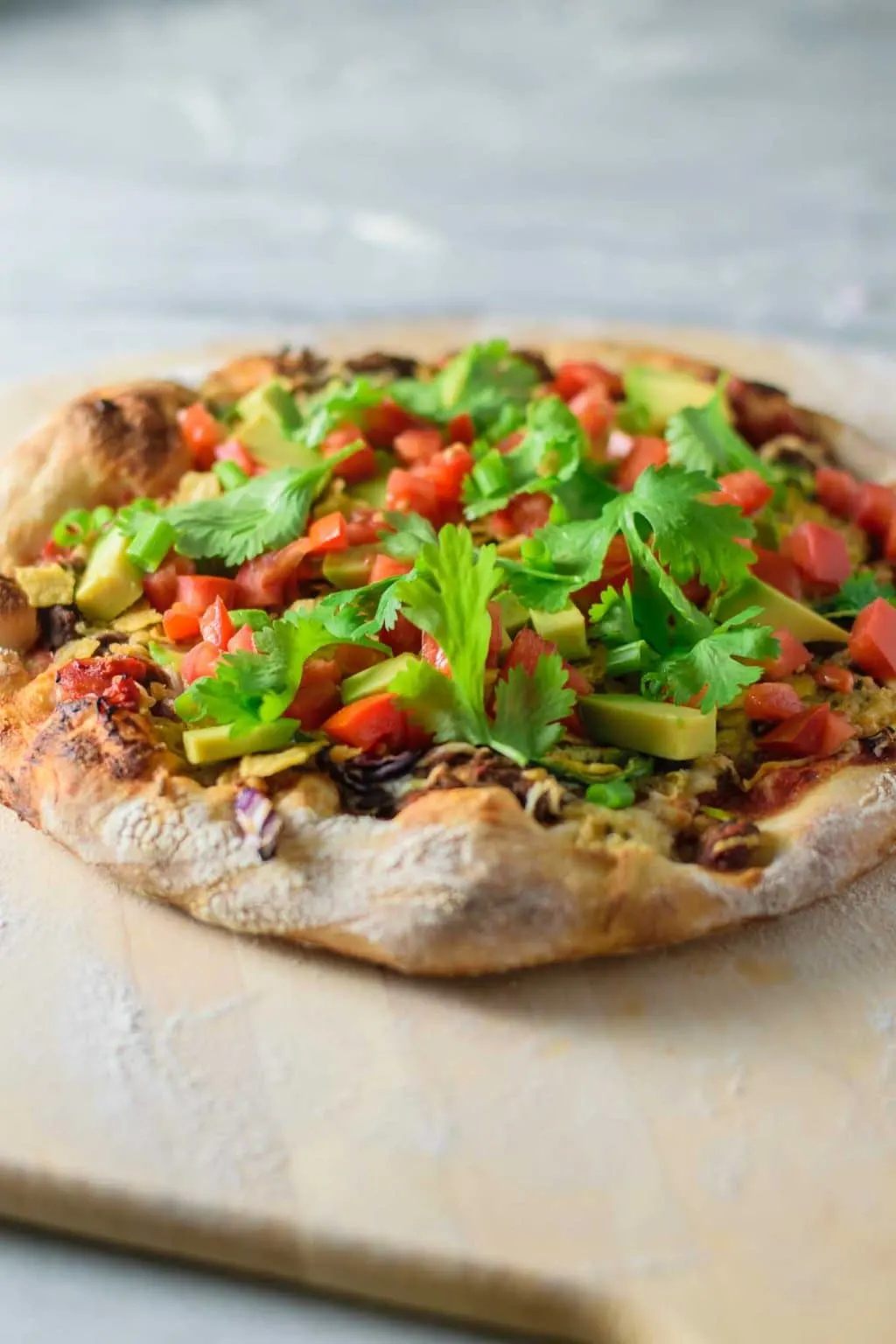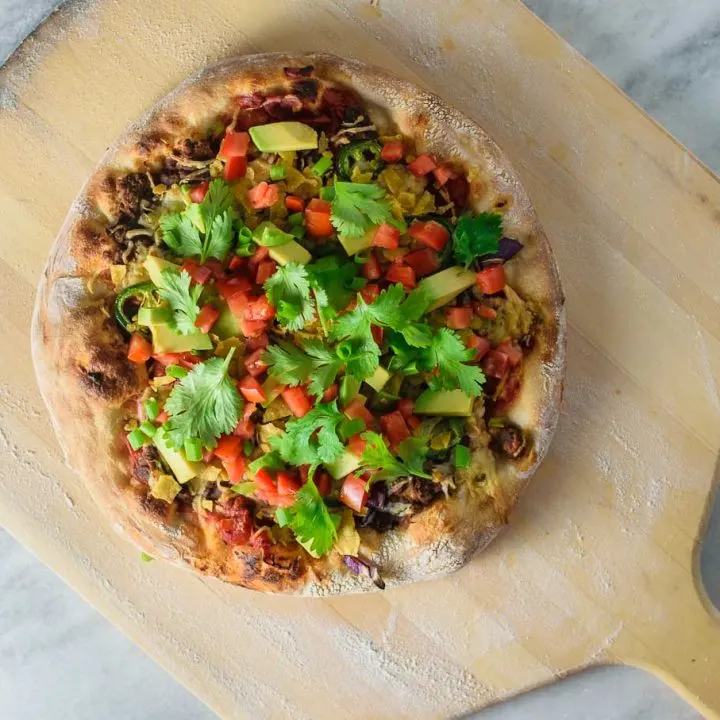 Vegan Mexican Pizza
When you combine Mexican flavors with Italian pizza dough magic happens. The amount of toppings works well for 3 12" pizzas (~12.5 oz dough per pizza).
Ingredients
350 g / ~12.5 oz pizza dough (per pizza)
1 15 oz can fire roasted crushed tomatoes, or salsa
1 15 oz can refried beans, or homemade
1 small red onion, diced
2-3 scallions, sliced, whites and green parts divided
1-2 jalapeños, thinly sliced (optional)
2 roma tomatoes, diced
1 avocado, diced
1 cup crushed corn tortillas
cilantro, for garnish
hot sauce, to serve
Instructions
Preheat oven to 550 ºF (or as hot as your oven goes) or a full hour to fully saturate the oven with heat, with the rack positioned one level above the middle. If using a pizza stone, make sure that's in the oven as it preheats.
Stretch out the pizza, 12.5 oz of dough makes one ~12" pizza.
Place dough on baking sheet if using, or prepared pizza peel if baking on a stone.
Spread the crushed tomatoes or salsa on the dough. Spread the refried beans over the tomatoes, don't worry about them mixing together. Then, sprinkle on the cheese. Add the diced red onion, the white part of the scallions, and jalapeños if using.
Bake for 8-12 minutes, keeping a close eye on it at the end.* You can turn to broil for the last 1-2 minutes if you want additional melting and browning.
When the cheese is melted and the crust is a golden brown, remove the pizza from the oven and top with crushed corn tortillas, diced tomato, diced avocado, the green part of the scallions, and cilantro. Slice into 6 or 8 slices, and serve with hot sauce to serve (optional).
Repeat with additional pizza dough and remaining toppings!
Notes
*longer baking time maybe necessary if using more pizza dough, or if oven temperature is lower.