Hailing from El Salvador, pupusas are a delicious stuffed bread made with masa–the same corn flour product used to make corn tortillas. Cooked up, the masa-based dough is soft and pillowy.
Traditionally pupusas are served with curtido, a mildly fermented cabbage slaw, and a spiced tomato sauce. I kept it quick and simple and served mine with a vinegary slaw and spicy store bought salsa, adding guacamole because it's our favorite.
The pupusas are filled with creamy refried beans and a homemade vegan roasted jalapeño cheese.The cheese is perfect in these pupusas. It's melty, rich, creamy, and packed with delicious peppery flavor. Bursting with mouth watering hot cheese and beans, these vegan jalapeño cheese and bean pupusas are quite the treat.
The first time I had a pupusa was my junior year in college. I was taking way too many science classes at the time (story of my college life), and trying to keep up with the course load by pulling way too many all nighters.
On one beautiful day in early spring, my friend and I decided to ignore the fact that we hadn't slept in 36 hours and go take a sunset hike (it was great, we jumped over logs and sang terrible renditions of pop songs from the 90s and early 2000s).
After the hike she suggested we grab some dinner at this Salvadoran restaurant that I'd never heard of, but I love trying new cuisines, so we went and I had my first pupusa.
Are pupusas so life changing that you remember the entire day leading up to taking your first bite of pupusa? Maybe. But, in my case, it was 2008 and you made Facebook albums for everything (seriously, why??).
They did become one of my favorite foods though. And what's not to like? They're a stuffed bread, which is always a winner in my book. While in college I went back to that restaurant regularly, but then I moved to Chicago, where there is a ton of Mexican food but not much Salvadoran.
And to make it more challenging to eat pupusas out, I started to phase out cheese from my diet. So I did what I do with anything I want to eat but can't get out. I figured out how to make them. I was amazed by how easy they are to make! Let's just say my life has not been lacking in pupusas since.
Really though, the masa dough is a breeze to make. It consists of Mexican style masa harina with a little all purpose flour added in to make it a little easier to work with (gluten free friends: you can make it GF too, check out this recipe if so!).
Add a sprinkling of salt, and splash of oil to keep the dough moist and add some richness. Hot water hydrates the flour and a quick kneading gets everything evenly distributed and the little bit of gluten developed. Let the dough rest for 20 minutes and it's ready to go!
To shape the pupusas you want to first press them into a disk.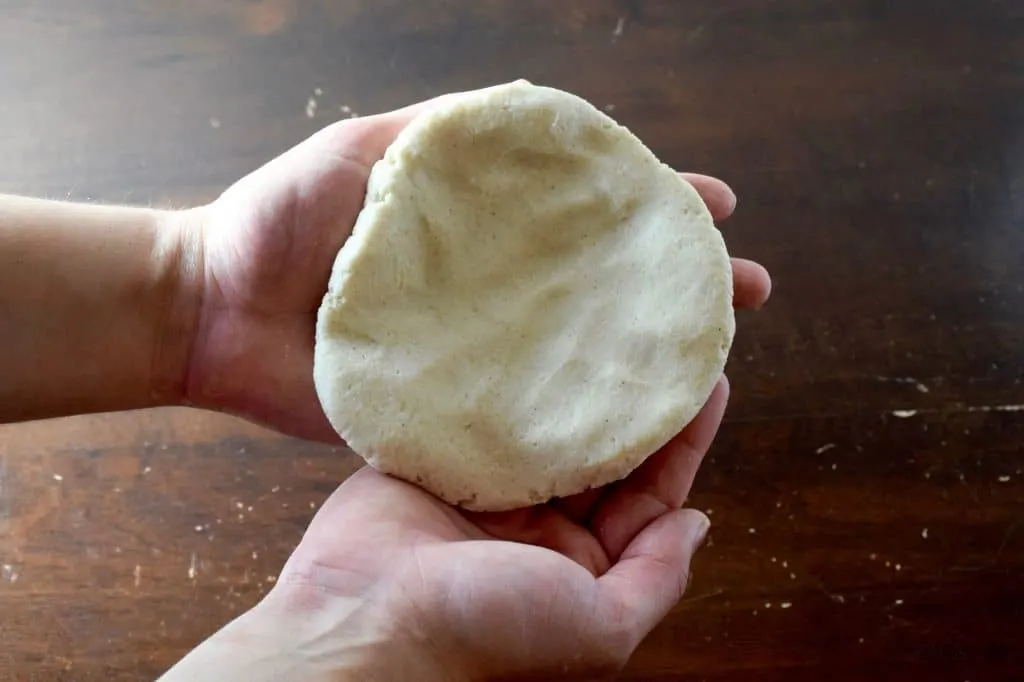 Set the disk in the middle of your palm and spoon in the filling, being careful not to overdo it.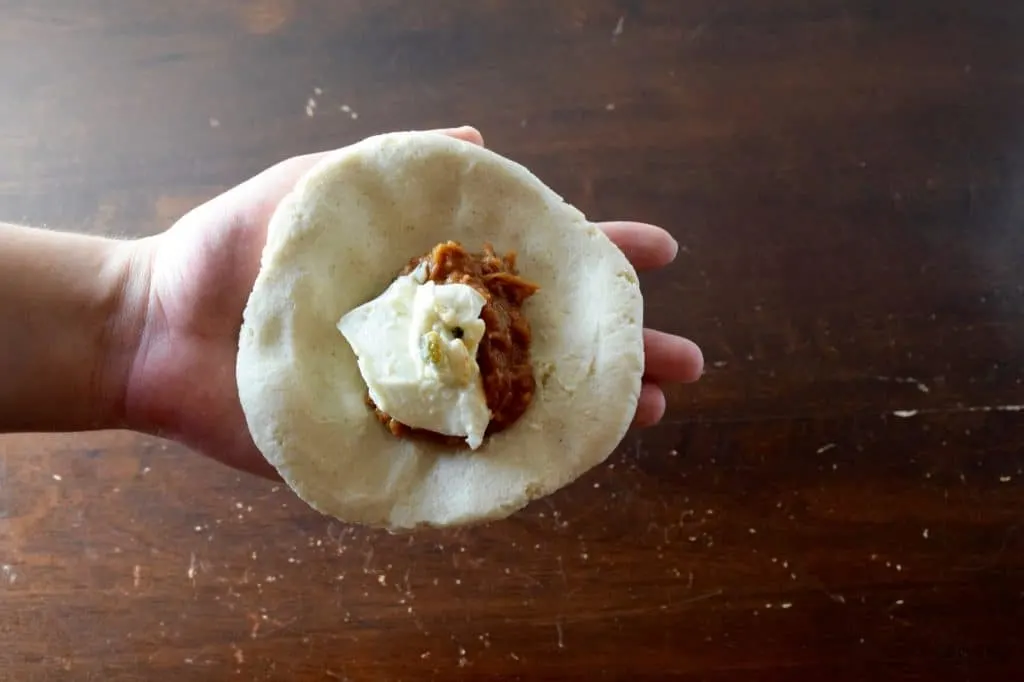 Fold the edges of the masa dough around the filling.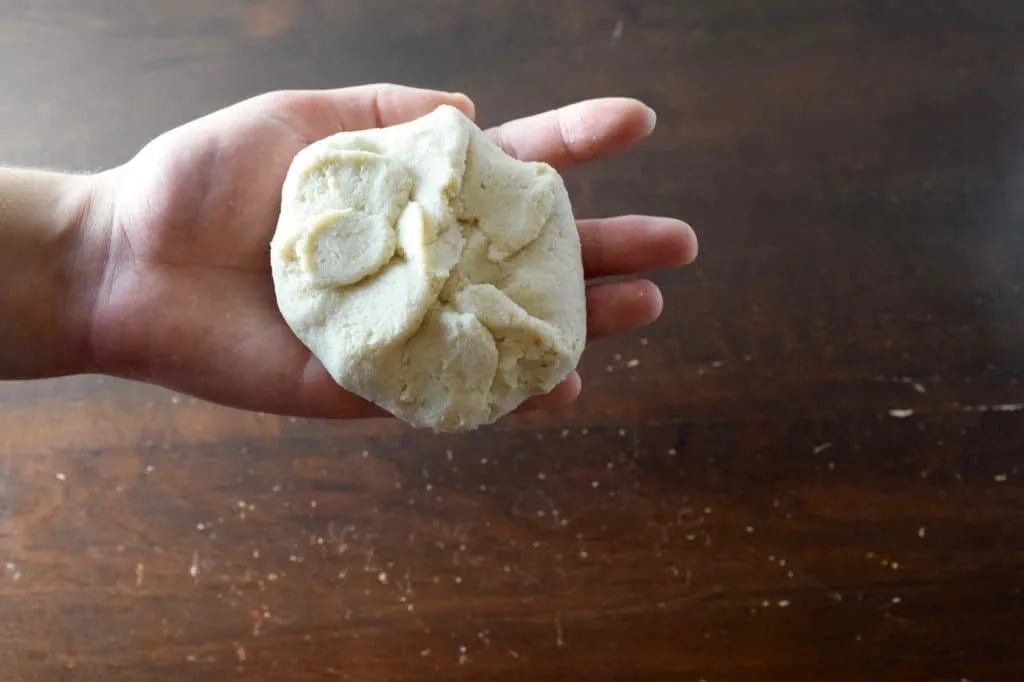 Next, press the filled dough into a disk. Move the dough around in a circle as you press it between your palms, to evenly flatten it out. Don't stress too much if the dough splits and the filling is exposed. If it's small you can smear some extra dough over split with a dampened finger. Or pull from an edge with a bit extra dough to patch.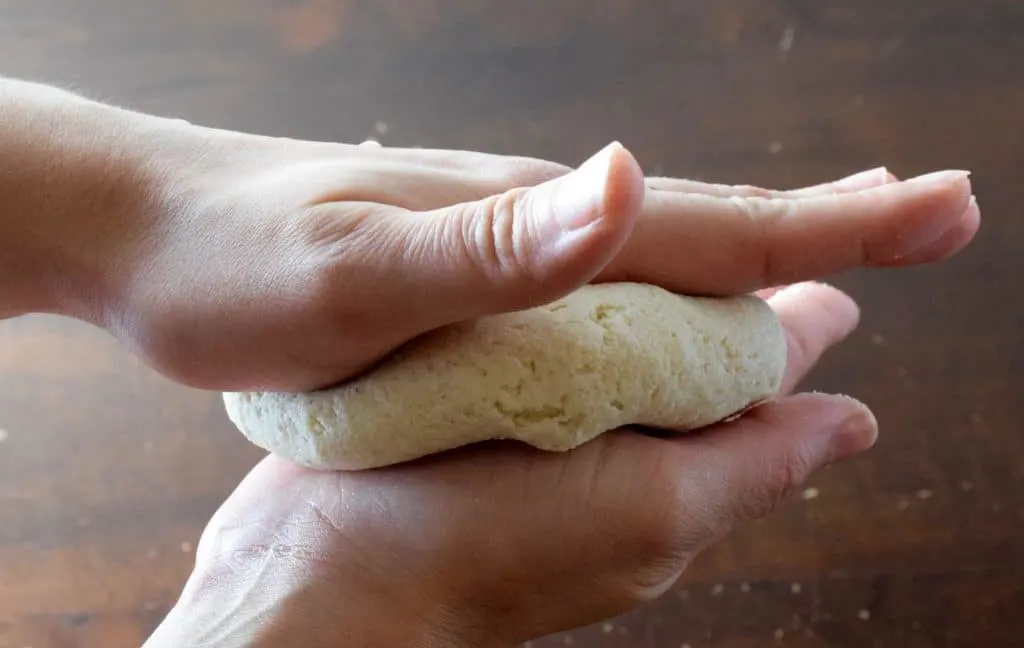 Once formed, cook over a hot oiled skillet for a couple of minutes on each side. Serve hot with some slaw and salsa, and try them with some guacamole or sour cream as desired.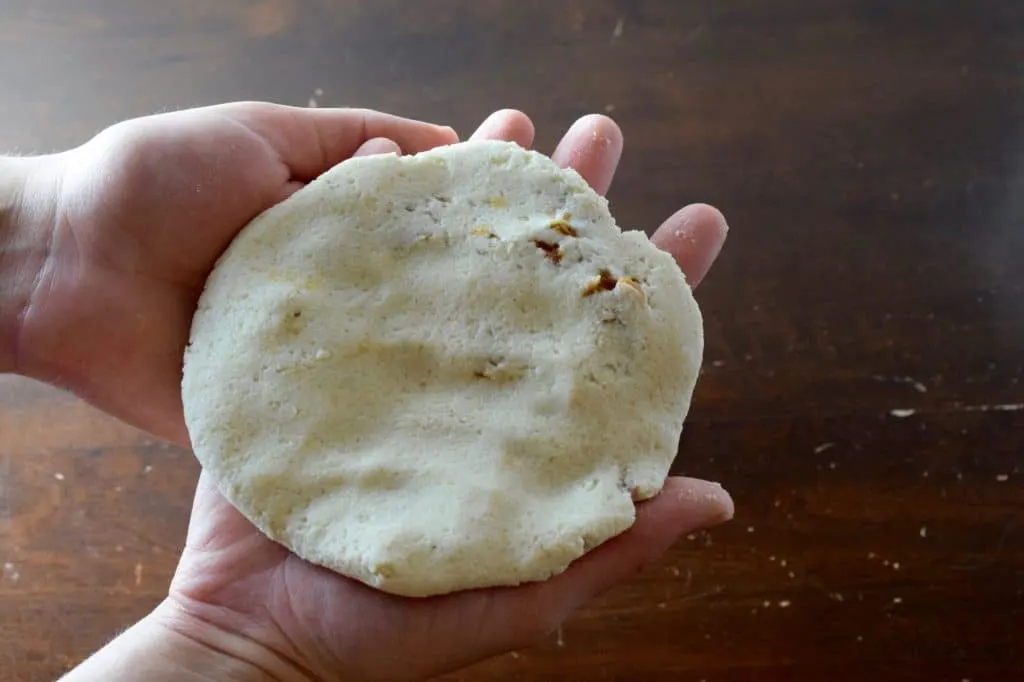 Notes
To make this gluten free, substitute additional masa harina for the all purpose flour. This will still make delicious pupusas!
The slaw is great made up to one day ahead of time.
You can use a variety of fillings to stuff the pupusas, or make simply make cheese filled ones. This just happens to be my favorite way to eat them.
Vegan Jalapeño Cheese and Refried Bean Pupusas
Pupusas are a traditional Salvadoran dish of a stuffed, thick corn tortillas. These are are vegan-friendly recipe and filled with refried beans and vegan jalapeño cheese.
Ingredients
Masa Dough
2 cups masa harina
1/4 cup all purpose flour
3/4 tsp salt
2 tbsp canola oil
1 1/2 cups warm water
To Assemble & Serve
oil for cooking
refried beans
salsa (optional)
guacamole (optional)
sour cream (optional)
Simple Slaw
1/2 head small purple cabbage, shredded
1 tbsp jarred jalapeños, diced
1/2 tsp salt
2 tbsp apple cider vinegar
Instructions
To make the masa dough
Stir the dry ingredients together.
Add the warm water and oil, and mix to combine. Turn onto a clean work surface and knead for a few minutes. The dough should be soft and moist.
Set aside for about 15 minutes to fully hydrate the dough before using.
To assemble the pupusas
Divide the dough into six equal pieces, and roll each into a ball. Keep the dough covered while not in use.
Heat a non-stick skillet over medium heat.
To shape the pupusas, it is easiest if you dampen your hands. Take a ball in your hands, flatten it between your palms making a disk. Put in a scant tablespoon of refried beans and about a half tablespoon worth of cheese right into the center.
Fold the edges of the dough over the filling, then working gently, press the dough into a fat disk around the filling. Keep pressing the dough gently while rotating, to work it into a thinner disk. Don't panic if the dough starts to split. Small holes in the dough are not a big deal, but if you get a large one, just pull a little extra dough (either from the remaining balls, or from an edge of the pupusa you are forming that has a little to spare) over the hole and using a wet finger, smear it closed.
Once you have a nice sized pupusa (~6 inches), oil the pre-heated skillet (spray oil works nicely here, but for more restaurant style pour a little oil onto the pan). Cook the pupusa about 2 minutes on each side, or until it has some golden and browning spots and the dough looks fully cooked.
Continue shaping and cooking the pupusas. Serve warm.If you want to shape all pupusas before cooking, try placing them on a piece of parchment paper so that they don't stick when you pick them up.
To make the slaw
Combine everything into a large mixing bowl. Massage the cabbage a little with your hands to help soften it a little. Set in the fridge until ready to eat.
Serve the pupusas with some slaw, salsa, guacamole, and/or sour cream. Enjoy!