These vegan rajas con crema are made with roasted poblano peppers, onion, and homemade cashew cream for a simple and delicious dish. Stuff them in tacos, burritos, quesadillas, or gorditas, serve alongside beans and rice, or with some grilled tofu, seitan, or vegan chicken.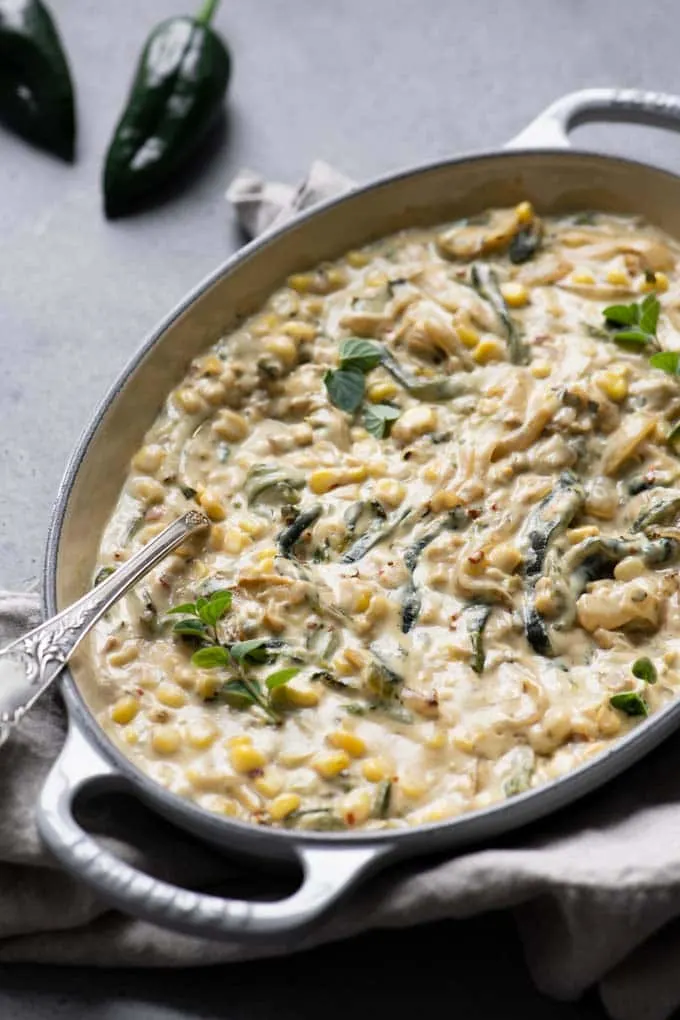 Rajas con crema is a Mexican recipe that translates to strips with cream, where the strips are thinly sliced strips of peppers and onion.
You make rajas with poblano peppers, a mildly "hot" pepper, but it can be combined with sweet peppers (like the bell pepper) for a milder version if you would like.
The peppers are roasted which gives the dish a lightly smoked flavor, then pan fried alongside onion and garlic.
It's seasoned simply with salt, crushed red pepper, and oregano which enhances the rich flavor of the vegetables.
The cashew cream is made with vegetable broth to bring even more depth of flavor to the recipe, and it thickens to such a luscious texture when warmed with the veggies.
Last I like to add a smattering of corn, the bursts of sweet complement the vegetal flavor of the peppers and if anything make the dish taste that much more savory good!
It's such an easy recipe to make and I love to make up a big batch and enjoy it in different ways throughout the week.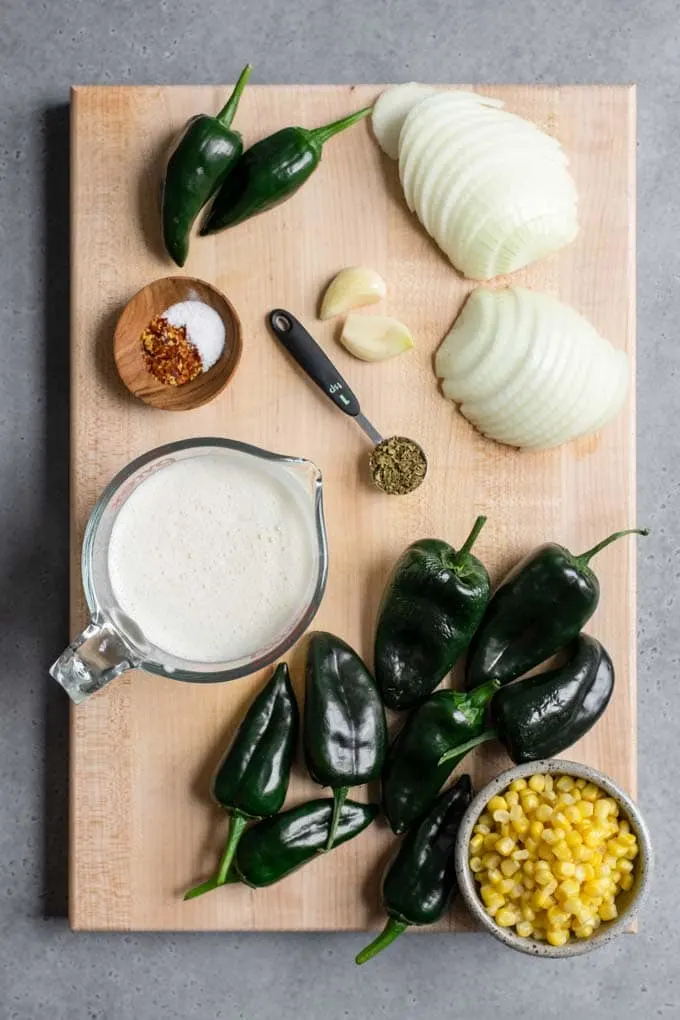 Roasting the poblanos:
There are two ways you can roast the poblanos: over a gas flame, or in the oven under the broiler.
If using large poblanos and just roasting a couple of them I like to use my gas burner to char the peppers. Cooking them directly over flame makes for a beautifully charred skin, and if you're just cooking a few of them it goes faster.
Usually I roast up a whole bunch and so it's easier to just throw them under the broiler in my oven. Place a rack close to the top burner, flipping the peppers a couple of times to blacken all the sides under the heat.
This is particularly true when I'm using homegrown poblanos like I did here, as my poblanos didn't grow quite as large as the store bought ones.
If you have a grill then you can certainly roast them on the grill! As long as the skins blacken and flake you're good to go.
Once the skins have blackened then you cover them–either in a bowl with a lid or topped with a plate, or in a sealed bag–and let them steam. The steam helps loosen the skins off the peppers so it's easier to peel off.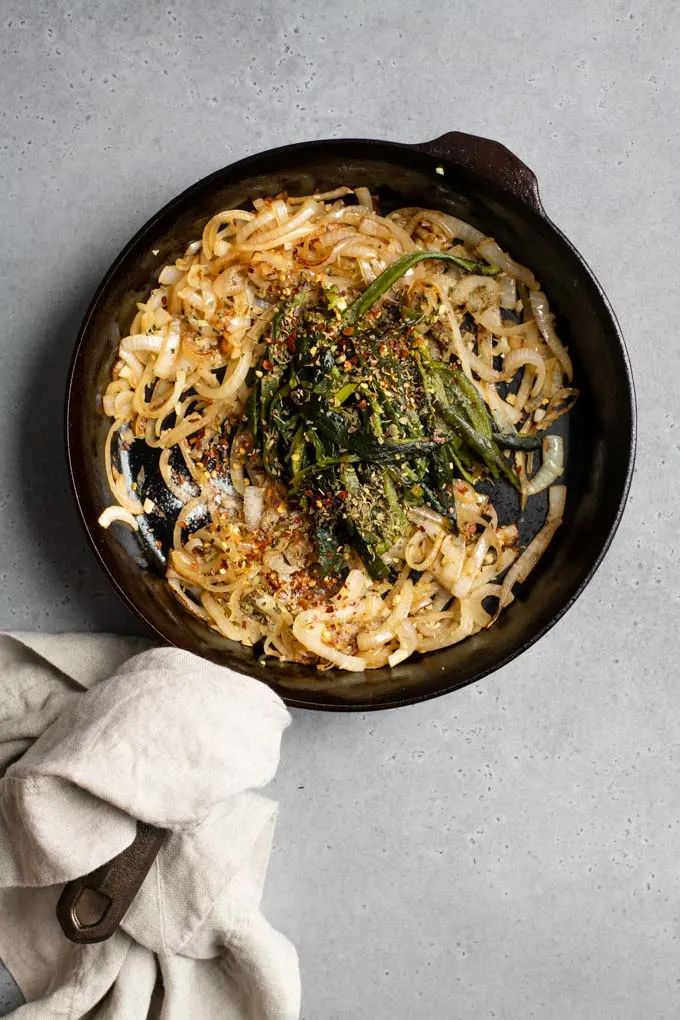 What to eat with vegan rajas con crema?
Here are some ideas to get started. This is by no means a comprehensive list!
Tacos. It's hard to go wrong with tacos! Rajas con crema are so good wrapped in warmed corn tortillas! Add some cilantro and a hot sauce and yuuuum.
Quesadillas. Rajas con crema + some vegan cheese, folded up inside of a big ol' flour tortilla and now we're really talking! I love to pair this with some warm refried beans, hot sauce and/or salsa, and maybe even some vegan sour cream if I'm feeling really fancy.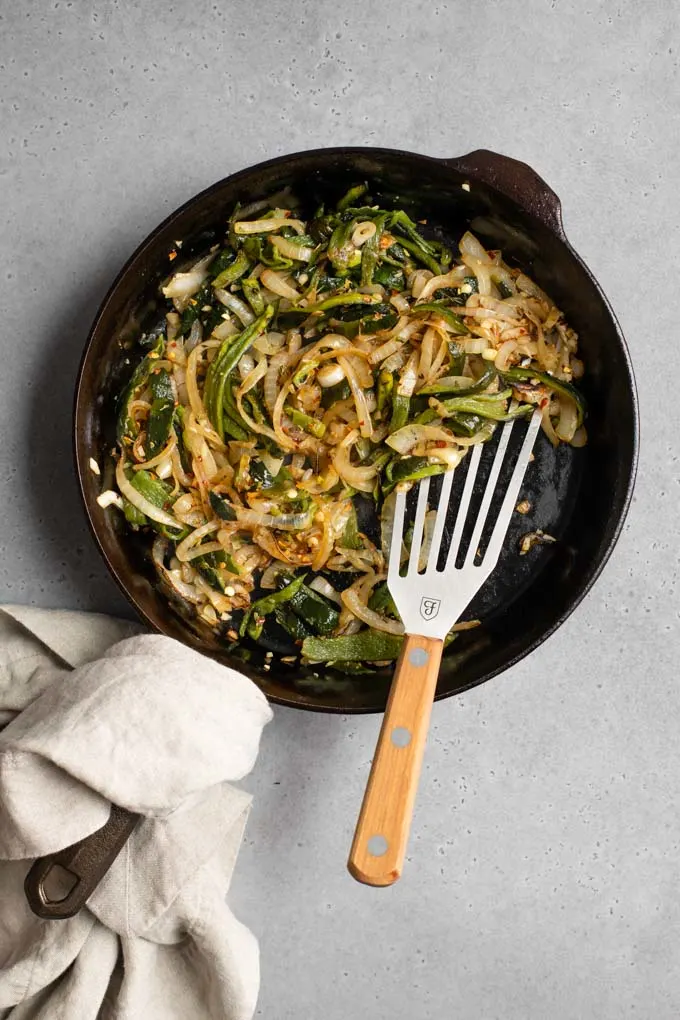 Burritos. Keeping the tortilla theme here, rajas are amazing inside of a burrito! I like to stuff them with roasted potatoes and black beans, maybe even some vegan cheddar or pepper jack. If you're feeling a bit extra sauce them up with my Mexican red chile sauce. I can't even begin to tell you how good that stuff is!
Burrito Bowls. Same idea as the regular burrito but add some rice or quinoa and call it a bowl! For more guidance check out my black bean burrito bowls and just add some vegan rajas con crema in!
Beans and Rice. Not too different than a burrito bowl, but imagine Mexican tomato rice and soupy delicious beans (such as my seasoned black beans) along with a big side of rajas! If you prefer pinto beans and tomatillos then it would go so nicely with my Mexican pinto beans and tomatillo cilantro lime rice!
Overtop a vegan protein. Enjoy it over a slab of baked, pan fried, or grilled tofu. Season the tofu with a bit of salt and pepper, and some cumin and chili powder. Or try it over pan fried or grilled seitan (steaks or chicken style seitan) or your favorite store bought vegan chicken.
As a burger topping. Mexicali burger anyone? Your favorite burger + some rajas on top! Feel free to skip the cheese, but probably don't forgo the hot sauce!
The sky is the limit when it comes to all the amazing ways you can and should enjoy rajas poblanos con crema! But really, it doesn't matter how you eat them, just eat them! They're SO insanely good!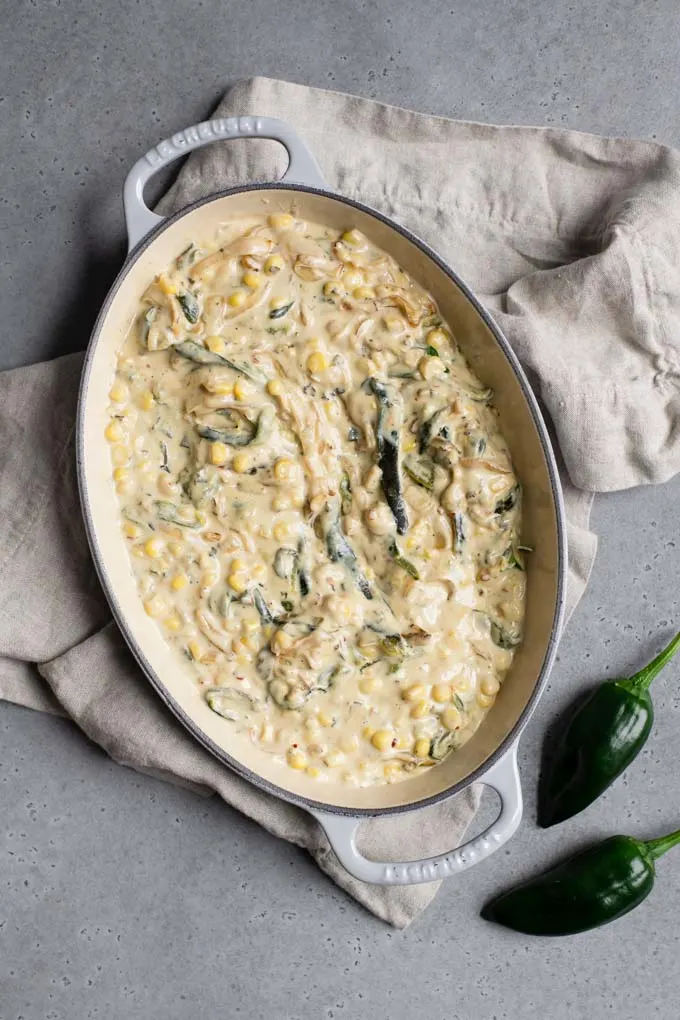 If you make these homemade vegan biscuits, leave a comment below and rate the recipe on the recipe card. And please share your photos with me on Instagram, tag @thecuriouschickpea and #thecuriouschickpea. I love seeing your recreations!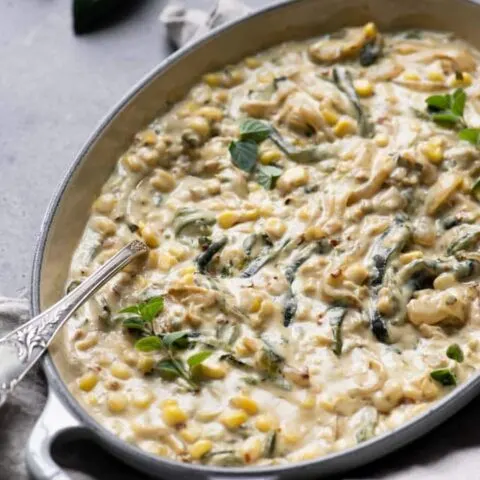 Vegan Rajas con Crema
Rajas poblanos con crema is made with roasted poblano peppers and onion sautéed with vegan cashew cream and corn. Use this recipe to make tacos, burritos, quesadillas, and more!
Ingredients
1 1/2 tsp oil
1/2 lb poblano peppers (4-10, depending on size)
3/4 cups raw cashews, soaked for 2 hours in cold water and drained*
1 1/2 cups vegetable broth
1 yellow onion, thinly sliced in half moons
2 cloves garlic, minced
1/2 tsp salt, more to taste
1/2 tsp crushed red pepper flakes, more to taste
1 tsp Mexican oregano (substitute Mediterranean oregano)
1 cup corn (fresh, frozen, or canned)
Instructions
Wash poblanos and rub with a little oil, about 1/2 teaspoon. Broil about 4-inches underneath top burner until the peppers are blackened, about 10 minutes but times may vary, flipping a couple of times to char evenly.
Place the roasted peppers in a large heat safe bowl and cover to let steam so skins loosen. Set aside until cool enough to handle, then peel the peppers and remove the stem and seeds. Slice the peppers into strips.
Prepare the cashew cream. Combine the cashews and vegetable broth in a blender and blend until smooth, pausing to scrape down as necessary. Set aside.
Heat a teaspoon of oil in a large skillet over medium and add the onions with a pinch of salt. Sauté about 5 minutes, or until the onions are softened and lightly browned.
Add the garlic and sauté about 30-60 seconds before adding the sliced poblanos, salt, red pepper, and oregano. Let cook for 1-2 minutes.
Turn the heat down slightly to medium-low and pour in the cashew cream and stir in the corn. Let cook until the cashew cream thickens, about 2-4 minutes. Taste and adjust seasonings.
Notes
If using a high powered blender you can skip the soaking step for the cashews and throw them right in. Didn't plan ahead? In this case soak the cashews for 10-30 minutes in boiling hot water to soften them.
Alternatively, you can roast the poblano peppers over a gas flame or on the grill.
Adapted from my papas con rajas tacos.
Recommended Products
As an Amazon Associate and member of other affiliate programs, I earn from qualifying purchases.
Nutrition Information:
Yield:

8
Serving Size:

1
Amount Per Serving:
Calories:

108
Total Fat:

7g
Sodium:

273mg
Carbohydrates:

11g
Fiber:

2g
Sugar:

3g
Protein:

3g
Nutrition is calculated automatically so should be used as an estimate.