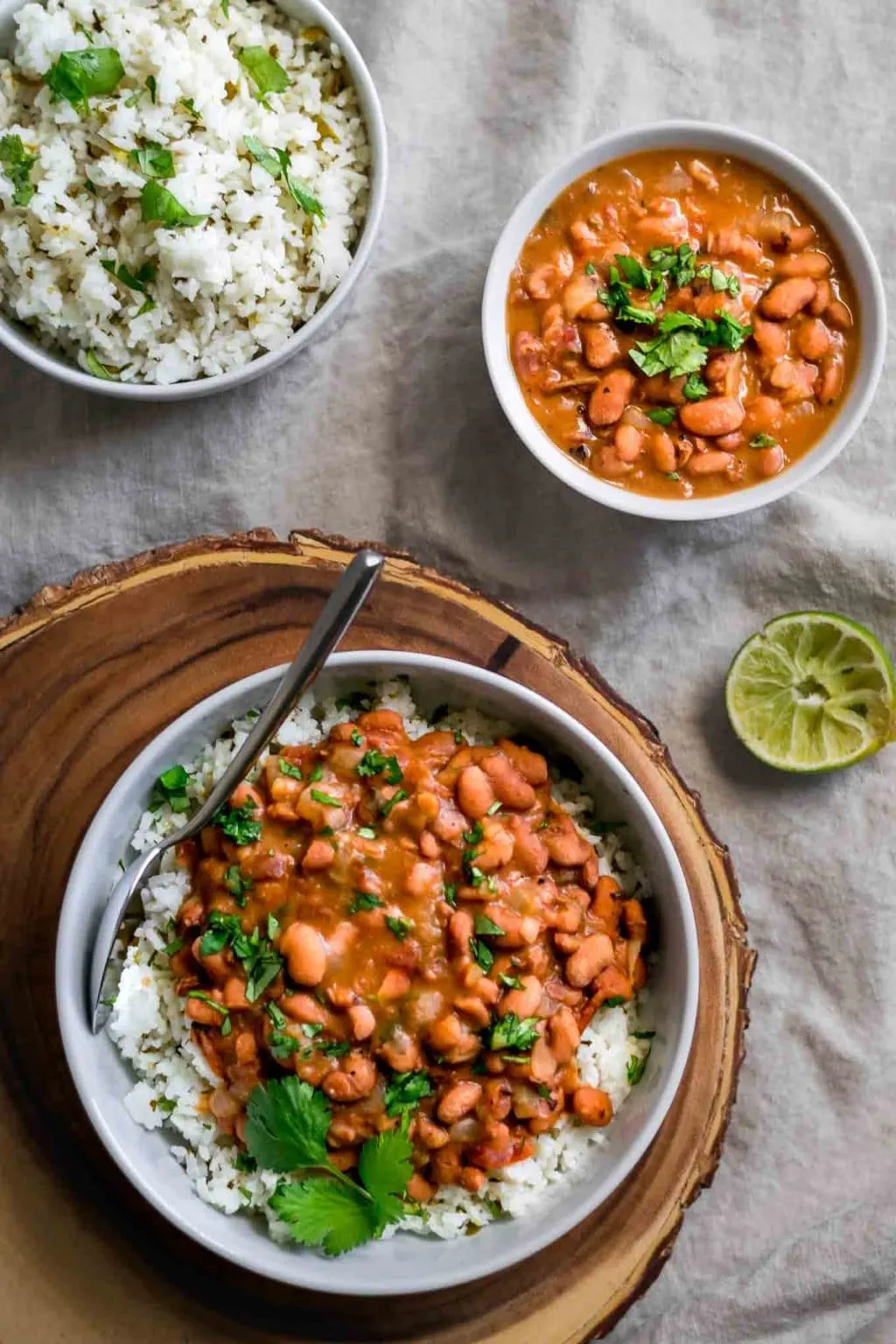 You know those theoretical questions that ask you what cuisine you'd choose if you could only eat one for the rest of your life? They're along the lines of "what 3 things would you bring to a desert island-"type questions. Mostly I eschew these types of questions, because what crazy dystopian world would have to live in to only be able to experience one culture, one cuisine, or ONLY THREE THINGS EVER??? But, it's possible, that if I had to choose (and I'm not choosing), it might be Mexican food. Then again, it might be Italian food (could I live without pizza? … I'm not sure Mexican pizza would count in this dystopia). But one thing is true, I could not give up beans.
After college my best friend and I did a backpacking trip around Europe, and after an entire month without Mexican food and basically no beans (gigandes in Greece was pretty much it), I found myself in my parents kitchen eating room temperature refried beans straight from the can with a spoon. No adornments, no heating it up, no putting it in a bowl at least. Yes, at times, I'm a savage. I also have to admit that is not the only time I've eaten plain, cold refried beans with a spoon…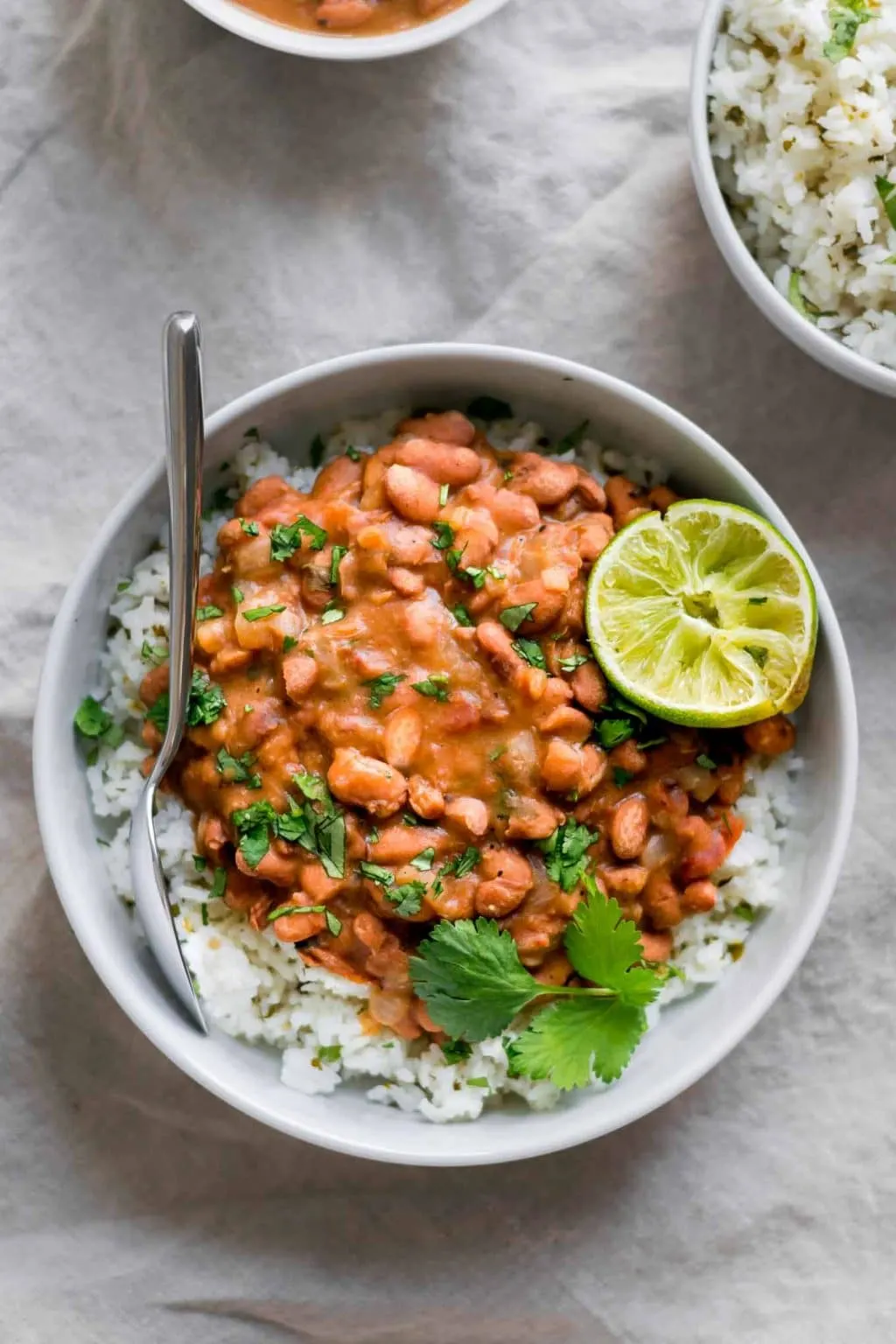 Ok, let's talk about these beans now. Do you ever cook your beans from scratch? I'll admit I usually opt for canned beans, but cooking from dry makes for a tastier and INSANELY cheap dish. One pound of dried beans cooks to over 6 cups of beans, while a costing about the same as 1 15oz can of beans (which is typically 1 1/2 – 1 3/4 cups). Plus you don't have to worry about BPA lining your cans, or the BPA alternative (which may be just as bad), or the extra waste associated with throwing out the cans.
The method I use to cook the beans for this recipe, is one I've been interested in for years. You put soaked or un-soaked (we'll get to that in a moment) beans in a pot with plenty of water, and then put it in the oven at a low heat and let cook for about 1 hour and 15 minutes until they're perfectly soft. This method works because the beans are kept above the boiling temperature of water (water boils at 212 ºF, the oven is set to 300 ºF), they're evenly heated in the oven as compared to stovetop, and the beans are left untouched while they cook. Stirring beans while cooking them on the stove causes splits and bursts, all undesirable things in your finished beans. Stove top beans are also less likely to be evenly cooked, with some beans softening before others, because the bottom of the pot is likely to be warmer than the top.
You can soak your beans or not, pinto beans are small beans that often don't require soaking (unless they are very old). But soaking does help guarantee more even cooking, and also makes it even less likely that the beans will split. And of course, some people find it helps with the gaseous effects of beans. I add epazote to the beans which helps as well, while adding extra flavor! Apparently the best thing you can do is just eats beans regularly though! If soaking the beans, make sure to soak them with salt, as this softens the skins and helps the beans cook up softer. I know this may counter what you've heard before, but trust me and try it! I also include both slow-soaking and quick-soaking instructions, because I'm bad at planning my bean soaking ahead of time, and I'm guessing you might be too.
The beans are finished stovetop, and this is where extra flavor is added. While the beans are cooked in the oven with bay leaves and epazote to infuse them with some flavor, on the stove we add that wonderful roasted garlic to the pot, along with canned tomatoes with green chilies and fried onions. The beans are simmered for about a half an hour, until the liquid is thick and creamy, and the beans are oh so perfectly melt in your mouth soft. You can actually turn these beans into refried beans at this point, just add about 1/4 cup of oil and either mash the beans or use an immersion blender or food processor to get your desired level of chunkiness. It makes for delicious refried beans.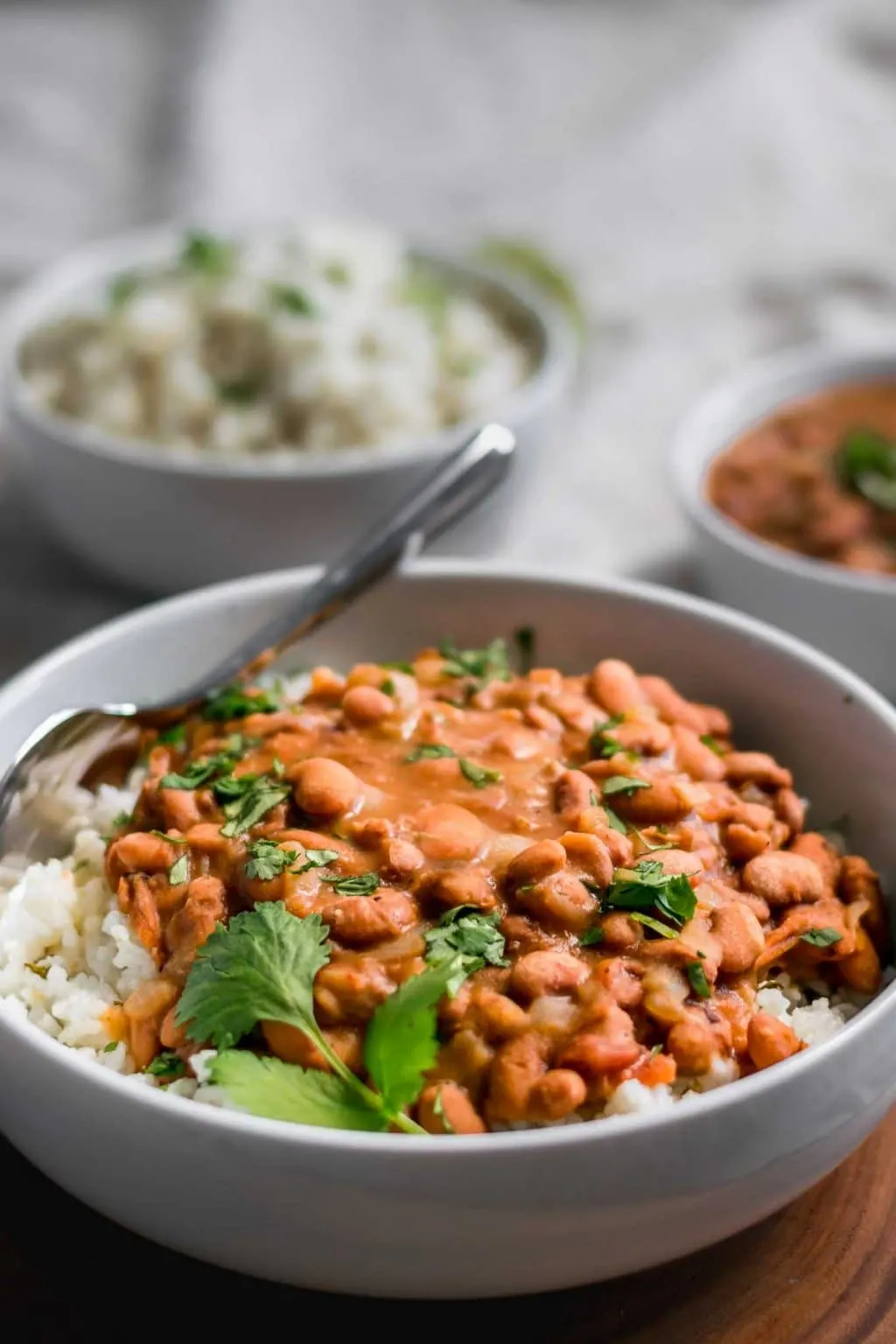 I like to serve these beans with a simple but flavorful rice. The rice is cooked as normal, but during the last steaming step before fluffing, I toss on some diced tomatillos and let them steam and soften along with the rice. Then some minced cilantro and a generous squeeze of lime is added right before fluffing the rice and mixing everything in. The rice is perfectly tangy and citrusy, full of bright flavors which accompany the Mexican style pinto beans perfectly.
The rice and beans can be stuffed into a burrito (might I suggest, alongside my tinga taco "meat"?), or served alongside any tacos, just like you'd have at a Mexican restaurant! This is simple comfort food at it's best. I hope you try the homemade beans and my favorite tomatillo cilantro lime rice (leave out the cilantro if you're a hater!). Let me know if you do, and leave a comment below! Tag your recreations @thecuriouschickpea and #thecuriouschickpea on Instagram, or share with me on Facebook.
Notes:
If you have a pressure cooker or a slow cooker, feel free to cook your beans in that, then skip ahead to step 5, where you put the beans back on the stove (just don't forget to roast your head of garlic!). You can also use canned pinto beans, picking up with step 5 as well. Use 4 15 oz cans of beans, but try making them from scratch, they're so much yummier!
Prep and cook times are mostly hands off. Prep time includes the a quick-soaking of the beans, and the cook time includes the time in the oven which is completely hands off.
This makes about 6 servings of rice, and 8-12 servings of beans, depending on what else you're eating.
The beans and rice can both be frozen into smaller portions as needed.
For the canned tomatoes with green chilies you can either use Rotel, the Muir Glen version, or something similar.
You can find epazote on Amazon, in Mexican grocery stores, or occasionally in very well stocked natural foods grocery stores. (Same with Mexican Oregano).
You can use fresh or canned tomatillos.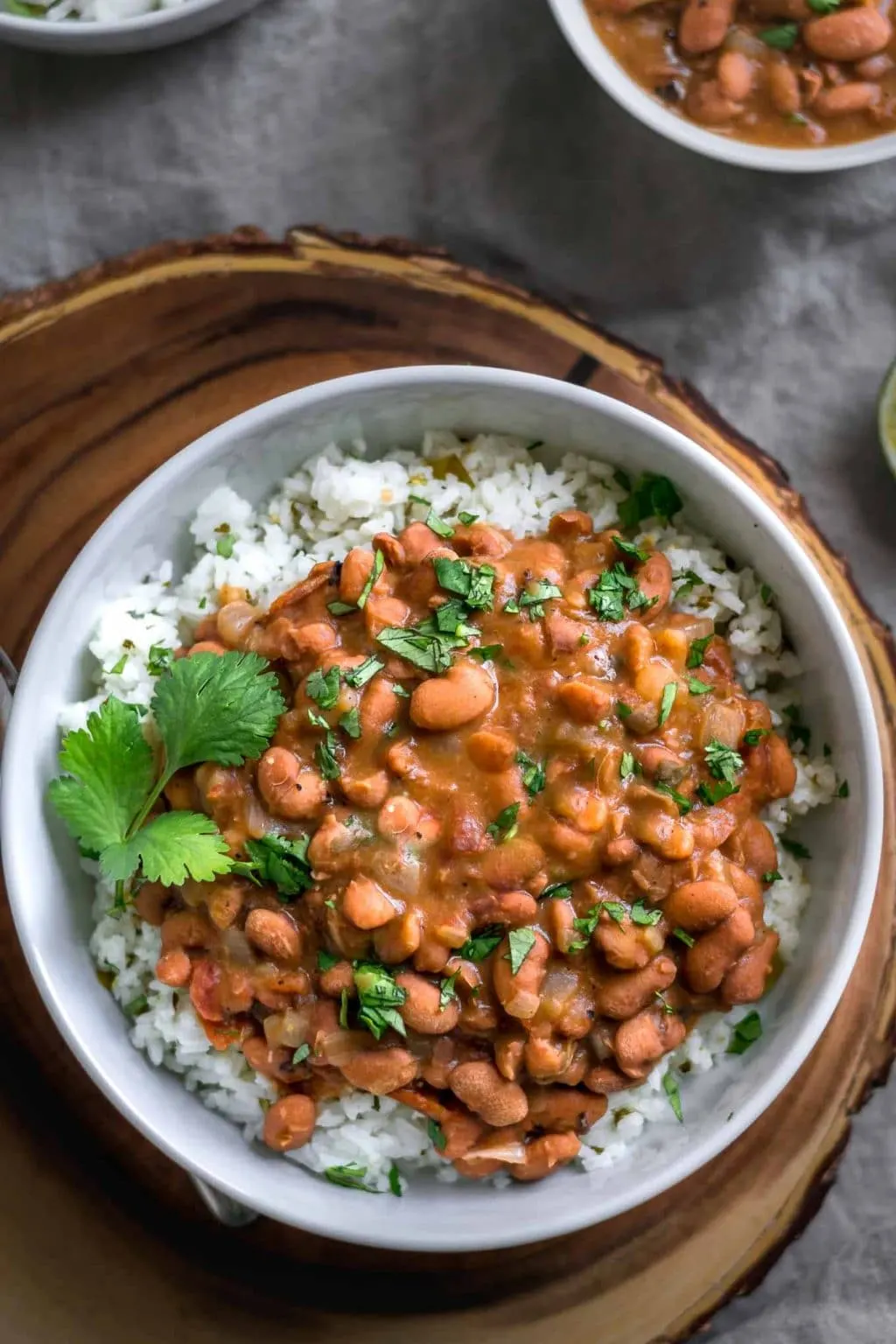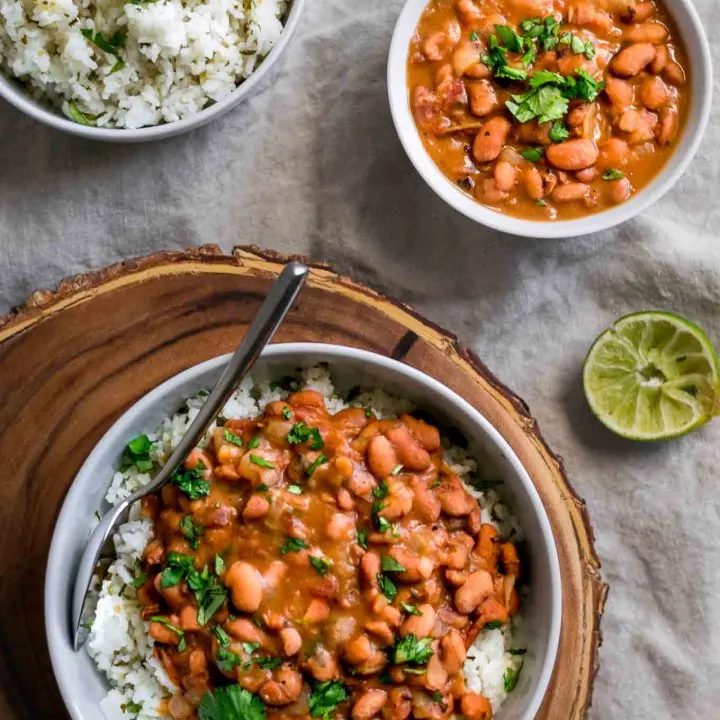 Mexican Pinto Beans and Tomatillo Cilantro Lime Rice
Cook Time:
1 hour
45 minutes
Total Time:
2 hours
45 minutes
Pinto beans are cooked in the oven until tender and soft, then finished on the stovetop for flavorful, restaurant style, creamy beans. The rice is flavored with tomatillos, lime, and cilantro for the perfect tangy accompaniment.
Ingredients
Mexican Pinto Beans
1 lb dried pinto beans
water
1 1/2 tbsp coarse salt
1 tbsp + 1 tsp oil, divided
1 head of garlic
1 tsp fine sea salt, or to taste
2 bay leaves
1 tbsp epazote or Mexican oregano
1 cup (10oz can) tomatoes with green chile
1 medium onion, diced
Tomatillo Cilantro Lime Rice
2 cups long grain white rice
3 cups water
2 tsp oil (optional)
1/2 tsp salt
3/4 cups peeled, rinsed, diced tomatillos
1/4 cup chopped cilantro
juice from 1 lime (~2 tbsp)
Instructions
Prepare the beans
Sort the dried beans, removing any small stones and debris, then rinse the beans. For faster, more evenly cooked beans, pre-soak them. You can either soak for 8-10 hours in about 10 cups of cold water along with 1 1/2 tbsp of coarsely ground salt. Or you can quick soak the beans by placing them in a large pot with the 10 cups of water and the 1 1/2 tbsp coarse salt, and bringing the pot of beans to a rolling boil, turn off heat and leave covered for 1 hour at room temperature. If you choose not to soak your beans, oven cooking time can be expected to increase.
Preheat the oven to 300 ºF. If beans have been soaked, drain and rinse them. Put the beans in a large, oven safe, dutch oven. Cover with 8 cups of water, add 1 tsp of finely ground salt, 2 bay leaves, and the epazote or Mexican oregano. Bring the pot to a boil on the stovetop, then transfer the covered pot to the 300 ºF oven.
Prepare the head of garlic for roasting. Peel off the excess paper around the garlic, and slice off a small portion of the top to expose the cloves. Place the head of garlic in a small piece of foil and pour 1 tsp of oil overtop. Close the foil around the head of garlic and place it in the oven with the pot.
Let the beans cook and the garlic roast for 75 minutes. After 75 minutes remove the head of garlic, which should be soft and well roasted at this point. Open up the foil packet, and set the roasted garlic aside to cool. Test the beans for doneness. They should be soft and easily squished by your tongue. If they are firm, continue baking them, checking every 10-15 minutes, until they are tender.
When the beans are cooked, return the pot to the stove and turn the heat to medium or medium-low to maintain an active simmer. When the roasted garlic is cool enough to handle, squeeze out the cloves and add them all to the pot of beans along with the canned tomatoes with green chile. Let the beans simmer until the liquid is thickened and turning creamy and the beans are soft and practically melt in your mouth, usually 20-25m. Stir the beans occasionally while it cooks so none stick to the bottom. If the mixture gets too dry you can add a little more water as needed
Heat a skillet over medium, add 1 tbsp of oil and the diced onion. Fry the onion for 6-8 minutes until soft and golden. Add to the onions to the thickened beans and simmer for an additional 5 minutes. Taste the beans and adjust for salt.
The beans will thicken as they cool and sit in the fridge. Any that won't be consumed in a few days can be frozen. The beans freeze really well. Just defrost on the counter or in the fridge.
To make the tomatillo cilantro lime rice
Rinse the rice and put in a medium pot along with the 3 cups of water, oil (if using), and salt. Bring the pot to a low boil while uncovered, then turn the heat down to low, cover, and let steam for 15 minutes. After 15 minutes, check that the rice is tender. If not give it another 2-5 minutes, and add a splash of hot water if it's running dry. Typically the water is not needed.
When the rice is cooked, add the chopped tomatillos on top of it, and leave covered to steam untouched for 10 minutes.
Add the cilantro and the lime juice over top, then fluff the rice with a fork and mix in the tomatillos, cilantro, and lime. Keep the rice covered and warm until ready to serve.