Hello beautiful. Yes, I'm talking to these beautiful grilled seitan steaks with mashed potatoes and shallot gravy! Make them and you will too!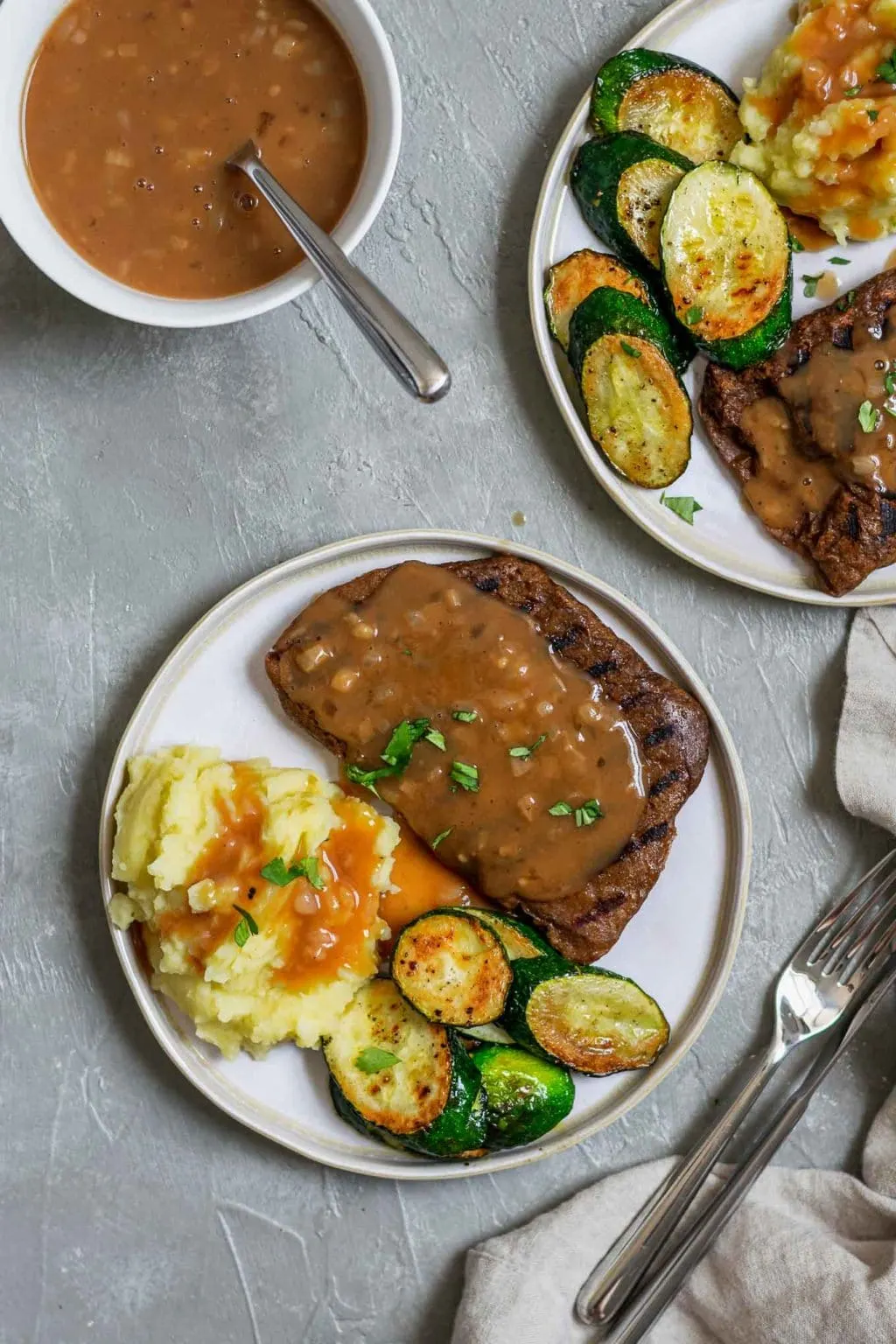 So you want a vegan steak and potatoes meal? Please, look no further! This hearty stick-to-your-ribs meal will fill you up and satisfy like no other.
We're talking delicious vegan seitan steaks, high in protein and with a great chewy but tender texture. A savory shallot gravy, sweet sautéd zucchini, and buttery mashed potatoes.
This recipe takes advantage of my homemade seitan steaks which grill up beautifully. The seitan is fully cooked before you grill it, so you just want to grill long enough to heat it through and get those grill marks. No need to worry about internal temperatures!
You'll want to prepare the seitan a day (or up to a week) in advance of grilling it for this meal. The texture firms up as the seitan chills. Before refrigeration the seitan is softer and not as nicely textured.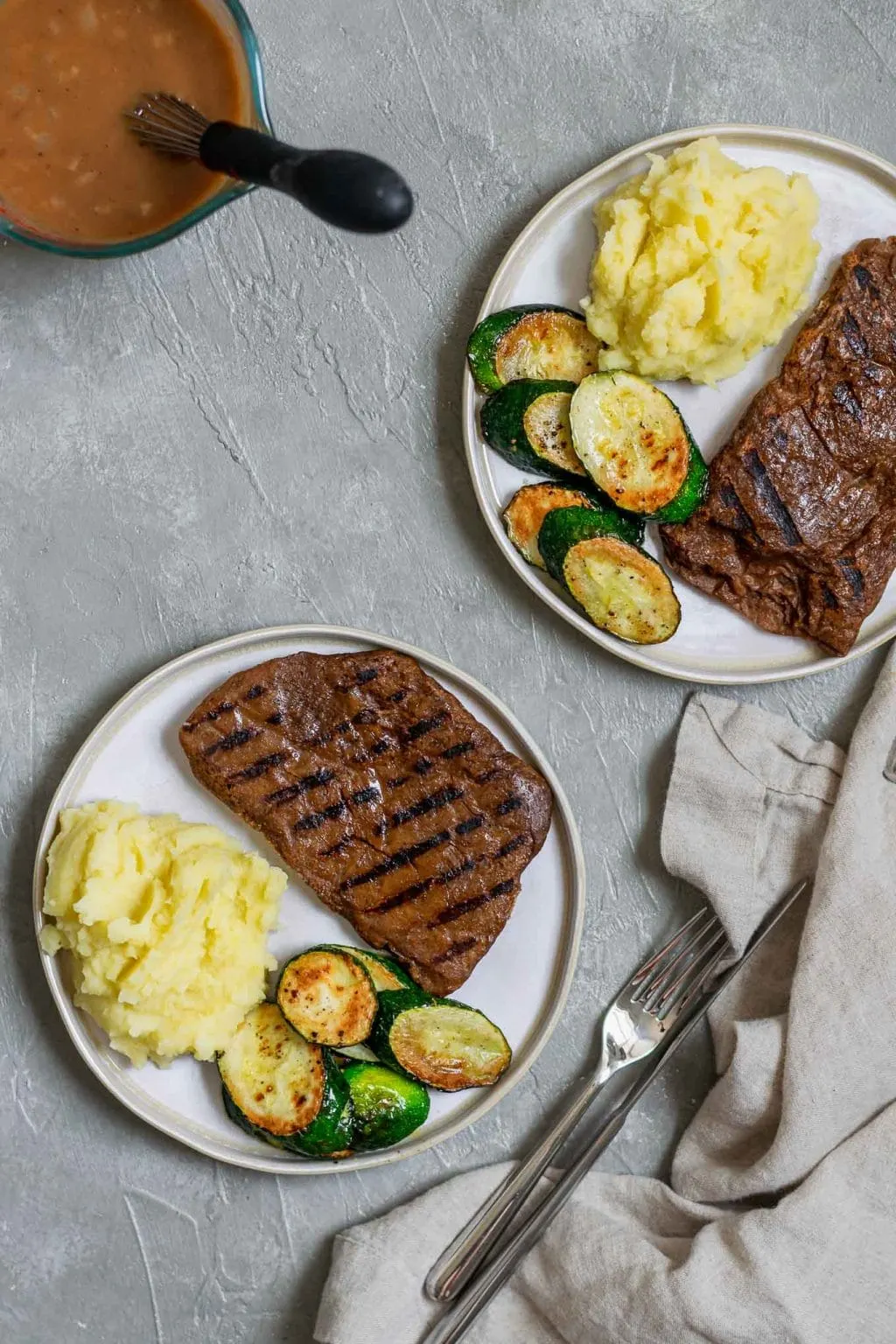 To cook the vegan seitan steaks just heat the grill over medium heat and brush some oil over the grill, slap as many seitan steaks down as you need and cook them a few minutes on each side. Or until you have your desired amount of char!
But before we get too far ahead of ourselves, let's prepare the sides!
The perfect vegan steak sides:
You can't go wrong with mashed potatoes! Cook up diced potatoes until they are soft, then mash them up with vegan butter and add a bit of unsweetened plain plant milk to thin them and salt to taste.
To go with the potatoes and vegan seitan steak I highly recommend you whip up some gravy! I used my shallot gravy, but if you prefer a mushroom gravy you could make my creamy vegan mushroom gravy instead.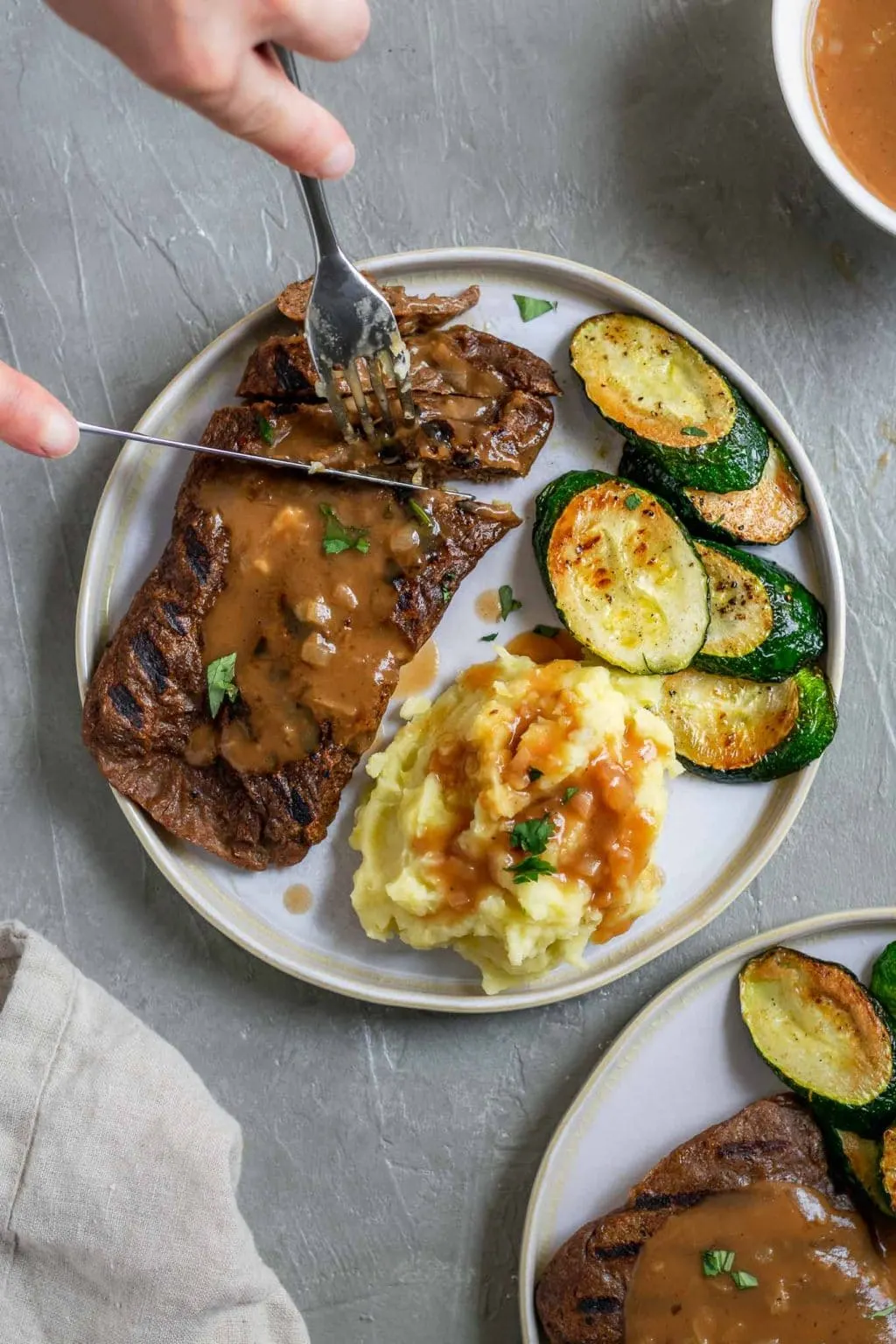 I recommend making the gravy in advance (an hour to a couple days) then reheating it when it comes time to serve. But if you're running short on time don't worry, the shallot gravy is super easy and quick to make!
Lastly we need to serve our meal with a veggie! You know, gotta be healthy and all that. I love sautéing zucchini to go alongside the vegan steaks. You could also grill zucchini.
Zucchini is the perfect summer grilling side! The natural sweetness of the in season vegetable pairs beautifully with the savory seitan and gravy. It's juicy and easy to load up on lots of zucchini!
You could also serve this with some sautéd green beans, some creamy cabbage slaw, or a side salad.
If you make these grilled seitan steaks with mashed potatoes and shallot gravy, leave a comment below and rate the recipe on the recipe card. And please share your photos with me on Instagram, tag @thecuriouschickpea and #thecuriouschickpea. I love seeing your recreations!
If you make these homemade vegan biscuits, leave a comment below and rate the recipe on the recipe card. And please share your photos with me on Instagram, tag @thecuriouschickpea and #thecuriouschickpea. I love seeing your recreations!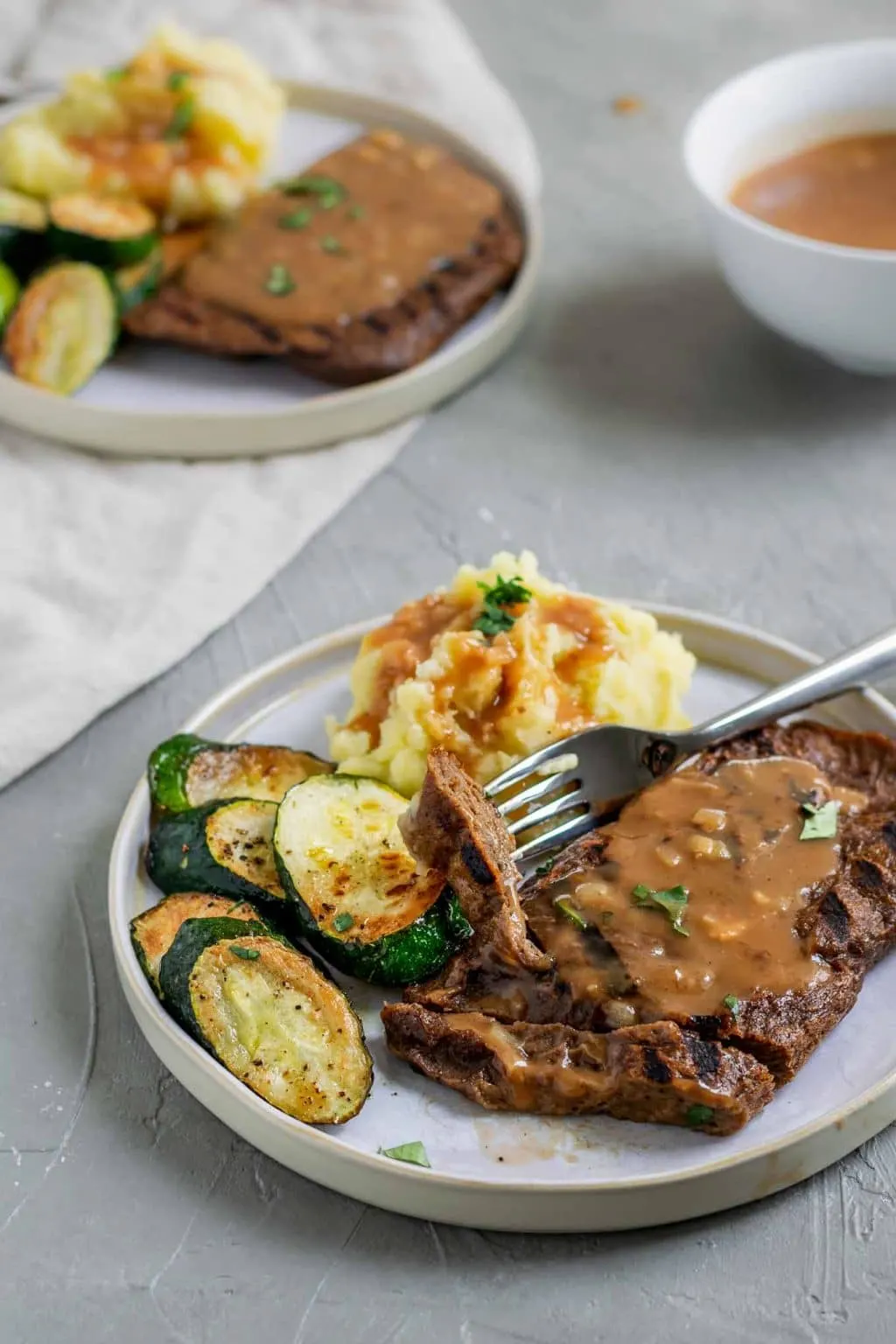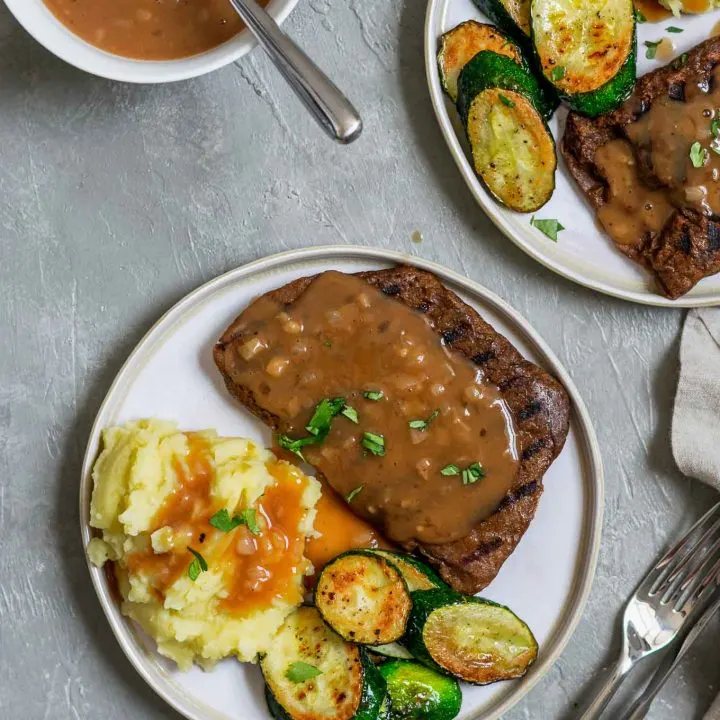 Grilled Seitan Steaks with Mashed Potatoes and Shallot Gravy
If you're looking for a knife and fork sort of a meal, then this is your recipe. Juicy, chewy seitan steaks are doused in a flavorful shallot gravy with a side of mashed potatoes and sautéed veggies. A veganized 'meat and potatoes,' if you will.
Ingredients
2 Seitan Steaks (1/3 of Vegan Seitan Steak recipe, below)
Vegan shallot gravy, below
Mashed Potatoes*
1 - 1 1/4 lbs yukon gold potatoes, peeling optional, cut into ~1" cubes
2-3 tsp vegan butter, to taste
2-4 tbsp plant milk
1/4 tsp salt, to taste
Sautéed Zucchini*
1 tsp olive oil
1 large or 2 small zucchini, cut into 1/2" thick medallions
salt and pepper to taste
parsley for garnish, optional
Instructions
Grill the Seitan
Heat a grill, grill pan, or cast iron skillet over medium high heat. Brush with a thin layer of oil when hot, then place the seitan steaks on the grill.
Grill for 3-5 minutes on each side, until black grill marks are acheived.
Make the mashed potatoes
Add the cut potatoes to a pot and cover with water. Add some salt to the water. Bring the covered pot to a boil, then turn down the heat and let simmer until the potatoes are tender, about 5-10 minutes, depending on how small the potatoes are cut. Turn the heat off when they're soft but leave in the hot water to keep warm until ready to serve.
Right before serving, drain the potatoes and add the vegan butter to the pot. Mash the cubed potatoes with the butter, then add the plant milk, starting with 2 tbsp and adding up to 4 until you have your desired consistency. Add salt to taste.
Sauté the Zucchini
Heat a skillet over medium heat. Add the olive oil and sliced zucchini in a single layer.
Sprinkle salt and pepper overtop the zucchini to taste and and let cook undistrubed for about 3-5 minutes or until the bottom is golden. Then flip the zucchini and sprinkle a little more salt and pepper on the second side. Cook until that second side is golden.
To Serve
Place a grilled seitan steak on a plate along with mashed potatoes and zucchini. Top everything with a generous amount of shallot gravy and garnish with minced parsley if desired. Enjoy!
Notes
Prepare the seitan steak recipe the day before for the best texture, then proceed with this recipe, grilling when you want to serve it.
Cook more seitan steaks, mashed potatoes, and vegetable as needed. There's enough gravy for about 6 servings.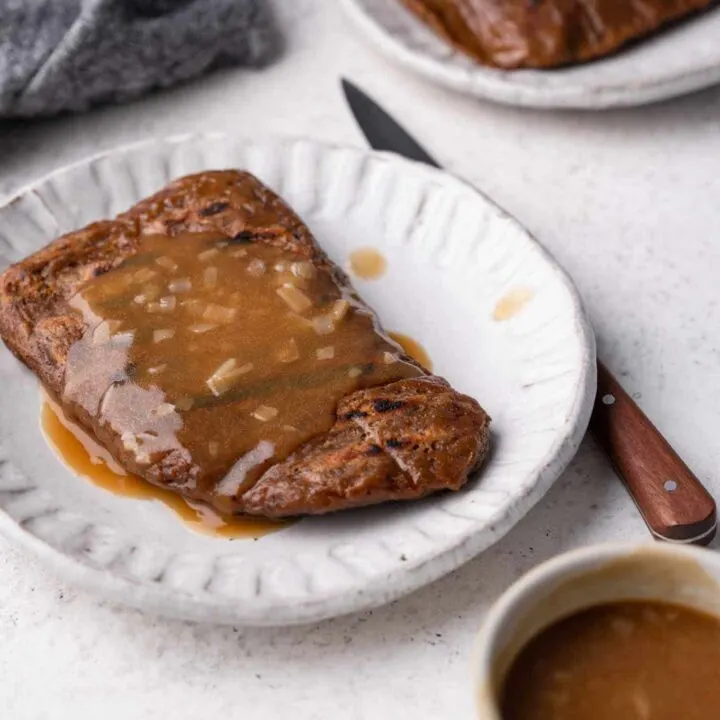 Vegan Seitan Steaks
Total Time:
1 hour
25 minutes
These vegan steaks are tender yet chewy, great served as a meat and potaotes meal or chopped up and cooked into other dishes. It's really flavorful on it's own, but lends itsself nicely to added seasoning! This recipe makes 2 pounds of seitan (six 5 1/3 oz steaks). Make it a day in advance for best texture.
Ingredients
1 tbsp olive oil
1 small red onion, chopped (~1 heaping cup)
2 garlic cloves, smashed and peeled
1 cup vegetable broth
1/2 cup red wine
1/2 cup cooked black beans, drained and rinsed
2 tbsp olive oil
2 tbsp soy sauce
1 tbsp vegan Worcestershire sauce
1 tbsp tomato paste
1/2 tsp salt
2 1/4 cups (320g) vital wheat gluten
1/4 cup (35g) chickpea flour
Instructions
Heat a skillet over medium low. Add 1 tbsp of olive oil and the onions and the peeled garlic and cook until the onions are soft and translucent, about 5-6 minutes.
Transfer the cooked onions and garlic to a blender and add the vegetable broth, red wine, black beans, 2 tbsp olive oil, soy sauce, Worcestershire sauce, tomato paste, and salt. Blend the mixture until smooth.
In a large mixing bowl whisk together the vital wheat gluten and chickpea flour. Add the wet ingredients and mix together with a wooden spoon to make a shaggy dough.
Turn the dough out onto a clean counter and knead by hand for 3 minutes. Then, let the dough rest for 5 minutes, before kneading an additional 3 minutes. The dough will go from soft and somewhat sticky to developed and a bit tough.
Prepare six 10-inch long sheets of aluminum foil. Place 6-inch wide pieces of parchment paper in the center of the foil.
Divide the dough into 6 pieces and press and stretch each piece of dough into a rectangular steak, about 4x6". If the dough won't hold it's shape, let it rest for a few minutes before stretching.
Place each steak in the center of a sheet of aluminum foil and wrap with parchment paper before folding in the sides of the foil to meet in the center. Fold the ends in to make a triangle, then fold the triangle over until it reaches the seitan. Repeat with the remaining pieces of dough.
Bring a pot of water with a steamer insert to a boil, when boiling add the wrapped seitan dough to the steamer basket. Steam for 35 minutes over medium-low heat to maintain a low boil, checking to make sure the pot doesn't boil dry.
After 35 minutes turn the heat off and let the seitan cool in the pot for another 10 minutes or so. When they've cooled off a little you can take them out and let them cool to room temperature before placing in a sealed container and letting chill in the fridge overnight. While you can eat them right away, the texture is much better the next day.
Recommended Products
As an Amazon Associate and member of other affiliate programs, I earn from qualifying purchases.
Nutrition Information:
Yield:

6
Serving Size:

1
Amount Per Serving:
Calories:

452
Total Fat:

9g
Sodium:

657mg
Carbohydrates:

24g
Fiber:

3g
Sugar:

3g
Protein:

67g
Nutrition is calculated automatically so should be used as an estimate.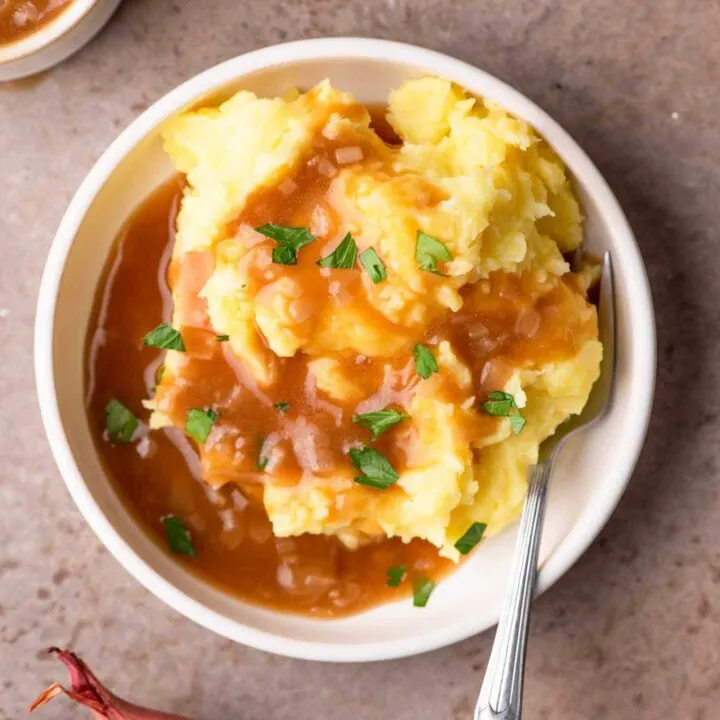 Vegan Shallot Gravy
This shallot gravy is really easy but delivers big on flavor. It's a delicious accompaniment to any gravy loving meal! The gravy can be made in advance and reheated, and lasts about 2 weeks in the fridge.
Ingredients
2 shallots, finely diced (heaping 1/2 cup)
3 tbsp vegan butter or olive oil
2 tbsp all purpose flour
2 cups vegetable broth
1/4 cup red wine
1 tbsp soy sauce
2 tsp tapioca starch
1 tbsp water
Instructions
Heat the vegan butter (or olive oil) in a small pot over medium low heat. Add the shallots and cook until soft and translucent, about 4-5 minutes. Turn down the heat if they start to brown.
Add the flour and cook another 1-2 minutes, stirring near constantly,
When the flour smells a little toasty, slowly stream in the vegetable broth, whisking as you pour to prevent clumping.
Add the wine and soy sauce. In a small dish whisk together the tapioca starch with 1 tablespoon of water, then add it to the gravy.
Bring the gravy to a simmer, and let it cook for about 5-8 minutes or until thickened. If needed add a little extra starch to thicken, or broth to thin.
Nutrition Information:
Yield:

10
Serving Size:

1
Amount Per Serving:
Calories:

65
Total Fat:

5g
Sodium:

250mg
Carbohydrates:

4g
Sugar:

1g
Protein:

1g
Nutrition is calculated automatically so should be used as an estimate.