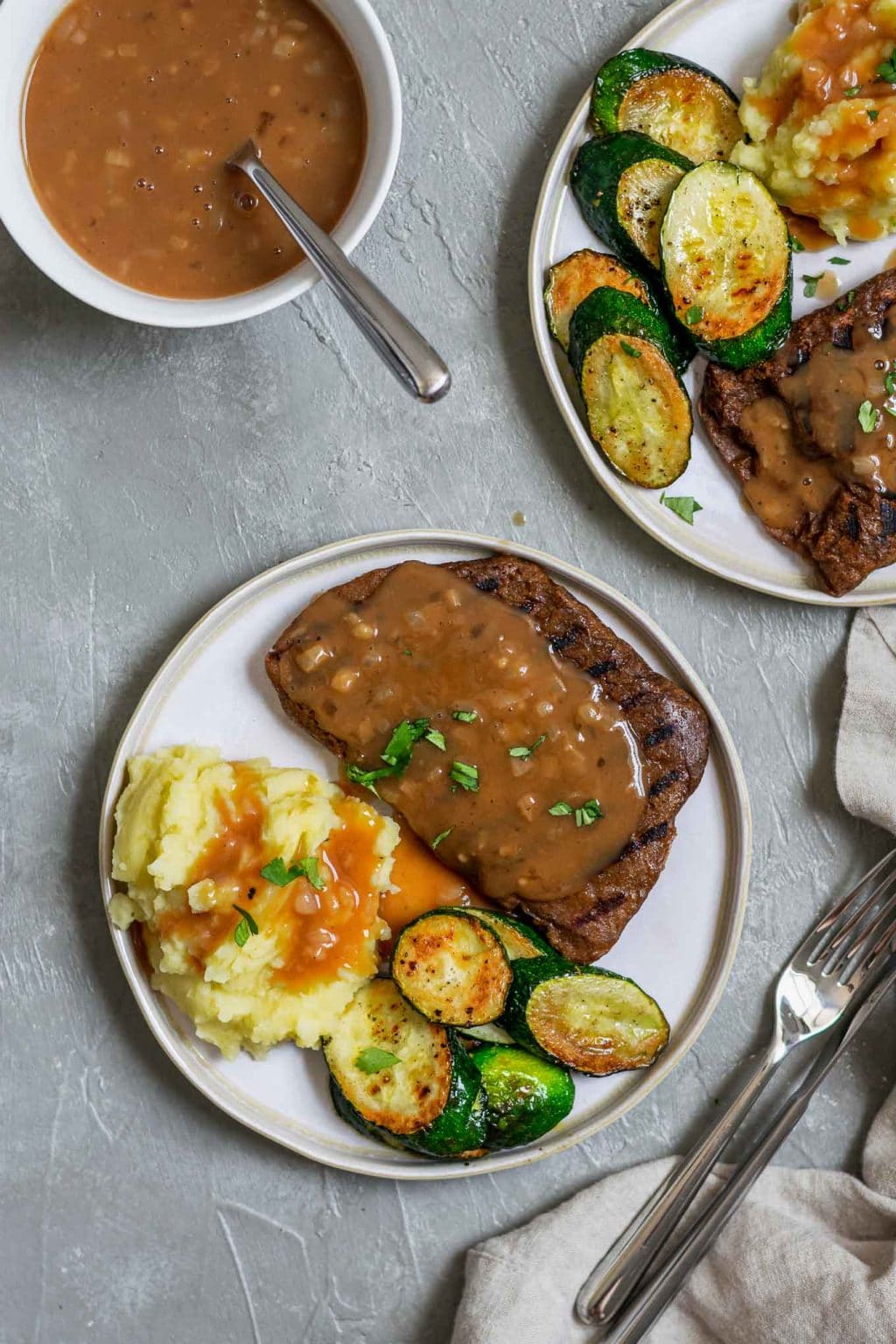 Have you ever made your own seitan? Every time I make it I can't help but think how crazy easy and cheap it is to make. And most recipes make enough to have seitan for days and days. Not that you need to eat it all at once, because it freezes SO well!
I really like seitan, and cook with it a lot. And usually I buy it, because it's convenient, and because I really enjoy the various store bought options. But sometimes I'm looking for something specific and I can't buy it, or I just want a lot of seitan without spending a ton of money.
If you're newer to vegan eating, you might not have heard of seitan and are wondering what the heck I'm talking about. A quick background: seitan is a protein dense food that was developed in ancient China. First records of using it date back all the way to the 6th century! It's made from the protein in wheat flour, which is called gluten.
Seitan (or prepared wheat gluten) can be made with whole wheat flour. The basic premise of how to do this is to make a dough of flour and water, then soak the dough in water to wash away the starches. This process is more involved, and you're left with a plain tasting gluten that you will want to season and prepare for use in a recipe.
Luckily these days, in most parts of the world you can just buy the extracted wheat protein as a flour, called wheat gluten or vital wheat gluten. This also means that when making seitan you can add in spices and aromatics while making it, infusing the wheat gluten with flavor, which makes for a superior product that's super versatile.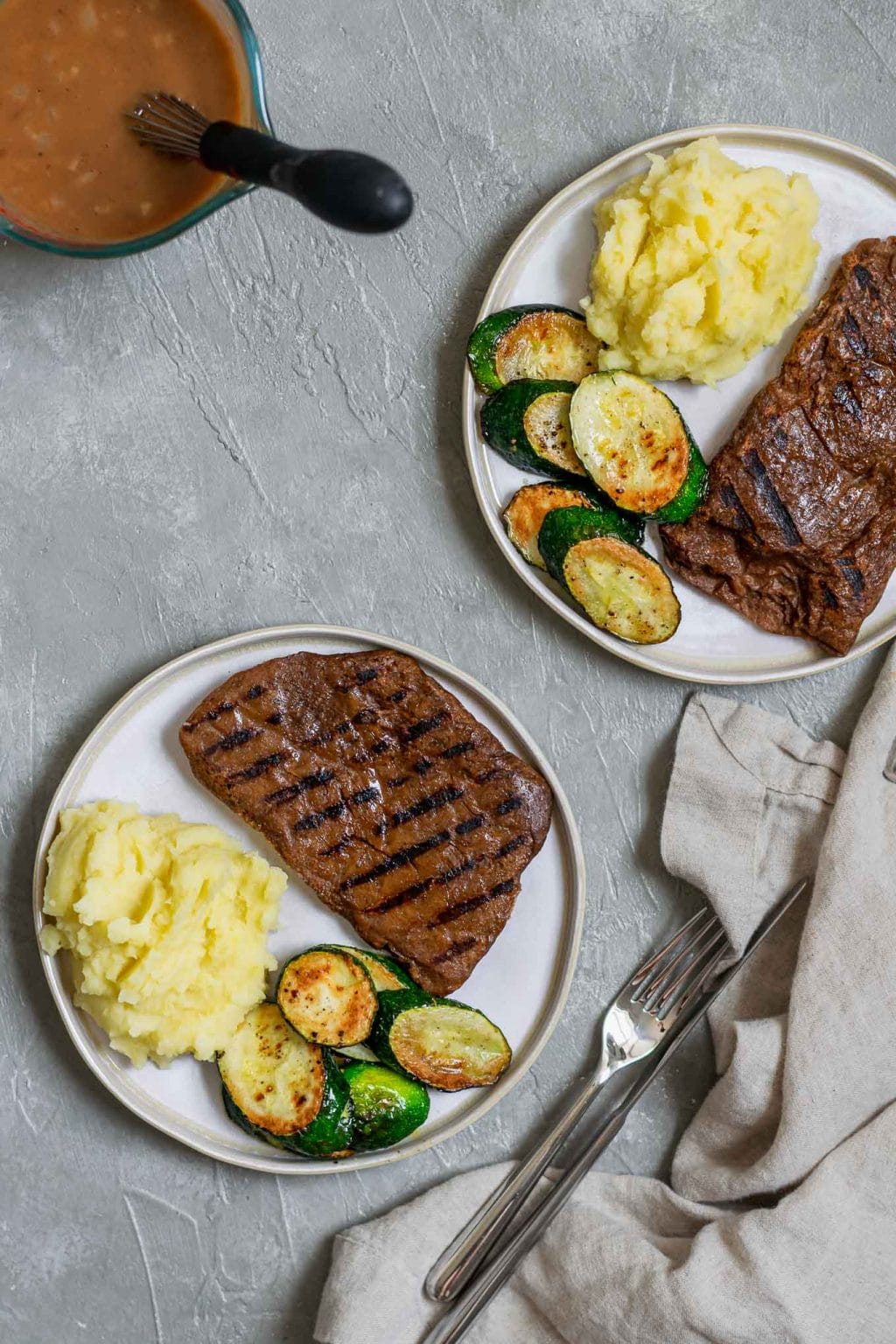 So how to we make these seitan steaks? I'm glad you asked!
First let's get going on the aromatics: sauté some onions until sweetened and soft, and then add garlic and cook off its rawness. Blend these softened aromatics with some vegetable broth, which hydrates and activates the wheat gluten flour, essential for developing seitan! Then throw in some more flavor adding ingredients: red wine (see notes before recipe for sub if you avoid alcohol), soy sauce, vegan Worcestershire sauce, and tomato paste. All of these ingredients are filled with umami, and are ultra savory, which adds to the meatiness of the final seitan steaks. [Note: I'm not pretending this is going to taste like actual meat. Well I have no idea frankly and I don't want to know! You're talking to a life-long vegetarian-turned vegan here.]
A little oil adds some richness to the seitan while also giving it a nice texture as does adding beans to the dough. The starches and proteins of the black beans help break up the gluten structure for a more tender final seitan. Some seitan recipes you'll see leave the beans in a slightly mashed and chunky consistency, but I'm going for a smooth seitan here and so blended them up with the rest of the liquids to make a smooth puree.
I also add some chickpea flour (besan) to the wheat gluten flour. A little bit of chickpea flour vastly improves the texture of seitan in my opinion. And not just because I like chickpeas (could you have guessed? 😛 ). It works like the beans to create a more tender seitan.
When the liquids are added to the wheat gluten and chickpea flour mixture the mixture quickly turns to a soft and squishy dough, that feels nothing like the wheat doughs you're used to working with (and if you're not familiar with dough, there's not time like the present to get acquainted! I've got a lot of bread recipes that are a great place to start 🙂 ). Some recipes stop here with just a minute of kneading to get the ingredients will combined, but I want to develop some of that gluten protein network to create a toothsome seitan.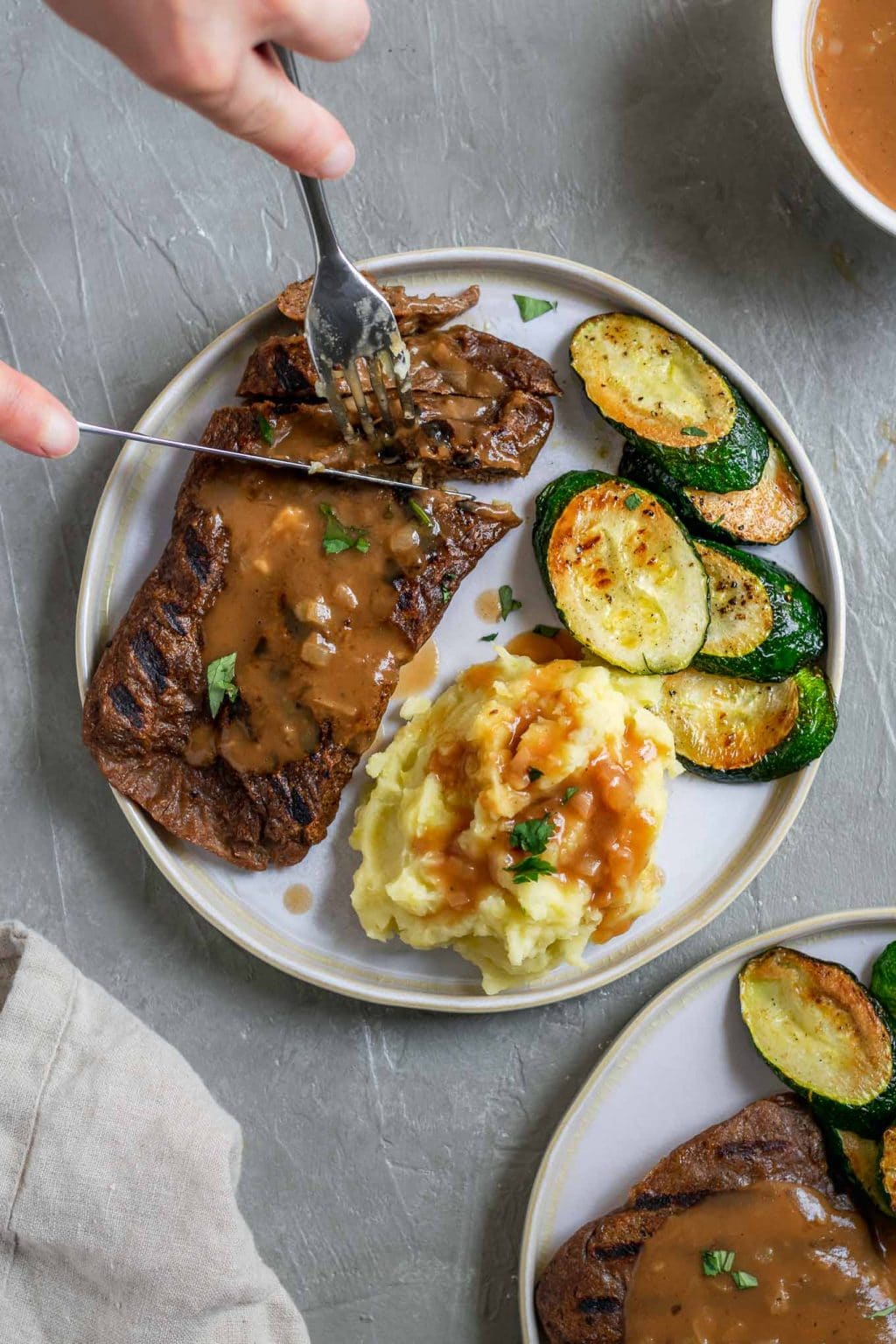 I take a page from a lot of my bread recipes and skip the kneading for 10 minutes straight. Instead I let the dough do some of the work. Three minutes of kneading, and you feel the dough go from a squishy sticky mess to one that starts to provide some resistance against you. Then, let the dough rest for 5 minutes. The gluten network you're creating through kneading starts to relax and in doing so aligns in the desired configuration. Pick the dough back up and knead it for another 3 minutes and you end up with a slightly stiff dough that is giving quite a bit of resistance to your efforts.
Next we divide the dough and shape into steaks–or flat roughly rectangular pieces– and wrap them into foil parcels and steam. Steaming allows the dough to expand, cook, and firm up, without the dangers that simmering has (too vigorous a simmer and you end up with a spongy texture). After steaming the seitan should be left to cool completely. As it cools the texture will continue to firm up. For best texture, stick the cooled steaks in the fridge and let chill overnight. There's a good chance you won't be happy with them if you try to eat them before that!
See? Making seitan isn't hard. And this single recipe makes 2 lbs of seitan. TWO pounds!!! That's the equivalent of buying 4 packages of 8oz seitan. And at this point you can chop it into chunks, thinly slice into strips, pulverize it into grounds, or leave it whole. Get creative!
Now, if you're looking for a great summer grilling recipe, then you might just want to leave it whole and continue with the rest of the recipe!
Whip up a quick and easy shallot gravy, complete with more red wine and everything. The shallot gravy complements the savory, meaty tasting seitan steaks so well. Serve with some buttery mashed potatoes, which should also be smothered in more gravy, obviously. Then sauté some delicious summery zucchini squash (or like, grill, if you're using a real grill), and you have yourself a delicious vegan meat-and-potatoes type meal.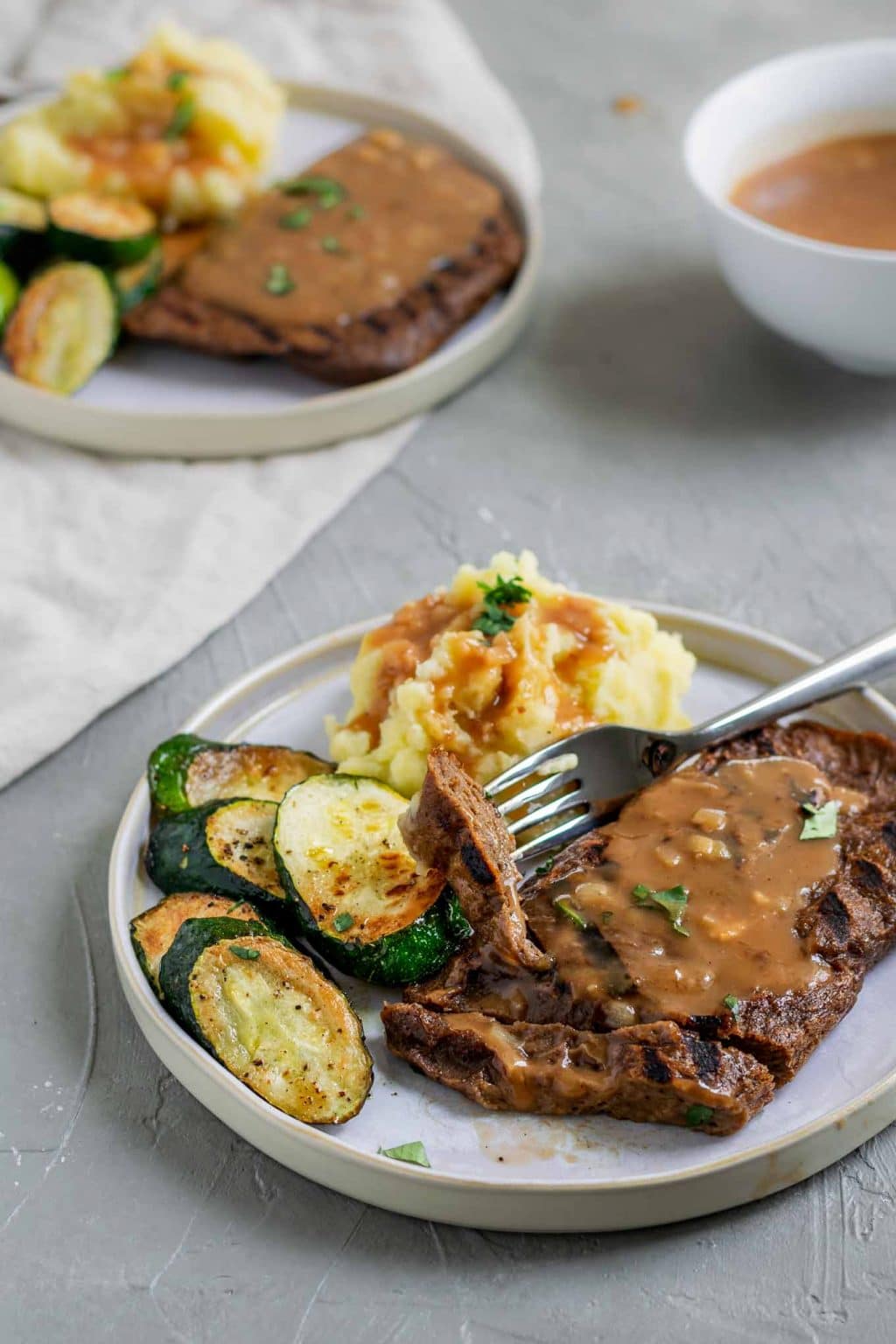 Despite growing up in the Midwest, I wasn't raised on a meat and potatoes diet, and have no real interest in eating these kinds of meals. That being said, this combination of flavors was SO good, it's one I went back for seconds on. Well the next day anyway, as I was way too full to even finish my 5oz seitan steak. But, don't worry, that's what husband's are for!
The seitan steaks are incredibly high in protein, with each steak having about 37 grams of protein to 8 grams of fat (and 13 grams of carbs). Now, I don't think you need to worry about getting protein as a vegan as long as you eat enough calories and a varied diet. And I don't usually calculate the nutritional information of my food. But like, it's just kinda crazy to compare that to a 5oz beef steak which (according to google) has 35g of protein and 27g of fat. So basically you can get the same amount of protein and a LOT less fat and have a delicious meal with no animals harmed! That's pretty cool.
So get your hands in there and make yourself some seitan steaks! And then douse them in gravy. And enjoy with potatoes and zucchini or whatever way you enjoy! And let me know how you like them!
I look forward to sharing more recipes using this seitan, as the recipe does make a lot and I want to showcase this delicious vegan protein!
If you make this dish, leave a comment and rate the recipe below! And as always, don't forget to tag your recreations @thecuriouschickpea and #thecuriouschickpea on Instagram!
Like what you see? Follow along on Instagram, Facebook, and Pinterest!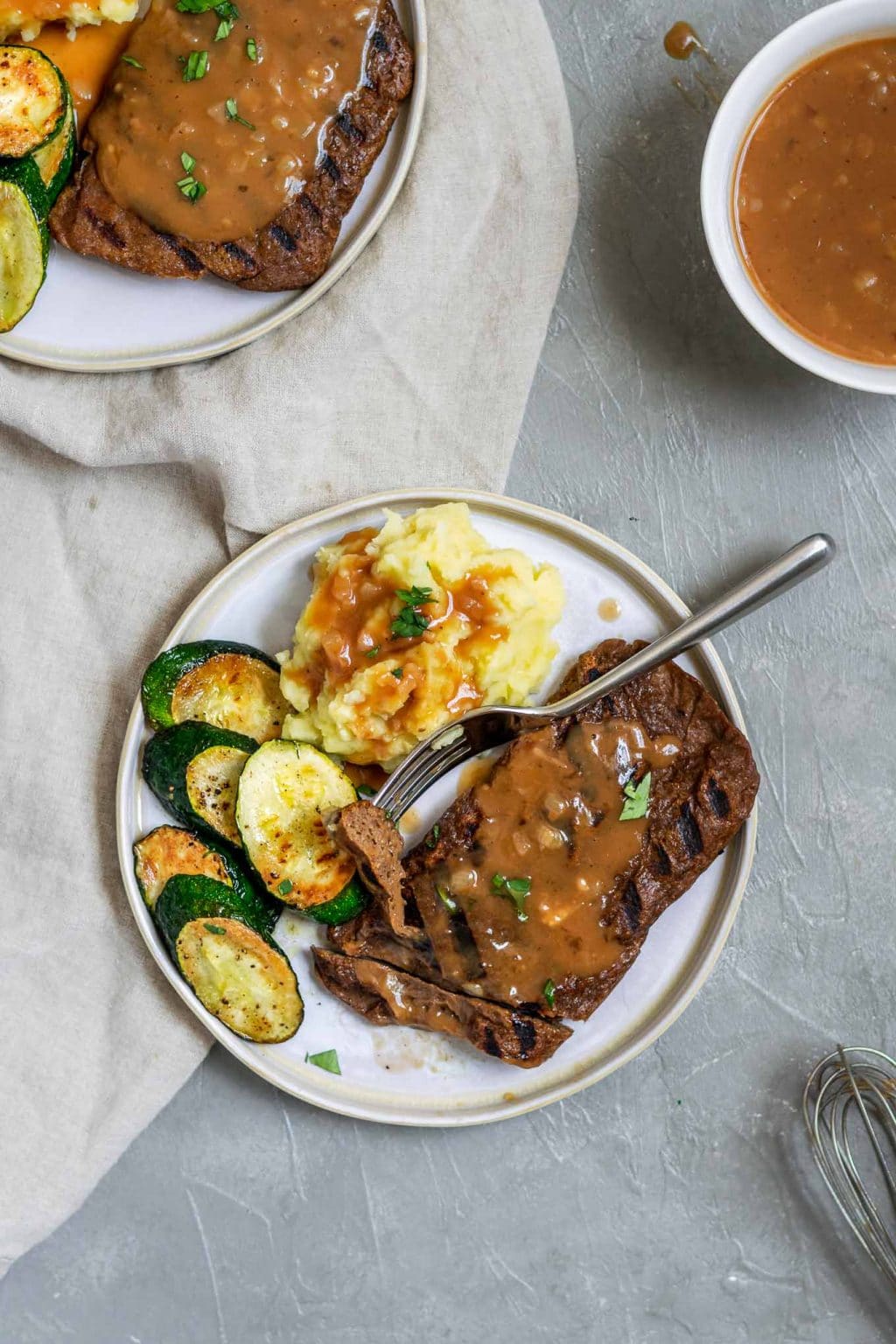 Notes:
Make the seitan at least a day in advance for the best texture. Seitan firms up as it cools.
The shallot gravy can also be made in advance and reheated to serve (you may need to thin with a little water or broth).
If you don't want to use wine, substitute more vegetable broth and a splash (like, 1 tsp) of balsamic vinegar.
If you can't find vegan Worcestershire sauce (most has anchovies in it, so seek out the vegan stuff!), try subbing A1 steak sauce.
The recipe makes 2 lbs of seitan, and plenty of shallot gravy, but increase the potatoes and zucchini as needed. As written there's enough potatoes and gravy for 2.
The recipe time does not include an overnight chilling.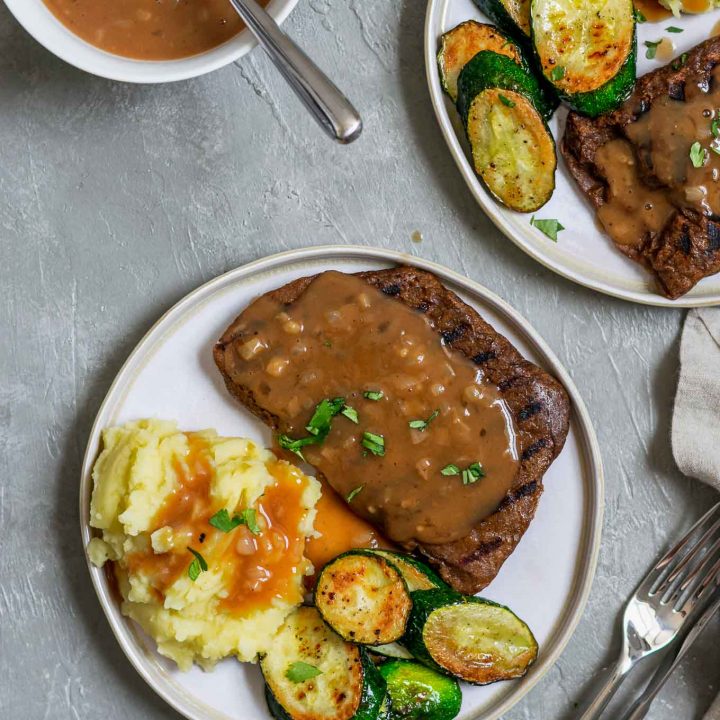 Grilled Homemade Seitan Steaks with Mashed Potatoes and Shallot Gravy
Prep Time:
1 hour
10 minutes
Total Time:
1 hour
40 minutes
If you're looking for a knife and fork sort of a meal, then this is your recipe. Juicy, chewy seitan steaks are doused in a flavorful shallot gravy with a side of mashed potatoes and sautéed veggies. A veganized 'meat and potatoes,' if you will.
Ingredients
Seitan Steaks
1 tbsp olive oil
1 small red onion, chopped (~1 heaping cup)
2 garlic cloves, smashed and peeled
1 cup vegetable broth
1/2 cup red wine
1/2 cup cooked black beans, drained and rinsed
2 tbsp olive oil
2 tbsp soy sauce
1 tbsp vegan Worcestershire sauce
1 tbsp tomato paste
1/2 tsp salt
2 1/4 cups vital wheat gluten
1/4 cup chickpea flour
Shallot Gravy
2 shallots, finely diced (heaping 1/2 cup)
3 tbsp vegan butter or olive oil
2 tbsp all purpose flour
2 cups vegetable broth
1/4 cup red wine
1 tbsp soy sauce
2 tsp tapioca starch
1 tbsp water
Mashed Potatoes*
1 - 1 1/4 lbs yukon gold potatoes, peeling optional, cut into ~1" cubes
2-3 tsp vegan butter, to taste
2-4 tbsp plant milk
1/4 tsp salt, to taste
Sautéed Zucchini*
1 tsp olive oil
1 large or 2 small zucchini, cut into 1/2" thick medallions
salt and pepper to taste
parsley for garnish, optional
Instructions
Make the seitan steaks:
Heat a skillet over medium low. Add 1 tbsp of olive oil and the onions and the peeled garlic and cook until the onions are soft and translucent, about 5-6 minutes. Transfer the mixture to a blender and add the vegetable broth, red wine, black beans, 2 tbsp olive oil, soy sauce, Worcestershire sauce, tomato paste, and salt. Blend the mixture until smooth.
In a large mixing bowl whisk together the vital wheat gluten and chickpea flour. Add the wet ingredients and mix together with a wooden spoon. Then turn the dough out onto a clean counter and knead by hand for 3 minutes. Let the dough rest for 5 minutes, then knead an additional 3 minutes. The dough will go from soft and somewhat sticky to developed and a bit tough.
Divide the dough into 6 equal pieces and prepare 6 ~10-12" long sheets of aluminum foil. Press and stretch each piece of dough into a rectangular steak, about 4x6". If the dough won't hold it's shape, let it rest for a few minutes before stretching. Place each steak in the center of a sheet of aluminum foil and wrap the sides to meet in the center. Press them together than fold a couple of times down one side to seal the packet, then fold the ends in to make a triangle, then fold the triangle over until it reaches the seitan. Repeat with the remaining pieces of dough.
Bring a pot of water with a steamer insert to a low boil, when boiling add the wrapped seitan dough to the steamer basket. Steam for 35 minutes, checking to make sure the pot doesn't boil dry. After 35 minutes turn the heat off and let the seitan cool in the pot for another 10 minutes or so. When they've cooled off a little you can take them out and let them cool to room temperature before placing in a sealed container and letting chill in the fridge overnight. While you can eat them right away, the texture is much better the next day. This makes 2 pounds of seitan (six 5 1/3 oz steaks).
Prepare the shallot gravy
In a small pot or skillet heat the vegan butter (or olive oil) over medium low. Add the shallots and cook until soft and translucent, about 4-5 minutes. Turn down the heat if they start to brown. Add the flour and cook another 1-2 minutes, stirring near constantly.
When the flour smells a little toasty, slowly stream in the vegetable broth, whisking as you pour to prevent clumping. Add the wine and soy sauce, and whisk together the tapioca starch with 1 tablespoon of water, then add the starch slurry. Bring the gravy to a simmer, and let it cook for about 5-8 minutes or until thickened. If needed you can always add a little extra starch to thicken, or a bit more broth to thin. The gravy can be made in advance and reheated. Makes about 2 1/2 cups of gravy.
Make the mashed potatoes
Add the cut potatoes to a pot and cover with water. Add some salt to the water. Bring the covered pot to a boil, then turn down the heat and let simmer until the potatoes are tender. About 5-10 minutes, depending on how small the potatoes are cut. Turn the heat off when they're soft but leave in until ready to serve.
Right before serving, drain the potatoes and add the vegan butter to the pot. Mash the cubed potatoes with the butter, then add the plant milk, starting with 2 tbsp and adding up to 4 until you have your desired consistency. Add salt to taste.
Grill the seitan
Heat a grill pan (or cast iron skillet) over medium high heat. Spray or brush a thin layer of oil over the pan when hot, and then grill 2 seitan steaks. Grill for 3-5 minutes until black grill marks are achieved, then flip and repeat on the second side.
Make the sautéed zucchini
Heat a skillet over medium heat. Add the olive oil and sliced zucchini in a single layer. Sprinkle salt and pepper over top and let the zucchini cook undisturbed about 3-5 minutes until golden, then flip, sprinkle a little more salt and pepper on the second side. Cook the second side about 3-5 minutes until that is golden too.
Plate your entree
Place a grilled seitan steak on a plate along with the mashed potatoes and zucchini. Douse everything with the shallot gravy and enjoy! Garnish with some minced parsley if desired.
Notes
*This makes enough mashed potatoes and sautéed vegetables for 2 servings. Increase as desired. Each [very hearty] serving includes 1 seitan steak, 1/2 lb of potatoes (weight before cooking), and about 1 cup of zucchini.
Seitan takes about 1 hour to make, plus chilling time. The rest of the dinner takes about 10m of prep time and maybe 30 minutes of cook time if you have a couple pots going at time. Less if you multitask!