These cilantro and cumin seasoned black beans are easy to make and so flavorful. Enjoy them on their own, in bowls, tacos, burritos, enchiladas or more!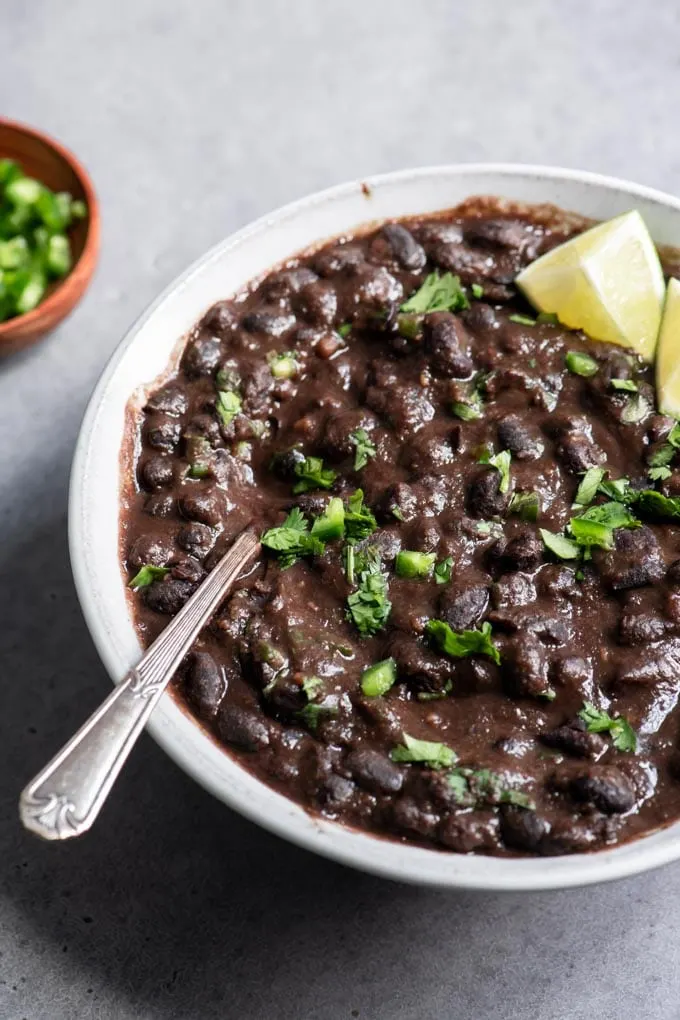 So often beans are relegated to the side show of a meal, a spoonful or two of beans alongside other main events. But with these beans, oh boy, I can eat them unadorned (ok maybe with a drizzle of hot sauce) straight from the bowl.
They're perfect anywhere you'd want whole black beans or refried beans. Burrito bowls, tacos, burritos, nachos or loaded fries, flautas, enchiladas, pupsas, or just a big ol' meal of beans and rice. If using them in a recipe that seasons the beans, you can skip that part as these are already seasoned!
I like to cook up a big batch (this recipe makes a generous 6 cups of beans) and enjoy them over the course of a week. And if you're not as bean crazed as we are chez chickpea, then well, you're in luck as they freeze really well!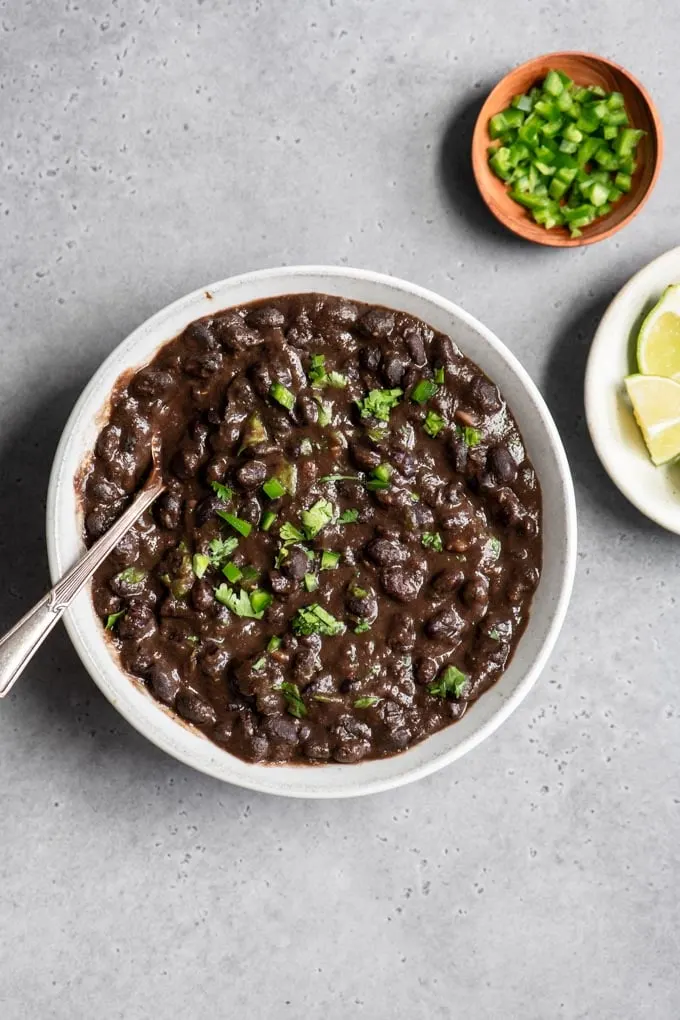 Because I cook the beans from scratch, this isn't the fastest recipe, but honestly it's so true that beans cooked from dry do tase better. Plus I use my Instant Pot (but any pressure cooker will work the same), so it's quite hands off for most of it.
This is really two recipes in one. First, how to cook dried black beans at home using a pressure cooker, and second how to season them to be the best beans ever!
And I'll give tips in case you want to use canned beans or don't have a pressure cooker.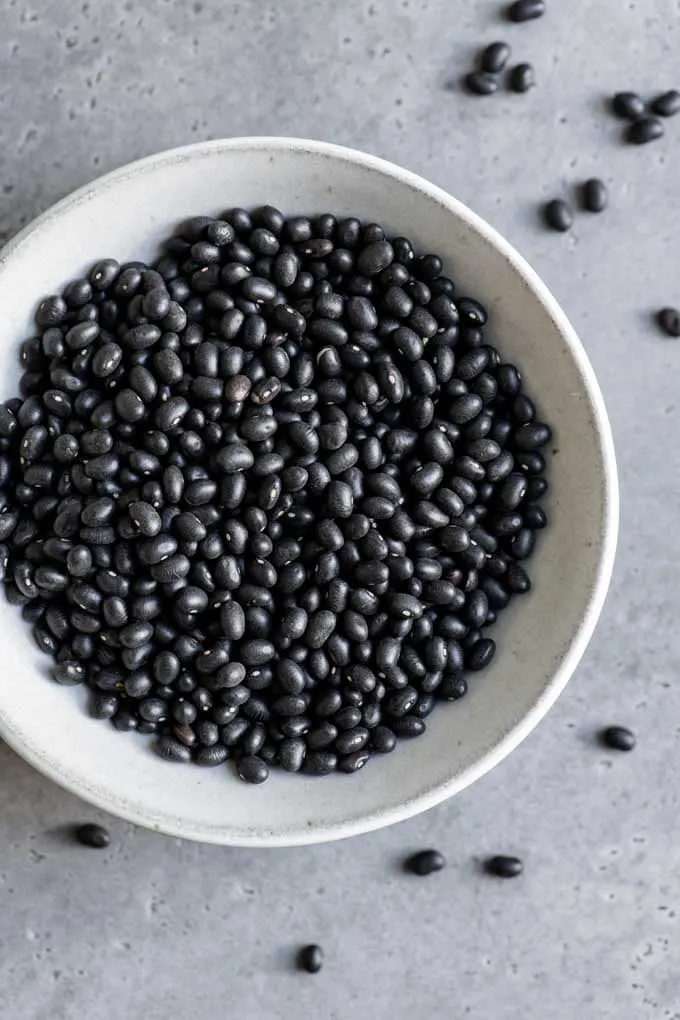 I like these beans spicy, so add a double dose of heat through jalapeños (serrano peppers would be nice as well) and crushed red pepper flakes.
If you know that you can't handle the heat you can reduce or remove some of the spice! Use less peppers or remove the seeds and white pith as these are the spiciest parts. You could also use less or none of the red pepper flakes.
I find these beans to be a medium heat, so if you want it spicier you can add more chile peppers and/or red pepper flakes!
How to cook dried black beans in the Instant Pot (or pressure cooker).
Cooking beans in a pressure cooker (such as an Instant Pot) is easy and hands off. There's no need to soak the beans first and no babysitting. You can set it and go off and work on something else while it cooks.
Then after cooking let it sit for at least 20 minutes for a natural pressure release, though longer is fine if you can't get to it right away.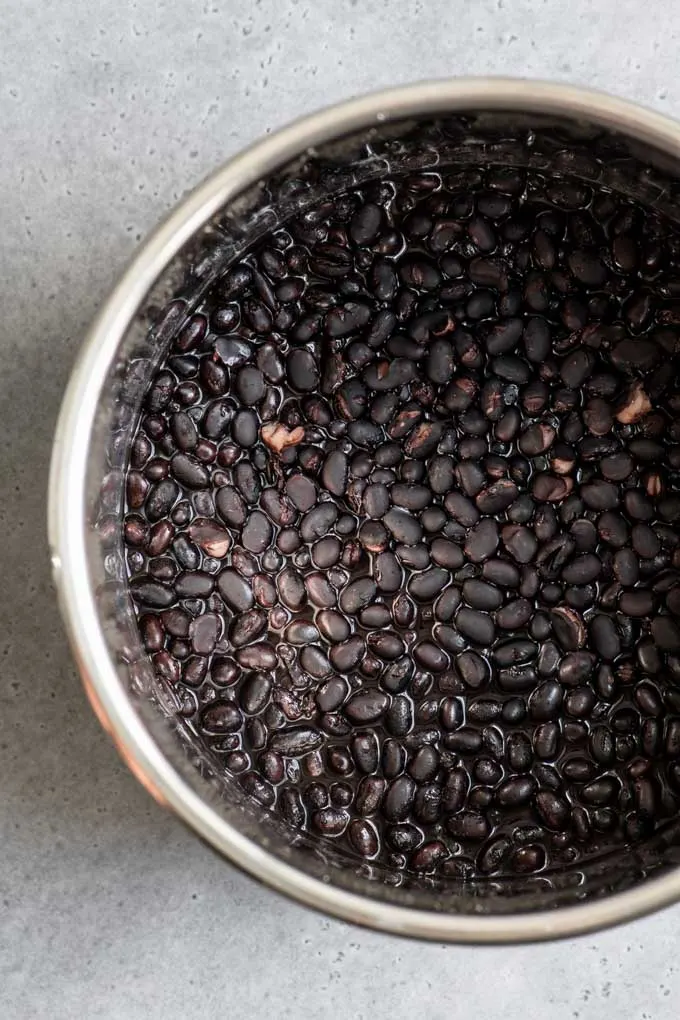 I don't soak the beans for this recipe, which means that you don't need to plan ahead to make it.
Simply sort the beans, checking for any debris or small stones, then give them a thorough rinse before adding them to the pot. Add the water and salt and turn it on to get to high pressure, following recipe instructions.
Cooking the beans without a pressure cooker:
You can cook black beans from dried using a pot on the stove, you don't even have to soak the beans first, though they will cook faster if you soak them.
Still sort and rinse the dried beans, then add water to cover. You'll need more water than you did for the dry beans, about 6-8 cups for 1 pound of beans (2 1/2 cups).
Then you just bring it to a boil, turn heat down to simmer and let them cook covered for anywhere between 1 and 2 hours, or until the beans are tender. A good test for that is to place a bean on your tongue and press it to the roof of your mouth (cool it down a bit first!). If the beans are tender, they should easily smash when you do this.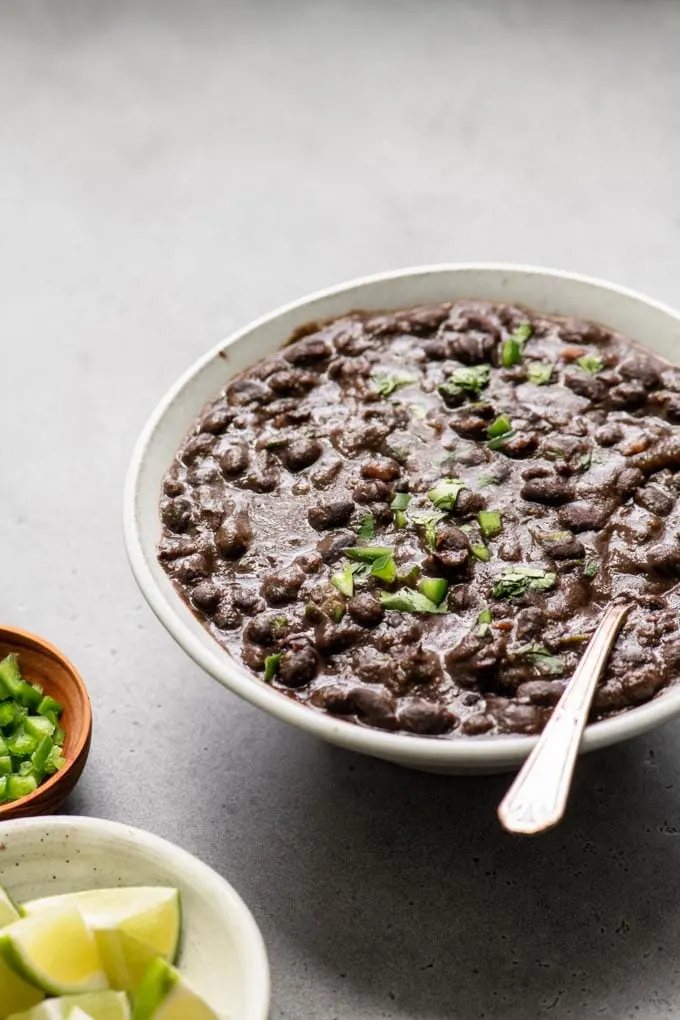 You may need to add water if it starts to get too low and beans start to stick to the bottom of the pot. Keep an eye on it and add warm or hot water so as not to bring the temperature down.
Using canned beans:
This is the quickest and easiest option as canned beans are precooked. You'll want 4 15oz cans, which is about 7 cups of cooked beans.
If your beans are salted, then drain the beans and rinse them thoroughly, then add them to a pot along with 2 cups of water or vegetable broth, more if needed.
If the beans are low in added salt or unsalted, then you can choose to include the liquid in the can if you'd like. Dump out the beans and their liquid straight into a pot! You may not need to add any extra liquid in this case, but if you do just add broth or water.
Then you can proceed with the recipe and adding the seasoning right to the beans!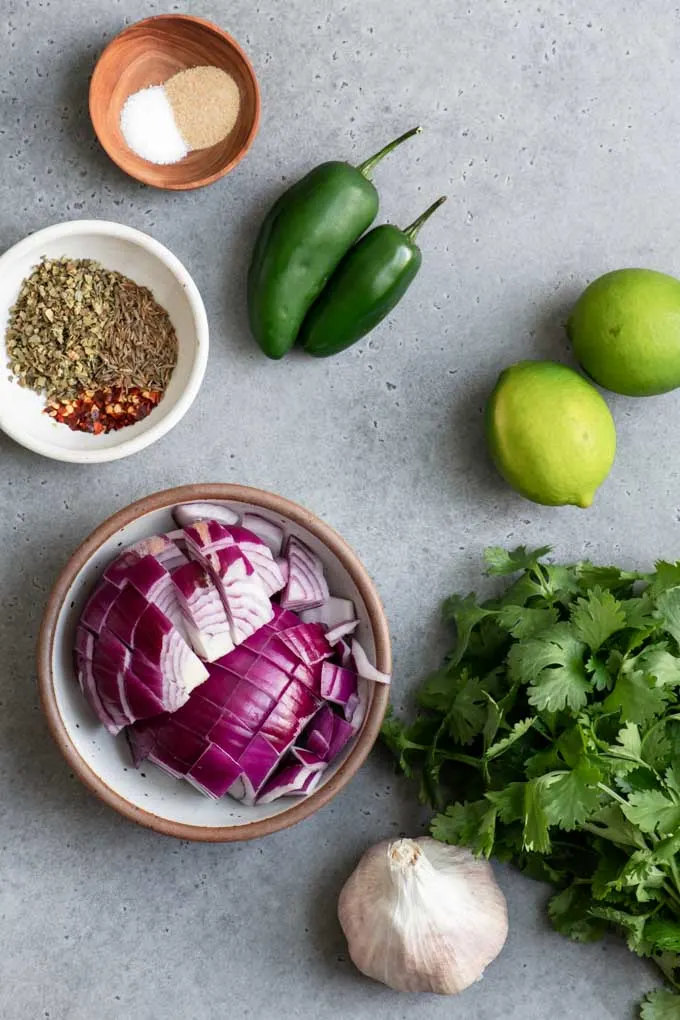 The cilantro cumin seasoning:
The seasoning for these beans is inspired by a recipe from the cookbook Plum by Makini Howell (Amazon Affiliate link). If you have the book, it's the dressing for the Avocado Salad with Seitan Bites on page 36.
It's also very similar to salsa, minus the tomatoes!
So pretty much we're going to quickly sauté up some onion, jalapeño, and garlic to soften them and take off their sharp bites. Then push them all over to one side of the pan and add oil to the bare side.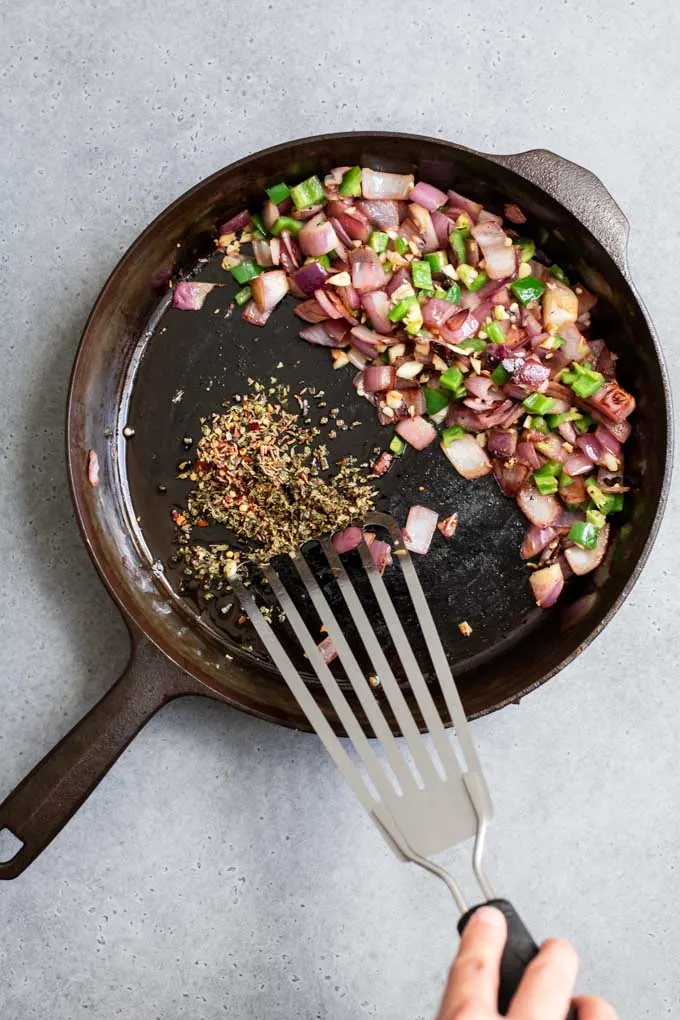 Add in the whole cumin seed, dried oregano, and crushed red pepper flakes right into the oil and stir them around in there letting them sizzle for about 30 seconds.
Cooking the seasoning in oil like this releases their fat soluble flavor molecules so it really brings out the best of the flavors.
Then we add in the ground spices (in this case just garlic powder) and salt, then stir it all together and turn off the heat.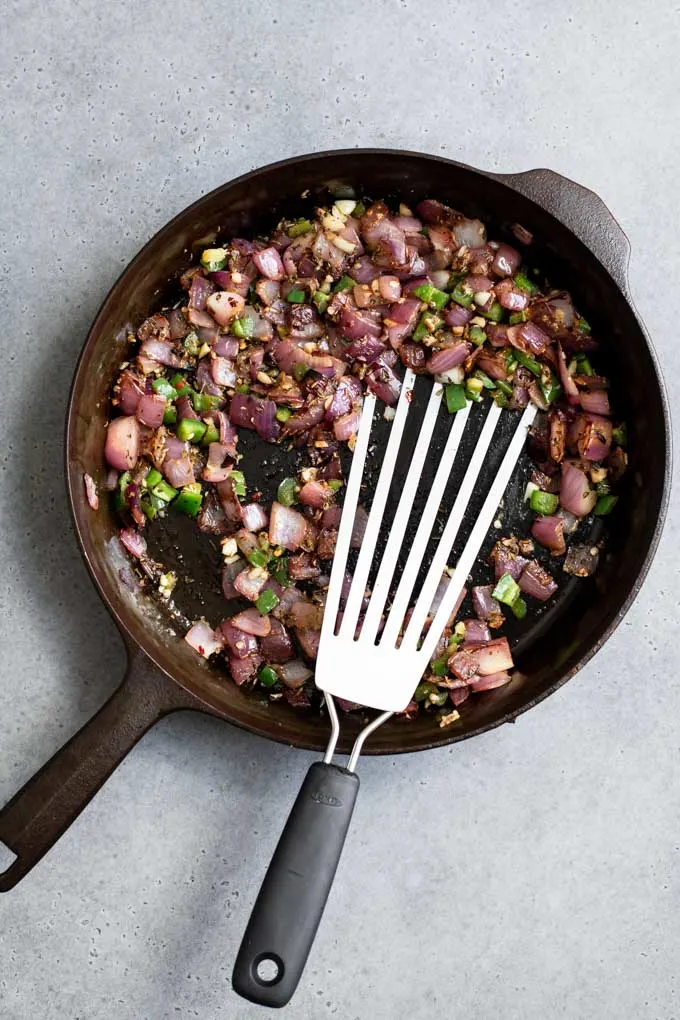 Add the mixture to a blender along with an entire bunch of cilantro. I like to hold the bunch of cilantro in my two fists (both pointing down in the same direction) then twist them in opposite directions to tear the bunch.
I tear off the bottom of the stems where it's older and frayed and possibly even browning and discard those, then tear up the more tender fresh part of the stems and the leaves into fistful sized pieces.
Add the tender part of the stems and the cilantro leaves to the blender. There is so much flavor in the stems so definitely don't discard them! Plus it all gets blended up so the stems really won't bother you.
Lastly add the lime juice, salt, and last bit of oil to the blender and blend it smooth. And that's the seasoning!
I know there's a good amount of oil going into it, but when it comes to beans, which are naturally very low fat, adding oil makes them taste better! Plus it makes a lot of beans so per serving you're not adding much. You can always cut it back if you want.
Finishing the seasoned black beans:
So we have our cooked beans and we have our seasoning, so all that's left is to combine them!
Add the seasoning to the black beans and turn the heat on.
Either keep it in your Instant Pot or electric pressure cooker and turn it to a sauté mode and keep it on low to medium heat or whatever is needed to get it to and maintain a low simmer, or add it to the pot you cooked your beans in/dumped your canned beans into and turn the heat on medium-low to get that simmer.
This is when you need to keep an eye on your beans. Cook them for at least 10-15 minutes, stirring them regularly to keep them from sticking to the bottom of the pot.
At this point you can stop or keep cooking them until they break down to a refried bean consistency. You can mash them up or use an immersion blender to hurry it along.
The beans will thicken as they cool, and I find that the spiciness mellows as well.
I cannot wait for you to try them!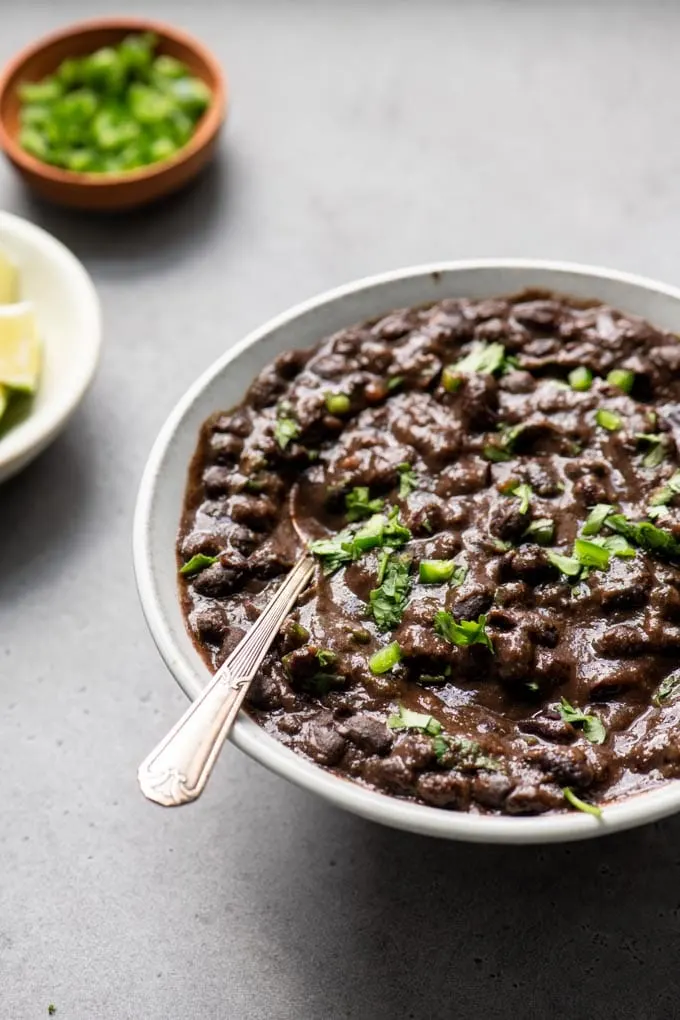 If you make these cilantro and cumin seasoned black beans, leave a comment below and rate the recipe on the recipe card. And please share your photos with me on Instagram, tag @thecuriouschickpea and #thecuriouschickpea. I love seeing your recreations!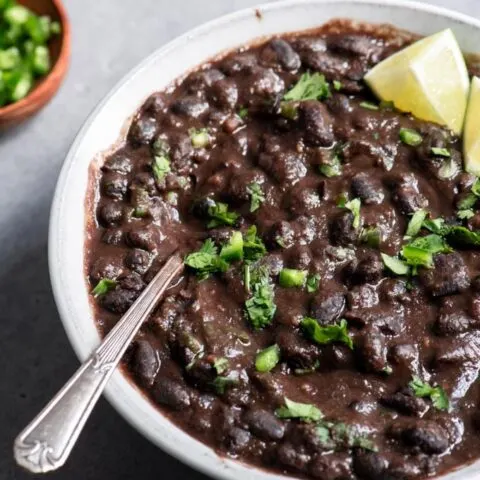 Seasoned Black Beans
Inactive Time:
50 minutes
Total Time:
1 hour
25 minutes
These cilantro and cumin seasoned black beans are easy to make and so incredibly flavorful. Enjoy them on their own, in bowls, tacos, burritos, enchiladas or more!
Ingredients
Black Beans
1 lb (2 1/2 cups) dried black beans
5 cups water
1 tsp salt
Seasoning
4 tbsp oil, divided
1 red onion, chopped
2 jalapeños (more or less to taste, remove seeds for less heat), chopped
4 cloves garlic, minced
1 tsp whole cumin seed
1/2 tsp red pepper (more or less to taste)
1 tbsp dried Mexican (substitute Mediterranean) Oregano
1 bunch cilantro, leaves and tender part of stems, coarsely chopped
1/4 cup fresh lime juice (~2 limes)
1/2 tsp salt, more to taste
1/2 tsp garlic powder
Instructions
Sort any debris from dried beans, then rinse them thoroughly. Place beans in pressure cooker and add the 5 cups of water and teaspoon of salt. Bring to high pressure and cook for 25 minutes, then let naturally release for 20 minutes before releasing any final pressure.
Heat a skillet over medium heat and add 1 tablespoon of oil, the onion, and a pinch of salt. Sauté until the onion is softened and golden in spots, about 5 minutes.
Add the jalapeño and garlic and sauté 1-2 minutes, until they are a shade darker.
Push the vegetables over to one side of the pan, then add a tablespoon of oil in the empty space. Add the whole cumin, oregano, and crushed red pepper to the oil and let sizzle for 30 seconds, then add the salt and garlic powder and stir the spices into the onion mixture and turn off heat.
Transfer the onion mixture to a blender and add the cilantro, lime juice, and final 2 tablespoons of oil. Blend until fairly smooth.
Add the blended seasoning to the beans and bring to a low simmer, if using an Instant Pot cook on the sauté mode on less or normal to achieve this, if using a pot keep it on medium-low or low heat. Let simmer for 10-15 minutes, stirring regularly, or until the beans reach the desired consistency. If you want a more refried bean texture you can mash the beans partially or use an immersion blender.
Taste and add salt as needed. Beans will thicken as they cool. Keep stored in the fridge for 1 week, or freeze for longer storage.
Notes
To use canned or previously cooked beans, substitute 4 15oz cans, or about 7 cups cooked beans. If using low or no salt added beans you can include the liquid in the can, otherwise drain and rinse the beans. Add 1-2 cups of water or broth, and more as needed to get the desired consistency, then continue with the recipe.
Recommended Products
As an Amazon Associate and member of other affiliate programs, I earn from qualifying purchases.
Nutrition Information:
Yield:

12
Serving Size:

1
Amount Per Serving:
Calories:

180
Total Fat:

5g
Saturated Fat:

0g
Trans Fat:

0g
Unsaturated Fat:

5g
Cholesterol:

0mg
Sodium:

299mg
Carbohydrates:

26g
Fiber:

6g
Sugar:

1g
Protein:

9g
Nutrition is calculated automatically so should be used as an estimate.