These vegan twice baked potatoes with collard greens make for an irresistible, mouth-watering dish. Potato skins are stuffed with a super creamy, savory, and cheesy mashed potato and creamed collard greens filling. They're great as an appetizer, snack, side, or entrée!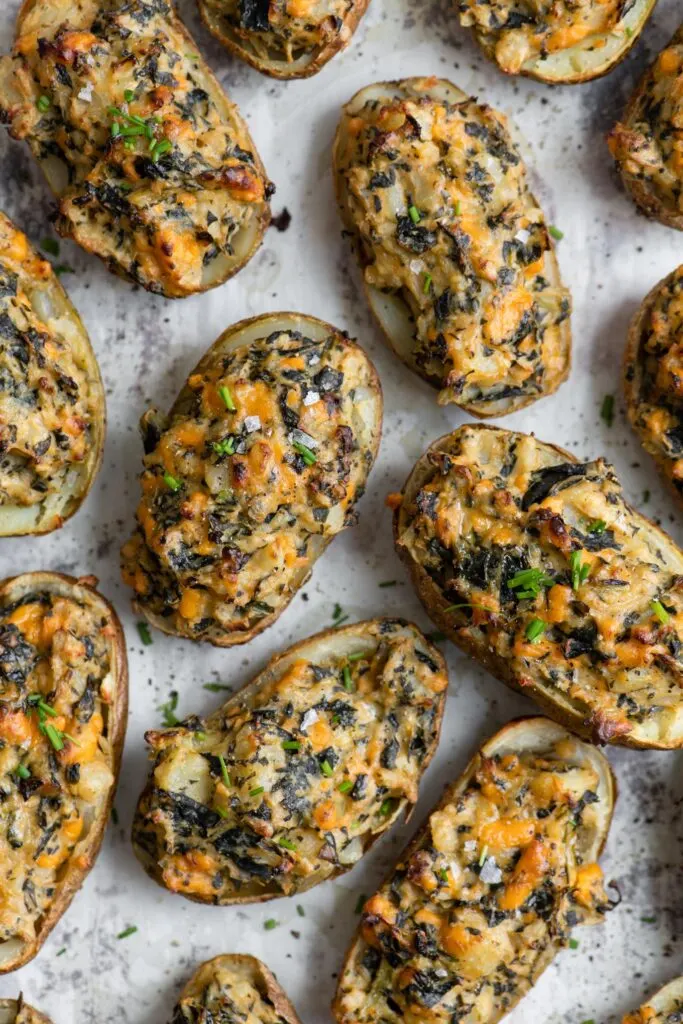 This recipe was sponsored by Nature's Greens.
---
Consider two of the most delicious foods: twice baked potatoes and creamed collard greens. As good as they are on their own, they are even better when combined to make one deluxe potato!
It's honestly one of the tastiest things I've ever eaten.
What is a twice baked potato you ask? Well, pretty much what it sounds like. It's a baked potato that is stuffed then baked for a second time!
Usually they're filled with a sour cream and cheese, not unlike baked potato skins but with more emphasis on the filling.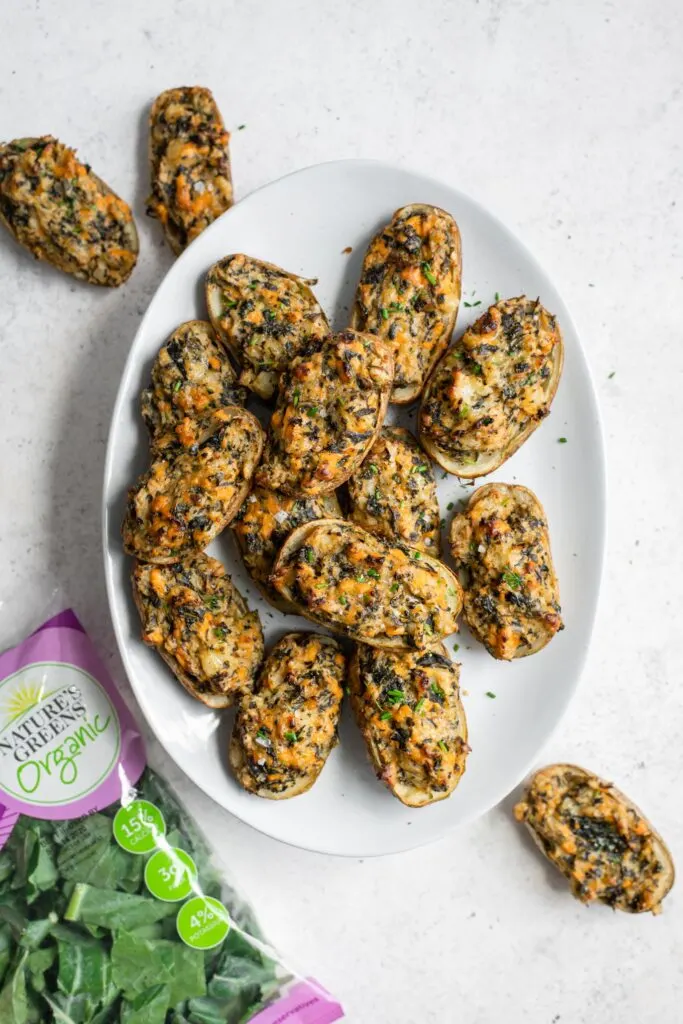 Now replace that sour cream with plenty of creamed collard greens and I'm here to tell you–your twice baked potatoes just got even better!
I'm a big fan of creamed collard greens. I like to cook them until they are tender but not mushy and I make them with homemade cashew milk which cooks down and thickens to a luscious cream.
The creamed greens are well seasoned with paprika and so good on their own, but get even better when mashed up with potatoes and some vegan cheese (optional, but it does make it better) and baked in potato skin boats.
I know, I know pretty much everything would get better with that treatment!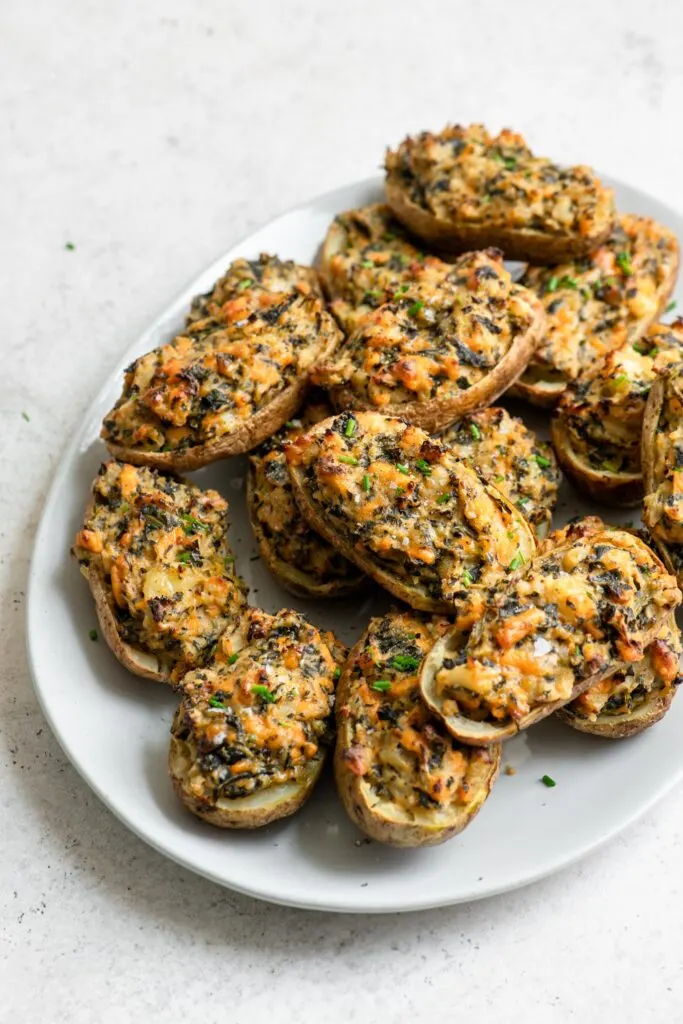 Making Twice Baked Potatoes:
They are a thing of beauty: The humble baked potato, hollowed out so only the crispy skin remains and stuffed with a creamy, flavorful, potato-forward mixture.
It's not tricky to make good twice baked potatoes but it does take some [very hands off] time.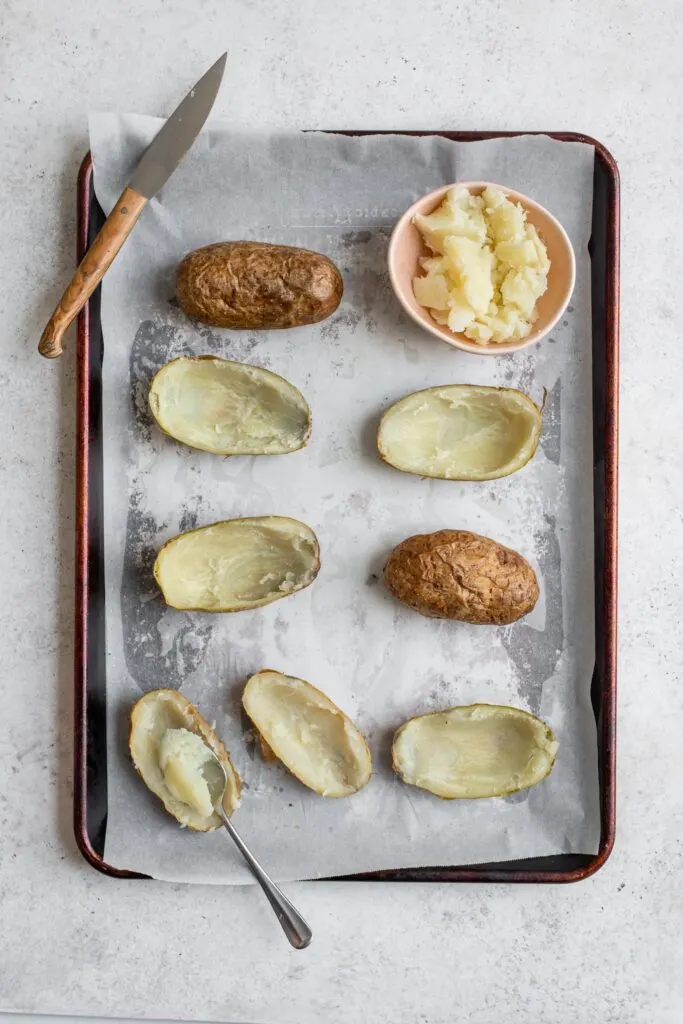 You need to bake the potatoes completely before cutting them open and scooping out the insides. I do this step in the oven because it helps the skins start to get crispy in this first bake.
Before baking, wash the potatoes well. I soak them in water for 5-10 minutes to loosen the dirt, then gently scrub with a vegetable brush.
Prick the clean potatoes with a fork 3 times, then rub the outside of the potatoes with olive oil, salt, and pepper. The salt will help dry out the skins so that they can crisp nicely and end up tasting like a potato chip. You heard me.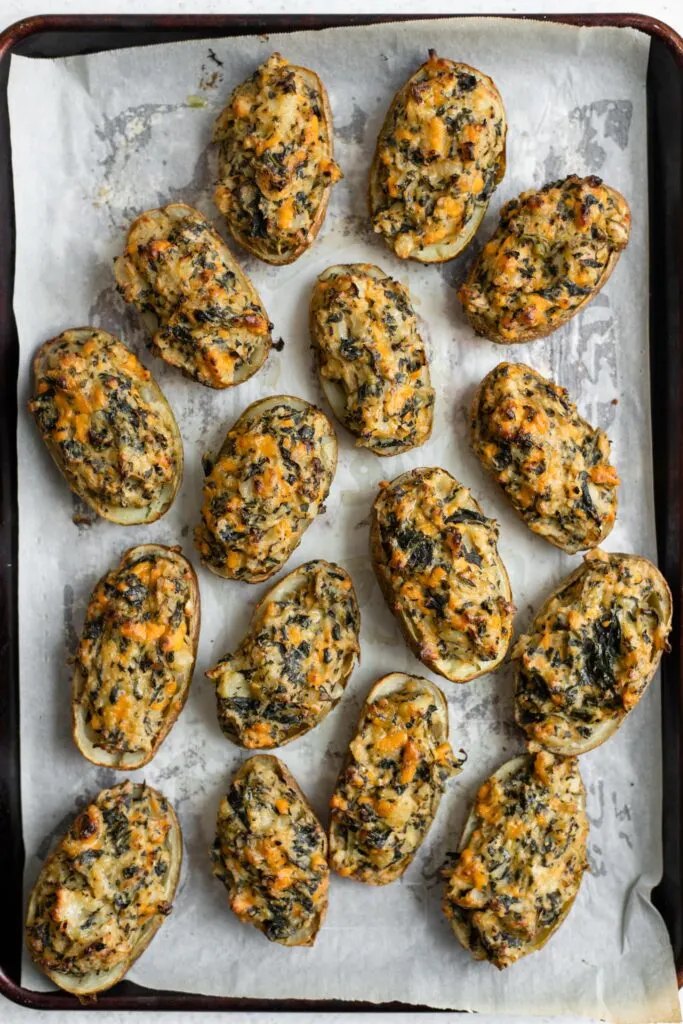 You bake them until they are cooked all the way through. In other words, there should be no resistance if poked with a fork or paring knife.
Once the potatoes are baked, let them cool down for at least 15 minutes so you can handle them safely. Then cut them in half and scoop out the insides leaving about 1/4-inch of potato behind.
Then crank up the oven temperature, stuff the potatoes, and bake a second time. Ta-da! Twice baked potatoes!
Making vegan creamed collard greens:
Here comes the fun part! Making creamed collard greens!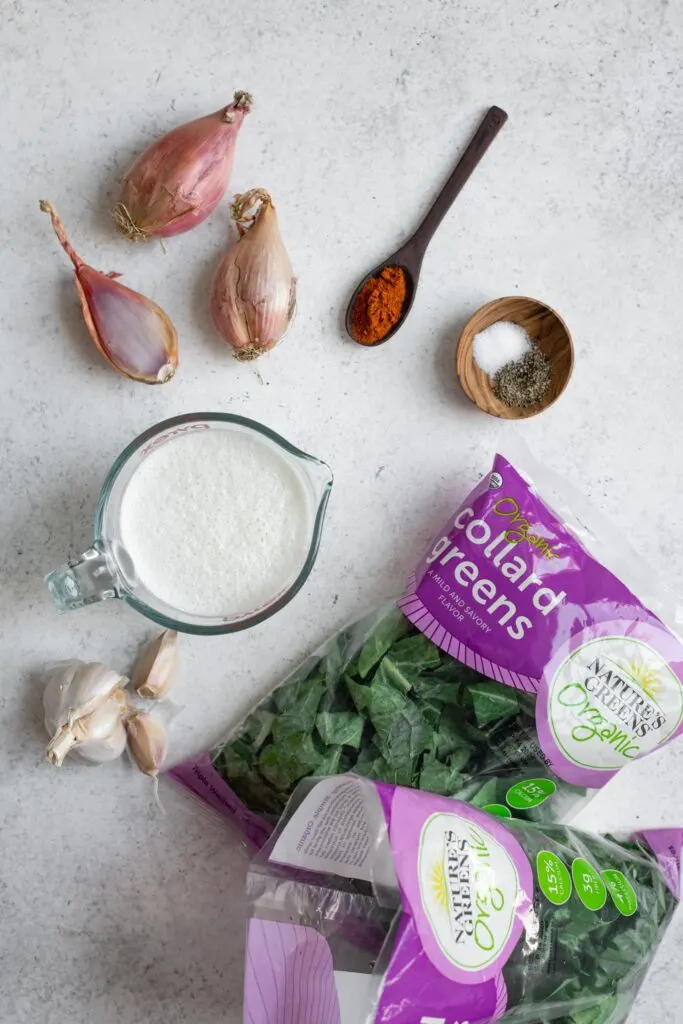 The concept is simple: sauté some shallots and garlic, add collard greens, and let cook until wilted and most of the liquid is released. Then, season with paprika, pour in some cashew milk, and let cook until the milk has thickened to a cream and the greens are nice and tender.
Pro-tip: try to limit your taste tests so you have some greens left over for that potato filling!
The collard greens: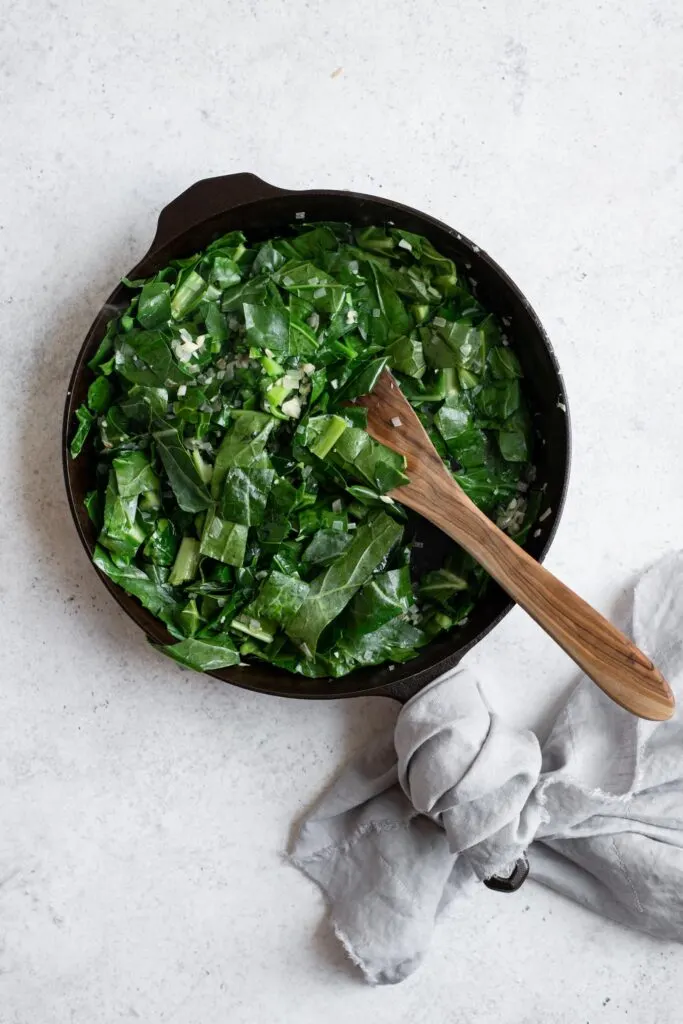 Because the greens cook down so much, we get to use a lot of them in this recipe! I use two bags of Nature's Greens Organic Collard Greens to be specific.
If you prefer to use non-bagged greens, use two smaller bunches of Nature's Greens Organic Collard Greens or one large bunch (roughly ~10-14 oz). If using the one pound bag of Nature's Greens Collard Greens, use about 2/3 of the bag.
The pre-bagged greens make this recipe super easy as they are pre-washed and chopped, but if you use the bunches it's almost as easy to prepare. Simply rinse the leaves, trim the very bottom of the stem to freshen, then stack the leaves flat on top of each other, roll up like a log, and cut in approximately 1-inch thick strips stem and all!
There's no need to remove the stems in this recipe, as the greens are cooked for a nice long time in the cashew milk until they get nice and tender. This means less food waste and easier prep! Win-win!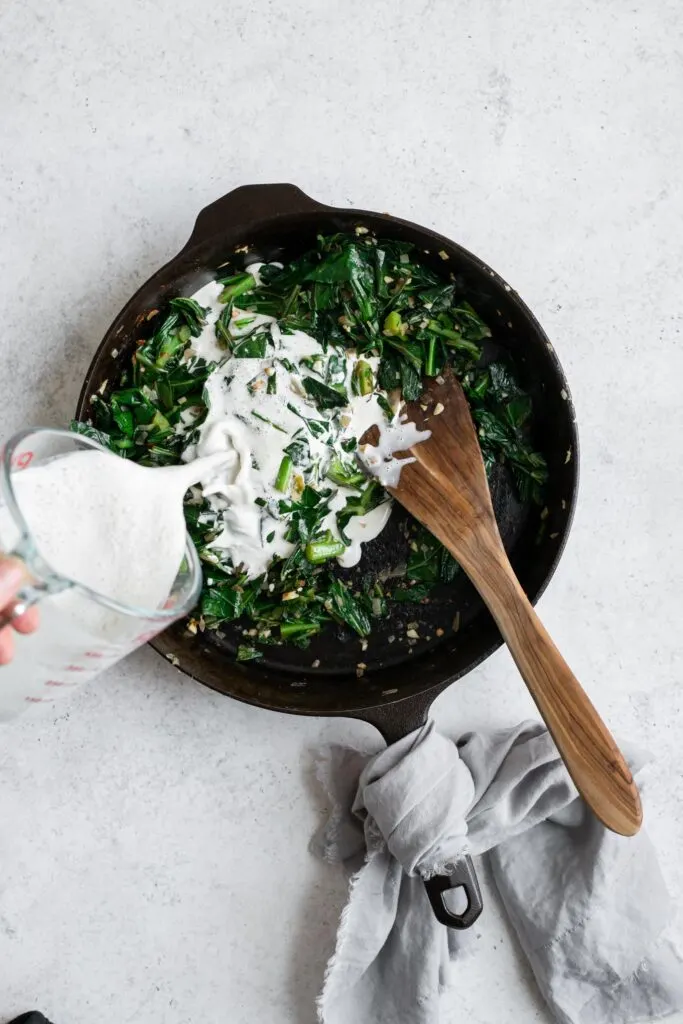 The cashew cream:
When it comes to the cream part of creamed greens, I love using homemade cashew milk.
To make it, all you do is blend cashews and water until smooth. The natural starches in the nut thickens the milk as it cooks, no flour or roux needed!
If you have a high powered blender you can throw in nuts and and water and blend it smooth, otherwise you'll want to soak the nuts to soften them before blending.
My two favorite methods: (1) soak the cashews in boiling hot water for 30 minutes, or (2) plan ahead and soak them in cold water for 2-4 hours (up to a day if you refrigerate it). Then drain and add fresh water to blend.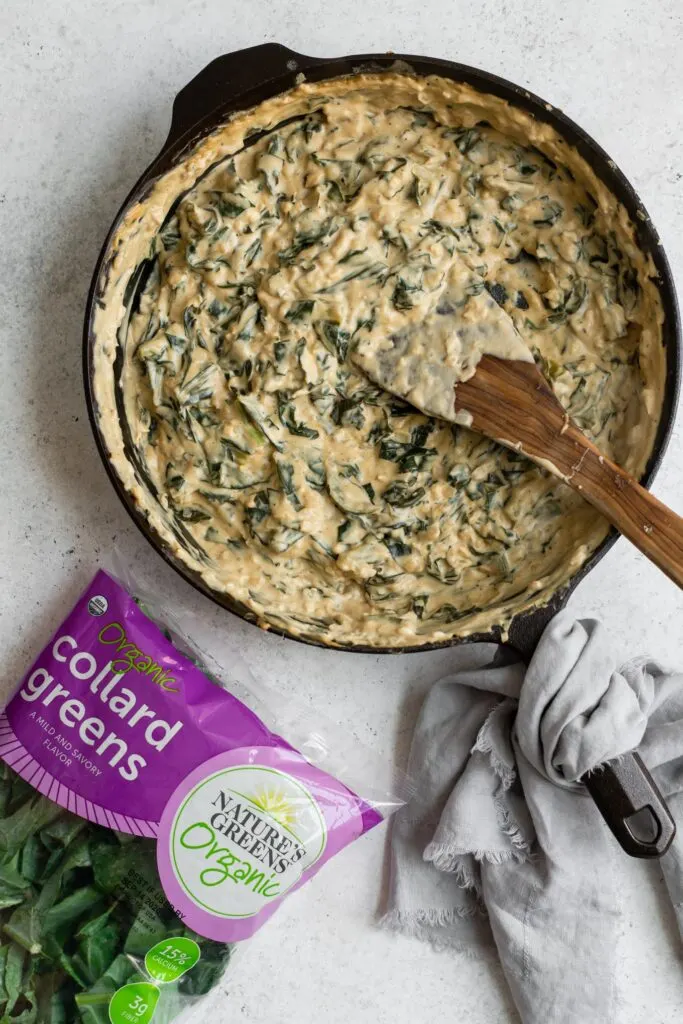 Substitute for cashew milk?
You could substitute homemade almond milk, just note that it will not get as smooth as cashew cream (but will still be really delicious). Use slivered almonds as these are blanched and peeled. Follow the same method as the cashew milk.
If not using homemade nut milk, I recommend using canned coconut milk instead. Use 1 can of the full-fat coconut milk and add a cup of water, more if it starts to cook down too much and needs thinning.
Preparing the Potato and Collard Greens Filling:
Once you have your baked potatoes and creamed collard greens, the rest is simple.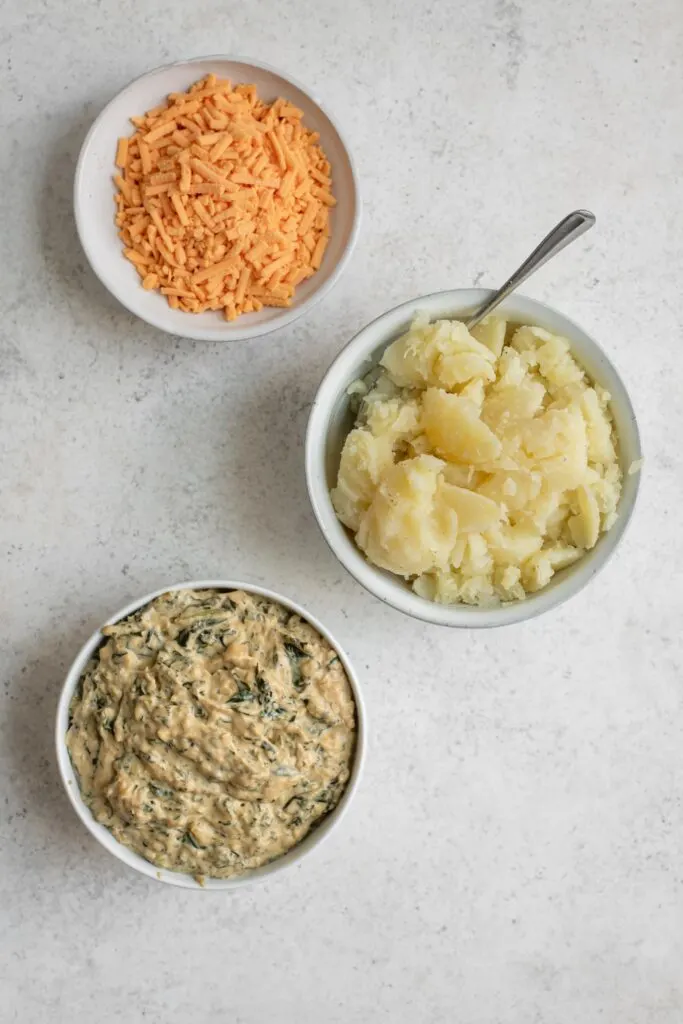 First, we want to chop up the creamed greens so there are no large pieces left. You can use an immersion blender, just transfer the mixture to a deeper bowl first, or use a mini food processor and work in batches. The tender greens will be finely chopped in no time!
Then in a large mixing bowl combine the scooped out middles of the baked potato and the chopped creamed collard greens, it should be about a 1:1 ratio but doesn't need to be exact.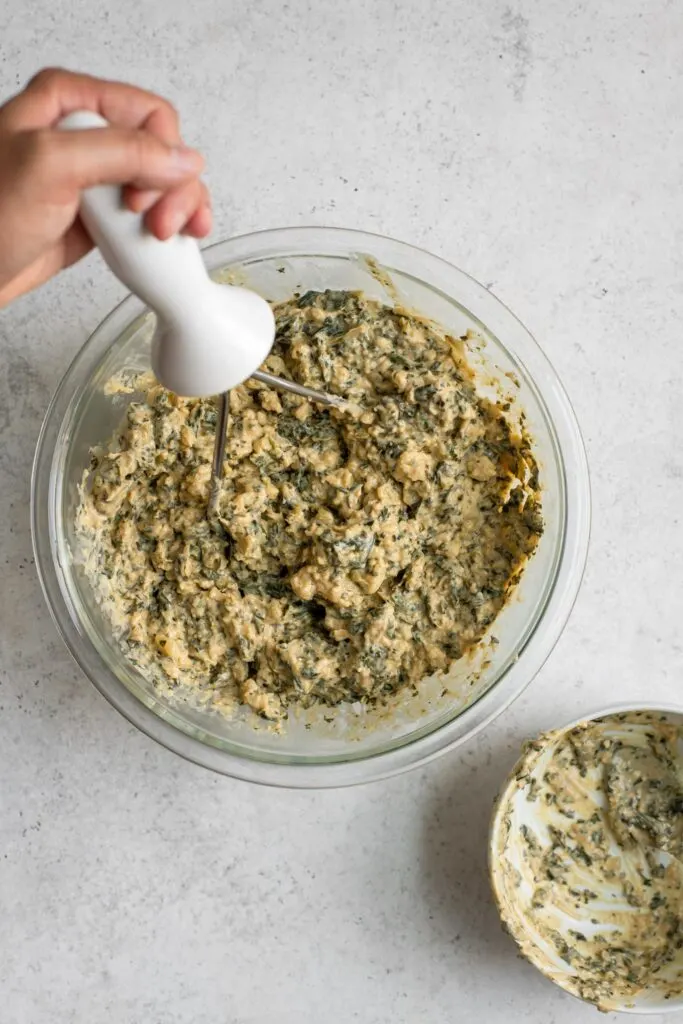 Use a potato masher or a large fork to mash it together until smooth. Then add in the vegan cheese (recommended but not essential) and mix that in.
Divide up the filling into the potato skins, use all of the filling and mound it in each potato.
Stick them in the oven and bake until the top gets crispy and golden!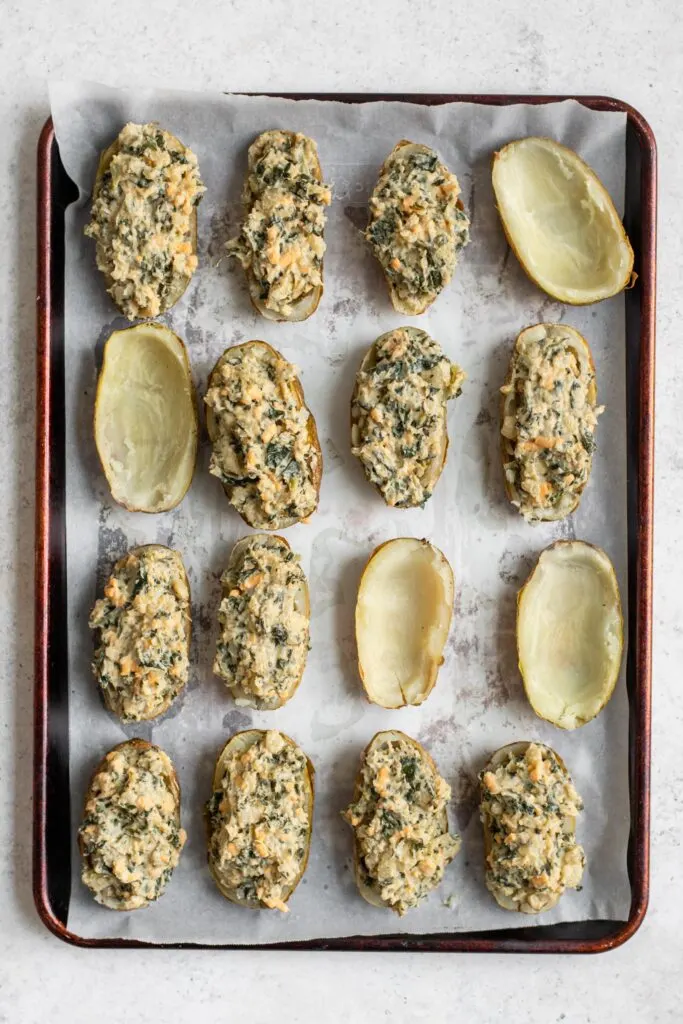 Twice baked potatoes are best served hot out of the oven. Top with some chives for garnish, and sprinkle with a bit of salt and pepper.
I'm going to be honest with you though, they're still *so* good at room temperature! Food blogger problems. ?
To reheat the twice baked potatoes with collard greens:
If you somehow find yourself with leftovers you can reheat them in the oven at 400 ºF until warm all the way through. To speed things up and so the skins don't dry out I recommend microwaving for a minute or two before transferring to the oven.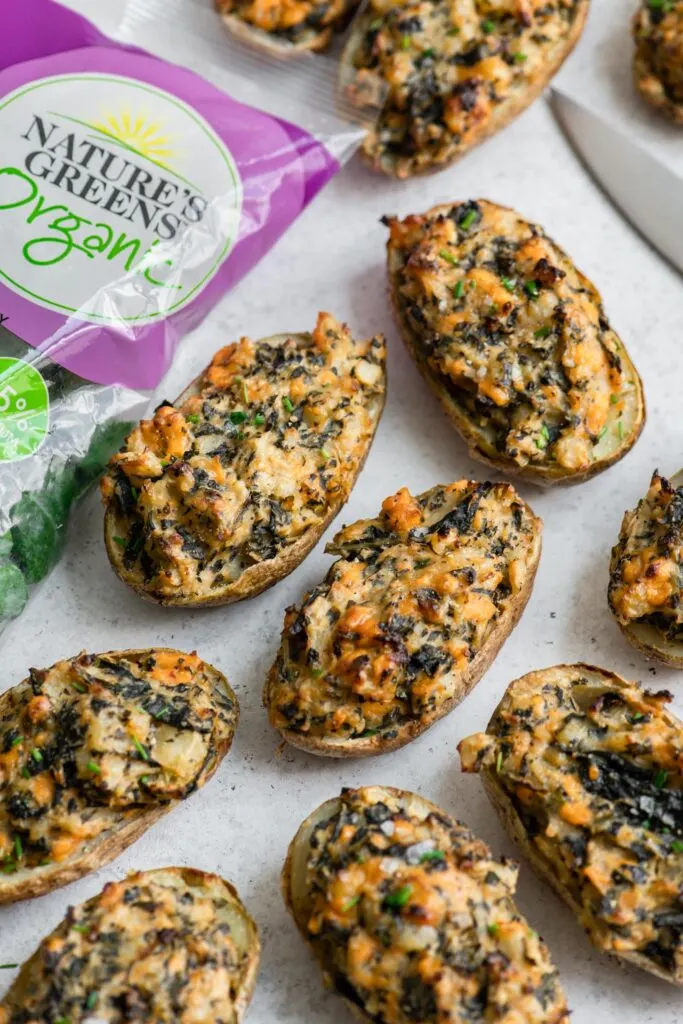 How to prep them in advance:
You can bake the potatoes, prepare the filling, then fill them up and refrigerate them until ready to bake! If baking from cold you may need to add a few minutes to the baking time.
Thanks to Nature's Greens for sponsoring this recipe and growing such delicious greens! Also make sure to check out my vegan breakfast hash, kale soda bread, and mustard green potato salad for more delicious recipes with greens!
If you make these vegan twice baked potatoes with collard greens, leave a comment below and rate the recipe on the recipe card. And please share your photos with me on Instagram, tag @thecuriouschickpea and #thecuriouschickpea. I love seeing your recreations!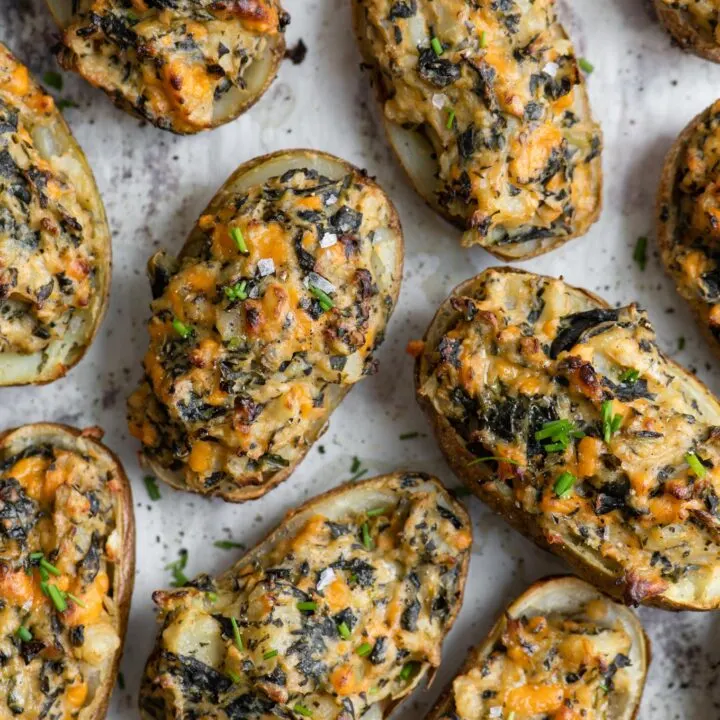 Vegan Twice Baked Potatoes with Collard Greens
Cook Time:
1 hour
20 minutes
Total Time:
1 hour
40 minutes
These twice baked potatoes are stuffed with creamed collard greens for a creamy, cheesy, and irresistible dish! Perfect for serving at parties, as a side, an appetizer, or just eat a bunch and call it dinner! They're vegan and gluten free so everyone can enjoy.
Ingredients
1 cup raw cashews
3 cups water
8 small russet potatoes (3-4 inches long)
2 tbsp olive oil, divided
1 cup finely diced shallots (~6 cloves)
3-4 cloves garlic, minced
1 tsp paprika
1 tsp salt, or to taste
1/2 tsp black pepper, or to taste
1/2 cup water or vegetable broth, more if needed
1 cup shredded vegan cheddar cheese
minced chives, for garnish
Instructions
Make the Cashew Cream:
If using a high powered blender combine the cashews and water and blend until smooth. Otherwise, soak your cashews by pouring boiling hot water to cover and let rest for 20-30 minutes to soften. Drain and use fresh water to blend. Set aside until ready to use.
Bake the potatoes:
Preheat the oven to 400 ºF.
Wash the potatoes and prick with a fork 3 times. Drizzle about 1 tablespoon olive oil over the potatoes and sprinkle with salt and pepper. Rub to coat the potatoes and bake for about 1 hour, or until very tender.
Remove from the oven and let cool for 15 minutes or until cool enough to handle. Cut in half and scoop out the insides (reserving for the filling), leaving about 1/4-inch of potato behind on the skins.
Turn up the oven to 450 ºF.
Make the Creamed Collard Greens:
While the potatoes bake, heat a large skillet over medium and add 1 tablespoon of olive oil. Add the shallots and a pinch of salt and cook until softened, about 3 minutes.
Add the garlic and let cook for about 60 seconds until fragrant, then add the collard greens, adding in batches and letting wilt to fit. Add a pinch of salt and cook the greens until they are bright green, turning tender, and most of their liquid has cooked off, about 5 minutes.
Add the paprika, 1 teaspoon of salt, and 1/2 teaspoon of pepper (or salt and pepper to taste) and the cashew milk. Bring to a simmer and turn the heat down to low. Let simmer until the greens have reached your desired tenderness and the cashew milk has thickened, about 25-30 minutes. If needed, add more water or some vegetable broth, 1/2 cup at a time to thin the cream until the greens are tender.
Fill and bake the potato skins:
Finely chop the creamed greens using an immersion blender or food processor.
Transfer the greens to a mixing bowl and add the reserved insides of the baked potatoes. Use a potato masher or fork to mash until smooth. Taste and adjust salt or pepper if needed. Add the vegan cheddar and mix in.
Fill the hollowed out potato skins with the mixture and bake at 450 ºF for 15-20 minutes or until golden and crispy in places. Garnish with chives and enjoy warm!
Notes
Use the convection setting on your oven (if you have it) to save time when cooking, check the potatoes after 40 minutes in the first bake and after 15 minutes in the second.
Substitute the cashew milk with canned full fat coconut milk. Use 1 can of coconut milk and 1 cup of water, thinning with more water or broth if needed.
Nutrition Information:
Yield:

8
Serving Size:

1
Amount Per Serving:
Calories:

353
Total Fat:

13g
Sodium:

426mg
Carbohydrates:

52g
Fiber:

7g
Sugar:

8g
Protein:

11g
Nutrition is calculated automatically so should be used as an estimate.