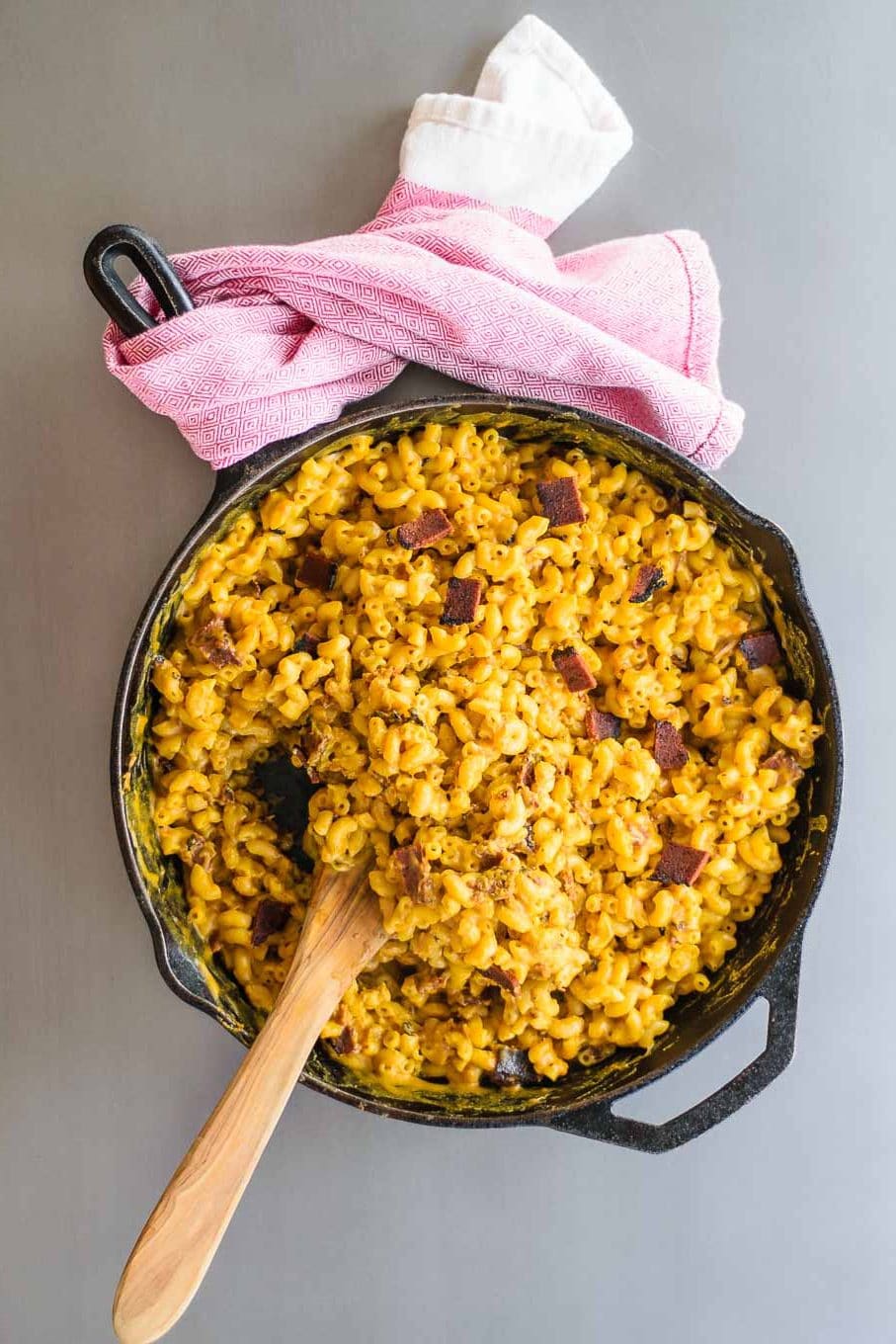 Fried bacon mac and cheese (vegan, obviously), is the food of my dreams. Creamy, cheesy macaroni is pan fried with your favorite meat-free bacon. See, it's the food of your dreams too! If you haven't already been lusting after having some fried bacon mac and cheese in your life it's probably because you've never heard of Upton's Breakroom in Chicago. It's owned and run by the same people who own Upton's Naturals, and has tasty tacos, sandwiches, soft serve, and, of course, fried bacon mac. We didn't go there often when we lived in Chicago, because it was on the other end of town and more of a lunch spot, but when in the area I'd go out of the way to get some of their vegan bacon mac.
As you can imagine, I clearly couldn't go months between indulging my fried bacon mac and cheese cravings. So I started making it at home! I use a cheesy sauce inspired by *the* VegNews mac and cheese recipe. This velvety cheese sauce uses carrots for some sweetness and color, potatoes to thicken and give that stretchy starchy quality, cashews for extra creamy richness, onion for caramel-y depth of flavor, lightly caramelized garlic for some tempered bite, smoked paprika for layers of smokey pepper flavor, turmeric for bright yellow color, miso for it's umami-packed salty flavor, and nutritional yeast for extra nutty cheesiness. Honestly this is a wonderful vegan cheese sauce that works well in many applications!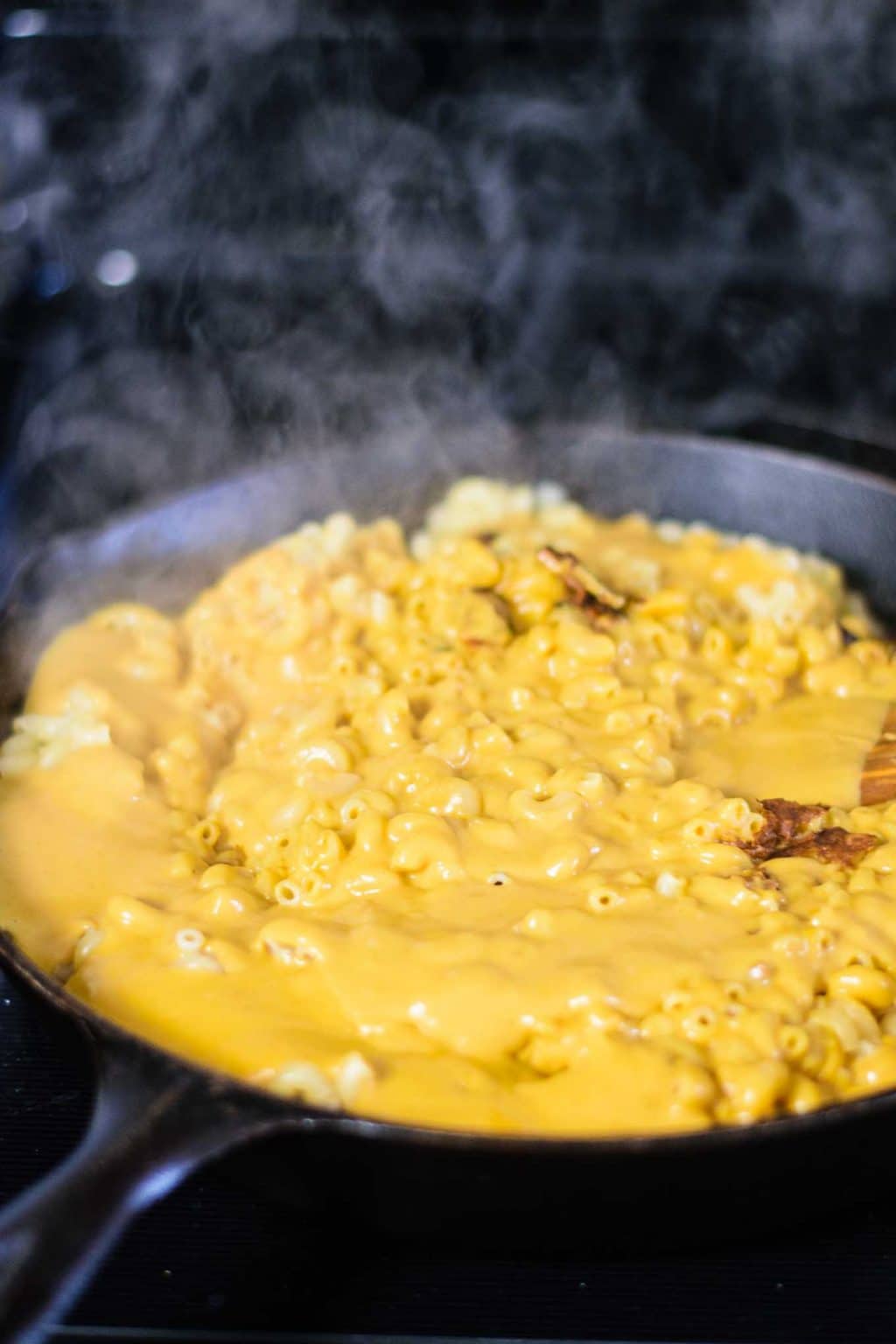 So you take your perfectly cheesy, velvety, saucy macaroni, heat a bit of oil on a nonstick skillet (like, cast iron), and fry it alongside chopped vegan bacon. Crispy bits of seitan (or a gluten free option), caramelized almost burnt bits of cheesy noodles. It's pasta perfection. Super easy, super delicious.
This recipe is easy to whip together on a weeknight and pantry friendly, which is probably why it's such a go-to lazy dinner for us. The sauce is lightened up from a fully cashew or vegan cheese-based version with the use of potato and carrot, making it less of an indulgence than even your typical vegan mac and cheese. And it's easy to prep and cook a veggie to go along the side while you're cooking the potatoes and carrots (some smokey sautéed greens? a salad? nothing because you claim having a carrot in your pasta is like eating veggies and feeling extra lazy?).
We're crazy for mac and cheese and so excited to share one of our go-to versions with you. I hope you love the recipe as much as we do! If you make it, please let me know! Leave a comment and/or rate the recipe below, tag me on Instagram (or #thecuriouschickpea), or share with me on Facebook! Happy cooking and eating!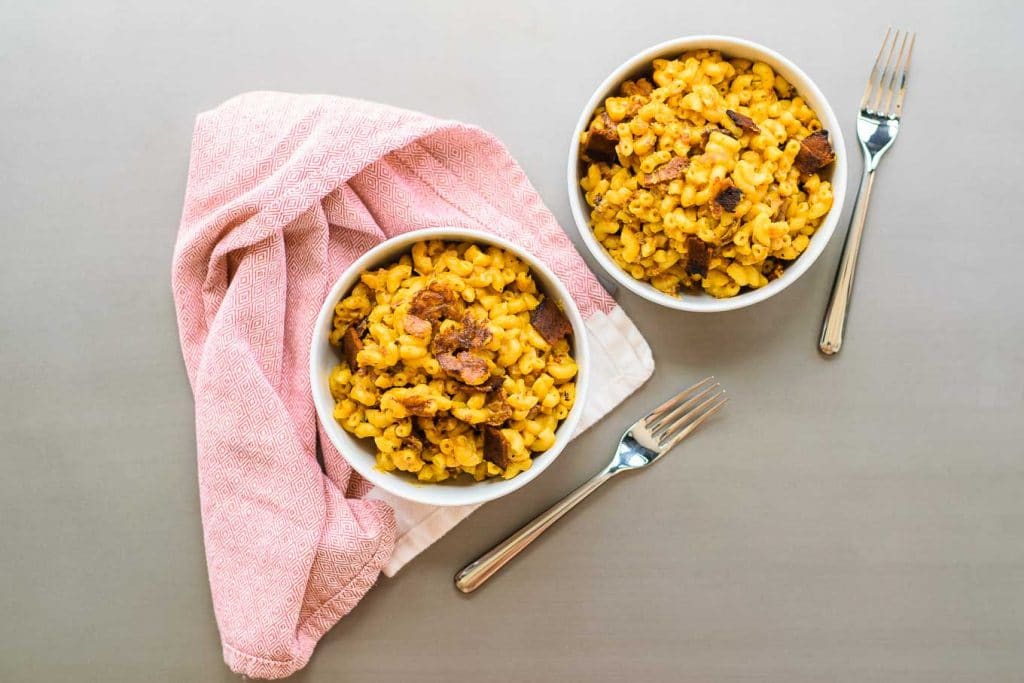 Notes:
The cheese sauce is versatile, makes a great regular mac and cheese of course, but also can be used to top baked potatoes or veggies with, dip pretzels into, whatever you think of!
For a soy-free version find a chickpea miso to use and watch for soy sauce in your vegan bacon!
For a gluten-free version, source a gluten free vegan bacon, use gluten free pasta, and check to make sure your miso is gluten free.
You can use your choice of vegan bacon in this recipe. I really like seitan bacon, both Upton's Naturals and Sweet Earth make excellent seitan bacons. Sweet Earth is what I used in these photos. For a gluten free option you could try coconut bacon, rice paper bacon, store bought bacon bits, etc.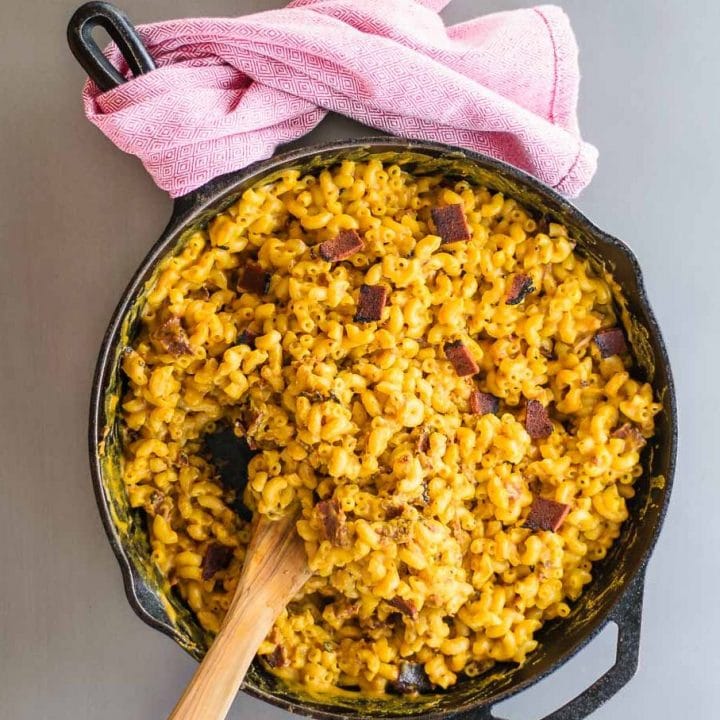 Vegan Fried Bacon Mac and Cheese
Macaroni is tossed in a creamy vegan cheese sauce and fried alongside seitan bacon, for a delicious and indulgent-tasting meal.
Ingredients
1 lb macaroni pasta, gluten free if desired
5 1/2 oz (8 slices) seitan bacon, or a gluten free substitute if desired, chopped
For the cheesy sauce
2 tbsp oil, divided
1/2 large yellow onion, medium dice (~1 1/2 cups)
1 large (1/2 lb) yukon gold potato, peeled and cut into 1/2" dice (~1 heaping cup)
1 large carrot, peeled and cut into medium dice (~1/2 cup)
1 cup (5 oz) cashews
3/4 tsp salt, or to taste
2 garlic cloves, smashed and peeled
1 tsp smoked paprika, or regular paprika
1/2 tsp white pepper
1/2 tsp turmeric
3 cups water or broth
1 tbsp red miso
6 tbsp nutritional yeast
Instructions
Cook the macaroni according to package directions, leaving it 1 minute shy of perfectly cooked.
Make the sauce: heat a heavy bottomed pot over medium-low. Add 1 tablespoon of oil and the chopped onion, and cook for 5-6 minutes, stirring occasionally, until the onion is lightly caramelized and golden.
Add the garlic, potato, carrots, cashews and salt and cook 2-3 minutes, stirring occasionally, until the cashews and garlic are golden in spots.
Add the broth, miso, white pepper, turmeric, and smoked paprika. Bring to a boil over high heat, then reduce heat and simmer until potatoes and carrots are tender, ~10-15 minutes depending on how large they were cut.
When potatoes and carrots are tender, remove from heat and transfer mixture to the blender. Add the nutritional yeast. Blend until smooth, venting as necessary to prevent accidents.
Heat a large cast iron skillet over medium heat. Add a tablespoon of oil and when hot, add the seitan bacon. Fry for 2-3 minutes, then stir in the pasta and the sauce until evenly combined. Fry an additional 2-3 minutes, stirring occasionally, until pasta and sauce are the desired amount of browned and cripsy.