This vegan bacon mac and cheese is the indulgent tasting but wholesome pasta dish of my dreams! A luscious plant-based cheese sauce is pan-fried right alongside pasta and vegan bacon until the flavors meld together and you get those perfect crispy bits!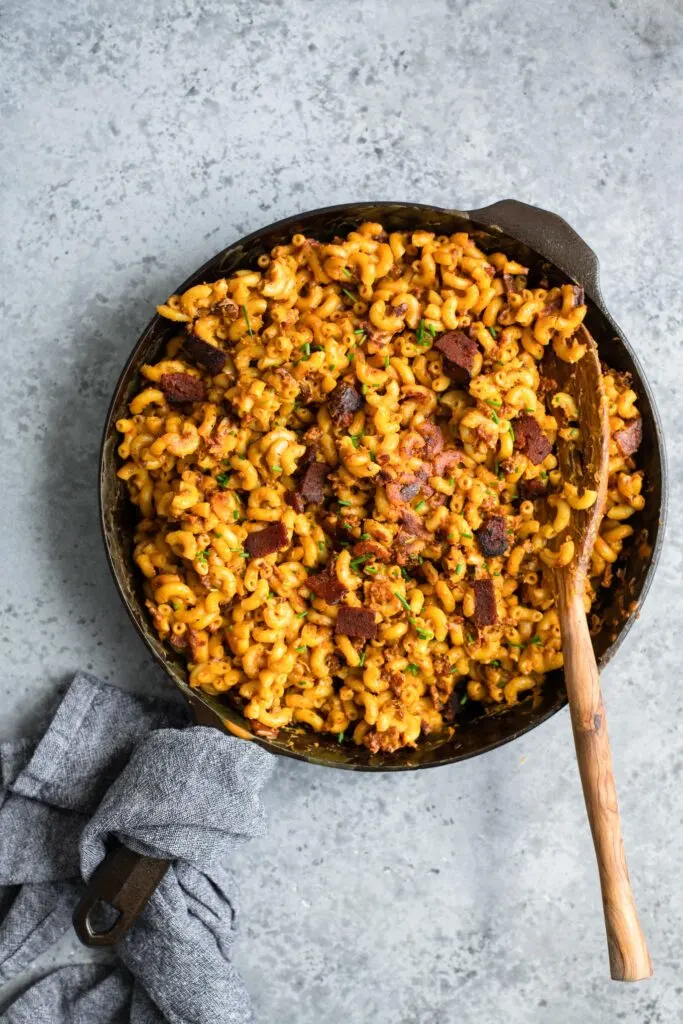 Mac and cheese (vegan or otherwise) usually falls into two categories: creamy stovetop or crispy topped baked. I'm here to tell you that this panfried mac and cheese deserves as much recognition!
It's like a creamy stovetop mac and cheese meets a baked mac and cheese, but instead of baked, it's pan fried until the noodles soak up extra cheesy sauce and crispy bits form against the pan.
It's a mac and cheese where leftovers are as good as same day eats, because those noodles just get chewier and better as they sit overnight in the fridge!
Now I make my vegan mac and cheeses a lot of ways. Some of my sauces depend a lot on store bought cheese (like my no-boil vegan mac and cheese), others use cashew creams for creaminess (like my vegan chipotle mac and cheese), and some use coconut milk (like my vegan buffalo wing mac and cheese or masala curry mac and cheese).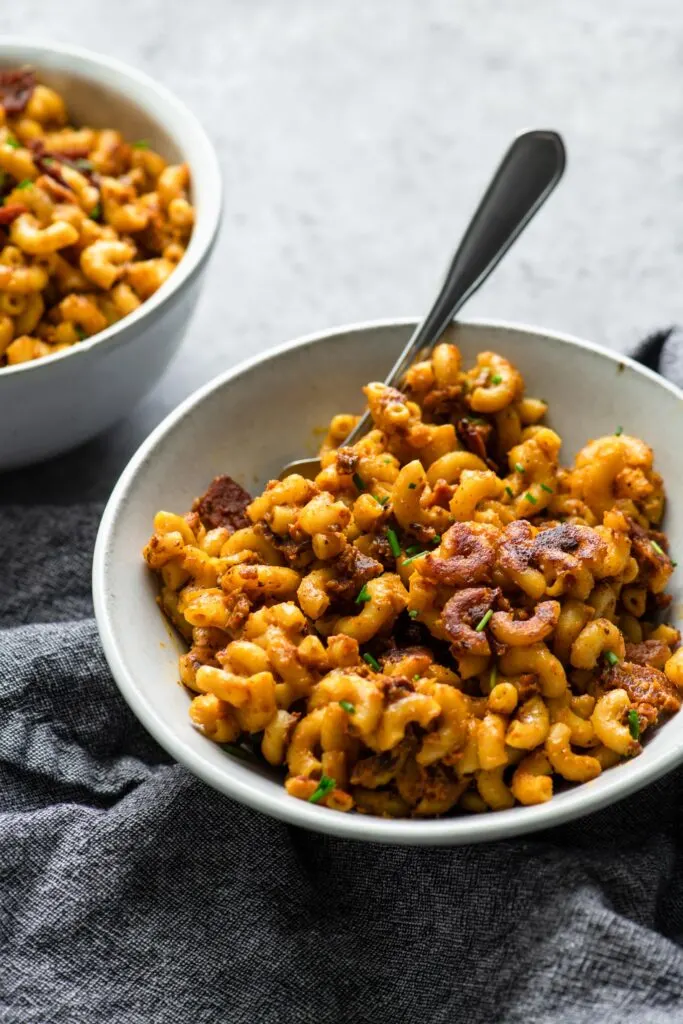 This cheese sauce is a cashew, potato, and carrot-based sauce. Which if you haven't had anything like it before I *know* it sounds crazy! But trust me. This vegan mac and cheese is insanely good.
And if you weren't sold already, did we mention it has vegan bacon in it? Because the only thing that could make this cheesy sauce even better is the smoky sweet salty flavors of [vegan!] bacon.
This recipe is inspired by the delicious vegan bacon mac at Upton's Breakroom in Chicago. This means if you can find Upton's Naturals seitan bacon you 100% should make this with it!
It's a dish I've missed since moving away from Chicago, or should say did miss, because now I can just make it in my very own kitchen!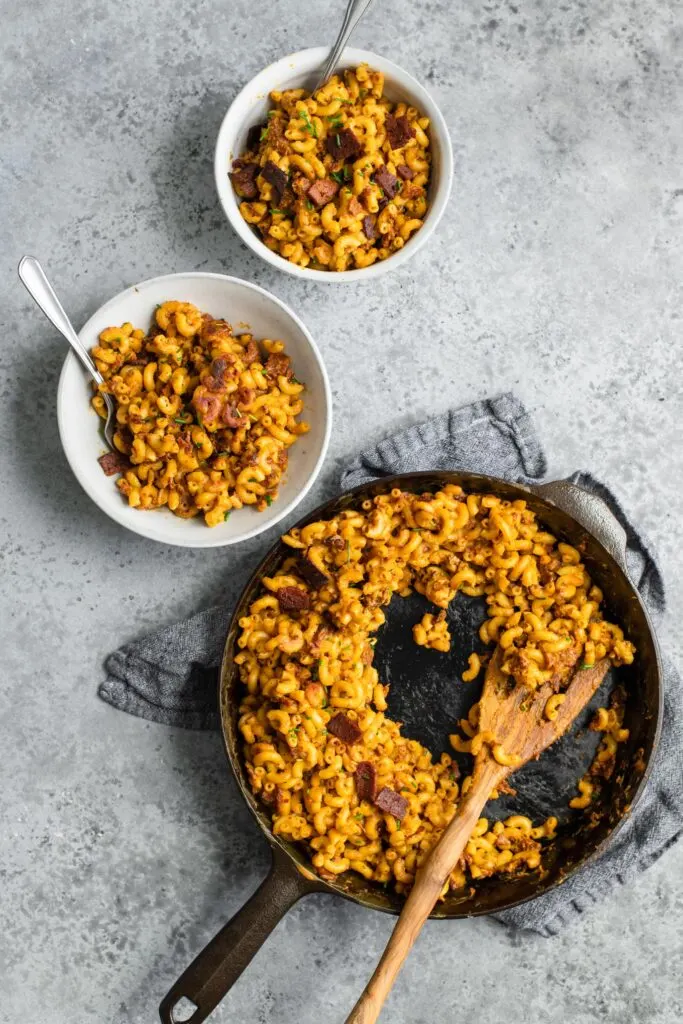 The vegan cheese sauce:
The cheese sauce for this recipe uses vegetables to make a lusciously creamy, velvety sauce. The veggies add layers of flavor and body to the sauce and somehow combine with spices to become cheesy tasting! It's magical.
You start by sautéing onions to soften them and bring out some of their natural sweetness. Then add potatoes, carrots, garlic, and cashews and cook until golden in spots for some rich toasted flavor.
Potato is one of the secrets of this dish. The starches in the potato give the sauce a stretchy starchy quality which is a must for vegan cheese sauces. When boiled and blended potato turns almost gluey in texture–which I know sounds odd, but it really enhances the sauce.
The cashews add a lot of creaminess to the sauce, and the natural starches present in the nuts help thicken the sauce even further.
For spices we add smoked paprika and turmeric. Smoked flavors make everything taste cheesier and it ups that "bacony" vibe. Turmeric is added for color.
Lastly to up the cheesy factor, we add in some miso and nutritional yeast. The fermented flavors of miso lend themselves to the unaged sauce, giving it the extra oomph you want from a cheese–vegan or otherwise! Nutritional yeast is delicious vegan gold. It has a somewhat nutty, almost cheesy flavor.
I like using vegetable broth (especially no chicken style) to cook the veggies and blend into the sauce for the added flavor and seasoning, but it's ok to use water instead. How much salt you need to add to the sauce will vary depending on if you use a salty broth or not.
Substitute for nutritional yeast?
While I absolutely love nutritional yeast, there is the occasional person who does not. Or perhaps you just have trouble finding it in stores or online!
If you want to skip the nutritional yeast, I recommend you add 1/4 to 1/2 cup of vegan cheddar cheese in its stead.
Or, if you prefer, you can skip it altogether. I'll just think you're crazy! ?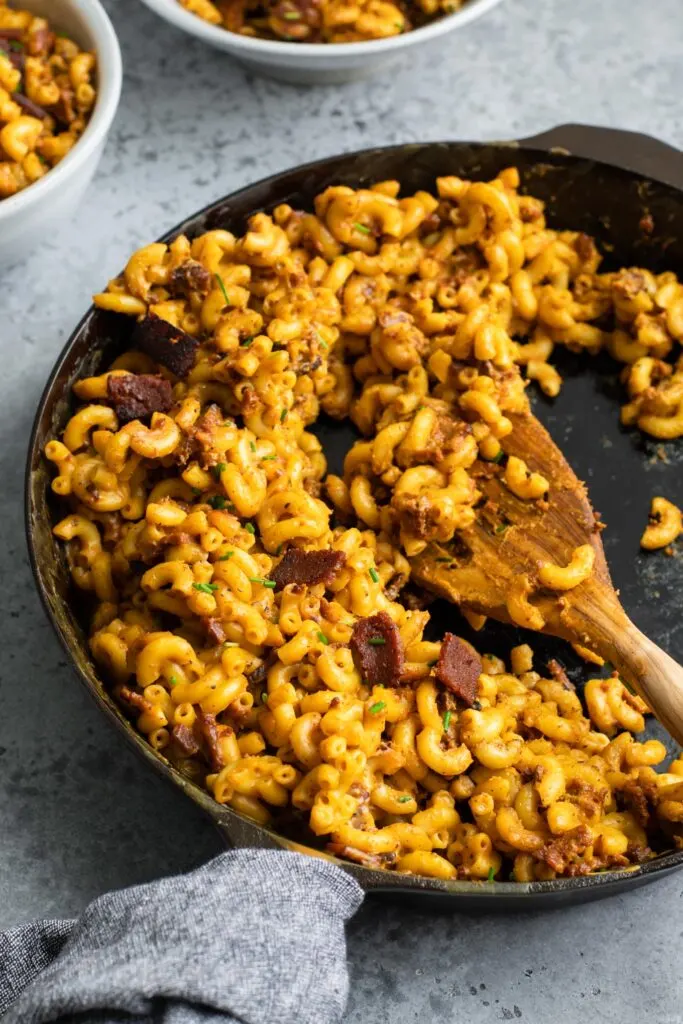 Vegan bacon mac and cheese:
Ok so this is what we came here for, right? The actual frying of the mac and cheese?
First, the vegan bacon. You can use any vegan bacon you want. A store bought one, or a homemade one (like my tempeh bacon). I like to use a seitan bacon, but if you need this to be gluten free then use a gluten free vegan bacon (i.e. not seitan). Also for gluten free use a gluten free pasta and check that your miso is GF.
So fry up your vegan bacon of choice (and a lot of it!), then add in cooked noodles and that velvety sauce and fry that up!
Since the noodles are cooked, the sauce is cooked, and the vegan bacon is cooked, how long you want to fry these ingredients together depends on how saucy you want the dish versus how many crispy bits you want.
The longer you cook it the drier the dish gets as the sauce thickens, soaks into the noodles, and crisps up in places. Personally I'm obsessed with this and let it go over 5 minutes!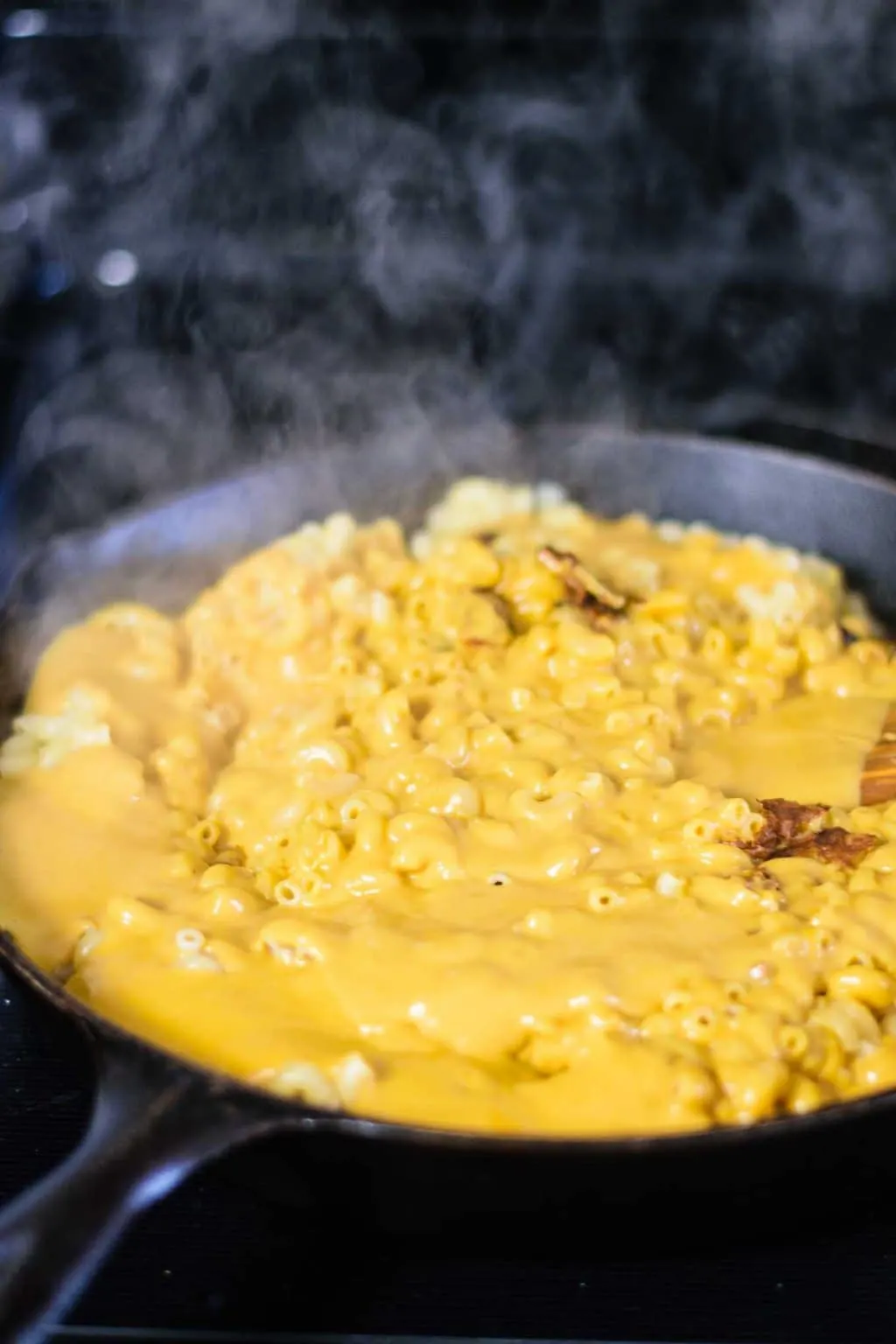 Honestly, this recipe is easy to whip up, weeknight and pantry friendly, and a pretty lazy go-to meal in our house!
Serve it with a side salad, or some sautéed greens, perhaps nothing at all because hey there's a carrot in the cheesy sauce! I won't judge.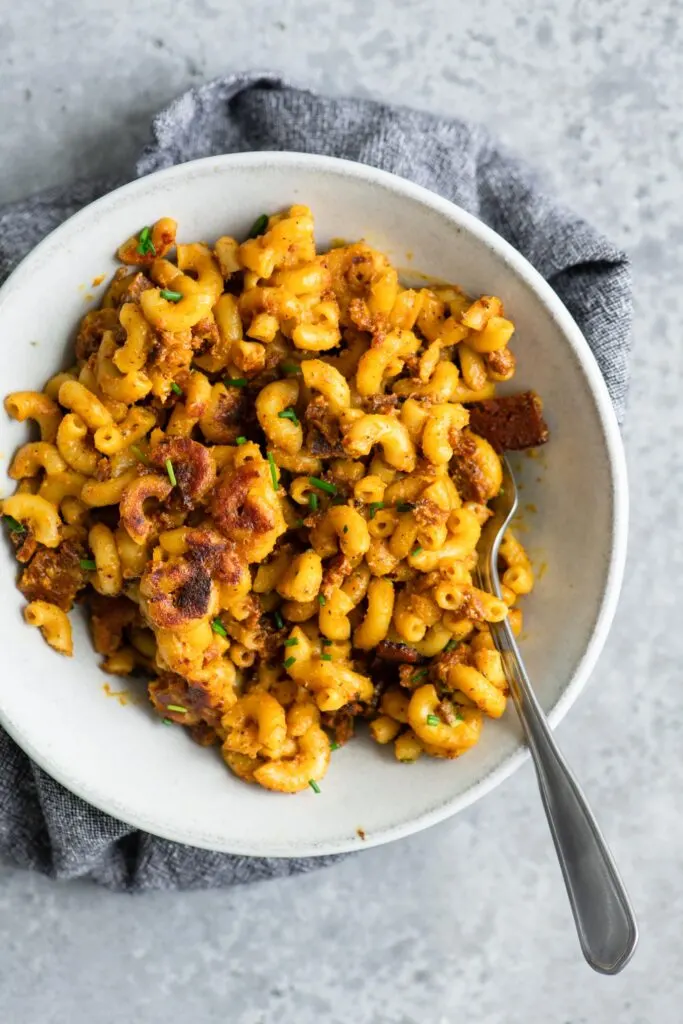 If you make this vegan bacon mac and cheese, leave a comment below and rate the recipe on the recipe card. And please share your photos with me on Instagram, tag @thecuriouschickpea and #thecuriouschickpea. I love seeing your recreations!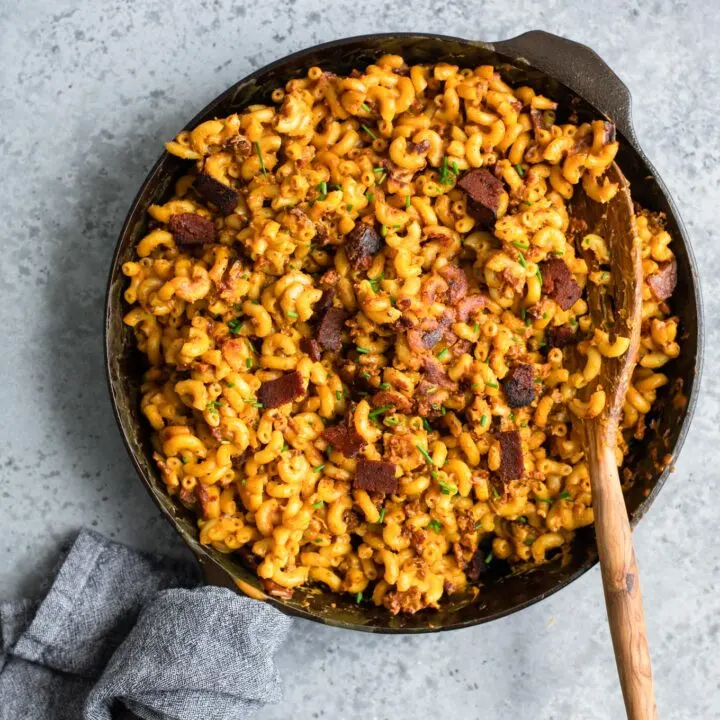 Vegan Bacon Mac and Cheese
Macaroni is tossed in a creamy vegan cheese sauce and pan fried alongside seitan bacon, for a delicious and indulgent-tasting meal.
Ingredients
1 lb elbow macaroni pasta
2 tbsp oil, divided
1 yellow onion, diced (~1.5 cups)
1 large yukon gold potato, peeled and cut into 1/2" dice (~1 cup)
1 large carrot, peeled and cut into medium dice (~1/2 cup)
2 garlic cloves, smashed and peeled
1 cup raw cashews
1/2 tsp salt, more to taste
1 tsp smoked paprika
1/2 tsp turmeric
1/2 tsp white pepper
1 tbsp red miso
3 cups water or vegetable broth
6 tbsp nutritional yeast
12 slices vegan bacon, chopped
minced chives, for garnish
Instructions
Cook the macaroni according to package directions, draining 1 minute before it's fully cooked. Drain and set aside.
Heat 1 tablespoon of oil in a large pot over medium heat. Add the onion and cook for 5-6 minutes to soften.
Add the potato, carrots, garlic, cashews and salt and sauté 2-3 minutes, until the cashews and garlic are golden in spots.
Stir in the smoked paprika, turmeric, and white pepper, then add the miso and broth (or water). Bring to a boil over high heat, then reduce heat and simmer until potatoes and carrots are tender, around 10-15 minutes.
Transfer the mixture to a blender. Add the nutritional yeast and blend until smooth, pausing to scrape down the sides and vent the steam as needed.
Heat a large skillet over medium and add the remaining tablespoon of oil. Add the vegan bacon and fry for 2-3 to crisp up. Add the pasta and sauce to the skillet and stir to combine. Fry the pasta for 5 or more minutes, turning just once or twice to crisp up spots. Cook until the pasta and sauce are the desired amount of browned and crispy. Garnish with minced chives and enjoy!
Notes
I like to use 1-2 5oz packages of seitan bacon to make this recipe. It's always better with more, but comes out super tasty with 1 package (8 slices) if that's all you want to add.
For gluten free: use gluten free pasta and a gluten free vegan bacon. Homemade tempeh bacon works, or use a store bought option. Also check that your miso is GF.
Recommended Products
As an Amazon Associate and member of other affiliate programs, I earn from qualifying purchases.
Nutrition Information:
Yield:

8
Serving Size:

1
Amount Per Serving:
Calories:

338
Total Fat:

12g
Saturated Fat:

2g
Unsaturated Fat:

9g
Sodium:

495mg
Carbohydrates:

39g
Fiber:

5g
Sugar:

3g
Protein:

20g
Nutrition is calculated automatically so should be used as an estimate.
This recipe was originally published on August 17, 2017.