These vegan chicken seitan cutlets are easy to make and perfect to use in any recipe that calls for chicken! A perfect plant based substitute that's better for you and cheaper to make than any store bought option.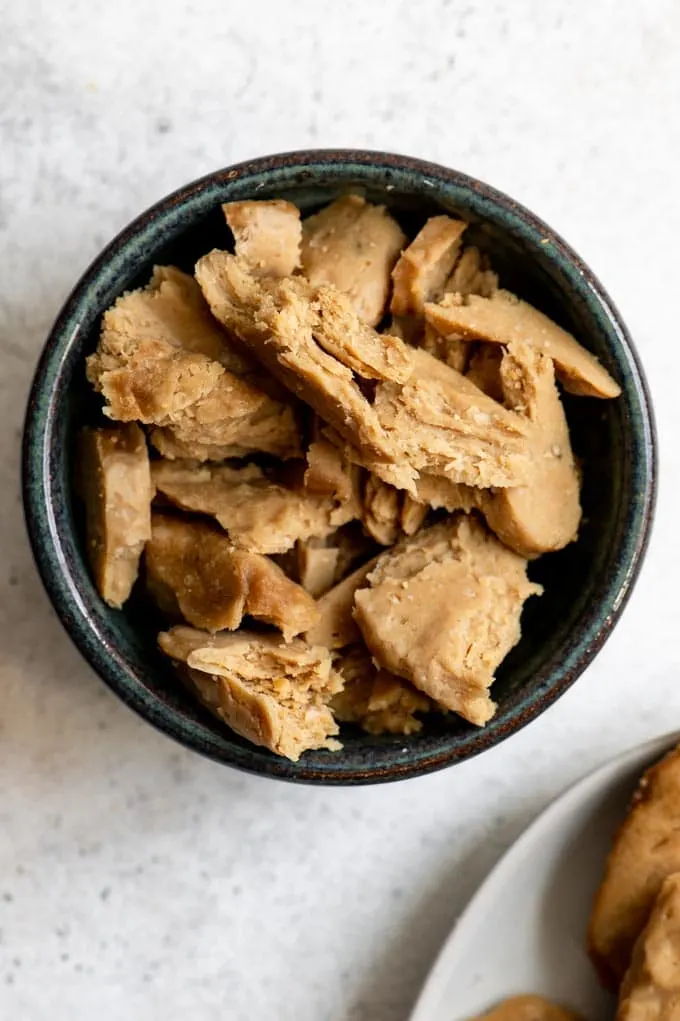 These vegan chicken-style cutlets are made with a chickpea seitan, which combines the lovely chickpea with wheat gluten for a tender yet chewy and almost flakey cutlet.
You can slice it, tear it, or mince it for a variety of preparations, or of course leave it whole!
What is seitan?
Seitan has been made around for centuries, likely first made in East Asia by buddhist monks. It's a completely vegan protein made of wheat gluten, which is the protein in wheat.
Back in the day, you would make a simple flour and water dough, then wash the starch out of the dough by rinsing it in water until the water ran clear. This was a rather involved process, and thankfully these days we can purchase the gluten after it's been separated from the starch.
To this wheat gluten (also called vital wheat gluten) flour we can add liquid to make a dough and then cook this dough via steaming, baking, simmering, and sometimes even pan frying (though only if there's a relatively small amount of wheat gluten as typically you want to give it longer to cook than pan frying allows).
Load it up with flavorings and change the texture by adding things like tofu, beans, oil, chickpea flour or other legume flours, and you've got a super versatile plant based protein! And it's super high in protein.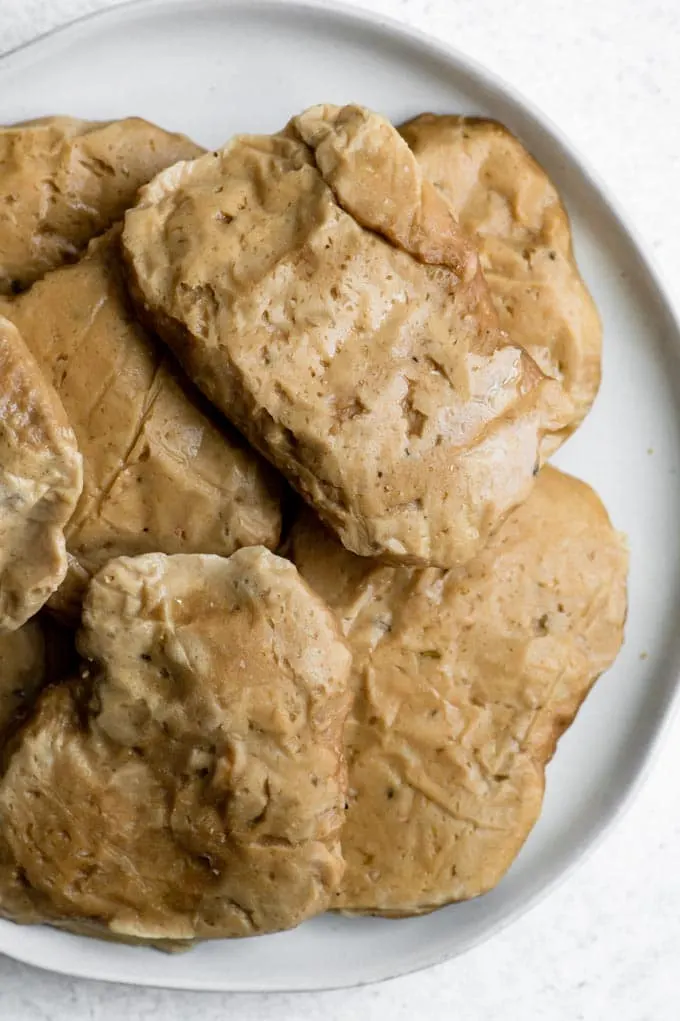 Making vegan chicken:
Look, if it were up to me, we'd be calling this chickpea seitan cutlets and not vegan chicken seitan. I'm not 100% trying to mimic meat here, and to be honest I was raised vegetarian so can't tell you how like meat this is.
My goal is to make something that tasted good and has a great texture that you can use in familiar recipes. And I wanted to make it into a more or less individual serving sized cutlet because that is something that is difficult to find at grocery stores and adaptable to a variety of preparations!
And I know, it is up to me how to name this recipe, but I also want people to be able to find this recipe on google and so naming it vegan chicken makes it much more easy to find!
So with that said, let's move on to how to make this plant based "meat!"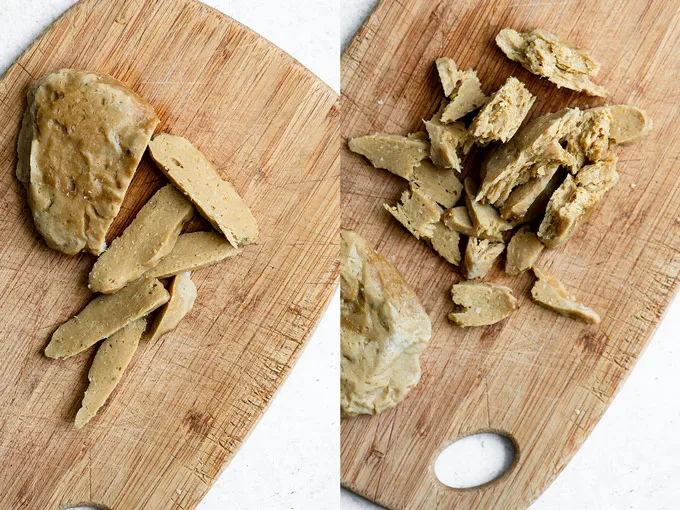 The ingredients:
The main ingredient here is of course the vital wheat gluten. You can't make seitan without gluten!
The rest of the ingredients are what make this recipe stand out. The dough is amended with chickpeas which can add visible texture into the seitan (if made by hand–I give both options here, but in these photos did show the food processor version). But even if there aren't little pieces of chickpea in the seitan, it does make the seitan more tender and less tough in texture.
We also add nutritional yeast which helps make the seitan more tender and also adds some savory umami rich flavor. The added nutritional benefits of nutritional yeast certainly don't hurt!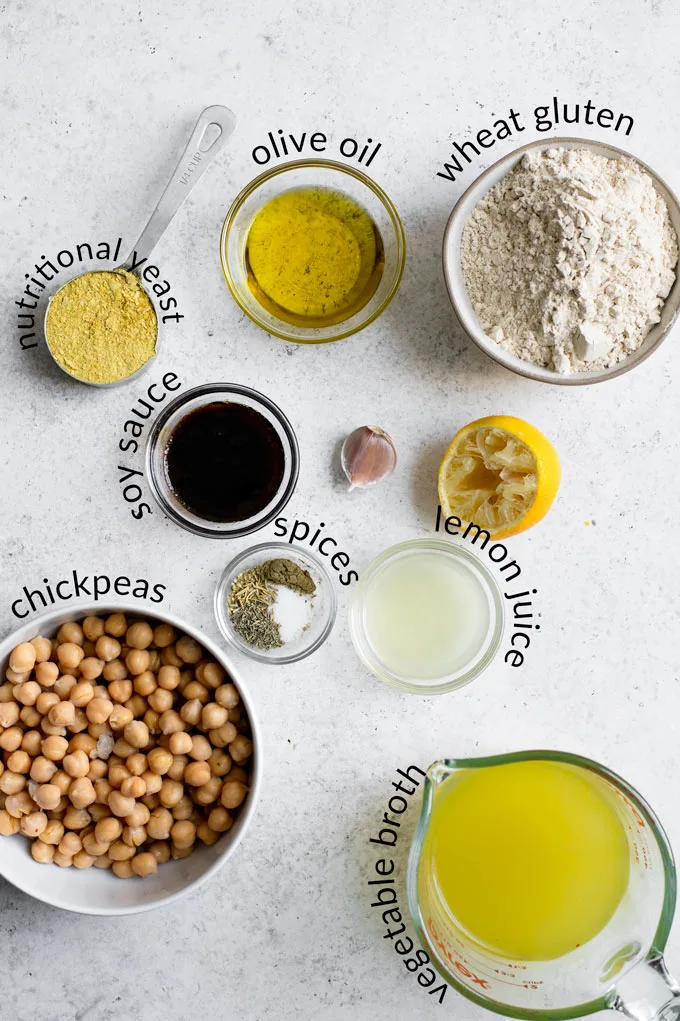 For the liquids we have olive oil, which stunts the gluten development just enough to keep the seitan from being tough. Next up: lemon juice for acidity–again making a better texture but also better flavor.
Soy sauce adds savory saltiness, though not to much to color the seitan, so we also add salt.
Vegetable broth is a must for infusing the seitan with flavor, and since this is a vegan chicken-style seitan, use a no-chicken style broth if possible.
Last some poultry seasoning type herbs and fresh garlic for flavor. On it's own seitan has a rather bland flavor, so adding these herbs and savory ingredients makes the seitan something you could practically much on plain.
The method:
I've made this seitan by hand, with a stand mixer, and with a food processor. All of these methods work, but I will note that by hand or with the stand mixer does produce a slightly different result than the food processor, as the food processor will blend up those chickpeas more completely.
This is not bad or good, just different!
I do recommend using something to help knead as this seitan benefits from a long kneading time (this happens much more quickly in a food processor) to fully develop those longer strings of gluten.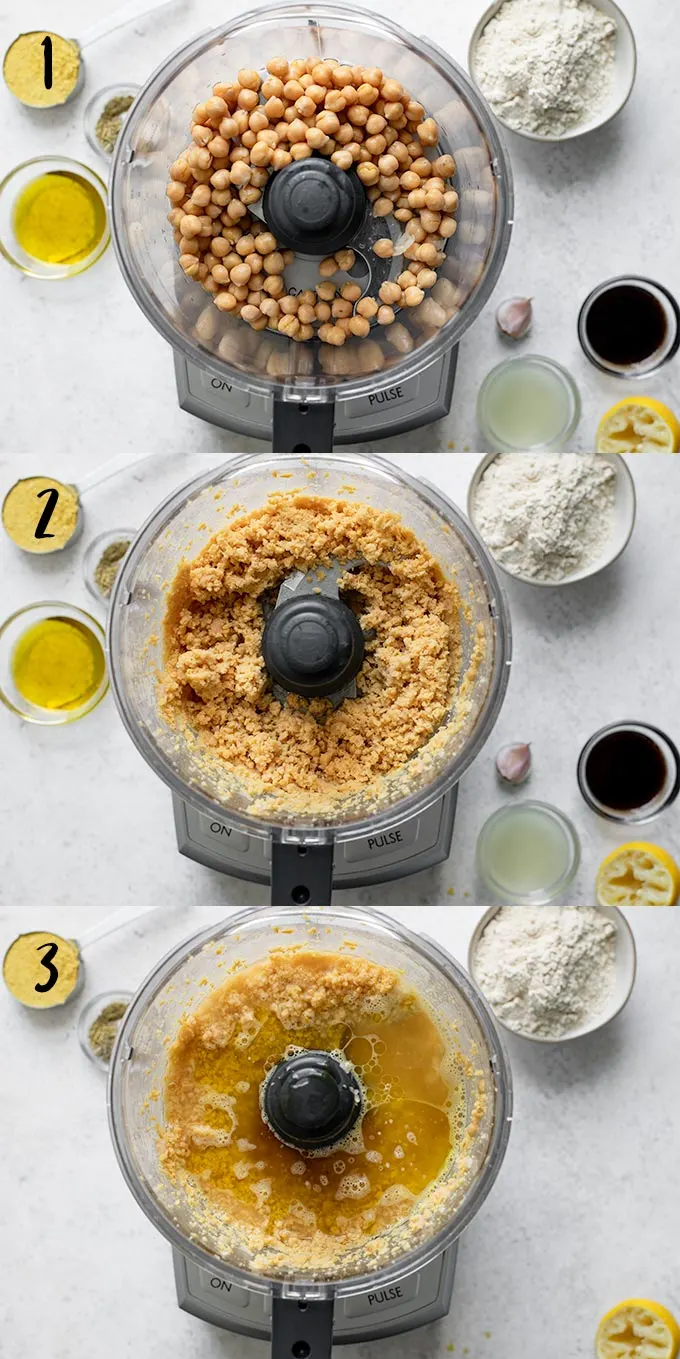 To make the seitan by hand or with stand mixer:
Mash up the chickpeas until no whole beans are left but some chunkiness is fine. It doesn't need to be pureed to look like hummus! Add the rest of the liquids and the garlic and mix together. It obviously won't be smooth because of the chickpea mash.
Mix together the dry ingredients, then add the wet to the dry and mix together.
Knead by hand (or ideally by stand mixer) for about 5 minutes until you see longer stringy strands of gluten development. This is what makes a more shreddable texture at the end. And we've added plenty of ingredients to keep the seitan from becoming too tough or over developed.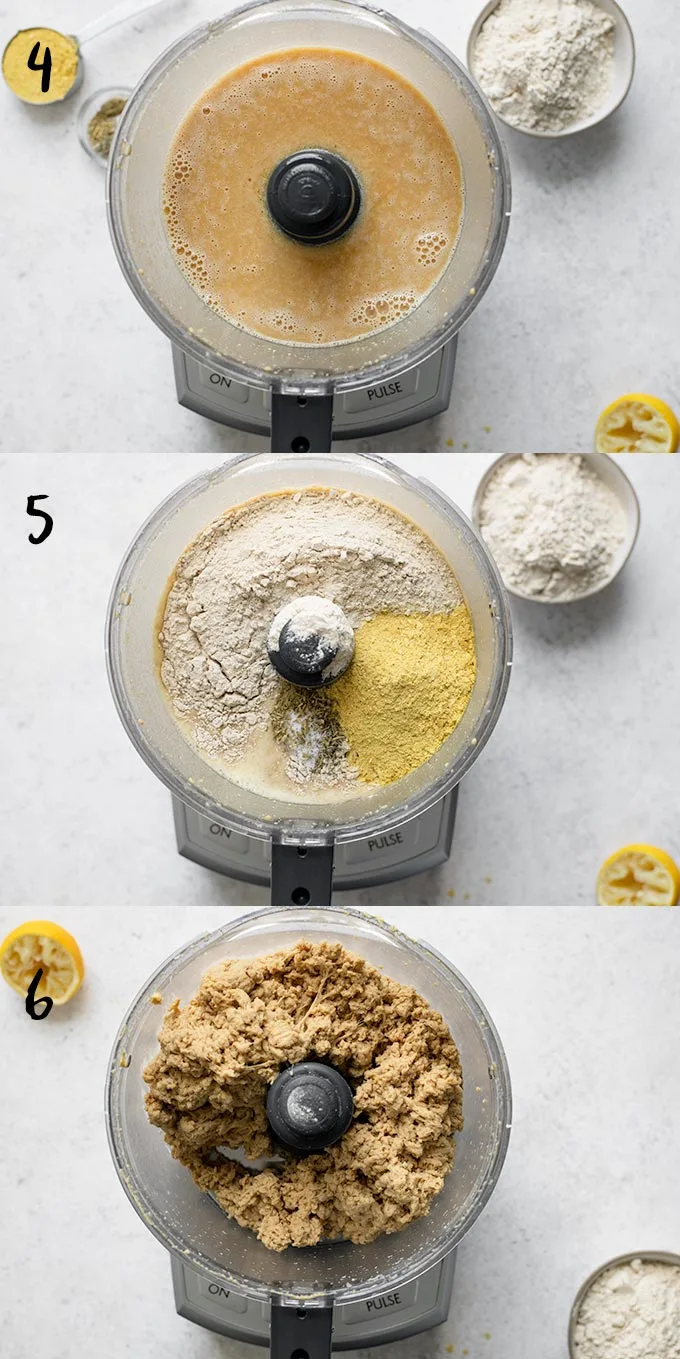 To make the seitan in a food processor:
It's quite similar but we let the machine do the work. Add the chickpeas and give a quick process to chop them.
Add the liquids and garlic and pulse to combine.
Now add the wheat gluten and spices and nutritional yeast and process (with the metal S-curve cutting blade) for a couple of minutes. Pause every 30 seconds or so to give the motor a break and check on the progress. You want to see the stringy gluten development happening! Then give it another 30 seconds to be sure, since it's not like a switch that flips but becomes more extreme with time.
The metal S blade makes quick work of kneading dough and develops a beautifully elastic gluten network.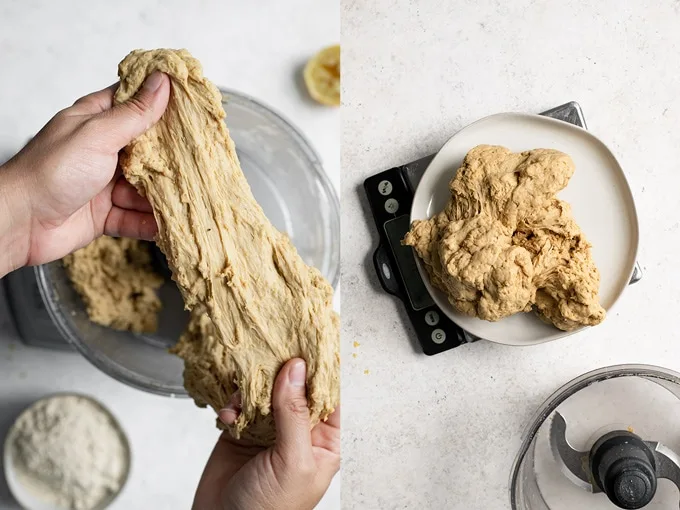 Shaping the cutlets:
No matter which method you use to make the seitan, the next step is to shape it into cutlets and cook it!
Divide the dough up into 12 equal(-ish) pieces. Press them into 1/2″ thick patties, then place onto a piece of aluminum foil. Fold the edges to meet over the center, then roll up the ends to make a small pacakge. Repeat with the remaining pieces of dough.
We roll the seitan dough in foil because this helps them hold their shape when steamed and makes for a denser seitan. No one wants spongey seitan!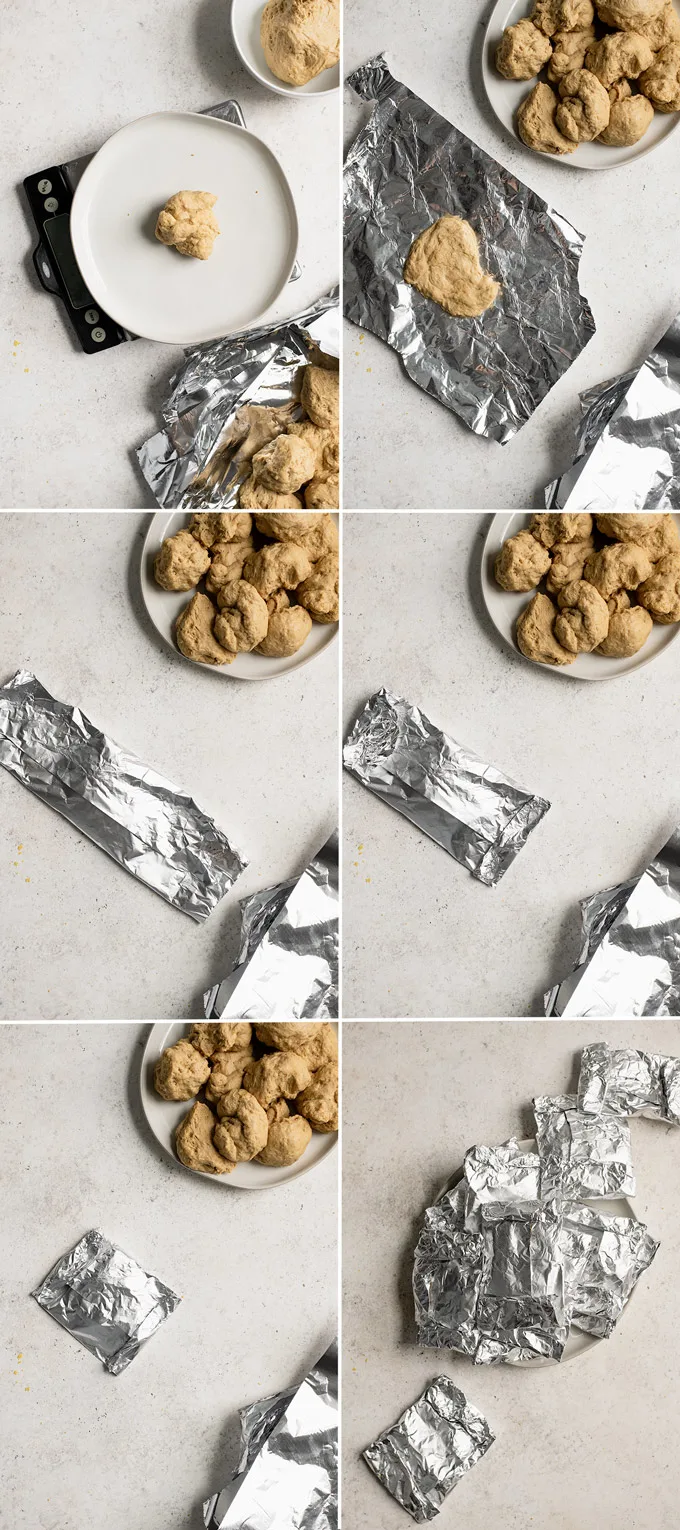 Once they're all shaped, we steam the seitan!
The cutlets can be steamed over the stove with a steamer basket, or steamed in a pressure cooker (I used the instant pot). I like both methods, and both work perfectly well.
If using a traditional steamer, let them cool in the pot until you can handle them. If using a pressure cooker, let the pressure release naturally for at least 20 minutes, then you can carefully switch to vent. Let the cutlets cool enough to handle.
Once you can handle them, they're ready to be used or stored for later! If refrigerating you can leave them in their foil. If you want to freeze some for later, unwrap them from the foil and then place in a freezer safe storage container. Defrost in the fridge before using!
You can store seitan in the fridge for about 1-2 weeks before using, or for 3-6 months in the freezer.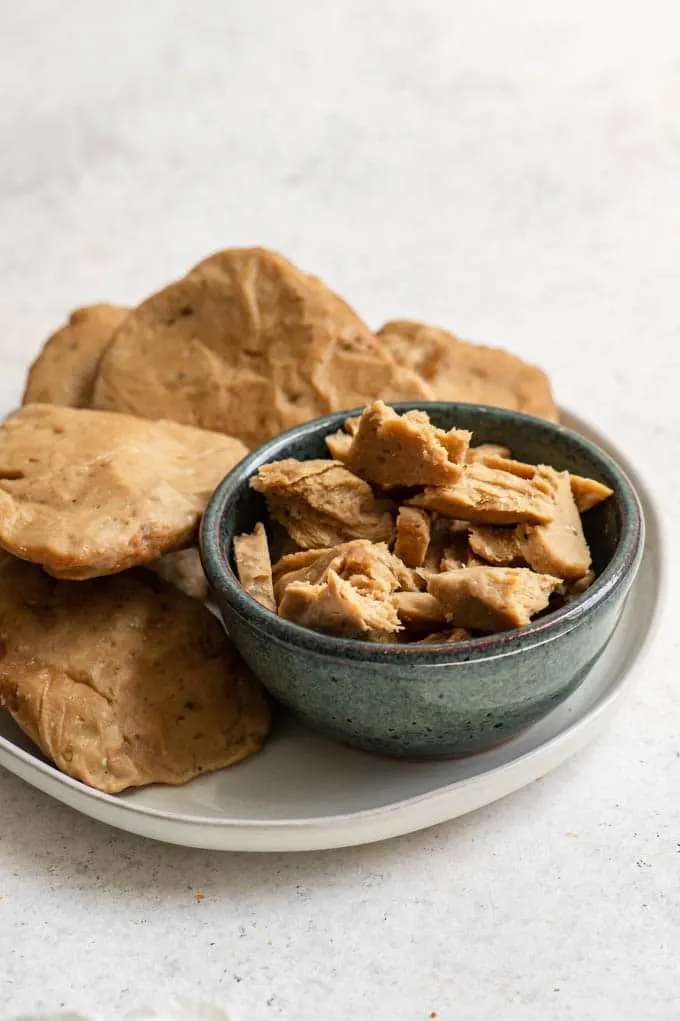 Recipe ideas for the seitan cutlets:
---
If you make these vegan chicken seitan cutlets, leave a comment below and rate the recipe on the recipe card. And please share your photos with me on Instagram, tag @thecuriouschickpea and #thecuriouschickpea. I love seeing your recreations!
---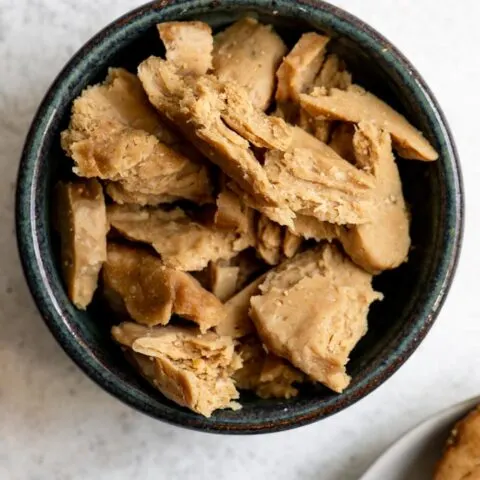 Vegan Chicken Seitan Cutlets
These vegan chicken seitan cutlets are easy to make and perfect to use in any recipe that calls for chicken!
Ingredients
2 cups (15 oz can, 282g drained) cooked chickpeas, drained and rinsed
1 1/4 cup (295g) vegetable broth, ideally no chicken style
2 tbsp (25g) extra virgin olive oil
2 tbsp (30g) lemon juice
2 tbsp (30g) soy sauce
1 clove garlic, minced
2 cups (278g) vital wheat gluten
1/4 cup (15g) nutritional yeast
1/2 tsp salt
1/4 tsp dried thyme
1/4 tsp dried rosemary
1/4 tsp dried ground sage
1/4 tsp dried oregano
Instructions
Making by hand or in stand mixer:
In a mixing bowl mash the chickpeas until no whole beans remain, some texture is ok. Add the broth, olive oil, lemon juice, soy sauce, and minced garlic and stir to combine.
In a separate large mixing bowl whisk together the wheat gluten, nutritional yeast, salt and herbs. Add the wet ingredients to the dry ingredients and mix together to form a dough. Knead by hand or using the dough hook attachment on a stand mixer for about 5 minutes, or until the seitan dough has been developed and is very elastic and you see long strands of gluten development (it will look a bit stringy). It will be very stretchy when done.
Making in the food processor:
In a food processor, process the chickpeas until they are chopped. Add the liquid ingredients and the garlic and process to combine.
Add the wheat gluten, nutritional yeast, salt, and herbs to the food processor and process for about 2-3 minutes or until the seitan is well kneaded and you see strands of gluten development and the dough looks stringy. It will be very stretchy when done. Pause your food processor every 30 seconds or so to check the seitan dough and give the motor a break.
Divide the dough and cook:
Divide the dough into 12 equal sized pieces. Prepare 12 sheets of aluminum foil, about 6" x 10". Form each piece of seitan dough into a cutlet, about 1/2" thick. Place the cutlet in the center of a piece of foil and wrap the foil to overlap in the center. Fold the ends, rolling towards the cutlet, stopping once you reach it. You will have a small and tightly wrapped package. Repeat with remaining cutlets.
Set up a steamer pot on the stove, or a steamer insert into a pressure cooker. If steaming stovetop: Place the cutlets in the steamer basket and let steam for 25 minutes. Turn off the heat and let cool down. Once cool enough to handle remove from the basket and use or store for later. If steaming in the pressure cooker: Stack cutlets on steamer basket, make sure they remain below the max fill line. Set to cook on high pressure for 15 minutes, then allow the pressure to release naturally for at least 20 minutes. Then you can vent and let cool enough to handle before removing the seitan and using immedaitely or storing for later.
Notes
Seitan can be stored in the foil or unwrapped in the refrigerator for 1-2 weeks, or stored in the freezer for longer. If freezing, unwrap the foil from the cutlets and store in a freezer safe container. You can freeze for at least 3-6 months. Allow to defrost in the fridge before using.
Recommended Products
As an Amazon Associate and member of other affiliate programs, I earn from qualifying purchases.
Nutrition Information:
Yield:

12
Serving Size:

1
Amount Per Serving:
Calories:

218
Total Fat:

4g
Saturated Fat:

1g
Trans Fat:

0g
Unsaturated Fat:

3g
Cholesterol:

0mg
Sodium:

441mg
Carbohydrates:

14g
Fiber:

3g
Sugar:

1g
Protein:

32g
Nutrition is calculated automatically so should be used as an estimate.
Other seitan recipes:
If you like making your own seitan, check out some of my other seitan recipes!