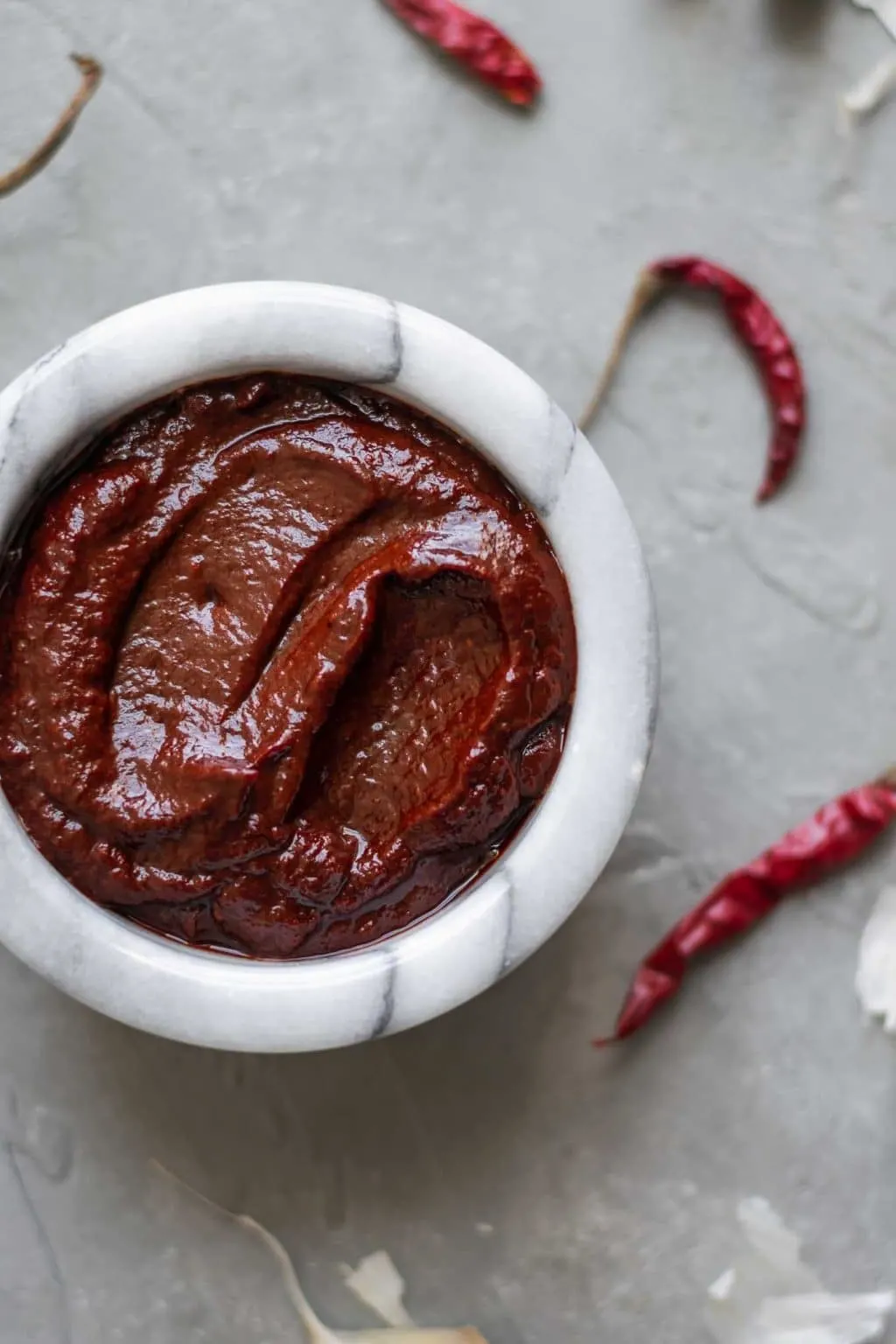 If you love Mexican food (hi! me!) then you have got to make this red chile sauce. Made from dried chiles it has all that authentic flavor your Mexican food has probably been missing. I've been experimenting with this sauce for the past 6 months (basically as an excuse to always have some version of it stashed in the fridge). It's the perfect base for your taco "meats" and Mexican soups. It makes for the most flavorful enchilada sauce, and adds so much depth to your beans. It even makes a darn good sandwich spread. And it's the easiest to make! I think you'll love it! It's a streamlined, flavor-packed, 8-ingredient recipe with almost no hands on effort and is ready in no time.
Have I convinced you to make your own Mexican red chile sauce yet? It's super easy! First we soften the chiles, and this can be done either in the microwave or on a dry skillet. Then, remove the stems and seeds. It's a really good idea to put on disposable gloves for this job, or you'll end up with fiery fingers that shouldn't go anywhere near your face or eyes. Soak the chiles in boiling hot water until they're soft and pliable, then blend the soaked chiles with garlic, salt, tomato paste, apple cider vinegar, onion powder, and some fresh water to form a paste. And then you're done! See? Couldn't be easier.
The dried chiles provide most of the flavor for this sauce. I chose ancho chiles, which are dried ripened poblanos, for their mild heat and [relatively-speaking] sweet flavor. Anchos are mildly smokey as well, which I happen to love.
Anchos make up the majority of this sauce, but I like to kick up the heat and add another layer of flavor with some chiles de arbol. These peppers are quite spicy–not habanero hot, but spicy in an enjoyable way. Chiles de arbol are a little nutty in flavor, but their main flavor element is a clean heat. They're an essential ingredient in red salsas and Mexican hot sauces for authentic flavor.
In other versions of this recipe I've included dried New Mexico chiles, which are have a mild heat similar to that of ancho chiles and a delicious earthy, mildly sweet flavor. Feel free to substitute up to half of the anchos for dried New Mexico chiles for extra layers of flavor.
The chiles are blended with aromatics for a robust and flavorful sauce. Fresh garlic adds a slight pungent flavor and a different kind of spicy heat. I use dried onion powder as it's sweet and mild, and adds some depth and oniony flavor without overpowering the sauce like cooked onion might. Apple cider vinegar adds an astringency that helps balance out the rest of the flavors. Tomato paste sweetens the sauce, mellowing it slightly and adding some extra umami. Salt acts as a flavor enhancer to make the whole thing pop.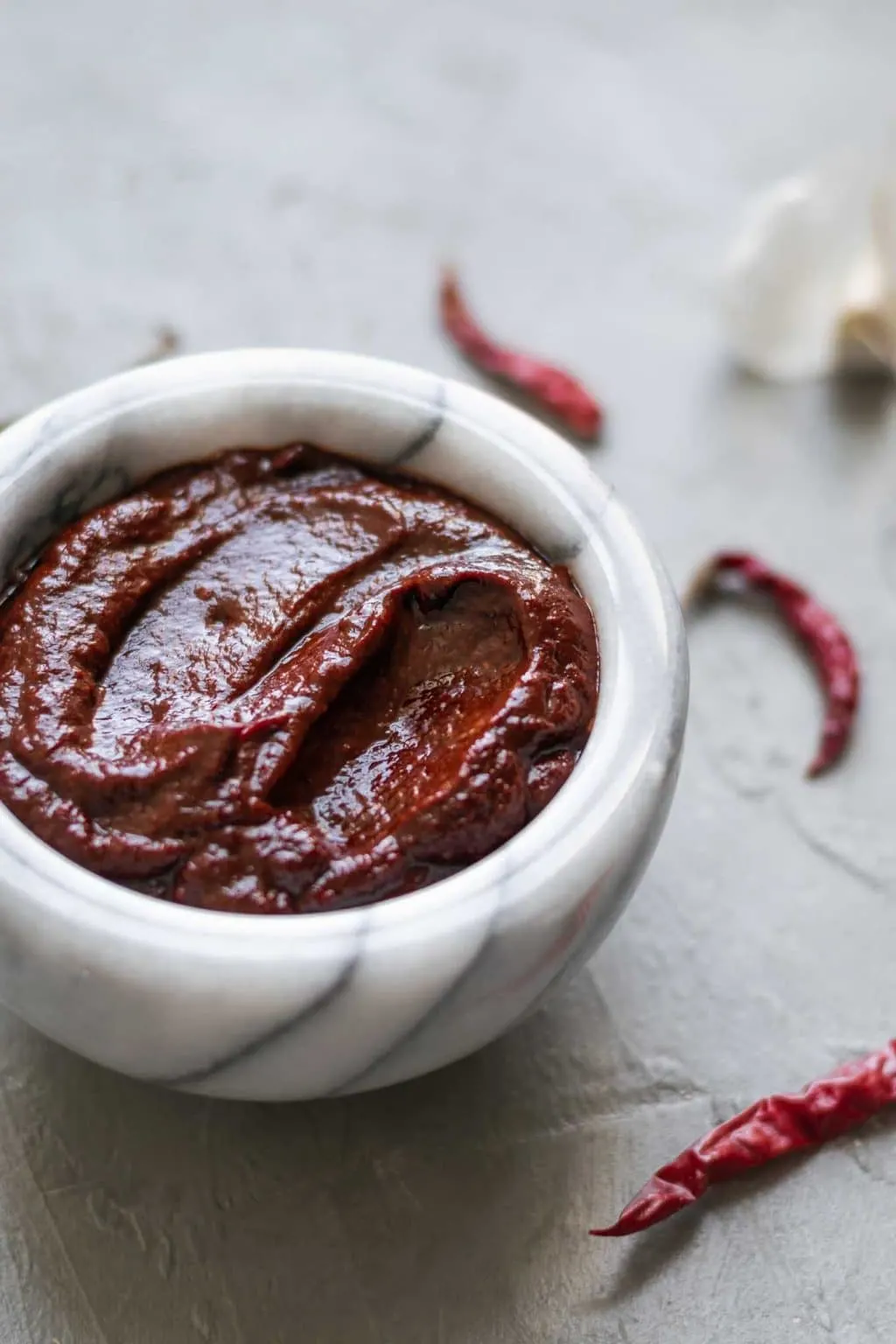 Is it spicy? Well, that all depends on who you ask. I say no, it's not. There's a lot of chile flavor going on. Like, a lot. But the chiles are deseeded (most of the heat from peppers comes from their seeds and the membrane) and I use the hotter ones (the arbols) sparingly.
If you don't like spicy food, this might not be the recipe for you. If you like spice but are a self-declared heat wimp, you can either use fewer chiles de arbol or leave them out completely. You can also use a little less of the sauce to flavor your dishes, or sweeten the sauce with extra tomato paste.
For those of us who want a deliciously complex flavored chile sauce to top their burritos or stir into some vegetables for roasting, this is the recipe for you!
How to use Mexican red chile sauce. I've sprinkled a lot of ideas throughout the post but here's a quick list of ideas.
Add to scrambled tofu
Use in any place chipotle peppers in adobo are called for [like in this tamale skillet pie, replace the chipotles and the adobo with 1/4 cup of red chile paste]
Add to seitan, soy curls, or veggie meats for a great taco/burrito filling.
Coat cut sweet potatoes, Brussels sprouts, or other veggies for roasting
Turn it into an enchilada sauce. Either thin the sauce with extra water, or some crushed tomatoes (sweeter).
Use as a salsa to top your quesadillas or dip chips into (thin out with extra water and maybe some fresh or roasted tomatoes to make a salsa.
Add to black beans, pinto beans, or any Mexican style beans. [A couple tablespoons of this chile paste would take these Mexican pinto beans to the next level].
Use in Mexican-style soups such as this red pozole (you'll notice the chile base for this soup is almost identical, you can replace it completely with this more complex red chile sauce)
This is by no means an exhaustive list, but as you can see, this chile sauce is something you should definitely keep stocked in your fridge for easy and delicious meals!
I hope you guys enjoy this chile paste! Keep your eyes out for more recipes to come making good use of this sauce. Please report back if you make it, I'd love to hear how you end up using it! Leave a comment below, tag me on Instagram (or #thecuriouschickpea), or share with me on Facebook 🙂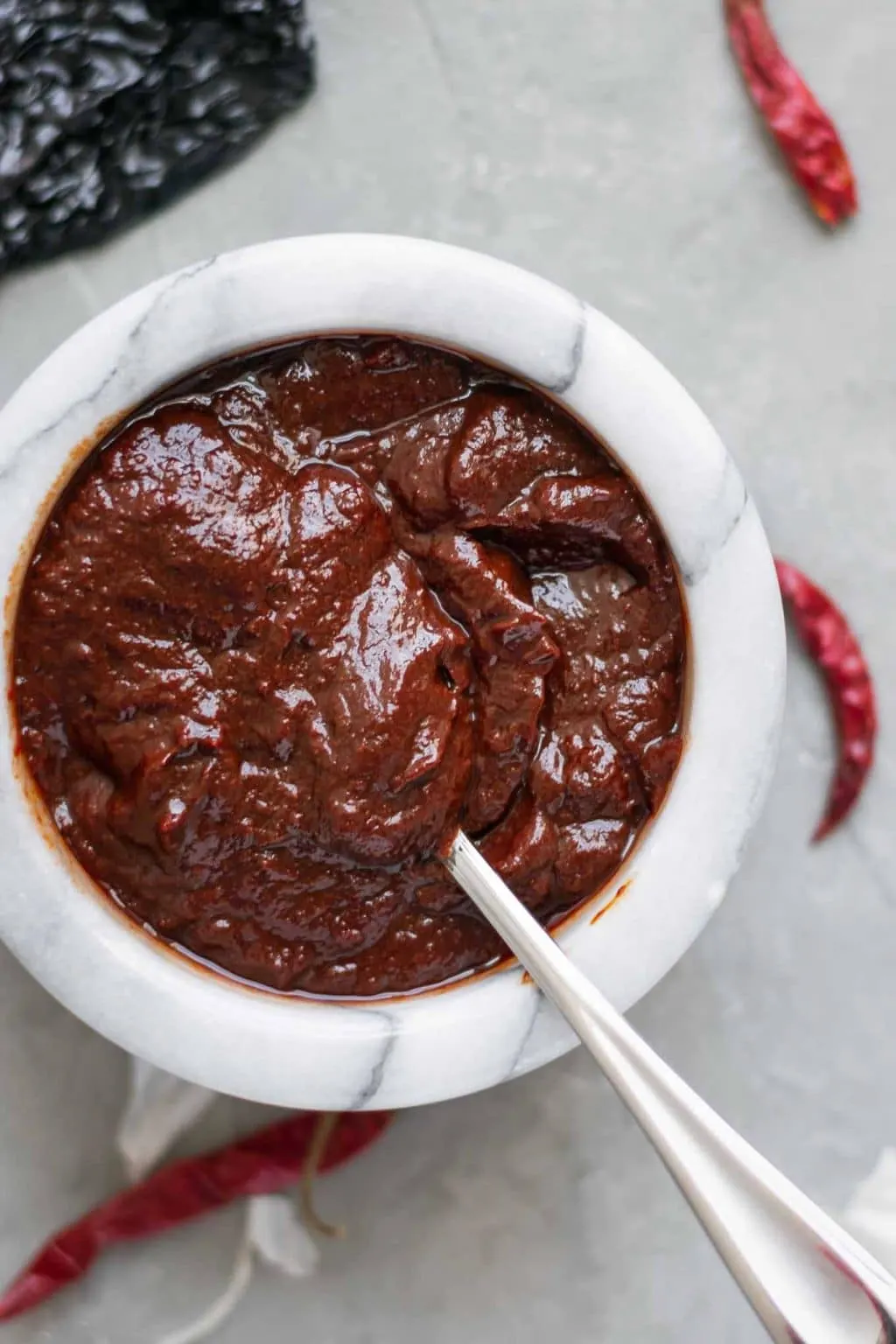 Notes:
The dried chiles can be found in a well stocked international section of your grocery store, at a Mexican or hispanic grocery store, or online (Find ancho chiles, chiles de arbol, and more on Amazon or spice shops).
For a very smooth texture you can pour the sauce through a fine mesh strainer. I personally don't find this step necessary.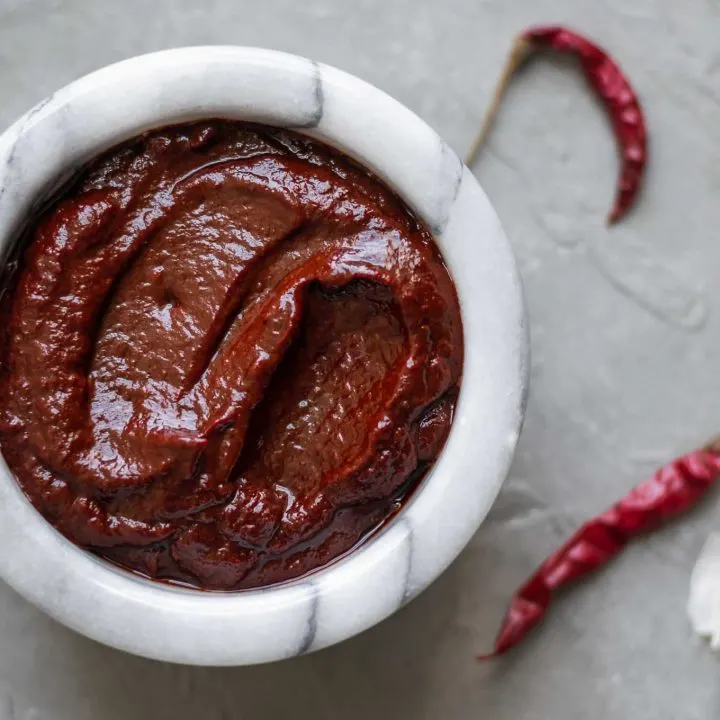 Mexican Red Chile Sauce
A complex and flavorful red chile sauce which makes a delicious base for your Mexican recipes. It's great in your vegan taco meats, as a base to Mexican soups, as an enchilada sauce, on roasted vegetables, and more!
Ingredients
3 oz dried ancho chiles
8 dried chiles de arbol
boiling water
2 cloves garlic, peeled
1 tsp salt
2 tbsp tomato paste
1 tsp apple cider vinegar
1/2 tsp onion powder
1 cup water
Instructions
Soften the dried chiles. Place the chiles in a microwave-safe bowl and microwave for 30-45 seconds until the chiles are soft and a little supple. Alternatively, on a skillet over low heat, dry cook the peppers for 3-5 minutes until they are soft and fragrant.
Wearing disposable gloves, remove the seeds and stems from the dried chiles as best as possible. In a heat-safe mixing bowl cover the de-seeded chiles in boiling hot water. Put a lid over the mixing bowl and leave to sit for 20 minutes, or until the chiles have rehydrated and softened.
Drain out the water and transfer the chiles to a blender. Add the remaining ingredients: garlic, salt, tomato paste, apple cider vinegar, onion powder, and 1 cup of water. Blend the mixture until smooth. Add a little more water if needed.
Store the red chile sauce in the fridge and use as desired.