These black bean burrito bowls make a great filling and nutritious meal. They're loaded up with ancho roasted potatoes, pan fried zucchini, rice, avocado, and lots of black beans of course! They're naturally vegan and gluten free.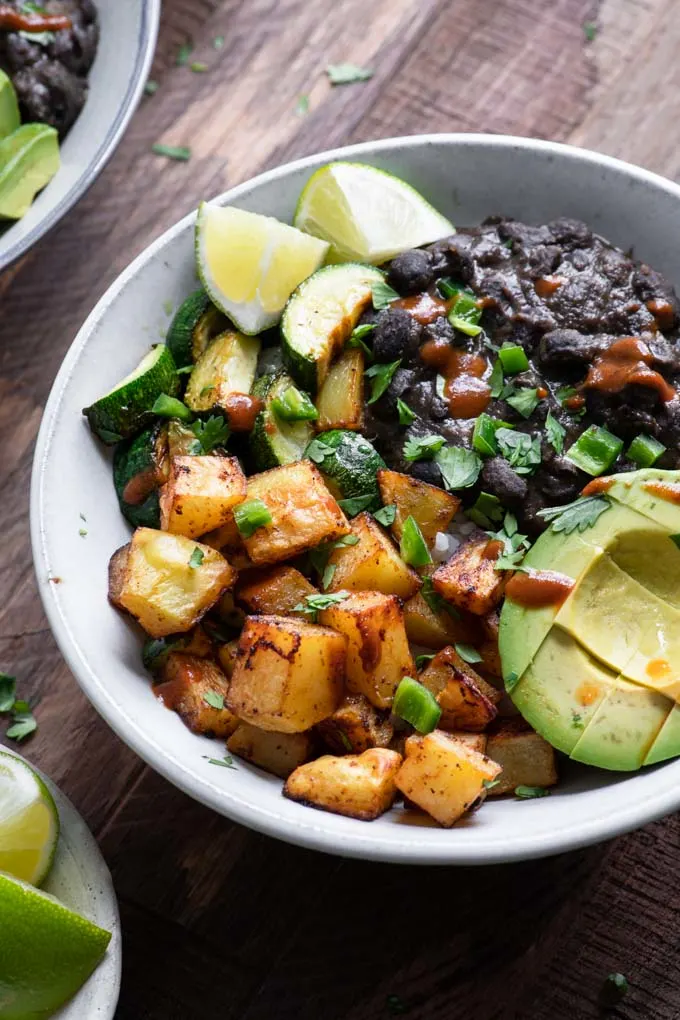 It might be due to my love of beans, but I cannot think of a more satisfying bowl than these black bean burrito bowls!
They're chock full with all the goodies, my cilantro and cumin seasoned black beans, ancho roasted potatoes, lightly pan fried zucchini, plenty of avocado, short grain rice to tie it all together, and a generous drizzle of hot sauce (or your favorite salsa) to serve!
My mouth is watering just thinking about it!
This is a good starting point for the bowl, but if you want to make any changes or adjustments you can certainly do so.
I know it's a bit crazy or over the top seeming, but I personally love the combination of the roasted potatoes and rice and highly recommend you double dose those carbs! If you'd like to use brown rice that's totally good as well.
The seasoned black beans:
So I use my homemade beans for these bowls and am obsessed with them! It makes up a big batch which means burrito bowls for ~days~ aka my dream life.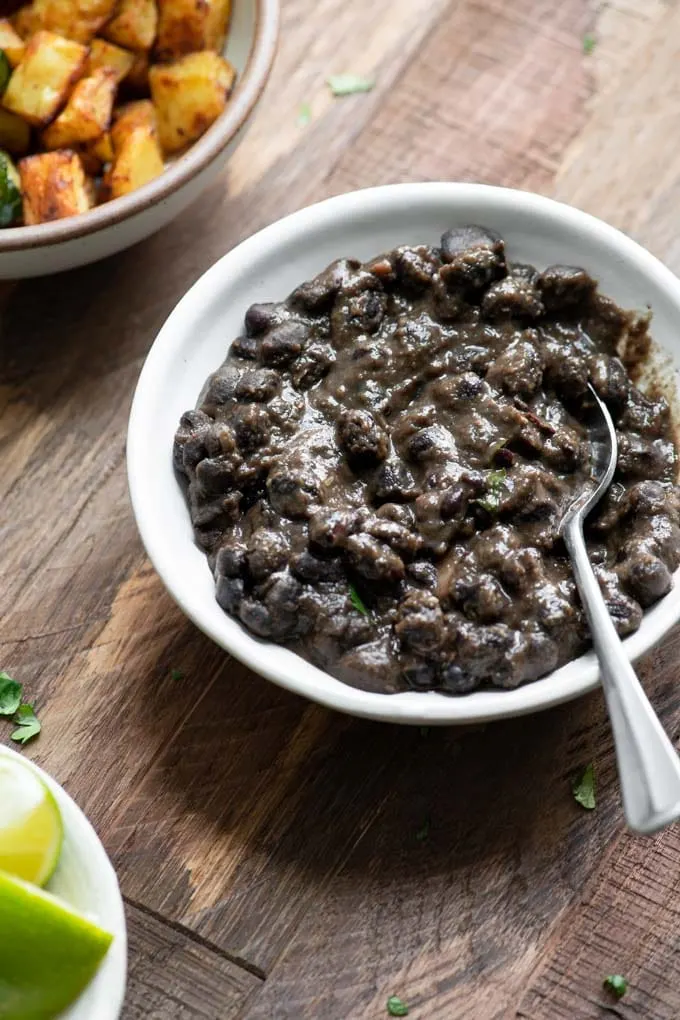 If you need a quick fix though you can use store bought seasoned beans or refried beans. I would stay away from plain canned black beans, but if you want to use those just top them with plenty of hot sauce or salsa.
My beans are so creamy and so flavorful that they take this from a nice burrito bowl to an out of this world one!
The ancho roasted potatoes:
Enter my second favorite part of these bowls, the ancho roasted potatoes. These are just roasted potatoes that are seasoned with ancho chili powder. So simple, and yet so so good!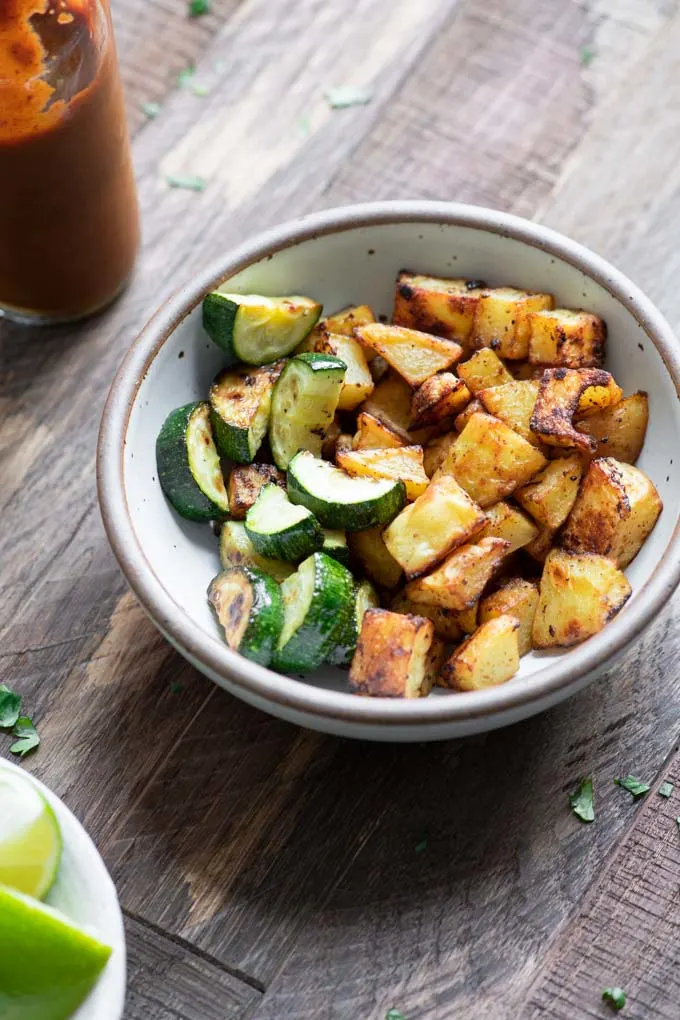 I recommend you use waxy yellow skinned potatoes like Yukon gold, red skinned potatoes, or fingerling/baby potatoes. These all cook up on the creamy side while still crisping on the outside.
But if you only have or particularly love starchy potatoes like russet potatoes then go ahead and use them instead.
Ancho chili powder is just ground up ancho chile peppers. They're a mild pepper when it comes to heat–they're actually dried ripe poblano peppers.
If you don't have ancho chili powder (I recommend you buy some to have and use it always) then go ahead and use your regular chili powder blend instead.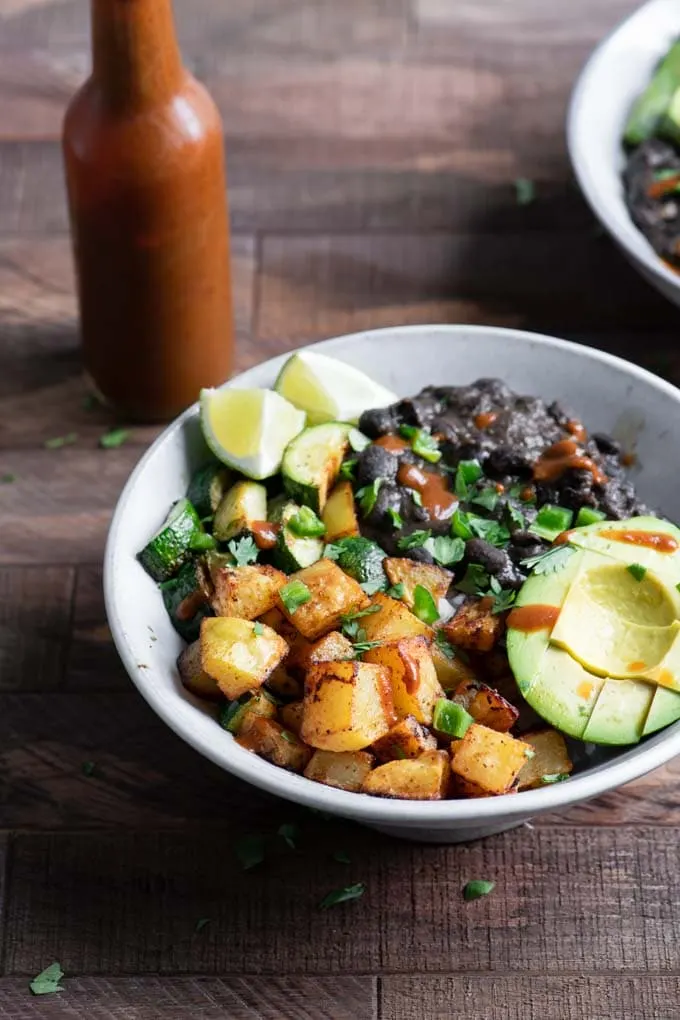 The zucchini:
I personally love the addition of zucchini to these bowls. Buy smaller zucchini as these are younger and are usually sweeter and more tender.
A quick pan fry till they turn golden and a sprinkling of salt and pepper is all you need to make the zucchini!
They act as a mild and juicy counterpart to the rest of the goings on in the bowl.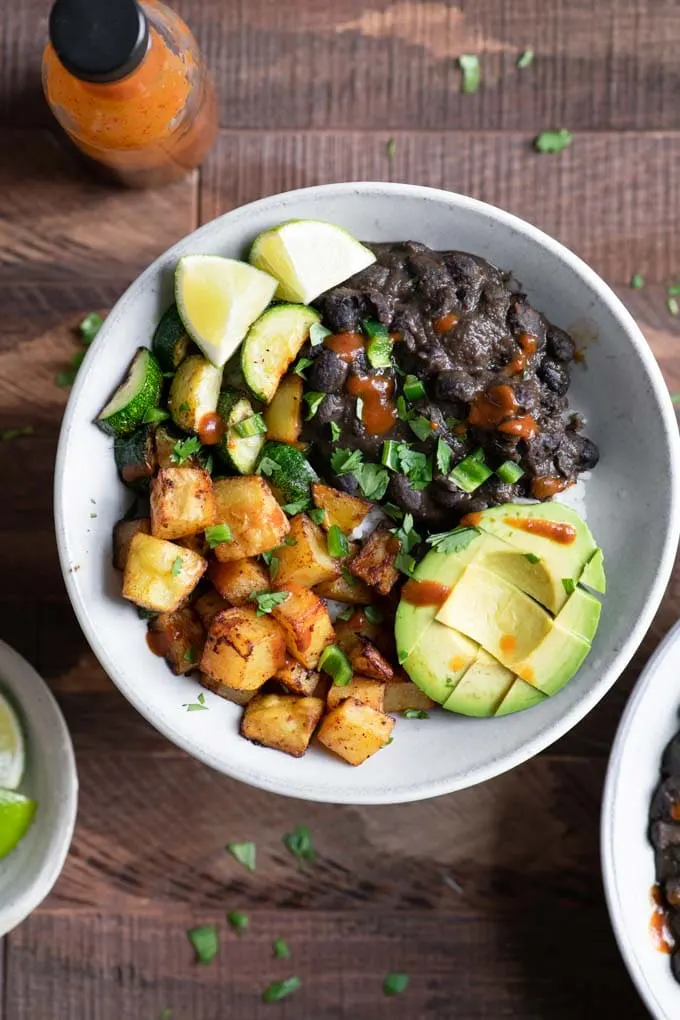 Everything else for the black bean burrito bowls:
I like to cook up a big batch* of short grain rice for these bowls. Short grain rice is often a bit stickier which works really nicely for your burrito bowls.
*I cook 2 cups of dried rice, which increases in volume to about 6 cups of cooked rice.
If you'd like to use another grain then go ahead and give that a go!
The avocado comes next. I like to cut it into cubes and mix into the bowls before eating. Then I get these lovely big buttery cooling bites of it. Mmmm…
Don't forget to add either hot sauce or salsa to your bowls! Most recently we actually enjoyed this with some homemade spicy roasted tomato salsa. I just dolloped a couple of big spoonfuls of salsa on top of my bowls.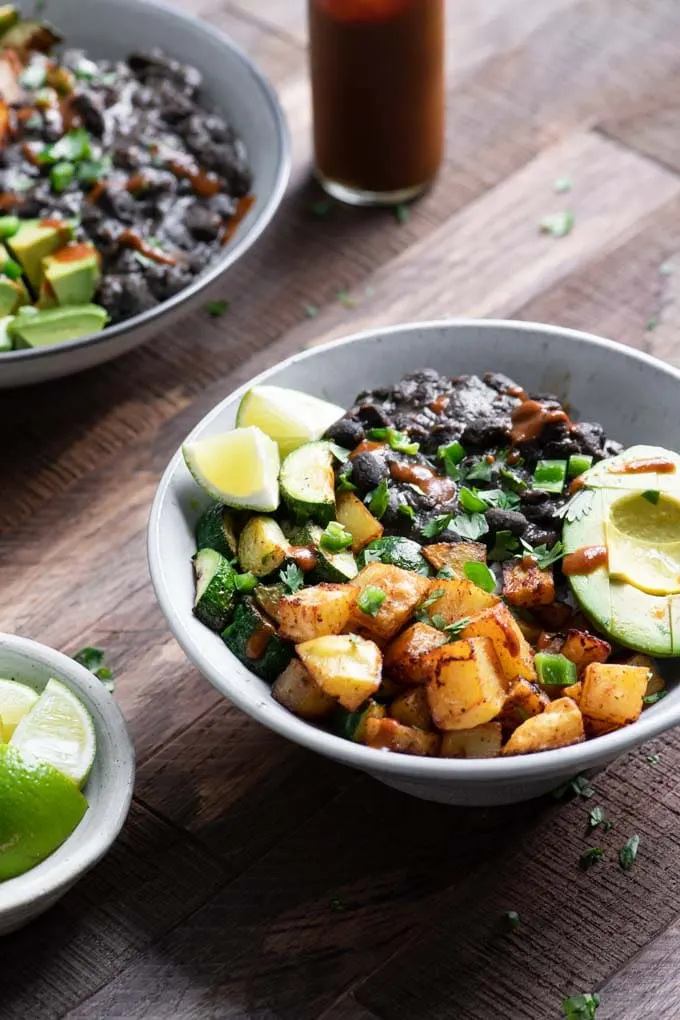 I like to serve my black bean burrito bowls with a side of lime wedges for squeezing on to serve. A little citrus goes a long way! I mean really I like to use a lot of citrus, but I just mean it's tasty, ok!
Another favorite thing to do is to add quick pickled red cabbage or quick pickled red onion. That sharp sweet and sour vinegary bite is so good!
If you make these black bean burrito bowls, leave a comment below and rate the recipe on the recipe card. And please share your photos with me on Instagram, tag @thecuriouschickpea and #thecuriouschickpea. I love seeing your recreations!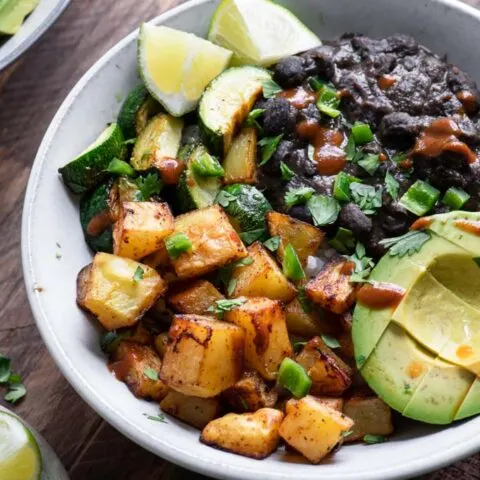 Black Bean Burrito Bowls
These burrito bowls are loaded with cilantro and cumin seasoned black beans, ancho roasted potatoes, pan fried zucchini, avocado, and rice for a delicious and nutritious meal! They're naturally vegan and gluten free and perfect for meal prep or feeding larger groups of people. It's easy to increase or decrease the amounts of the components to make more or less as needed.
Ingredients
Ancho Roasted Potatoes
1 1/2 lbs potato
1 tbsp oil
1 1/2 tsp ancho chili powder
1/2 tsp salt
Zucchini
2-4 zucchini, cut into half moons
2 tsp oil
salt and pepper to taste
Everything Else
6 cups cooked rice
avocado, cut into cubes
cilantro, for garnish
minced jalapeño, for garnish (optional)
hot sauce or salsa, to serve
lime wedges, to serve
Instructions
Cut potatoes in 1/2-inch dice (peeling optional). Toss the cut potatoes in the tablespoon of oil, ancho chili powder, and 1/2 teaspoon of salt. Bake at 425 ºF for 25 minutes, stirring halfway through, or until potatoes are tender and golden.
Heat up a large skillet over medium heat. Add 2 teaspoons of oil then the zucchini and a sprinkle of salt. Pan fry until golden, about 5 minutes. Season with salt and pepper to taste.
Assemble your bowls: add cooked rice to the bottom, then top with black beans, roasted potato, zucchini, and avocado. Sprinkle on minced cilantro and jalapeño for garnish, then drizzle with hot sauce or spoon on salsa. Squeeze lime juice on to taste.
Notes
You can use store bought refried beans or seasoned black beans if you prefer. Use 2 15 oz cans of beans.
For easy meal prep make the components in advance and reheat individual portions to serve.
Nutrition Information:
Yield:

8
Serving Size:

1
Amount Per Serving:
Calories:

596
Total Fat:

16g
Saturated Fat:

2g
Unsaturated Fat:

12g
Sodium:

217mg
Carbohydrates:

97g
Fiber:

22g
Sugar:

4g
Protein:

21g
Nutrition is calculated automatically so should be used as an estimate.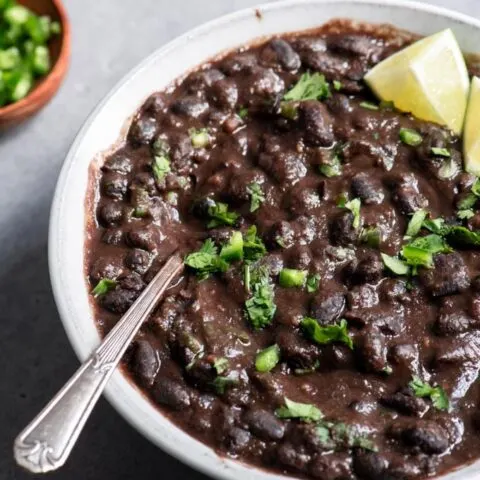 Seasoned Black Beans
Inactive Time:
50 minutes
Total Time:
1 hour
25 minutes
These cilantro and cumin seasoned black beans are easy to make and so incredibly flavorful. Enjoy them on their own, in bowls, tacos, burritos, enchiladas or more!
Ingredients
Black Beans
1 lb (2 1/2 cups) dried black beans
5 cups water
1 tsp salt
Seasoning
4 tbsp oil, divided
1 red onion, chopped
2 jalapeños (more or less to taste, remove seeds for less heat), chopped
4 cloves garlic, minced
1 tsp whole cumin seed
1/2 tsp red pepper (more or less to taste)
1 tbsp dried Mexican (substitute Mediterranean) Oregano
1 bunch cilantro, leaves and tender part of stems, coarsely chopped
1/4 cup fresh lime juice (~2 limes)
1/2 tsp salt, more to taste
1/2 tsp garlic powder
Instructions
Sort any debris from dried beans, then rinse them thoroughly. Place beans in pressure cooker and add the 5 cups of water and teaspoon of salt. Bring to high pressure and cook for 25 minutes, then let naturally release for 20 minutes before releasing any final pressure.
Heat a skillet over medium heat and add 1 tablespoon of oil, the onion, and a pinch of salt. Sauté until the onion is softened and golden in spots, about 5 minutes.
Add the jalapeño and garlic and sauté 1-2 minutes, until they are a shade darker.
Push the vegetables over to one side of the pan, then add a tablespoon of oil in the empty space. Add the whole cumin, oregano, and crushed red pepper to the oil and let sizzle for 30 seconds, then add the salt and garlic powder and stir the spices into the onion mixture and turn off heat.
Transfer the onion mixture to a blender and add the cilantro, lime juice, and final 2 tablespoons of oil. Blend until fairly smooth.
Add the blended seasoning to the beans and bring to a low simmer, if using an Instant Pot cook on the sauté mode on less or normal to achieve this, if using a pot keep it on medium-low or low heat. Let simmer for 10-15 minutes, stirring regularly, or until the beans reach the desired consistency. If you want a more refried bean texture you can mash the beans partially or use an immersion blender.
Taste and add salt as needed. Beans will thicken as they cool. Keep stored in the fridge for 1 week, or freeze for longer storage.
Notes
To use canned or previously cooked beans, substitute 4 15oz cans, or about 7 cups cooked beans. If using low or no salt added beans you can include the liquid in the can, otherwise drain and rinse the beans. Add 1-2 cups of water or broth, and more as needed to get the desired consistency, then continue with the recipe.
Recommended Products
As an Amazon Associate and member of other affiliate programs, I earn from qualifying purchases.
Nutrition Information:
Yield:

12
Serving Size:

1
Amount Per Serving:
Calories:

180
Total Fat:

5g
Saturated Fat:

0g
Trans Fat:

0g
Unsaturated Fat:

5g
Cholesterol:

0mg
Sodium:

299mg
Carbohydrates:

26g
Fiber:

6g
Sugar:

1g
Protein:

9g
Nutrition is calculated automatically so should be used as an estimate.