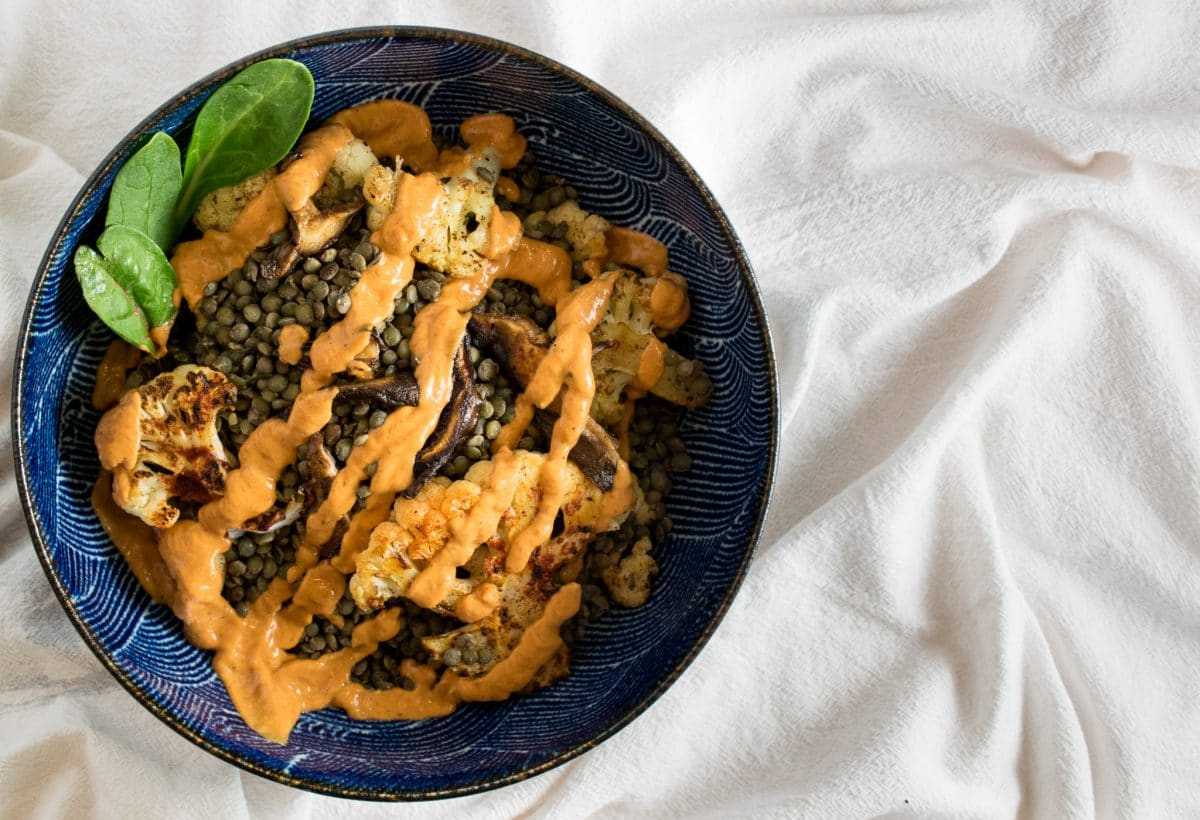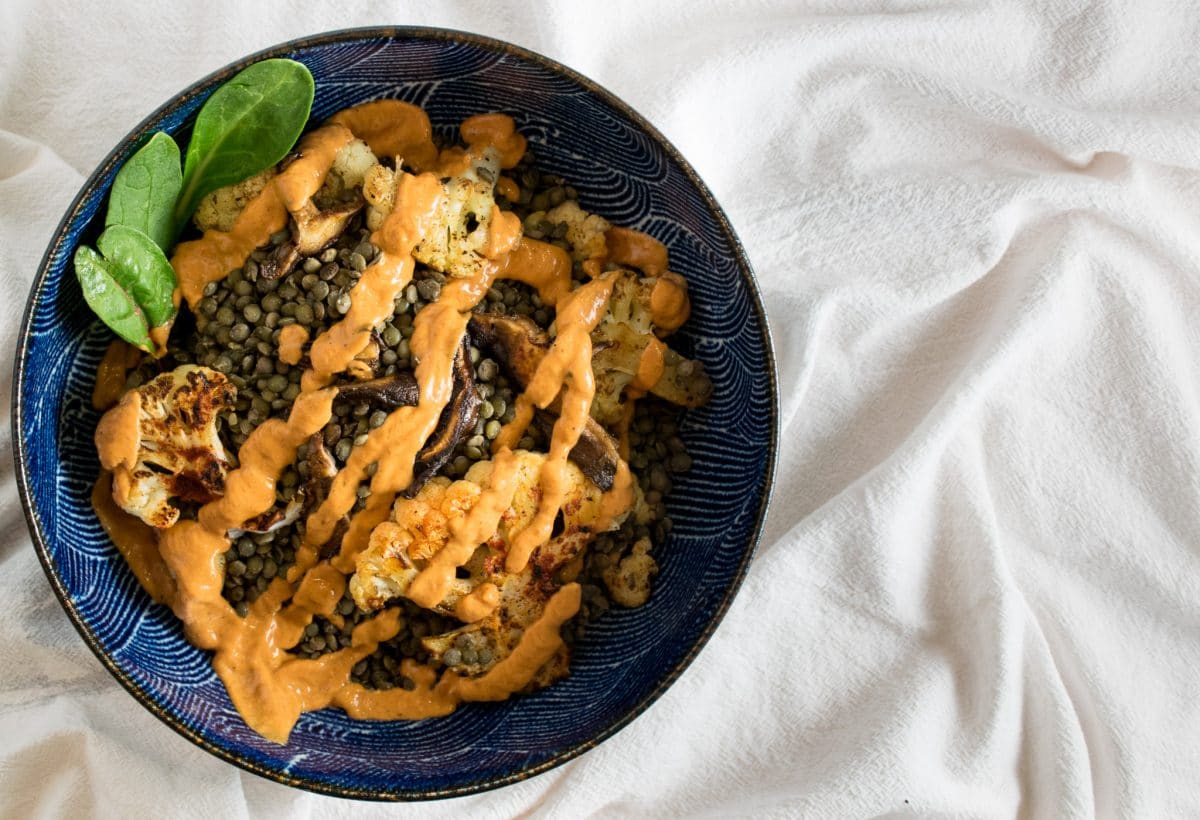 Pan roasted cauliflower rubbed with smoked paprika, french lentils simmered with thyme, chewy sweet and salty shiitakes, and the smokiest zippiest sauce to finish it off. This recipe is oh so delicious. It's of the cuisine I've named Pan-European, with cauliflower being from the Mediterranean, smoked paprika being Eastern European, the lentils being French (duh), and the sauce inspired from the Catalan salbitxata (which really seems to be a version of romesco that also includes tomatoes). And the shiitakes, well, they don't quite fit into my analogy, given that I've used a mushroom from East Asia for it's preferable texture.
I really love this recipe. I love the smoky flavors and the contrast of textures from the different components. I love how it can be dressed up and plated beautifully for a fancy dinner, or tossed together in a bowl and brought to your weekend potluck. I love that it includes my favorite things: cauliflower, lentils, a flavor-packed creamy sauce. You'll note I don't mention mushrooms, because, to be honest I don't love them and they are there for my husbands benefit (and yours).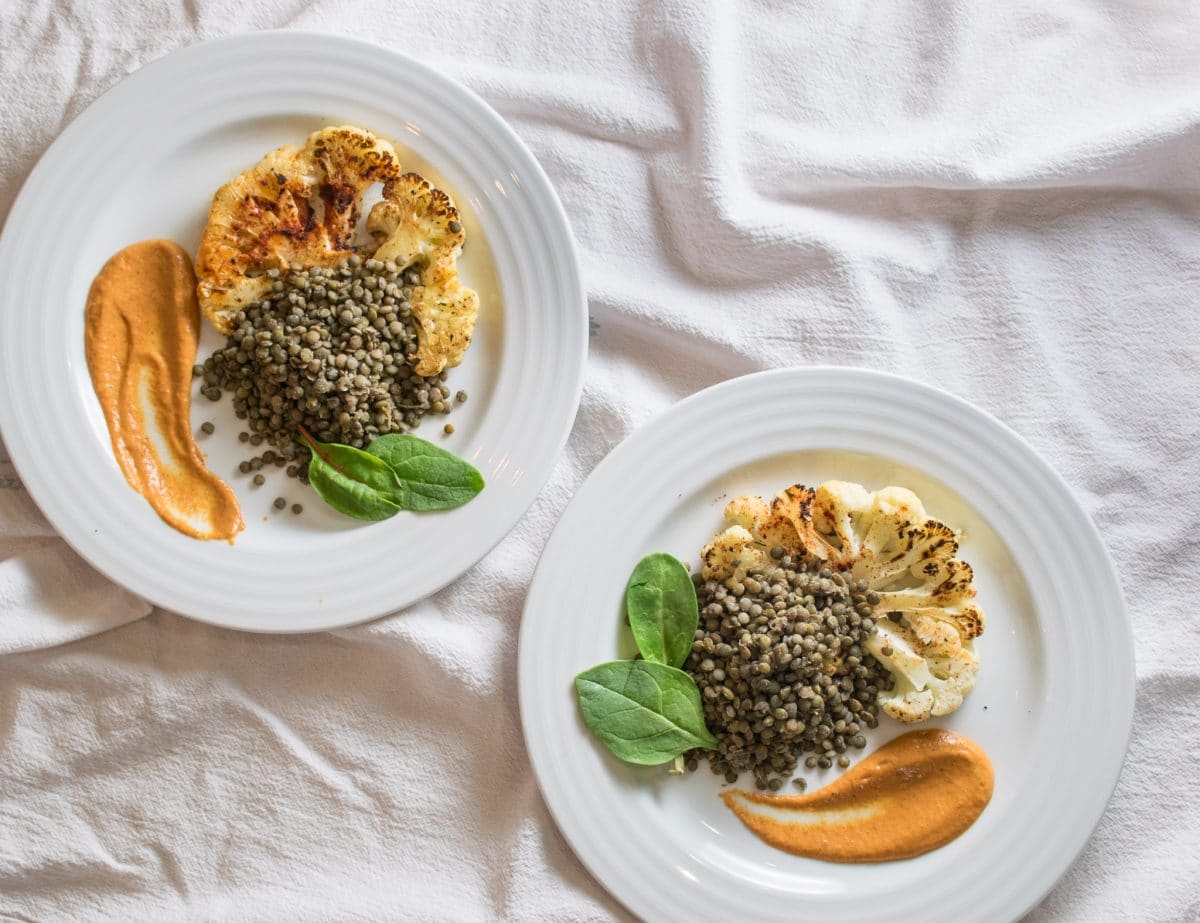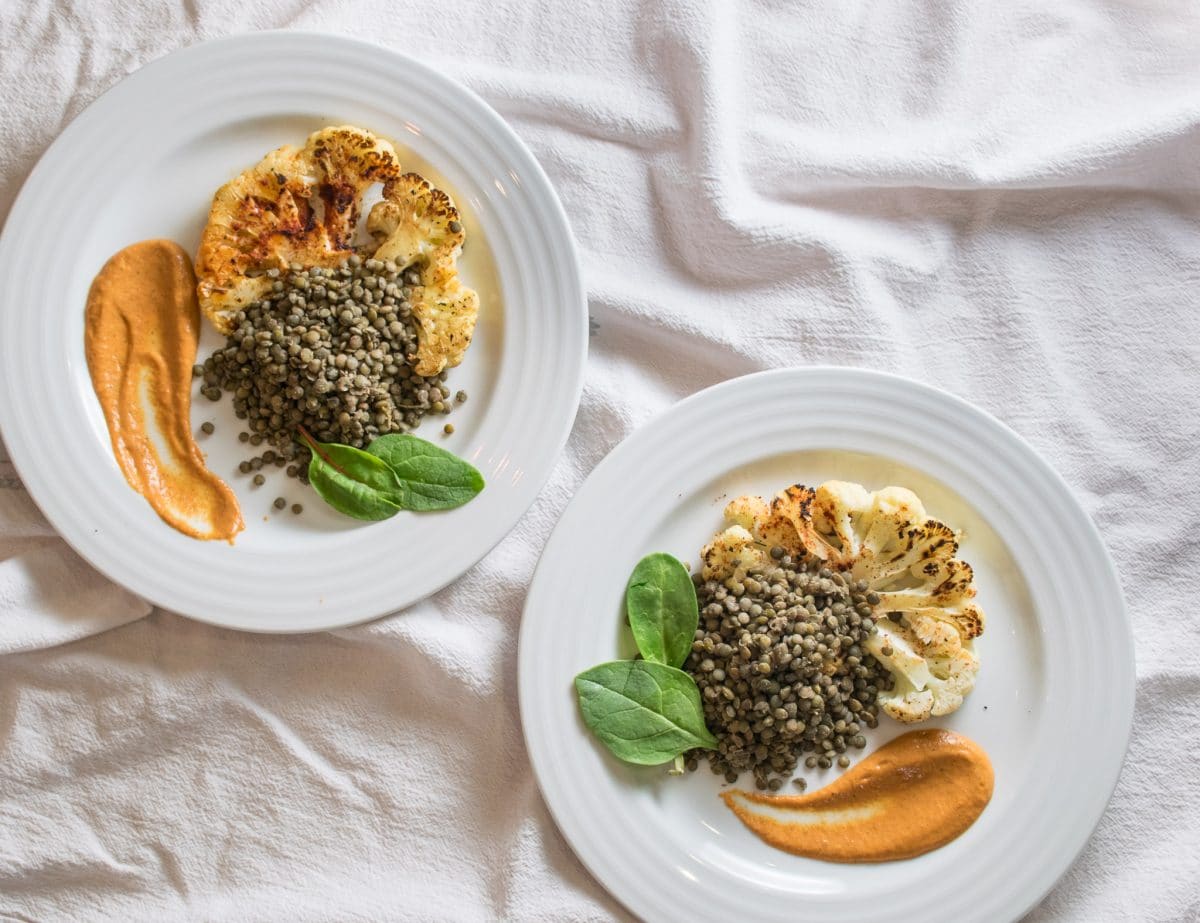 We really should take a moment to go over how wonderful this sauce recipe is. While I've tried my fair share of romesco sauces, I had never heard of salbitxata until flipping through my copy of Plenty More (a seriously gorgeous book). Based on my internet research, it seems as though salbitxata typically doesn't include red pepper, but Ottolenghi's version does and I thought it would add great sweet, smoky flavor to the sauce. Toasting the almonds before use enhances the sweet, nutty flavor, providing the perfect base. Roasting chiles and garlic alongside the red pepper until their skins are blackened gives extra smoked flavor. I used fire roasted canned tomatoes and loved the result, but with tomato season coming upon us, roasting a few fresh tomatoes alongside your peppers and garlic would also be perfect in this. Sherry or red wine vinegar brings a slight sourness to the sauce, balancing out the smoky flavor. A pinch of salt is all you need to enhance the flavors, and smoked paprika is icing on the cake. The last ingredient, olive oil, emulsifies the sauce, turns it a brighter orange, and combines with the ground almonds for that rich creamy mouthfeel. Not to mention, the richness of the sauce balances out the lightness of the veggies and lentils, and makes for a filling meal.
It might seem as if there are a lot of things going on in this recipe. And to some extent, yes, there are a lot of components to prepare for the dish. But each one is really quite simple, and if you work on them simultaneously the dish will come together in no time!
A simple workflow that works for me is:
Begin with the sauce, pre-heating the oven and getting your ingredients out and prepped while it heats.
While you're toasting and roasting your ingredients for the sauce, cook the lentils, setting aside when ready and cover to keep warm.
Let your roasted garlic and chiles (and pepper when it's ready) steam while you first blanch then panfry your cauliflower.
Whip up the sauce in the blender or food processor while you sauté your mushrooms (if making).
We really enjoyed eating this recipe and hope you do too! If you try it (or if you just try the sauce–seriously, do it), let me know! Leave a comment and/or rate the recipe below, tag me on Instagram, or let me know on Facebook! I love seeing & hearing about it when you guys make my recipes!

Notes:
The roasted red pepper sauce makes plenty of extra, so you can easily double or triple the cauliflower and lentils to serve more people!
The recipe is delicious served warm or cold! Perfect for summer get togethers!
You can certainly switch out the cauliflower with or include other veggies in the recipe. Zucchini and summer squash would pair nicely with the sauce. Skip the blanching step for the quicker cooking veggies.
You can choose another lentil variety, but make sure it's one that holds its shape when cooked.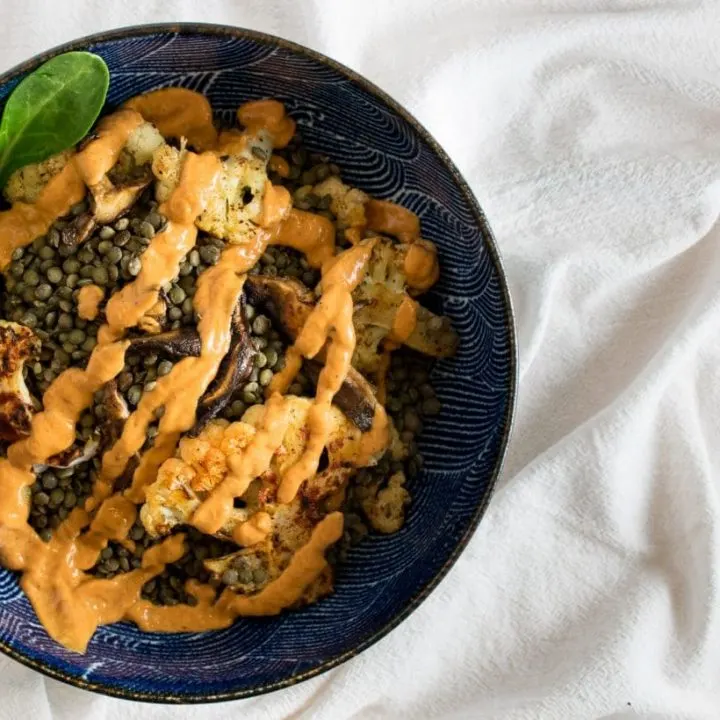 Cauliflower and French Lentils with Smoky Red Pepper Sauce
Smoky pan fried cauliflower and chewy french lentils are served with an über smokey roasted red pepper almond sauce, my take on romesco.
Ingredients
Roasted Red Pepper Sauce*
1/2 cup almonds
1 red bell pepper
2 whole chiles
5 unpeeled garlic cloves
1 1/2 cups (15 oz) canned tomatoes*
1 tbsp sherry vinegar (can sub red wine vinegar)
1/2 tsp smoked paprika
pinch of salt, or to taste
1/2 cup olive oil
French Lentils
1 cup (190 g) dry french lentils
2 cups water
1 bay leaf
1/2 tsp dried thyme or a couple sprigs fresh thyme
1/2 tsp salt
Cauliflower
1 head cauliflower
1 tbsp oil
salt & pepper to taste
1/2 tsp smoked paprika
Sweet Smokey Shiitake (optional)
1 tsp oil
2.5 oz shiitakes
1 tsp maple syrup
2 tsp soy sauce
dash of liquid smoke
Instructions
To make the roasted red pepper sauce
Preheat oven to 325 ºF.
Spread almonds on a small baking tray, and roast for 12-15 minutes, stirring halfway through, until the almonds are aromatic and toasty and shade darker. Transfer to a small food processor or blender.
Turn the oven to broil and move the baking rack ~8" from top burner.
Place the red bell pepper, the chiles, and the unpeeled garlic cloves on the baking tray. Roast under the broiler for 8-10 minutes, or until the top side of the bell pepper is well burnt, the skin of the chiles is also blackened, and the skins of the garlic are black in spots. Place chiles and garlic in a bowl and cover to steam to loosen the skin. Rotate the red bell pepper so a new side faces up, and return to the broiler for ~15 minutes, turning every 5 minutes until all sides are well blackened. Transfer to the bowl, cover, and set aside.
In the food processor or blender, process the almonds until finely ground.
When they are cool enough to handle, peel the garlic cloves and the chiles (if you can't get the skin off the chiles don't worry about it, it adds flavor), removing seeds if desired for less heat. When the bell pepper is cooled, peel off the blackened skin, don't worry if a tiny bit is stubborn and left behind, and dispose of the stem and seeds. Add the garlic, chiles, and bell pepper to the blender or food processor, along with the tomatoes, sherry vinegar, smoked paprika, and a pinch of salt. Process until smooth, then stream in the olive oil and blend until emulsified. Set the sauce aside.
To make the French lentils
Separate any foreign material from the dry lentils, then rinse them clean. Place in a small pot with the water, bay leaf, thyme, and salt. Bring to a boil, then reduce heat and simmer for 20-25 minutes until lentils are fully cooked and tender. They will still have a slightly chewy texture. Drain away any excess water and set aside.
To make the cauliflower
For serving as a salad or family style cut the cauliflower into florets. For a plated presentation cut the cauliflower into 1/2" thick slabs. The sides will break apart into florets, just cook them alongside the slabs.
Bring a pot of water to a boil, and then add the cauliflower and cook for 1 minute, then drain.
Heat a large non-stick skillet over medium heat. When the skillet is hot, add the oil then the cauliflower. Sprinkle some salt, a generous helping of black pepper, and the smoked paprika on top of the cauliflower. Cook for 2-3 minutes until browned and golden, then flip and cook an additional 2-3 minutes until also caramelized. Remove from heat and set aside.
To make the optional shiitake mushrooms
Add a teaspoon of oil to the hot skillet (medium heat), then add the mushrooms. Sauté for 3-5 minutes, stirring occasionally, until the mushrooms are caramelized. Then add the maple syrup, soy sauce, and liquid smoke and cook another 1-2 minutes until the mushrooms are nicely coated.
To serve:
For the salad: Toss or layer lentils and cauliflower in a serving bowl, top with mushrooms if using, and drizzle with plenty of red pepper sauce.
For a plated presentation: place a slab of cauliflower on a plate, spoon some lentils over the cauliflower, and spoon some sauce along the edge of the plate.
Serve extra sauce alongside incase anyone wants extra!
Notes
*adapted from Plenty More
*fire roasted tomatoes are really great here