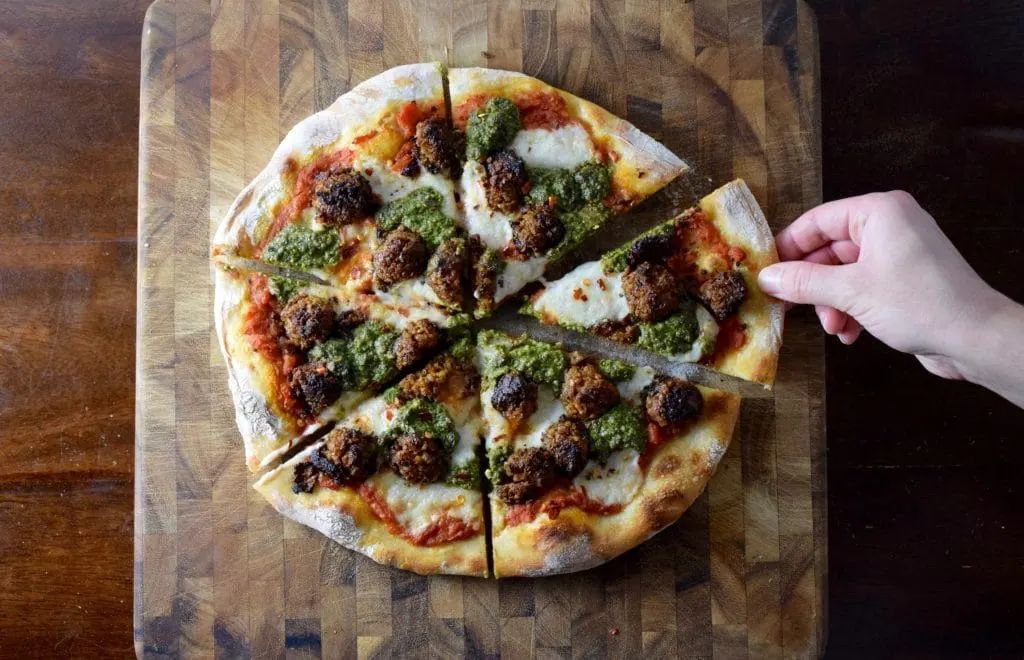 I rarely repeat recipes. It's not that I don't like to eat the same things over and over again, because I do. But there are too many new dishes to try, not enough meals in a day, days in a year.
And I love eating leftovers, so typically cook in quantities that last us for lunches for a few days, which is almost the same thing as cooking a dish over and over again (right?). That's not to say there aren't things I make semi-regularly, but I like to do variations and generally switch things up.
But these chickpea pizza balls. So versatile, so pantry friendly, so delicious. I whipped them up originally to make meatball subs after baking some hoagie-style rolls.
Then a couple weeks later I made them again and threw them on a pizza. I made them for a spaghetti and chickpea balls dinner.
A bit after that I made them to stuff into some freshly baked pretzel rolls. If I want to eat them that regularly in a few months, maybe you will too.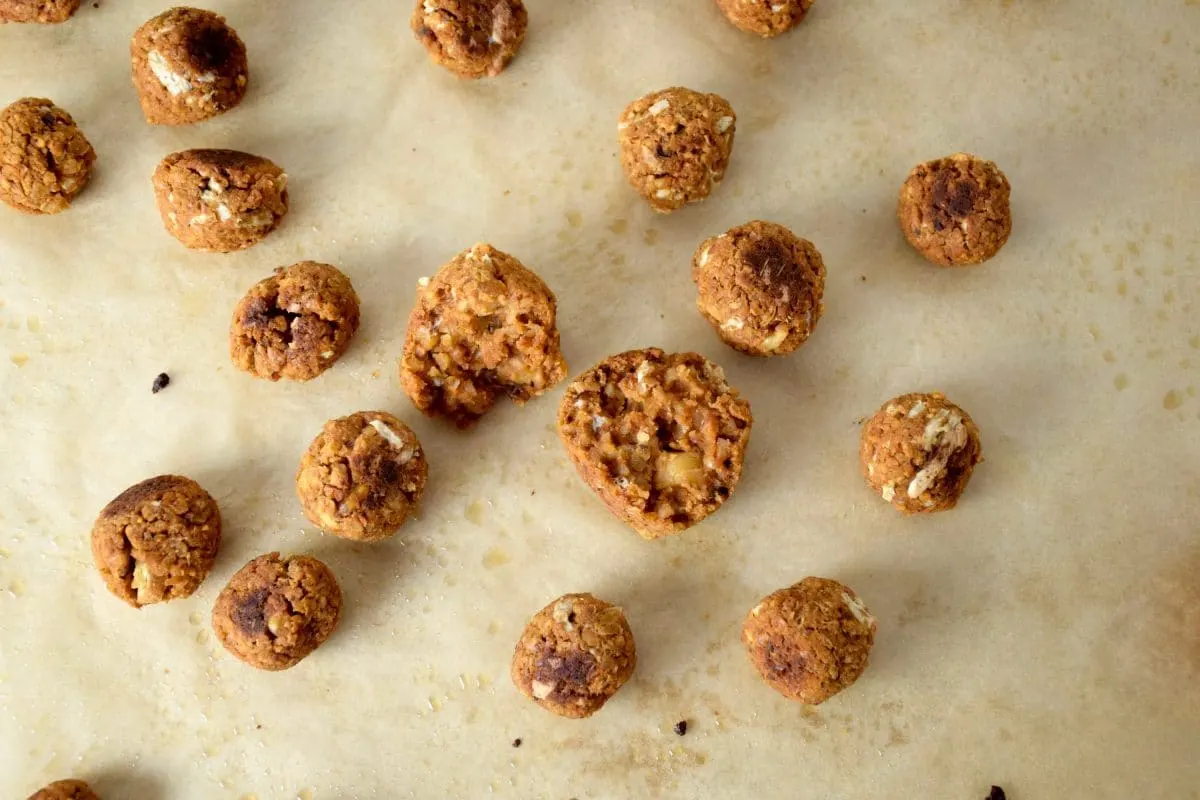 They're pretty easy. Toast some walnuts, rehydrate some bulgur, toss a bunch of stuff in the food processor, shape some balls, a quick trip through the oven, and voila. Little morsels of tasty.
To get that perfect texture, where they hold together but still have a little chunkiness, the key is to hold back some of the chickpeas before processing, and process to get a nice, sticky, well ground texture from most of the mixture, before tossing in the last chickpeas, the vegan cheese (if using), and breadcrumbs (which you want to add last so they don't absorb too much moisture before baking).
I have to admit, that while I love traditional basil pine nut pesto, since making this pepita pistachio arugula pesto, I've really been branching out in my green sauces.
I love the peppery flavor of arugula, the earthiness of pepitas, and the sweetness of pistachios. It combines so well for a super flavorful pesto, and goes great on this pizza, as well as with whole grain pasta. I regret being a pesto traditionalist for way too many years, I missed out on so much!
Let me know if you make this pizza, or any of the components! We are pretty obsessed over here. And if you want more pizza inspiration, check out my other pizza recipes!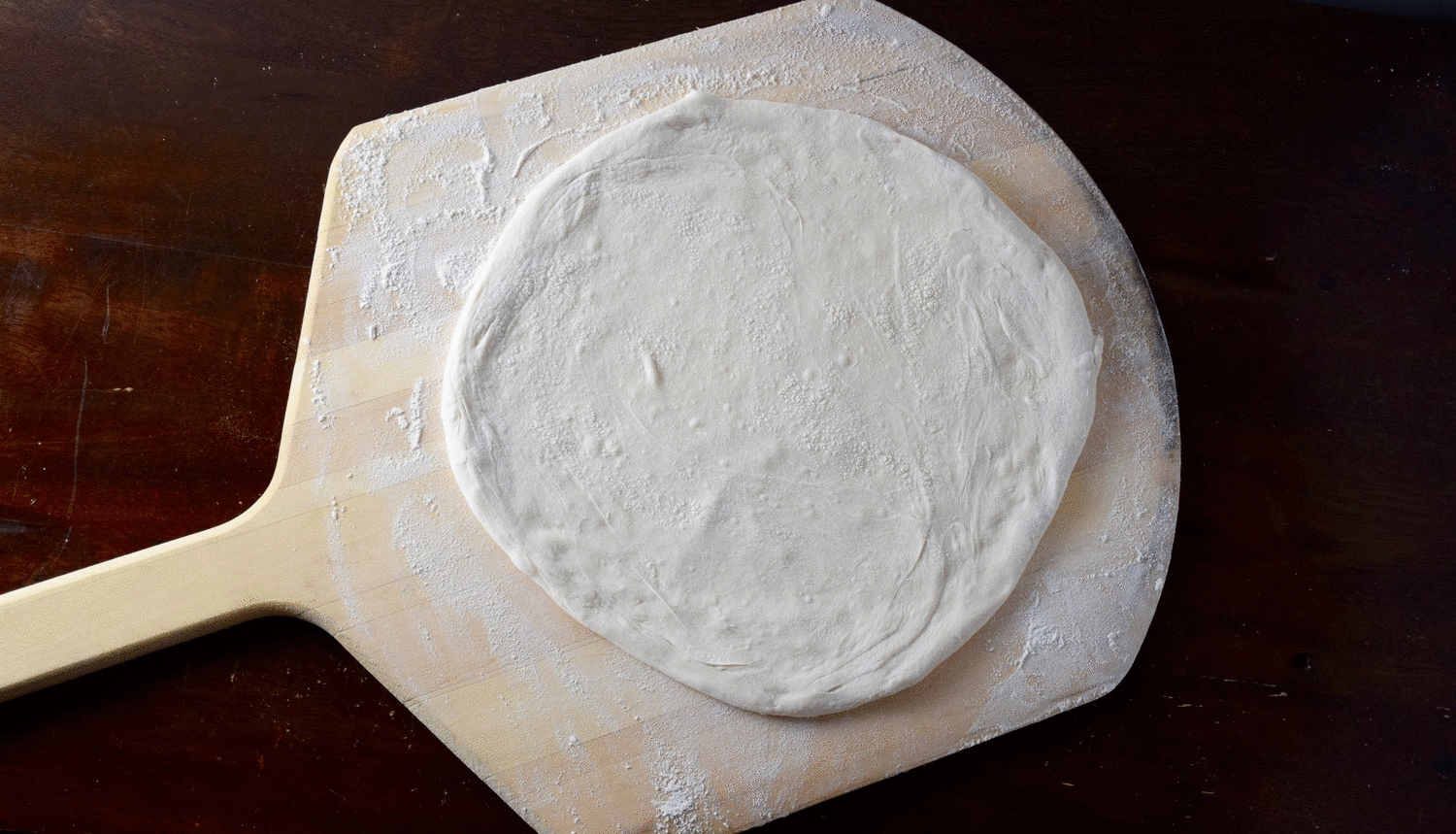 Notes
I used Miyoko's Kitchen cheese for this batch of pizzas, but you can use whatever you like or have access to
I use bulgur in the chickpea ball recipe, but if you happen to have a different leftover grain in the fridge, feel free to substitute.
If you want to have the chickpea balls gluten free, replace the bulgur with a wheat-free grain and use gluten free bread crumbs or omit them completely
I like to make several pizzas when I decide to have pizza night, so I typically make enough dough for 3-5 pizzas. To reheat pizza, warm it on a dry skillet, covered, over medium heat. This helps recreate a steamy oven for it to property toast back up!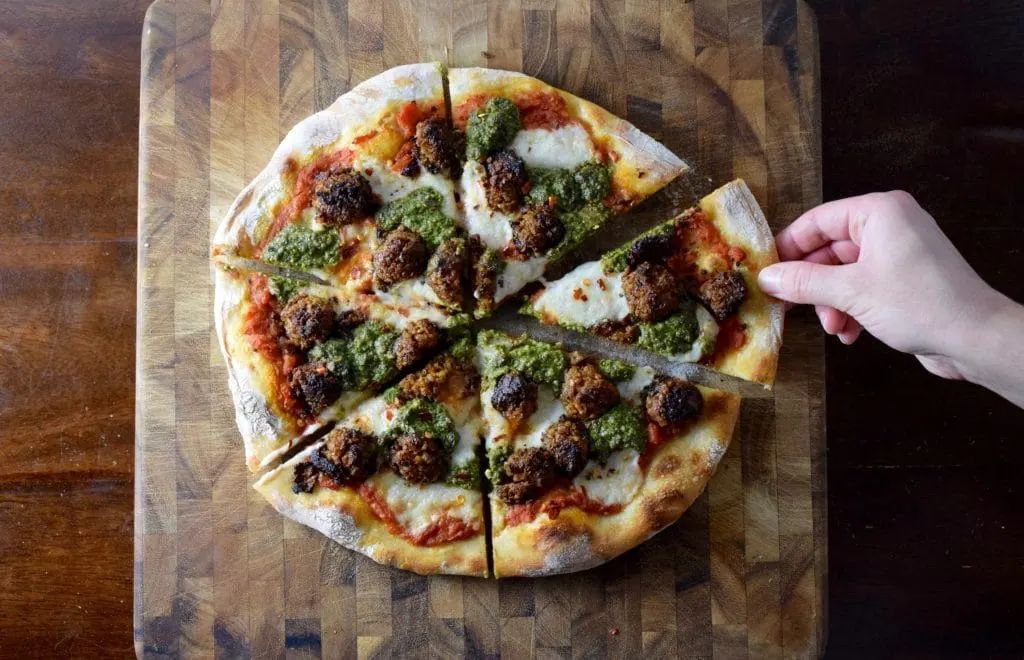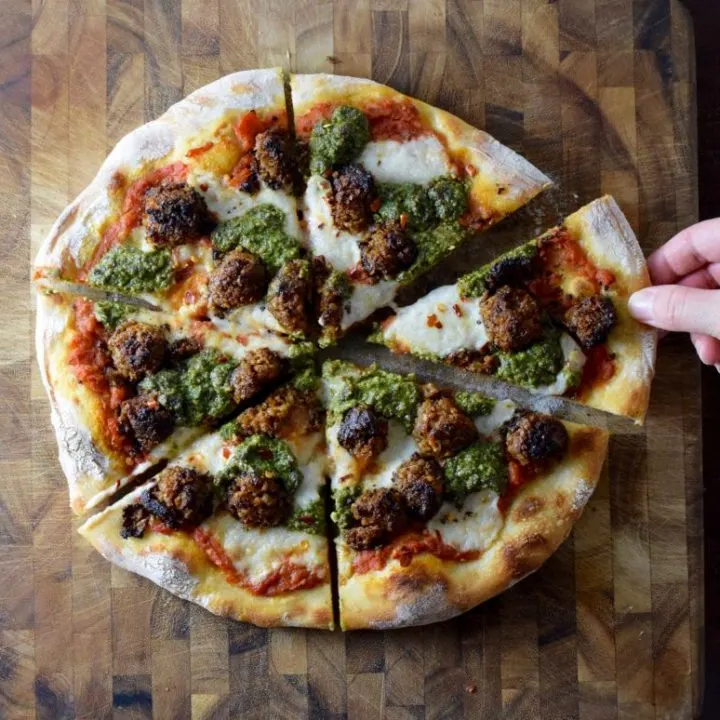 Vegan Meatball Pesto Pizza
Inactive Time:
40 minutes
Total Time:
2 hours
15 minutes
A delicious meat free pizza covered in an easy to make pizza sauce, a non-traditional pepita pistachio arugula pesto, and pizza-flavored chickpea balls.
Ingredients
Chickpea Meatballs
1/2 cup bulgur
1 cup boiling water
1/2 cup walnuts
15oz can chickpeas, rinsed, 1/2 cup reserved
2 tbsp sun-dried tomatoes, roughly chopped
1 tbsp tomato paste
1 tbsp miso
1 tbsp olive oil
1 tsp oregano
1 tsp dried basil
1/2 tsp granulated garlic
1 tsp onion powder
3/4 tsp salt
freshly ground black pepper
1/4 cup shredded vegan mozzarella or parmesan, or nutritional yeast
1/4 cup breadcrumbs, gluten free if desired
Pepita Pistachio Arugula Pesto
1/4 cup pepitas
1/4 cup shelled pistachios
2 cloves garlic
4 cups (~2.5 oz) baby arugula
1/2 cup (.75 oz) fresh basil
3/4 tsp salt
freshly ground black pepper
1/4 cup water
1/4 cup olive oil
2 tbsp lemon juice
Easy Pizza Sauce
1 28 oz can whole peeled tomatoes
2 cloves garlic
1/2 tsp crushed red pepper
1/2 tsp salt
1 tsp oregano
1 tbsp olive oil
vegan mozzarella
Instructions
To make the chickpea balls
Preheat the oven to 375 ºF. Line a baking sheet with parchment, lightly oil, and set aside.
Pour the boiling water over the bulgur in a heat proof bowl and cover. Set aside to rehydrate for at least 15 minutes. Drain before using.
On a skillet over low heat, toast the walnuts for about 8-10 minutes, stirring occasionally, until they smell toasty.
In a food processor, combine the walnuts, rehydrated bulgur, chickpeas (except for the reserved 1/2 cup), sun-dried tomatoes, miso, olive oil, oregano, dried basil, granulated garlic, onion powder, salt, pepper, and nutritional yeast (if using). Process until well combined and mixture has started to form a paste. Taste for seasoning and adjust if necessary.
Mix in the reserved chickpeas, bread crumbs, and vegan cheese (if using) and pulse to chop the chickpeas and incorporate everything evenly.
Shape into balls: for large balls use a heaping tablespoon (~1 1/2 tbsp), for the small a heaping teaspoon (~ 1 1/2 tsp). Wet your hands to prevent any sticking and roll between your palms to get round balls.
Place the balls onto prepared baking sheet and lightly mist with oil. Bake for 15 minutes, flip the balls, then bake an additional about 10 minutes, until golden. If making the other components, rinse out the food processor, but there is no need to clean it.
To make the pesto
Toast the pistachios and pepitas on a dry skillet over low heat for about 5 minutes, or until they smell toasty.
Add garlic, pistachios, and pepitas to the food processor and process until finely ground.
Add the arugula, basil, salt, pepper, and water. Process until its finely chopped.
Stream in oil and process until smooth. Add lemon juice and pulse to combine. Taste and adjust seasoning if desired. If making pizza sauce, don't even rinse your food processor after emptying, it just adds extra flavor!
To make the easy pizza sauce
Add a couple spoonfuls of tomato and juice to the food processor, and the garlic, red pepper, salt, oregano, and olive oil. Process until smooth.
Add the remaining tomatoes and their juice. Pulse until just broken up (~7 times). You want to maintain some texture.
To assemble the pizza
Preheat oven to 550 ºF (or as hot as your oven goes) or a full hour to fully saturate the oven with heat. If using a pizza stone, make sure that's in the oven as it preheats.
Stretch out the pizza, 10 oz of dough makes one ~12" pizza.
Place dough on baking sheet if using, or pizza peel if baking on a stone.
Spread sauce on the dough, then put on the chickpea balls, vegan cheese and pesto.
Bake for 8-10 minutes, keeping a close eye on it at the end.*
Notes
*longer baking time maybe necessary if using more pizza dough, or if oven temperature is lower.
*Chickpea meatballs recipe makes 25 large or 65 mini chickpea balls.