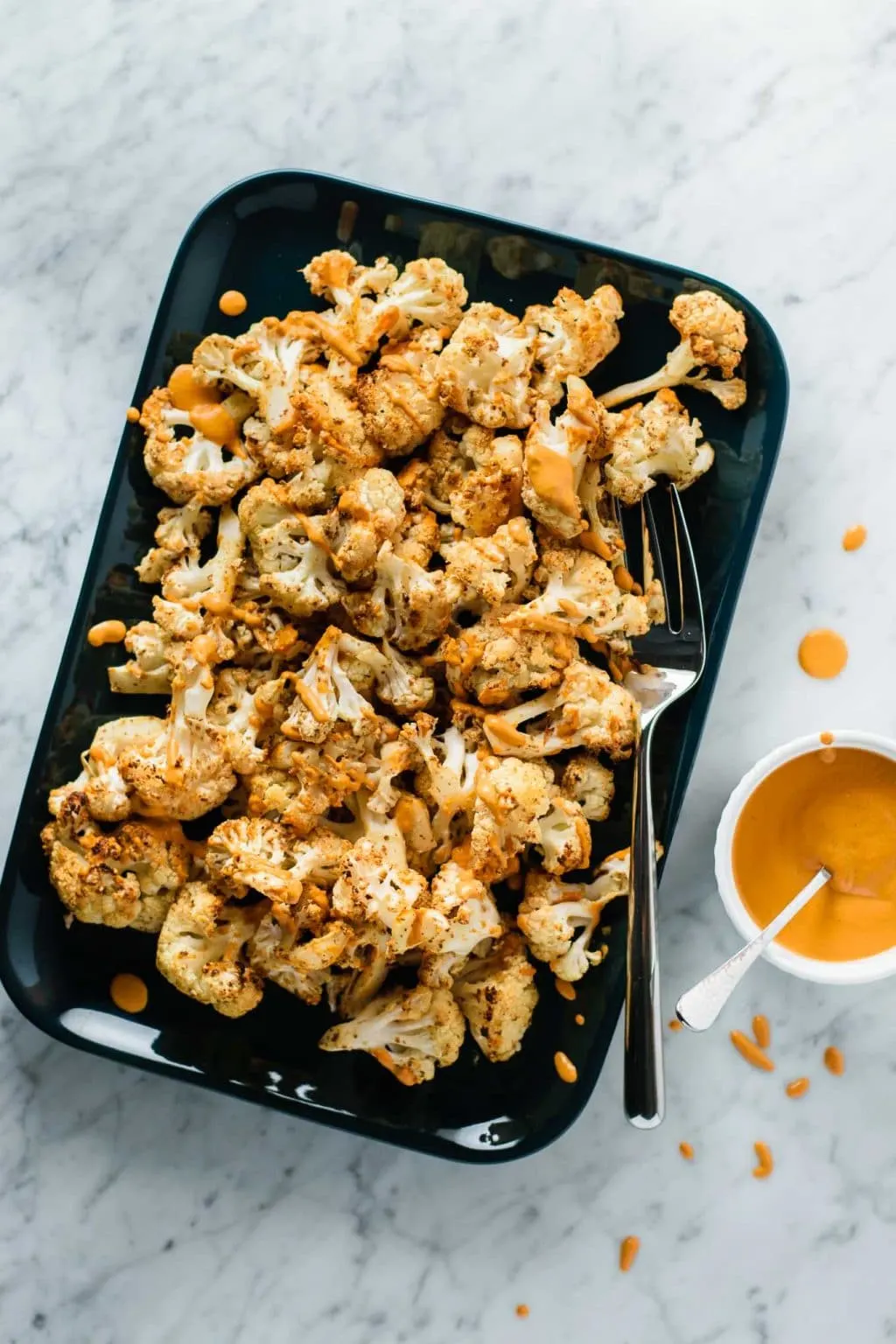 Have you heard? Roasted cauliflower is the new Brussels sprouts! Well, I just made that up and there's certainly enough room in my heart (and stomach) for both, but I'm definitely going through a big cauliflower phase right now (aka my entire life). Recently I was craving some mustard roasted veggies but there were no Brussels sprouts in the fridge (THE HORROR!), and so I made the easy swap for cauliflower. Turns out switching one brassica for another was the best decision we could have made, as mustard roasted cauliflower is the best roasted cauliflower and our current favorite way to consume the veggie. Did you know the mustard plant is also a brassica? It's really no surprise that both cauliflower and brussels sprouts (and cabbage and turnips and more) taste great with prepared mustard. And when topped with a roasted and toasted creamy muhammara-inspired sauce it reaches the next level in vegetable eating.
This recipe is incredibly easy to prepare. Cut some cauliflower (ok a lot of cauliflower), toss with 4 pantry friendly ingredients (oil, mustard, salt, and pepper) and roast until cooked through and the edges are dark and caramelized. While the cauliflower is roasting it's the perfect time to prepare the sauce and cook a main dish, though be warned, the cauliflower is certain to play first fiddle. But, for a close second, might I recommend a pasta dish–like this one!–to accompany it.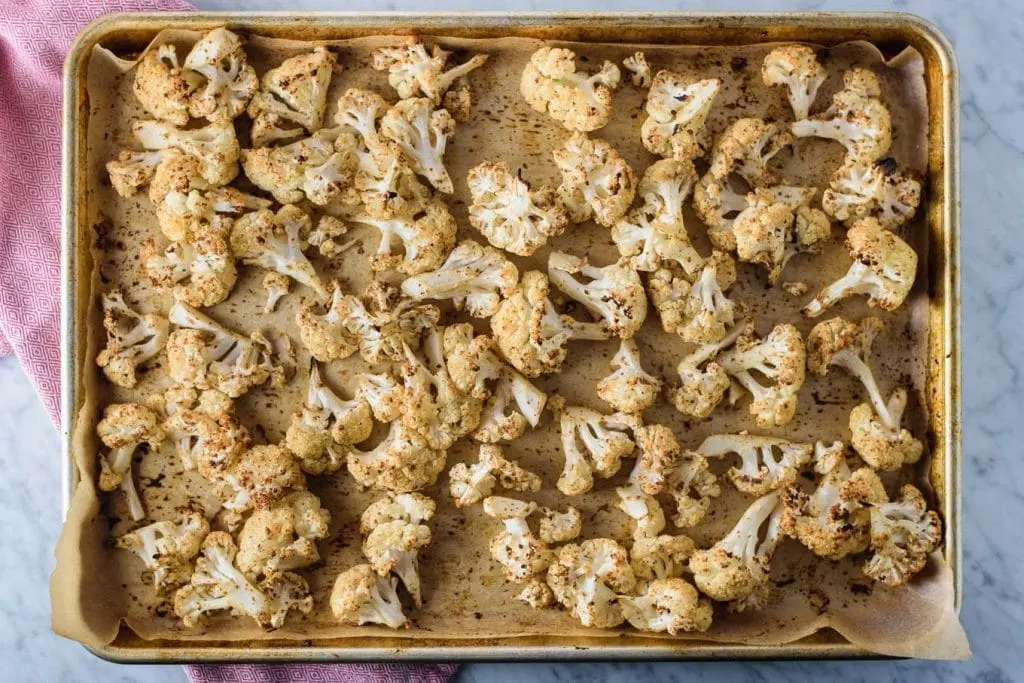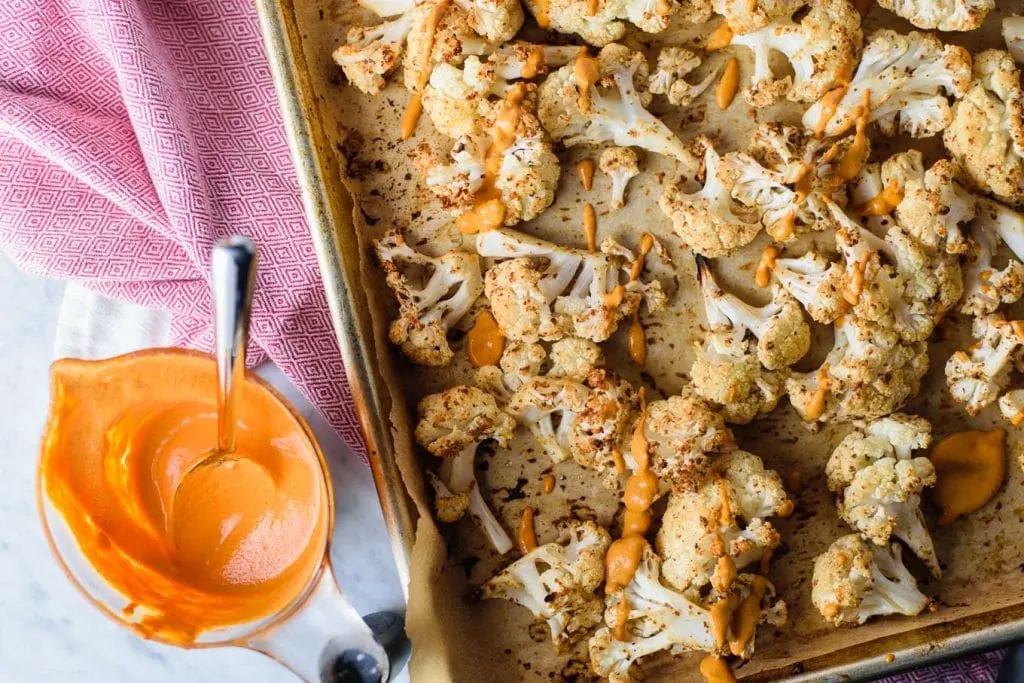 Toast the walnuts while the oven is pre-heating or the cauliflower is cooking. You can also use this time to roast the red bell pepper (if you didn't buy pre-roasted peppers). Then, everything but the oil pops into the blender (or a small food processor) and is blended until creamy. Drizzle in the oil slowly while the machine runs to emulsify. The end result is the sweet and nutty sauce of your dreams. With the subtlest sour tang from from the vinegar and a sharp bite from the garlic, it's perfectly balanced and delicious when drizzled (ok, liberally poured) over the cauliflower. Any leftover sauce is quickly gobbled up spread on toast or sandwiches, or dipped with pita, fresh cut veggies, or crackers. Alternatively you can use it as an excuse to roast more mustard-rubbed cauliflower!
For the mustard, make sure to use one you really enjoy. I like to use a spicy brown mustard as it has a wonderful sharp flavor, without being as up-your-nose spicy as dijon or whole grain mustards tend to be. I wouldn't use yellow mustard, it's too vinegary and that wonderful mustard flavor won't shine through. That being said, this recipe for the cauliflower is more of a guideline than an exact science. You can use the types of mustard you enjoy eating, and you can add more or less depending on how mustard obsessed you are. Keep in mind if your cauliflower is smaller than mine you will want to use less mustard. The key is to have every floret coated with mustard, with thicker pockets of mustard dotted throughout. If you do decrease the mustard ratio you may want to increase the salt a little.
We've been enjoying this preparation of cauliflower regularly the past few weeks. I hope you guys enjoy it as much as we do! It's a great excuse to turn on that oven in this chilly weather. Let me know if you make this mustard roasted cauliflower and the roasted red pepper sauce! Leave a comment below, and tag your photos @thecuriouschickpea and #thecuriouschickpea on Instagram, or share with me on Facebook.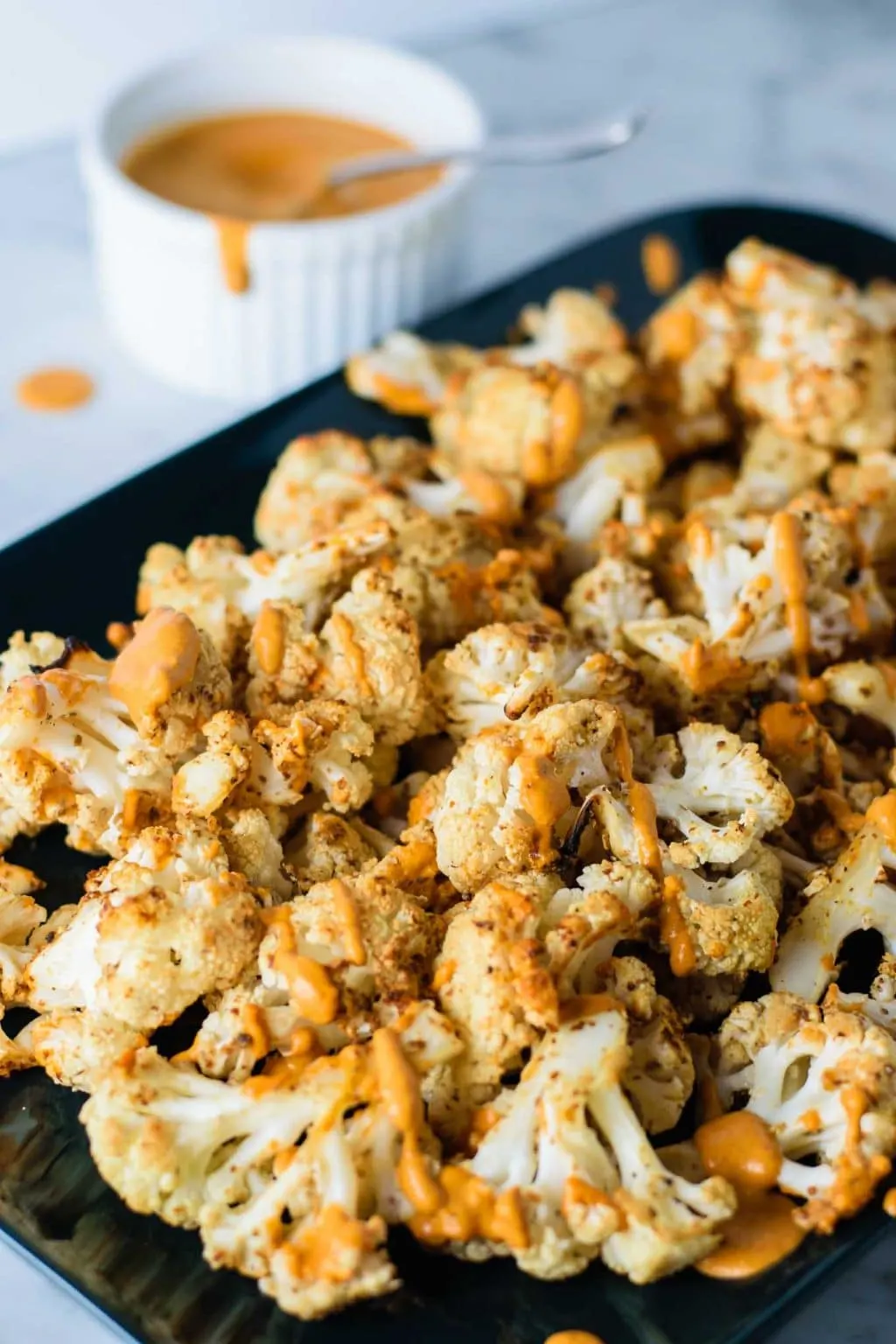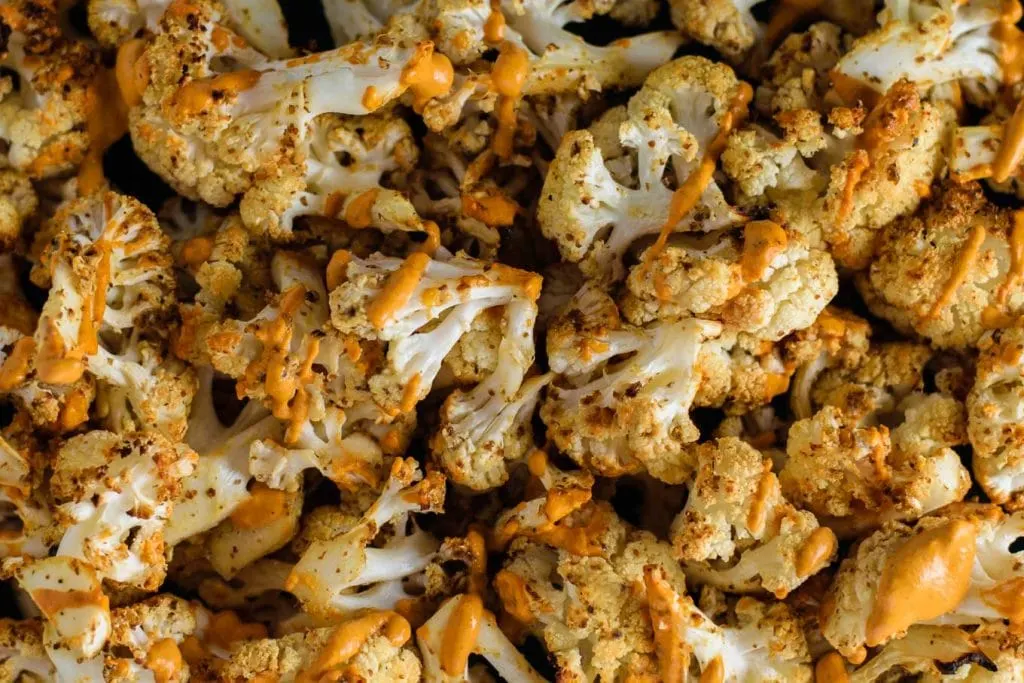 Notes:
Use more or less mustard depending on the size of your cauliflower. The one used in this recipe was very large! Also, if your cauliflower is smaller or your baking sheet is larger (I used a half sheet pan) it will bake more quickly, so keep an eye on it in the last half of baking and decrease bake time if necessary.
Use a good quality prepared mustard. I used Sir Kensington's Mustard – Spicy Brown (not sponsored, just a fan), as it's our current favorite store bought mustard!
Use store bought roasted red pepper as a time/effort saver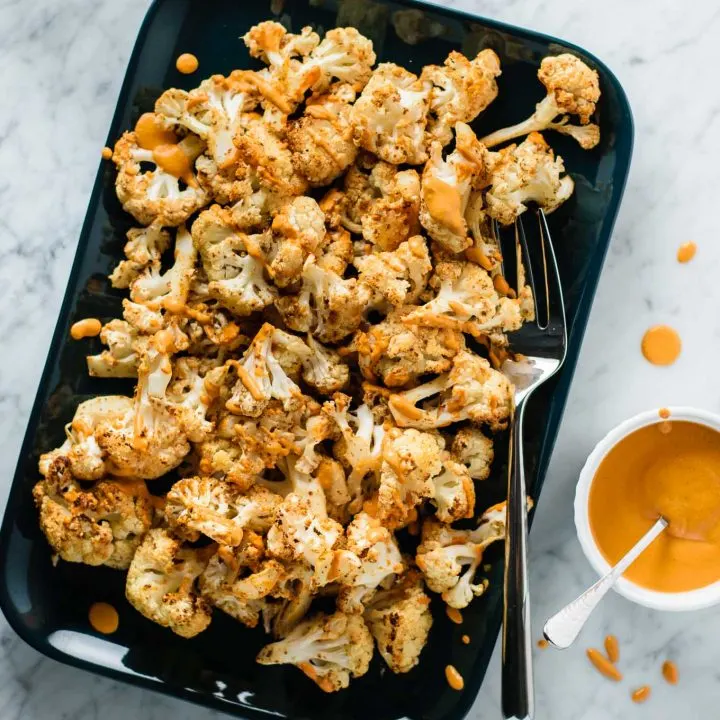 Mustard Roasted Cauliflower with Roasted Red Pepper Sauce
Cauliflower is tossed in a spicy brown mustard and roasted until soft and caramelized, then finished with a drizzle of creamy toasted walnut red pepper sauce. It makes the perfect side dish!
Ingredients
1 large (~2 1/2 lbs) cauliflower, cut into florets
1 tbsp canola oil
3-4 tbsp spicy brown mustard
1/2 tsp salt
freshly ground black pepper, to taste
Red Pepper Sauce
1/3 cup walnuts
1 roasted red bell pepper*
2 small cloves garlic
1/4 tsp salt
1 tbsp sherry vinegar, or white wine vinegar
1/4 cup olive oil
Instructions
Preheat oven to 425 ºF and prepare a large baking tray by lining with parchment or a silicon mat.
In a large mixing bowl combine the cauliflower florets, oil, 3 tablespoons of mustard, salt and pepper. Toss to combine until the cauliflower is evenly coated. If it looks a bit thin, add that last tablespoon of mustard so the florets are well coated (I prefer the recipe with more mustard and used the full amount). Turn the cauliflower onto the baking tray and spread out into a single layer.
Bake for 15 minutes, then stir and return to oven to bake an additional 15 minutes. Depending on how crowded your pan is it may need another 5-10 minutes, if that's the case, stir and return to the oven. The cauliflower is done when it's easily pierced with a fork and darkened or blackened in bits. Personal preference can vary, so cook it until it's the level of caramelized you enjoy!
While the cauliflower is roasting, make the red pepper sauce. First, toast the walnuts over low heat on the stove for ~10 minutes, stirring frequently, until the walnuts smell toasty and are a shade darker. Then transfer the nuts to a blender along with the roasted red pepper, garlic, salt, and sherry vinegar. Blend until smooth, then while blending on low, slowly pour in the olive oil. If the mixture is very thick you can thin with a little water. Set aside until the cauliflower is done.
Serve the cauliflower drizzled with red pepper sauce. Enjoy!
Notes
*To roast a bell pepper, place in oven either at 425 ºF or under broiler and roast until blackened, turning as each side starts to blacken (takes under 10 minutes under broil and maybe 30 minutes at 425 ºF). Alternatively you can roast it directly over a gas stove flame. Roast until skin is blacked and pepper is soft and then place in sealed container or cover with foil until cool enough to handle. Then remove the seeds and as much of the skin as possible. Or just purchase jarred roasted red peppers!