This classic stromboli is made vegan with spicy mustard, vegan cheese & deli meat, red onion and jalapeños wrapped in pizza dough and baked until hot and bubbly. It's easy to make and even more delicious to eat!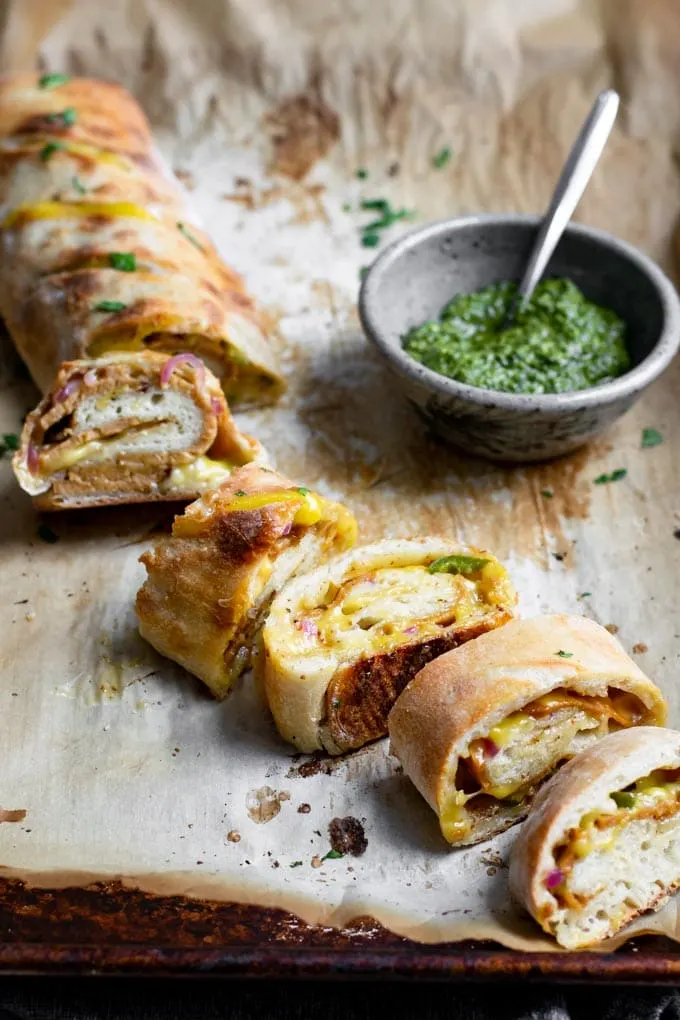 Stromboli, a word as fun to say as the dish is to eat! For the uninitiated, stromboli is a staple of Italian-American cuisine. It's essentially pizza dough rolled around sandwich ingredients and baked to hot, puffy perfection.
For my vegan version I've stuffed the stromboli with a grainy mustard, smokey sharp vegan cheese, flavorful vegan deli meat slices, spicy jalapeños, and sweet red onion.
It's like a delicious sandwich wrapped in pizza dough. The cheese melts and turns gooey, the onions soften and mellow. Spicy mustard, savory deli slices, and hot jalapeños dance across your tongue, tempered by the pillowy soft dough. It's real good. And easy to make!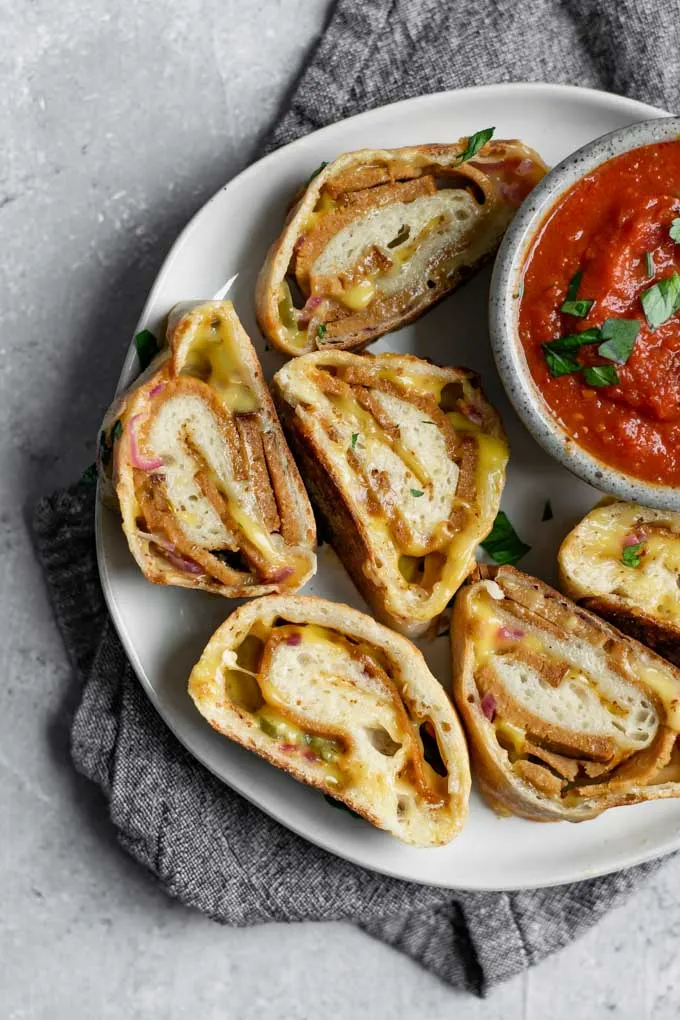 Making stromboli vegan:
As you can imagine, stromboli is not vegan friendly. It's usually not even vegetarian friendly, as the fillings typically include deli meat. But all that changes when you make it at home.
First, swap out the dairy cheese for vegan. You can use your favorite store bought vegan cheese option, or make one yourself. I particularly like my same day vegan mozzarella cheese for use in stromboli, but my roasted jalapeño cheese would be great too.
Next, substitute vegan deli meat. These days there are often a lot of options at the store for deli slices, and you're free to use any you like. You can also use your own homemade vegan deli meat slices, and luckily I shared that recipe with you last week! ?
And that's it! Two easy swaps and you have stromboli that is just as delicious and indulgent tasting (but like, wayyy better for you)!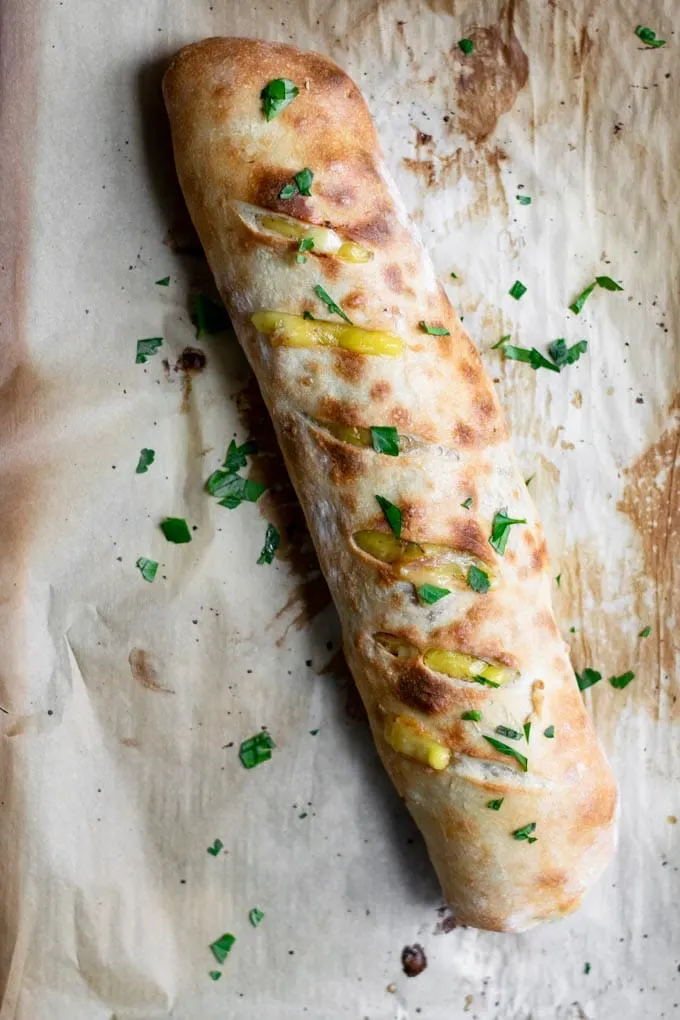 The vegan stromboli filling:
Alright, so now that you know how to make vegan stromboli, let's talk specifics for this recipe!
Pizza dough–any good recipe for pizza dough will do, or you can purchase it if you prefer! For each stromboli you make, you want about a pound (16oz) of dough. A little more or less is fine. Like if you are buying and can only get a 12oz piece of dough, you can just make smaller stromboli. It's fine.
I used my easy overnight pizza dough, which makes a total of 30oz of dough. For the stromboli, I divide the dough in half to make 2 stromboli out of it. You could make a half recipe of dough, but then you can't use the other half to make a second stromboli or breadsticks for the same amount of effort which is just crazy!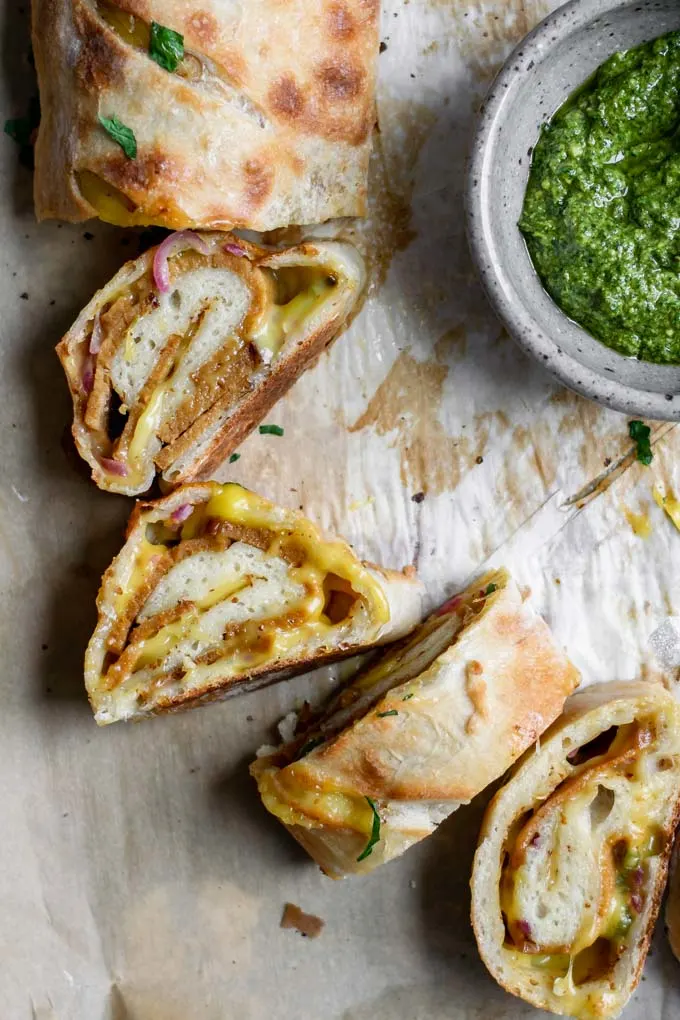 For the cheese, choose your favorite store bought or homemade vegan cheese. Choose cheeses that are great in sandwiches, and if you can use two different kinds of complementary cheeses then definitely do that!
I used a mix of smoked provolone and cheddar style vegan cheeses. Other great options to mix and match are smoked gouda, mozzarella, [not smoked] provolone, swiss, and pepper jack style vegan cheeses. Most importantly, use what you enjoy eating!
Next we have the vegan deli meat. If making your own, slice it as thinly as possible to make sure you can still roll the stromboli. If using store bought, it should come thinly sliced! Again, choose what you enjoy eating! I used my homemade deli meat (which we are obsessed with!) in this one.
A sandwich wouldn't be complete with just mustard, cheese, and meat, and neither is this stromboli. I like things spicy, so add some thinly sliced jalapeño to the roll. And while I don't enjoy raw onion in sandwiches, cooked onion is a different story, so I add thinly sliced red onion to the mix.
While you can switch out the fillings in your stromboli, I warn against adding wet ingredients like a tomato sauce because it makes it harder for the center to fully cook. And no one wants to eat raw dough.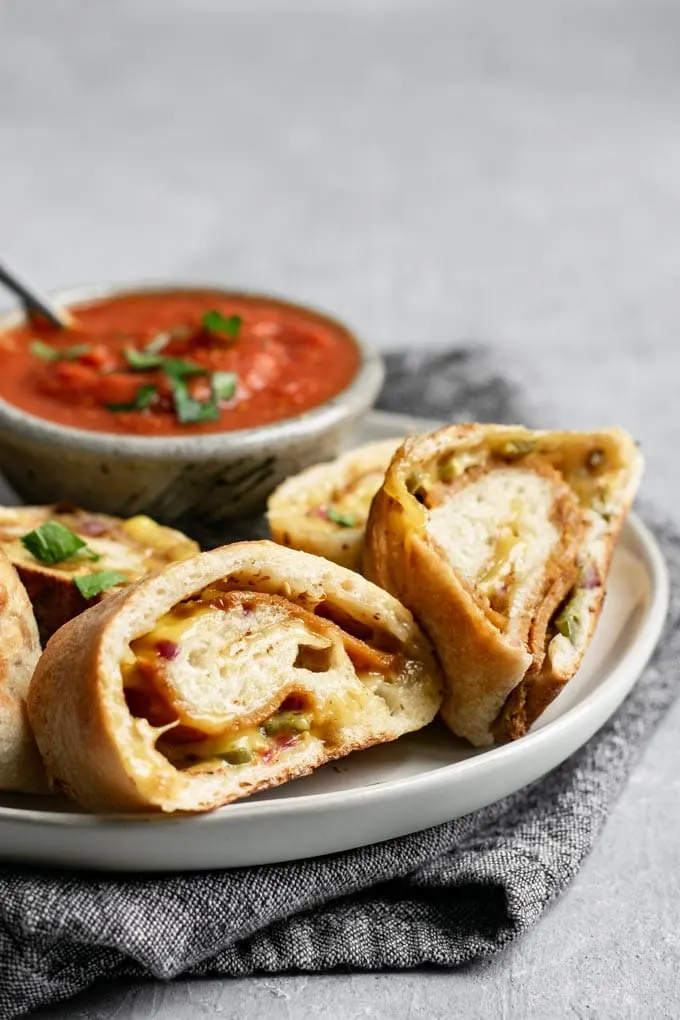 Rolling and filling the stromboli:
So now that we have all the ingredients laid out, it's time to make the stromboli!
Before you begin, take that pizza dough out of the fridge and let it come to room temperature. I take my dough out for a minimum of 1 hour before I bake, but for stromboli 2 hours is even better. Stromboli dough should be nice and relaxed so that it's easy to stretch out and roll to a relatively thin piece of dough.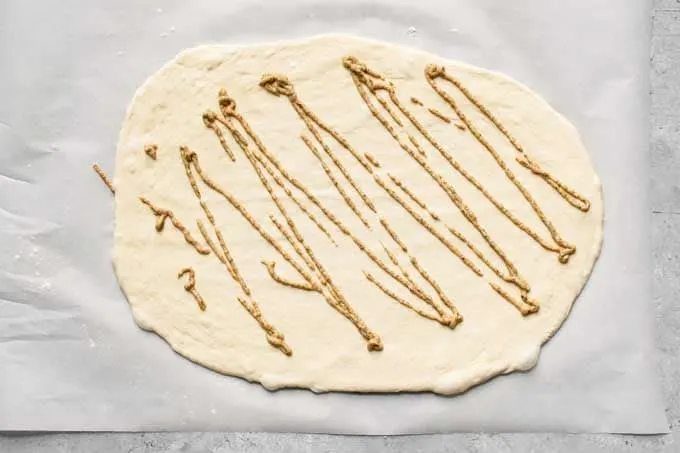 For this reason I actually like to make it on day 2 or 3 of my pizza dough recipe, but I did make it after one day here and as you can see, it works really well then as well!
To roll out the pizza dough, dust the counter and the ball of dough with enough flour so that the dough doesn't stick. Roll it out to a rectangle, about 15″ x 10″ but the size will vary depending on the amount of dough you're working with. If the dough is resisting stretching, let it rest for 10 minutes so the gluten has a chance to relax and try rolling it again. Repeat if necessary until you can roll the dough out.
Layer the toppings/fillings up: mustard, cheese, deli slices, jalapeño, and red onion and then roll the stromboli up. Add single layers of the toppings so that you don't overstuff the stromboli and make it harder to roll and harder to bake.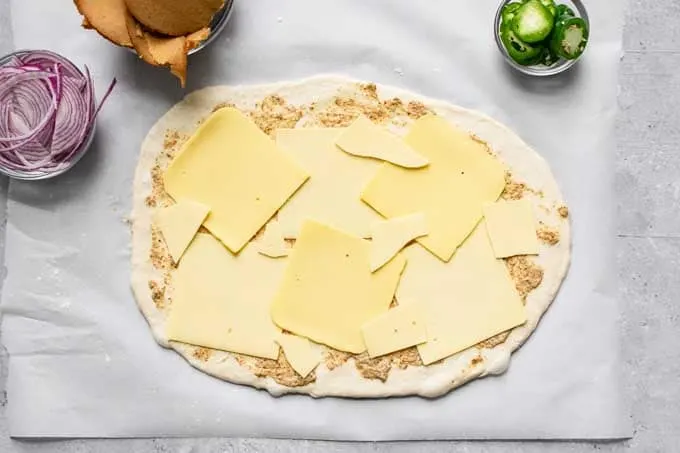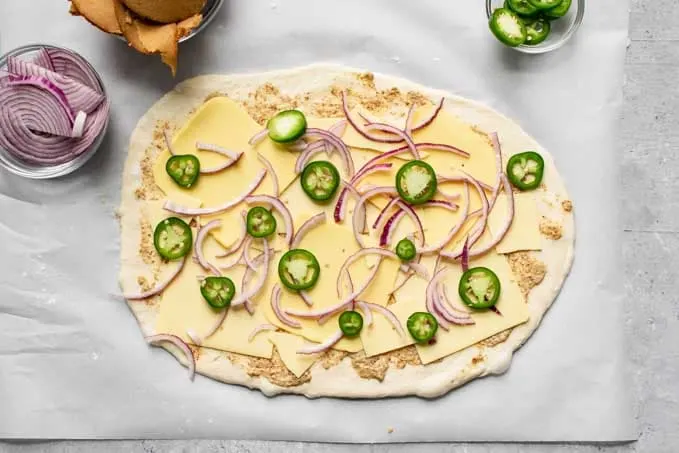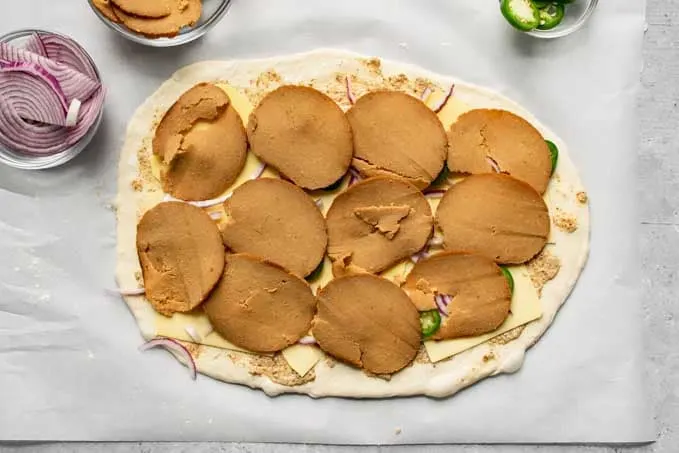 Baking the stromboli:
If you have a baking steel or baking stone in your oven you can bake directly on that, or you can bake on a baking tray. Transfer the stromboli to parchment paper (no need to use flour here as it won't stick when baked) that's either set up on a baking tray or that can be moved onto a pizza peel for easy launching onto the baking steel/stone.
You can also bake on a tray over a baking steel if you'd like. Giving you all the options here!
Slice the top of the stromboli with a sharp knife or blade (bread lame) on a slight diagonal. Then brush the top with with olive oil and bake the stromboli for about 15 minutes in a well preheated oven. Watch the dough puff up and turn golden.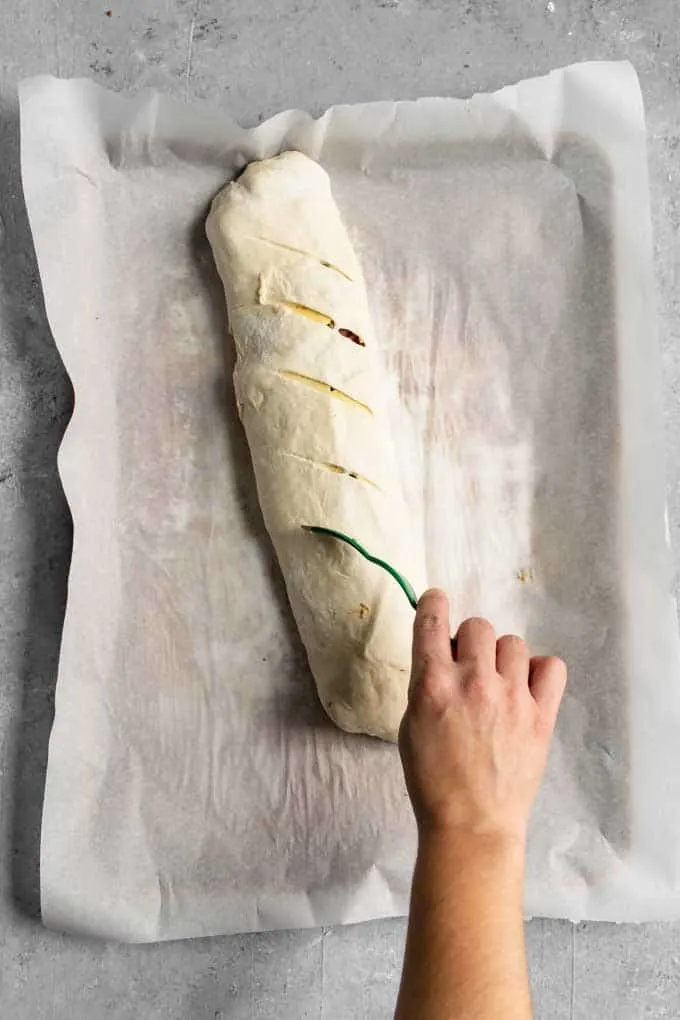 And while it might be tempting to immediately slice into the stromboli, let it cool down a for a few minutes first so you don't burn yourself! You can set up some tomato sauce or pesto for dipping, but it's also great as is.
This vegan stromboli is a perfect change from pizza night, or a great dish to serve to friends. It makes a great snack or appetizer, and would help you win at game night–the hosting part anyway, can't guarantee any game outcomes!
You can even make the stromboli in advance (a few hours anyway, we're not talking days), shaping it and then putting it unbaked in the fridge (on a parchment-lined baking tray) until it's time to serve!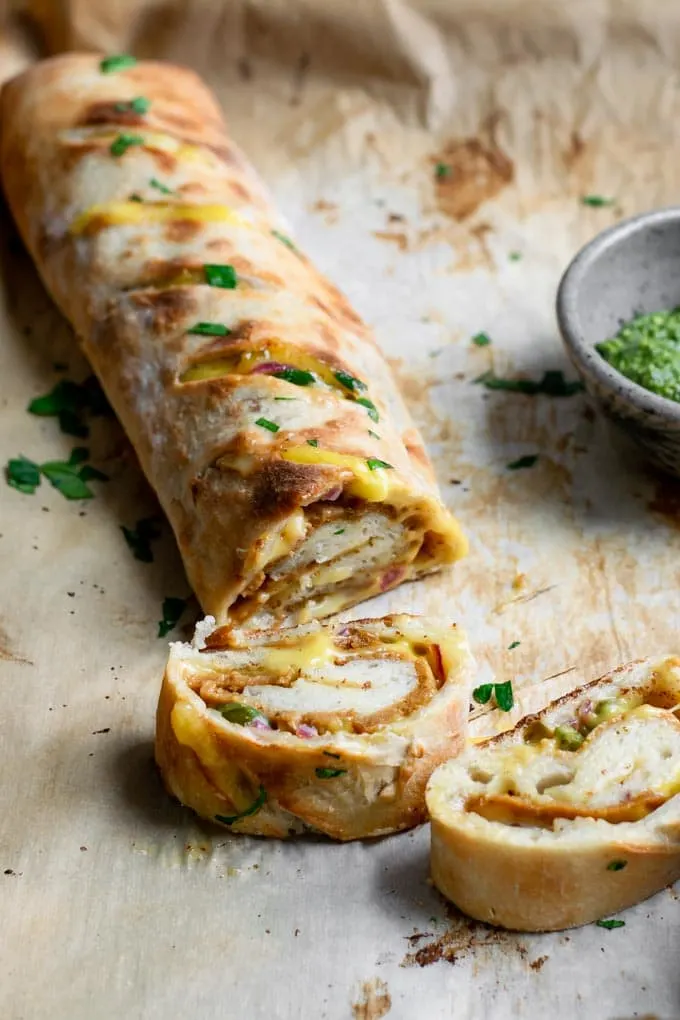 ---
If you make this vegan stromboli, leave a comment below and rate the recipe on the recipe card. And please share your photos with me on Instagram, tag @thecuriouschickpea and #thecuriouschickpea. I love seeing your recreations!
WANT MORE DELICIOUS VEGAN RECIPES? FOLLOW ME ON INSTAGRAM, FACEBOOK, AND PINTEREST!
---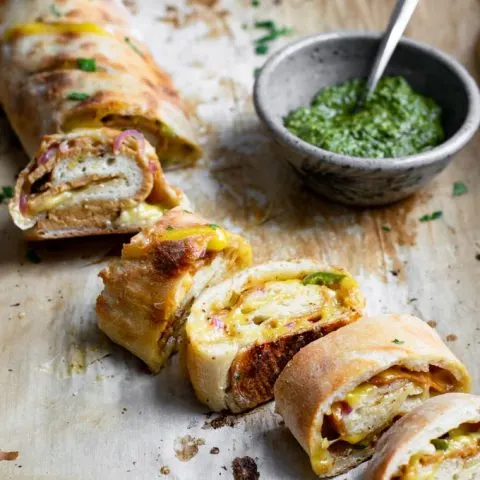 Vegan Stromboli
Total Time:
1 hour
31 minutes
This classic stromboli is made vegan with spicy mustard, vegan cheese & deli meat, red onion and jalapeños wrapped in pizza dough and baked until hot and bubbly. It's easy to make and even more delicious to eat!
Ingredients
Instructions
Take out the pizza dough if in the refrigerator and let come to room temperature and relax for 1-2 hours before baking. Preheat the oven to 450ºF about 1 hour before baking.
Place the pizza dough on a floured surface, and dust the top with flour. Roll the dough into a rectangle, approximately 15" x 10". Spread a thin layer of mustard on the dough, leaving about 1/2" space around the edges. Then layer vegan cheese slices, jalapeño, red onion, and vegan deli meat slices. Use just a single layer of cheese slices and deli slices, though slightly overlapping is ok.
Roll the dough around the toppings and pinch edges and ends to seal. Transfer to parchment paper (either on a baking tray or that you can directly launch onto a baking steel or baking stone) and cut slits across the top with a sharp knife. A bench scraper can help transfer the roll easily.
Brush with olive oil and bake for 14-16 minutes or until golden. Let cool for a few minutes before slicing into and eating!
Notes
I used 1/2 recipe of my Easy Overnight Pizza Dough for 1 stromboli, using about 15oz of dough. Any pizza dough will work as long as you have about 14-16oz of dough.
I'm not giving exact amounts for the ingredients because this will vary by exactly how large your dough is and how thinly you were able to roll it, as well as your personal tastes. See the photos in post to get an idea of much toppings to add, but generally a thin layer of everything is what you want so that it can be easily rolled up.
Do not crowd the oven when baking stromboli or the center will not cook all the way through. If you must cook two at once make sure there is space around them and increase the baking time to ensure there is no raw dough in the center.
Recommended Products
As an Amazon Associate and member of other affiliate programs, I earn from qualifying purchases.