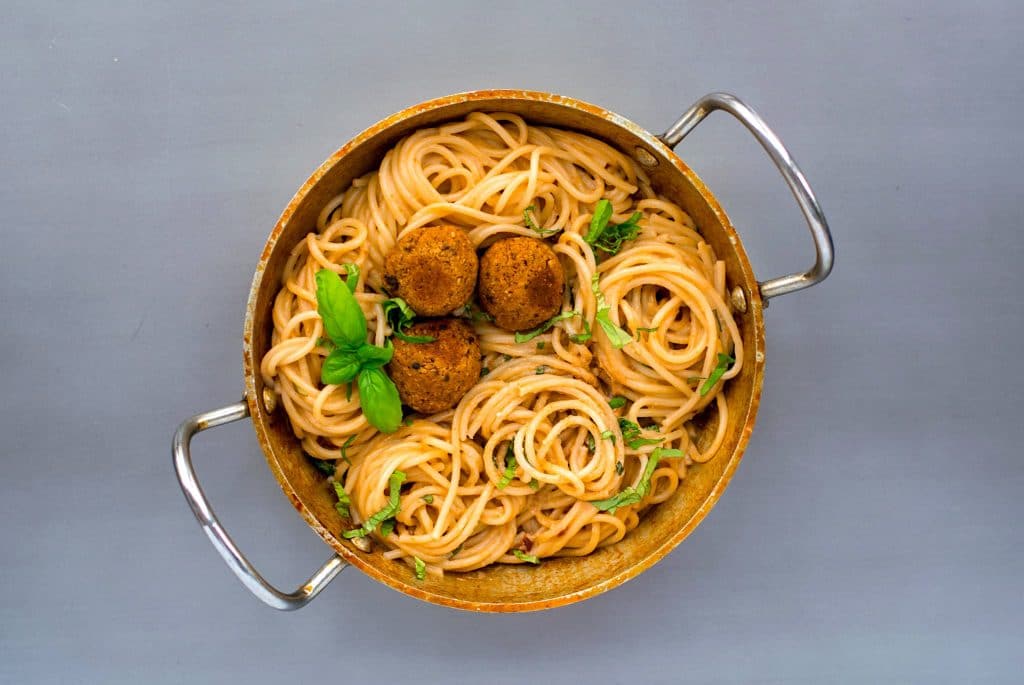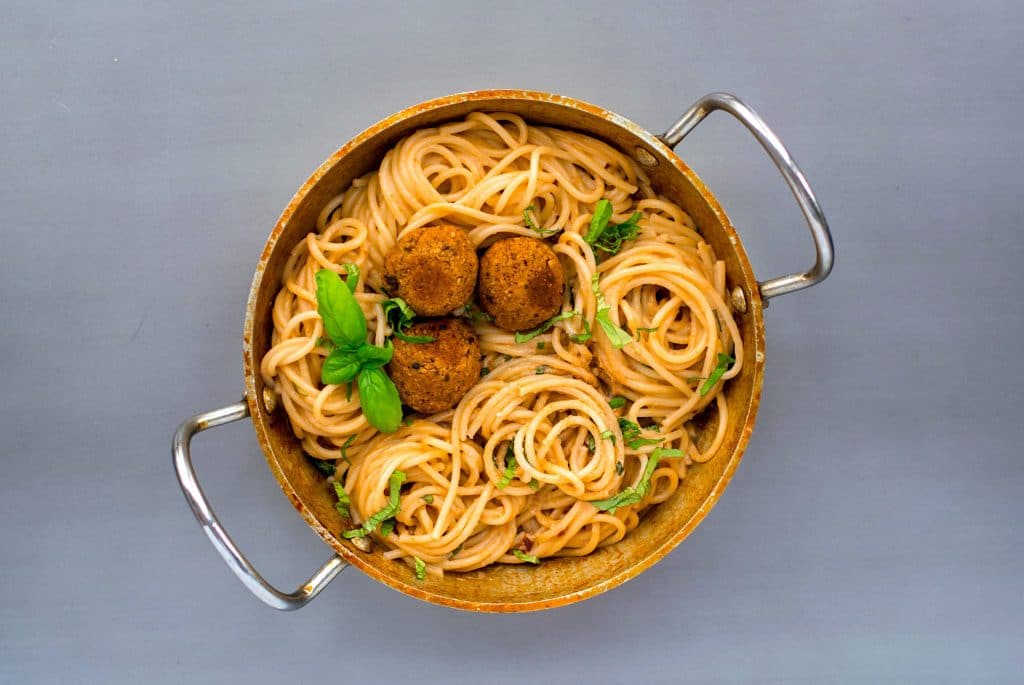 This is comfort food at it's best: spaghetti tossed in a creamy sun dried tomato sauce with chickpea-based meatballs on top. So delicious my husband recommend that we 'test' the recipe again ASAP.
Can't say I blame him for wanting more. There's something so satisfying about twirling freshly cooked spaghetti around your fork and shoveling those slippery noodles into your mouth. And when those noodles are tossed in a ultra creamy, luscious sauce it's 100% better.
The creamy sauce is packed with the richest flavors. Sweet sun dried tomatoes are incorporated two ways, blended into the nondairy milk to make a tomatoey cream and minced morsels are tossed at the end for extra bursts of that intense sun dried tomato flavor.
Tomato paste adds some incredible depth of flavor and body to the sauce, as well as giving it a pink hue. Miso gives a slightly cheesy, umami-rich funk to the cream.
And a hearty splash of wine is my favorite well-known secret of adding a lot of aged flavor to a creamy sauce. Thickened with an olive oil-based roux and topped with some chiffonade basil, this sauce is perfect on spaghetti.
The chickpea meatballs are adapted from my vegan meatball pepita pesto pizza recipe. I really love these savory balls and love how versatile they are.
This time I made them with brown basmati rice and pecans, as that is what I had on hand. The brown rice (instead of my regularly used bulgur) added a great chewiness to the recipe, as well as being a bit stickier and as a result requiring less bread crumbs to help hold them together.
I also streamlined the ingredient list a bit, and to be honest they still held so much flavor I didn't even notice! Especially when paired with the flavor-rich sun dried tomato cream sauce.
Spaghetti is a nostalgic food for me, as it was the first dish I learned how to make for myself. When I was 9 or 10, I would cook a bowlful of spaghetti and pour some jarred tomato sauce over top and enjoy it for lunch–just about every day of the week during the summer!
I got really good at proportioning exactly the right amount of spaghetti for a single serving. A skill that has lasted me to this day, though not one I employ often now.
I can't help but think of my summer sports camp filled days whenever I cook spaghetti. But I will say I much prefer this grownup version of it! 🙂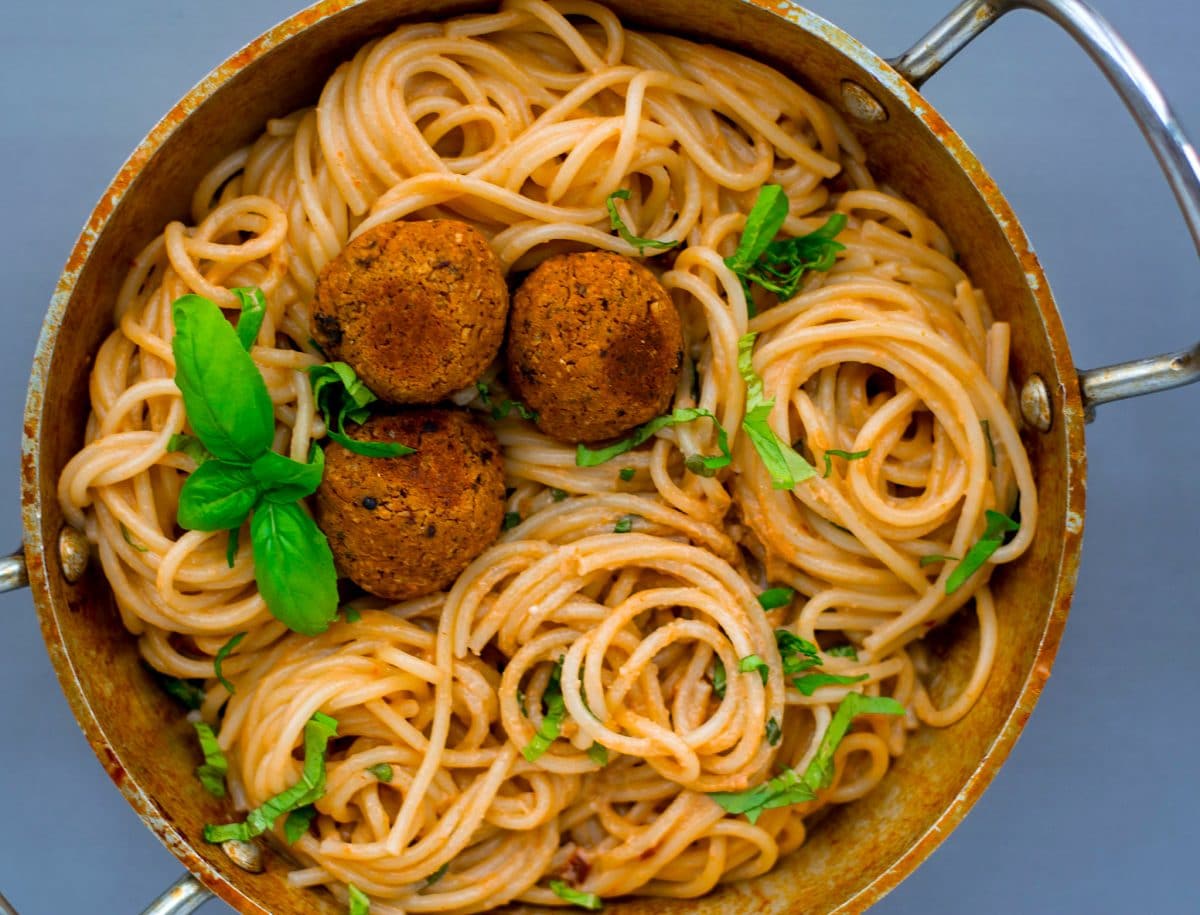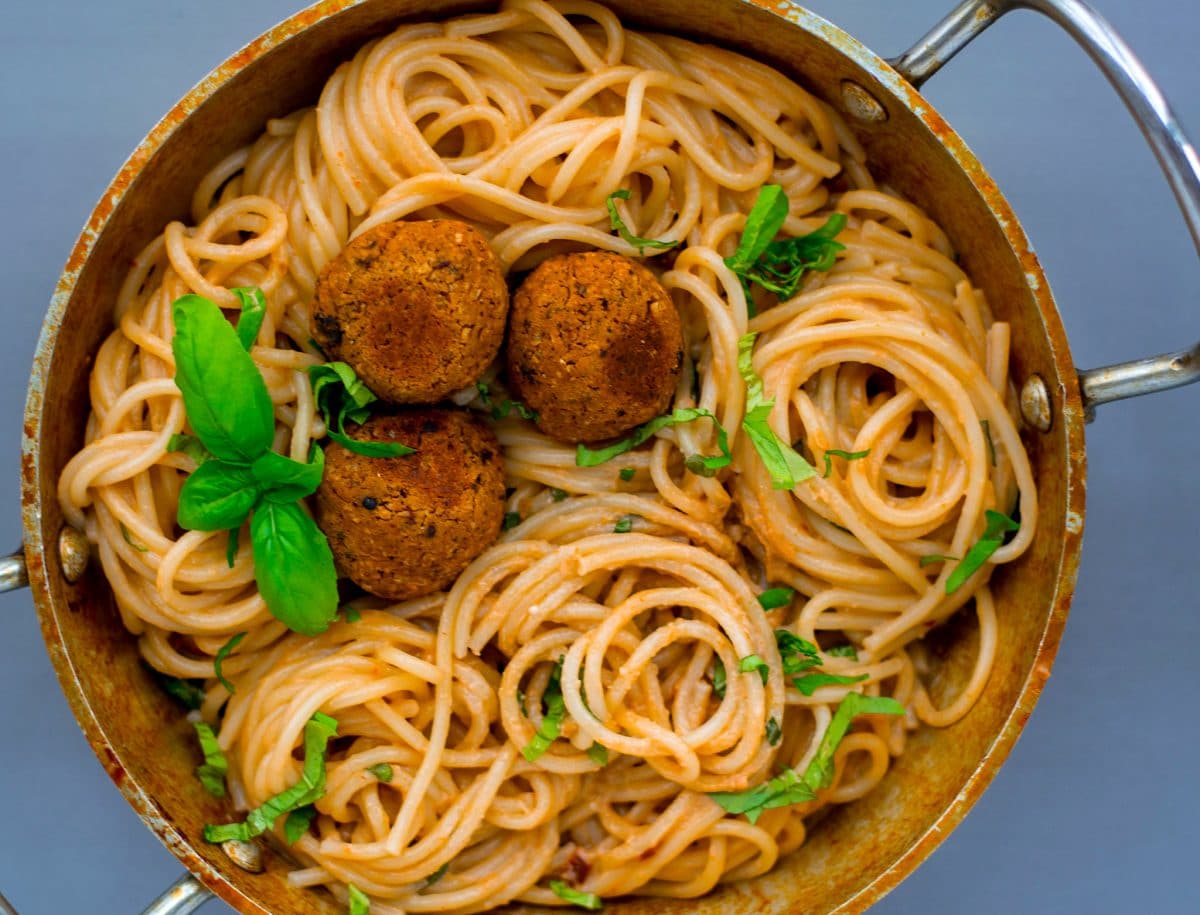 I hope you try this dish. We really loved the sauce, and it's such an easy dinner!
The chickpea meatballs could be made in advance, but they really are quite easy to make and totally doable on a weeknight. Get them in the oven and then make the sauce and cook the pasta while you're baking them and dinner is ready in well under an hour!
If you make it please let me know, I love seeing & hearing about it when you guys make my recipes! Leave a comment and/or rate the recipe below, tag me on Instagram, or let me know on Facebook!
Notes:
For the nondairy milk, I highly recommend using unsweetened as tomatoes are naturally sweet and you don't want to intensify that. I used a homemade almond milk (1 part nuts: 2 parts water) for this recipe and also tested it using cashew milk (same 1:2 ratio, but no need to strain with a nut milk bag). Store bought milk should also work nicely, but again, I would use plain unsweetened.
Easily make gluten free by subbing in gluten free breadcrumbs or a gluten free flour blend in the chickpea meatballs, and making the gluten free subs for the spaghetti and flour in the sauce.
To keep the sauce a prettier pink color you can use white wine instead of red, the red wine makes the sauce a little darker. Or for an alcohol free version, leave out the wine.
Spaghetti with Sun Dried Tomato Cream and Chickpea Meatballs
Spaghetti is tossed in a delicious, creamy sun dried tomato sauce and served with chickpea meatballs for a 100% plant based meal.
Ingredients
Chickpea Meatballs*
1 cup cooked brown rice
1/2 cup pecans
2 cloves garlic
1 1/2 cups (15 oz) chickpeas, rinsed, 1/2 cup reserved
1/4 cup nutritional yeast
2 tbsp sun dried tomatoes
1 tbsp tomato paste
1 tbsp olive oil
1 tsp oregano
1 tsp dried basil
1 tsp salt
freshly ground black pepper
1/4 cup bread crumbs, gluten free if desired
Sun Dried Tomato Cream
1/2 cup minced sun dried tomatoes (dry packed), divided
3 cups unsweetened nondairy milk
1 tbsp white or chickpea miso
1 tbsp tomato paste
1/2 tsp garlic powder
1/4 cup olive oil
1/4 cup all purpose (or gluten free) flour
1/4 cup dry red wine
1 tsp crushed red pepper
1/2 tsp salt
2 tbsp fresh basil, cut in chiffonade
1 lb spaghetti, gluten free if desired
Instructions
To make the chickpea meatballs
Preheat the oven to 375 ºF. Line a baking sheet with parchment, lightly oil, and set aside.
On a skillet over low heat, toast the pecans for about 8-10 minutes, stirring occasionally, until they smell toasty.
In a food processor, combine the brown rice, pecans, and the cloves of garlic and pulse into fine crumbs. Then add the chickpeas (except for the reserved ½ cup), sun-dried tomatoes, tomato paste, olive oil, oregano, dried basil, salt, pepper, and nutritional yeast. Process until well combined and mixture has started to form a paste. Taste for seasoning and adjust if necessary.
Mix in the reserved chickpeas and bread crumbs and pulse to chop the chickpeas and incorporate everything evenly.
Shape into balls using a cookie scoop or a measuring cup to portion them into a heaping tablespoon (~1½ tbsp). If necessary, wet your hands to prevent any sticking and roll between your palms to get round balls.
Place the balls onto prepared baking sheet and lightly mist with oil. Bake for 15 minutes, flip the balls, then bake an additional 10 minutes, or until golden.
To make the spaghetti with sun dried tomato cream
While the chickpea meatballs are baking, bring a large pot of salted water to boil for the spaghetti and make your sauce.
In a blender add the non dairy milk with 1/4 cup of minced sun dried tomatoes, miso, tomato paste, and garlic powder. Blend until pink and quite smooth, a few pieces of sun dried tomato are fine.
In a 3-quart pot over medium-low heat the olive oil and flour, stirring almost constantly, until it is a shade darker and smells toasty, around 3-4 minutes. Keep an eye on it so it does not burn.
Slowly stream in the sun dried tomato milk mixture, stirring to prevent clumping. Add the remaining minced sun dried tomato (1/4 cup), red wine, crushed red pepper, and salt and cook over low heat until thickened, stirring regularly, around 5 minutes.
Cook the pasta according to package directions, and reserve 1 cup of cooking water before draining. Put the drained pasta back into the hot pan, and add some sauce to the pasta. Stir to coat, and add more sauce until you have your desired amount. Top with the basil.
Serve with the chickpea meatballs and enjoy!
Recommended Products
As an Amazon Associate and member of other affiliate programs, I earn from qualifying purchases.