These loaded waffle fry nachos are smothered in a homemade vegan queso and topped with fresh pico de gallo, sour cream, and avocado. It's a delicious change of pace from the traditional tortilla chip nachos, and they are super easy to make!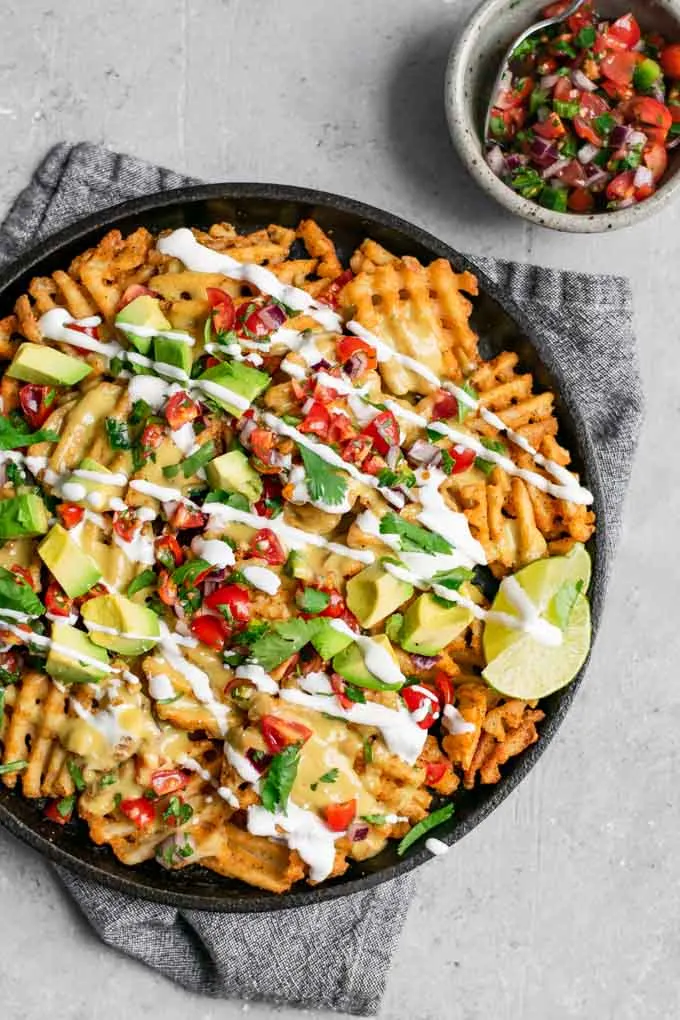 There comes a time in every person's life when you just gotta have nachos for dinner (or as an appetizer/snack). And while loaded tortilla chips will always be there for you, at times a change of pace is nice. For those times, we have the humble waffle fry*.
*Which you can feel free to substitute with tater tots, wedges, or whichever fried or baked potato shape that makes you happy.
There's nothing quite as addictive as crispy seasoned fried potatoes smothered in vegan queso. But topped with pico de gallo, [vegan] sour cream, and avocado and it's perfection! Please, grab a fork and dig in!
It's a tasty and satisfying recipe, that happens to vegan, nut free, soy free, and gluten free (that being said, read the labels to make sure your frozen potato product is also free of the allergens you need it to be free of). So, basically, these waffle fries nachos are for everyone. And yes, that includes you!
Who doesn't love cheesy potatoes after all!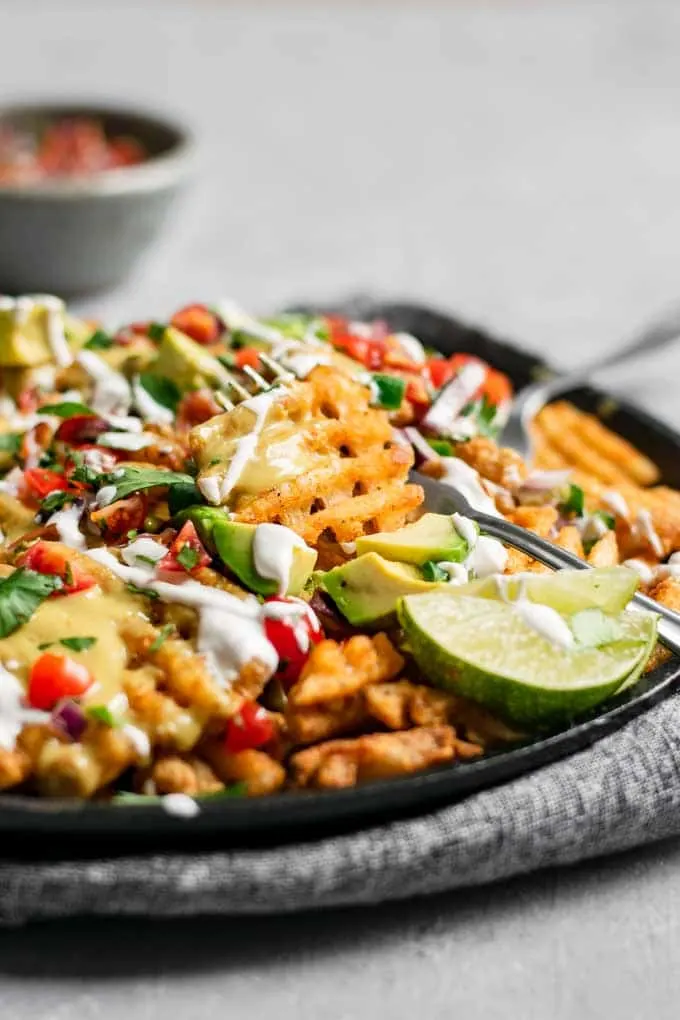 The vegan queso:
I have a strong love for creamy, rich, cheesy foods. This didn't change or go away when I cut out dairy from my diet. Instead, I found ways to hit those cravings from plant based ingredients.
And you guys, there are so many ways to make savory, salty, creamy, umami rich vegan cheeses and sauces. For this vegan nacho cheese sauce, I went with creamy coconut milk. I loved it so much in my buffalo wing mac and cheese and knew it would be great in a vegan queso.
Full fat canned coconut milk makes such a great base for vegan cheeses. It has that lush, rich mouthfeel, is naturally thick and creamy, and relatively mild tasting.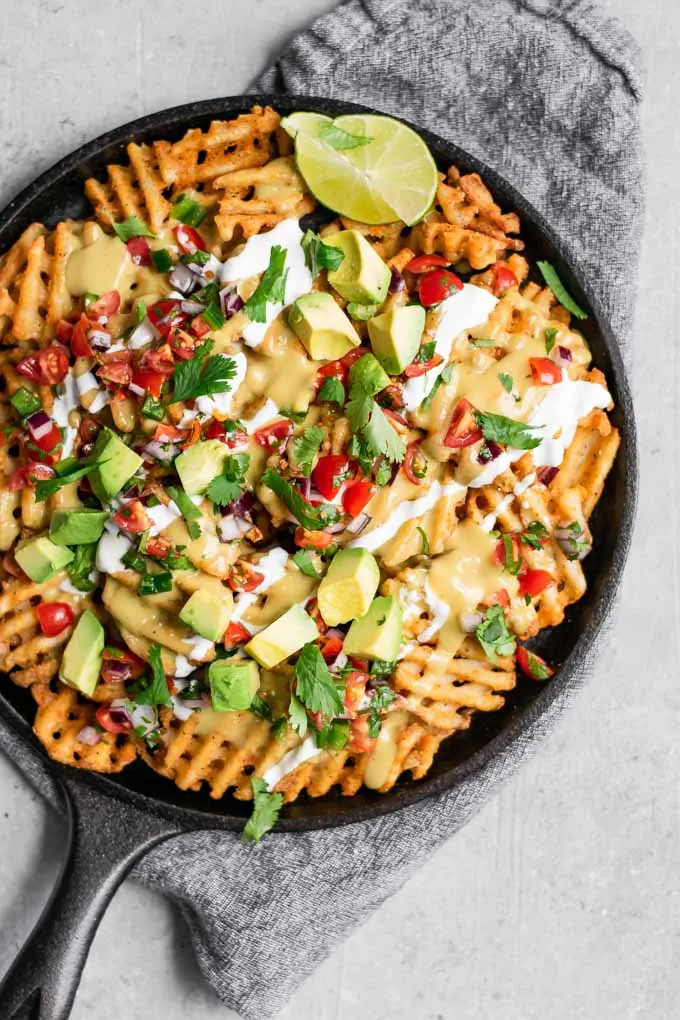 While I'm not going to pretend that coconut milk is neutrally flavored, its nutty sweetness becomes an undertone against the spices in the queso. If anything it balances the savory, chili infused sauce.
All you need to make this nacho sauce are 10 pantry friendly ingredients. A bonus to making coconut milk-based sauces is that any blender can do the trick, as there are no nuts to turn to cream.
Canned green chiles and chili powder (either the standard 'chili powder' blend or ground ancho chiles) for the mild heat. Canned green chiles come in mild and hot options, so if you want your queso a bit spicier, go for hot. You could also add some cayenne or ground chipotle powder for heat.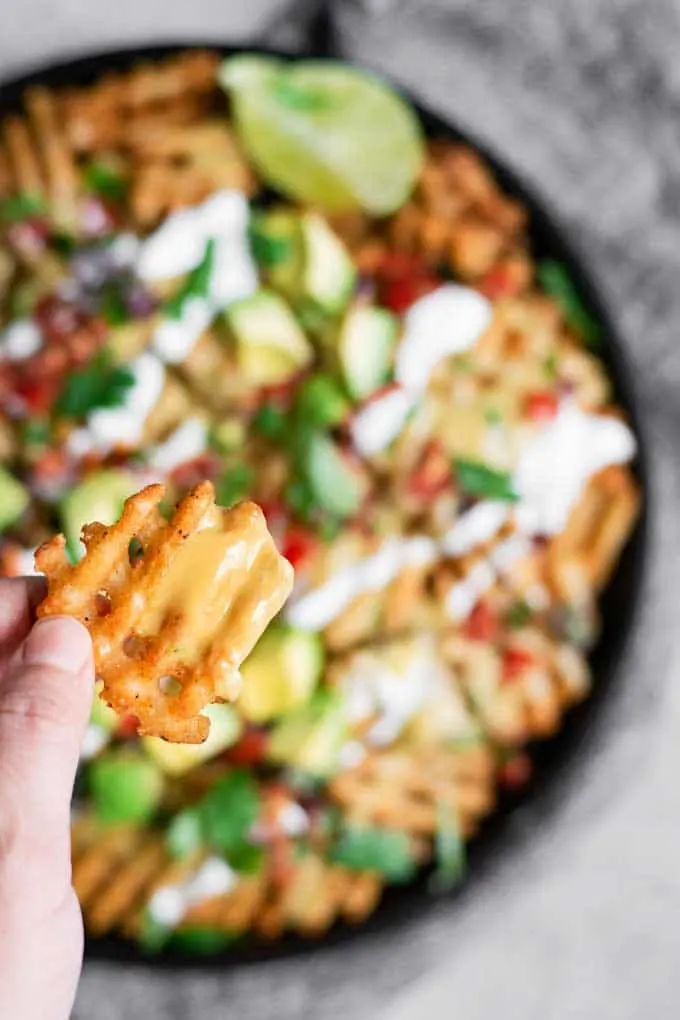 For non-chili seasoning add cumin, garlic powder, and salt. Add a fat pinch of turmeric just for color.
To make the coconut milk cheesy, add a sprinkle of apple cider vinegar. Just a little bit of vinegar adds the sour that is inherent in cheese and cuts some of the coconut flavor. Also add nutritional yeast, which has a savory, cheesy, nutty flavor.
The last ingredient is tapioca starch. Blend it in then heat the sauce up to activate the starch. Tapioca starch has the special quality of making creamy sauces stretchy in texture. Any starch will thicken and work though, so if all you have is corn starch or arrowroot don't let that stop you!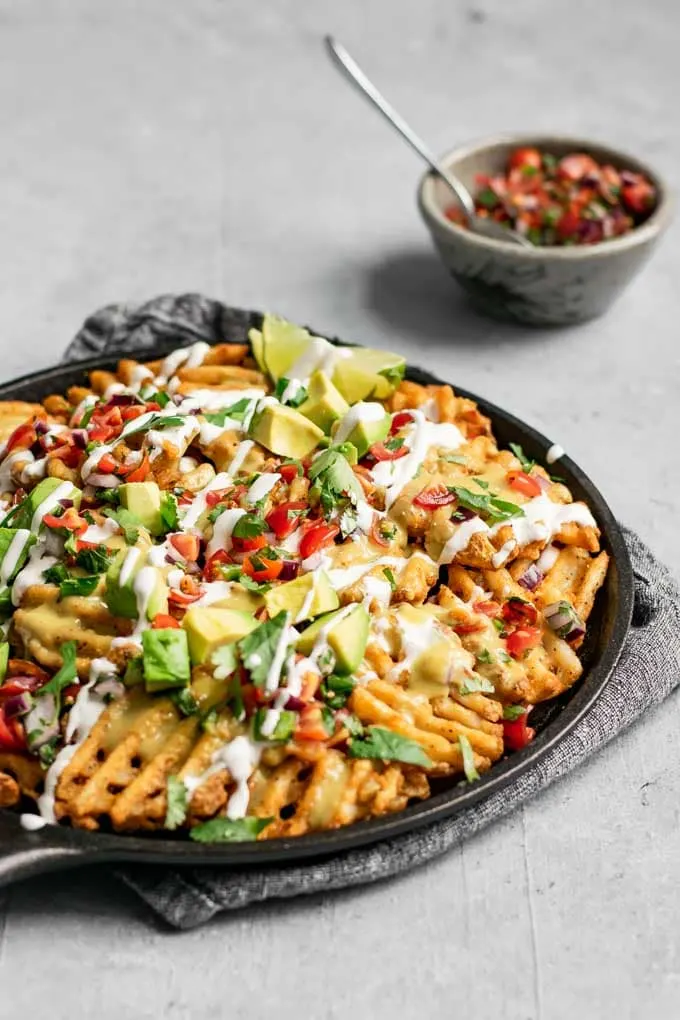 The other toppings:
On my cheese smothered waffle fries, I like to add some fresh tomato flavor in the way of pico de gallo. A drizzle of sour cream is a must, and some avocado. Add fresh herbs as garnish–cilantro and/or green onions are perfect accompaniments. I like to serve mine with wedges of lime for a final citrusy squeeze.
When a well laden fry hits your tongue, you can't help but do a little dance of delight. Just me? Nah.
I made a fresh pico de gallo for these waffle fry nachos. With cherry tomatoes, jalapeño, red onion, cilantro, lime, and a sprinkle of salt. It's super easy to make, if not the quickest when you insist on cutting your mini cherry tomatoes into 8 equal pieces. ?But if you're less OCD about it (i.e. not a food blogger) a rough chop does the trick.
You can certainly switch up the toppings and make your vegan waffle fry nachos your own–salsa instead of pico, guac instead of chopped avocado. Skip the sour cream or add hot sauce. If all you want is cheesy fries, well that's ok too!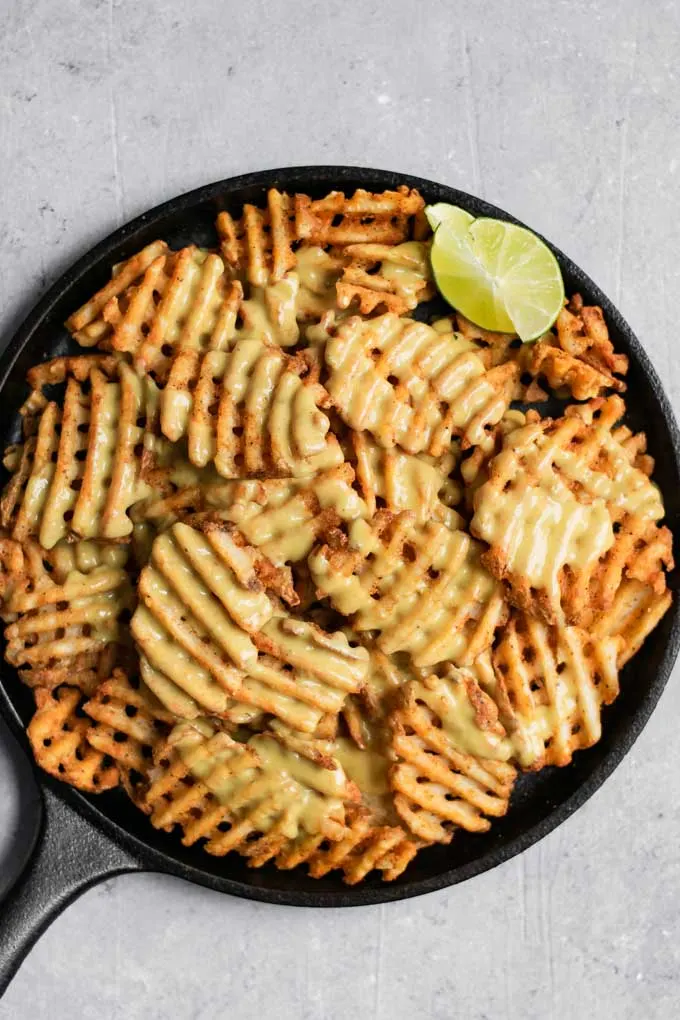 Final notes:
This recipe is speedy and easy to make. The active time can be done in less time than it takes to bake your frozen fries.
I used waffle fries because they're seasoned and delicious, but tater tots make a great nacho base, as would curly fries or wedges. Heck, you can even make loaded regular fries! The freezer section of your local grocery store is at your mercy.
If you want this recipe but can't use coconut milk, a plain and unsweetened soy cream, cashew cream, almond cream, or oat cream would work. To make your own cashew cream use 3/4 cups cashews to 1 1/2 cups water and blend until creamy, then proceed with the recipe as written. If not using a high speed blender soak your cashews in cold water for 2 hours (or longer in the fridge) then drain before using.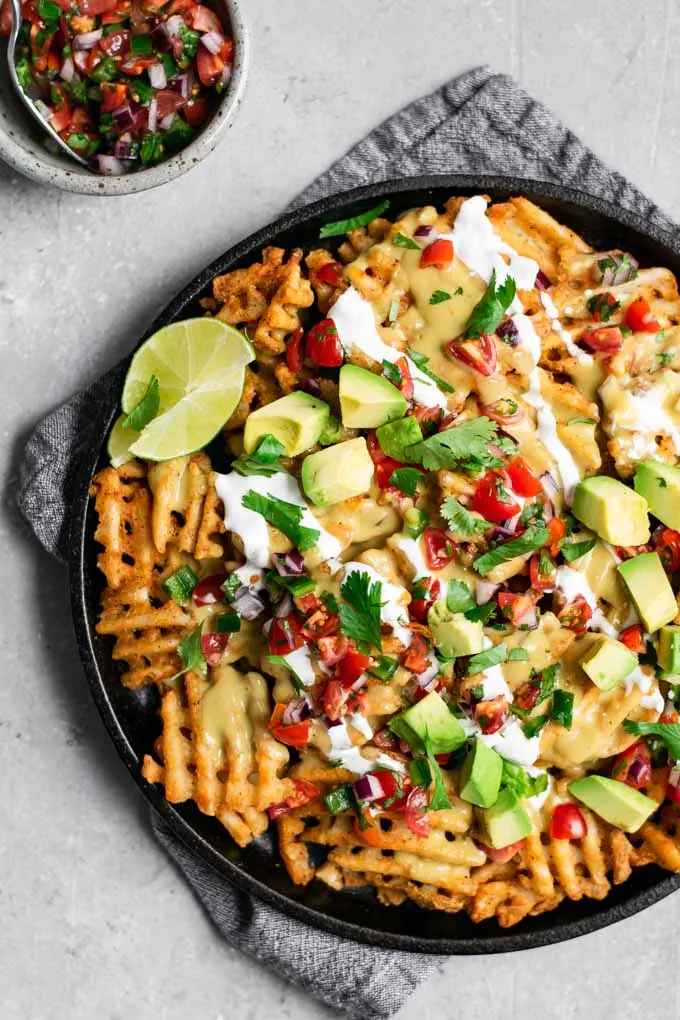 ---
If you make these waffle fry nachos with vegan queso, leave a comment below and rate the recipe on the recipe card. And please share your photos with me on Instagram, tag @thecuriouschickpea and #thecuriouschickpea. I love seeing your recreations!
WANT MORE DELICIOUS VEGAN RECIPES? FOLLOW ME ON INSTAGRAM, FACEBOOK, AND PINTEREST!
---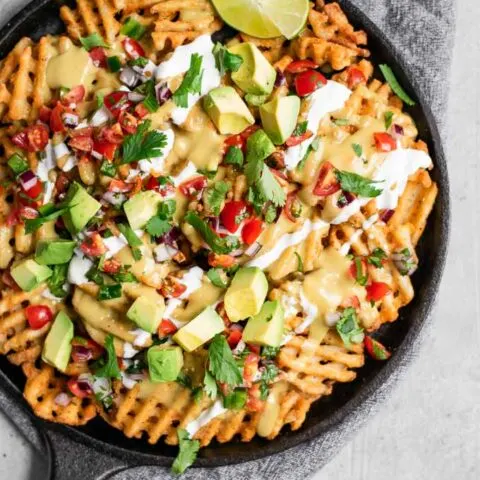 Waffle Fry Nachos with Vegan Queso
Yield:
4 servings as appetizer
These waffle fry nachos are smothered in an easy homemade vegan queso and topped with fresh pico de gallo, sour cream, and avocado for a delicious gluten free snack or meal!
Ingredients
20oz waffle cut fries
pico de gallo, see note
avocado, diced
vegan sour cream
cilantro and/or scallions for garnish
Vegan Queso
15oz can full fat coconut milk
4oz can diced green chiles, less to taste for more mild
1/2 tsp apple cider vinegar
3 tbsp nutritional yeast
1 tsp chili powder, or ground ancho chile
1/2 tsp ground cumin
1/2 tsp garlic powder
1/4 tsp turmeric
1/2-1 tsp salt, to taste
2 tbsp tapioca starch
Instructions
Bake the waffle fries according to package directions.
In a blender combine all of the ingredients for the queso and blend until smooth. Transfer to a small pot and heat over medium-low until it simmers and thickens. Turn off heat and cover to keep warm.
Assemble the waffle fries: add the fries to a plate and smother with vegan queso, add pico de gallo, avocado, and drizzle with sour cream. Garnish with cilantro or scallions. Enjoy while hot!
Notes
Pico de gallo: 1/2 pint diced cherry tomatoes, 1 minced jalapeño, 1/4 cup minced red onion, 1/4 cup minced cilantro, 1/2 lime juiced (~1 tbsp or more to taste), pinch of salt to taste. Mix everything together and keep in fridge.
The recipe for vegan queso makes enough for about 2 batches of waffle fry nachos. You can bake a second bag of fries or save the extra for another use! Alternatively you can always halve the queso, but that's crazy!
Recommended Products
As an Amazon Associate and member of other affiliate programs, I earn from qualifying purchases.