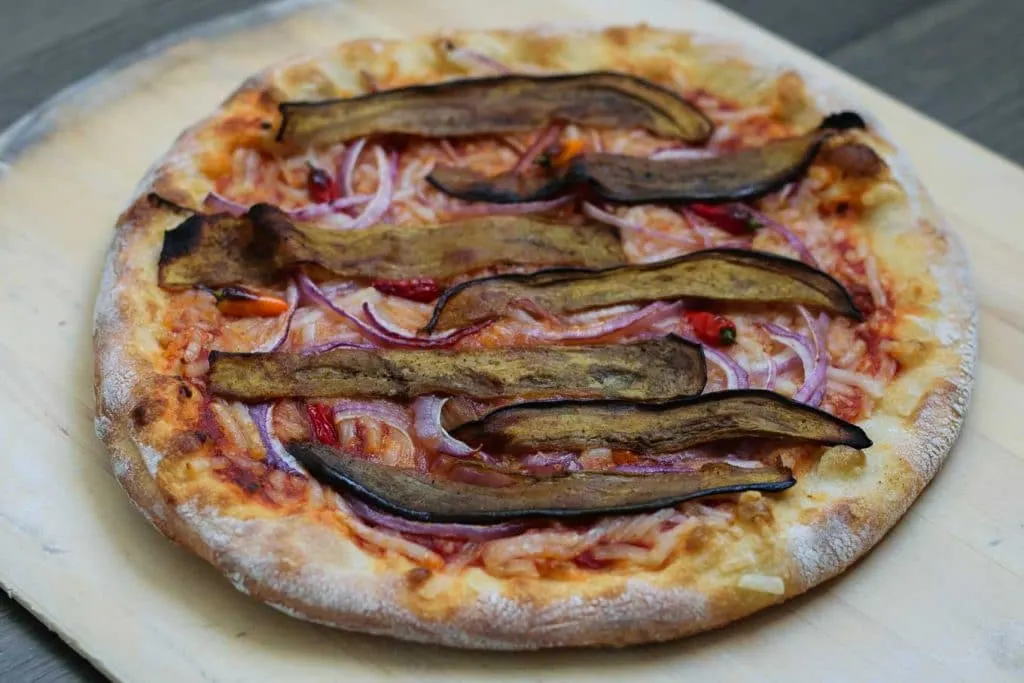 I've been on a bit of an eggplant kick lately. It's just such a great vegetable (ok, actually it's a fruit, like all good things in life), that's perfect in so many applications. It can be used in stir fries, in salads, in tacos. It makes dips, sandwich fillings, casseroles, and even [plant-based] bacon. You find it in a lot of cuisines: Turkish, Japanese, Indian, Thai, French, Chinese, American, Italian, and more! In this recipe I suppose I'm combining a few cuisines by putting Indian curried eggplant on top of Italian pizza alongside Thai birds eye chiles (which are happily substituted for Mexican serrano peppers or jalapeños). There's a culinary adventure in each bite, and damn it's good.
This pizza uses my madras curry marinated eggplant, which is so perfect for batch cooking and adding to all sorts of meals throughout the week, including sandwiches, salads, wraps, and–duh–pizza! On the pizza the thinly sliced eggplant turns extra crispy, almost tricking you into thinking it's been deep fried. The curry flavor that's soaked into the marinated eggplant melds perfectly with creamy vegan mozzarella. Red onions are sliced extra thin and used in abundance for their sweet flavor that balances the earthy curry. Tiny, colorful birds eye chiles are cute but also super hot so best used sparingly. A spicy pizza topped with a crispy and indulgent tasting curried veggie, what's not to love??
The red sauce is a crushed pepper-enhanced riff on my basic go-to sauce. I don't cook my basic pizza sauce, but just whizz up good quality canned whole tomatoes (like san marzano or san marzano style, or even other varieties as long as they're good quality and organic). The trick is to not over blend the tomatoes. Start with only the herbs, a splash of olive oil, garlic and chili if using, and a dash of salt and just enough of the tomatoes for the blender to work. Blend that until smooth before adding the rest of the tomatoes. Once they're added, pulse the blender just a few times so that the resulting sauce still has some tomato texture. If you blend the tomatoes too long they will break down and make the sauce too runny so that it would require a simmer over the stove which changes the flavor of the sauce (not necessarily a bad thing, but, I'm lazy).
For the dough, I used my newly (/finally) shared recipe for easy overnight pizza dough. It's my go-to recipe because it's so flexible. And here's a little secret, it can be a same day pizza dough if you start early enough. Mix the dough together first thing in the morning, and by the end of the day you can make your pizza. Another trick is to give it more time out of the fridge to speed things up. I do like it best with a longer rise in the fridge, but sometimes pizza can't wait.
When you're ready to make your pizza, your dough (whether it's my recipe, your favorite recipe, or store bought) should be relaxed and at room temperature. If it's been in the fridge, leave the dough out at room temperature for an hour to achieve this. To shape the dough, place on a well floured counter and sprinkle flour over the top. Pat the dough into a thick disk with your hands. You then have two options. You can toss the dough into the air to finish stretching, and this is my favorite method as it produces the most evenly round pies, but also requires the most skill and practice.
The second and easier method to shape pizza dough is to let gravity do the work for you. Pinch the dough between your thumb and forefinger, somewhere between 1/2 and 1″ from the edge of the disk. How much distance you choose will determine how large your crust is. Holding the dough up off the counter just move your pinched grip to feed the dough through your fingers. The dough will be stretched down by gravity and as you move it, it will end up being stretched into a relatively even round shape. It's a little tricky to explain but practice will make it clear.
If for any reason your dough isn't stretching easily, that means the gluten needs more time to relax, and the dough can proof a little longer. Never force the dough, but let it rest for 10 minutes and try again until you're able to get the shape and size you want. Just do me a favor, and never take a rolling pin to your dough. That is, unless you want all the air to be pushed out of if (and trust me, you don't!).
Well I hope you guys enjoy my newest pizza recipe! For more pizza inspiration, check out my other pizza recipes. I've also declared this pizza week, so feel free to follow along on my Instagram or Facebook! Give me a follow if you haven't already, or are just joining me now! If you make this one, let me know! Leave a comment and/or rate the recipe below, tag me on Instagram (#thecuriouschickpea), or share with me on Facebook! Happy baking!

Notes:
I used Parmela Creamery mozzarella on this pizza, but your favorite vegan cheese will work, including my homemade mozzarella!
Add some crumbled vegan sausage if you want some protein on the pizza.
The small Thai chiles are very spicy, so if you don't like as much spice (or if you can't find them), substitute sliced serrano or jalapeño peppers. Deseed for less heat if desired. Use less or more hot peppers to your tastes. And of course, if you hate spicy, leave them off!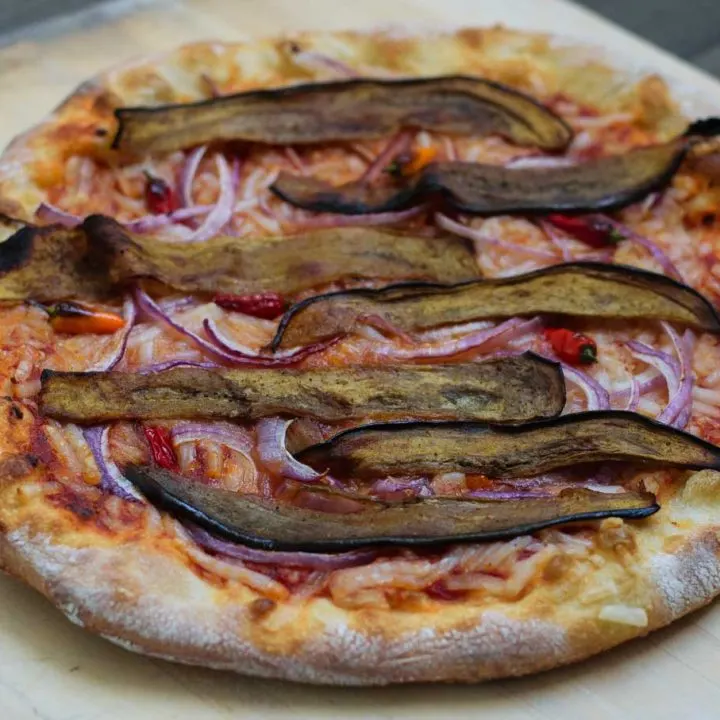 Vegan Curried Eggplant Pizza
Cheesy pizza is topped with sweet red onions, spicy hot chile peppers, and delicious crispy slices of curry marinated eggplant.
Ingredients
Red Sauce
2 small cloves of garlic
1 tbsp olive oil
1 tsp crushed red pepper
1/2 tsp dried oregano
1/4 tsp salt
15 oz can of whole tomatoes
For the pizzas
red onion, thinly sliced into half moons
birds eye chiles or sliced serrano or jalapeño peppers
Instructions
Make the red sauce
Add a couple spoonfuls of tomatoes and their juice to a blender or food processor, along with the garlic, olive oil, red pepper, oregano, and salt. Blend until smooth.
Add the remaining tomatoes and their juice. Pulse a few times, until the tomatoes are just broken up. You want to maintain some texture.
Prepare and bake the pizza
Preheat oven to 550 ºF (or as hot as your oven goes) or a full hour to fully saturate the oven with heat, with the rack positioned one level above the middle. If using a pizza stone or baking steel, make sure that's in the oven as it preheats.
Stretch out the pizza, 10 oz of dough makes one ~12" thin crust pizza.
Place dough on baking sheet if using, or prepared pizza peel if baking on a stone or steel.
Spread the red sauce over the dough. Sprinkle on the cheese over the pizza. Then top with the sliced red onion. Arrange the eggplant over the pizza, and then add the chiles.
Bake for 8-10 minutes, keeping a close eye on it at the end.* You can turn to broil for the last 1-2 minutes if you want additional melting and browning.
When the cheese is melted and the crust is a golden brown, remove the pizza from the oven and let cool for a few minutes before cutting into slices. Enjoy!
Notes
*longer baking time maybe necessary if using more pizza dough, or if oven temperature is lower.