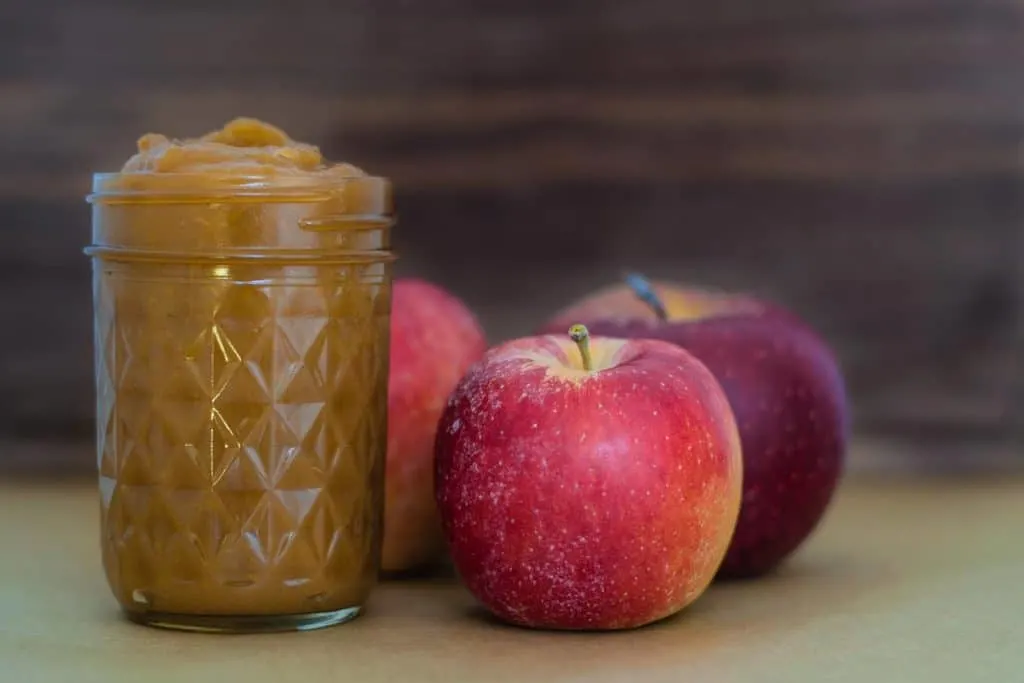 We went apple picking a couple of weekends ago in an picturesque orchard less than an hour outside of DC.
We'd been planning our trip to this orchard ever since trying freshly milled cider made of apples from this orchard at our local end of summer street fair. We watched a man churn an old fashioned cider mill and the juice pour straight into our glasses.
We ended up with pure, unadulterated apple flavor, sweet with a hint of tart, and so fresh tasting. I had never enjoyed the flavor of apples as much as I did in that moment. So a month or so later when the leaves had started to turn colors and the air had developed a hint of crisp, we ventured out of the city.
It was Omar's first time going apple picking, and my first time going picking at an orchard with such a large number of varieties (I guess the central Illinois climate doesn't make for the best apple growing?).
There were a dozen or so varieties of ripe apples you could pick. We picked a peck of apples, which ended up being 2-3 apples of each variety (minus a couple of the more common ones we could easily find at the grocery store). I discovered my newest and truest favorite apple variety, winesap, and I wanted to distill that apple flavor and have it last forever. So, that's how this recipe for apple butter came to be!
I don't own a slow cooker and am pretty ok with that most of the time. [If you have one, you could use it with this recipe, just let the apples cook away in it for hours–6? 8? 12? idk, like I said, don't have one!–and blending at the very end].
But you don't need a slow cooker to make apple butter. It is really easy to make on the stovetop! First step is to cook chopped apples down to apple sauce consistency.
Most recipes add quite a lot of sugar, but I use none here, as it just detracts from the pureness of the apple flavor, plus usually apples are plenty sweet! If you are finding your apple butter on the tarter side, or know that you prefer a sweeter taste, feel free to add anywhere from 1/4 – 3/4 cups of brown sugar or turbinado sugar (I prefer these for the hint of molasses they bring to the apple butter).
I do add some apple cider which adds extra sweetness, and helps the apples cook and allows for less careful monitoring.
A couple of cinnamon sticks and some freshly ground nutmeg (pre-ground is fine too!) are all the spices needed. Simmered over low heat for hours, the spices are drawn out to a mouth-tingling, nose-tantalizing effect. A pinch of salt brings out the natural sweetness of the apples.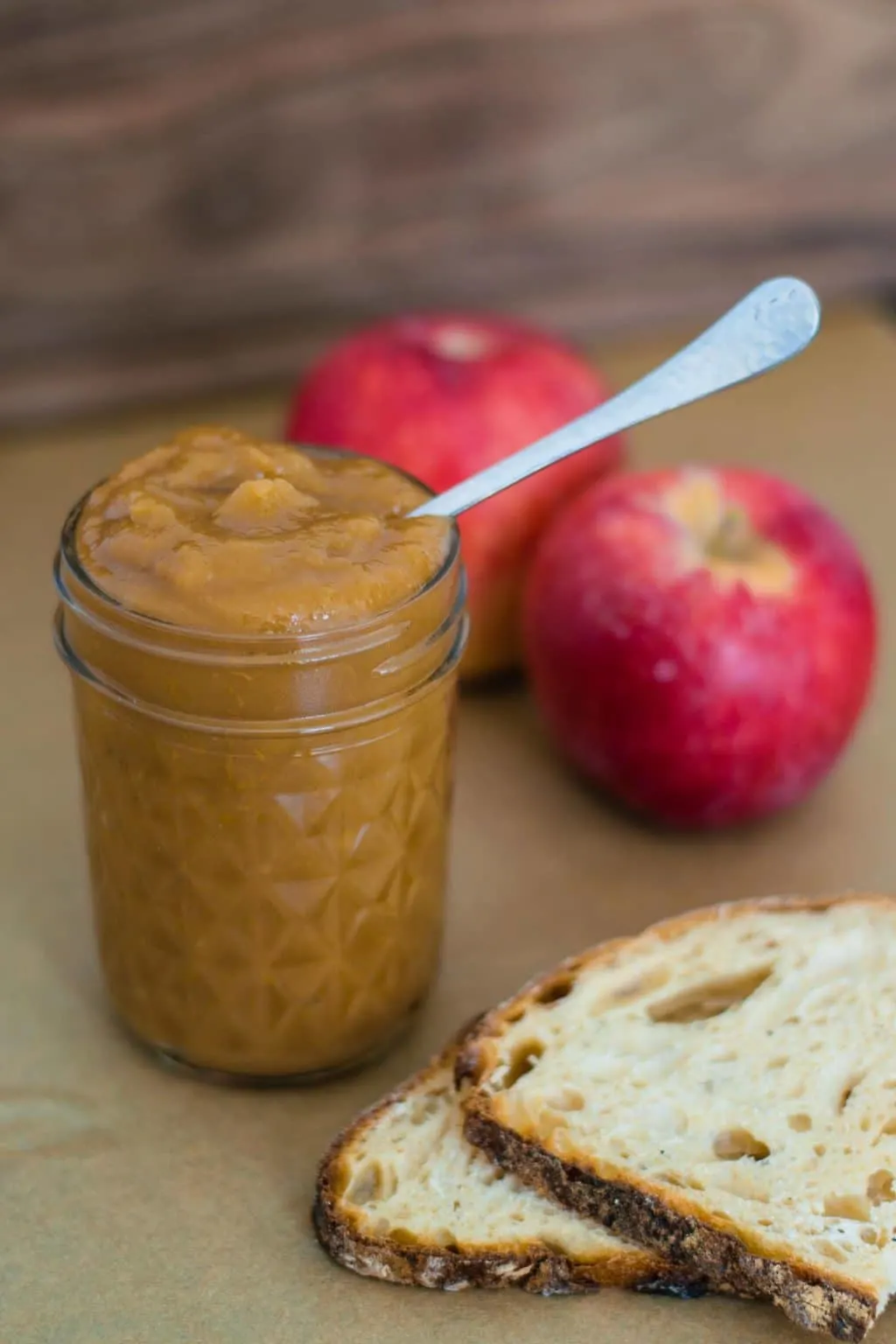 Once the apples are soft and you have a chunky sauce, they're blended up then returned to the stove for hours of simmering. Apples simmering over a low heat will break down, and over the course of some hours will caramelize into the most delicious and deep apple flavors.
With the lid propped open the water is able to evaporate and the apple butter thickens into a luscious and buttery spread. It's so good on toast, biscuits OR scones, by the spoonful (what?!?), or to make apple pecan cinnamon buns!
This recipe may take several hours to make, but it's so worth it. In this case, slow is really best! But I promise you it's really hands off and doesn't require much of your attention at all.
I just had it running in the background while I did some other cooking projects, cleaned my home, and relaxed on the couch. You could set an alarm every 20-40 minutes to remind yourself to give it a quick stir.
Or I give you another option of switching the blended apple sauce to the oven for the final hours of simmering. At 325 ºF, the temperature is above boiling, and the water will cook off, allowing the mixture to thicken and the sugars to caramelize into the more complex flavors of apple butter. You'll still want to stir occasionally, but there's less risk of it sticking to the bottom of the pot or burning in the radiant heat of the oven.
I think my favorite part of making apple butter was the way it made my house smell. Better than any candle, both in quality of scent and for the fact that I got to eat it afterwards.
If you're an apple fan I highly recommend you try your hand at making some apple butter! It's so so good. I love this no-sugar added version, It's just too perfect. Let me know if you give this recipe a try! Leave a comment and/or rate the recipe below, tag me on Instagram (#thecuriouschickpea), or share with me on Facebook! Happy eating!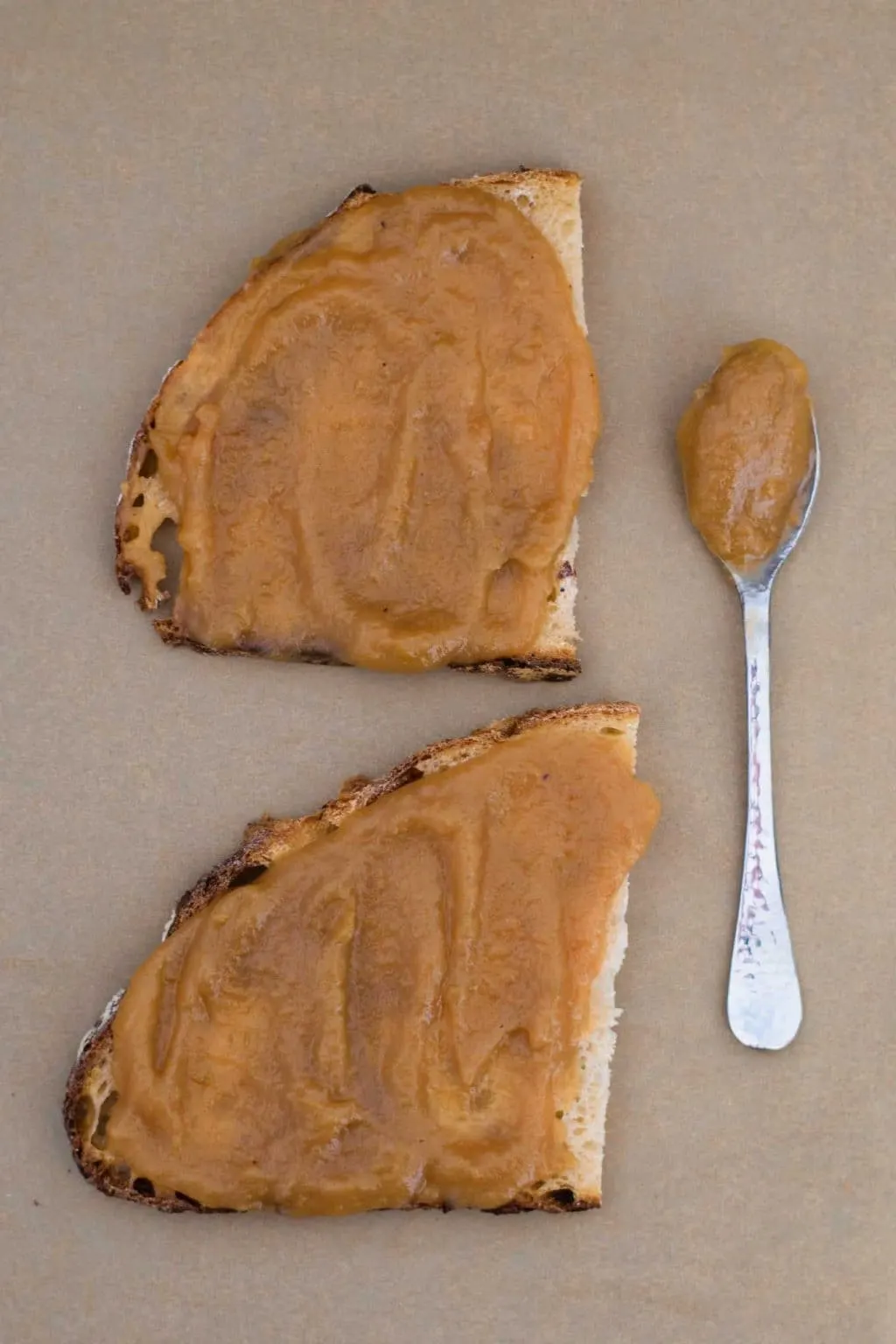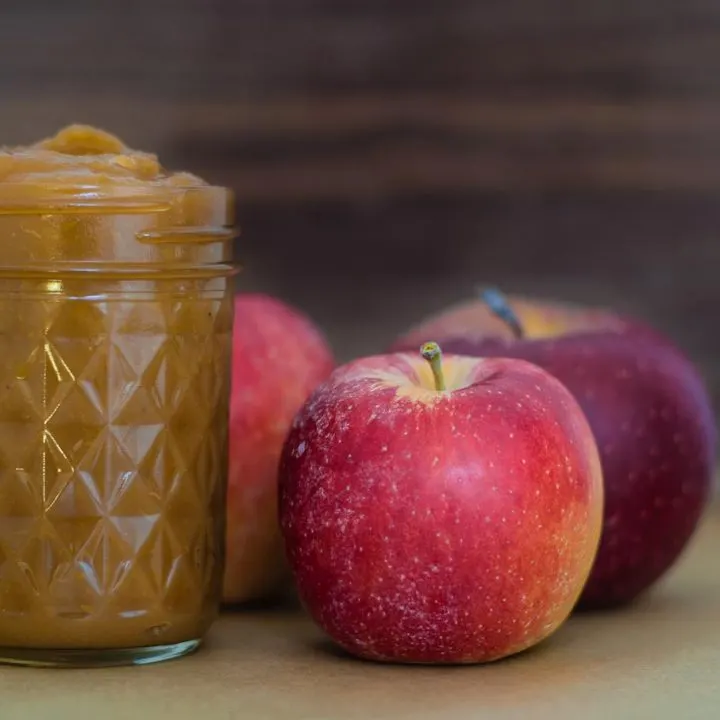 Easy Stovetop Apple Butter Recipe
Yield:
approx. 2 1/2 cups
Total Time:
4 hours
10 minutes
This apple butter is perfectly sweet and tart, with no added sugar. Buttery smooth and bursting with mouth-watering apple flavor.
Ingredients
2 lbs (~6) apples, cored and diced*
1 cup apple cider
2 cinnamon sticks
1/8 tsp salt
1/8 tsp nutmeg
Instructions
Put everything in a large heavy bottomed pot. Turn heat to high and bring the cider to a boil. Turn heat to low and cover pot. Simmer for about 1 hour, stirring occasionally, until the apples are broken down and you've lost somewhere between 1/3 to 1/2 of the original volume.
Remove the cinnamon sticks from the pot and keep reserved. Blend the apple sauce-like mixture with an immersion blender, or let cool a bit and then transfer to a traditional blender, and blend until smooth.
Return the mixture to the pot over low heat and add the cinnamon sticks back in. Simmer with the lid propped partially open (leave a wooden spoon in the pot to keep the lid open) and another 3 hours or so, stirring every once and awhile, until you've reached your desired thickness. -OR- place in a baking dish and cook uncovered in the oven at 325 ºF for the same amount of time, stirring every 30 minutes.
Notes
*no need to peel as it gets blended until smooth, but if you have non-organic apples or ones that are very shiny and waxy you may want to peel them