Making your own pizza dough is simple with this easy overnight pizza dough! Four ingredients plus time is all you need for the best homemade pizza of your life!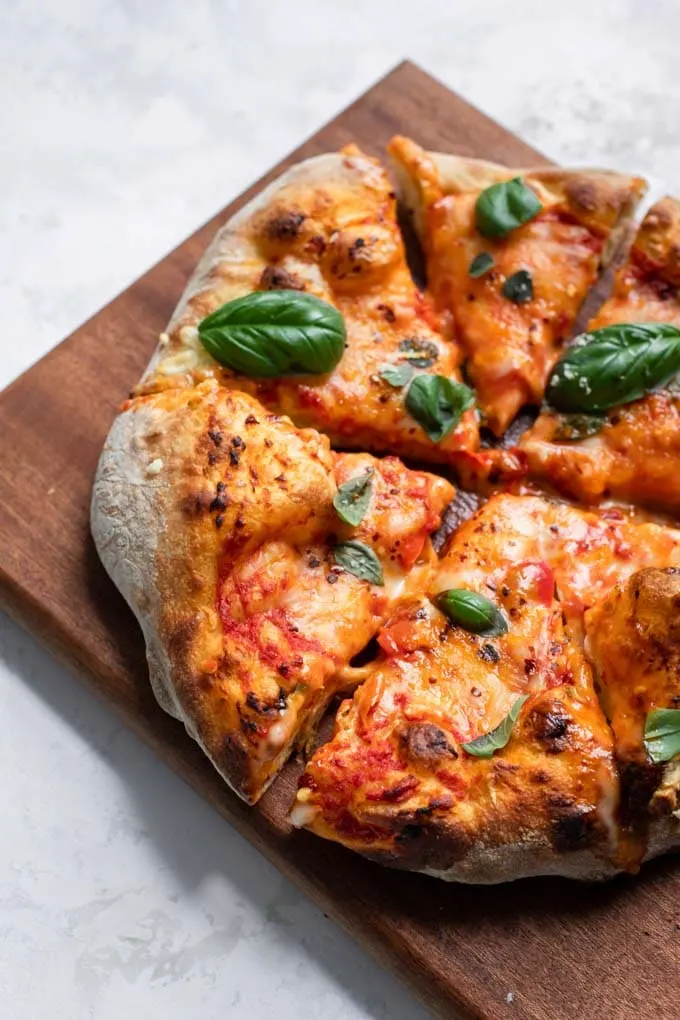 There are hundreds (thousands?) of ways to make pizza dough, but this recipe is a favorite of mine. It has just 4 ingredients, and maybe 5 minutes of hands on time. It needs only 1 minute of kneading and can accommodate a relatively flexible schedule.
The only real downside to making this recipe (and your own pizza dough in general) is that it's not great for instant gratification. If you want to make last minute pizza, you can get dough from grocery stores or some pizza shops.
But if you want the reward of making your own pizza dough, and you want it to taste as good as the crust from a nice pizza place, you should really try this recipe! It's a perfect all purpose type pizza dough. It can be stretched thin and bakes up with a pillowy edge (technical term cornicione).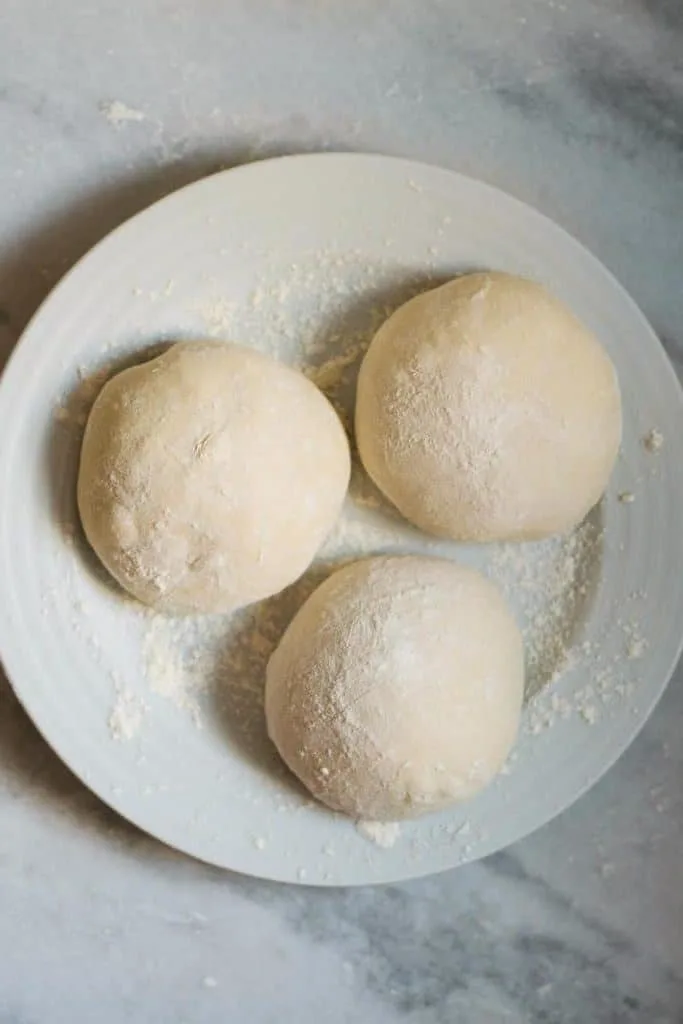 The method is quite simple, and you'll see some similarities in the technique to my overnight artisan walnut bread (there's a video over there where you can watch some of the techniques I describe in the recipe if you'd like. Specifically the pinching, folding, and shaping techniques).
The recipe is adapted from The Elements of Pizza by Ken Forkish, who, if you've been following me for awhile, you might have noticed I'm a big fan of. I love the more science-y approach he has to baking. There's certainly an art to making your own bread and pizza, and a lot of it is done by feel and experience, but I find it helpful to understand the whys behind it.
The importance of the pizza baking temperature
Professional pizza ovens typically bake pizzas in just 1-3 minutes at 700 to over 1000ºF, while in my home oven it takes a minimum of 6 minutes for a smaller pizza on the hottest setting my oven goes to.
A typical 10-12″ pizza takes closer to 8-10 minutes in a well pre-heated oven at 550ºF. Because of this, the best doughs in a professional kitchen are not going to be the best dough in a home kitchen. More water will evaporate while baking at home due to the longer bake time. That's why when you bake your pizzas at 425 ºF (which is what I see in a lot of recipes) for like 20 minutes, you'll get a much stiffer and drier result.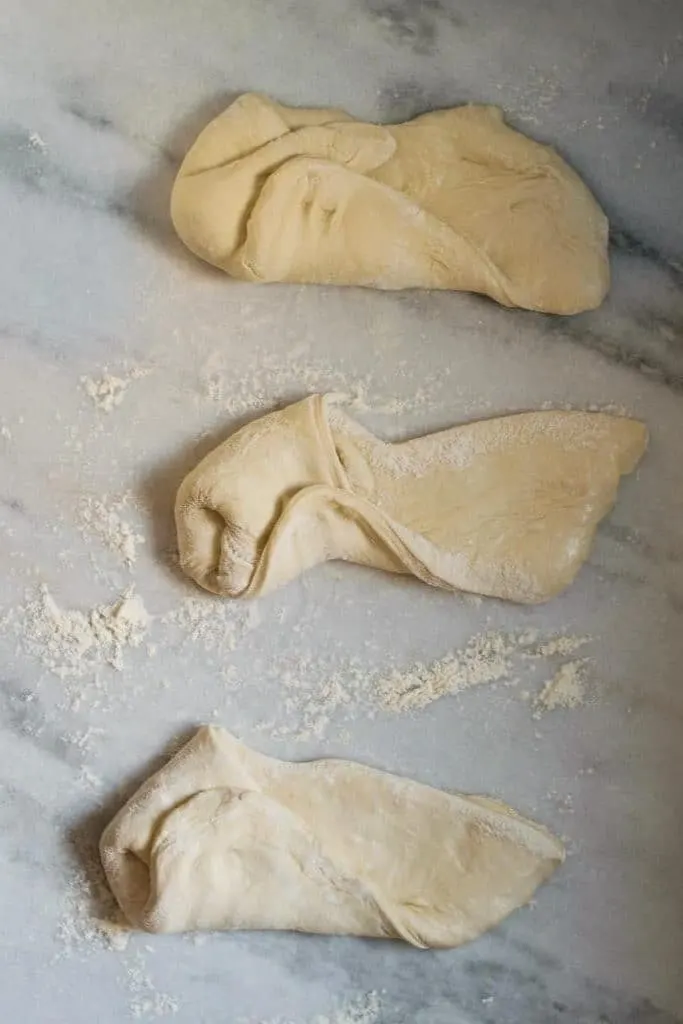 To imitate a professional oven you want your home oven to get as hot as possible. That's usually somewhere between 500 and 550 ºF. You also want to preheat your oven for an hour.
Your oven may say that it's preheated well before an hour is up, but, you need the heat to absorb into the walls of the oven. That way, when you open your oven door to slip in your pizza, you won't lose as much heat.
It doesn't matter if you have a fancy Wolf or Viking oven or if you have an average oven, this is just a matter of heat transfer and it takes time. Luckily, an hour happens to be the time it takes for the pizza dough to come up to room temperature and for the gluten to relax before you shape and top your dough so it really works out nicely.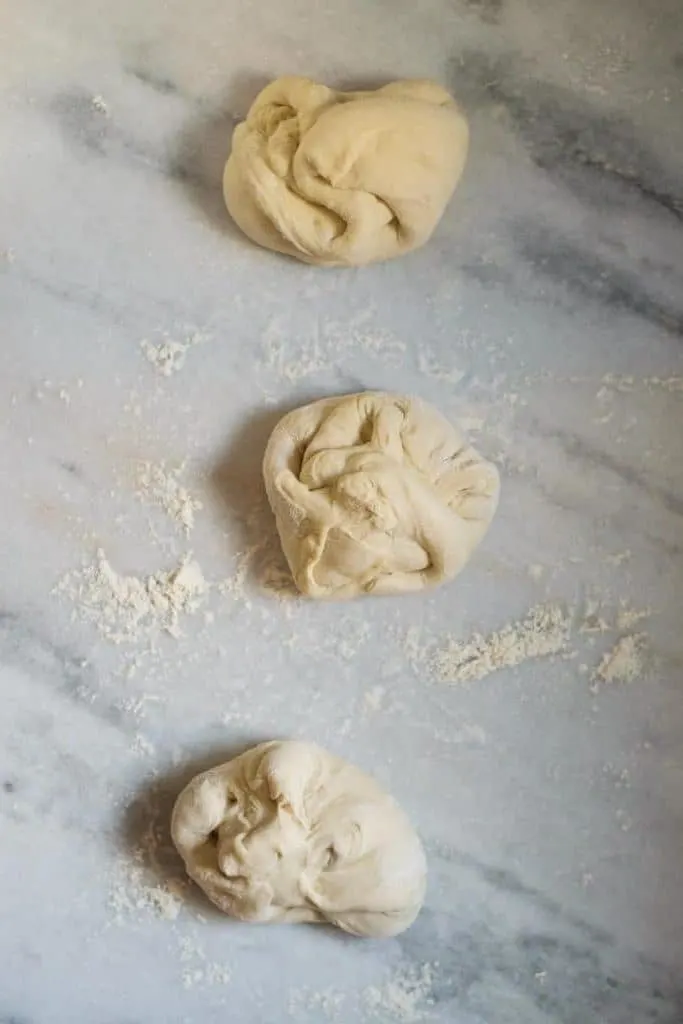 The ingredients of the dough
As far as the dough itself is concerned, we use a slightly higher hydration (or a wetter) dough than most professional recipes to account for this additional evaporation. This recipe has a 70% hydration, which allows for a softer and doughier crust. The dough also uses a high percentage of salt.
Salt not only provides flavor in the final product, but it also acts to retard the growth of the yeast. And, as I've said before and I'm sure will say again, a slow and cold fermentation leads to a tastier result, as it gives the yeast time to create those delicious flavor molecules as it processes the carbohydrates in the flour.
Speaking of yeast, only a small amount is used to allow for the long and slow fermentation. I tend to use all purpose flour (and the recipe is written as such), but make sure to use a high quality (and higher protein one), like King Arthur Flour or Bob's Red Mill.
I find my bread and pizzas are a lot better when I use these high quality flours. You can use Italian 00 flour instead in this recipe, but I am pretty happy with the way my all purpose flour doughs come out, so don't usually bother to source the more expensive imported flour.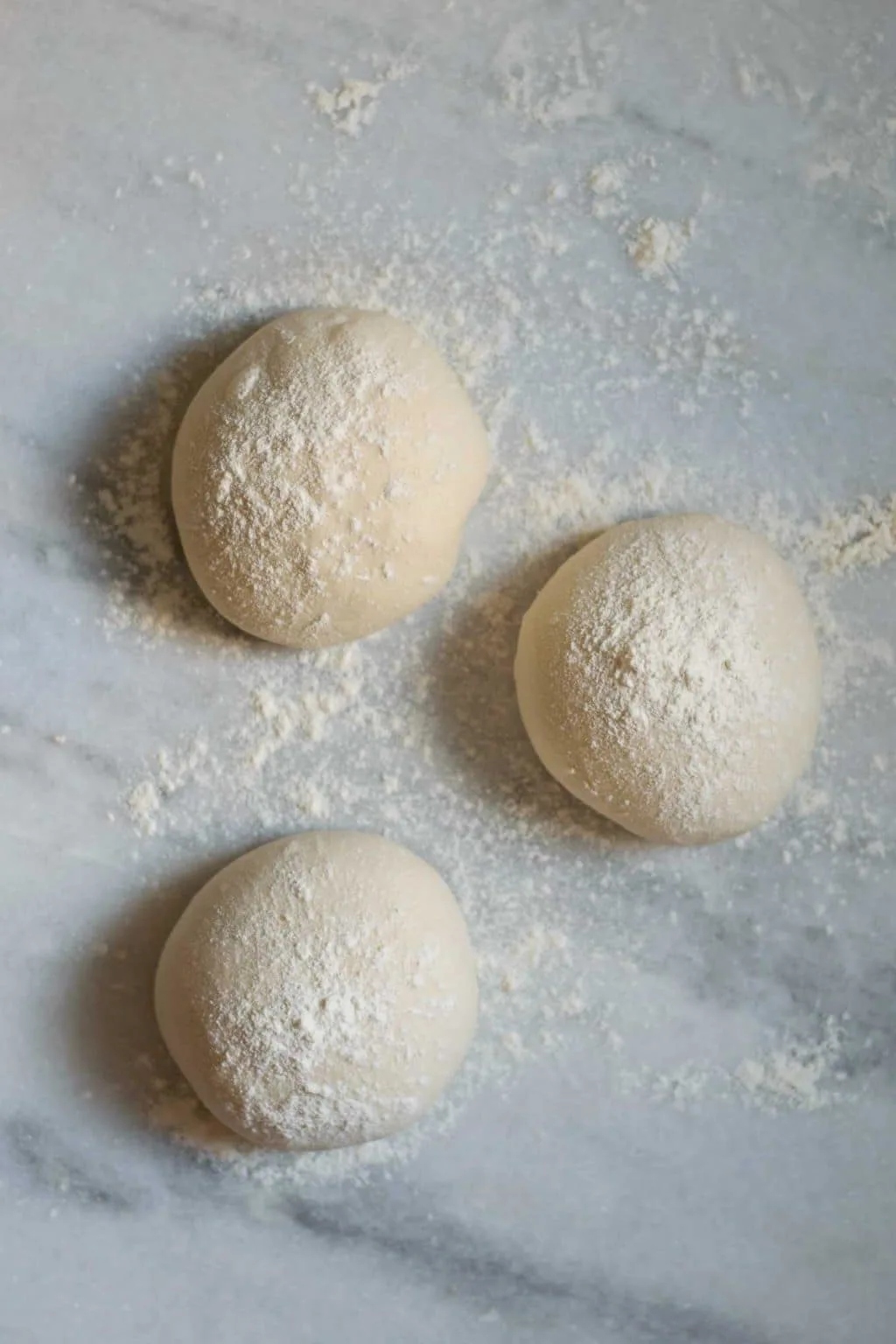 Using a baking stone or baking steel to bake
Lastly, I want to talk about how to bake your pizza. We've already talked temperature, but what you bake on is equally important. For years I used a pizza stone, and that makes pizza way better than using a thin metal pizza baking sheet.
But my pizza stone broke after 7 years and I switched over to a baking steel about 1 year ago and that took my pizza to the next level. Steel is a better conductor of heat than a ceramic pizza stone, so it is able to absorb more heat for a faster bake as well as more evenly for a more evenly baked result. It's a bit of a pricey investment though, and a stone does work very well. Just make sure if you are using a ceramic pizza stone that it is safe to use at least to 550 ºF.
Tips for using a pizza peel
The other tool that's useful for making pizzas is a pizza peel. To successfully use a peel, I've found a few helpful tips (out of a lot of trial and error).
Dust the peel with flour, then brush the flour around to create a super thin layer over the entire peel. You'll lose a lot of flour but that's ok. The flour works as miniature ball bearings, so for a nice smooth roll you want a single layer of balls, not uneven layering.
Top your pizza dough while it's on the peel (unless you have great skills to transfer a topped dough, but I don't recommend it unless it's something you already do) BUT don't prepare your pizza until you're just a minute or two away from sticking it in the oven. If you leave the pizza dough on the peel it will absorb that thin layer of flour you just coated the peel with and then stick to the peel.
Gently shake the peel and watch the pizza slide around the peel before opening the oven.
If you end up leaving the pizza on the peel too long and it's not able to slide around on the peel, lift the dough up in sections and add a little extra flour underneath, then blow air underneath the dough, essentially resettling the flour into a thin layer. Work in a round until you've loosened the dough from the peel.
To transfer the pizza to the oven make sure the dough is loose and able to slide from your gentle shaking of the peel. Then open your oven and place the peel towards the back of your pizza steel or stone. Using short back-and-forth jerky movements slide the pizza towards the end of the peel and off of it, moving the peel out of the oven slowly as the pizza comes off of it and onto the steel/stone. Once the pizza is fully off the peel close the oven door and let it bake!
I hope you guys try this dough, and then one of my many pizza recipes! If you have any questions please feel free to ask, or if you try it, let me know how it turns out for you!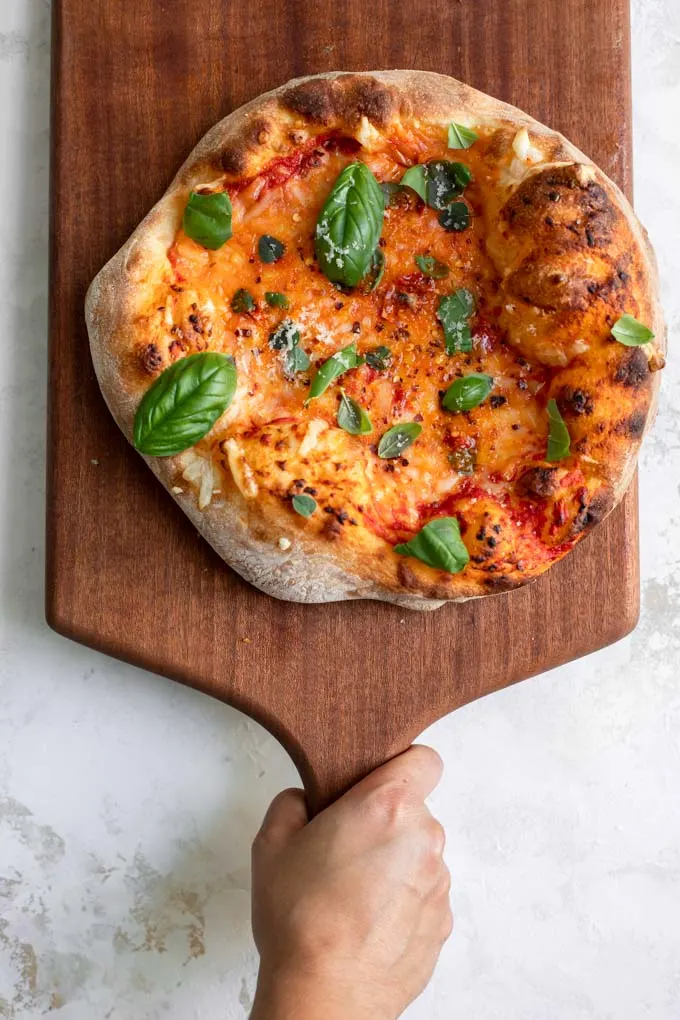 If you make this easy overnight pizza dough, leave a comment below and rate the recipe on the recipe card. And please share your photos with me on Instagram, tag @thecuriouschickpea and #thecuriouschickpea. I love seeing your recreations!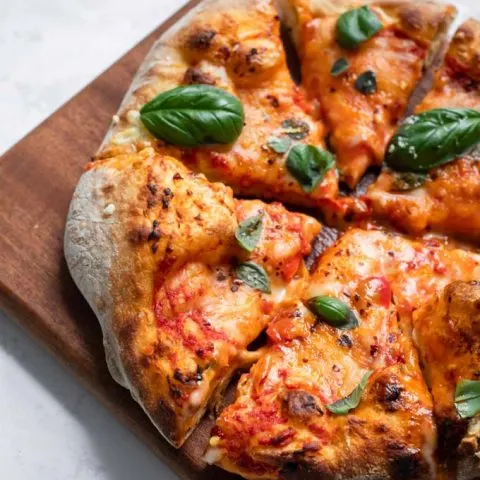 Easy Overnight Pizza Dough
Yield:
2 15 oz dough balls or 3 10oz dough balls
Prep Time:
1 hour
30 minutes
Total Time:
9 hours
30 minutes
An easy overnight pizza dough that requires almost no kneading, is easy to shape, and turns into a perfect pizza. For best results let rest in the fridge for at least 24 hours before using, but it can also be used after 2-3 days. The gluten will continue to relax and the flavor to develop over time.
Ingredients
1 1/2 cups (350g) water, 95 ºF
2 1/2 tsp (14g) salt
1/4 tsp dried instant yeast
4 cups (500g) all purpose flour
Instructions
Measure out the warm water in a large mixing bowl. Add in the salt and stir to dissolve. Sprinkle the yeast over the water and let sit for a couple of minutes to hydrate and dissolve, then stir to distribute.
Add the flour into the mixing bowl and stir with a wooden spoon until you form a shaggy dough. Switch to using your hands. Wet your hands to prevent the dough from sticking to them and pinch the dough into several segments between your first finger and thumb. Then reach under the edges of the dough and gently pull it up to stretch the dough until you hit resistance, then fold the section of dough over to rest of the dough. Turn the bowl 1/4 turn and repeat the pulling and folding until you've gone all around. This action brings the dough back into one piece. Repeat the pinching and folding process for about 1-2 minutes until your dough starts to turn into a cohesive, but sticky ball of dough. Re-wet your hands as necessary to prevent the dough from sticking to them. Cover the bowl and let rest for 20 minutes.
After the 20 minutes of rest, turn the dough onto a clean and floured surface. Knead the dough for about 1 minute until you get a smooth ball of dough. Flour your hands and add flour to the counter as necessary to prevent sticking. Lightly coat the mixing bowl with oil and place the ball of dough mixing bowl, turning to coat in oil before leaving seam side down. Cover the mixing bowl and let the dough rise for about 1 hour, until it's doubled in size. You can let it rise for up to 2 hours before shaping.
Turn the dough onto a clean, floured counter and stretch to make a large rectangle. You're going to divide the dough into 2 or 3 pieces (depending on the size you want your final pizza to be) by sprinkling flour over where you're going to cut (this prevents it from sticking) and cut into the sections with a bench scraper, or with a butter knife by pressing straight down into the dough.
Shape the dough one piece at a time. To shape the dough, you will use the same folding technique as before (this time with dry or lightly floured hands). Take a section of the dough and gently stretch it up until you feel resistance, then fold over the middle. Take the next section and repeat, and move around the dough until you have created a tight ball. Then, turn the ball of dough and place seam side down on a clean, un-floured section of the counter. Cup the dough ball between your hands with your pinky fingers resting on the counter behind it. Pull the dough towards you, allowing the friction between the dough and counter to pull the dough underneath itself, and using your pinky fingers to prevent the dough from simply rolling. Turn the dough about a quarter turn and repeat. Do this until you've gone in a full circle and the skin around the dough ball is taught. Sprinkle flour over the dough and spread it around with your hands until the dough is not sticky to touch. Repeat with the remaining sections of dough, then place on a floured plate. Sprinkle more flour on top of the dough, then cover with plastic wrap and place the plate in the fridge for at least 6 hours, or up to 72 hours, before making pizza.
Before shaping the dough and baking, let come to room temperature and relax for about 1 hour. If you try to shape the dough and it's not stretching out easily or quickly, let it rest for 10 minutes then try again.
Notes
Use in any pizza recipe, including the many pizza recipes I've shared! See some tips for baking pizza in the post.
Recommended Products
As an Amazon Associate and member of other affiliate programs, I earn from qualifying purchases.
Nutrition Information:
Yield:

12
Serving Size:

1
Amount Per Serving:
Calories:

152
Total Fat:

0g
Sodium:

1mg
Carbohydrates:

32g
Fiber:

1g
Sugar:

0g
Protein:

4g
Nutrition is calculated automatically so should be used as an estimate.