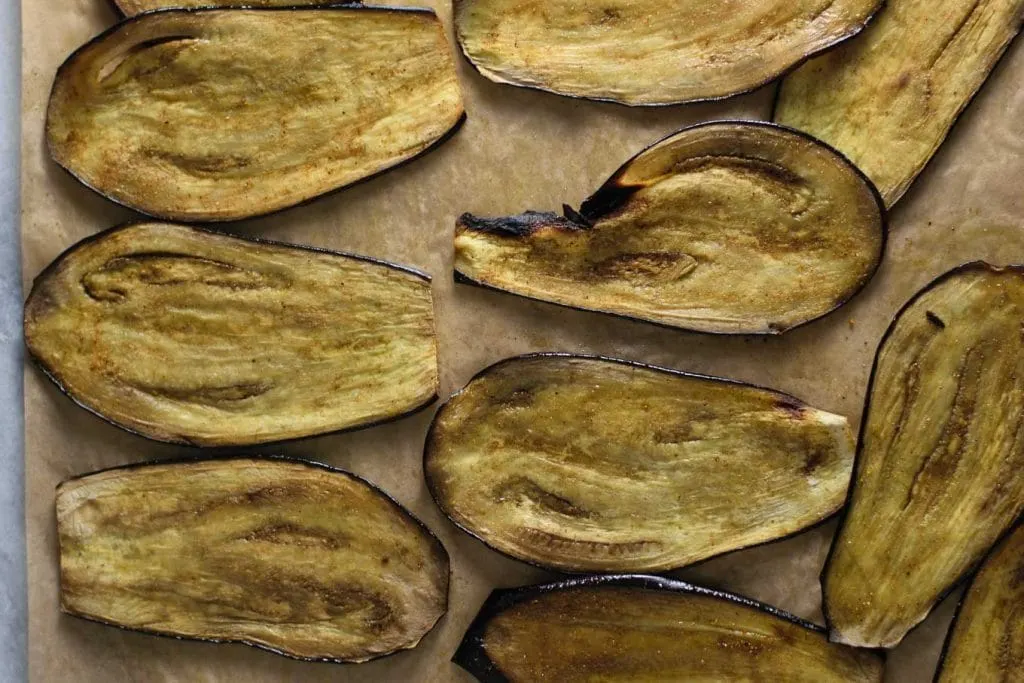 Eggplant seems to be a bit of a polarizing vegetable, which I sort of understand, as I've had some pretty mediocre and well, less than good, eggplant before. But when it's cooked well, it is the perfect vehicle for flavor, and one of my favorite vegetables.
It acts as a sponge, soaking up marinades and oil (because, let's be real here, fats carry a lot of flavor). It can be roasted whole and mashed for soft and buttery texture, such as in mediterranean baba ganoush or an Indian baingan bharta. Or thinly sliced and fried for a crispy eggplant bacon sort of effect.
The way eggplant is prepared in this dish leaves it tender but chewy and holding its shape. It soaks up a curry wet rub as it roasts under the broiler, then sits in a flavorful marinade, absorbing the salty, smokey, umami-rich flavors.
A mandolin makes quick work of slicing the eggplant into uniform slices, but if you're going to use one, be careful! Eggplant is tricky to slice through and mandolins are sharp. Thinly sliced eggplant cooks quickly when placed under a broiler. No waiting for the oven to preheat or fussing over eggplant in a too-small skillet.
To make the wet rub, curry powder is mixed with oil and red wine vinegar. When mixed with oil and heated, the fat soluble flavor molecules in the spices are released. That's why when making Indian food you add the spices at the beginning when cooking the other aromatics (e.g. garlic, onion, ginger, chiles) or in some dal recipes why you'll cook the lentils first, then make a separate tadka (aka tempering, or when spices are heated in oil to release their flavor) to add at the end.
You just don't get the same kind of flavor if the spices are added straight to liquid. Oil also works to better distribute the spices across the eggplant than water-based vinegar would on its own. In the case this eggplant recipe, the heating step doesn't occur until the spices are placed directly under the broiler.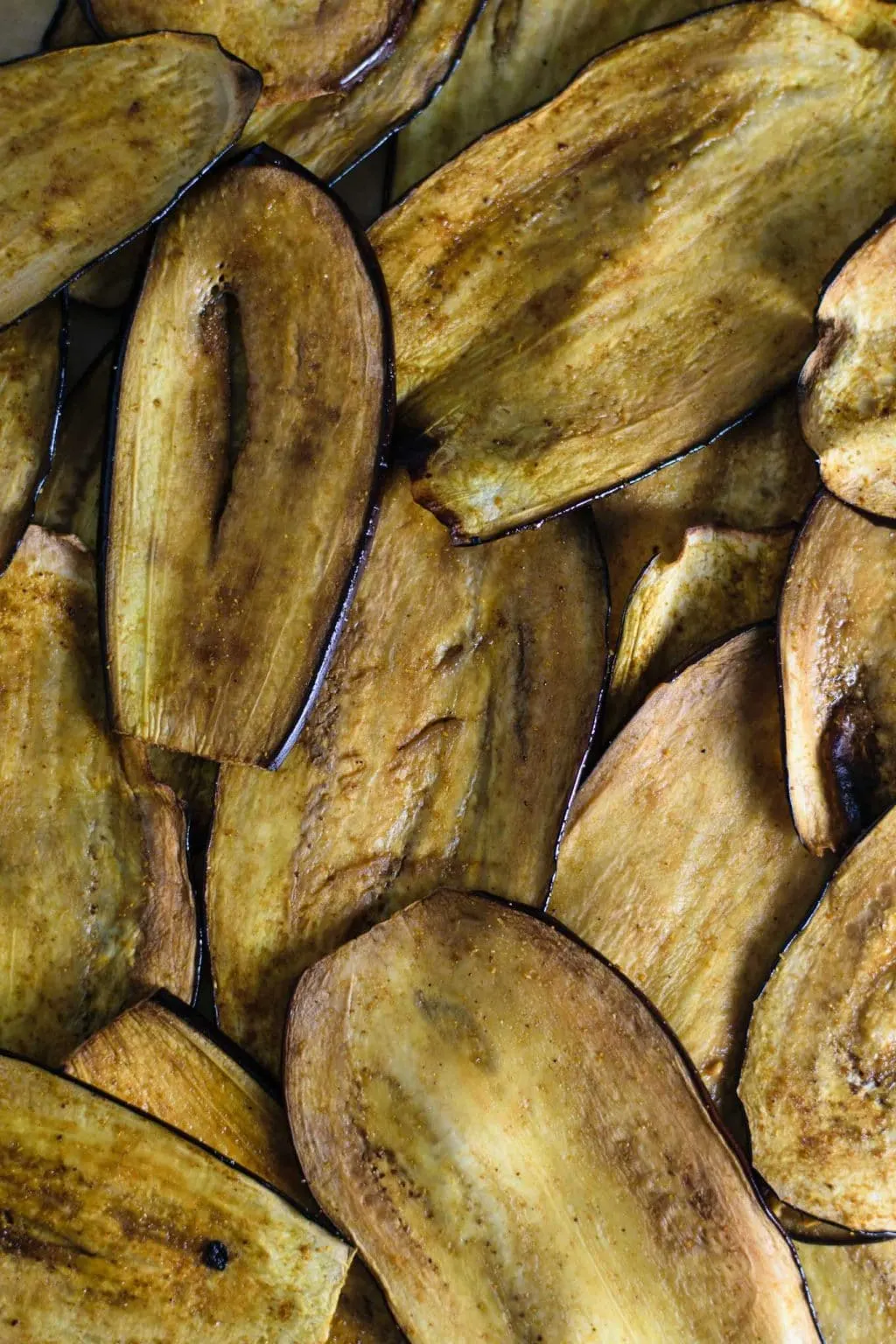 So eggplant is brushed with the wet rub then roasted under the broiler until tender with some crispy bits. Then it's brushed with a thin layer of a simple marinade. Made with toasted sesame oil (plus a little mild tasting oil to not overpower with sesame flavor), soy sauce for salt and umami, and liquid smoke.
The eggplant easily soaks up the marinade as it cools, pulling that delicious flavor all the way through the center. The eggplant can be enjoyed after it cools, but it's even better after a night in the fridge. The extra time to marinate allows for flavors to develop and the eggplant to get extra tender. As written, the eggplant recipe isn't particularly salty. I like it this way, but if you want a saltier dish, just add a bit of salt along with the curry powder [Note: some curry powders contain salt, but for the most part the good quality ones don't].
The eggplant can enjoyed with some rice. It can be eaten as a side dish alongside Indian dishes. We've been enjoying them in a lot of sandwiches. They make for a great sandwich filling. You could substitute some of the eggplant in this recipe for tempeh and broil it alongside the eggplant.
The particular sandwich shown here has lightly buttered and grilled homemade sourdough bread, the madras curry marinated eggplant, thinly sliced seitan pan-fried with cracked pepper, shredded purple cabbage tossed with a light dressing of vegan mayonnaise and freshly squeezed lime juice (& more black pepper), pepita cream (from this black bean soup), a spicy pepper spread, and lightly mashed avocado. Whew that was a mouthful.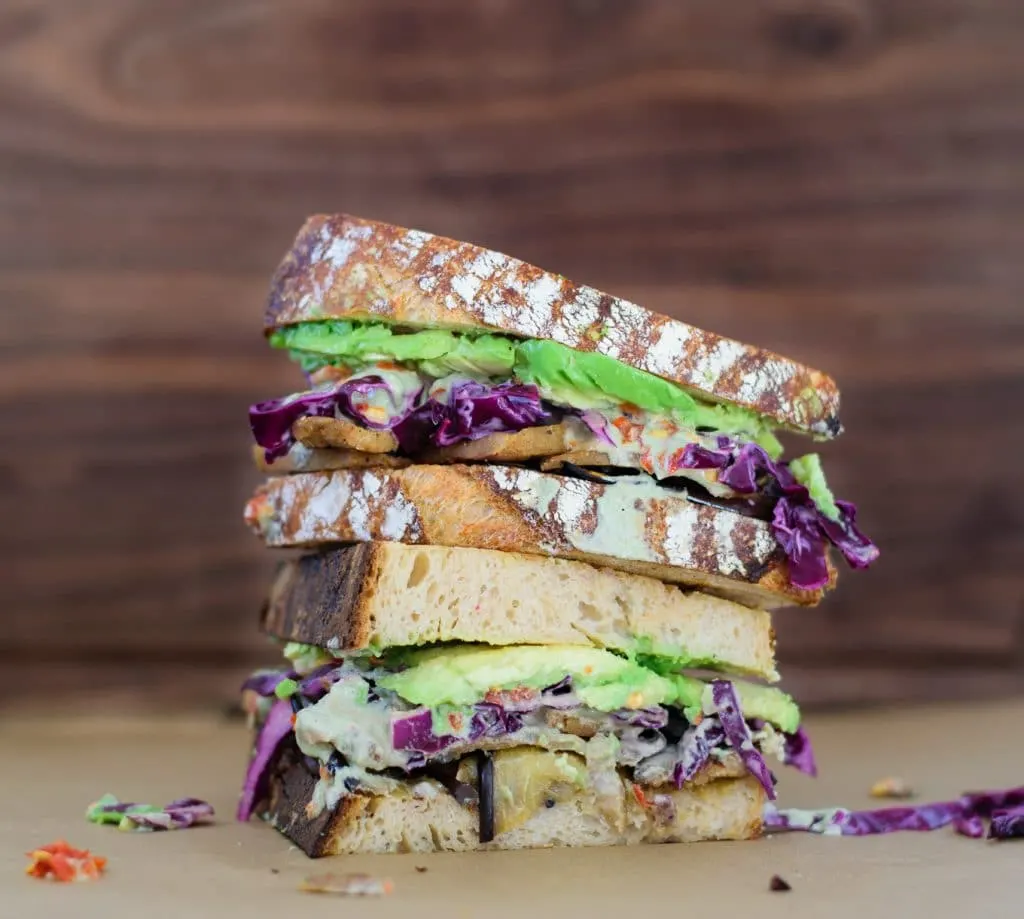 This eggplant is easy to make, the recipe is easily sized down or up, and can be enjoyed in so many ways. It's a great thing to make ahead and keep in the fridge for quick and easy meals and sandwiches. While I use madras curry powder to make these, you could substitute a different Indian curry powder, or even branch out from the Indian flavors and try other spices. The recipe is super flexible so you don't have to get tired of any one kind of eggplant dish! (For more eggplant inspiration, check out my vegan cheesy eggplant casserole recipe.)
I hope you guys enjoy this eggplant as much as we do! Let me know if make it! Leave a comment and/or rate the recipe below, tag me on Instagram (#thecuriouschickpea), or share with me on Facebook! Happy eating!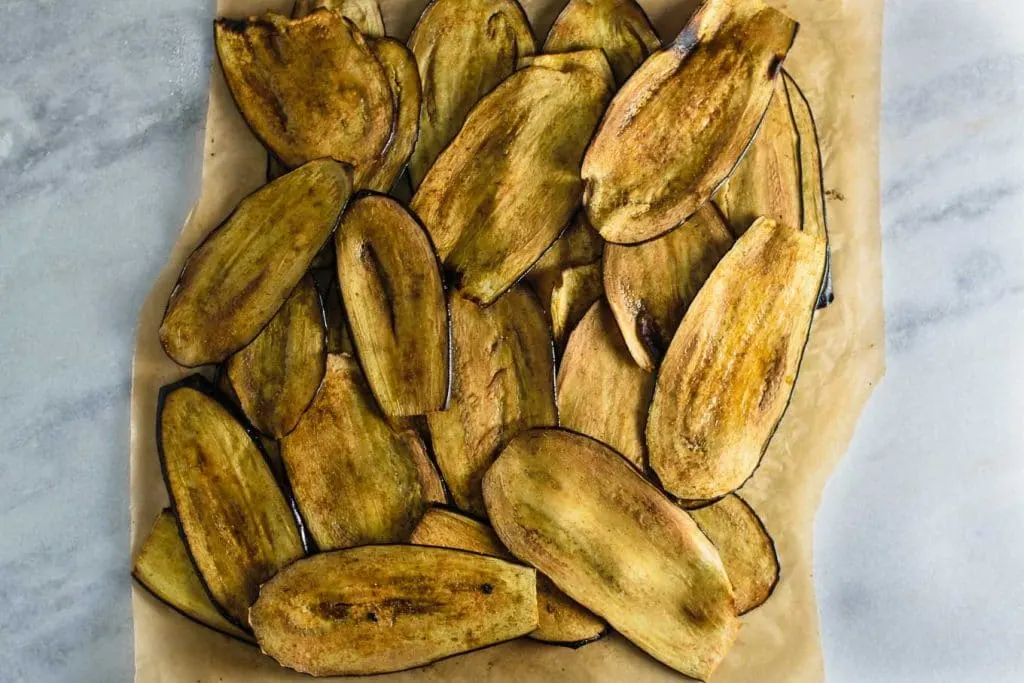 Notes:
I'm a huge fan of madras curry powder, which can be purchased from an Indian grocery store, online, or you can make at home.
To make fully gluten free, make sure to use a gluten free certified tamari for the soy sauce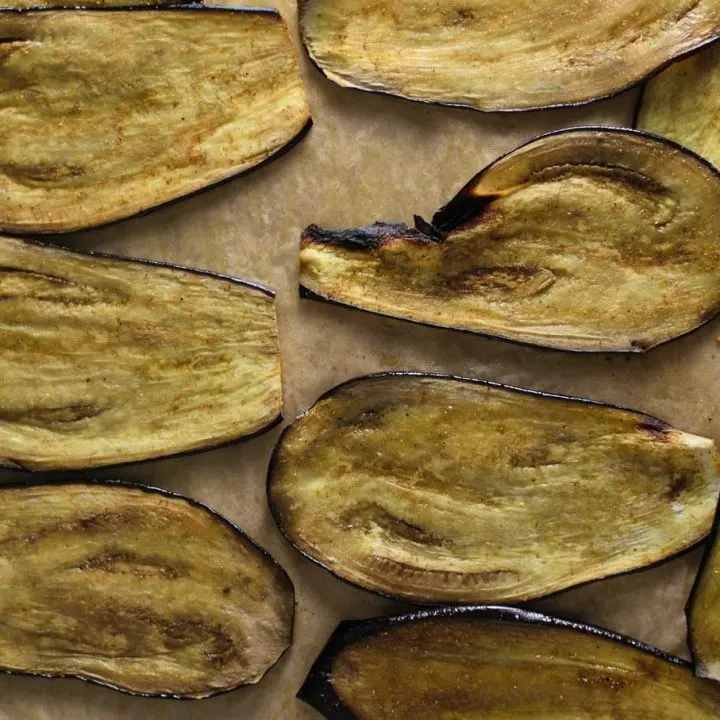 Madras Curry Marinated Eggplant
Thinly sliced eggplant is rubbed with a curry marinade and roasted for a deliciously chewy and ultra flavorful result.
Ingredients
2 small (1 3/4 lbs) eggplants, thinly sliced (~1/8")
The wet rub
2 tbsp canola or olive oil
3 tbsp red wine vinegar
1 tbsp madras curry powder (or substitute another curry powder)
The marinade
1 1/2 tbsp canola oil
1 1/2 tbsp toasted sesame oil
1 tbsp soy sauce
1 tsp liquid smoke
Instructions
Turn oven on to broil with a rack situated ~6" from the top burner. Prepare 2 baking sheets by lining with parchment.
In a small bowl, whisk together the ingredients for the rub: oil, red wine vinegar, and curry powder. In a second bowl whisk together the marinade ingredients: the canola oil, toasted sesame oil, soy sauce, and liquid smoke.
Arrange the sliced eggplant in a single layer on the baking sheets. You will have leftover eggplant, just wait on those and work in batches. Brush each side of the eggplant with the wet rub.
Place baking tray under broiler and broil for 4 minutes, then remove from oven, flip eggplant and return to broil another 4 minutes, or until tender and easily pierced with a fork. Some crispy bits are okay. When out of the oven brush each side with a thin layer of the marinade. Set aside to cool. Repeat with the remaining eggplant.
Let the eggplant cool at least to room temperature, but it gets better after an overnight in the fridge.
Eat the eggplant with basmati rice alongside Indian dishes, use in sandwiches or on pizza. Or just snack on it. Whatever you'd like! It's good!