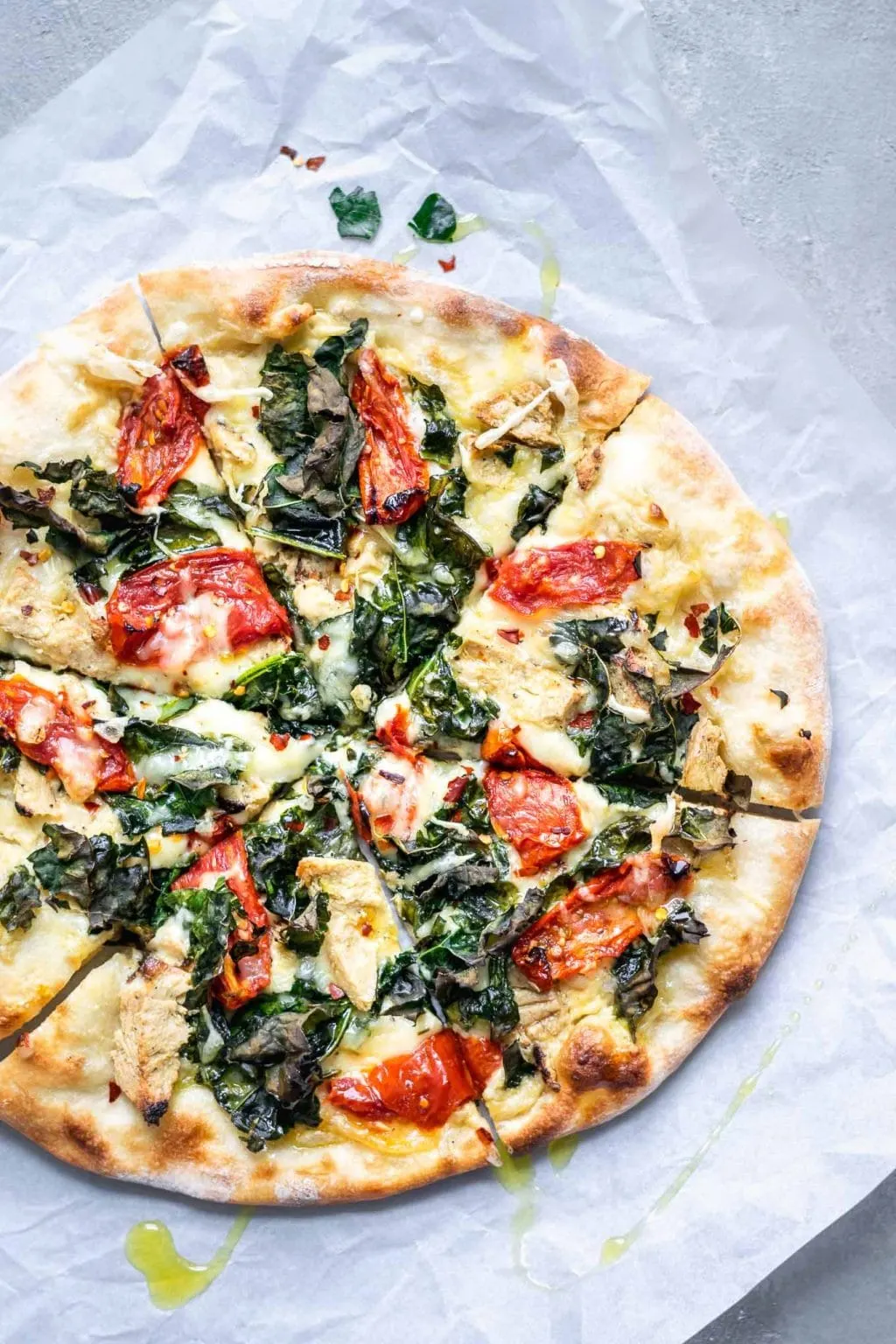 Sometimes you eat pizza just for the indulgence of it (potato pizza, anyone?). Other times, you can eat pizza and have your veggies too (potatoes don't count, it'd be like calling chips a vegetable). This pizza is one of those times. When piled high with kale, that extra slice is really just an extra dose of leafy greens. You're practically doing your body a favor, and you're certainly doing your taste buds a favor! Garlicky white sauce, creamy dairy-free cheese, seared vegan chicken, flavor packed roasted and marinated tomatoes, and crispy chip-like kale all on top of my favorite savory vehicle–pizza dough.
All good pizza starts with a good base. To me, this usually means starting the pizza process a day early with my easy overnight pizza dough, but last minute pizza cravings have been known to hit and in that case the pizza dough they sell at grocery stores makes good pizza too (I like Whole Foods pizza dough, was less impressed with Trader Joe's, and haven't explored outside those two store bought options). Also, pro-tip: pizza shops will often sell dough to you!
Next we have the sauce base, and for this pizza that means my vegan garlic white sauce. The simple béchamel style sauce makes for the creamiest base, building garlicky flavor for an incredible pizza. Some might say that the vegan mozzarella isn't necessary, but I think a light sprinkling of your favorite vegan cheese makes this pizza next level.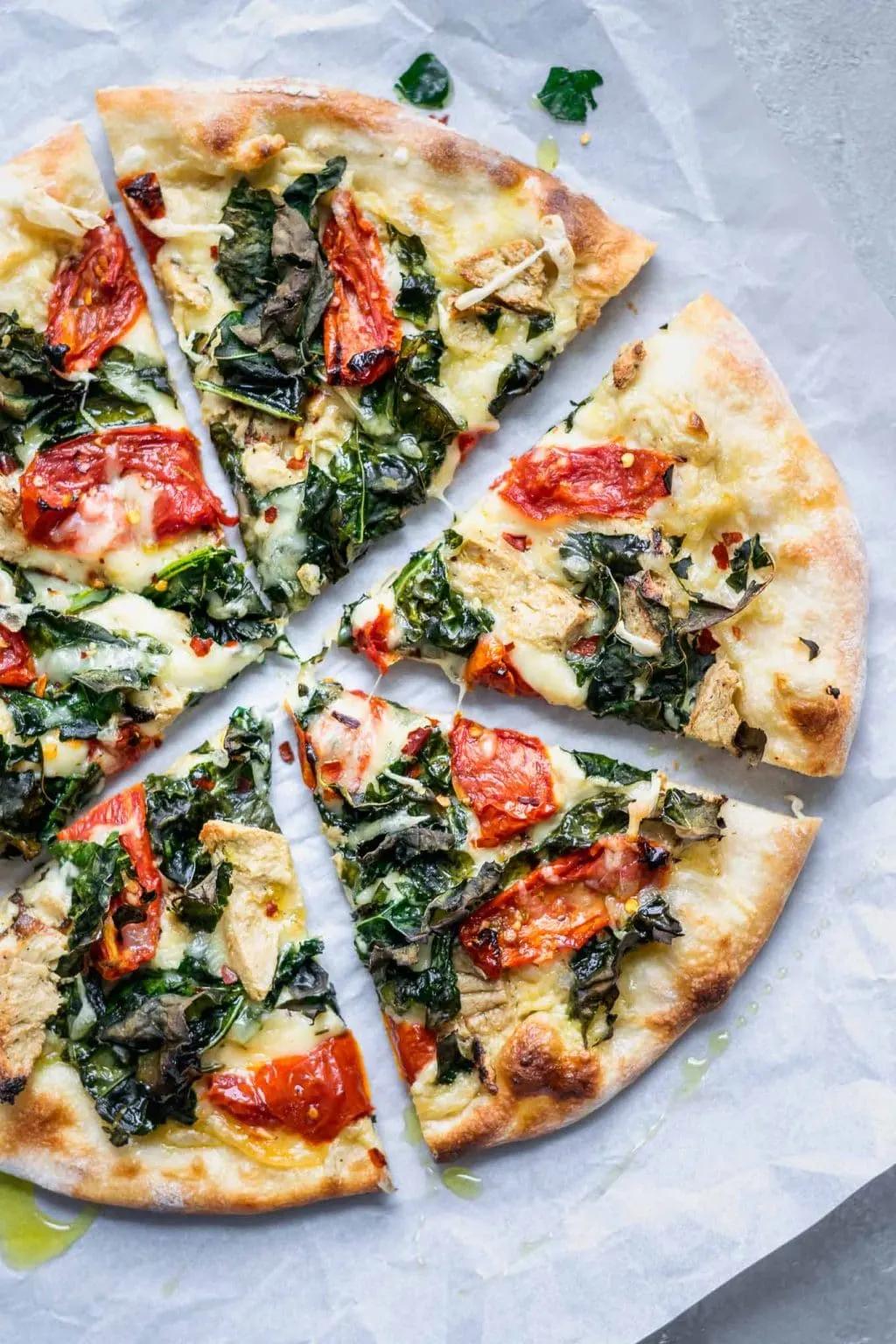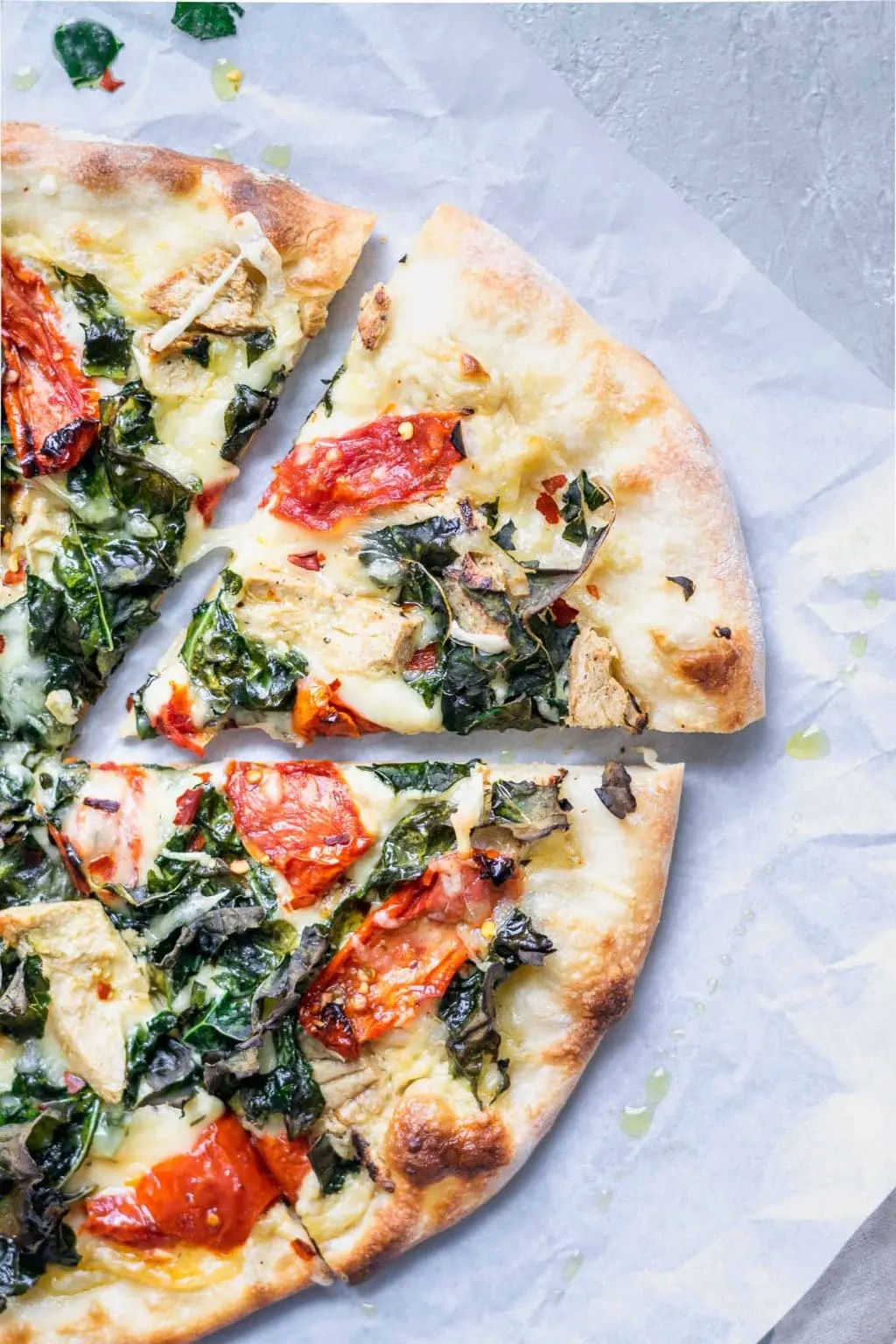 When it comes to pizza toppings, I don't like to go overboard. Too many toppings and the pizza has trouble cooking properly, not to mention it's messier to eat. Usually 2-3 toppings is the sweet spot. For this one I chose 3. First, there is chicken-style seitan which I fried up for barely blackened edges and crispy crumbles. The vegan meat adds some nice texture and a good dose of protein.
Next up comes the roasted tomatoes. I picked up some from the store, any grocery store with an olive bar should have some! They're roasted and marinated in olive oil, garlic, and some herbs and provide a huge punch of flavor to the pizza. If you can't find them, you can make them, or you can substitute oil packed sun dried tomatoes (chop them up a bit before using as they are much chewier than roasted tomatoes).
Lastly the pizza is topped with a nice big pile of kale. The kale is massaged in oil with a pinch of salt. The oil helps protect the kale against burning in the oven. Massaging helps the kale break down and tenderize, both the oil and salt help this process. In the oven the kale shrinks and turns crispy, to a kale-chip effect.
The overall effect is crispy, melt in your mouth kale, juicy roasted tomatoes bursting with flavor, chewy mild tasting vegan chicken, and the creamiest base of vegan mozz and garlic white sauce. All on top of a doughy crust. It's pizza perfection. And one I'll happily eat over and over again. I like to finish it off with a generous sprinkling of crushed red pepper and then eat anywhere between 1/2 and 1 whole pizza (hey, they're like practically individually sized!).
I hope you guys enjoy this delicious cripsy kale, roasted tomato, and vegan chicken white sauce pizza. I know we did! Let me know if you make it! Comment and rate the recipe below and tag recreations @thecuriouschickpea and #thecuriouschickpea on Instagram, or share with me on Facebook! Have a happy pizza night!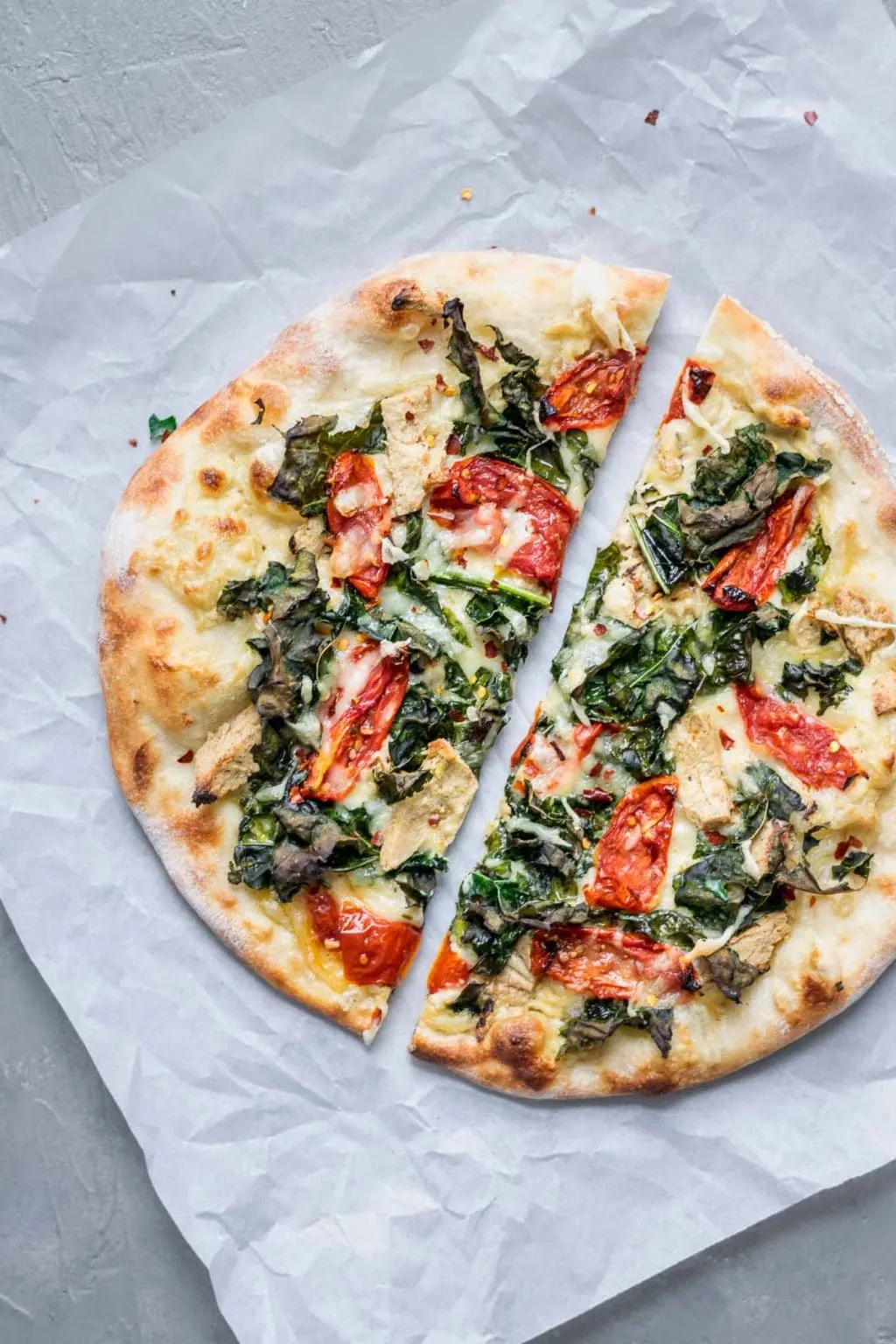 Notes:
I used Tofurky Slow Roasted Chick'n – Lightly Seasoned on this pizza. You can use whatever vegan chicken (Gardein, Beyond Meat, Quorn, Upton's, etc.) you like and have access to!
For the vegan mozzarella I used Violife Just Like Mozzarella. To be honest, I brought it back from London when I was there a few months ago. They do sell it in the US but it's not widely available yet! Use any store bought vegan mozz you enjoy or try making your own, like my Same Day Vegan Mozzarella Cheese.
Check out my pizza dough recipe for tips on shaping and baking pizzas!
You can make the garlic white sauce in advance. It will thicken in the fridge, so warm it up and thin with water as necessary to a spreadable consistency.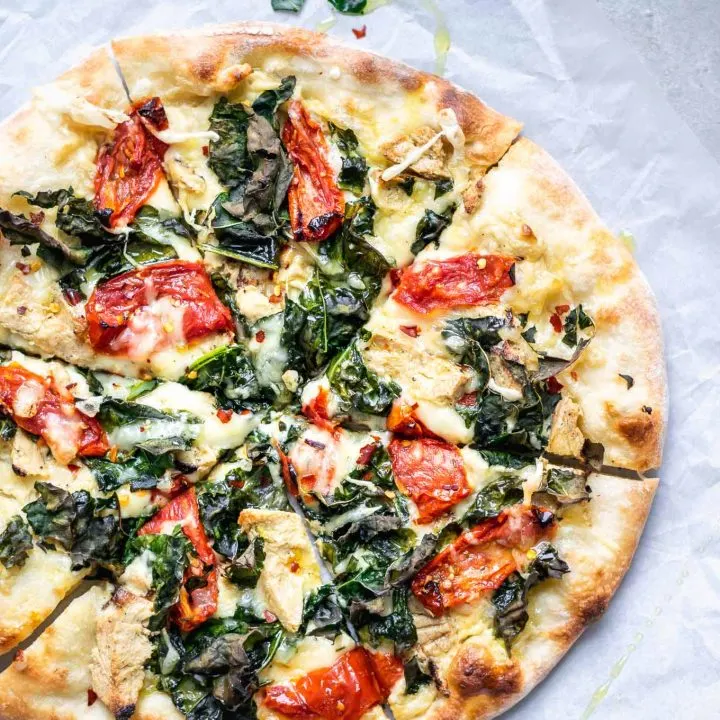 Crispy Kale, Roasted Tomato, and Vegan Chicken White Sauce Pizza
Pizza dough is topped with a creamy vegan garlic white sauce, vegan mozzarella, torn kale, roasted tomatoes, and seared seitan chicken then baked for the most delicious and flavorful vegan pizza.
Ingredients
3 large leaves of kale
1 tsp olive oil
pinch of salt
8oz vegan chicken style seitan
roasted tomatoes
Instructions
One hour before you're ready to bake, preheat your oven to 550 ºF, or as hot as it will go. Place a rack in the middle of the oven, and place a baking steel or baking stone on that rack. You want the oven to saturate with heat for 1 hour before baking pizza for best results.
At this time also remove the pizza dough from the fridge so it can come to room temperature and the gluten can relax.
Wash the kale thoroughly, remove the stems and toughly tear the leaves into pieces. Put the torn kale in a bowl with the teaspoon of olive oil and a pinch of salt. Massage the kale and then set aside to rest for a half hour.
In a skillet over medium heat, fry the vegan chicken in a teaspoon of oil until it's lightly browned, 4-5 minutes. Set aside.
When the oven is nice and hot, prepare your pizzas one at a time. Stretch (don't roll!) your dough to around 12" diameter and place on a lightly floured pizza peel. Spread the garlic white sauce over the dough then sprinkle 1/3 of the seitan chicken over top. On top of that sprinkle about 1/3 of the vegan mozzarella. Add 1/3 of the massaged kale and some roasted tomatoes.
Transfer the pizza onto the baking steel or pizza stone and bake for 8-10 minutes. Watch the kale for burning towards the end. Drizzle on a little extra olive oil to protect it from burning if needed.
If baking on a baking sheet, assemble the pizza straight on the metal and place directly in the oven.
Repeat the pizza assembly and baking with the remaining dough.
Let the pizza cool for a couple minutes before cutting and enjoy while hot!