This vegan chicken parmesan sandwich is everything you want and need from a classic sandwich! Crispy breaded seitan cutlets smothered with marinara and melty vegan mozzarella, all in a toasty roll! Once you have your vegan cutlet, the sandwich comes together in no time!
When it comes to food, I love the classics as much as I love riffs and fusion and modern cuisine. I suppose you could consider my classics not so classic because I do put a vegan twist on all of them, but I don't think that takes away from their classic-ness.
Chicken parmesan sandwiches are one of those classics, albeit one I didn't grow up eating! No, if I wanted to sink my teeth into what is essentially a protein-packed pizza in a sandwich, I was going to have to make it myself!
Making this cheesy sandwich is quite straight forward, swap the cheese for vegan cheese, use a homemade seitan cutlet for the meat, and swap the bread for vegan bread.*
*I kid, bread is almost always vegan–but it kills me a bit when people conflate veganism with gluten free. Some vegans don't eat food with gluten! But a lot of us do.
The seitan was the least straight forward replacement, but luckily for you I got that alllll figured out for you! My vegan chicken seitan cutlets are super versatile, and so I had to make it into its own recipe post, but you can also just scroll down to the bottom of this post to find the recipe for them!
The chickpea seitan cutlets:
If you want a vegan chicken parmesan sandwich, first make the cutlets. You can make them a day or so in advance, and just keep them wrapped in foil in the fridge until you're ready to use them. We want them to stay a little damp so the first breading coating of flour has something to stick to.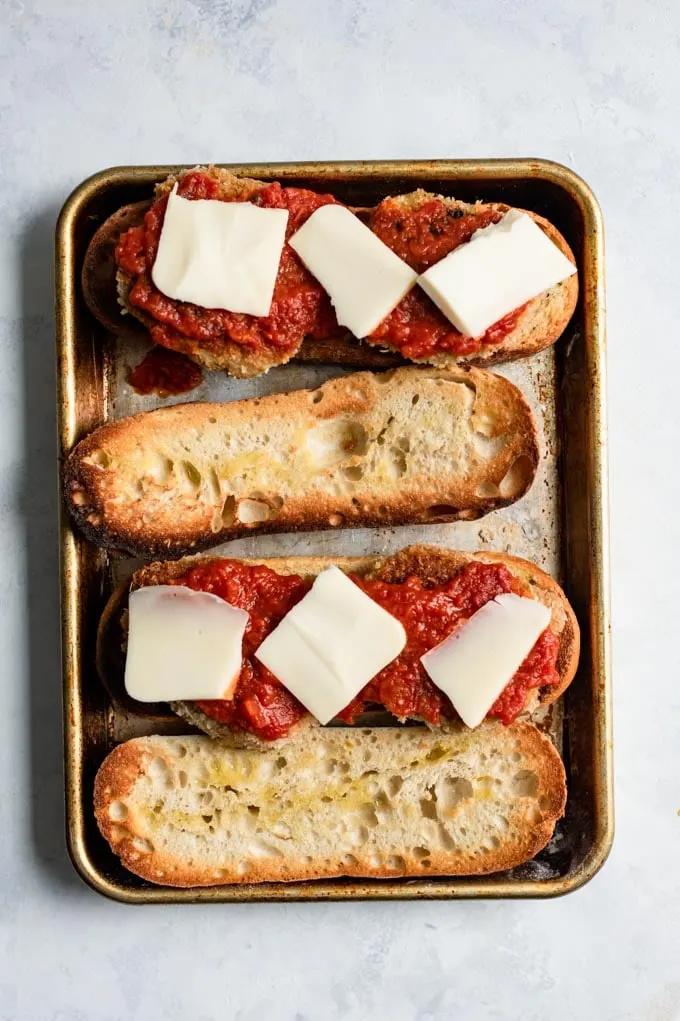 The texture of seitan improves as it chills, so if you have time and forethought I recommend making the cutlets a day or two in advance, but you can make them a week or so in advance or longer if you freeze them! The recipe makes 12 cutlets, so you could make a loooooot of sandwiches, or make what you want and save the extra for other uses.
To make these chick'n parm sandwiches without seitan:
If you'd prefer, you could always purchase vegan chicken cutlets. Sometimes these are available in the freezer section (Gardein sells a vegan "chick'n scallopini" and depending on where you live Quorn might sell vegan cutlets well–but not all Quorn products are vegan so keep an eye on those ingredients!).
Sandwiches made with these store bought vegan meats will obviously mimic meat more closely, and depending on who you are this could be a good thing or not.
You could also make this with tofu, use extra firm or super firm tofu, cut it into 6 slabs, then press the tofu. Lay the slices on a lint free kitchen towel or paper towels, and wrap it to cover. Set something heavy on the tofu and let it drain for at least 20-30 minutes.
If you're looking for a gluten free version of this vegan chick'n parm sandwich, either the Gardein cutlets or tofu would work! Pair it with gluten free breadcrumbs + gluten free bread and you're set!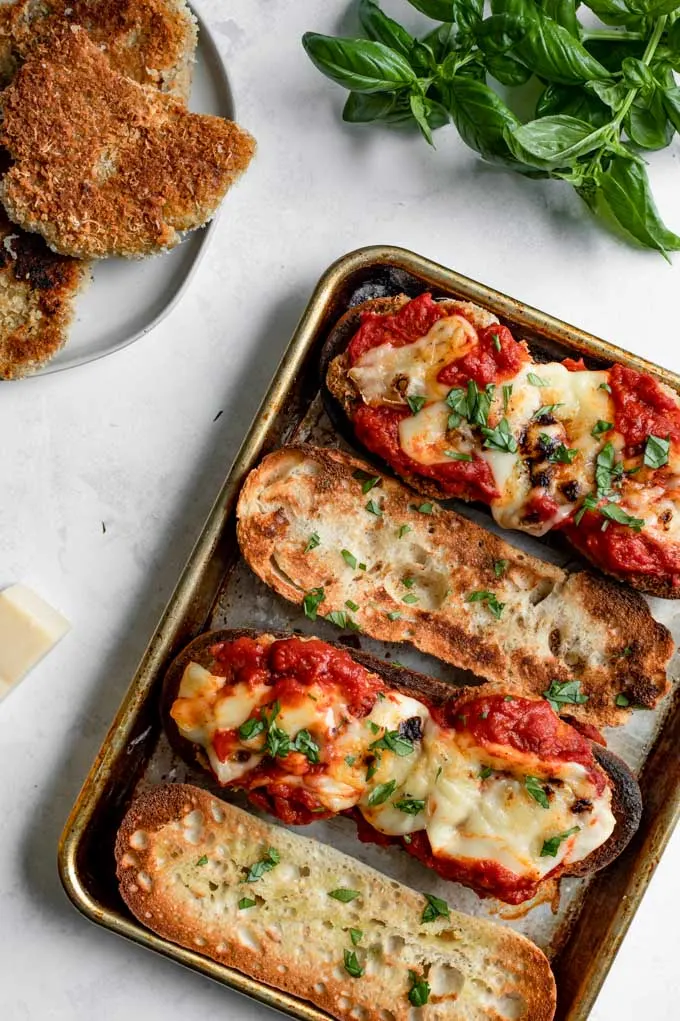 Breading the vegan cutlets:
Set up three stations for dipping: (1) flour, (2) an egg replacer, and (3) breadcrumbs.
For the flour, mix together flour (lol) with a pinch each of salt and pepper.
As far as the egg replacer, mix together water and ground flaxseed. Let it sit for about 10 minutes to thicken, or you can speed this up by microwaving for 30 seconds.
Prepare a breadcrumb mixture by mixing together panko and vegan parmesan. Vegan parmesan is not impossible to find these days, but if you absolutely can't find it you can substitute a homemade nut + nutritional yeast one (google it if you're unfamiliar). That being said, seek out vegan parm if possible for a more authentic experience!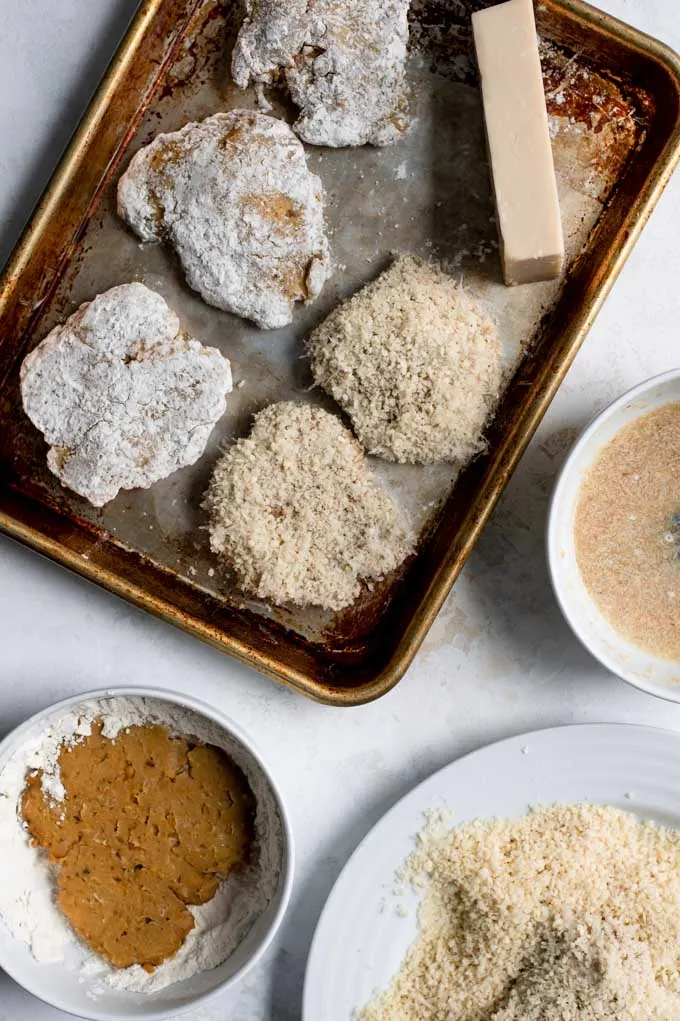 Dip the cutlets in flour, then in the flax egg, then in the breadcrumbs. Use a different fork for each station to keep from getting breading stuck to your fingers.
Set aside the breaded cutlets and keep going until you've gotten them all breaded.
Pan fry the cutlets until they are golden and the breading is crispy.
Make the sandwiches:
Once you've got all your cutlets crisped, it's time to make the sandwiches!
First, place a baking rack about 6″ from the top burner of your oven and pre-heat the oven by turning on the broiler. This will make the oven nice and toasty. We want to preheat the oven so it's nice and warm and toasts the bread and melts the cheese without drying the sandwiches out.
If you have a toaster oven, and are only feeding a couple of people, use it–you can skip the preheating of the oven in this case!
For the bread, use a baguette, ciabatta, bread rolls, or sandwich buns (for homemade my ultimate homemade sandwich rolls would work really well).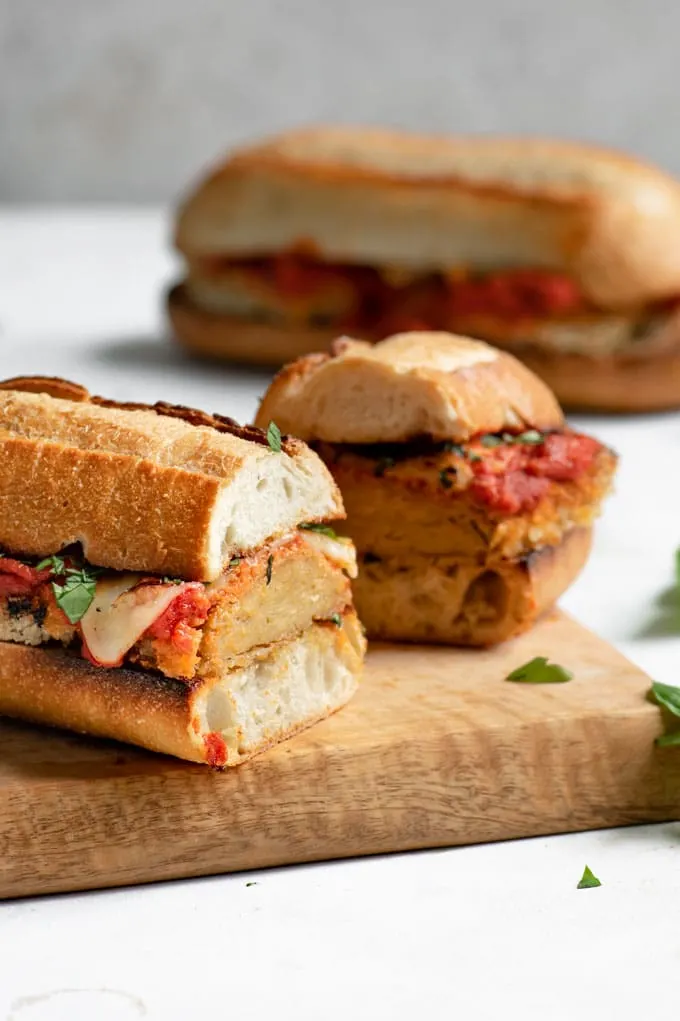 The crispier the crust, the more challenging it will be to eat the sandwich. So balance your love for crispy crust with your love of sandwich integrity! So don't go authentic baguette here! You want your bread to be a bit soft.
Whatever bread you choose, slice it in half, then brush with a bit of olive oil. Broil to lightly toast the bread, then take it out and assemble the sandwiches!
Add cutlets the the bottom half of the bread, then top with marinara sauce followed by vegan mozzarella or provolone. If you want to use a homemade cheese, try the cheese in my vegan meatball sub sandwiches.
Stick the sandwiches back under the broiler and keep an eye on them, removing once the cheese has melted. You may want to remove the tops of the sandwiches earlier so they don't burn as they don't have toppings to protect them!
Finish the sandwiches off with fresh basil and serve!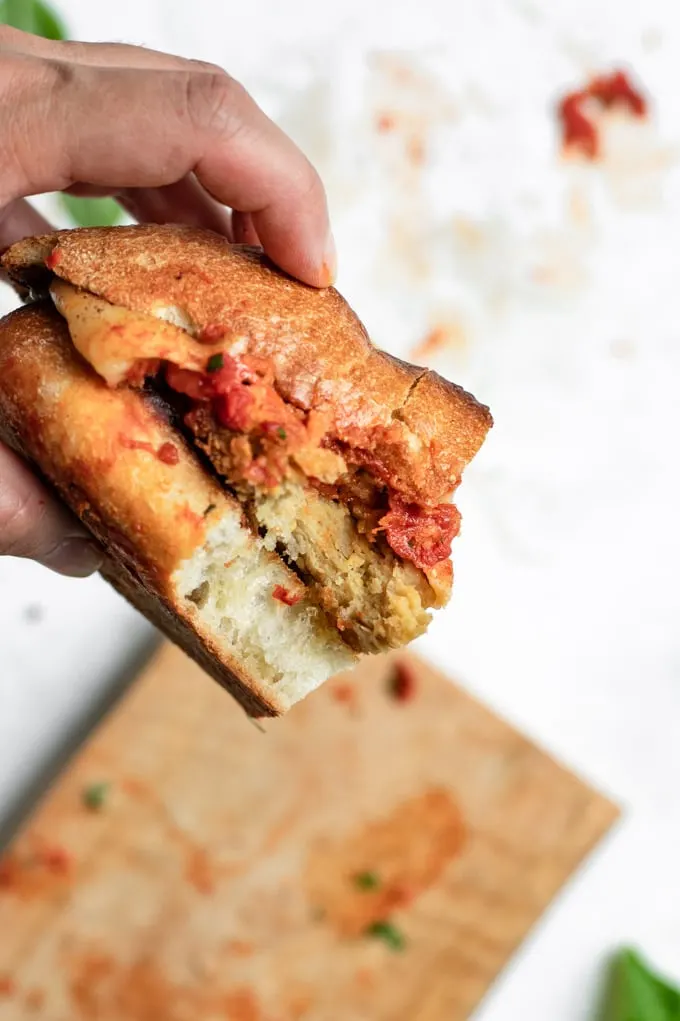 ---
If you make these vegan chicken parmesan sandwiches, leave a comment below and rate the recipe on the recipe card. And please share your photos with me on Instagram, tag @thecuriouschickpea and #thecuriouschickpea. I love seeing your recreations!
---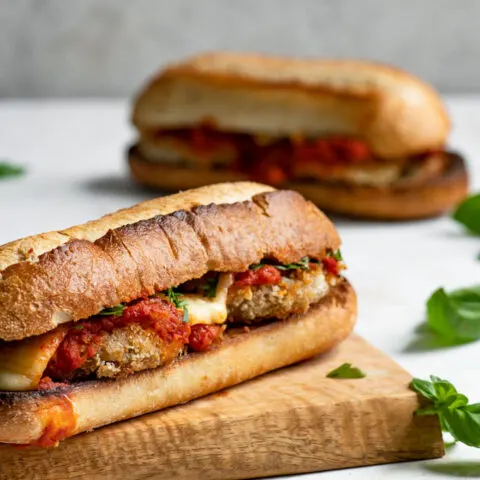 Vegan Chicken Parmesan Sandwiches
These vegan chicken parmesan sandwiches are even better than the classic!
Ingredients
Vegan Chicken Parmesan Cutlets
6 chickpea seitan cutlets, see below
1/2 cup flour
1/8 tsp salt
1/8 tsp black pepper
1/2 cup water
2 tbsp ground flaxseed
1 1/2 cup panko bread crumbs
1/4 cup grated vegan parmesan
oil for frying
Everything Else
extra virgin olive oil
3 demi baguettes*, Italian rolls, or ciabatta rolls
vegan mozzarella or provolone
marinara
fresh basil
Instructions
Pre-heat the oven by turning on the broiler and set a rack about 6" below the top rack.
In a bowl mix together the flour, salt, and pepper. In a second bowl mix together the water and ground flax, set aside for 10 minutes or microwave for 30 seconds to thicken into an egg replacer. On a dinner plate combine the panko with the vegan parmesan. Keep a separate wet fork and dry fork to make breading less messy.
Dip the cutlets into the flour mixture--if the cutlets are not damp and the flour is not sticking, first dip in plant milk then into the flour. Next dip the cutlets into the flax egg mixture. Lastly dip the cutlets into the breadcrumb mixture. Repeat with the remaining of the cutlets.
Heat a layer of oil (~1/2") in a skillet over medium heat. When the oil is hot, fry the cutlets in batches, about 2-4 minutes for each side or until golden and crispy. Remove from oil and place on paper towel lined plate to drain.
Slice the bread in half and brush each side lightly with olive oil. Place the bread under the broiler until lightly toasted.
Now assemble the sandwiches: On the bottom half of the bread place the seitan cutlets, then cover that with marinara and vegan cheese. Place back under the broiler until the cheese has melted. Keep a close eye on it as to not burn the sandwich. The top half of the bread will toast faster as no toppings protect it, so remove from the oven once it has toasted to your liking.
Finish the sandwiches with fresh basil and serve warm!
Notes
*How much bread you need depends on the size of the rolls. If they are individual rolls then you'll need 6, if they're longer then each will make two sandwiches (1 cutlet per sandwich). You can also adjust the recipe to make more or less sandwiches as you'd like, the breading is enough for 6-8 cutlets but you can always make less.
The flax egg may thicken as it sits, if at any point it gets too thick to stick to the cutlet, thin with a bit of water.
The breaded cutlets toast nicely in the oven or toaster oven to reheat, so only assemble the sandwiches as you need them! You can also bread the cutlets in advance and fry to order. The cutlets most likely can be baked, but I haven't tested that yet!
Recommended Products
As an Amazon Associate and member of other affiliate programs, I earn from qualifying purchases.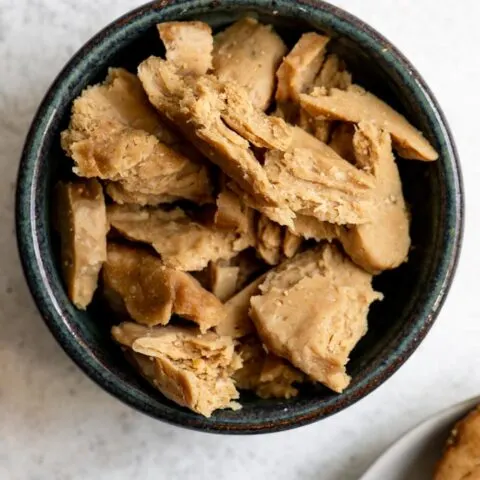 Vegan Chicken Seitan Cutlets
These vegan chicken seitan cutlets are easy to make and perfect to use in any recipe that calls for chicken!
Ingredients
2 cups (15 oz can, 282g drained) cooked chickpeas, drained and rinsed
1 1/4 cup (295g) vegetable broth, ideally no chicken style
2 tbsp (25g) extra virgin olive oil
2 tbsp (30g) lemon juice
2 tbsp (30g) soy sauce
1 clove garlic, minced
2 cups (278g) vital wheat gluten
1/4 cup (15g) nutritional yeast
1/2 tsp salt
1/4 tsp dried thyme
1/4 tsp dried rosemary
1/4 tsp dried ground sage
1/4 tsp dried oregano
Instructions
Making by hand or in stand mixer:
In a mixing bowl mash the chickpeas until no whole beans remain, some texture is ok. Add the broth, olive oil, lemon juice, soy sauce, and minced garlic and stir to combine.
In a separate large mixing bowl whisk together the wheat gluten, nutritional yeast, salt and herbs. Add the wet ingredients to the dry ingredients and mix together to form a dough. Knead by hand or using the dough hook attachment on a stand mixer for about 5 minutes, or until the seitan dough has been developed and is very elastic and you see long strands of gluten development (it will look a bit stringy). It will be very stretchy when done.
Making in the food processor:
In a food processor, process the chickpeas until they are chopped. Add the liquid ingredients and the garlic and process to combine.
Add the wheat gluten, nutritional yeast, salt, and herbs to the food processor and process for about 2-3 minutes or until the seitan is well kneaded and you see strands of gluten development and the dough looks stringy. It will be very stretchy when done. Pause your food processor every 30 seconds or so to check the seitan dough and give the motor a break.
Divide the dough and cook:
Divide the dough into 12 equal sized pieces. Prepare 12 sheets of aluminum foil, about 6" x 10". Form each piece of seitan dough into a cutlet, about 1/2" thick. Place the cutlet in the center of a piece of foil and wrap the foil to overlap in the center. Fold the ends, rolling towards the cutlet, stopping once you reach it. You will have a small and tightly wrapped package. Repeat with remaining cutlets.
Set up a steamer pot on the stove, or a steamer insert into a pressure cooker. If steaming stovetop: Place the cutlets in the steamer basket and let steam for 25 minutes. Turn off the heat and let cool down. Once cool enough to handle remove from the basket and use or store for later. If steaming in the pressure cooker: Stack cutlets on steamer basket, make sure they remain below the max fill line. Set to cook on high pressure for 15 minutes, then allow the pressure to release naturally for at least 20 minutes. Then you can vent and let cool enough to handle before removing the seitan and using immedaitely or storing for later.
Notes
Seitan can be stored in the foil or unwrapped in the refrigerator for 1-2 weeks, or stored in the freezer for longer. If freezing, unwrap the foil from the cutlets and store in a freezer safe container. You can freeze for at least 3-6 months. Allow to defrost in the fridge before using.
Recommended Products
As an Amazon Associate and member of other affiliate programs, I earn from qualifying purchases.
Nutrition Information:
Yield:

12
Serving Size:

1
Amount Per Serving:
Calories:

218
Total Fat:

4g
Saturated Fat:

1g
Trans Fat:

0g
Unsaturated Fat:

3g
Cholesterol:

0mg
Sodium:

441mg
Carbohydrates:

14g
Fiber:

3g
Sugar:

1g
Protein:

32g
Nutrition is calculated automatically so should be used as an estimate.