Skip the take out and make this classic Chinese restaurant dish at home! Tofu with black bean sauce is made with lightly deep fried tofu and a rich savory sauce, pair it with a vegetable dish or two and some jasmine rice and you have a delicious dinner, better for you and better tasting than any restaurant option!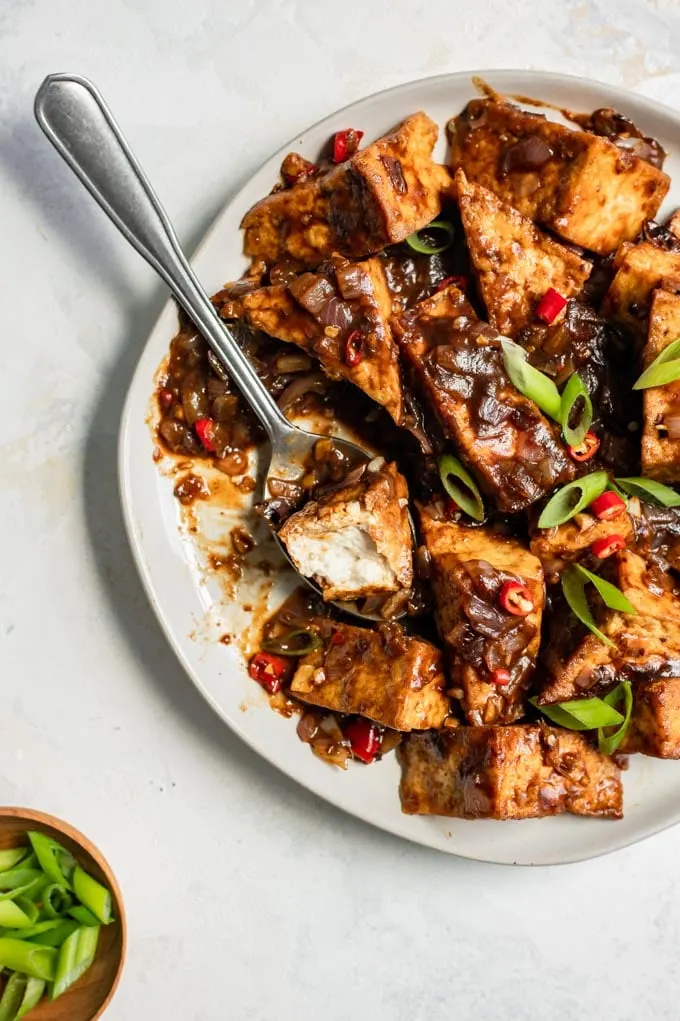 I grew up with a lot of Chinese-style stir fries in my life–veggies, some tofu or tempeh, and a sauce made of other sauces, some shade of brown of course. But these aren't exactly authentic to Chinese cuisine or Chinese-American cuisine.
Typically in Chinese cuisine, each dish tends to let one or two main ingredients shine, with the sauce or one or two other secondary ingredients playing a supporting role.
Your protein dishes are not supposed to have vegetables in them. Your vegetable dishes are likely to only highlight one veggie.
This cuisine was made for family style meals, as any person who has tried to order at a Chinese restaurant and ended up with their own giant plate of mapo tofu knows (side note: mapo tofu typically has meat in it, so make sure to ask if you're veggie!).
What are you even supposed to do, eat a giant plate of tofu with rice? Who needs that much protein!
Anyway, I'll forgive you if you want to add vegetables into your tofu stir fries, but if you want to make a restaurant style dish, well, this is your recipe! And if that's the case, might I suggest pairing it with this broccoli in garlic sauce dish?
The fried tofu:
In Chinese stir fries, tofu is either deep fried or left completely soft and not fried. At home I typically stick with the light pan frying of tofu, but for this recipe I wanted to revel in that perfect texture of deep fried tofu.
Golden-hued fried tofu has the most irresistible soft and custardy center and chewy skin. It makes the most out of richly flavored, savory, restaurant style sauces such as this black bean sauce!
You can find this premade and packaged at certain Asian grocery stores, but for those of us without convenient grocery stores or without local tofu makers (the best tofu is always going to be locally made and fresh), you can make it yourself!
Choose a firm or extra firm tofu.
We don't want super firm tofu for deep frying, because we are looking to keep that tender and creamy center. Very firm tofus have more water pressed out of them and are denser, which means less silky tofu.
Once you've got your tofu, rinse it off under cold water to remove starchiness and some of the beany taste. Cut it into triangles and then pat them dry and set them out on a paper towel or lint free kitchen towel.
We let the tofu air dry slightly to minimize the splattering when it hits the hot oil.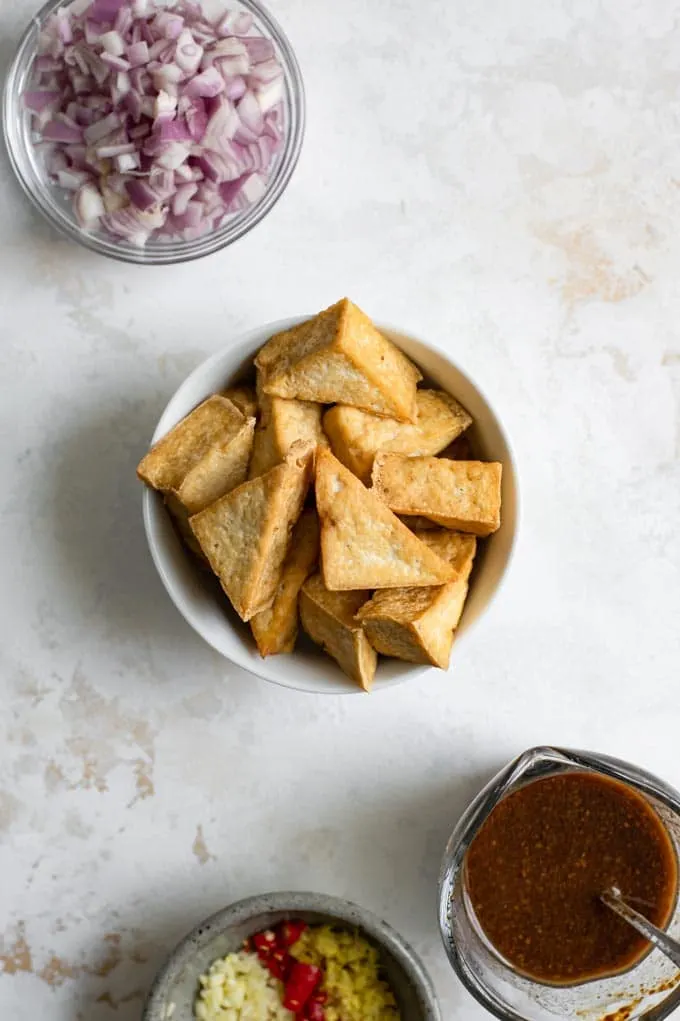 To actually fry the tofu, fill a cup or two (enough so the tofu can be submerged) of oil into your wok or a large pot. Heat the oil and you can test the temperature by sticking a wooden skewer or handle of a wooden spoon in the oil and watch for the oil to bubble and boil around the wood.
Now the oil is hot enough to fry the tofu. You'll want to fry in batches so you don't over crowd the pot and don't bring the temperature of the oil down too quickly. Fry for just 2-3 minutes, enough time to get a pale golden skin around the tofu. Too long and it gets tough and the taste isn't as nice.
When pale golden, remove the tofu from the oil and place on a paper towel lined plate or on a cooling rack set over a baking tray to catch the excess oil.
You can make the tofu a day or two in advance, or right before you make your stir fry.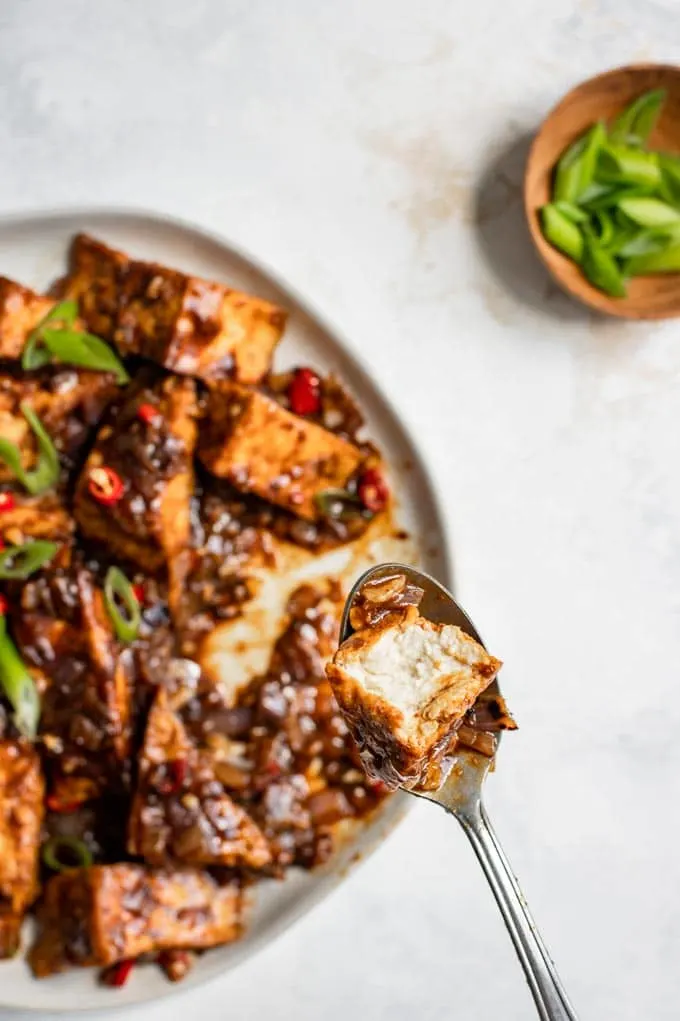 A quick primer on soy sauces:
There are so many kinds of soy sauce, both in Chinese cuisine and their counterparts in other Asian cuisines.
In Thai cuisine for example there's sweet soy sauce, dark/black soy sauce, and thin soy sauce. In Indonesian cuisine you have kecap manis, which is an Indonesian sweet soy sauce. In Chinese cuisine you have light soy sauce and dark soy sauce. In the US we are most familiar with Japanese soy sauces, Shoyu and Tamari. Here's a good Serious Eats soy sauce primer if you're interested in learning more.
In this black bean sauce I call for a Chinese light/thin soy sauce. For a more traditional result, seek out this ingredient (you can buy it on amazon–affiliate link).
If you happen to have Thai thin soy sauce on hand, I won't tell if you substitute that! Honestly I'm not sure how different they are as I haven't done a side by side comparison.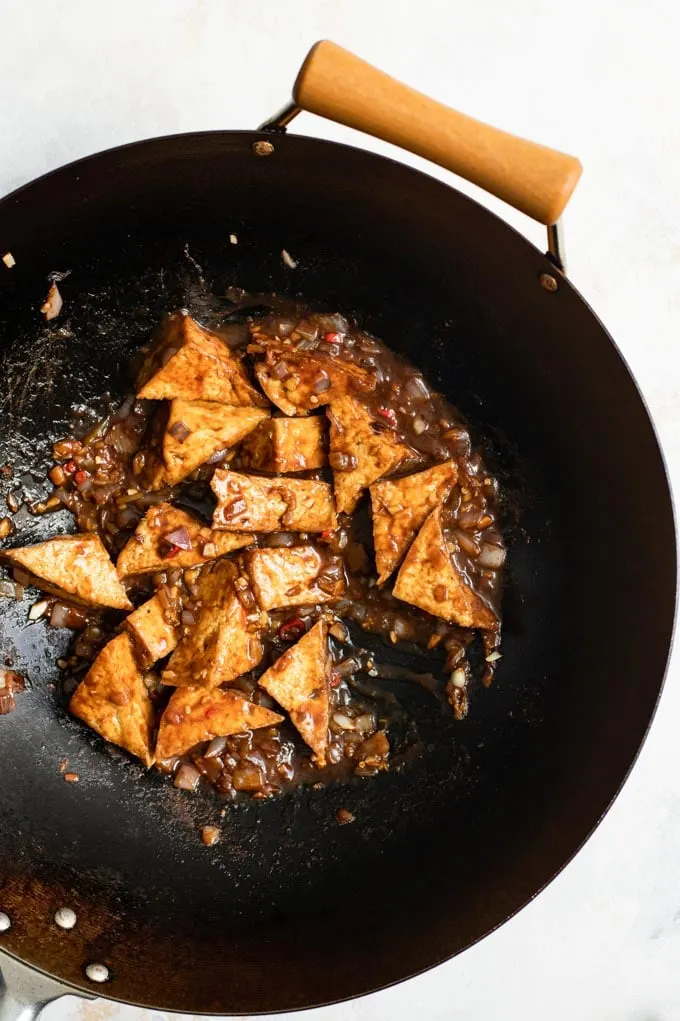 Light or thin soy sauce is not the same as low sodium soy sauce. But if that's all you've got don't let it stop you from making this dish!
Also note: if you are sensitive or allergic to wheat then these Chinese soy sauces might be gluten free but might not, and you can always use Tamari which is a gluten free Japanese soy sauce.
The black bean sauce:
Now that we've got the soy sauce out of the way, we can tackle the rest of our black bean sauce. Despite my explainer of soy sauce above, black bean sauce is actually the most important ingredient in black bean sauce! Go figure, lol.
Black bean sauce is made from douchi, a salty, fermented black soy bean. There's not a replacement for this ingredient, but it is quite easy to find in the Asian section of most grocery stores.
There are many kinds of store bought black bean sauces, such as black bean garlic sauce and black bean chili sauce. One is spicy, one is not. Choose what you prefer, or what's available to you!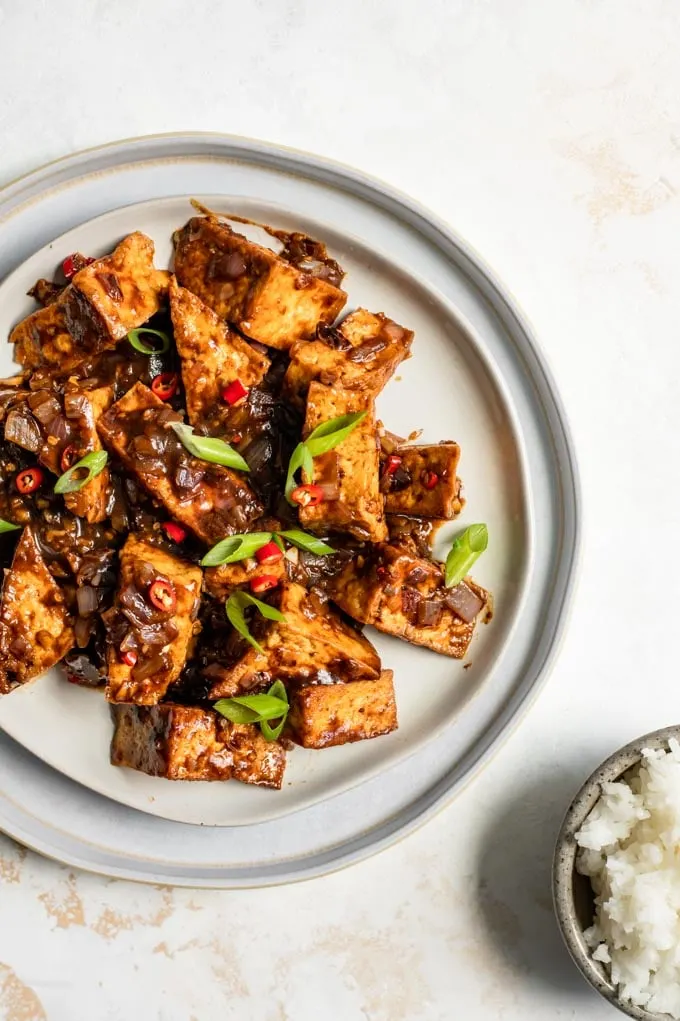 Next we have the Chinese cooking wine (shaoxing). It's another specialty ingredient, but it's what you need if you want authentic tasting Chinese food! If you must, try substituting sake or mirin.
Now things get more straight forward: water and cornstarch to both thin and thicken the sauce, sesame oil (my preference is toasted), white pepper, and a bit of sugar to bring out all the salty and savory flavors.
Cooking the tofu with black bean sauce:
We've done the hardest work and now it's time to make the stir fry! It'll be ready in just a few minutes, so I hope you already started on the rice!
Fry some shallot (red onion or scallions also works but I love the shallot here!), and then some garlic, ginger, and red chiles (if you want it spicy!). Add the fried tofu, and then the sauce.
Bring the sauce to a bubbling simmer, and let it cook until thick and glossy. Garnish with scallions and serve immediately! Or take a minute to make a vegetable side and then serve both up ?.
Pair with fragrant jasmine rice for a cooling contrast to the bold flavors and piping hot temperatures of your tofu with black bean sauce.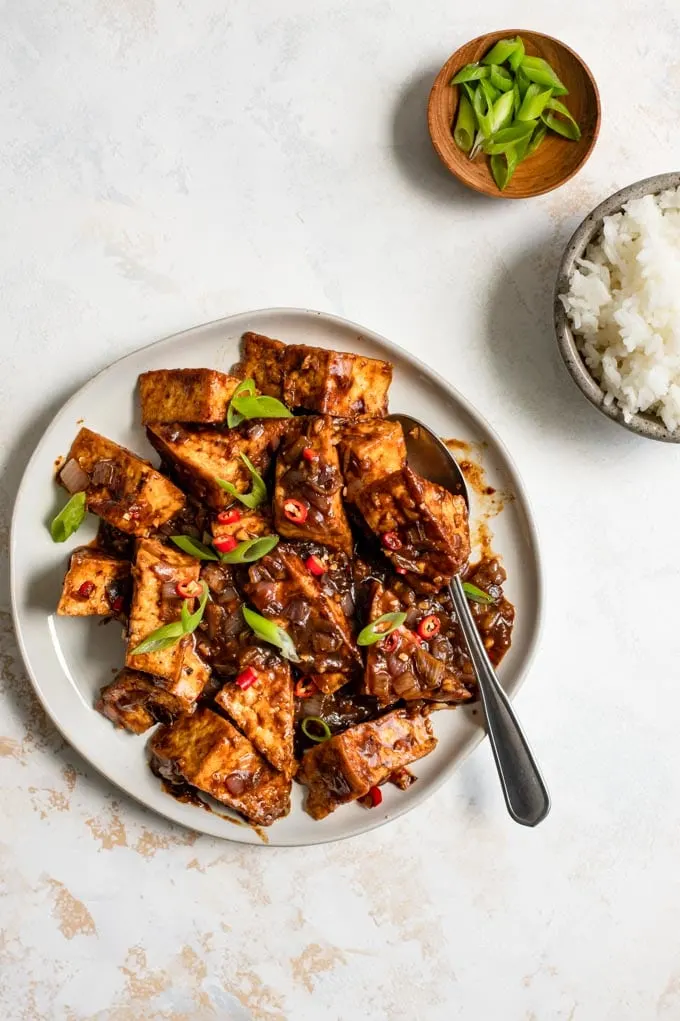 ---
If you make this Chinese tofu with black bean sauce stir fry, leave a comment below and rate the recipe on the recipe card. And please share your photos with me on Instagram, tag @thecuriouschickpea and #thecuriouschickpea. I love seeing your recreations!
---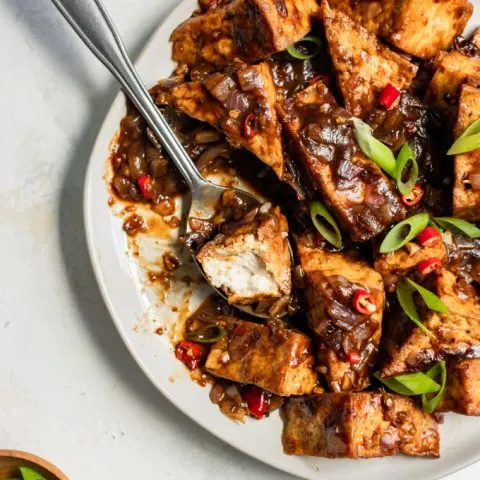 Tofu with Black Bean Sauce
Enjoy this classic Chinese restaurant dish! Black bean sauce tofu is easy to make and tastes even better at home!
Ingredients
Black Bean Sauce
3 tbsp black bean sauce
2 tbsp Chinese cooking wine, or substitute sake
1/4 cup water
1 1/2 tbsp light soy sauce
1 tsp sesame oil
1/4 tsp white pepper
1/4 tsp sugar
1 tsp cornstarch + 1 tbsp water
Everything else
1 lb extra firm tofu
Oil for deep frying
1 tsp oil
2 shallots, minced
3-4 cloves garlic, minced
2 red chiles, sliced (more or less to taste)
1 tsp minced ginger
scallions, for garnish
Instructions
Whisk together all of the ingredients for the black bean sauce with the exception of the cornstarch and water slurry. In a separate bowl, whisk together the cornstarch and tablespoon of water, then add it to the rest of the sauce and stir to combine.
Drain the tofu and rinse under cold water. Cut the tofu into 4 slabs, then cut each of those in half to make squares. Cut each square in half on the diagonal to make triangles. Lay the tofu on a clean towel or paper towels, blot the top, then leave to air dry as you heat the oil.
Heat 1 1/2 -2 cups of oil in a wok or a large pot over medium heat. Test the oil by inserting a wooden skewer or the handle of a wooden spoon. When the oil bubbles and boils around the wood, it is hot enough.
Fry the tofu in 2-3 batches so as not to over crowd the wok or pot. Gently transfer the tofu into the oil and let fry for 2-3 minutes, flipping halfway through. The tofu will turn a pale golden color. Remove with a slotted spoon or spider strainer and place on a paper towel lined plate for excess oil to drain. Repeat with remaining tofu. Be careful of splattering oil.
Heat a wok or large skillet over high heat (if you used your wok to deep fry, pour out the oil when it's safe to do so, you can keep it to reuse a few times). When it's lightly smoking add a teaspoon of oil, then the shallot. Let fry for 1 minute, then add the garlic, ginger, and chiles, let fry for 30 seconds.
Add the tofu along with the sauce, and bring the sauce to a simmer. Let simmer for a couple of minutes, or until it has thickened. Garnish with some sliced scallion greens and serve immediately.
Recommended Products
As an Amazon Associate and member of other affiliate programs, I earn from qualifying purchases.
Nutrition Information:
Yield:

4
Serving Size:

1
Amount Per Serving:
Calories:

265
Total Fat:

13g
Sodium:

479mg
Carbohydrates:

13g
Fiber:

3g
Sugar:

4g
Protein:

14g
Nutrition is calculated automatically so should be used as an estimate.