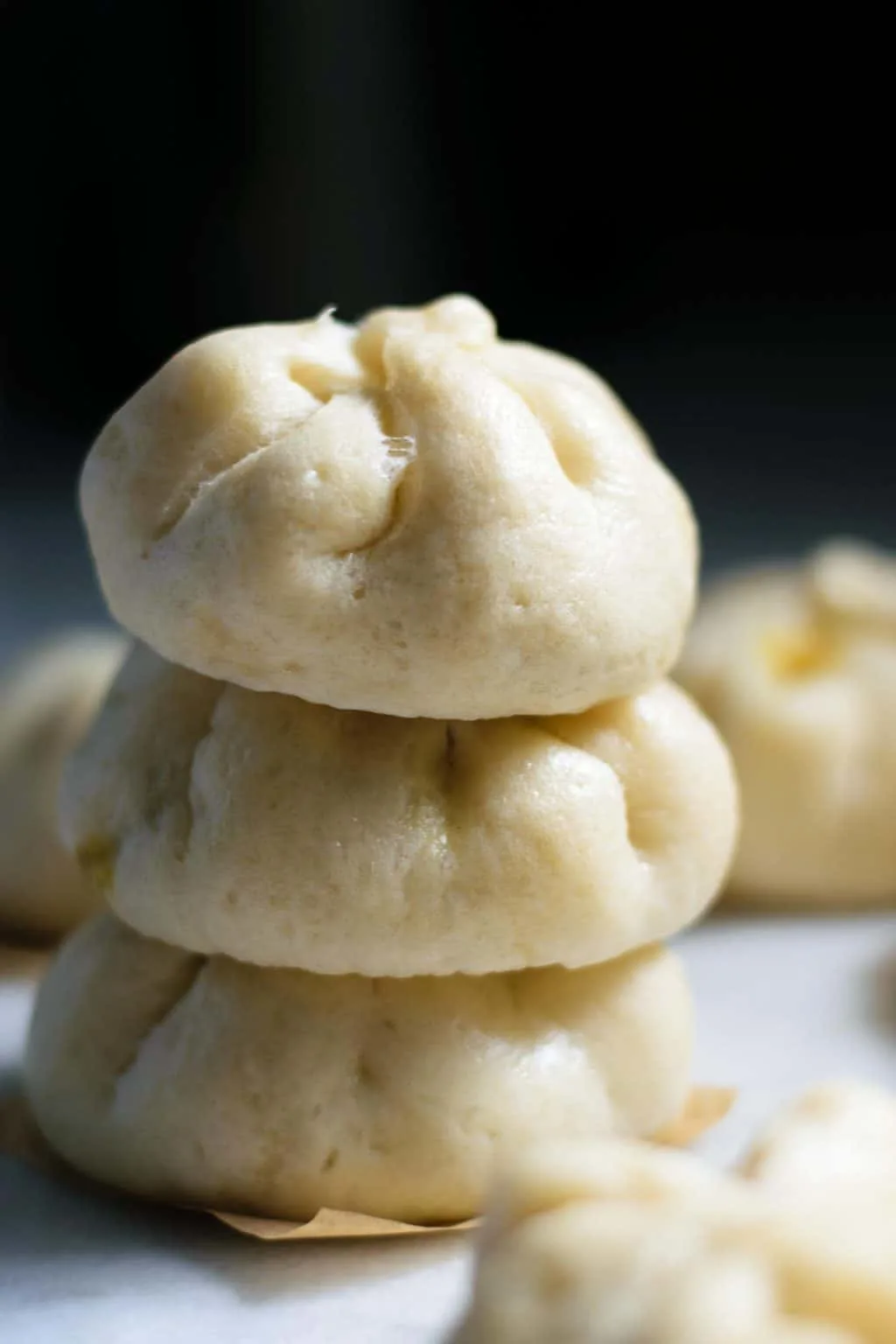 There's something extremely satisfying about eating the pillowy soft dough of a steamed bun. Tender and moist in texture, yeasty and slightly sweet in flavor. I think it's perfect when accompanied by a bold, savory filling (I've never been that into sweet versions, like red bean paste steamed buns). A lifelong vegetarian, my life has been largely devoid of savory steamed buns, as they are typically filled with meat. But in my dream life, I'd be eating steamed buns all the time (I mean, really, who wouldn't be), so I knew I had to learn how to make them. And hey, guess what?! They're really rather easy to make!
Most of my experience making steamed buns has been with the Chinese char siu bao, or roasted BBQ pork (my versions were of course made vegan with seitan). But recently I was really craving the bold flavors of curry, while also wanting to stuff my face with soft fluffy dough and wanted to combine the two. Well some quick internet searching later I learned that this idea is not original in the slightest (I mean, not that I thought it would be.. it's too tasty sounding!). Apparently, curry stuffed steamed buns are actually a common Filipino dish! Having never been to the Philippines, I'll have to take the internet's word on this. One thing is certain, however, and that is siopao, or the Filipino version of steamed buns (derived from the Cantonese baozi, or bao) are a popular food in the Philippines. But, I mean, duh, where aren't those soft pillows of heaven popular!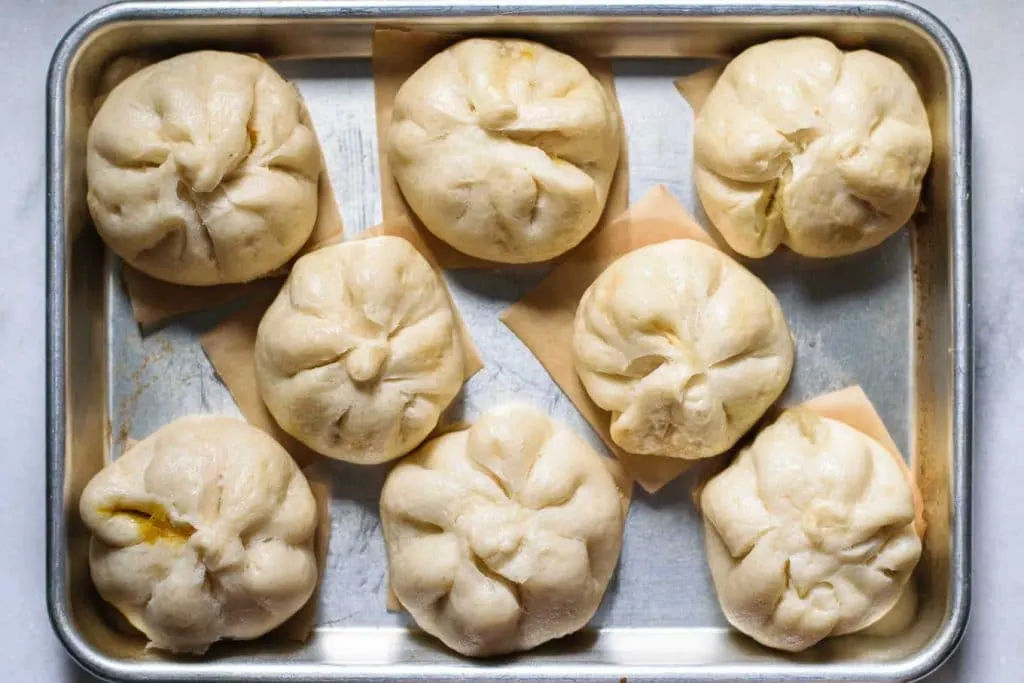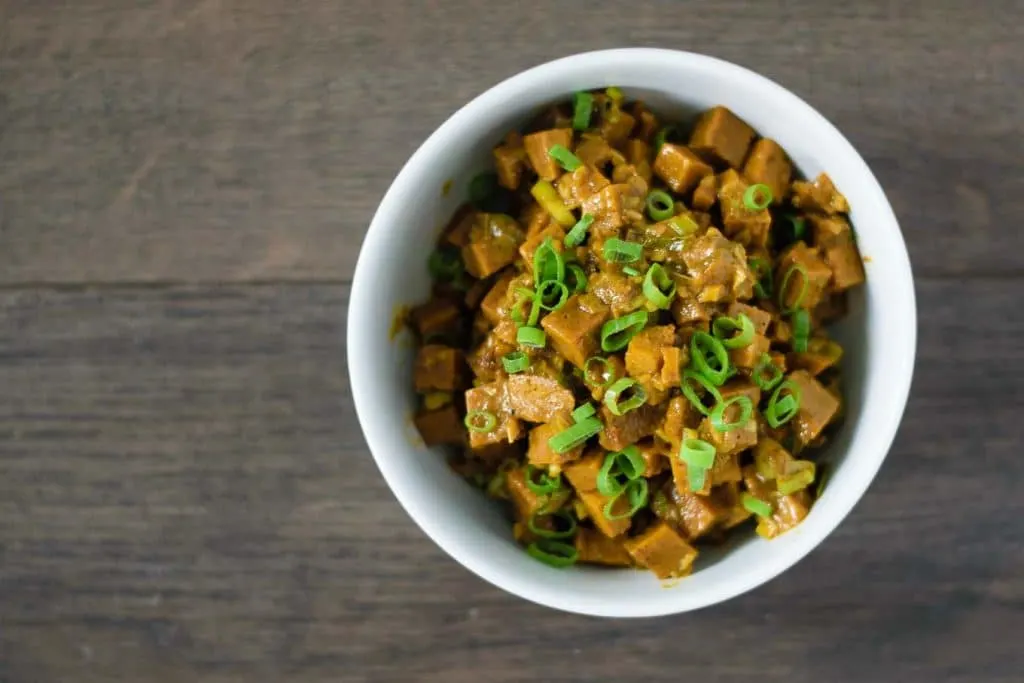 Well, this curry filling is so easy to make! Scallions, garlic, and ginger are gently fried to form what I like to think of as the curry version of a mirepoix, and the base of flavor. Seitan is cut into a small dice and cooked just until heated through and golden in spots. The seitan is well spiced with Indian-style curry powder for a punch of flavor, turmeric for extra color and earthiness, and a healthy heaping spoonful of ground cayenne, cause we like it spicy! The cayenne is totally optional if you don't want a spicy bun (or cut back a bunch for a milder version). I used a curry satay seitan made by Sweet Earth Foods for an extra curry punch because I looove a strong curry (disclaimer: they sent me some free products, but I've been buying their products for years because I like their seitan!), but there's plenty of curry flavor in there to use a plain/traditional seitan. Coconut milk is added to make a creamy base, but it's mostly absorbed into the seitan so the ending curry is thickly saucy but not wet. A squeeze of lime juice at the ends highlights and brightens all that mouthwatering curry flavor. Honestly, this curry is so delicious, I could eat it on it's own with a bowl of rice! But.. not sure why I would do that when I could stuff it into bao! 😉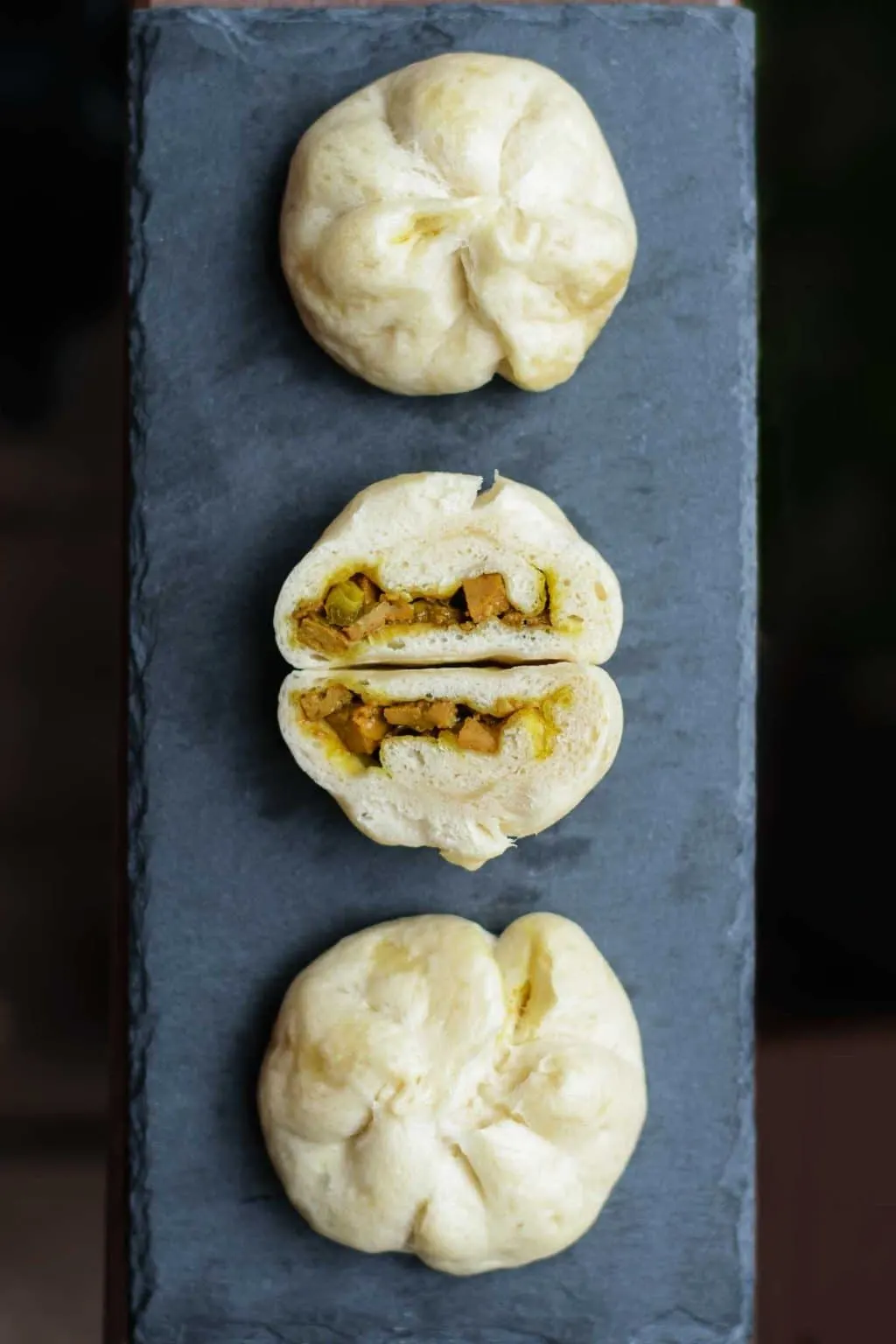 Siopao (and bao in general) are made with a simple wheat dough. There's plenty of sugar to spur on the growth of the yeast, and the yeast is activated in warm water with the sugar before incorporating it into the flour, there's really no guess work here! Unlike most of the slow fermentation doughs I work with, this one is proofed within the hour. And on top of that, baking powder is added to help the dough rise quickly when exposed to heat, giving a lighter and fluffier resulting bun. Once fully proofed and doubled in size the dough is punched down to release large air bubbles (you don't want lumpy and misshapen buns!), then the dough relaxes a few minutes before shaping. Shaping may be the most complicated part of the buns, but I find you really don't have to get too fancy with it. I mean, if you're an expert and want to pleat your buns (note: that video link shows a meat filling, and is not in English), please be my guest. But I find a simple pinching method gets the job done by the most amateurish bun-makers and still looks pretty great!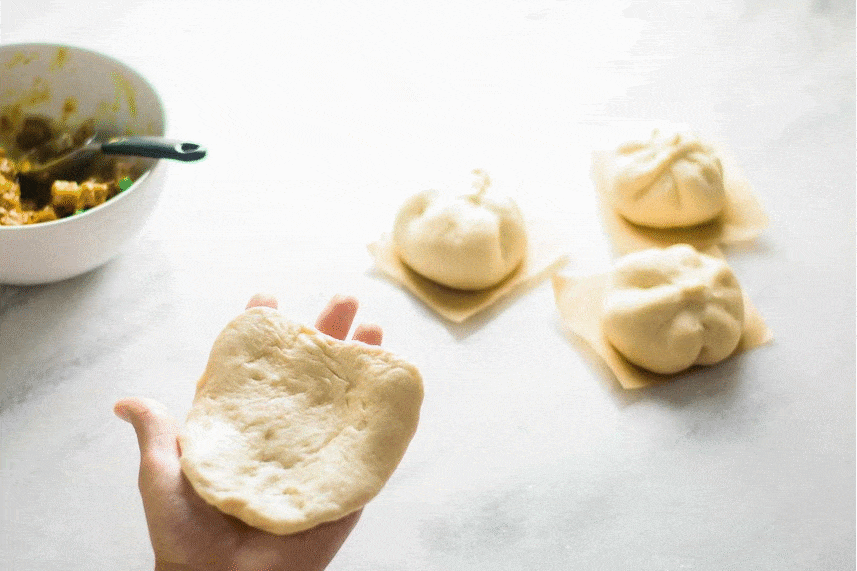 These curry seitan steamed buns are really awesome. I knew I was on to something with this recipe when my most generous human being of a husband didn't want to share them with friends (it's ok to overrule in this situation, because you can tell your partner, hey! it's easy to make more!). Honestly these siopao make a great party food! They're quite easy to make, you can have the filling ready in advance, and you could even make the dough in advance, and just let it rise in the fridge (up to overnight–see recipe for details). Then it's an easy shape and steam away and you have something so impressive looking to serve your friends!
I hope you guys try this recipe! If you're nervous about working with yeasted dough, it's a great one to start with. Let me know if you have any questions, or if you try the recipe! Leave a comment and/or rate the recipe below, tag me on Instagram (or #thecuriouschickpea), or share with me on Facebook! Happy bun making!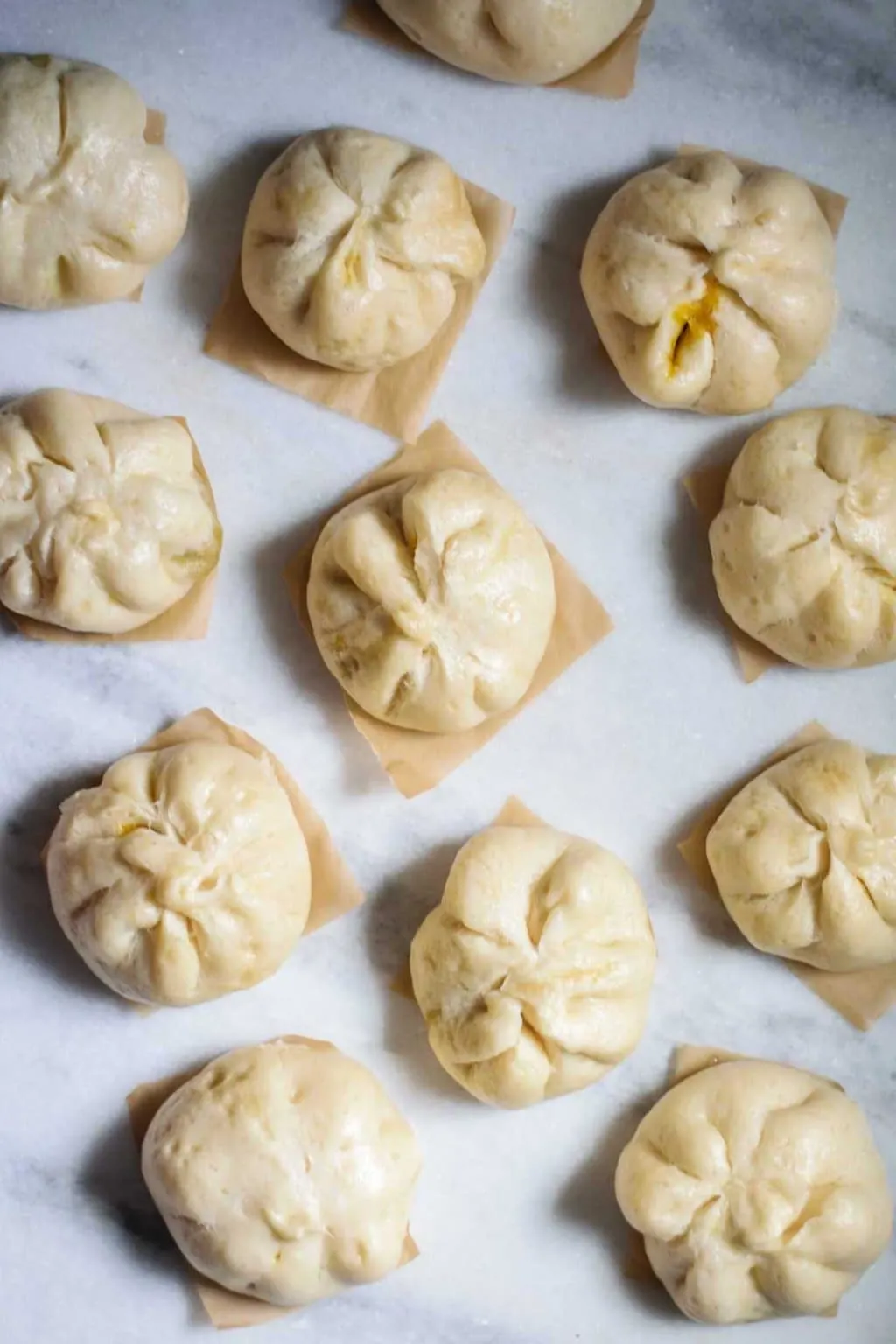 Notes:
You can use your preferred brand of seitan or homemade. I used Sweet Earth Foods Curry Satay Seitan for an extra punch of curry flavor.
You could use chickpeas instead of seitan, just make sure the final curry is not soupy or too wet, so simmer it until nice and thick before using.
If you don't want a spicy bun, cut back on or don't add the cayenne. As written the buns have a nice kick to them.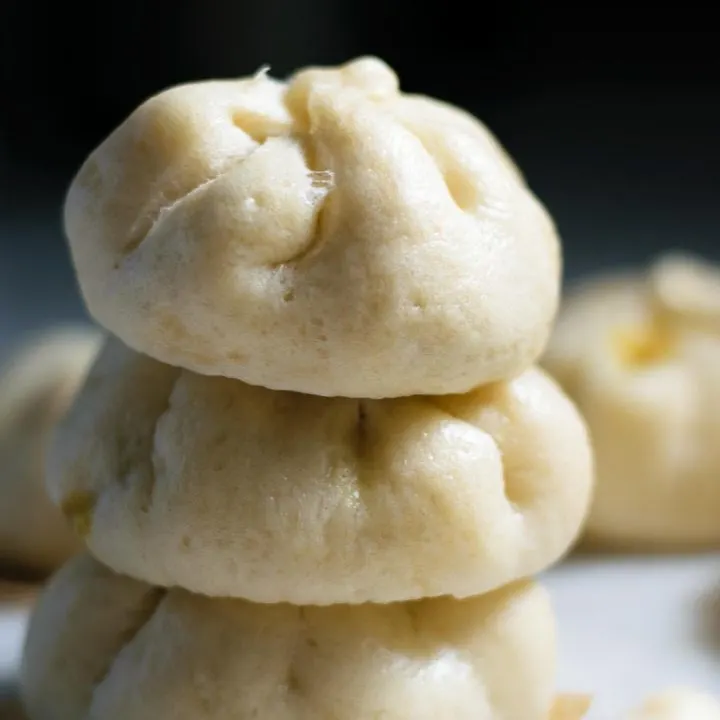 Vegan Curry Seitan Steamed Buns (Siopao)
Total Time:
1 hour
15 minutes
Steamed buns are filled with a super flavorful curry seitan in this vegan version of a traditional Filipino dish.
Ingredients
Bun (Siopao) Dough
1 cup (226 mL) warm water, 105 - 115 ºF
2 tbsp (27 g) sugar
2 tsp (7 g) instant yeast
2 tbsp (22 g) vegetable oil
3 cups (380 g) all purpose flour
1 1/2 tsp (7 g) baking powder
1/4 tsp salt
Curry Seitan
1 tbsp vegetable oil
3-4 scallions, chopped, white and green parts divided
2 cloves garlic, minced
1 tsp (~1/2" piece) minced ginger
8 oz seitan, in a small 1/4" dice
2 tsp curry powder
1/2 tsp cayenne, optional
1/2 tsp ground turmeric
pinch of salt, or to taste
1 tbsp soy sauce
1/2 cup coconut milk
1-2 tbsp lime juice
Instructions
To make the siopao dough
Add the sugar and yeast to the warm water in a large liquid measuring cup or mixing bowl. Stir and let sit for a few minutes to get foamy. Add the oil.
In a large mixing bowl or the bowl of a stand mixer, whisk together the flour, baking powder, and salt. Add the yeast mixture and mix together with a wooden spoon or by hand (wetting your hand to prevent sticking), until you have a coarse dough. Turn the dough onto a lightly floured counter and knead by hand around 5 minutes until the dough is smooth and elastic. Add flour if necessary, though give it a minute before adding as it takes time for the flour to absorb the moisture. You should have a soft and lightly tacky dough (not sticky). Alternatively you can knead in a stand mixer on low speed for 4-5 minutes.
Transfer the dough ball to a lightly oiled mixing bowl and cover with plastic wrap. Let rise for 45 minutes - 1 hour until doubled in size. [If working in advance you can let it rise in the fridge overnight--put it in the fridge immediately after kneading in a tightly covered large mixing bowl, and then let it come to room temperature for about 20 minutes before dividing and shaping the next day.]
To make the curry seitan
Heat the oil over medium-low heat in a small 9" cast iron or non-stick skillet. Add the white and light green parts of the scallions, the garlic, and ginger and fry for 2-4 minutes until soft. You don't want much, if any, browning.
Add the seitan and cook 3-5 minutes until seitan is heated through and golden in spots. Add the curry powder, cayenne (if using), turmeric, and a pinch of salt and stir to coat, cooking about 30 seconds.
Add the coconut milk and soy sauce. Bring to a simmer and cook until sauce has thickened, around 3-5 minutes. Turn off heat and squeeze in lime juice. Taste and adjust seasonings if desired. Set curry seitan aside until ready to use. Filling can be made a day in advance.
To prepare and steam the buns
Punch down the dough and divide into 12 (~54 g) balls of dough. Let rest a few minutes before shaping so the gluten has a chance to relax.
Prepare your steaming apparatus, fill with water and bring to a boil. Line the steamer with parchment to prevent sticking and/or cut 12 ~2.5" squares of parchment paper to use with each bun.
Pat or roll out each piece of dough into a ~5" round. Place in your non-dominant hand, and add about 2 tablespoons of curry seitan to the center. Take the edges of the dough and pinch over the filling with your thumb and forefinger, then rotate 90º and pinch the dough together again. Continue pinching the edges of the dough together until the filling is completely covered and there are no gapping holes in the dough. Give a little twist to where the dough is gathered to seal it off. Place the prepared bun on a piece of parchment. Repeat with the remaining dough.
When the water is boiling place the buns in batches in the steamer basket. Be careful not to overcrowd as they double in size while steaming. In my steamer I can make 4 at a time.
Steam each batch 12-15 minutes. Best enjoyed warm or on the same day. Store leftovers in a tightly sealed container in the fridge and reheat in the microwave until warm. Cover with a damp paper towel while microwaving if they feel dry.